Brooklyn LGBTQ+ bar in ruins after arson attack
The 5-month-old space near Myrtle Avenue caters to the LGBTQ+ crowd, and is known for being packed late into the night
BUSHWICK, Brooklyn, Ny. – Bushwick's Rash Bar was left unrecognizable after an arsonist described as a man dressed in black strolled into the bar with a gas canister, poured some on the floor and started the fire before dashing out Sunday night.
Jake Offenhartz a general assignment reporter at the Gothamist interviewed Tyler Glenn, the 25-year-old bartender on duty Sunday who said that he emerged from the basement of Rash to find the small venue filling up with smoke. At first Glenn assumed someone had cranked up the fog machine.
"Then I realized I couldn't breathe," Glenn told Offenhartz. "The whole thing was in flames. I was banging on the walls and I couldn't find the door and I could feel myself about to pass out
In another interview with New York NBC News flagship channel 4, Rash Bar  owner Claire Bendiner said; "I was standing right here actually when it happened, I had just stepped out. Everyone rushed out. The side door has a glass front and I looked over and saw flames to the top of ceiling. It was crazy, it happened so fast."
Glenn, Bendiner, and one more employee were the only staff on duty along with roughly a dozen patrons who were inside at the time of the incident. Glenn suffered second degree burns on the face and lips and remained hospitalized on Tuesday. Another person who was set to DJ later that evening was also hospitalized with minor injuries.
Glenn, a Bed-Stuy resident who uses they/them pronouns, the fire struck a familiar nerve. Glenn previously worked at Bossa Nova Civic Club, another queer-friendly club that shut down after a devastating fire earlier this year.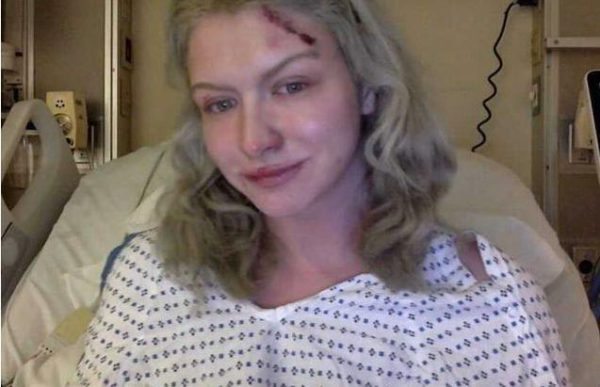 The 5-month-old space near Myrtle Avenue caters to the LGBTQ+ crowd, and is known for being packed late into the night, NBC 4 reported. Nearly all of the damage was contained to the inside of the bar.
The NYPD are reviewing surveillance from a gas station around the corner that showed someone filling up a gas can minutes before the fire. The flames and smoke from that night also invaded two apartments above the bar, but everyone was able to make it out.
The owners mostly want to know: Why this bar?
"We still don't know what to make of this cruel act of violence. In only five short months we were privileged to become home to such a talented and vital community of artists. It breaks our hearts that anyone would seek to threaten that for any reason. We've been trying to figure it out but we don't know the motive possible hate crime," Bendiner told NBC4. "This a queer bar. Maybe a disgruntled customer. I have no idea. Hard to get into the mindset of someone who would do this."
A GoFundMe for the queer Brooklyn venue hopes to raise $200K to help staff affected by the horrific act and help the bar rebuild.
To view the GoFundMe, please visit: https://gf.me/v/c/z86s/rashbarfire
New bills to prevent hate crimes in New York signed by Gov. Hochul
"New York belongs to the good, not those with hate in their hearts – we're taking bold action to reclaim our city and state from the haters"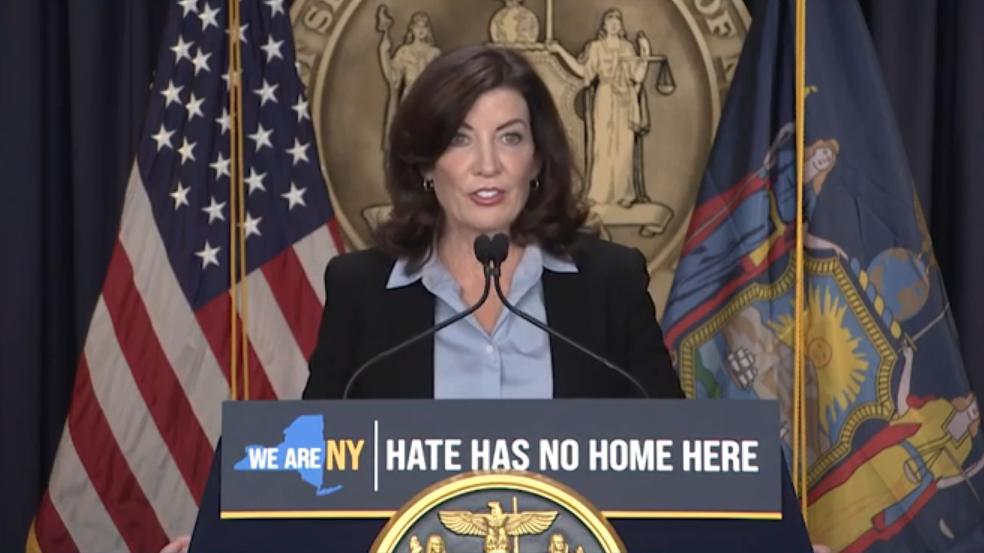 NEW YORK – On the same day that a 34-year-old man was arrested for allegedly throwing bricks at the window of a gay nightclub in Hell's Kitchen, New York Governor Kathy Hochul (D) announced new measures to stop hate crimes in the Empire State.
Speaking to reporters last Tuesday at an emotional press conference, the governor called on New Yorkers to reclaim the state from "bigots who have butchered communities' sense of security."
"New York belongs to the good, not those with hate in their hearts – we're taking bold action to reclaim our city and state from the haters, bigots and white supremacists," Hochul said.
The governor's actions comes after comes after the NYPD arrested two men for allegedly plotting to shoot synagogues and wreak havoc on the Jewish community, targeted attacks on the Asian community, and the recent mass-shooting at an LGBTQ nite club in Colorado Springs.
NYPD detectives arrested Sean Kuilan Tuesday afternoon and charged him with criminal possession of a weapon, criminal mischief and reckless endangerment for allegedly throwing bricks and a rock at the window of a gay nightclub in Hell's Kitchen three times last week in what a NYPD spokesperson characterized as a potential hate crime.
Hochul, who led the state through the racist Buffalo massacre last spring, said that a horrifying mass shooting at an LGBTQ nightclub in Colorado and a sinister anti-Semitic plot foiled in New York over the weekend offered "painful reminders that there is a rising tide of hate in our country," the New York Daily News reported.
"This is our defining moment, New Yorkers," the governor declared.
"Every one of us has a role to play," Hochul said. "From this day forward, ask yourself: Did I do something to help spread the love that should be part of who we are as New Yorkers?"
After delivering her remarks, Hochul then signed two bills, Senate/Assembly Bill (S.6570/A.1202) to "Require individuals convicted of hate crimes to undergo mandatory training in hate crime prevention and education."
Legislation (S.6570/A.1202) amends the penal law to establish that in addition to other penalties, individuals convicted of hate crimes shall undergo mandatory training in hate crime prevention and education as part of their sentence. The programs, training sessions, or counseling sessions must be authorized by the court or local agencies in cooperation with organizations serving the affected community.
The second measure, (S.123A/A.5913A) establishes a statewide campaign, developed and run by the New York State Division of Human Rights to promote the acceptance, inclusion, tolerance, and understanding of the diversity of the people of New York.
Legislation (S.123A/A.5913A) amends the executive law to establish and implement a statewide campaign for the acceptance, inclusion, tolerance, and understanding of diversity. The campaign, which will be developed and implemented by the Division of Human Rights, will coordinate and cooperate with public and private organizations, including, but not limited to, local governments, community groups, school districts, places of worship, charitable organizations, and foundations and will develop educational materials to be published on the internet, social media, and other platforms to reach the public.
"Our hearts are broken after a weekend during which LGBTQ Americans were massacred and Jewish New Yorkers were targeted in horrific acts of hateful violence," Hochul said. "New York belongs to the good, not those with hate in their hearts – we're taking bold action to reclaim our city and state from the haters, bigots and white supremacists. Domestic-based violent extremism is the greatest threat to our homeland security, and that is why we continue to remain laser-focused on combatting hate and keeping New Yorkers safe."
Governor Hochul Announces Actions to Prevent Hate Crimes and Protect New Yorkers: