Equality Center of the Rocky Mountains opens, attended by Gov. Polis
The 9,505 square foot building will serve Boulder County and beyond as the primary location for LGBTQ+ community activities

BOULDER – After nearly 30 years Out Boulder County, which started with a group of volunteers without an office or staff working to support their community, finally has its own space as the organization last Friday hosted the grand opening of the Equality Center of the Rocky Mountains.
The 9,505 square foot building will serve Boulder County and beyond as the primary location for LGBTQ+ community activities, as well as Out Boulder County's administrative offices.
Colorado Governor Jared Polis, the first elected openly Out governor of a state, Congressman Joe Neguse, Scott Beard, advisory board member of the Colorado LGBTQ Chamber, and John Tayer, President and CEO of the Boulder Chamber, were in attendance.
Representatives from One Colorado and other community organizations also were in attendance.
"We are deeply grateful to Governor Polis, the other elected officials, and business and community leaders who are attending the grand opening to show their support of Out Boulder County and LGBTQ people," said Bryn Long, President of the Board of Directors of Out Boulder County. "The Equality Center of the Rocky Mountains will allow us to grow our current programs and services as well as create new ones to meet the evolving needs of the community. This is a major milestone for Out Boulder County and the LGBTQ communities in Boulder County and surrounding areas."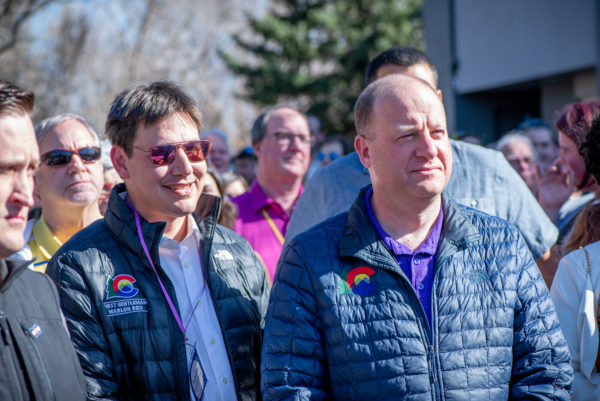 Speaking after the LGBTQ+ Pride flag was raised and he cut the ribbon symbolically opening the new center for business, Governor Polis noted; "This is a great celebration for the community."
Polis told the crowd that "LGBTQ people are being targeted in other parts of the country," the governor drawing the comparison while noting that the new center in Boulder County and Colorado were an exception instead showing the state and community commitment to LGBTQ+ people.
LGBTQ people are coming under attack from state legislatures across the country with at least 238 anti-LGBTQ pieces of legislation introduced so far in 2022.
Out Boulder County Board member Kaylin Gray said years of work led up to the christening of the Equity Center, which she termed an "historic moment," local news outlet, the Longmont Leader reported.
"Look how lucky we are," Gray told a crowd of about 100 who gathered for the raising of the multi-colored LGBTQ flag in front of the 9,505-square-foot building. "History is happening right now.  We are witnessing it."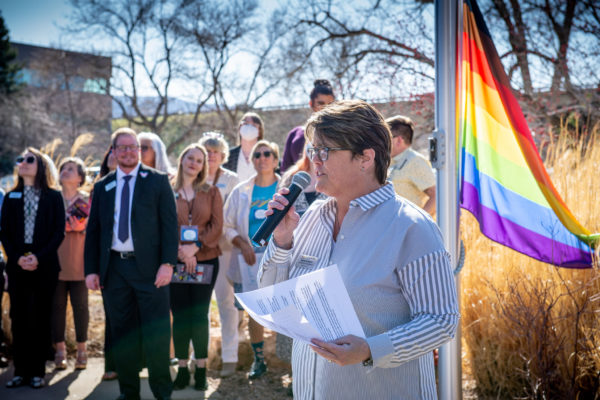 "This flag," she said, "will fly proudly everyday as a symbol of our resilience. It will fly in the rain and the snow and in good weather. It will fly when we take two steps forward and on days when we have to step back."
"But," Gray said, "it will fly."
Colorado Governor Jared Polis visits Club Q & memorial to victims
Polis stated Club Q will be back & that the community will be safe adding the perpetrator will be held fully accountable under Colorado law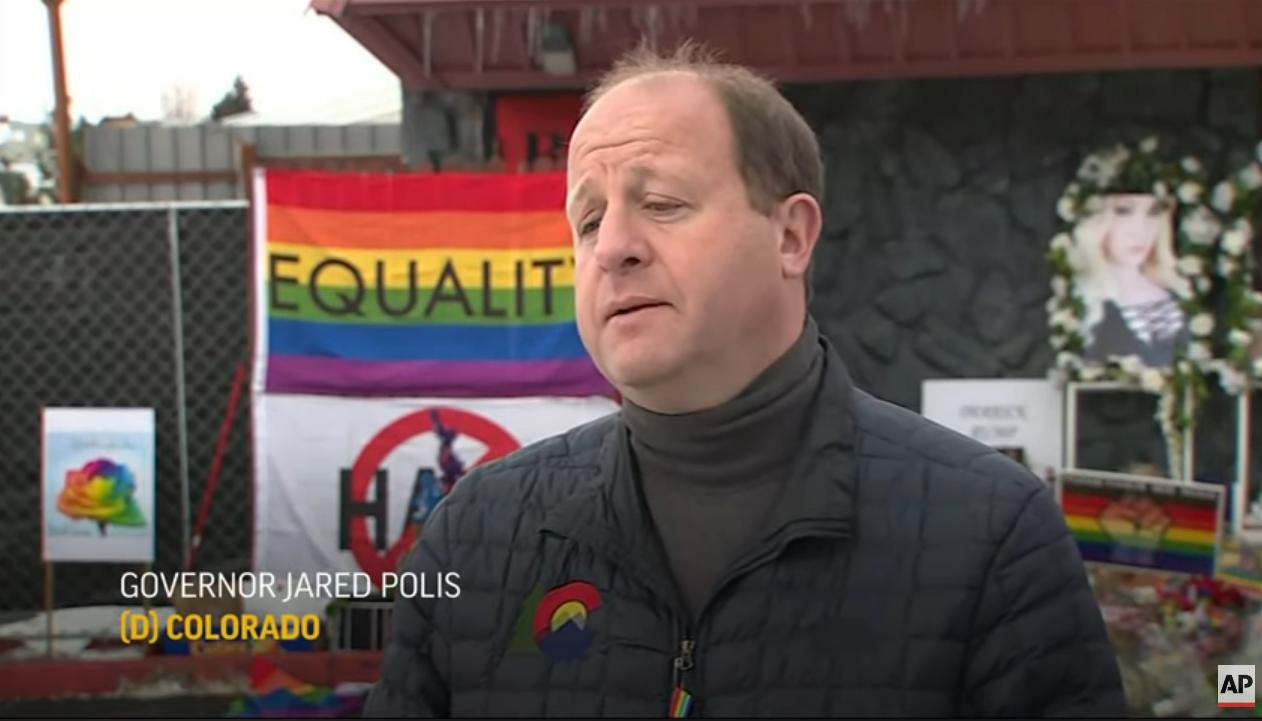 COLORADO SPRINGS – Accompanied by Club Q owners Nic Grzecka and Matthew Haynes, Colorado's openly gay Governor Jared Polis visited the growing memorial to the victims of the mass-shooting at the LGBTQ+ nightclub two weeks ago on Tuesday.
In his remarks to reporters, Polis stated that the Club Q will be back and that the community will be safe adding that the "perpetrator will be held fully accountable under the laws of Colorado for the heinous acts committed."
In response to a question asking if he thought the sharp uptick in anti-LGBTQ hate speech and rhetoric online contributed to the mass shooting, the governor responded saying;
"I mean we certainly don't know the contribution of the hostile rhetoric that's out there to this particular case, um but of course there's no excuse for rhetoric that targets or attacks individuals based on who they are or who they love, and that cannot only be incendiary or um ah inspire acts against the LGBTQ community- but it could also make life harder for those who are dealing with gender identity and sexual orientation issues, and need to see positive role models and get the support they need to be themselves."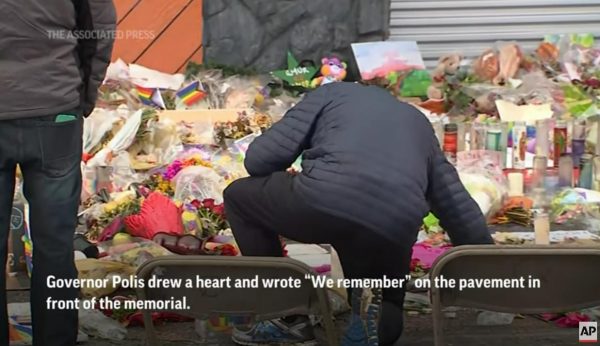 Grzecka, a co-owner of Club Q, had told the AP in one of his first interviews after the shooting he believes the targeting of a drag queen event is connected to the art form being cast in a false light in recent months by right-wing activists and politicians who complain about the "sexualization" or "grooming" of children.
Even though general acceptance of the LGBTQ community has grown, this new dynamic has fostered a dangerous climate, he said.
"It's different to walk down the street holding my boyfriend's hand and getting spit at (as opposed to) a politician relating a drag queen to a groomer of their children," Grzecka said. "I would rather be spit on in the street than the hate get as bad as where we are today."
Later Tuesday afternoon at the Atrevida Brewery owned by one of the three people hailed as heroes for tackling and subduing the shooter until arriving Colorado Springs Police officers were able to arrest him, the governor embraced Atrevida owner Richard Fierro.
Fierro, a former U.S. Army officer and combat veteran was honored with $50,000 from a local credit union as Polis and Colorado Springs Mayor John W. Suthers looked on.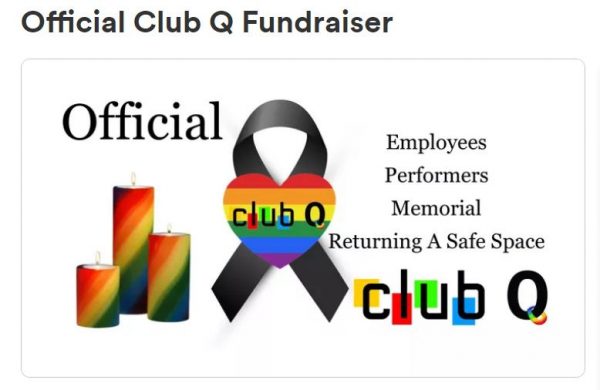 Matthew Haynes, the other co-owner of Club Q, created a verified GoFundMe fundraiser this week to help support staff and performers at the LGBTQ+ venue after a shooting took the lives of five people earlier this month.
"This fund is managed by Club Q directly and will be used to ensure the Club Q staff and entertainers don't suffer financial hardship due to this horrific act," Haynes wrote. "This fund will also go towards the total remodel of Club Q, the construction of an appropriate memorial for our victims and a small museum onsite. The goal is to return Club Q as a safe space for the LGBTQ+ community.
Plans for the return of Q are not fully developed yet. There will be many discussions ahead with stakeholders within the community. We are hopeful of making it more than just a bar. We envision a community resource center, state-of-the-art security precautions a gathering place to heal, remember and empower," Haynes wrote.
GoFundMe (Link)
From the Associated Press: