Trans Colo. State Rep. shares lessons from legislative victories
Privacy and autonomy are under attack whether the targets are reproductive rights or the rights to access gender affirming care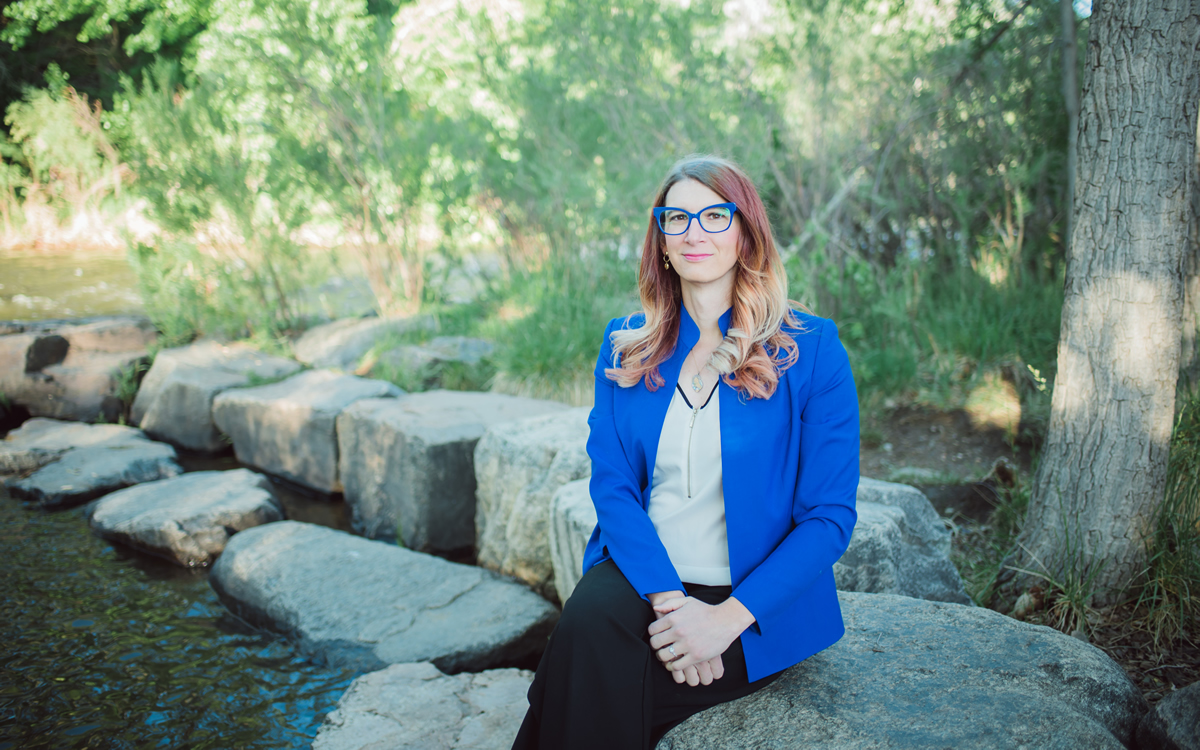 WASHINGTON – Recently, the focus of interviews of trans Colorado State Rep. Brianna Titone (D) have largely been defined by matters like last November's deadly anti-LGBTQ shooting at Club Q in Colorado Springs and the escalating legislative attacks on the trans community.
However, when she sat down with the Washington Blade on Thursday in the Washington, D.C. offices of the LGBTQ Victory Fund and Institute, Titone dove into another challenge that she, perhaps more than any other state lawmaker, has taken on directly:
Why is it so difficult, or even impossible, for consumers, even those with the inclination and know-how, to repair their automobiles, wheelchairs, farm equipment, and electronics like printers, smartphones, and, as Titone experienced, video game consoles?
A self-described "tinkerer and scientist" who has a degree in information communications technology and considerable programming experience, Titone was dogged by the question after discovering there was no way for her to fix the optical drive of her Xbox. "I couldn't even figure out how to open the thing because there's not even a screw on it," she said.
As it turned out, the answer was even more frustrating.
Reading about the "right to repair" movement, Titone learned how manufacturers deliberately, anticompetitively, and, many argue, unlawfully erect barriers that discourage or prohibit their customers from fixing certain products – by, for example, allowing only the manufacturer's own maintenance services, restricting access to tools and components, and implementing software barriers.
Titone was first elected in 2018, becoming Colorado's first openly trans state lawmaker and only the fourth in the U.S. Shortly afterwards, she said, Colorado Gov. Jared Polis (D) – who is the country's second openly-LGBTQ governor – asked Titone to create and introduce a right to repair bill.
She was ultimately successful by strategically taking on one industry at a time. Meanwhile, among the other issues Titone was working on was a bill protecting trans Coloradans' access to healthcare, which she passed by taking the exact opposite approach.
As Titone quickly learned, when it comes to right to repair, new legislation from federal or state lawmakers or new rules by the Federal Trade Commission's Bureau of Consumer Protection are met with powerful opposition from well-resourced industries backed by armies of lawyers and lobbyists. With her bill, Titone took on three: manufacturers of electric wheelchairs, , farm equipment, and consumer electronics.
Titone told the Blade her first right to repair bill was tabled as the legislature worked to prioritize pandemic-related matters, and her second attempt was stymied in committee, having faced an "immense" lobbying effort, particularly from consumer electronics companies.
Partially because electric wheelchairs are often owned by Medicaid and purchased by insurance providers, they can be extremely costly and difficult to repair. As one patient with multiple sclerosis told Colorado Public Radio, each of the many adjustments that were necessary to accommodate his needs required a service visit from a technician, who made each fix with a smartphone app. It was available to download on the App Store – but only for "authorized users."
Of all the witnesses who were called to testify in favor of Titone's bill, she said it was these Coloradans whom her colleagues considered the most compelling. So, in 2021, Titone introduced a third right to repair bill focused only on electric wheelchairs, and "we were able to pull the heartstrings of the committee [members] so the legislature would pass it," she said, adding, "it wasn't an overwhelming vote, but I did get a couple of Republicans."
When the measure was signed into law in March, it became just the second statewide right to repair law since Massachusetts's successful ballot initiative in 2012, which focused on automobiles. "My bill," Titone said, "was the first right to repair bill after many, many, many attempts by many States over the last four or five years."
Up next was farm equipment. Companies like John Deere, the sector's largest manufacturer, have long been criticized for using software locks to prevent customers from fixing their tractors. And on the day in which the Colorado Senate Committee on Agriculture and Natural Resources was set to debate Titone's bill, the industry submitted a memorandum of understanding that was intended to allay concerns, likely in an effort to forestall the right to repair law.
"But we still we still went forward," Titone said, "we still passed the law" with Polis's signature on April 25.
Colorado's legislative session wrapped in May, but Titone expects to turn her attention next to the consumer electronics industry. In the meantime, she hopes to use some of her time in Washington to share experiences and insights that might help shore up efforts to pass federal right to repair protections like Agriculture Right to Repair Act introduced last year by Sen. Jon Tester (D-Mont.).
The primary reason, however, that Titone was in the nation's capital was for a White House State Legislative Convening on Reproductive Rights, held on Thursday with Vice President Kamala Harris and officials from the administration like White House Press Secretary Karine Jean-Pierre.
The White House held two State Legislative Convenings – one with Democratic lawmakers in red states and the other, which Titone attended, with Democratic lawmakers in blue states.
With these events, Titone said the Biden-Harris administration, which "has a strong position on reproductive rights," sought to provide a forum for the exchange of information on what the former group of legislators need to pass legislation protecting reproductive rights and what each group has done on this front that could be instructive or serve as a model.
Titone has considerable experience and insight to offer on this front, having successfully led passage of legislation protecting reproductive freedoms with provisions also guarding Coloradans' access to gender affirming care.
Grouping these issues together in one bill, a departure from how she advanced the right to repair legislation, proved to be a winning strategy.
Bunding reproductive and gender related healthcare protections makes a lot of sense
For one thing, Titone said, reproductive healthcare and guideline directed gender affirming healthcare interventions largely concern the same biological systems (sex hormones, for example). She added the overlaps only continue from there, extending all the way to the methods and tactics used by anti-abortion and anti-trans activists.
For example, she noted, lawmakers in conservative states are looking for ways to prevent transgender residents and their families from crossing into other states to access gender affirming treatments that they have banned or restricted within their own borders.
Likewise, the Washington Post reported that shortly after the U.S. Supreme struck down the constitutional right to abortion last year, conservative legal activists drafted model legislation that "would allow private citizens to sue anyone who helps a resident of a state that has banned abortion from terminating a pregnancy outside of that state."
"It hasn't come to the same level that abortion has, but those same aspects of attacking people [who are] getting this kind of care could easily be translated to gender affirming care," Titone said.
"Why should we stop at abortion care and leave this group of people out when [opponents are] just going to clone the bills that they have against the abortion providers and seekers to [target] the gender affirming care providers and seekers?"
Perhaps even more fundamental and more salient, Titone said, is how privacy and autonomy are under attack whether the targets are reproductive rights or the rights to access gender affirming care. "What does a politician have to do with a medical decision?"
Another important feature is the bedrock of support for access to both reproductive and gender affirming care, which comes from every scientific and medical institution with relevant expertise, Titone noted.
Even in liberal Colorado, passing Titone's bill was a considerable challenge politically
Titone said that ultimately, because gender affirming care is comparably more controversial than reproductive care, bundling them together in one bill weakened opposition from Republicans because most voters support access to safe and legal abortions.
"When I debated my bill," Titone said, she told Republicans, "Look, this is the wrong issue for you to debate because when I [knocked on] doors, people said abortion was one of the issues that made them vote for Democrats."
Still, some GOP members like Colorado's House Minority Leader Mike Lynch objected to the provisions in Titone's legislation protecting abortion seekers from coming to Colorado from neighboring states that have restricted access to the procedure.
Titone's bill also protects the right of people in all states to travel to Colorado to begin puberty blocking medication or undergo gender-affirming surgery without the risk of interstate prosecution.
The lawmaker said debates in the legislature over, especially, the gender affirming care provisions in the bill "really showed some of the true colors of some of my colleagues." For example, she said one member argued access to gender affirming care "leads to people being murdered," pointing to the Nashville elementary school shooting in March that was committed by a trans gunman. Another member, she said, publicly declared during multiple town hall style events that he would never use Titone's feminine pronouns.
"I expected these things," Titone said, noting that "the attacks on social media were pretty harsh." At the same time, she said, "doing the hard work has its risks and has its rewards."
While Colorado is led by a Democratic governor and Democrats retain control of the state's General Assembly, Titone said it took some work to convince even colleagues from her own party to buy into the rationale for grouping reproductive and trans healthcare rights together in her bill.
Additionally, Titone said, she was approached by healthcare providers in Colorado who administer gender affirming care and were concerned that her bill might inspire threats of violence like those made recently against clinicians and facilities in Massachusetts.
"They said we're nervous about this bill," Titone said, but she told them, "Without this, your providers are going to get sued." Plus, she said, the anti-trans extremists "are going to find you eventually," so let's "rip the band-aid off and just do it."
Titone's bill was signed into law last month. She expressed gratitude for the coalition of people who made the law's passage possible, including a trans man who had a major hand in drafting the language on gender affirming care. As it happens, he works for Planned Parenthood.
First ever Colorado Queer Comedy Festival
The Colorado Queer Comedy Festival aims to highlight comics from Colorado and beyond, giving them access to the stage through the weekend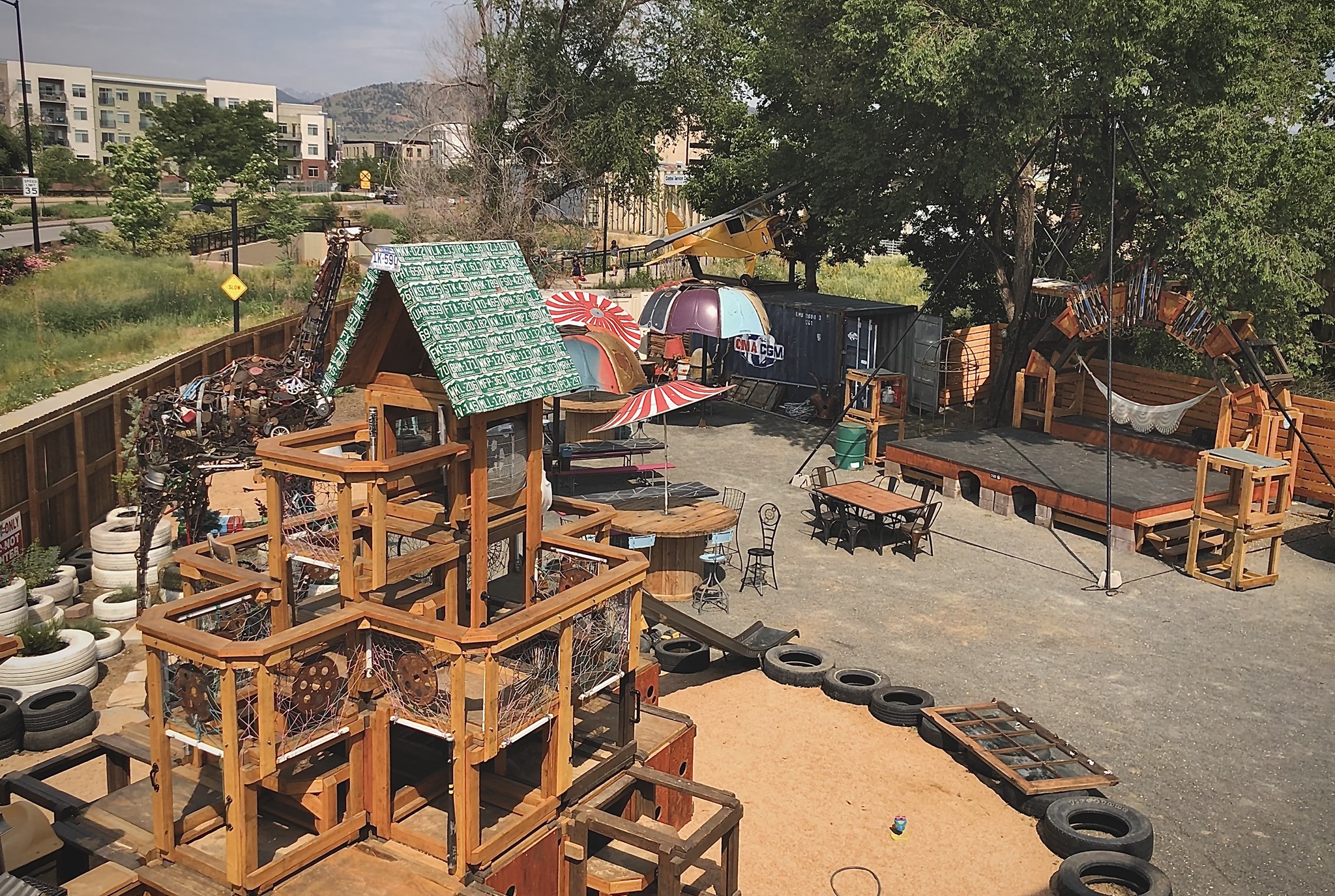 BOULDER, Colo. – At a time when the political and cultural climate is dangerous for lesbian, gay, bisexual, transgender, and queer (LGBTQ+) people across the United States, Out Boulder County, Junkyard Social Club and eighteen of the funniest LGBTQ+ people in the world are inviting Coloradoans to come laugh together at the first ever Colorado Queer Comedy Festival.
The festival will be held on Friday, October 27 and Saturday, October 28 at the Junkyard Social Club (2525 Frontier Ave. Suite A, Boulder, Co 80301). Doors open at 7:30pm and the show starts at 8pm. 
The Colorado Queer Comedy Festival aims to highlight comics from Colorado and beyond, giving them access to the stage through a weekend of hilarious content unlike any seen before.
Featuring top-notch comedians from every corner of Colorado's queer community, the need for this kind of event is clear and evident. Humor brings us together, and storytelling helps us transmute pain into ecstasy. Queer joy is a direct act of resistance, and comedy allows us the opportunity for dialogue that other platforms fail at achieving—in the words of John Cleese: "laughter is a force of democracy." Queer comedy is direct action. We hope you can join us for both nights!
"Laughter saves lives and makes life worth living. Comedy has always been political and is an act of resistance, but we are sponsoring the first ever Colorado Queer Comedy Festival because members of our community deserve to laugh together," said Mardi Moore, Executive Director of Out Boulder County. "This event is about building community, promoting resilience, and above everything else–having fun."
LGBTQ+ communities have always relied on humor to survive in times that are often hostile, and at times deadly, for members of the community. This event will feature eighteen queer and trans comedians from across Colorado with a few from across the country. More than 50 comics submitted applications to perform at the festival. The performers were selected by a panel of judges who represent the diversity of the LGBTQ+ community.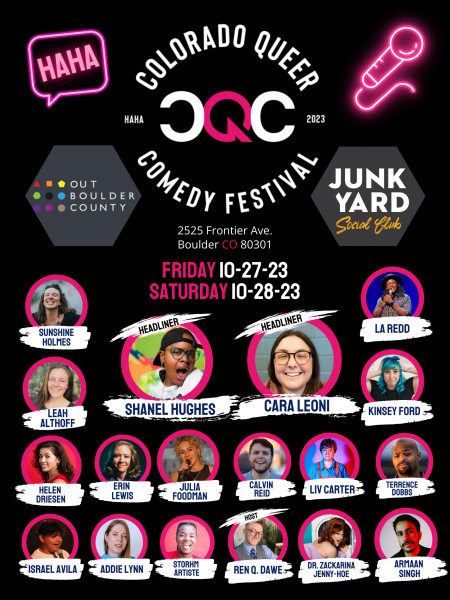 "Queer comedy is direct action," said Ren Dawe, stand up comic and lead organizer of the festival. "Being out and proud–on a microphone, nonetheless–is a direct act of a resistance to attitudes and policies that try to prohibit or extinguish queer and trans existence. This work is important, it's necessary, and it just so happens to bring joy and education to our community. Queer comedy is its own kind of activism."
The Junkyard Social Club, known for its quirky community space and commitment to social causes, will set the stage for two evenings of non-stop laughter and education.
Junkyard Social Club is thrilled to partner with Out Boulder to create a platform for LGTBQ+ comics to share their stories with the community. "We strive to be a safe space for all to connect and take healthy risks," said Jill Katzenberger, Executive Director of Junkyard Social Club. "Getting up on stage and bearing your soul through comedy has got to be one of the most next-level, 'healthy risks' a person could take."
The Colorado Queer Comedy Festival is the most diverse comedy festival in Colorado's history and is the first of its kind in Colorado. Every comic is queer or trans and they represent the full spectrum of diversity in the LGBTQ+ community with different racial and ethnic backgrounds, social class statuses, and religious backgrounds included. Attendees can expect a dynamic mix of stand-up, sketches, and improv, all united by an undercurrent of education and the pure, unadulterated love of comedy.
Tickets can be purchased here: (Link)