LGBTQ-affirming charter school targeted by GOP candidate hires security
"The faculty put on a drag show for children. That's not education, it's exploitation. It's got to stop. It's time to fight back"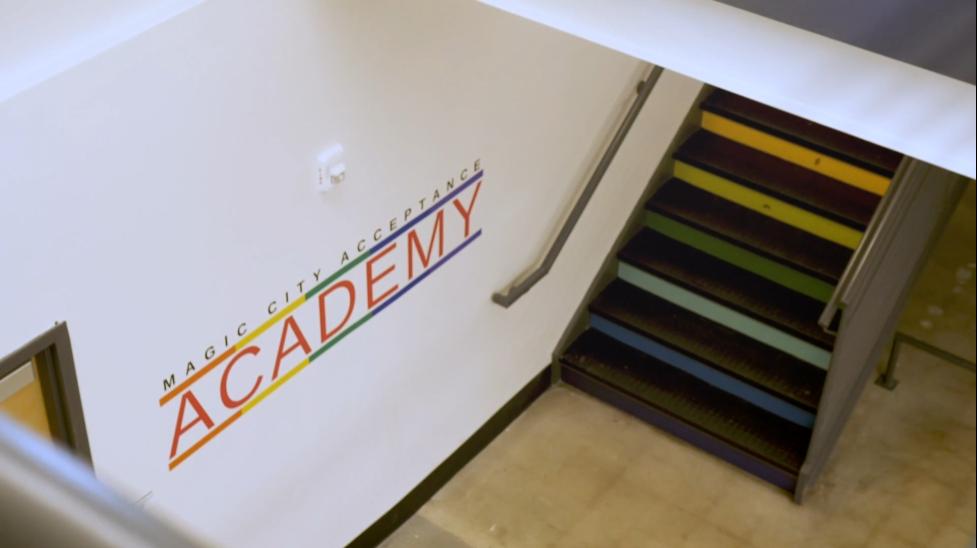 HOMEWOOD, Al. – A rarity in a state whose Governor just signed a slate of anti-LGBTQ+ bills including a law that will make treating Trans minors a felony, an LGBTQ-affirming charter school in suburban Birmingham is the focus of anti-LGBTQ attack adverts by a Republican gubernatorial candidate.
Michael Wilson, principal of the Magic City Acceptance Academy, told Alabama news outlet AL.com on Wednesday that a TV ad running in support of Republican governor hopeful Tim James is "scaring the hell out of our kids," and he's calling for it be removed. In the meantime, security has been added at the school that opened last fall he told AL.com.
James, who is campaigning to replace incumbent Governor Kay Ivey, targeted the school due to its billing itself as a one-of-its-kind charter school that, while open to all students, is "LGBTQ-affirming," according to AL.com.
In his television campaign ad, James called this "exploitation" of children and "not education."
James also blasted the school on Twitter: "For a public school like Magic City Acceptance Academy to use $2 million of our state tax dollars to host drag queen shows for kids should anger every parent, grandparent and taxpayer in Alabama." In another post James went after principal Wilson and the school's faculty and staff:
A public school using $2M of our state tax dollars to host drag shows for children should anger every parent, grandparent, & taxpayer in the state of AL. MCAA needs to have its charter revoked and be shut down – not because of the children but because of the faculty. #alpolitics https://t.co/YS1qfedJnz

— Tim James (@TimJamesGov) April 12, 2022
"The Tim James ad is nothing short of an adult bullying children," said Wilson, 69, who oversees a school of approximately 240 students in grades 6-12. "It's causing more anxiety. You are talking about kids who are four times more likely than their straight counterparts with suicide ideation."
The ad is also angering LGBTQ+ supporters in Alabama, whose concerns about safety for the state's LGBTQ+ youth is growing after last week's legislative actions. These include the governor's signing of House Bill 322 which bans K-12 students from using bathrooms and school facilities consistent with their gender identity and enacts a bill similar to one recently enacted in Florida with "Don't Say Gay or Trans" provisions for classroom instruction in grades K-5.
Governor Ivey also signed SB 184 – a bill that would criminalize doctors for providing best-practice, gender-affirming care to transgender and nonbinary youth.
The campaign ad is a 30-second spot that starts off with James claiming, "there is a war going on between common sense and crazy." He then criticizes transgender athletes and Ketanji Brown Jackson's response during her Senate confirmation hearings after being asked to define a "woman."
The ad continues with James saying, "Now here in Alabama, we chartered the first transgender school in the South using millions of your tax dollars. The faculty put on a drag show for children. That's not education, it's exploitation. It's got to stop. It's time to fight back."
The school responded in a statement on Facebook:
AL.com is reporting that James, during a radio appearance on Thursday, continued to use the charter school to underscore his platform that "our education system is crumbling," citing the state's low rankings in math. He said he plans to "deconstruct" the state's educational system "as it stands today."
He's currently trailing incumbent Gov. Kay Ivey by a considerable distance in polling ahead of the May 24 primary
Grieving Black mom Camika Shelby inspires hope
"Nigel was my 15-year-old son. He was full of light, full of joy. Losing him—it's a feeling that still is sometimes too hard to bear"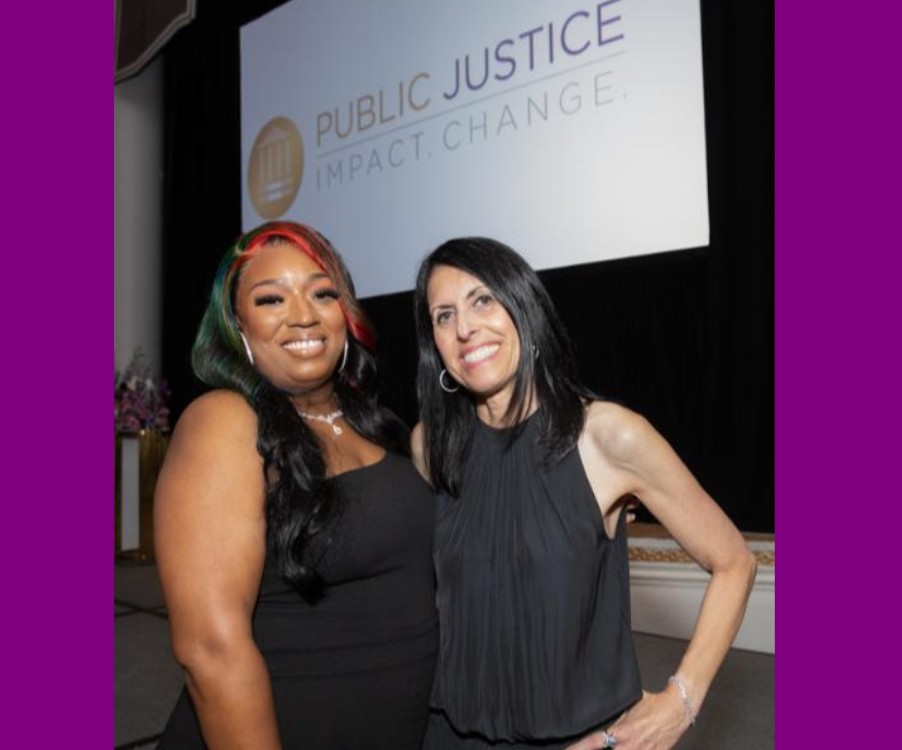 HUNTSVILLE, Ala. – Camika Shelby wiped away tears listening to Adele Kimmel, Director of Public Justice's Students' Civil Rights Project, describe the grieving mother as her "shero" for fighting the "hateful, bigoted political ideology [that] has taken root in our country and is fighting for domination." 
Camika lost her beloved Black gay 15-year-old son Nigel to suicide on April 18, 2019, after the teen suffered severe, unchecked anti-gay harassment and race discrimination in his freshman year at Alabama's Huntsville High School. Nigel's parents and estate subsequently filed a federal lawsuit in 2021 against the Huntsville City Board of Education and school administrator Jo Stafford, alleging that they violated Nigel's civil and constitutional rights.
According to the family's legal complaint, Stafford, the school's lead administrator for the freshman class, knew that Nigel's classmates were harassing him, telling him to kill himself because he was gay. Instead of protecting him, Stafford allegedly blamed Nigel for the harassment he was experiencing and told Nigel and a classmate to dance to "Black people's music" to make Nigel feel better. She never told Camika about the anti-gay harassment Nigel suffered at school.
Last March, Camika reached a settlement that requires the Huntsville City Board of Education to adopt and implement policy and training changes to better protect LGBTQ+ students.
"There is no amount of money in the world that could ever replace Nigel," Camika said after the settlement. "You can't put a price on a child. This lawsuit was about bringing change. It was about acknowledging that there needs to be change. It was about saving someone else's child so that they don't have to go through the horrible tragedy that I have. I hope this settlement will help bring about that change."
Camika Shelby was the surprise guest at Public Justice's 2023 Annual Gala & Awards in Philadelphia on July 17. "Nobody would have blamed Camika if in the days and weeks following the death of her son, she had chosen to seek privacy and grieve in solitude," Camika's attorney Adele Kimmel told the audience. "But she didn't do that. Instead she stood up, she fought back, and she worked to hold the school district accountable."
Kimmel also noted that Camika took action at a time when more than 400 anti-LGBTQ bills have been recently introduced in states around the country, in a place where one of the most anti-transgender legislative packages in history was just passed.
"I'm sorry about the tears," Shelby told the Gala audience. "Nigel was my 15-year-old son. He was full of light, full of joy. He had to have been one of the funniest kids. Losing him—it's a feeling that still is sometimes too hard to bear. But the day I laid my baby to rest, I promised that I wouldn't stop fighting for him."
The grieving mother's gratitude was palpable.
"The work that you do is life-changing for a lot of us. In the beginning, it was really hard because I received so much backlash. There were times I didn't think I was going to make it through," Shelby continued. "But then I met a lady named Adele. All of that changed. From the moment I met her and the rest of the team, I knew that I'm going to be all right because they actually cared….
"This has been the longest road ever," Camika said. "I'm honored to be standing here today to say I got through it. And because I got through it, it has opened so many doors for me to do so many things in honor of Nigel….I know that there are a lot of parents across the world who have lost a child or multiple children and we never even hear about it. So, the fact that my baby's story touched so many people and has brought about so many great opportunities — I'm just thankful."
Watch this short video to catch Camika Shelby's full remarks to the Public Justice Gala audience: