Orange County DA warns "extremely dangerous & violent criminal" is loose
He is considered to be "extremely dangerous and violent- If you see him, you are urged not to approach him and to call 911 immediately
SANTA ANA, Calif. – The Orange County District Attorney's Office is warning the public about an extremely dangerous and violent criminal who is now at large after being released on electronic monitoring to a Santa Ana halfway house from the Theo Lacy Facility in Orange.
18-year-old Ike Souzer was convicted of voluntary manslaughter after he stabbed his mother, Barbara Scheuer-Souzer, 47, in Garden Grove on May 4, 2017 when he was 13.
In addition to other charges, he was convicted in December of attacking three correctional officers and was ordered to wear an electronic monitor for the remainder of his sentence which was set to expire on July 9, 2023.
KTLA reported that before she died, Scheuer-Souzer who had been stabbed multiple times in the stomach, had identified her son as the attacker.
He is considered to be "extremely dangerous and violent," the D.A.'s office said. If you see him, you are urged not to approach him and to call 911 immediately.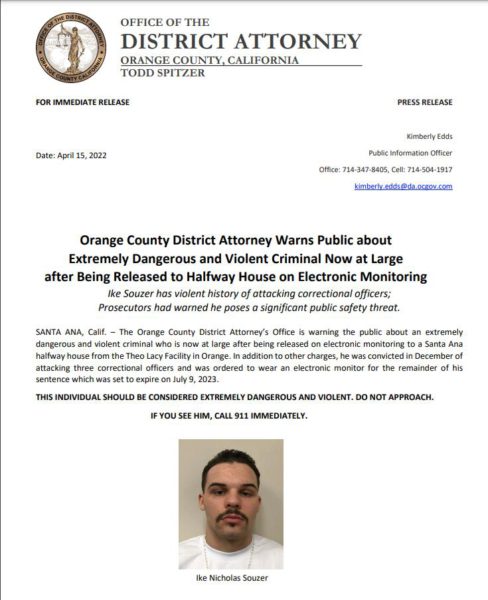 Teen inspires his community recovering after horrific accident
The 17-year-old Trabuco Hills High School senior said that his focus is to get up and walk, run and be active again as soon as possible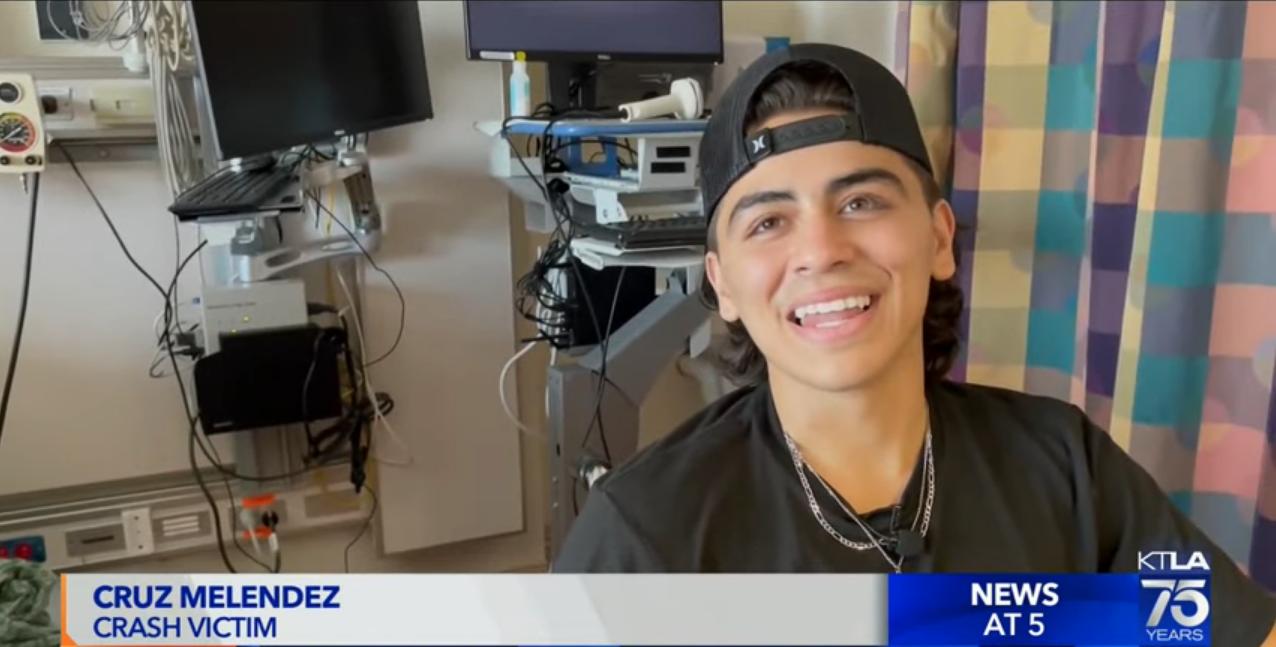 RANCHO SANTA MARGARITA, Ca. – The summer between year 11 and year 12 is often marked by a flurry of activities many in anticipation of the final year of high school for most young people. But for 17-year-old Cruz Melendez, his senior summer was spent recovering from at least 16 operations including amputation of his right foot after a horrific accident.
KTLA 5's John Fenoglio reported Saturday that after the 88 days spent in CHOC Children's Hospital in Mission Viejo as a result of being seriously injured when he was hit head-on by another vehicle at the intersection of Antonio Parkway at Tijeras Creek Road in Rancho Santa Margarita, the teenager was discharged to go home.
According to KTLA, the driver of the other vehicle was killed in the crash. Their passenger, as well as Cruz, were hospitalized with serious injuries.
Cruz's mom, Rahnee Melendez, described the moment she realized something was wrong on that May night.
"When I got a call at 2 a.m., I just knew, I knew something was wrong," she said. "I didn't even answer the phone. I just went straight to his room and he was not there."
Speaking with KTLA, the 17-year-old Trabuco Hills High School senior said that his focus is to get up and walk, run and be active again as soon as possible expressing thanks for all of the support he's received while in hospital.
"I am just so grateful for my friends and family. Everyone else who has reached out and giving me donations and stuff. It's just amazing."
The family has set up a GoFundMe account to help with the costs of Cruz's medical treatment and rehabilitation. To read more, click here.
KTLA 5's John Fenoglio reports:
Right-wing news anchor delivers obscenity-laden homophobic rant
"Guess what I came home to be greeted with? This fucking bullshit. [points to Rainbow Pride flag] What the hell is that?"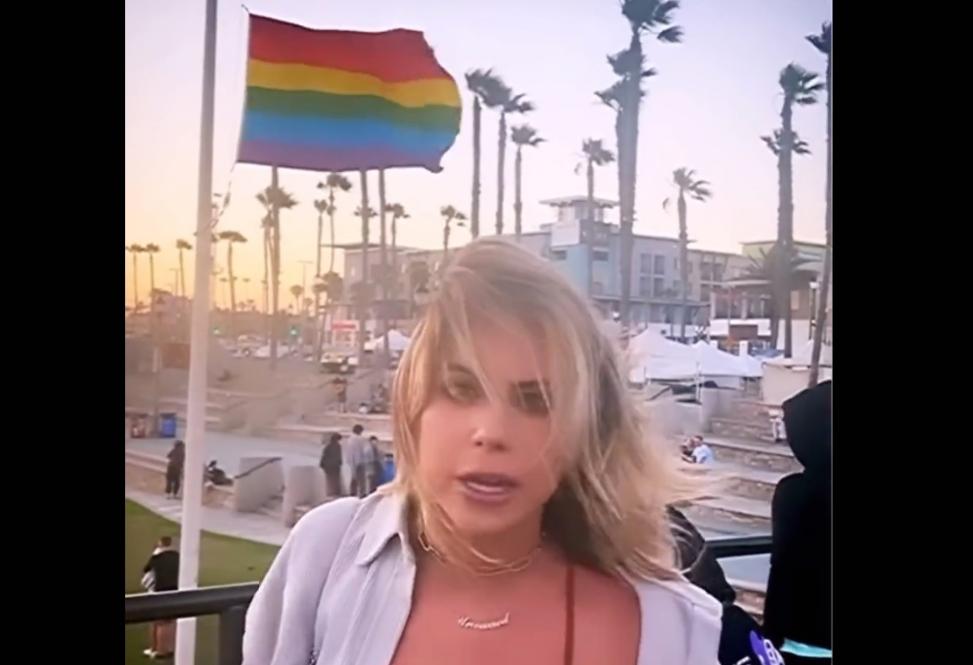 HUNTINGTON BEACH, Ca. – Alison Steinberg, an anchor and contributor for right-wing extremist media outlet One America News, launched into an obscenity-laden rant captured in a now viral video over an LGBTQ+ Pride flag flying in the beachfront business district of Huntington Beach commemorating Pride Month.
Steinberg had originally posted her video to her Instagram account but it was later removed.
In the rant Steinberg is heard saying: "And guess what I came home to be greeted with? This fucking bullshit. [points to Rainbow Pride flag] What the hell is that? Huntington Beach is the town of good old-fashioned hard-working American people, much less human. People who worked all through the COVID lockdown. Yes, that's right. Huntington Beach never shut down through any of the COVID nonsense fuckery. And now we're peddling this garbage?"
"What the hell is this? The only flag that should be up there is that American flag. This is a disgrace to our city and it should be taken down immediately. Whoever the hell is running this town needs to be fired. Make America great again. Make Huntington Beach great."
Ron Filipkowski, a defense lawyer and former Assistant United States Attorney had captured the video and uploaded it to his Twitter account where many of his 402.9K followers retweeted it:
OAN Contributor Alison Steinberg is raging after returning home to Huntington Beach to find the city flying a Pride flag. (Language) pic.twitter.com/fk5rTg88hF

— Ron Filipkowski 🇺🇦 (@RonFilipkowski) June 26, 2022
Mass shooting at a church in Orange County- 1 dead, 4 wounded
Deputies were dispatched to a scene of a shooting in the 24000 block of El Toro Road at around 2 p.m Sunday
LAGUNA WOOD – Orange County Sheriff's Department deputies were dispatched to a scene of shooting at 1:26 p.m. at the Geneva Presbyterian Church in the 24000 block of El Toro Road Sunday afternoon.
The Orange County officials on scene confirmed that one person was killed and four others were critically wounded during the incident, one other individual also suffered minor injuries.
UPDATED SUNDAY: Churchgoers stopped and hogtied the shooter, described as an Asian male in his 60s, preventing further carnage. "That group of churchgoers displayed what we believe is exceptional heroism … and bravery," Orange County Undersheriff Jeff Hallock told reporters.
UPDATED MONDAY: Orange County sheriff's officials have identified David Wenwei Chou, 68, of Las Vegas as the suspect in Sunday's shooting at the Geneva Presbyterian Church. Chou was arrested Sunday and is being held in lieu of $1-million, jail records show.
Sheriff's spokeswoman Carrie Braun said he was booked on one count of murder and five counts attempted murder. But authorities are still trying to determine the motive for the shooting, which left one churchgoer dead and five others injured.
The Los Angeles Times reported Monday that Chou appeared to be motivated by political hatred of the Taiwanese community, Orange County sheriff's officials said. While investigators provided few details, they said their investigation suggests the deadly attack was a "politically motivated hate crime" carried out by David Wenwei Chou, 68, of Las Vegas.
"Based on preliminary information in the investigation, it is believed the suspect involved was upset about political tensions between China and Taiwan," Sheriff Don Barnes said.
Another man who saw the attack Sunday at Geneva Presbyterian Church told the Los Angeles Times and other media outlets that a pastor struck the gunman with a chair while he was reloading, giving others a chance to tackle and hogtie the suspect. The shooting marred what was meant to be a special occasion: The pastor had just returned from two years in Taiwan
According to the OCSD on Twitter: "Deputies are responding to reports of a shooting at a church on the 24000 block of El Toro Road in Laguna Woods. Multiple victims have been shot. More details to follow, PIO en route. We have detained one person and have recovered a weapon that may be involved.
The Orange County Fire Department tweeted "Our FF/PM's are on scene and treating and transporting multiple patients. Updates will follow."
Gov. Gavin Newsom's office released a statement Sunday afternoon that said it was monitoring the shooting and working closely with local law enforcement.
"No one should have to fear going to their place of worship. Our thoughts are with the victims, community, and all those impacted by this tragic event," the statement read.
#OCSDPIO Deputies are responding to reports of a shooting at a church on the 24000 block of El Toro Road in Laguna Woods. Multiple victims have been shot. More details to follow, PIO en route.

— OC Sheriff, CA (@OCSheriff) May 15, 2022
We are working to get information out as quickly as possible. We ask for patience as this event unfolds.

— OC Sheriff, CA (@OCSheriff) May 15, 2022
Our FF/PM's are on scene and treating and transporting multiple patients. Updates will follow. https://t.co/guCEiA2ANc

— OCFA PIO (@OCFireAuthority) May 15, 2022