GOP lawmaker funds congressional run with transphobic shock tactics
Text-message campaign was hosted by GOP fundraising platform WinRed, which is under investigation for violating consumer protection laws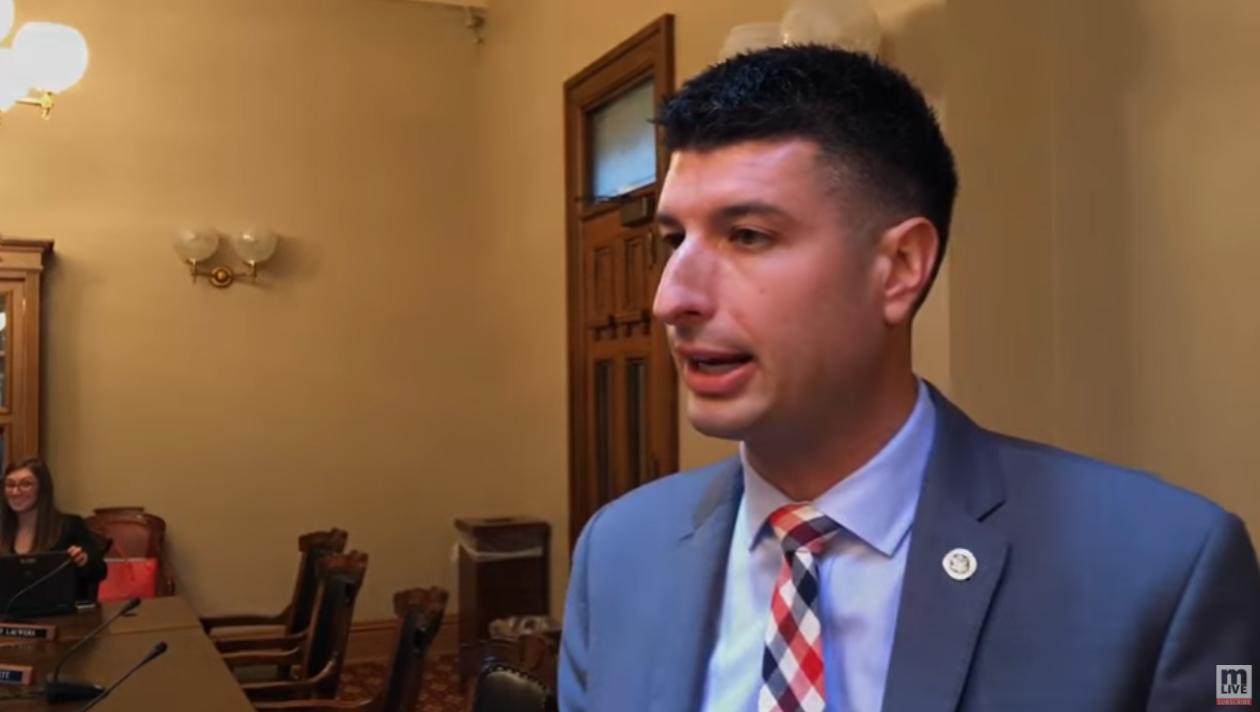 LANSING, Mi. – Republican State Senator Tom Barrett sent text messages soliciting donations to his Congressional campaign that opened with the announcement to recipients that, "your child's gender reassignment surgery has been booked." 
According to multiple screen shots that have been shared in media reports and on Twitter, there are multiple iterations of the message, which instruct recipients to donate to Barrett's campaign to make clear their opposition to "the operation" and "Biden's National Transgender Strategy."
That "strategy," according to a fundraising email linked to the text message, includes "forcing 5-year-olds to learn about gender reassignment surgeries, gender identities, and other radical ideas."
Barrett's office did not immediately return a request to comment from The Los Angeles Blade.
A second-term member of the Michigan Senate, Barrett is seeking the Republican nomination to run against Democratic incumbent Rep. Elissa Slotkin in the November general election to represent Michigan's newly created 7th Congressional District. The Republican primary will be held on August 2.
Michigan State Senator Mallory McMorrow (D) made headlines earlier this week with a viral speech on the Senate floor in which she denounced her Republican colleagues' use of scare tactics designed to inflame hatred toward LGBTQ people and their allies. 
Republican State Senator Lana Theis had sent a fundraising email that accused McMorrow of wanting to "groom and sexualize kindergarteners" for her support of measures that protect LGBTQ youth in schools.
Meanwhile, WinRed – the fundraising platform behind Barrett's text message and email campaigns – is under investigation by four state attorneys general for using tactics that violate the consumer protection laws, which follow a New York Times investigation of the Trump campaigns' practice of automatically enrolling donors into monthly or weekly contributions.
In January, a federal judge in Minnesota struck down a lawsuit from the company that attempted to stop the probes.
Michigan GOP no LGBTQ+ Pride resolution, demand 'lifestyle' disclaimer
The Majority leader "made suggestions" for amendments to make the resolution "more reflective of the diversity of opinions in the Senate."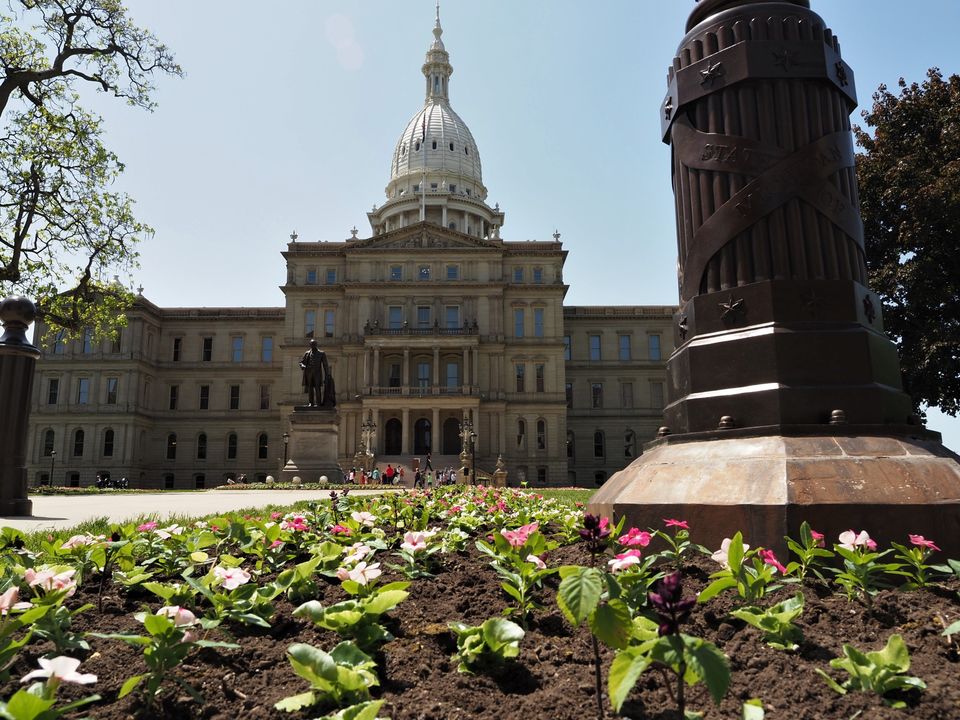 LANSING – A Michigan Senate Pride Month resolution was rejected Tuesday by Republican lawmakers who were demanding a disclaimer referring to LGBTQ+ people as a lifestyle choice. The language of the resolution was identical to the same format used in 2021, which the House and Senate approved the resolution last year, a first for the GOP-led Legislature.
This year however the resolution which would have recognized June 2022 as "Lesbian, Gay, Bisexual, Transgender, and Queer (LGBTQ) Pride Month," was derailed by Republican State Senate Majority Leader Mike Shirkey. In a statement provided to Bridge Michigan, the Majority leader said that he "made suggestions" for amendments to make the resolution "more reflective of the diversity of opinions in the Senate." 
The resolution was pulled and sent to the Senate Government Operations Committee that Shirkey chairs. The resolution's chief sponsor, state Sen. Jeremy Moss, D-Southfield accused the Republican leadership of being regressive throwing Pride Month back into the trash heap."
Shirkey wanted to replace language specific to the LGBT community with references to valuing "all" Michigan residents, and he proposed removing language about the government's "low and insufficient" response to the HIV/AIDS crisis and civil rights, Moss told Bridge Michigan.
But most concerning to him, Moss said, was a disclaimer Shirkey wanted to add: "Though not every citizen in Michigan agrees with the lifestyle of the LGBT community, it is agreed that every life is special, precious, unique and loved by the the creator, and each person is created in God's image."
Moss refused the addition, calling it a "negative" statement about LGBTQ residents thatimplies being gay is a choice. It would be like amending a Jewish American Heritage Month resolution to note that "not everyone in the state of Michigan supports the Jewish lifestyle," added Moss, who is gay and Jewish.
"I will not be gaslit that this is my problem," Moss said of the resolution's failure to pass the Senate on Tuesday. "I did not change the stakes. I did not move the goalposts. They did."
Michigan State Sen. McMorrow calls out GOP attacks on LGBTQ+ people
"Christianity has been weaponized by Republicans to make people hate gay and trans kids," McMorrow told the Blade.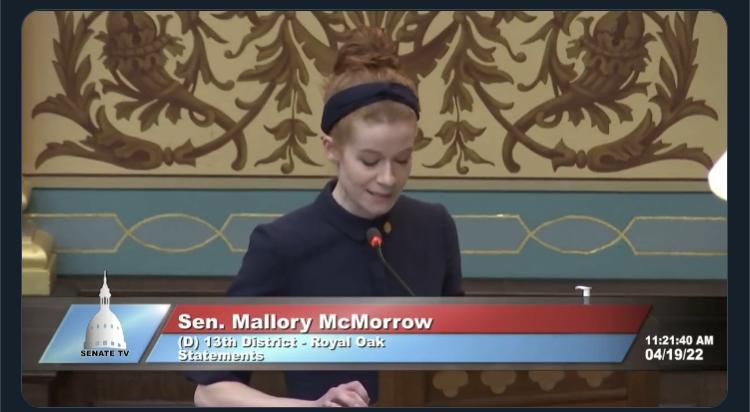 LANSING – Michigan State Sen. Mallory McMorrow, accused by a Republican colleague of wanting to "groom and sexualize kindergarteners" because of her advocacy for LGBTQ youth in schools, denounced the allegations in a speech on the Senate floor Tuesday that has since gone viral.
In an exclusive interview Wednesday with The Los Angeles Blade, McMorrow said it is everyone's responsibility to stand up to these types of attacks, which have been on the rise among Republican lawmakers who have sought to scapegoat vulnerable groups and weaponize hatred for their own political ends.
Senator Lana Theis accused me by name of grooming and sexualizing children in an attempt to marginalize me for standing up against her marginalizing the LGBTQ community…in a fundraising email, for herself.

Hate wins when people like me stand by and let it happen. I won't. pic.twitter.com/jL5GU42bTv

— Mallory McMorrow (@MalloryMcMorrow) April 19, 2022
These tactics, often used to compensate for the GOP's lack of any real policy solutions to offer voters, have been effective in the past – and there is therefore a moral as well as a political obligation to address them "head-on," McMorrow said.
"We've seen this playbook time and time again," she said, pointing to former president Donald Trump's incitement of hatred against Mexican immigrants in his announcement of his candidacy in 2015. And "when I spoke to voters [in Michigan] about their number one concerns, so many people talked about immigration and caravans coming from the southern border" even though the state borders Canada, McMorrow said.
Confronted with allegations by Republicans that they are pedophiles, or that their support of LGBTQ youth is an endorsement of pedophilia, Democrats may be reluctant to engage either because the claims are so outrageous or because they detract from real, substantive policy discussions, McMorrow said. But Democrats must address these attacks, she said, to denounce them and to make clear that they are meant to deflect the conversation away from issues that really impact people's lives.
Michigan's Republican Senator Lana Theis leveled the pedophilia charge against McMorrow in a fundraising email that also – based on her support for curricula that addresses America's record on race – accused McMorrow of wanting to teach schoolchildren that they bore responsibility for slavery.
In her speech before the Michigan Senate, which was viewed more than 8 million times on Twitter and shared by public figures including Hillary Clinton, McMorrow discussed her position as "a straight, white, Christian, married, suburban mom" in denouncing her colleague's unfounded, bad-faith allegations.
"I know that hate will only win if people like me stand by and let it happen," she said. "And I want to be very clear right now: Call me whatever you want. I know who I am. I know what faith and service mean, and what it calls for in this moment. We will not let hate win."
She told the Blade that she hopes other women in her position will use their privilege to speak out against hate and reclaim the mantle of faith that has been coopted by those who seek to marginalize others. "Christianity has been weaponized by Republicans to make people hate gay and trans kids," McMorrow said. "They're targeting kids, and that is so beyond the pale."
McMorrow said she will leave it up to her Senate colleagues to decide if formal action should be taken with respect to Theis – who, she noted, faces a Republican primary challenge and may have resorted to extreme rhetoric for this reason. McMorrow said that while some former GOP officials and staffers have pledged their support for her, none of her colleagues on the other side of the aisle have addressed the issue, not even privately.
Theis, for her part, addressed the matter in a tweet in which she accused McMorrow of capitalizing on the controversy to fundraise.
🧵 Sen. McMorrow is not naïve about politics and fundraising. I know that because it took her mere minutes to turn her Senate floor speech into a plea for campaign donations. 1/t

— Lana Theis (@LanaTheis) April 20, 2022
Despite the certainty of a veto from Michigan's Democratic Governor Gretchen Whitmer, the state's overwhelmingly Republican legislature has introduced several bills targeting trans youth, including measures to ban their participation in sports, McMorrow said.
Republican legislatures across the country are considering or have passed anti-LGBTQ legislation aimed at young people in public schools, with controversies erupting in recent months over Florida's "Don't Say Gay" bill, which prohibits any discussion of sexual orientation or gender identity in certain grade levels, potentially criminalizing a teacher's mention of her same-sex partner. Texas's pursuit of "child abuse" charges against parents and providers who allow trans youth to access gender-affirming health care also made headlines earlier this year.
Just as McMorrow experienced, proponents of these bills, and Republican lawmakers more broadly, have sometimes resorted to the shameful tactic of slandering their opponents – Democrats, LGBTQ people and their allies – as pedophiles or enablers of child abuse.
Governor Ron DeSantis's spokesperson tweeted in March that opponents of the state's "Don't Say Gay" bill are "groomers" or people who "don't denounce the grooming of 4-8 year old children."
The charge echoes Anita Bryant's "Save the Children" campaign in the 1970s, through which she argued against protections for gay men and lesbians on the grounds that they sought to recruit and abuse children. More recent roots can be found in the rise of the right-wing QAnon conspiracy theory, which inspired a gunman to fire shots in a DC pizzeria in 2016, convinced that Democrats were abusing kids in its basement. Last month, during her confirmation hearings, Republican Senators accused Biden's nominee for the Supreme Court, Judge Ketanji Brown Jackson, of being soft on child abuse – despite her objectively mainstream sentencing record.
Following her viral speech on the Michigan Senate floor, state Sen. Mallory McMorrow says our obligation to speak up against hate is moral as well as political
There is a very real risk that unfounded allegations and conspiracy theories concerning pedophilia and child abuse can inspire real violence, McMorrow said, adding that she has received concerned messages from friends who feared she might be targeted over the attacks in Theis's fundraising email. "It's a very real threat," she said.
While it was painful to read that email and unsettling to think about what its allegations could inspire, McMorrow emphasized that the pain with which marginalized people, her LGBTQ friends and colleagues – and LGBTQ youth, in particular – must live, every day, is far greater.
Michigan GOP House candidate to introduce 'Don't Say Gay' if elected
Michigan's Out Attorney General Dana told the Advance the legislation would be "one of the worst things that you can do for LGBTQ kids"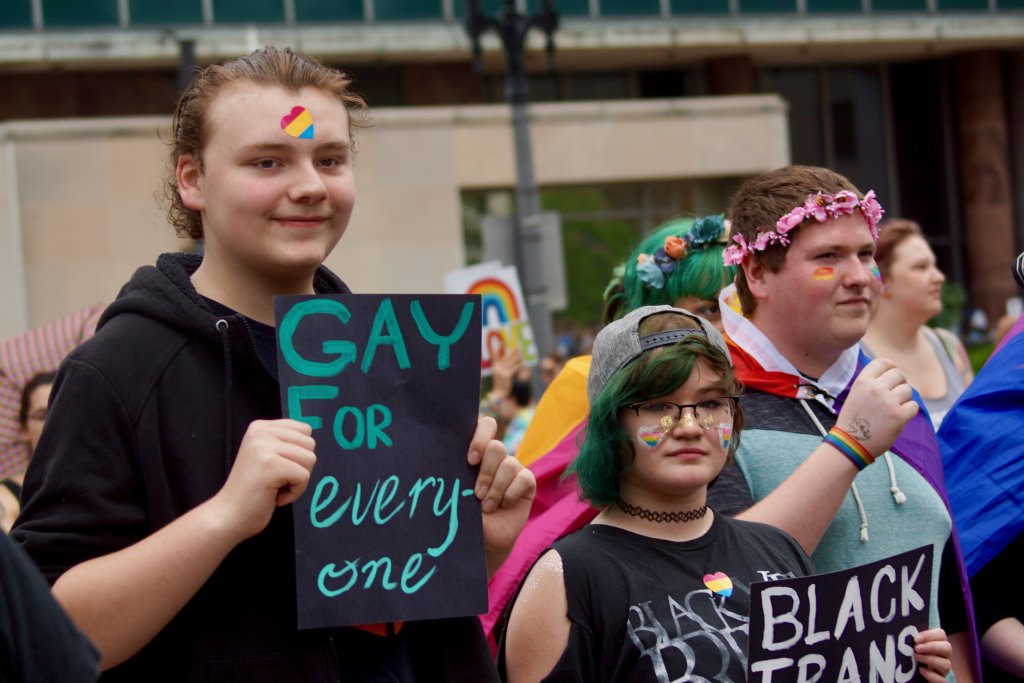 By Andrew Roth | KALAMAZOO COUNTY, Mich. – A Republican candidate for the Michigan House of Representatives announced that, if elected, he would introduce legislation modeled on a Florida measure known as the "Don't Say Gay" bill.
Jon Rocha, a candidate endorsed by former President Donald Trump in the 78th District, said his proposal would ban "discussion, or dissemination of materials, that involves sexual orientation, gender identity, or any sexually explicit content, in Kindergarten through 4th grade."
"Elementary kids should be learning about math, science, history and how to read and write — radical, sexual indoctrination from adults pushing personal agendas has no place whatsoever in the education of Michigan's youngest students," Rocha said in a statement.
The newly-drawn 78th District includes parts of Eaton, Barry, Ionia and Kent counties. Small business owner and citizen lobbyist Gina Johnsen recently announced she also is running as a Republican on a platform of transparency.
The legislation in Florida, which has been sent to the desk of GOP Gov. Ron DeSantis, would allow parents to sue school districts if their child is exposed to instruction on sexual orientation or gender identity deemed to not be "age-appropriate," which the Florida Phoenix reports could include anything from kindergarten through high school.
Florida's legislation has drawn backlash from leaders and corporations across the nation, with President Joe Biden calling it a "hateful bill."
Education Secretary Miguel Cardona has said that "all schools receiving federal funding must follow federal civil rights law, including Title IX's protections against discrimination based on sexual orientation and gender identity."
Jay Kaplan, an LGBTQ rights attorney with the American Civil Liberties Union, said the laws could have a chilling effect on teachers and school officials.
"If you look at the actual language of Florida's law, it is so broad, and it's so vague in terms of terminology," Kaplan said. "It has the impact of potentially taking everything off the table."
"How do you define classroom instruction? What if you have a student who was in a classroom, who happens to have two parents of the same gender showing up for, I don't know, the Halloween party in the classroom, and in effect that should come up in discussion? Why does somebody have, you know, two moms or two dads? That can't be discussed," Kaplan said. "Let's say, we're talking about President Biden's cabinet, and a student's doing a report on [U.S. Transportation Secretary] Pete Buttigieg and the fact that he is married to his husband. Is that taken off the table? There's so much vagueness in here."
Kaplan said that chilling effect is already being seen, even in states that do not have the so-called "Don't Say Gay" legislation yet.
"I got a call from a teacher a couple weeks ago, in Michigan, who was told by her principal that she cannot, if a student comes out to her as LGBTQ, that she's not allowed to acknowledge it, nor is she allowed to say or do anything supportive of that child, because the school district might be sued," Kaplan said. "Now, that's totally incorrect. We don't have a law like this in Michigan. And yet the thought from this principal was, well, they're attempting to do this in Florida, it's probably going to come to Michigan."
A Democratic state senator in Florida has warned that the controversial legislation could drive teachers out of the state, the Florida Phoenix reported.
Attorney General Dana Nessel, a Democrat who is Michigan's first openly gay top statewide official who argued this month in front of the Michigan Supreme Court to include LGBTQ people in the Elliott-Larsen Civil Rights Act, told the Advance the legislation would be "one of the worst things that you can do for LGBTQ kids."
"It says that they don't exist, which of course, they really do," said Nessel, who as a private attorney argued against Michigan's same-sex marriage ban that the U.S. Supreme Court overturned in 2015. "It will lead to a marked increase in suicide among LGBTQ kids, or the children of LGBTQ parents."
Simply acknowledging the existence of LGBTQ individuals can have a profound impact for their mental health, especially during their formative years, Nessel said.
"Just by virtue of Gov. [Gretchen] Whitmer putting a pride flag out in June, outside the Romney Building, I can't even tell you the significance of just acknowledging this community, what it meant to so many people in this state," Nessel said. "Not even any word, just putting that flag out. There were kids that didn't slit their wrists, and didn't jump off a bridge that day, because they had a governor that acknowledged that they exist and that they should be proud of who they are."
Beyond mental health struggles, Kaplan said it could also lead to external safety threats for LGBTQ students.
"This helps to foster this environment that somehow to be LGBTQ is forbidden, is wrong," Kaplan said. "I think it also sends a message to other kids that to be LGBTQ or to identify as that is wrong. And it can also put those LGBTQ kids not only at risk for mental health harm, but also for physical harm, for bullying and harassment by other students, because this message is being communicated."
Legislation restricting the rights of LGBTQ individuals has recently moved in at least 10 other states, reports Them, an LGBTQ magazine launched in 2017.
"We're obviously seeing a trend," Kaplan said. "I think this is one of the worst years in terms of anti-LGBTQ legislation introduced in other state legislatures that we've ever seen, particularly targeting LGBTQ youth."
Kaplan said there is a link between the trend of anti-LGBTQ legislation and the rise of Critical Race Theory as an issue for Republicans across the country, with the issues being similarly framed and weaponized.
"You absolutely see that connection. We've heard of particular groups appearing at school board meetings, and they have a three-point initiative: They don't want discussion of critical race theory, in the past they didn't want the kids wearing masks in school, and they also don't want policies that are supportive of LGBT kids in school," Kaplan said. "And sometimes they also will include they want to see transgender kids prohibited from being able to play school sports in accordance with their gender identity."
Kaplan said that the legislation is designed for political gain, rather than from the standpoint of useful policy.
"The other thing that's so important to keep in mind is the impetus behind much of this legislation is political. It's trying to score political points, and trying to solidify political bases, by attacking particular groups of people — in this case, some of the most vulnerable people, LGBTQ kids," Kaplan said. "And we have to call it out for what it is."
This is a party (the GOP) that operates on cruelty and hatred. And I can't imagine wanting to be a member of a party that wants to target some of the most vulnerable people in our society. I don't know what people get out of that. I don't know what's enjoyable about that. – Attorney General Dana Nessel
Nessel said the strategy dates back decades.
"I feel like I've seen this from the Republican Party. I've seen this playbook, you know, I feel like my whole life," Nessel said. "This is a party that operates on cruelty and hatred. And I can't imagine wanting to be a member of a party that wants to target some of the most vulnerable people in our society. I don't know what people get out of that. I don't know what's enjoyable about that. I don't know what motivates a person to run for office, if their goal is to discriminate against their own constituents. It's very disturbing to me. And I won't ever understand it."
"These are not legitimate issues for people to be concerned about. A person having medical insurance, that's a legitimate issue. A person being able to find affordable housing, that's a legitimate issue. A person having clean water to drink and clean air to breathe, that's a legitimate issue. But because the Republicans don't have policies that regular people would support on any of those issues, instead, they have to turn to these wedge issues that are divisive, and really are unhelpful to anyone."
Nessel said that the policies need to be a defining issue for voters in the upcoming midterm elections. She is up for reelection this fall and likely will face former House Speaker Tom Leonard (R-DeWitt), state Rep. Ryan Berman (R-Commerce Twp.) or Kalamazoo-based attorney Matthew DePerno, who all have right-wing stances on social issues.
"All hope is not lost, but people have to pay really close attention to who they vote for, and people have to get out and vote," Nessel said. "For everyone who's an ally, who supports the LGBTQ community, you know, it just has to be bigger than issues like taxes, or issues like differences on COVID relief, or something of that nature. This is about acknowledging a very large percentage of our state as just as human. I mean, it's as simple as that."
Ultimately, Nessel said she wants LGBTQ people to know that while "you may have one party that wants to erase you," LGBTQ individuals also "have an entire political party structure here in the state of Michigan that cares about you, and that supports you, and that believes that you matter, and that's willing to fight for you."
**********************
Andrew Roth is a reporting intern with the Michigan Advance. He has been covering Michigan policy and politics for three years across a number of publications and studies journalism at Michigan State University.
*********************
The preceding article was previously published by the Michigan Advance and is republished by permission.