Michigan GOP no LGBTQ+ Pride resolution, demand 'lifestyle' disclaimer
The Majority leader "made suggestions" for amendments to make the resolution "more reflective of the diversity of opinions in the Senate."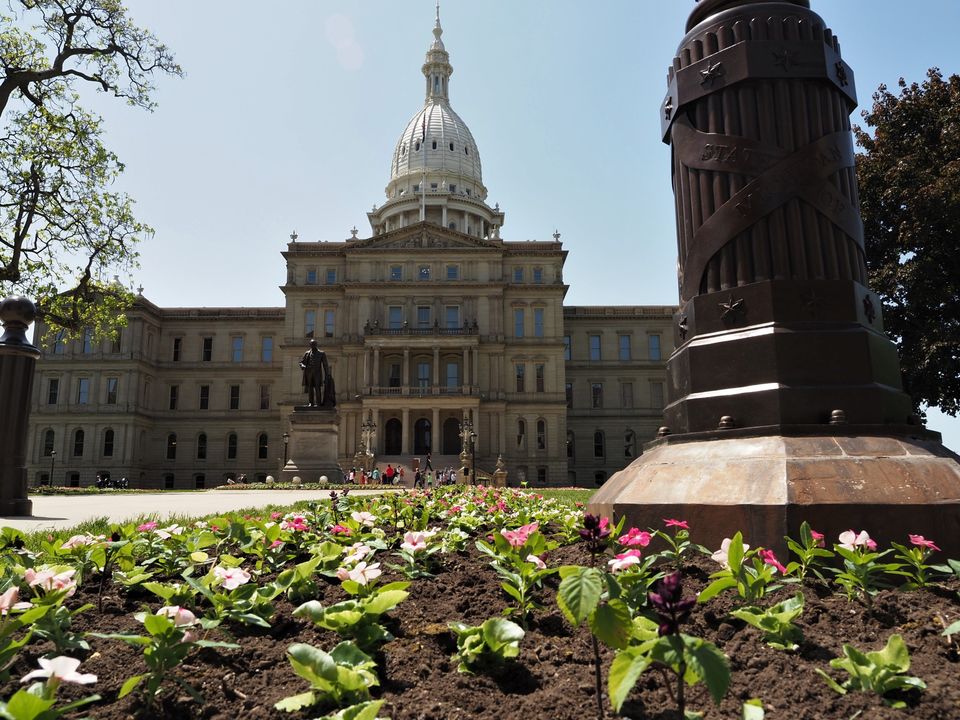 LANSING – A Michigan Senate Pride Month resolution was rejected Tuesday by Republican lawmakers who were demanding a disclaimer referring to LGBTQ+ people as a lifestyle choice. The language of the resolution was identical to the same format used in 2021, which the House and Senate approved the resolution last year, a first for the GOP-led Legislature.
This year however the resolution which would have recognized June 2022 as "Lesbian, Gay, Bisexual, Transgender, and Queer (LGBTQ) Pride Month," was derailed by Republican State Senate Majority Leader Mike Shirkey. In a statement provided to Bridge Michigan, the Majority leader said that he "made suggestions" for amendments to make the resolution "more reflective of the diversity of opinions in the Senate." 
The resolution was pulled and sent to the Senate Government Operations Committee that Shirkey chairs. The resolution's chief sponsor, state Sen. Jeremy Moss, D-Southfield accused the Republican leadership of being regressive throwing Pride Month back into the trash heap."
Shirkey wanted to replace language specific to the LGBT community with references to valuing "all" Michigan residents, and he proposed removing language about the government's "low and insufficient" response to the HIV/AIDS crisis and civil rights, Moss told Bridge Michigan.
But most concerning to him, Moss said, was a disclaimer Shirkey wanted to add: "Though not every citizen in Michigan agrees with the lifestyle of the LGBT community, it is agreed that every life is special, precious, unique and loved by the the creator, and each person is created in God's image."
Moss refused the addition, calling it a "negative" statement about LGBTQ residents thatimplies being gay is a choice. It would be like amending a Jewish American Heritage Month resolution to note that "not everyone in the state of Michigan supports the Jewish lifestyle," added Moss, who is gay and Jewish.
"I will not be gaslit that this is my problem," Moss said of the resolution's failure to pass the Senate on Tuesday. "I did not change the stakes. I did not move the goalposts. They did."
School board candidate uses Pride flag as a hated Nazi symbol
"Like my new Pride flag?" candidate Craig Ladyman captioned the now-deleted post on Trump's Truth Social platform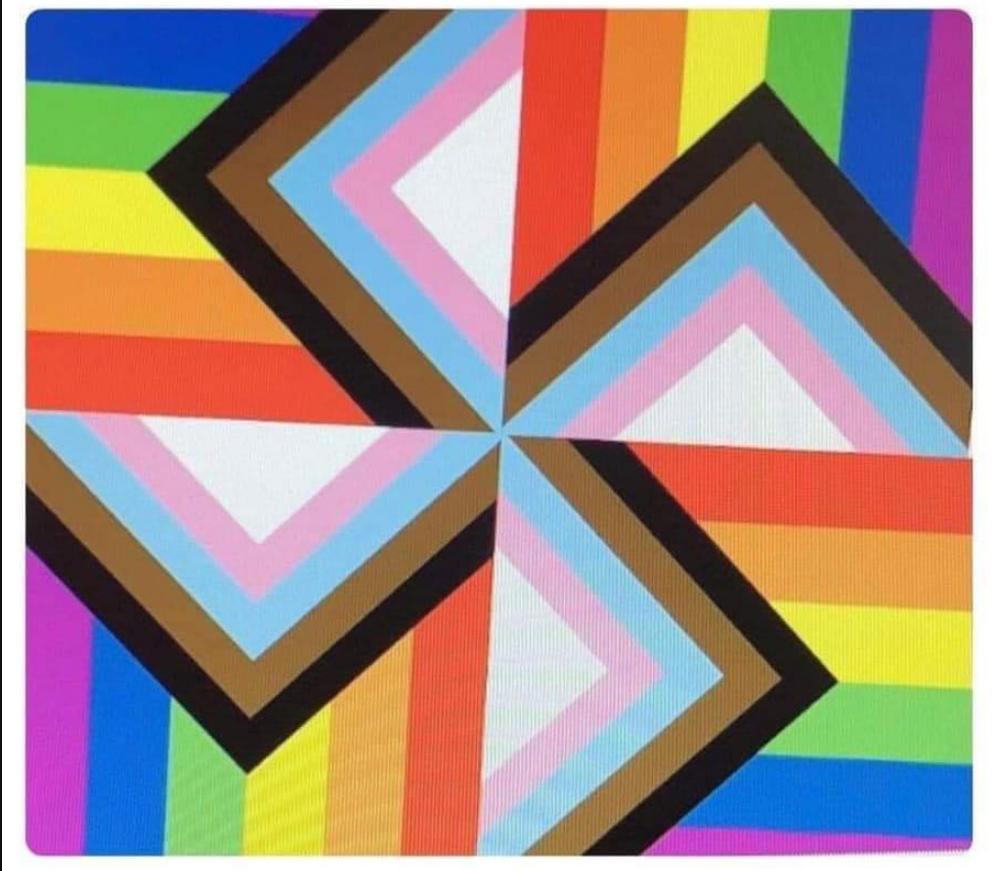 ROCKFORD, Mi. – A candidate for a seat on the Rockford, Michigan school board in this town of approximately 6,000, located ten miles north of Grand Rapids, went onto far-right social media platform Truth Social founded by former President Trump and shared a graphic collage of the Progress Pride flag converted into a Nazi-style swastika.
"Like my new Pride flag?" candidate Craig Ladyman captioned the now-deleted post.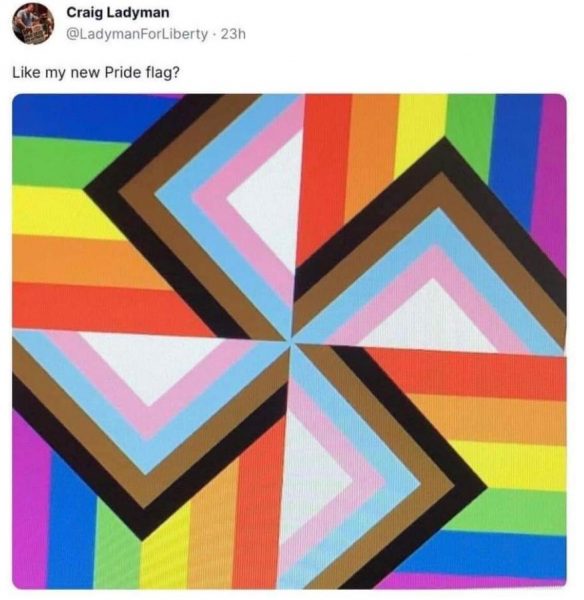 Ladyman has a long and documented social media history of denigrating the LGBTQ+ community. In one post he depicted himself carrying an assault style rifle with the caption; " I like exercising my Liberty like a drag queen exercises their sexuality."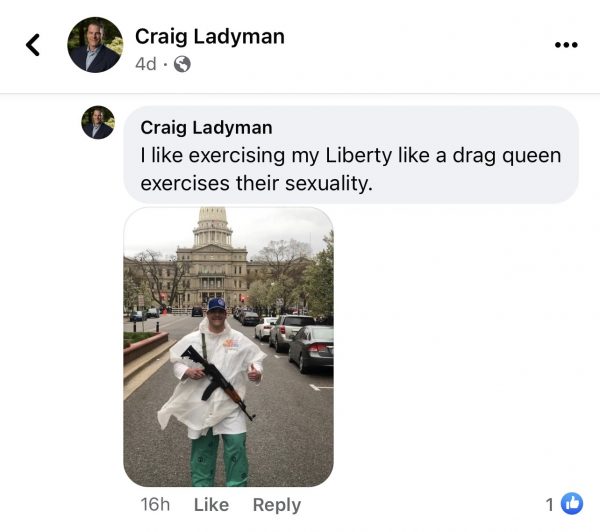 Ladyman, who has a business executive profile on LinkedIn as an account executive for ArjoHuntleigh, a global medical technology company, lists himself as an 'America First' adherent and opposed emergency measures taken by Michigan Governor Gretchen Whitmer, shown in a social media post open carrying an assault-style rifle standing with anti-Whitmer protestors in May of 2020.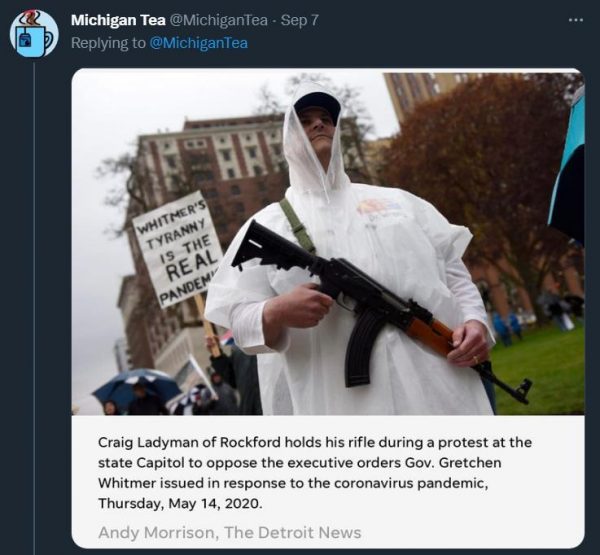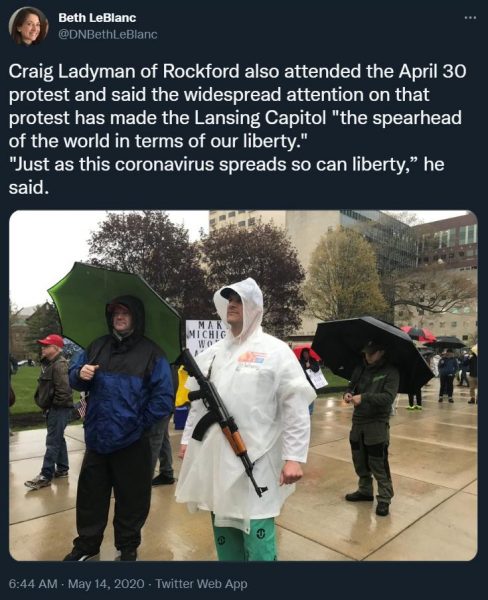 In another recent post Ladyman referred to LGBTQ equality rights and community history as "grooming:"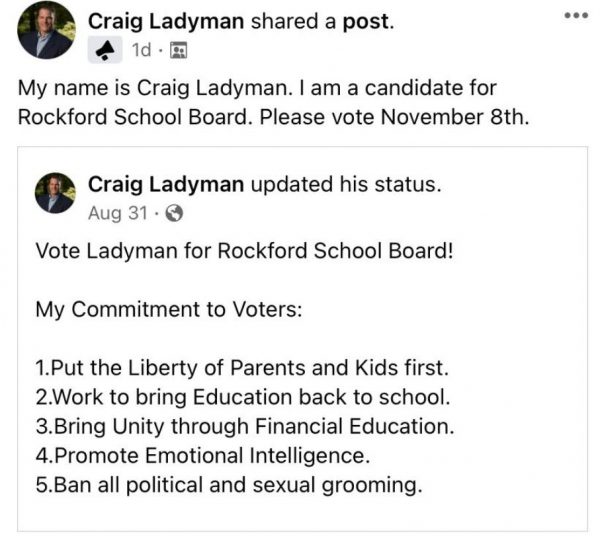 WXMI-TV FOX 17 in Grand Rapids noted that the Nazi Progress Pride Flag image was sharply criticized by members of the Jewish community, LGBTQ people, as well as local leaders, including Rockford Public Schools Superintendent Steven Matthews, who said that the image made him feel "angry."
"It's a symbol that I don't think represents who we are as a community and anybody who would use it I don't think represents who we are as a community," Matthews told Fox 17.
Ladyman, whose political ad states that he "will never go along with unconstitutional mandates, medical tyranny or the woke agenda," didn't back down when asked to comment on the backlash.
"While I was hoping the outrage would encourage people to do their research into this flag, I would like to state for the record that this image was not created by me," he said in a written statement to WXMI-TV, after declining to appear on an on-camera interview.
Ladyman — a self-described "pro-God, pro-country and pro-Constitution school board candidate [who] will continue to fight for excellent education in schools without this sexual indoctrination" — credited the image to the British actor and far-right activist Laurence Fox, who first tweeted the altered flag in June 2022.
Michigan library defunded after refusing to censor LGBTQ books
A community voted to close its library rather than have it remain open with books some consider to be "indoctrinating" children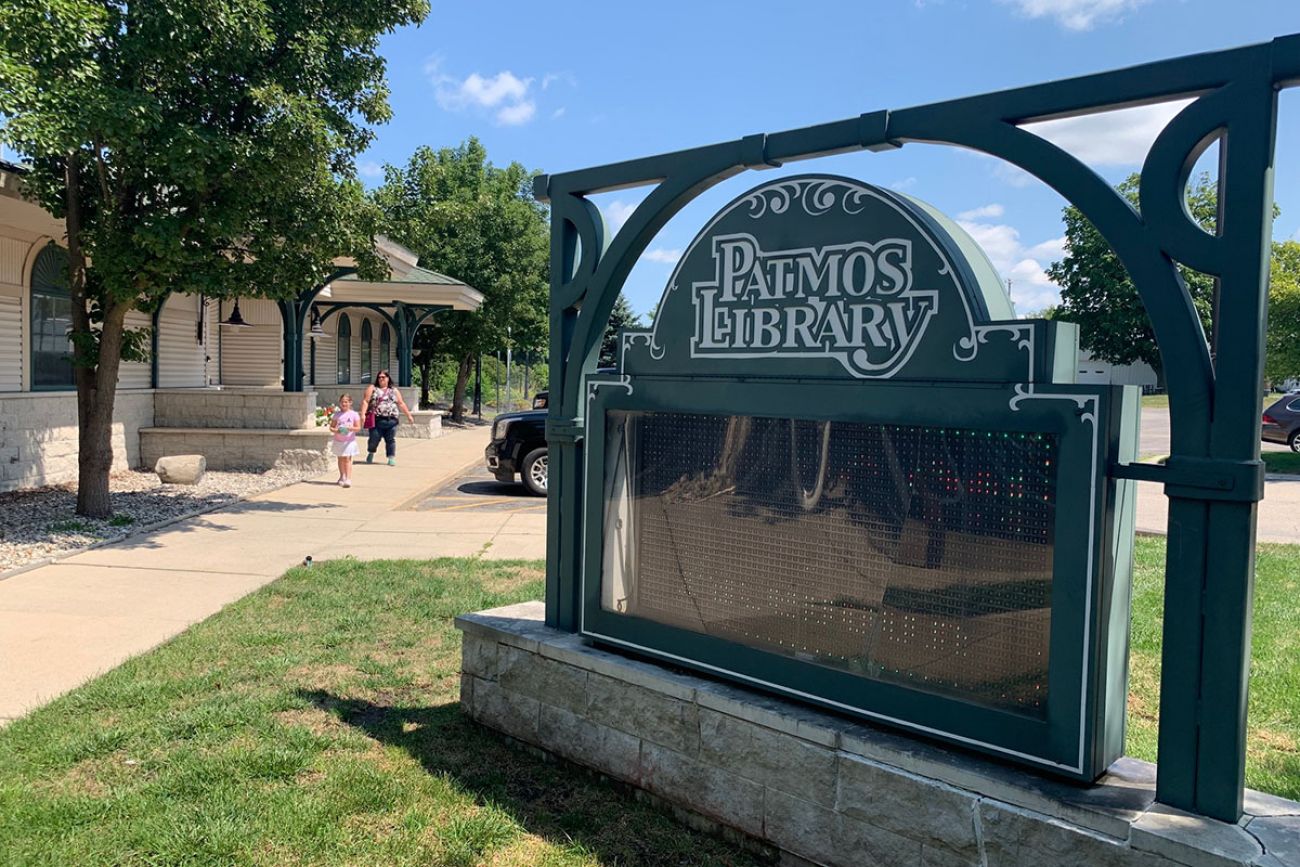 By Ron French | JAMESTOWN TOWNSHIP, Mi. – What started as a fight over an LGBTQ-themed graphic novel may end with the closure of a west Michigan public library.
Voters in Jamestown Township, a politically conservative community in Ottawa County, rejected renewal Tuesday of a millage that would support the Patmos Library. That vote guts the library's operating budget in 2023 — 84 percent of the library's $245,000 budget comes from property taxes collected through a millage.
Without a millage, the library is likely to run out of money sometime late next year, said Larry Walton, library board president.
"I wasn't expecting anything like this," Walton told Bridge Michigan Tuesday. "The library is the center of the community. For individuals to be short sighted to close that down over opposing LGBTQ is very disappointing."
There have been protests at other Michigan public libraries and at school board meetings about books with LGBTQ themes. But Tuesday may be the first time a community voted, in effect, to close its library rather than have it remain open with books some consider to be "indoctrinating" children.
Continue reading at Bridge Michigan: (LINK)
*********************
Ryan Wieber, President of the Michigan Library Association, released a statement Friday regarding the situation at Patmos Library:
The Michigan Library Association stands in solidarity with the Patmos Library Board of Trustees on the decision to retain a small collection of LGBTQIA+ materials on their library shelves. We are equally disheartened to learn that continued funding for the library was defeated on the August primary ballot because the library would not remove these materials.
We recognize that individuals have the right and responsibility to make decisions about what materials are suitable for themselves and their own families. We also stand united with the majority of the Patmos Library Board, and with librarians across the nation in upholding our Constitutional protections. The freedom to read is guaranteed by the Constitution. No one has the right to make rules restricting what other people read or to make decisions for other families. Freedom only exists when individuals can make their own choices. When a book is banned by those who want to censor voices they don't agree with, our democracy itself is threatened.
Of utmost importance to any public library is curating collections that allow every citizen, young and old alike, to see themselves in the books and resources their library provides, and choosing a broad range of subject matter that reflects diverse experiences. It is important to emphasize that the presence of any reading materials in a library collection does not imply endorsement of the ideas expressed in those materials. The library is simply doing its job to provide a wide variety of views and expressions—if the library "endorses" anything, it is citizens' right to access a broad selection of age-appropriate materials. This is a core tenant of librarianship – to provide for the interests of all, and to do so without bias.
Of the 50 library millages across Michigan that were on the August primary ballot, five were voted down, but only one was voted down due to extremist rhetoric and opposition concerning the small collection of materials with LGBTQIA+ themes on the shelves of the Patmos Library.
And we all know that there are extreme consequences to be addressed for those that voted "NO".
How will the community fare, when and if, the library closes its doors because its funding was not approved? Economically? Socially? Educationally? The Patmos Library serves many purposes – simultaneously a community center, voting precinct, history center, a place to read, gather, socialize, study and learn – a beautiful cultural institution in the heart of Hudsonville. The day will come when there is no access to WiFi. No access to employment assistance. No access to books, materials and eContent. No access to veteran's benefits. No access to storytime. No access to afterschool, weekend and evening programs. No access to lifelong learning opportunities. NO ACCESS at all because the Patmos Library will shut and lock their doors and will no longer serve the needs of anyone, including those that voted no.
It is the responsibility of libraries throughout Michigan and our Nation to guarantee and facilitate access to all expressions of knowledge and intellectual activity, including those that some individuals in our society may consider to be unconventional, unpopular, or unacceptable. We stand with you as you uphold the first amendment rights that are enshrined in the Constitution by serving the entire population, including those who see value in material that others may find objectionable.
The Michigan Library Association will help Patmos Library in any way they deem needed to address this challenge.
There is a GoFundMe campaign established by local Jamestown resident, Jesse Dillman, who is raising funds to sustain library operations. As of Friday, August 5, 2022 the campaign had raised $12,571 of its $245,000 goal.
The link to the GoFundMe is here: (LINK)
**********************
The preceding excerpt was previously published by Bridge Michigan and is republished by permission. Photograph of Patmos Library sign by Ron French for Bridge Michigan republished by permission.
Bridge Michigan is a non-profit supported by readers like you. Membership at Bridge isn't like a traditional newspaper subscription. It's a community.
Every gift makes a difference, but monthly or annual recurring donations build long-term sustainability, helping us grow and prepare for the future. Join Bridge today with a credit card or, if you prefer, through PayPal. Thank you!
Michigan Court of Appeals overturns decision regarding abortion law
The appeals court ruling paves the way for county prosecutors to file criminal charges against abortion providers under the 1931 state law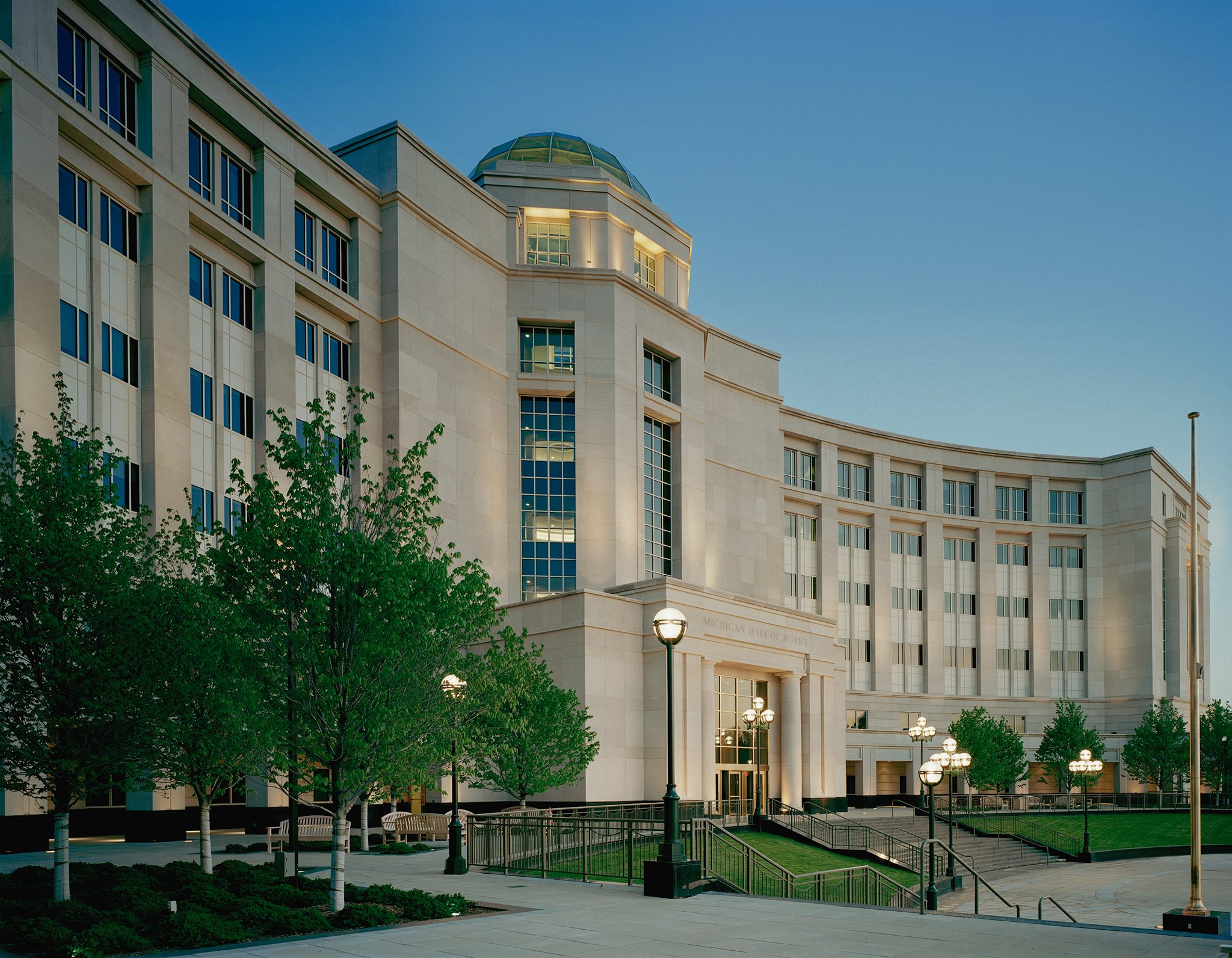 LANSING – In a ruling issued Monday, the Michigan Court of Appeals overturned a lower court decision regarding the state's dormant 1931 state law that criminalizes medical providers performing abortion procedures.
According to Michigan Public Radio, the appeals court ruling paves the way for county prosecutors to file criminal charges against abortion providers under the 1931 state law. That law would ban all abortions in Michigan except to save the life of a pregnant person. But the decision does not take effect for 21 days, to allow time for parties to file an appeal.
Planned Parenthood of Michigan responded to today's ruling in a statement:
"The injunction barring enforcement of Michigan's 1931 criminal abortion ban remains in effect and applies to all Michigan county prosecutors. Under Michigan court rule MCR 7.215(F)(1)(a), "the Court of Appeals judgment is effective after the expiration of the time for filing an application for leave to appeal to the Supreme Court, or, if such an application is filed, after the disposition of the case by the Supreme Court."  This means that the Michigan Court of Appeals ruling cannot take effect during the 21 day appeal window. Planned Parenthood of Michigan will continue to evaluate our legal options and remains committed to protecting abortion access in Michigan. Planned Parenthood of Michigan will continue to provide abortion services in accordance with the law. PPMI patients can keep their appointments and our doors remain open."
The Michigan Court of Appeals has overturned a lower court decision regarding the state's dormant abortion law.

The appeals court ruling paves the way for county prosecutors to file criminal charges against abortion providers under the 1931 state law.https://t.co/FxC9euJ5xi

— Michigan Radio (@MichiganRadio) August 1, 2022
The Detroit Free-Press reported that the ruling means the 1931 law banning all abortions except those done to protect the life of a pregnant person essentially takes effect immediately, said David Kallman, an attorney for Great Lakes Justice Center, a conservative organization representing several Michigan prosecutors who challenged the injunction.
"We're ecstatic. It's wonderful. That's exactly what we've been saying all along," Kallman said Monday morning in a phone interview.