Out Boulder County hosts panel on dangers of conversion therapy
Conversion therapy intended to change sexual orientation/gender identity of patients is banned but that doesn't include pastoral counseling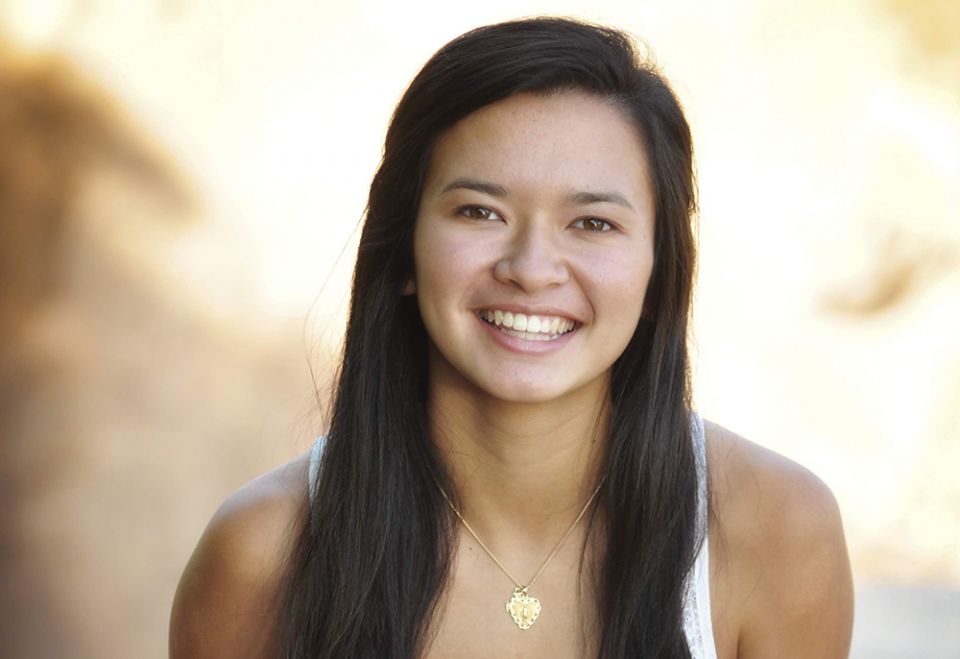 BOULDER, Co. – This upcoming Sunday afternoon, April 24, The Alana Faith Chen Foundation, Born Perfect, Q Christian Fellowship, and Out Boulder County Colorado will host a program on the life threatening dangers of conversion therapy for Lesbian, Gay, Bisexual, Transgender, and Queer (LGBTQ) people at the Equality Center of the Rocky Mountains.
National experts on the dangers of conversion therapy will speak to attendees about their own experiences and what action can be taken.
The program will be followed by a peaceful vigil honoring the memory of Alana Faith Chen, a young lesbian who took her own life in December 2019 at a reservoir in the Boulder County foothills, after Catholic priests and other representatives of the Catholic church encouraged her to conceal and suppress her sexual orientation.
Although church officials deny engaging in "conversion therapy" her mother says priests and others encouraged her daughter to conceal and suppress her sexual orientation
Conversion therapy is a broad term referring to a range of practices, from outdated shock therapies to contemporary counseling that promises to change, "heal" or suppress one's sexual orientation. It has been discredited by mental health organizations, which have warned that conversion efforts do not work and put children at risk of serious harms, including a dramatically increased rate of suicidality. According to one study, more than 60% of minors sent to conversion therapy attempted suicide.
The dangers of conversion therapy for LGBTQ people, particularly LGBTQ youth, is well established. In 2019 a limited ban on conversion therapy in Colorado took effect. The ban only applies to youth under the age of 18 and does not include pastoral counseling. This leaves LGBTQ people vulnerable to pastoral counseling that can be deadly as it was for Alana Faith Chen.
"Conversion therapy does not change who LGBTQ people are or who they love. It tries to teach LGBTQ people to be ashamed of those things. It is a deadly practice, and especially deadly for LGBTQ youth," said Mardi Moore, Executive Director of Out Boulder County. "This idea for this program came from Joyce Calvo, Alana Faith Chen's mother. Joyce asked Out Boulder County to help her protect other people from experiencing what her daughter did."
Colorado now bans the practice of conversion therapy intended to change sexual orientation or gender identity of patients under 18. But the law does not include pastoral counseling.
The panel will be facilitated by Nicole Garcia, Faith Leader and Out Boulder County Board member and will feature Joyce Calvo, a mother who works to share her daughter Alana's story and help others suffering from conversion therapy; Jessica Ritter, the Texas Ambassador for Born Perfect and a conversion therapy survivor. After three years of conversion therapy, Jessica came out to her friends and family for a second time; Mathew Shurka, a conversion therapy survivor and Co-Founder of Born Perfect, a campaign that has become a global movement to end conversion therapy. Mathew leads the campaign alongside a team of lawyers and conversion therapy survivors committed to protecting LGBTQ+ people through legislation, litigation, media and public education; and Christopher Dowling, who was a peer of Alana Chen, as a devoted Catholic who wanted to be a priest, and endured a decade of conversion therapy in order to do so. He dropped out of seminary in 2014 and came out to friends and family four years later.
Event Details
Date and Time: Sunday, April 24, 2022 at 3PM
Location: 3340 Mitchell Ln., Boulder, 80301
Schedule:
3-3:30PM – Reception
3:30-4:30PM – Program
5PM – Travel to vigil outside St. Thomas Aquinas Catholic Center1520 Euclid Ave. in Boulder.
Colorado Governor Jared Polis visits Club Q & memorial to victims
Polis stated Club Q will be back & that the community will be safe adding the perpetrator will be held fully accountable under Colorado law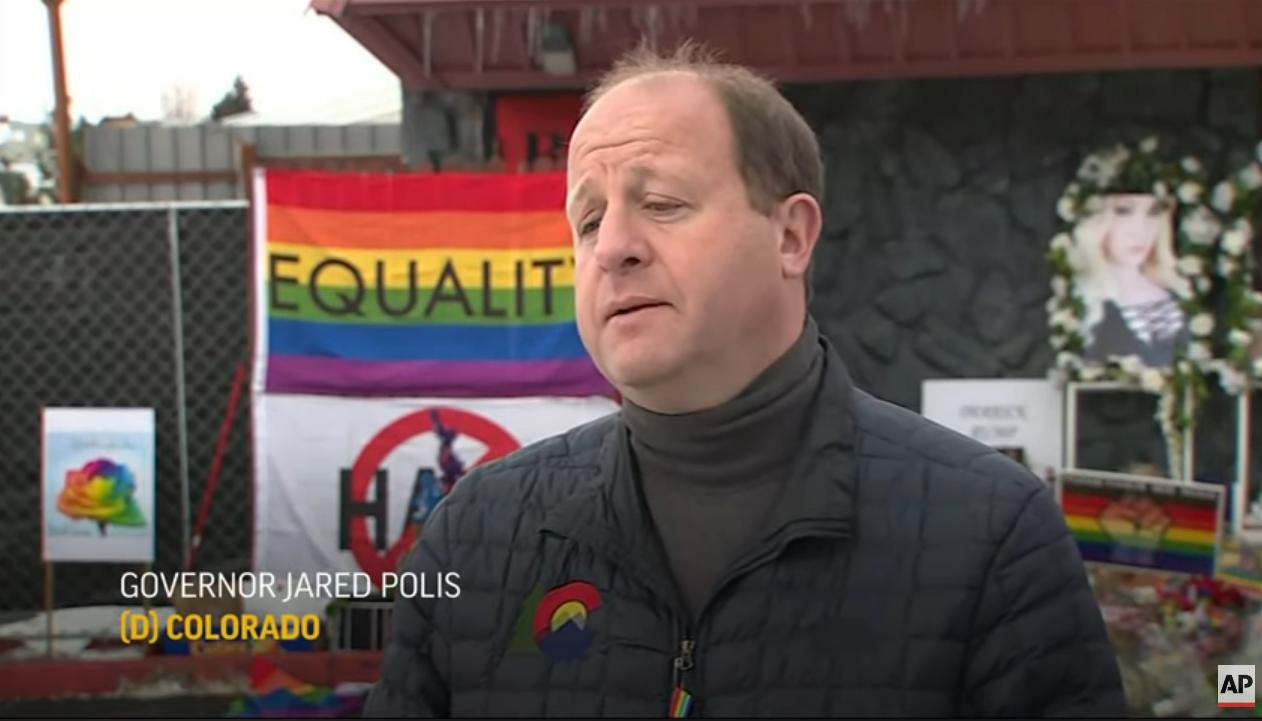 COLORADO SPRINGS – Accompanied by Club Q owners Nic Grzecka and Matthew Haynes, Colorado's openly gay Governor Jared Polis visited the growing memorial to the victims of the mass-shooting at the LGBTQ+ nightclub two weeks ago on Tuesday.
In his remarks to reporters, Polis stated that the Club Q will be back and that the community will be safe adding that the "perpetrator will be held fully accountable under the laws of Colorado for the heinous acts committed."
In response to a question asking if he thought the sharp uptick in anti-LGBTQ hate speech and rhetoric online contributed to the mass shooting, the governor responded saying;
"I mean we certainly don't know the contribution of the hostile rhetoric that's out there to this particular case, um but of course there's no excuse for rhetoric that targets or attacks individuals based on who they are or who they love, and that cannot only be incendiary or um ah inspire acts against the LGBTQ community- but it could also make life harder for those who are dealing with gender identity and sexual orientation issues, and need to see positive role models and get the support they need to be themselves."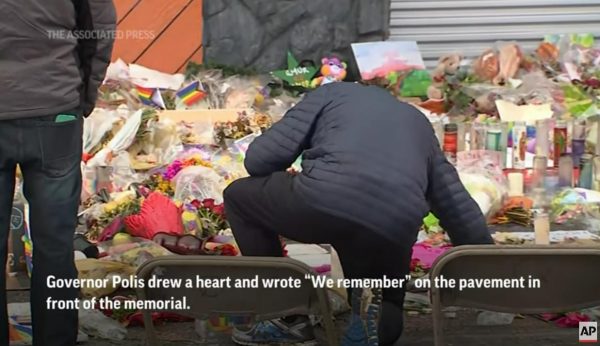 Grzecka, a co-owner of Club Q, had told the AP in one of his first interviews after the shooting he believes the targeting of a drag queen event is connected to the art form being cast in a false light in recent months by right-wing activists and politicians who complain about the "sexualization" or "grooming" of children.
Even though general acceptance of the LGBTQ community has grown, this new dynamic has fostered a dangerous climate, he said.
"It's different to walk down the street holding my boyfriend's hand and getting spit at (as opposed to) a politician relating a drag queen to a groomer of their children," Grzecka said. "I would rather be spit on in the street than the hate get as bad as where we are today."
Later Tuesday afternoon at the Atrevida Brewery owned by one of the three people hailed as heroes for tackling and subduing the shooter until arriving Colorado Springs Police officers were able to arrest him, the governor embraced Atrevida owner Richard Fierro.
Fierro, a former U.S. Army officer and combat veteran was honored with $50,000 from a local credit union as Polis and Colorado Springs Mayor John W. Suthers looked on.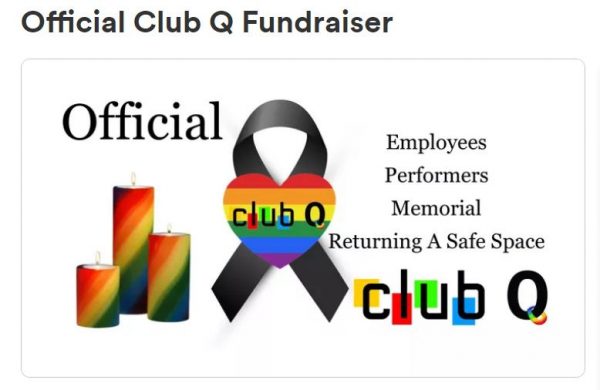 Matthew Haynes, the other co-owner of Club Q, created a verified GoFundMe fundraiser this week to help support staff and performers at the LGBTQ+ venue after a shooting took the lives of five people earlier this month.
"This fund is managed by Club Q directly and will be used to ensure the Club Q staff and entertainers don't suffer financial hardship due to this horrific act," Haynes wrote. "This fund will also go towards the total remodel of Club Q, the construction of an appropriate memorial for our victims and a small museum onsite. The goal is to return Club Q as a safe space for the LGBTQ+ community.
Plans for the return of Q are not fully developed yet. There will be many discussions ahead with stakeholders within the community. We are hopeful of making it more than just a bar. We envision a community resource center, state-of-the-art security precautions a gathering place to heal, remember and empower," Haynes wrote.
GoFundMe (Link)
From the Associated Press: