Trey McBride is the first NFL player ever drafted to have same-sex parents
"It's heartwarming- they've been great role models for me & my brothers so it's cool how they raised us & it's just very special for us"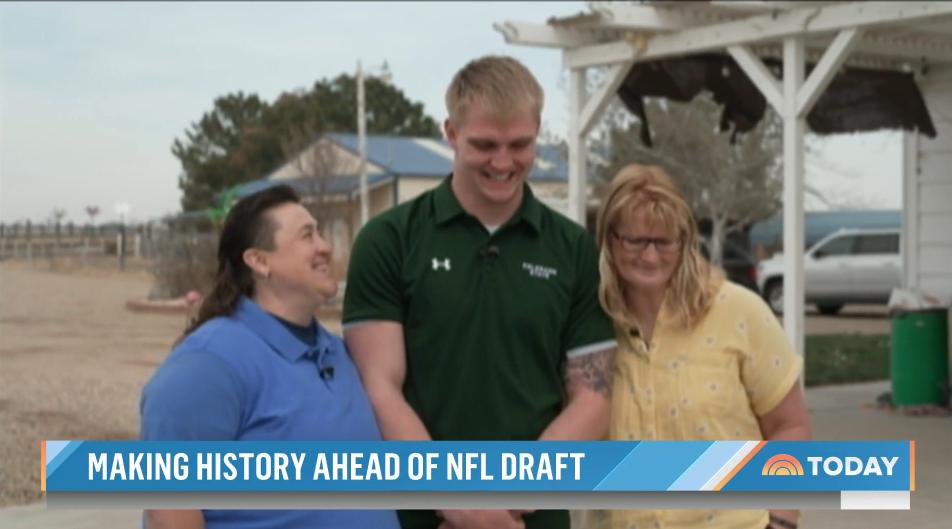 FORT MORGAN, Co. – Although not one football player drafted by NFL teams this weekend publicly identifies as anything other than straight or cisgender, the Arizona Cardinals made LGBTQ sports history Saturday with their second-round pick of Trey McBride. The two-time All American tight end from Colorado State University is the son of two very proud lesbian moms, and the first NFL player ever drafted who has parents in a same-sex relationship. 
"This has been a dream of mine since I was a little kid," McBride told the Fort Collins Colorodan. "To finally be drafted and to be officially an NFL player, this is, man, this is so special." 
Trey, 22, is 6-foot-4, weighs 246 pounds and caught 90 balls for 1,121 yards last year. He's one of five children Kate McBride has with her longtime partner, Jen. Trey has a twin brother, Dylan, two older brothers named Bryce and Toby, who was a star linebacker in Fort Collins, and a younger sister named Taya.
Their moms said they countered the possibility their children might be bullied because of their relationship, by raising them to recognize what they had as a family.
"You always worry about your kids," Jen told NBC earlier this week. "Because we were all kids. We know how kids are. But the main thing with them is, be confident in who you are. You come from a family that every single one of us are in your corner, no matter what, anytime in the day. So, nobody really talked about bullying."
Trey called growing up with his moms "pretty special."
"It's heartwarming and they've been great role models for me and my brothers, so it's cool to see how they raised us and it's just very special for us," he said.
"I'm excited to see him just live his dream," Kate told the Today show. "When your kid comes to you when they're little and they say they want to be president, you're like, 'OK, honey, that's great.' He wanted to play in the NFL, and he's going to do it."
"I'm excited as heck," the newly-minted Arizona Cardinal said after becoming the 55th selection on Friday night. "I feel like I can run through a brick wall right now."
McBride's selection wasn't the only LGBTQ highlight of the 2022 NFL Draft, but once again it was the Arizona Cardinals who were responsible for making it happen.
When the team selected San Diego State defensive end Cameron Thomas with their third-round pick Friday night, the 87th overall, they did so with the help of members of the National Gay Flag Football League, who announced Thomas in a historic move to promote inclusivity.
"Both the NFL and the Cardinals enjoy strong support from a large, diverse fan base and the LGBTQ+ community is certainly part of that," Cardinals owner Michael Bidwill told KNXV-TV. "Including members of this community among the many fans representing teams throughout the draft is part of an important and intentional effort that these types of league events reflect as wide and inclusive a cross-section of our fan base as possible."
Joel Horton, who played in Phoenix for the PGFFL and is currently the league's Gay Bowl liaison, was joined by NGFFL Commissioner Shigeo Iwamiya and Jodie Turner, who is on the league's Board of Directors.
"It's overwhelming," said Horton, who became the first out gay person to announce an NFL draft pick.
"They could have easily done this without us," Iwamiya told KNXV-TV, "but the fact they went out of their way to do this means so much to a sports organization regardless of who they are."
The player they announced, Cameron Thomas, is 6-foot-4, weighs 267-pounds and won the Mountain West Defensive Player of the Year and was an AP All-American.
Right now in the NFL, there is only one out gay player, Carl Nassib, who was released last month by the Las Vegas Raiders. He was the first-ever active NFL player to come out as gay.
Free agent R.K. Russell came out as bisexual three years ago but has not yet been re-signed by a team. It will be eight years ago next month that Michael Sam made history as the first out gay man to be drafted by an NFL team. After a long absence, Sam is finally back on the gridiron as a defensive line coach for the Barcelona Dragons of the European league. 
Retired lineman Ryan O'Callaghan told students in a talk at Drexel University earlier this month that he expects two or more players to come out as gay, "probably in this off-season."
Trey McBride Set To Be One Of The First NFL Draft Pick With Same-Sex Parents:
Anti-Trans activists claim trans women have an advantage at darts
Victoria Monaghan became the first trans woman to ever compete in the WDF World Darts Championship in England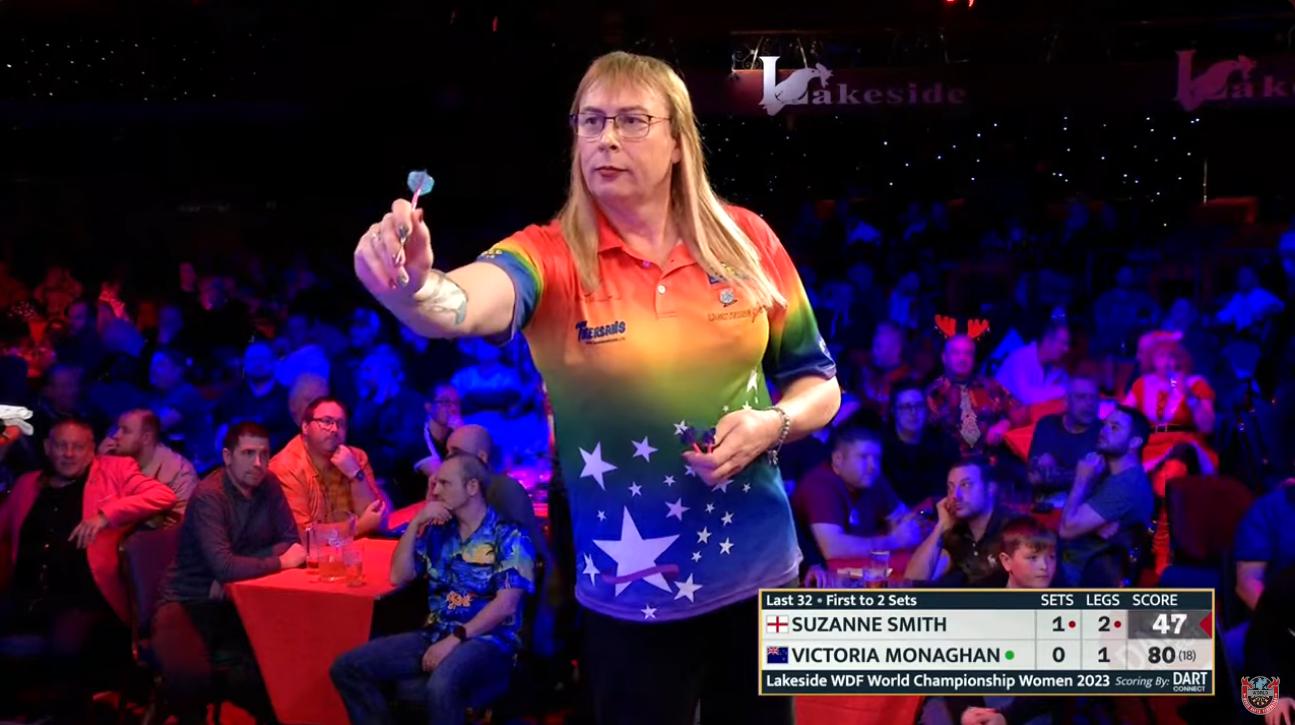 By Erin Reed | WASHINGTON – In recent years, those lobbying for restrictions on transgender individuals have focused heavily on sports. Some of the most influential anti-trans lobbyists in this arena, such as Terry Schilling of the American Principles Project, have stated that sports are an easy way to sell anti-trans policies to people who might otherwise reject discrimination.
Initially, the attacks on sports focused on contests of extreme endurance, such as elite swimming. Lately, however, these bans have entered new arenas. Now, there is a new sport where transgender participation is causing controversy: darts.
On Sunday, December 3rd, Victoria Monaghan made history as the first transgender woman to compete in the World Darts Federation's World Darts Championship. Monaghan, who has played darts since she was 12, mentioned that the New Zealand Darts Council has been incredibly supportive of her participation.
However, recently, after qualifying for the international tournament, opponents of transgender rights attacked her participation. They argued that transgender women should be banned from women's darts, claiming her participation was unfair due to supposed "biological advantages."
Martina Navratilova, a famed retired tennis player known for making anti-trans comments, decried Monaghan's participation, asking, "how the fuck is this acceptable?" The UK-based organization Fair Play For Women, which opposes transgender participation in sports, ridiculed Monaghan for participating, referring to her as a man.
One commentator claimed that trans women had physical advantages such as being able to throwing harder. One of the most outlandish claims, however, came from Dr. Linda Duffy, a sports psychology professor at Middlesex University. She stated that trans women have an advantage due to "cognition and brain structure."
See Dr. Duffy's comments here:
Quickly, however, people criticized the idea that trans women have an advantage in darts. Mark Grimshaw, a UK comedian, noted that the conversation swiftly shifted towards the notion that "women's brains are biologically cognitively inferior to men," ridiculing this idea as blatantly misogynistic.
TakedownMRAs, a Twitter account focused on opposing men's rights activism, also ridiculed the notion that trans women have an advantage in darts. Even some who generally support bans on trans individuals expressed concerns, with one person stating, "okay, this is giving the trans movement ammo."
There is no evidence supporting the idea that transgender women have a biological advantage in darts. Physical attributes such as strength or height are not significant in the game. For instance, one of the all-time best players, Phil Taylor, who is 5'8″, played in a World Darts Championship tournament at 59 years old. Similarly, there is no proof that transgender women possess a "cognitive advantage" over cisgender women in darts.
Recently, transgender participation in sports with no conceivable arguments for any "biological advantage" has come under fire. This is particularly evident in sports like pool. The same group that is attacking Monaghan's participation in darts also targeted a transgender pool player for participating in a pool tournament.
Additionally, transgender participation in chess has recently faced scrutiny from FIDE, the leading international chess organization. FIDE stated that trans women "do not have any right" to compete in women's chess categories.
As for Monaghan, she lost in the first round of the tournament. The woman she competed with, Suzanne Smith, gendered her correctly and stated that it was a hard won game that she was glad to get under her belt. Despite the hate that she is receiving from those who oppose her participation, Monaghan states that this is not the norm.
"Most of the women darts players have been really supportive," she wrote in an article released the day of her match. "and the others are starting to come around."
****************************************************************************
Erin Reed is a transgender woman (she/her pronouns) and researcher who tracks anti-LGBTQ+ legislation around the world and helps people become better advocates for their queer family, friends, colleagues, and community. Reed also is a social media consultant and public speaker.
Follow her on Twitter (Link)
Website here: https://www.erininthemorning.com/
******************************************************************************************
The preceding article was first published at Erin In The Morning and is republished with permission.