Retired NFL gay player says others may come out as gay
Ryan O'Callaghan the retired lineman and NBA announcer Kate Scott shared their coming out stories and insights with students in Philadelphia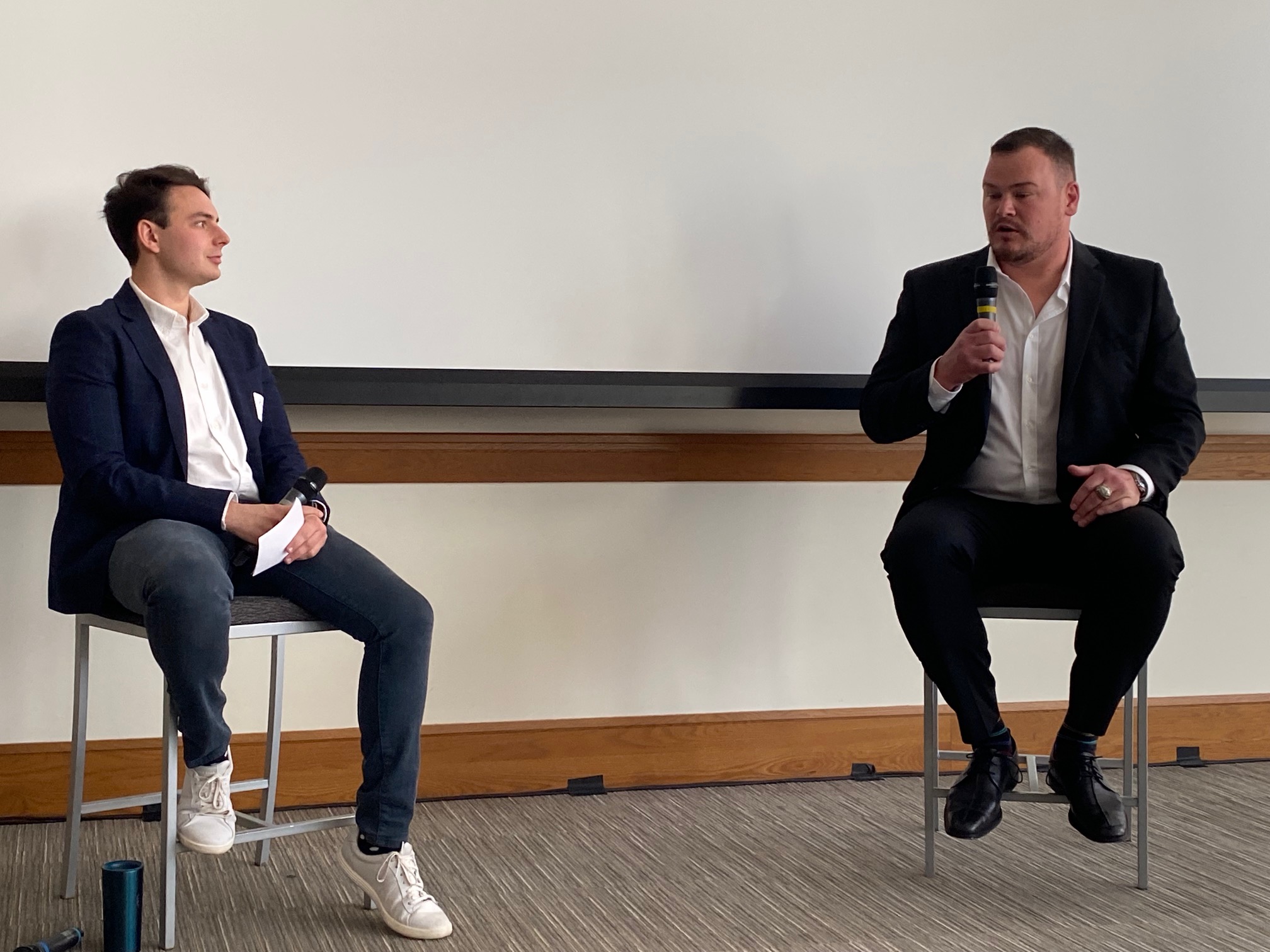 PHILADELPHIA – Ryan O'Callaghan, who has been retired from the National Football League due to injuries for more than a decade, abandoned his original plan for his post-retirement years: to end his life.
Instead, the former tackle for the New England Patriots and Kansas City Chiefs finally tackled the secret he'd kept from almost everyone. Five years ago, he revealed that he was gay, and that he'd become addicted to painkillers.
"Not to oversimplify it, but I think you need to fix the reason why you're abusing the drugs first, which I was abusing because I hated myself and was paranoid about being gay," O'Callaghan told the Los Angeles Blade. "I fixed that, which then made it easier to quit. I was on painkillers, so there is a chemical dependency, and you need to be responsible on getting off of them. But not relapsing is what fixing the problem helps to not do."
The 38-year-old Redding, Calif. native told his story Thursday in the keynote portion of Drexel University's conference, A Catalyst for the Cause: Fostering Greater Equity in Sport. O'Callaghan not only looked back at his own coming out but also had some thoughts about LGBTQ players in the NFL now. Recently released defensive end Carl Nassib and free agent R.K. Russell are not the only ones, he said.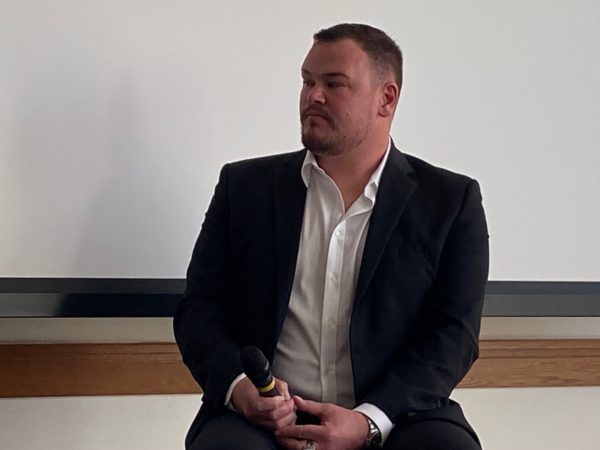 "Two more players are about to come out, probably in this off-season," O'Callaghan revealed in his conversation with Drexel senior Zeke Goldsmith, a fellow California native fresh off his own interview with Oakland's own D.Gil. O'Callaghan said he knew of other retired football players who are living their truth, or taking steps toward that goal-line.
"There are a lot of guys who have come out that haven't come out publicly, so they're living their life as an openly gay man. They just didn't write a book or whatever," said O'Callaghan, whose own memoir, My Life on the Line: How the NFL Damn Near Killed Me and Ended Up Saving My Life, was published in 2019. All the profits from his book go directly to fund the charity he started, The Ryan O'Callaghan Foundation, dedicated to creating more opportunities for LGBTQ+ athletes as well as fostering a sense of community among players.
"There has been more progress made than I think people truly know," he said. "I talk to a lot of these people and tell them, 'You don't have to do it publicly, just live your life.' And a lot of people have been doing that."
When Nassib announced he was gay in a 2021 Instagram post, O'Callaghan noted it was a far different experience than when Michael Sam came out before the NFL Draft in 2014.
"They've taken a lot of honest steps to do it better. You know, in the beginning, their support for The Trevor Project and GLAAD felt a little lazy. You know, they just wrote a check and that was it," he said. But O'Callaghan said even this past February's Night of Pride and last year's "NFL is Queer" commercial, the league is still not doing enough.
"I still think they need to do more to actually reach the players in the locker room because a high-profile, no-name person coming out would have more of an impact than I think a lot of that stuff combined," he told the more than 60 students assembled, so many that the university's grand meeting room ran out of seats and it was standing room just to hear O'Callaghan.
His recommendation to those in authority: Invite gay NFL players back into the locker room to share their experiences, something that he said hasn't happened since Esera Tuaolo visited in his rookie year.
During the Q&A, O'Callaghan was asked if the NFL should do more to counter anti-LGBTQ legislation, such as anti-trans inclusion laws and "Don't Say Gay" parental rights laws.
"It would be great for the Miami Dolphins to take a stand like Disney did, but I honestly just don't see that happening," he said. "The influence of the NFL could change some things, but I also think a lot of these bills are just trying to fix a problem that doesn't even exist in the first place."
After the event, O'Callaghan expounded upon that in a conversation with the Blade. "For a long time, the NCAA has been trying to do the right thing. They've set up rules, people followed the rules, and they're able to participate. It is what it is," he said,
Also speaking to students was Clovis, Calif. native Kate Scott, who like O'Callaghan is 38, an alum of the University of California, Berkeley, and out.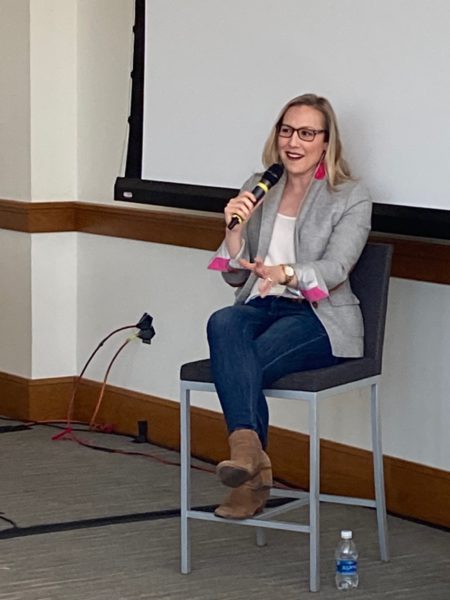 Scott was hired last year to be the play-by-play voice of the Philadelphia 76ers. She recalled to students that in her interview, she listed all the reasons the team shouldn't hire her.
"I'm not just a woman," Scott said, "I'm from the other side of the country and I'm gay. Like, How's that going to work? They had the most wonderful response, and they said, 'Kate, if you get this job it is because you're the best broadcaster, period. That is what we're trying to honor. We don't care what that person looks like, whether they're a man or a woman. We don't care who they're married to. We don't care their religion. We don't care anything about that. We want the best broadcaster who's going to hopefully lead us through the next 20 years of 76ers basketball.'"
Scott told the Blade her advice to students is to "find your branch."
"There's no ladder in this industry, as I'm sure, you know. There's just what I like to call an oak tree with a bunch of branches that you just have to kind of go out on a limb and see if it's a good place to start. If not, come back to the trunk and go out on another," Scott said. "The more people I talk to who represent all different communities who work in sports media or just media in general, as our friends who work in news, weather and all the different aspects of sports, it's really small. Work really hard. Overachieve like, Ryan said, Don't go out there looking for credit. Try to be the best. Getting back to sports, try to be the best team player."
German soccer federation: Trans players can decide their team to play on
"This new regulation on playing rights will provide an important foundation to allow players with diverse gender identities to play football"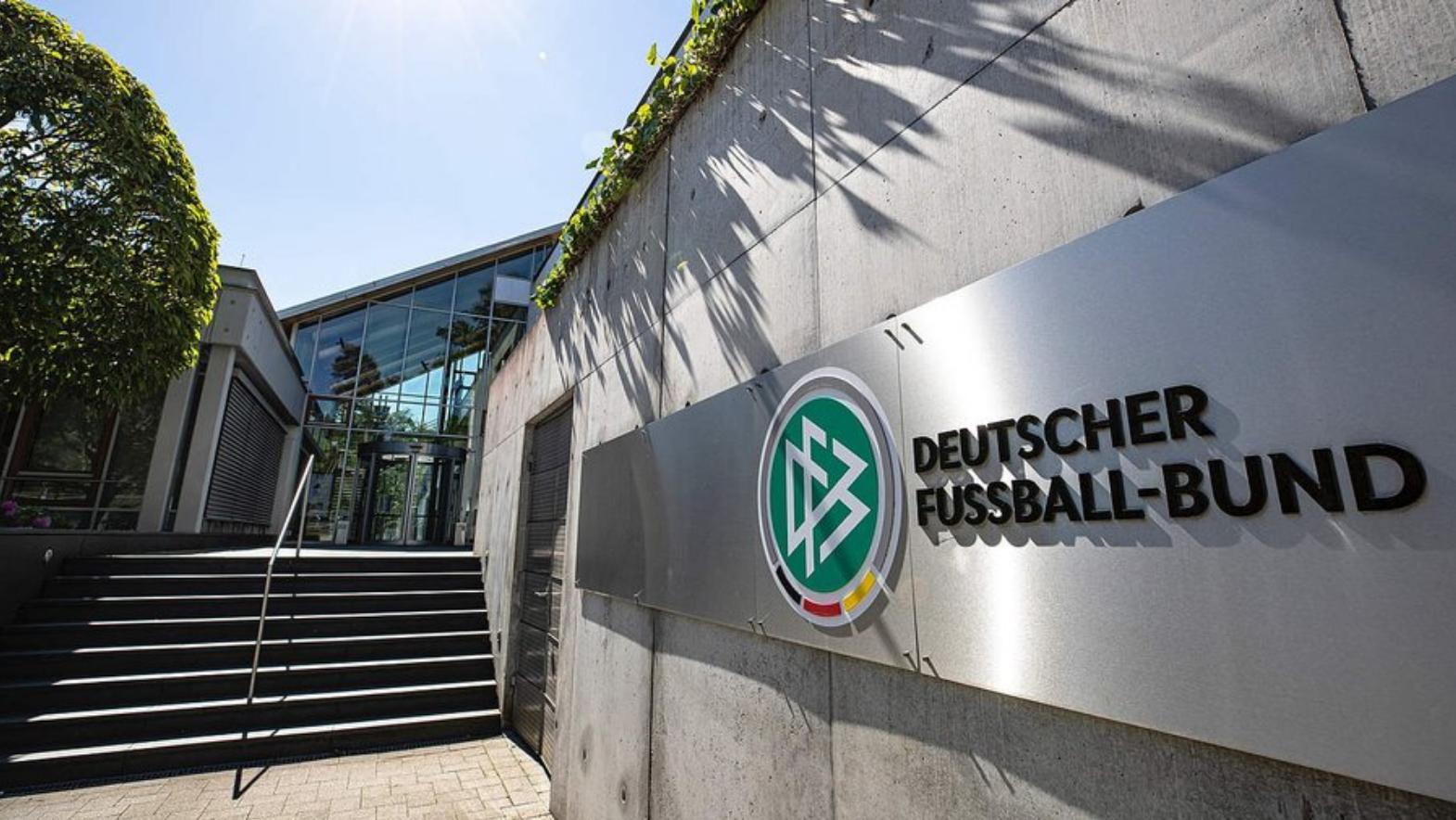 FRANKFURT – The German Football Association (Deutscher Fußball-Bund e.V.) this week issued new regulations and rules governing all transgender, intersex and non-binary players. On Thursday the governing soccer body passed a new regulation that takes effect as of the start of the upcoming 2022-23 season allowing all trans, intersex and non-binary players to decide for themselves whether to compete on men's or women's teams.
The DFB also specified that as long as the player's health is not affected by playing sports while taking medication, they can continue to participate in the sport. Under the new regulation, this would not be considered as doping.
This marks a departure from the recent trend and actions of other international sports governing associations such those taken earlier this month by the swimming's world governing body FINA, which meeting in the Hungarian capital city of Budapest, voted to restrict transgender athletes from elite women's competitions.
FINA said their action was necessary to determine eligibility criteria because of the "biological performance gap" that appears between males & females.
Thomas Hitzlsperger, the DFB's diversity ambassador, said "Football (soccer) stands for diversity, a value that the DFB also promotes. This new regulation on playing rights will provide an important foundation to allow players with diverse gender identities to play football."
Sabine Mammitzsch, the vice president for women's and girls' football (soccer) welcomes the regulation telling media outlets:
"The national and regional associations and also those responsible at grassroots level have signaled for some time that there is uncertainty around how to treat trans, intersex and non-binary players in practice. They therefore welcome the introduction of a far-reaching, nationwide regulation on the playing rights of these groups."
NBC News' Andrea Mitchell talks to Billie Jean King on impact of Title IX
The impact of Title IX on women's sports is significant. The law opened doors and removed barriers for girls and women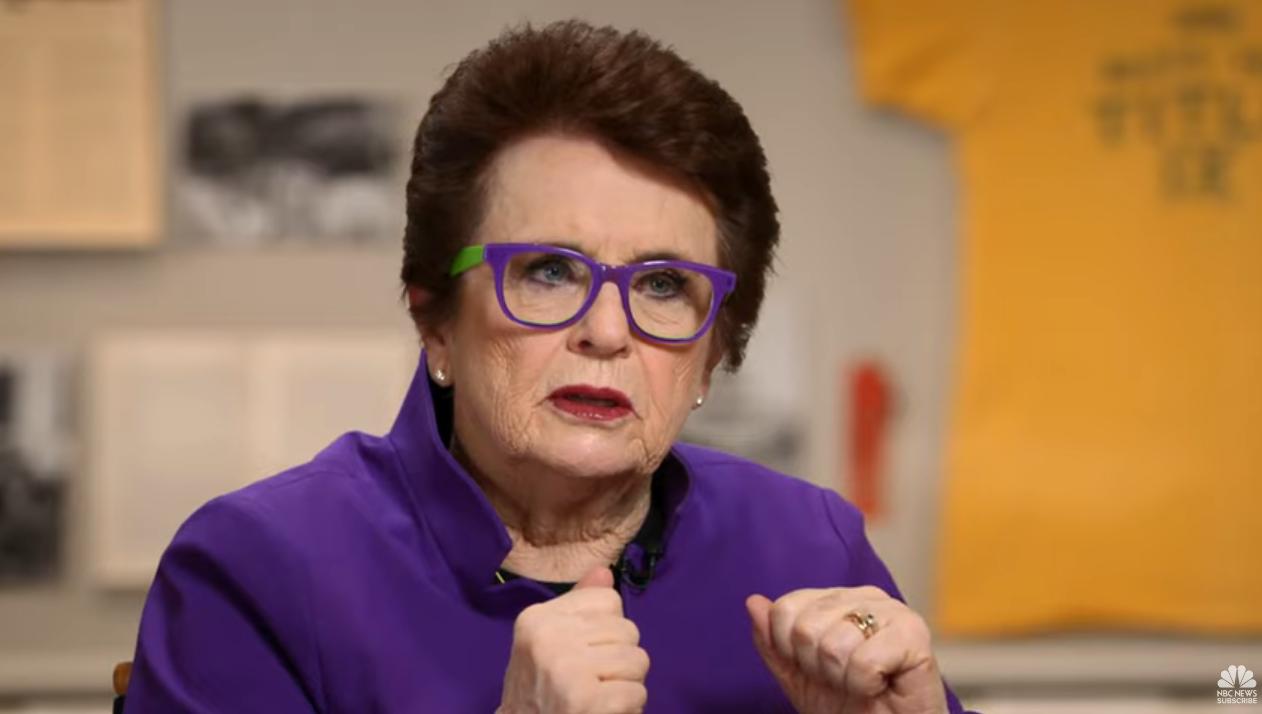 NEW YORK – This week marks the 50th anniversary of Title IX which was signed into law June 23, 1972 by then President Richard Nixon. It prohibits sex-based discrimination in any school or any other education program that receives funding from the federal government.
Title IX states: No person in the United States shall, on the basis of sex, be excluded from participation in, be denied the benefits of, or be subjected to discrimination under any education program or activity receiving Federal financial assistance.
Two years after Title IX was signed into law, King founded the Women's Sports Foundation in 1974. In 1971, before Title IX passed, only 1% of college athletic budgets went to women's sports programs. At the high school level, male athletes outnumbered female athletes 12.5 to 1.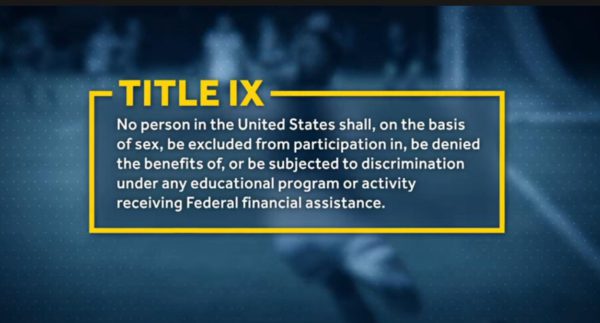 The impact of Title IX on women's sports is significant. The law opened doors and removed barriers for girls and women, and while female athletes and their sports programs still have fewer teams, fewer scholarships, and lower budgets than their male counterparts, since Title IX's passage, female participation at the high school level has grown by 1057 percent and by 614 percent at the college level.
The impact of Title IX stretches into professional sports as well. More opportunities have emerged for young women to turn their sport into their career, particularly in the WNBA. Collegiate and professional coaching opportunities have increased as well.
An openly Out lesbian, King and her longtime partner Ilana Kloss joined the Los Angeles Dodgers as co-owners in September of 2018.
NBC News reported that fifty years after Title IX was signed, the impact of the law is still being felt by women in sports across the country. Tennis legend, Billie Jean King, who has devoted her life to fighting for gender equality in sports, spoke with NBC News' Andrea Mitchell regarding Title IX. She explained that while we have come a long way there is "much more to do."
Billie Jean King Discusses Title IX Fifty Years Later:
World swimming body FINA votes to ban Trans athletes
FINA says it was necessary to determine eligibility criteria because of the "biological performance gap" that appears between males & females
BUDAPEST – The Swimming's world governing body FINA meeting in the Hungarian capital city voted to restrict transgender athletes from elite women's competitions. The final vote tally of the representatives was 71.5% approval for the new policy which requires transgender athletes show that "they have not experienced any part of male puberty beyond Tanner Stage 2 or before age 12, whichever is later."
Enactment of that requirement effectively eliminates trans women's eligibility to compete in the women's category.
Tanner Stages describe the physical changes people undergo during puberty.
"We have to protect the rights of our athletes to compete, but we also have to protect competitive fairness at our events, especially the women's category at FINA competitions," FINA's president, Husain Al-Musallam, said in a statement.
The organisation is maintaining that it was necessary to use sex and sex-linked traits to determine eligibility criteria because of the "performance gap" that appears between males and females during puberty.
"Without eligibility standards based on biological sex or sex-linked traits, we are very unlikely to see biological females in finals, on podiums, or in championship positions; and in sports and events involving collisions and projectiles, biological female athletes would be at greater risk of injury," the statement from FINA's new policy read.
Athlete Ally, which advocates for Trans athletes responded:
"FINA's new eligibility criteria for transgender athletes and athletes with intersex variations is deeply discriminatory, harmful, unscientific and not in line with the 2021 International Olympic Committee framework on Fairness, Inclusion and Non-Discrimination on the Basis of Gender Identity and Sex Variations," said Anne Lieberman, Director of Policy and Programs at Athlete Ally.
"This sudden and discriminatory decision is a blatant attack on transgender athletes who have worked to comply with longstanding policies that have allowed them to participate for years without issue," said Joni Madison, Human Rights Campaign Interim President. "This policy is an example of swimming organizations caving to the avalanche of ill-informed, prejudiced attacks targeted at one particular transgender swimmer. We urge the FINA to rethink its policy and ensure inclusion for all athletes — including transgender women – and allow them to participate in sports free from discrimination, abuse and harassment.
"To the young athletes who may be disheartened by this policy, know that we know and believe that every young person deserves to be treated with dignity and respect and that transgender kids, like their friends, deserve the same chances to learn sportsmanship, self-discipline, and teamwork, and to build a sense of belonging with their peers," Madison added.
Swimming Body FINA Votes To Segregate Trans Athletes | 10 News First:
**********************