Lawsuit against USC in sexual abuse case of 80 male students settled
"The settlement is another step toward closure for our clients who finally feel a sense of recognition and validation for speaking up"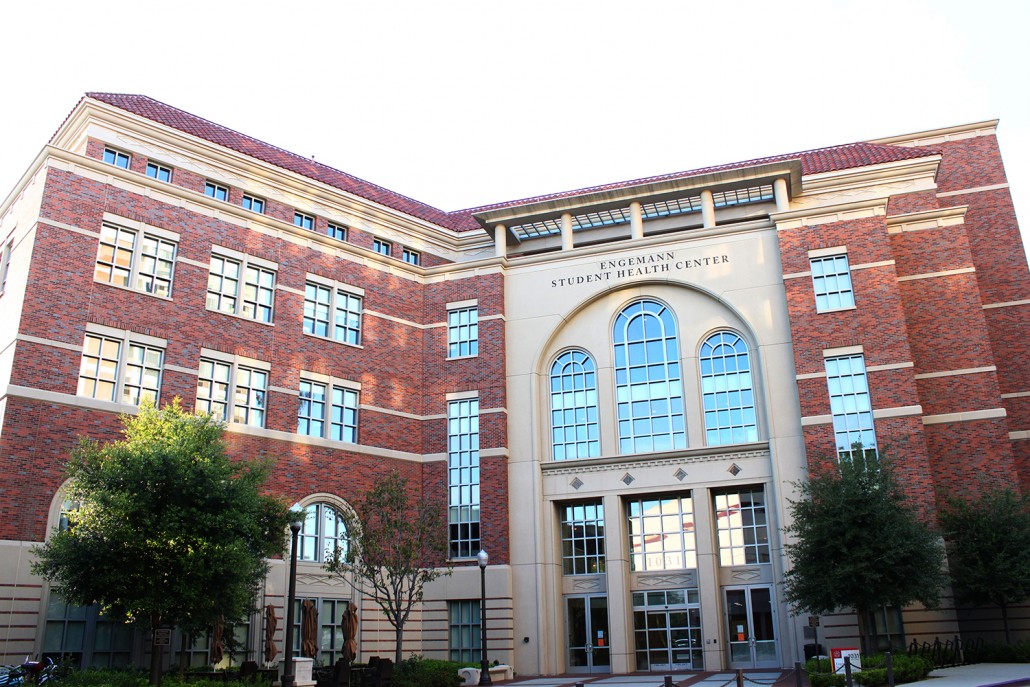 LOS ANGELES – Attorneys representing 80 individuals who filed lawsuits and made claims against the University of Southern California and former USC men's health physician Dennis Kelly for allegations of sexual misconduct and harassment have reached a global settlement according to the plaintiffs' attorney, Mikayla Kellogg.
"The settlement was achieved through the persistence and bravery of our clients who had the strength to come forward to share the harrowing details of their experiences at the USC Student Health Center and the determination to hold USC accountable for its failure to protect its students," said Kellogg, partner at Kellogg & Van Aken last week. "The settlement is another step toward closure for our clients who finally feel a sense of recognition and validation for speaking up."
The lawsuit was filed in February 2019 in Los Angeles Superior Court by six former University of Southern California student alumni, all gay or bisexual, alleges that Dr. Dennis A. Kelly discriminated against and battered them while he was serving as the only full-time men's sexual health doctor at the Engemann Student Health Center on the USC campus.
Since the original filing, 74 additional individuals have come forward, bringing the total number of claimants to 80.
Kelly Van Aken, partner at Kellogg & Van Aken said, "It has been a long three years for our courageous clients who have persevered through intense scrutiny to ensure their voices have been heard. It is our hope that by taking these allegations public and speaking out on behalf of dozens of current and former students of USC, institutions entrusted with the care of vulnerable young people are forced to confront and correct the toxic and problematic cultures that allow abuse and misconduct to continue."
Dennis Kelly was a physician at USC's Student Health Center from 1997 to 2018. The claimants allege that Dennis Kelly used his position of trust and authority as USC's men's health physician to engage in sexual misconduct under the guise of medical care and disproportionately targeted LGBTQ+ patients.  They further allege that USC received complaints about Dennis Kelly's misconduct but failed to adequately address them and continued to allow Dr. Kelly to see and treat vulnerable young students without limitation.
Kelly, 72, who resigned in August of 2018 after twenty years working at the student clinic as a primary care physician, denied any inappropriate behavior toward patients and called the lawsuit's allegations "terribly hurtful."
"I can't second-guess or question anything I've done," Kelly said in a phone interview February 12, 2019 with the Los Angeles Times. He added, "I know I did it all professionally and without any other motive."
Kelly, who described himself as an openly gay physician to the paper defended his actions telling The Times that he had devoted much of his career to counseling LGBTQ patients about ways to reduce the risks of their sexual behavior.
According to Kelly, he never used the graphic terms described in the lawsuit or performed unnecessary genital exams. He said he suspected his stern warnings about behavior that put patients at risk for sexually transmitted diseases were misinterpreted as condemnation or deviance.
The court documents stated that Kelley specifically targeted USC's gay and bisexual and male student population, "all of whom were young adults and many of whom were visiting the doctor without a parent for the first time," alleging he subjected to "intrusive and medically unnecessary rectal examinations."
"Dr. Kelly did not treat heterosexual men in a similar manner and did not perform rectal examinations on heterosexual men who had similar sexual practices," the suit claimed.
Project Angel Food Thanksgiving, a remarkable group of volunteers
Project Angel Food provides daily meals to 2,500 critically ill individuals & 1.5 mil medically tailored meals annually across Los Angeles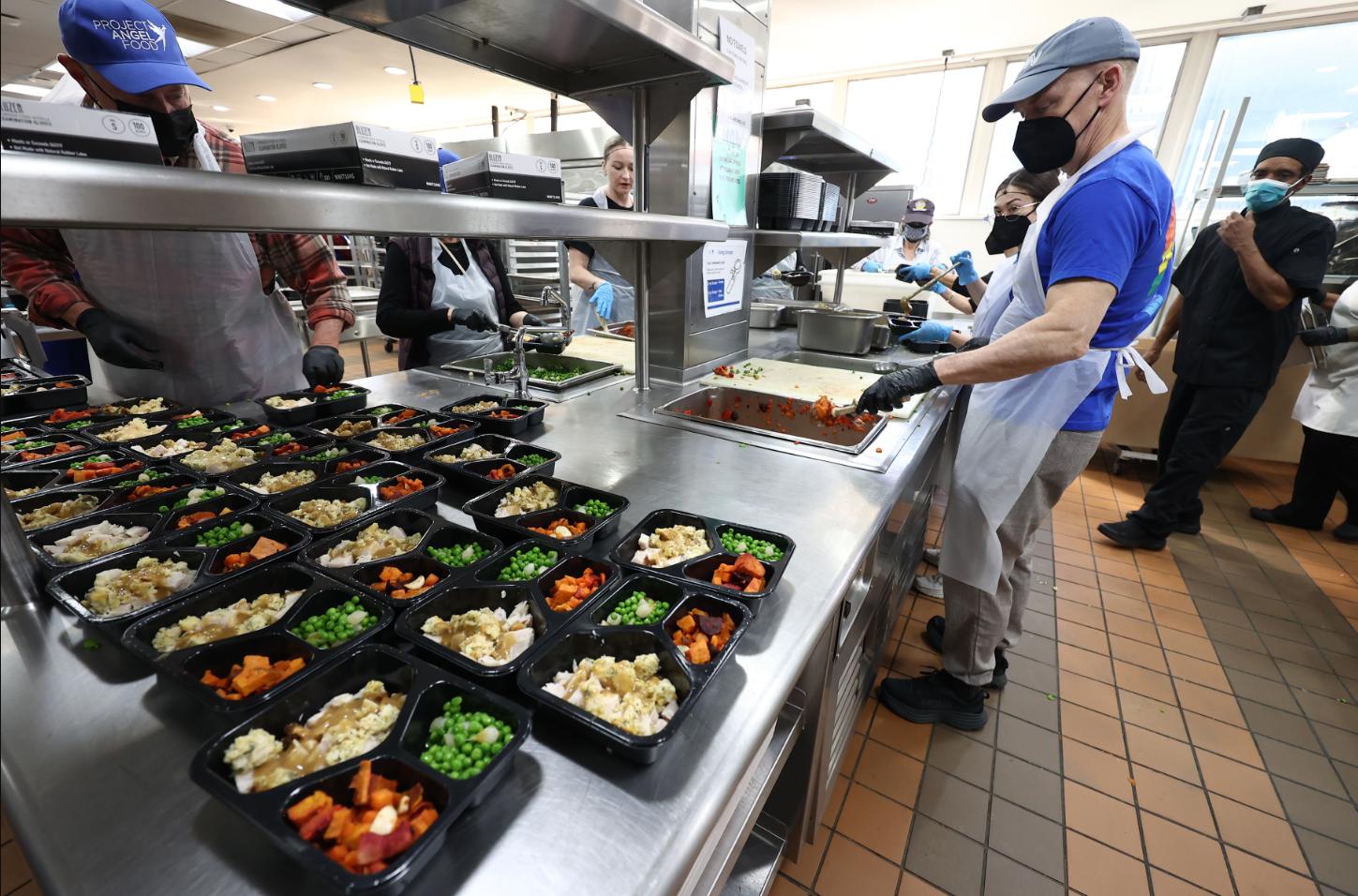 LOS ANGELES — Project Angel Food saw a remarkable gathering of celebrities and 200 dedicated volunteers coming together to prepare and deliver 2,000 traditional turkey meals to critically ill clients on Thanksgiving Day, Thursday, Nov. 23, 2023. The initiative culminated in a total of more than 5,000 meals prepared and delivered throughout Thanksgiving week.
Thanksgiving Day at Project Angel Food was not just about distributing meals but also about the spirit of giving back while cherishing moments with family and friends.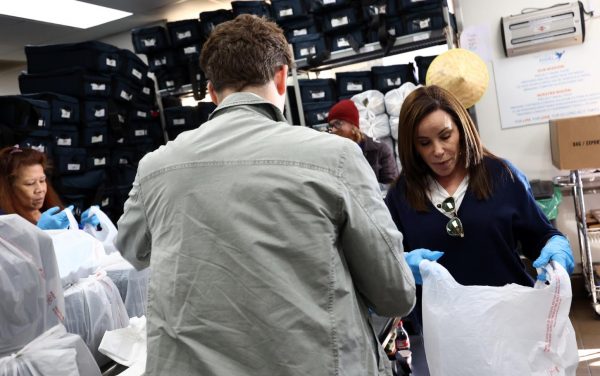 Melissa Rivers, who recently got engaged to lawyer Steve Mitchel on Oct. 13, made a notable appearance — showcasing her stunning 5.6 carat, emerald-cut engagement ring as she volunteered alongside adult son Cooper Endicott. She shared, "Sometime maybe in 2025. It would be my second marriage and his second marriage so if anything, we'll have a party, and a ceremony might break out. But nobody's in any rush."
Amanda Kloots, host of "The Talk", expressed her deep affection for Project Angel Food, stating that she fell in love with the cause while filming a segment for the hit CBS talk show. She returned with Zach Braff and her four-year-old son Elvis, emphasizing, "I think it is so important to show our kids how blessed we are and how we can help one another."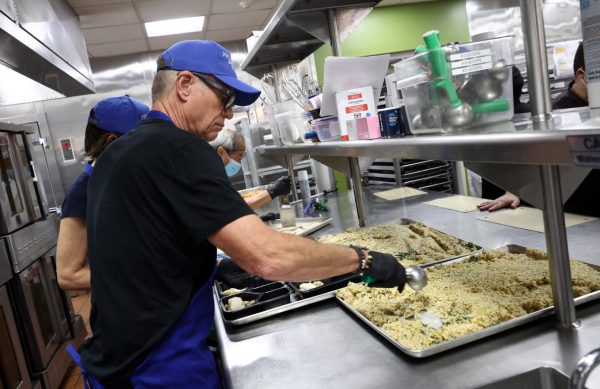 Joining the ranks, Lisa Rinna and her husband Harry Hamlin continued their annual tradition of giving back at Project Angel Food on Thanksgiving. Harry offered, "It goes without saying the people of L.A. need to be fed, and we're here to do it, especially on Thanksgiving." Lisa added, "It makes you feel good to give back, always, and we need to do it more."
Actor and model Sam Asghari, marking his first Thanksgiving after his divorce from Britney Spears, refrained from discussing the split but reflected "I think it is important when you have a platform and a voice, and you have the ability to help others it is important to do."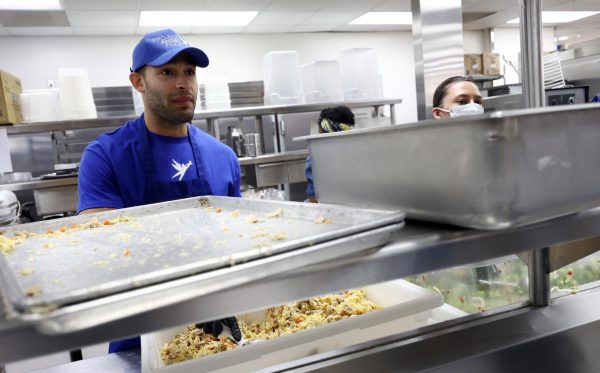 Unlikely friends Charo and Kat Von D were among the initial celebrity arrivals. Von D explained their unique bond, stating, "We're Yin and Yang and complement each other. Since she had heard of Project Angel Food through Charo, she wanted to join." Charo expressed her enthusiasm for volunteering, exclaiming, "I love people. This is my passion!"
The event saw the participation of other notable celebrity volunteers, including Amy Yasbeck, singer Em Beihold, Eve Mauro, Jai Rodriguez, Supervisor Kathryn Barger, Laura Pierson, Lauren Tom, Lawrence Zarian, Lisa Foxx, Loni Love, Mary-Margaret Humes, Michael Hitchcock, Peter Porte, Rachel Lindsay, Sandra Lee, Tamara Brown, and Tim Bagley.
Project Angel Food CEO Richard Ayoub expressed heartfelt gratitude stating, "Every day is like Thanksgiving at Project Angel Food. But on this day, we are especially grateful to our celebrity friends and hundreds of volunteers committed to bringing a little light to the thousands of critically ill men, women and children we serve."
The meals were provided through "drive-by" pick-up for volunteers who then delivered them to Project Angel Food clients. The traditional Thanksgiving dinners included roasted turkey, root vegetables, stuffing, gravy, cranberry sauce, and a slice of pumpkin cheesecake. Additionally, vegetarian meals were also provided. The Thanksgiving Day meals were sponsored by The Stanley & Joyce Black Family Foundation, with additional support from Joybird, which furnished the Joybird VIP Love Lounge, allowing volunteers to take a break during the morning of service.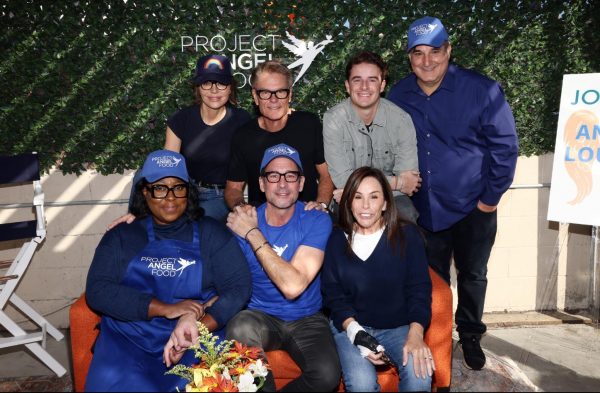 Beyond serving meals to 2,000 critically ill individuals, Project Angel Food extended its support by providing Thanksgiving Day meals for 500 people at PATH. PATH works tirelessly to end homelessness by building affordable housing and offering supportive services. Furthermore, actress and director Joely Fisher sponsored Project Angel Food meals, hosting a SAG/AFTRA "Friendsgiving" at Hollywood United Methodist Church for 200+ union members affected by the 118-day SAG/AFTRA strike on Wednesday, Nov. 22, 2023.
Project Angel Food remains dedicated to providing daily meals to 2,500 critically ill individuals and delivering more than 1.5 million medically tailored meals annually across Los Angeles. Their clients often grapple with serious illnesses compounded by challenges such as poverty, aging, and isolation. Established in 1989 by Marianne Williamson, the organization has prepared and delivered more than 17 million meals in its 34-year history.
Related:
Project Angel Food serves up Thanksgiving meals for Angelenos: