Lawsuit against USC in sexual abuse case of 80 male students settled
"The settlement is another step toward closure for our clients who finally feel a sense of recognition and validation for speaking up"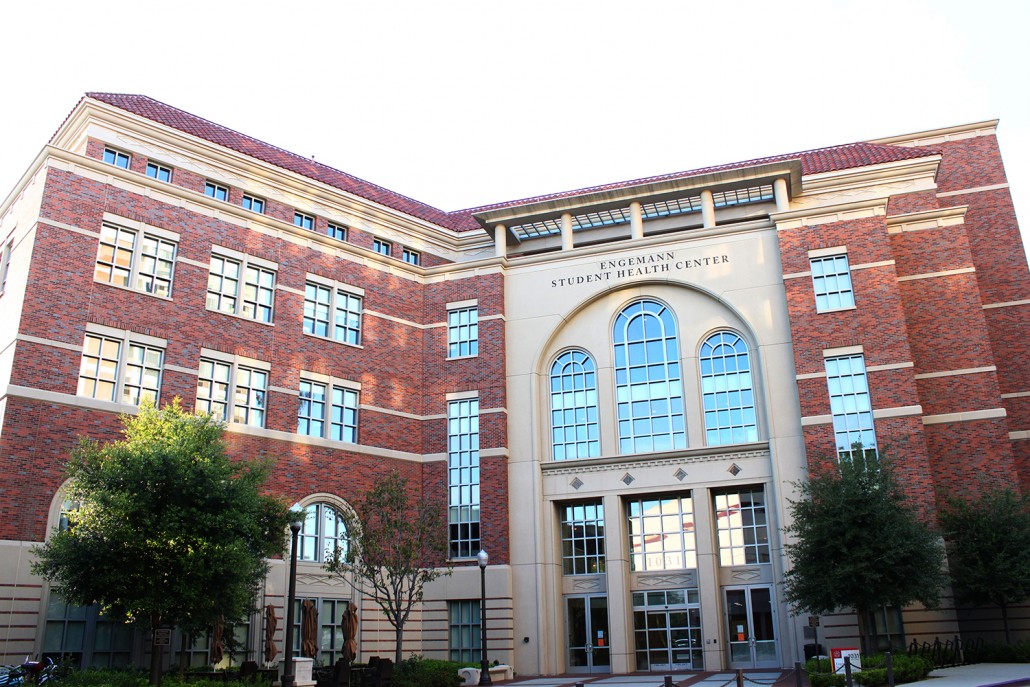 LOS ANGELES – Attorneys representing 80 individuals who filed lawsuits and made claims against the University of Southern California and former USC men's health physician Dennis Kelly for allegations of sexual misconduct and harassment have reached a global settlement according to the plaintiffs' attorney, Mikayla Kellogg.
"The settlement was achieved through the persistence and bravery of our clients who had the strength to come forward to share the harrowing details of their experiences at the USC Student Health Center and the determination to hold USC accountable for its failure to protect its students," said Kellogg, partner at Kellogg & Van Aken last week. "The settlement is another step toward closure for our clients who finally feel a sense of recognition and validation for speaking up."
The lawsuit was filed in February 2019 in Los Angeles Superior Court by six former University of Southern California student alumni, all gay or bisexual, alleges that Dr. Dennis A. Kelly discriminated against and battered them while he was serving as the only full-time men's sexual health doctor at the Engemann Student Health Center on the USC campus.
Since the original filing, 74 additional individuals have come forward, bringing the total number of claimants to 80.
Kelly Van Aken, partner at Kellogg & Van Aken said, "It has been a long three years for our courageous clients who have persevered through intense scrutiny to ensure their voices have been heard. It is our hope that by taking these allegations public and speaking out on behalf of dozens of current and former students of USC, institutions entrusted with the care of vulnerable young people are forced to confront and correct the toxic and problematic cultures that allow abuse and misconduct to continue."
Dennis Kelly was a physician at USC's Student Health Center from 1997 to 2018. The claimants allege that Dennis Kelly used his position of trust and authority as USC's men's health physician to engage in sexual misconduct under the guise of medical care and disproportionately targeted LGBTQ+ patients.  They further allege that USC received complaints about Dennis Kelly's misconduct but failed to adequately address them and continued to allow Dr. Kelly to see and treat vulnerable young students without limitation.
Kelly, 72, who resigned in August of 2018 after twenty years working at the student clinic as a primary care physician, denied any inappropriate behavior toward patients and called the lawsuit's allegations "terribly hurtful."
"I can't second-guess or question anything I've done," Kelly said in a phone interview February 12, 2019 with the Los Angeles Times. He added, "I know I did it all professionally and without any other motive."
Kelly, who described himself as an openly gay physician to the paper defended his actions telling The Times that he had devoted much of his career to counseling LGBTQ patients about ways to reduce the risks of their sexual behavior.
According to Kelly, he never used the graphic terms described in the lawsuit or performed unnecessary genital exams. He said he suspected his stern warnings about behavior that put patients at risk for sexually transmitted diseases were misinterpreted as condemnation or deviance.
The court documents stated that Kelley specifically targeted USC's gay and bisexual and male student population, "all of whom were young adults and many of whom were visiting the doctor without a parent for the first time," alleging he subjected to "intrusive and medically unnecessary rectal examinations."
"Dr. Kelly did not treat heterosexual men in a similar manner and did not perform rectal examinations on heterosexual men who had similar sexual practices," the suit claimed.
Trans remembrance vigil held at LA LGBT Center
"We refuse to let violence rob us of the possibility to gather, to love each other, and to dream together in solidarity"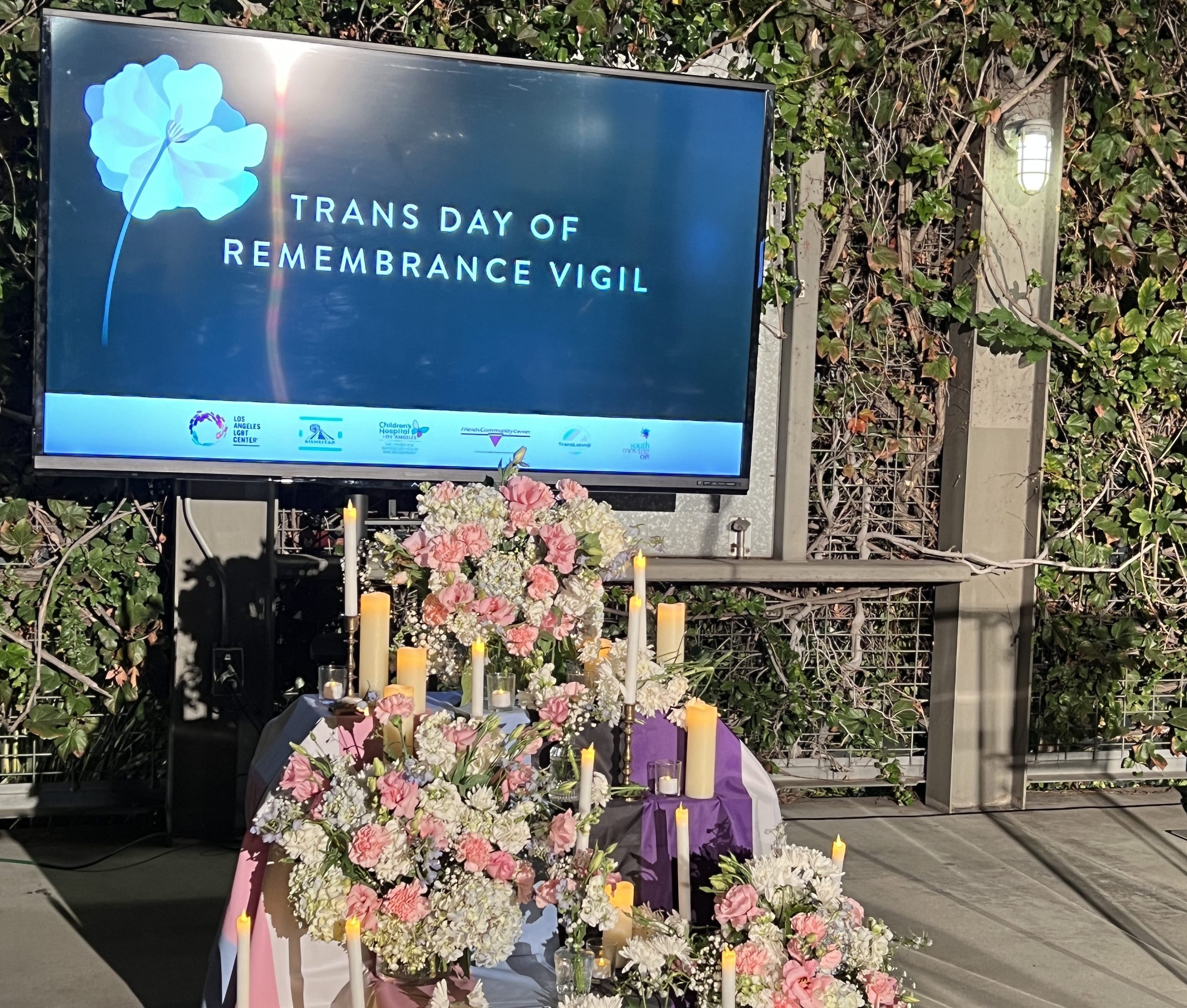 HOLLYWOOD – A Trans Remembrance Vigil was held at the Los Angeles LGBT Center on Monday, November 21st.
Candles and white, pink, and lavender flowers mounted on tiers draped by a trans flag adorned the center stage. A large monitor served as the focal point of the evening above the memorial display.
The Trans Chorus of Los Angeles started the ceremony with an acapella performance. Following the song of hope and redemption, opening remarks were given at the pulpit by the Anti-violence project manager for the LGBT center, Mariana Morroquin, and representatives from the Trans Wellness Center, Bienstar Human Services, Children's Hospital of Los Angeles, Friends Community Center, APAIT, and [email protected]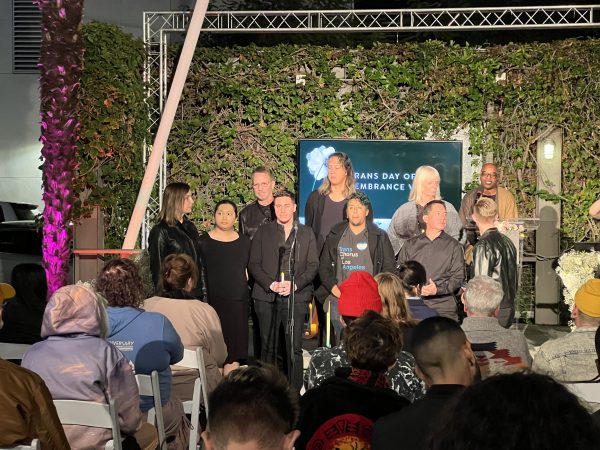 "I think it is very important to acknowledge our partners," said Morroquin, somberly addressing the seated audience of about one hundred and fifty. "We know that hate is real. A lot of us have seen hate pretty close. We are very grateful to have you. We open our arms to receive your love and your support. The way we support each other is by providing jobs, providing spaces for us, and providing opportunities. Because hate is out there. We need this space. We need to welcome everyone. I want you to keep that in your heart. And tomorrow, when we get back to work, let us open our hearts and our minds. Don't make decisions for us. Invite us to those tables. We know what we need. We've been doing this forever. We are going to keep fighting because this is what we do." 
She then added, "We refuse to let violence rob us of the possibility to gather, to love each other, and to dream together in solidarity. We gather because we must remember what is worth fighting for. For now, we commemorate. We tell the stories of the ones we lost. For tonight, that will be enough." 
One by one, members of the audience approached the pulpit to read the names and stories of a multitude of trans people whose deaths were the tragic result of hate crimes. The photos, names, and ages of the victims were displayed on the center-stage monitor.
"My name is Nikai David," said one speaker, the photo of a pale, curly-haired young lady displayed behind them. "I am a model and social media influencer who aspired one day to own my own clothing boutique. I had just celebrated my birthday a week before I was shot in Oakland California, on December 4th, 202. I was thirty-three years old."
Stories of these deaths included shootings by assailants, police, and family members, brutal beatings, and stabbings. The bodies of these victims were found in their homes, in garbage cans, and on streets where they were left, still dying, among other locations.
The final name read was Daniel David Aston, who died in the recent Club Q mass shooting.  This year, TDOR came on the heels of the senseless massacre in Colorado Springs that left five members of the LGBTQ+ community dead and 25 injured. 
Reverend Valerie Spencer gave an impassioned closing speech, first inviting the audience to take several deep breaths in unison.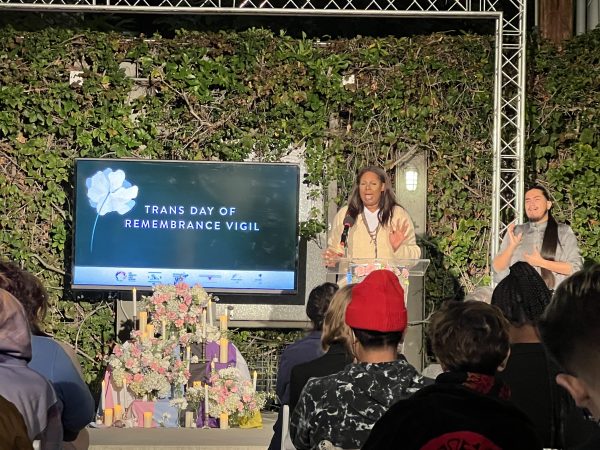 "We will mourn our family, our siblings," said Reverend Spencer, "but we are not having our primary focus on the violent conclusion of their life. We are choosing to see them and know them and celebrate them in the full context of their living. For they were fierce and powerful people."