Right-wing extremist provocateur threatens to 'hunt' LGBT supporters
He has a history of right-wing extremist short videos including a harassment campaign against an Arizona wig shop that serves cancer patients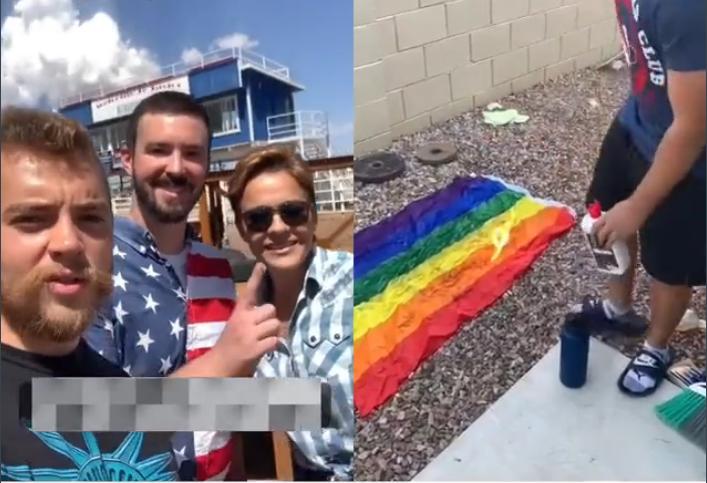 PHOENIX – A twenty-four year old right-wing extremist based in the metropolitan Phoenix, Arizona area, Ethan Schmidt, posted a short video of himself accompanied by Kyle Clifton who describes himself as "authoritarian Christian nationalist," driving in an undisclosed area announcing that he and Clifton will be "hunting 'LGBT supporters" and people in area Target retail stores.
The video captured by Twitter account Patriot Takes, which describes itself as a group of dedicated researchers monitoring and exposing right-wing extremism and other threats to democracy, first posted the video clip Saturday.
Ethan Schmidt, a right wing provocateur who has made videos with Kari Lake, Wendy Rogers, and Paul Gosar, warned Target he will "hunt LGBT supporters" in their stores and across Phoenix in June, stating they "are not safe" and they "can't hide." pic.twitter.com/O3ReHVN3qY

— PatriotTakes 🇺🇸 (@patriottakes) May 21, 2022
Schmidt has a history of making right-wing extremist short videos including a harassment campaign against an Arizona wig shop that serves cancer patients.
Sunny's Hair and Wigs, specialize in making wigs for women who have lost hair while getting treated for cancer and the store had implemented coronavirus pandemic protections including strict mask guidelines to ensure safety of their clients who are particularly vulnerable to infection.
Lisa Memberr, the owner of the shop had explained to local media outlets: "My customer base is very diverse," and she added, "Not only do I have Caucasians, I have Afro-Americans, I have Asians, I have Latin Americans."
Schmidt, who has ban banned by nearly all social media platforms including Twitter for spreading false and misleading COVID-19 pandemic information had been visiting numerous retail stores in the Phoenix area including Sunny's Hair and Wigs targeting those businesses that still require customers to wear mask. He invariably creates videos of his encounters which he uploads to right-wing social media and web sites that he hasn't been banned from.
In addition to his anti-mask campaign he has made videos with extremist conservative lawmakers including one with Arizona U.S. Republican Representative Paul Gosar telling antivaxxers "to stay the course."
Rep. Paul Gosar with Ethan Schmidt telling antivaxxers "to stay the course."

This is the new Republican Party. pic.twitter.com/Z0ogrq8nO4

— PatriotTakes 🇺🇸 (@patriottakes) May 21, 2022
He also filmed a short with Arizona State Senator Wendy Rogers who has established herself firmly as an anti-vax, anti-LGBTQ, right wing extremist.
Arizona State Senator Wendy Rogers made a video promoting Ethan Schmidt, who is now stating he will "hunt LGBT supporters" at Target and across Phoenix. pic.twitter.com/1CBmJGHYvN

— PatriotTakes 🇺🇸 (@patriottakes) May 21, 2022
Clifton is a leader of the America First Union, an openly white nationalist, antisemitic, "conservative youth" organization. He also promotes former President Donald Trump's big lie about the 2020 Presidential election being stolen by Democrats and President Joe Biden. Clifton also participated in the Arizona audit of the 2020 vote in Maricopa County, which state Sen. Rogers, had raised the visibility of her own political profile by insisting that Arizona's vote was stolen.
A semi-copy of the"American Populist Union" has been organizing under the name America First Union. The local chapter is led by the openly antisemitic Kyle Clifton of Peoria, AZ who describes himself as an "authoritarian Christian nationalist."https://t.co/OlyhxhK9kh

— AZ Right Wing Watch (@az_rww) October 8, 2021
Kyle Clifton is also obsessed with The Anti-Defamation League (see image above). He recently thought he went and filmed a rant in front of the Phoenix ADL headquarters, not realizing it has been long abandoned. pic.twitter.com/BjOxsme8fQ

— AZ Right Wing Watch (@az_rww) October 8, 2021
Last Fall Schmidt posed with Trump endorsed Republican candidate for Arizona Governor Kari Lake as he burned a LGBTQ+ Pride flag.
Kari Lake posed for an "Antimaskers Club" video with bigot Ethan Schmidt who burns rainbow flags.

This is who Trump endorsed. pic.twitter.com/mnTFqdjaAZ

— Resist Programming 🛰 (@RzstProgramming) September 28, 2021
American Library Association asks FBI to investigate threats
The letter also specified attacks on social media platforms. Many of these threats have been initiated specifically over LGBTQ+ books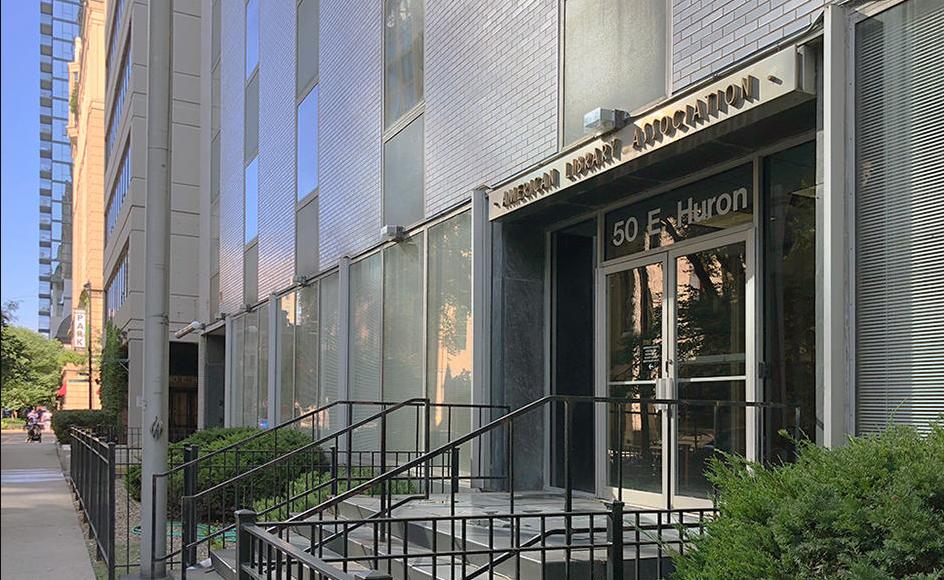 CHICAGO – On Monday the executive board of the American Library Association (ALA) sent a letter to FBI Director Christopher Wray expressing concerns about the ongoing serious threats directed towards public and school libraries and library workers since last Spring and asking Wray to launch an FBI investigation.
While the ALA Executive Board didn't state there was a direct connection between recent threats and opposition to library materials and programs, the board on behalf of its member libraires expressed deep concerns over the volume and intensity of the threats which have included violent disruptions of programs and verbal threats of physical harm.
The letter highlighted bombing or shooting threats that forced the temporary closures of Hawaii State Public Library System, Salt Lake City Public Library System, the Denver Public Library, the Fort Worth Public Library and the Nashville Public Library.
The letter also specified attacks on social media platforms over the past year. Many of these threats have been initiated specifically over LGBTQ+ books or books on race, along with violent threats and disruptions over drag queen story hours across the nation.
Notably, many of the disruptions and threats are promulgated by the Twitter account of Chaya Raichik, a former Brooklyn, New York real estate agent, who appears to be negatively obsessed with LGBTQ+ people.
When Raichik tweets to her 1.3 million followers, violence or threats of threats inevitably follow. The people acting on her tweets are very often members of the white supremacist group the Proud Boys, who analysts say have targeted nearly every event Libs of Tik Tok has tweeted about, and who rarely or never target events she doesn't tweet about.
Raichik also zealously targets transgender people with special emphasis on spreading lies and propaganda as she has reintroduced Anita Bryant 1970's era far-right anti-LGBTQ+ ideology and language, defining trans females and gay men as "groomers" which has reinvigorated anti-LGBTQ+ extremists.
"Libs of TikTok is synonymous with maliciously targeting LGBTQ organizations, people, and allies by posting lies, misinformation, and blatant hate," said a GLAAD spokesperson to the Blade.
In addition to the FBI Director, with a copy forwarded to Merrick Garland, Attorney General of the United States, the ALA is cautioning its members, urging that the "safety of library workers and patrons must be a priority. We encourage directors, supervisors and managers to review their institution's safety procedures with all staff so that everyone knows how to respond if they receive a threat or are threatened directly."
Transcript of the letter:
LETTER OF CONCERN TO FBI re: threats of violence in libraries: September 27, 2022
September 27, 2022
The Honorable Christopher A. Wray
Director
Federal Bureau of Investigation
935 Pennsylvania Avenue NW
Washington, D.C. 20535
Dear Director Wray:
We, members of the executive board of the American Library Association (ALA), are writing to register our concern over threats that are being directed at public libraries and library workers. In the past two weeks, bombing or shooting threats forced the temporary closures of Hawaii State Public Library System, Salt Lake City Public Library System, the Denver Public Library, the Fort Worth Public Library and the Nashville Public Library.
The bombing and shooting threats in these five metropolitan libraries come on the heels of other threats to library workers in school and public libraries, who have been increasingly targeted by violent disruptions of programs and verbal threats of physical harm, as well as attacks on social media platforms over the past year. In addition to documented instances reported in the media in recent months, library workers are reporting to ALA that they are receiving direct threats. We are concerned that these threats, some of which include the disclosure of personal details and false and defamatory claims, may lead to actual violence towards library workers.
Given the seriousness and proliferation of these threats of violence and other acts of intimidation increasingly taking place in America's libraries, we are gravely concerned for the safety of library workers and the millions of Americans who visit libraries each day.
We appreciate your attention to our concern about these threats to libraries and library workers and ask that you initiate an investigation as to whether there is any connection among them.
Sincerely,
The Executive Board of the American Library Association
Cc: The Honorable Merrick Garland, Attorney General of the United States
Far-right influencers are creating new barriers to trans health care
Right-wing media's campaign against children's hospitals is making it harder for trans people to access lifesaving medical care


By Ari Drennen | WASHINGTON – Just days after the FBI arrested a suspect in the bomb threat against Boston Children's Hospital, Libs of Tik Tok and The Daily Wire's Matt Walsh resumed their campaign against children's hospitals that provide lifesaving care to trans people, directing followers' attention this time to Akron Children's Hospital and Vanderbilt Children's Hospital.
Right-wing media have established a playbook for inundating hospitals with harassment and forcing them to delete information intended for trans patients from their websites — thus creating yet another barrier for trans people seeking medical care. 
Libs of TikTok first targeted Boston Children's Hospital on August 11, sharing a video about gender-affirming hysterectomies with an incendiary caption claiming that the procedure was available to "young girls." The hospital was forced to quickly delete the video, but the narrative had been set in right-wing media, and criticism of the hospital intensified.
On August 15, Walsh made the false and incendiary claim that children's hospitals across the country were "butchering, mutilating, and sterilizing their young patients." These attacks were followed by violent threats including threats to "execute" doctors and at least one bomb threat against Boston Children's Hospital.
FBI's Joseph Bonavolonta: BCH "has received dozens of hoax threats, including harassing phone calls and emails, individual threats, and threats of mass-casualty attacks. This behavior is nothing short of reprehensible, and it needs to stop now." pic.twitter.com/kSBqHpUYNB

— Ari Drennen (@AriDrennen) September 15, 2022
Members of the right-wing media initially dismissed the threats, with Infowars' Owen Shroyer calling it a "false flag," Chaya Raichik, who runs Libs of TikTok, asserting it was "probably a left-wing person trying to get me suspended," and Walsh suggesting that it could be a left-wing hoax. It apparently was not. On September 15, the FBI announced the arrest of a suspect who allegedly called hospital operators from her personal cell phone, calling them "sickos," saying that a bomb was on the way, and demanding that everyone evacuate.
By September 18, Libs of TikTok had returned to the campaign against children's hospitals that provide gender-affirming care, posting a tweet disclosing that Akron Children's provides puberty blockers and cross-sex hormones before misleadingly noting that the hospital treats patients as young as 7.
On September 20, Walsh made similar claims about Vanderbilt Children's Hospital, saying it makes "lots of 'services' available to children, including chemical castration."
Misinformation about treatments is rife on social media and in the right wing media, but 7-year-olds do not receive cross-sex hormones and are given puberty blockers only if another underlying disorder is causing precocious puberty. Cross-sex hormones are safe, studied, and effective treatments for gender dysphoria that dramatically reduce symptoms of depression and anxiety in trans people.
Information about where to seek out medical care is vital for trans people. Nearly half of all trans people report experiencing mistreatment from medical providers, including verbal or physical abuse. According to a 2016 study, the biggest obstacle to obtaining safe and effective health care for trans people is a lack of knowledge by medical providers.
The removal of public information intended for patients in the face of a vicious hate campaign creates a new barrier. In addition to Boston Children's and Akron Children's, Children's National in Washington, D.C., and Vanderbilt Children's in Nashville, Tennessee, have recently been forced to remove information for trans patients. Lurie Children's hospital in Chicago canceled in-person meetings of a support group for trans youth because of security risks.
It's not just Boston Children's Hospital. In August, Libs of Tiktok and Matt Walsh went after Lurie Children's Hospital in Chicago. Today, families were notified that a support group for trans youth cancelled due to threats and harassment. pic.twitter.com/RbXG9wKSms

— Alejandra Caraballo (@Esqueer_) September 15, 2022
Without resistance, the barriers to effective care for trans people could grow further. According to freelance journalist Sydney Bauer, multiple medical providers have said that their worry is that these tactics will lead hospitals to drop gender-affirming care, shifting coverage to private clinics with less resources that could then be endlessly picketed and threatened — exactly the tactic that the right has used against abortion providers. Despite this, or perhaps because of it, Raichik has targeted multiple hospitals this year. After earning a weeklong suspension for violating Twitter's policies prohibiting hateful conduct, Raichik only vowed to double down. "We are not just reporting on this," said Walsh in a tweet. "We are going to put a stop to it."
Among the items posted by Libs of Tik Tok about Akron Children's Hospital is an article with a photo of a 13-year-old girl. Her hair is long and blonde and she's posed, smiling, next to a horse. They're sharing a blanket — red, with a white snowflake pattern. The article says that this teenager knew from age 3 that she was transgender, and that with the help of the providers at Akron Children's, she was able to become her true self.
She's a cheerleader. She rides horses. She says that she didn't want to develop facial hair or for her voice to deepen. This is a story familiar to many trans people. A 2022 study from Stanford Medicine showed that trans people who accessed gender-affirming care as teenagers were less likely to experience major mental or substance abuse disorders than those who were denied care or forced to wait until adulthood.
But for Chaya Raichik, this is a horror story, and her 1.3 million followers flooded the article with hate, misgendering the trans girl and calling her "Buffalo Bill in the making," a reference to the serial killer from the 1991 horror film The Silence of the Lambs. The article from Akron Children's closes with a line from that teenager: "If you're transgender, show it. Tell people," she said. "It will help other transgender people feel not so alone." The article has since been deleted.
*******************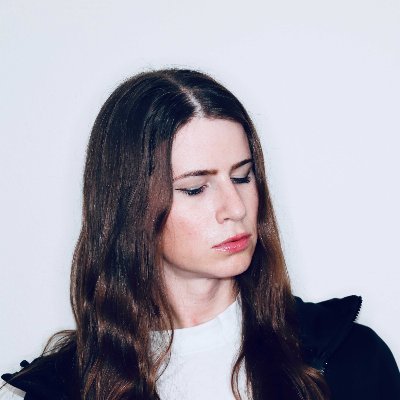 Ari Drennen is the LGBTQ program director for Media Matters, where she has worked since January 2022. She has a bachelors degree in political science and economics from Middlebury College. Previously she worked at the Center for American Progress and the League of Conservation Voters
*******************
The preceding article was previously published by Media Matters for America and is republished by permission.
Transportation Sec. Buttigieg targeted with homophobic tweets
Co-chair of Michigan's Republican party, referred to the first openly gay cabinet secretary as a "weak little girl"
LANSING, Mi – As Pete Buttigieg, secretary of the U.S. Department of Transportation (DoT), continues his push for broader adoption of electric vehicle use, he was again targeted with homophobic attacks online.
Meshawn Maddock, co-chair of Michigan's Republican party, referred to the first openly gay cabinet secretary as a "weak little girl" on Twitter Sunday, as many were honoring those killed 21 years ago in the worst terrorist attack ever perpetrated on American soil.
We're so blessed this weak little girl moved to Michigan! Looks like he's bringing all his California Dreaming here with him. https://t.co/85MQNcN3f1

— meshawn maddock (@CoChairMeshawn) September 11, 2022
Buttigieg is a decorated war veteran, having served in the U.S. Navy Reserve from 2009 to 2017, including in a deployment to Afghanistan in 2014. A DOT spokesperson and the Michigan Republican Party did not immediately return a request for comment on Maddock's tweet.
Meanwhile, on September 10, U.S. Customs and Border Protection Commissioner Chris Magnus condemned the use of the agency's official Twitter account for the West Texas region for offensive retweets and likes, including of homophobic posts targeting Buttigieg.
These included a tweet in which the Transportation Secretary was called "Pete Buttplug" as well as content from former President Trump's far-right senior advisor Stephen Miller.
Reached for comment, a spokesperson from a regional press office shared a statement excerpted from that which was tweeted by Magnus, who announced that @CBPWestTexas was deactivated and the offending content was removed.
Totally unacceptable and disappointing that any CBP Twitter account was used to R/T offensive, unauthorized content. We've removed the content and will deactivate the account. The Office of Professional Responsibility will investigate. This must not happen again. pic.twitter.com/O0Vwr3K7nI

— CBP Commissioner Chris Magnus (@CBPChrisMagnus) September 11, 2022
Bigoted attacks against Buttigieg by conservatives are not new. Last year, when the Secretary took a leave of absence to care for his and his husband Chasten's newborn twins, Fox News host Tucker Carlson said he was "trying to figure out how to breastfeed."
Bizarrely, at a rally in March, extremist Republican Rep. Marjorie Taylor Greene (GA) said the couple should "stay out of our girls' bathrooms," which appeared to be an attempt to suggest they are sexual predators.