Trans Inclusive Health Care Act passes California State Senate
This first-in-the-nation legislation will help create a more inclusive and culturally competent healthcare system for TGI people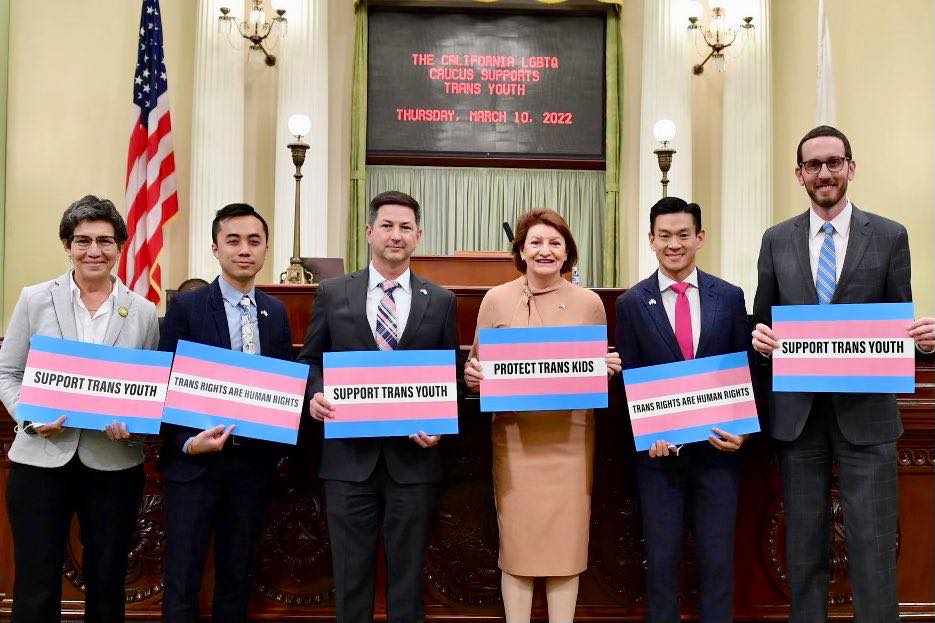 SACRAMENTO – Senator Scott Wiener's (D-San Francisco) Senate Bill 923, the TGI Inclusive Care Act passed the Senate by a vote of 28-6. It now heads to the Assembly for policy committee hearings.
This first-in-the-nation legislation will help create a more inclusive and culturally competent healthcare system for TGI (transgender, gender non-conforming, and intersex) people in California by requiring:
● That physician Continuing Medical Education (CME) include evidence-based cultural competent studies to help physicians provide inclusive care for TGI people
● That the Health and Human Services Agency issue enforceable quality standards for treating TGI patients
● That health insurance companies provide TGI cultural competency training for their employees
● That health insurance companies, in their network directories, include a list of providers who offer gender-affirming services, so that TGI people know where to go for specialized care
● That the relevant oversight agencies track and monitor complaints relating to TGI-inclusive care and publicly post findings in their annual reports or website
SB 923 comes at a time when LGBTQ people — and particularly transgender children — are under attack across the country by right-wing state leaders. Many of those attacks seek to criminalize gender-affirming care.
In February, Texas Governor Greg Abbott issued an executive order making it illegal for parents to allow their trans kids to receive gender-affirming care. These parents could have their children taken away and be sent to prison simply for allowing their children to be who they are and receive this necessary care.
Abbott called gender-affirming care "child abuse."
Alabama just enacted a law imposing ten-year state prison sentences on parents and physicians who allow or provide gender-affirming care to their children.
In Florida, Governor Ron DeSantis signed the "Don't Say Gay" law, banning discussions about gender identity and sexual orientation from public school classrooms.
"As more and more red states ban gender-affirming care and try to erase LGBTQ people, California must step up to ensure strong access to health care," said Wiener. "That includes ensuring that trans people are treated with respect and dignity by health care providers. While many health care professionals provide excellent care to trans people, more work remains. Improved training, clear standards, and improved network directories will result in better care for TGI people."
While LGBTQ kids are under attack in Texas, Alabama, Florida, and other states, SB 923 shows a different path forward — one in which quality gender-affirming care is provided for anyone who needs it, with providers going above and beyond to treat TGI patients with the respect and care they deserve.
Healthcare discrimination and a lack of access to culturally competent care is a major problem that many TGI people regularly face. The National Center for Transgender Equality reports that one-third of all transgender individuals who saw a healthcare professional in 2014 had at least one negative experience related to being transgender, with even higher rates for people of color and people with disabilities. These negative experiences include being refused treatment, verbally harassed, physically or sexually assaulted, or having to teach the provider about transgender people in order to receive appropriate care.[1]
This is especially problematic given that TGI people, compared with the general population, suffer from more chronic health conditions. TGI people experience higher rates of health problems related to HIV/AIDS, substance use, mental illness, and sexual and physical violence, as well as a higher prevalence and earlier onset of disabilities that can also lead to longterm health issues. Sadly, 23% of transgender individuals reported that fear of discrimination caused them to postpone or not receive necessary medical care.[2]
Moreover, while all health plans are required to cover gender-affirming care, it can be difficult for TGI patients to actually find providers who routinely offer this care. This is a major impediment to TGI people accessing the care they need.
Every person deserves to receive quality, compassionate health care from understanding, informed, and respectful providers – providers who don't make assumptions about their gender or sexuality, and who honor their bodily autonomy. TGI people already face so many obstacles outside of the healthcare system, including higher rates of violence, workplace discrimination, ostracization from families and religious communities, and housing discrimination. Going to the doctor should not mean facing additional discrimination or unecessary hardship.
TGI people should have access to positive healthcare experiences. This includes seeing providers who are able to give them the care they need in a non-judgmental and supportive environment, and being able to search for providers who provide gender-affirming services (gender-affirming services include but are not limited to: chest reconstruction, mastectomy, facial feminization surgery, hysterectomy, voice masculinization or feminization, hormone therapy related to gender dysphoria or intersex conditions, gender-affirming gynecological care, or voice therapy related to gender dysphoria or intersex conditions). Gender-affirming care is critically important health care, and anyone who needs it should be able to find and access it.
The TGI-Inclusive Care Act will help create a healthcare system that meets the needs of TGI people, and provide a more positive patient experience.
SB 923 is sponsored by the California LGBTQ Health and Human Services Network, Equality California, National Health Law Program Trans Community Project, TransFamily Support Services, and Western Center on Law & Poverty. It is co-authored by Assemblymembers Sabrina Cervantes (D-Corona), Evan Low (D-San Jose), Alex Lee (D-Fremont), and Cristina Garcia (D-Bell Gardens).
Zbur is Assemblymember-elect as Abramson concedes
When Zbur is sworn in on December 5 and takes office, he will join the largest Legislative LGBTQ+ Caucus in California history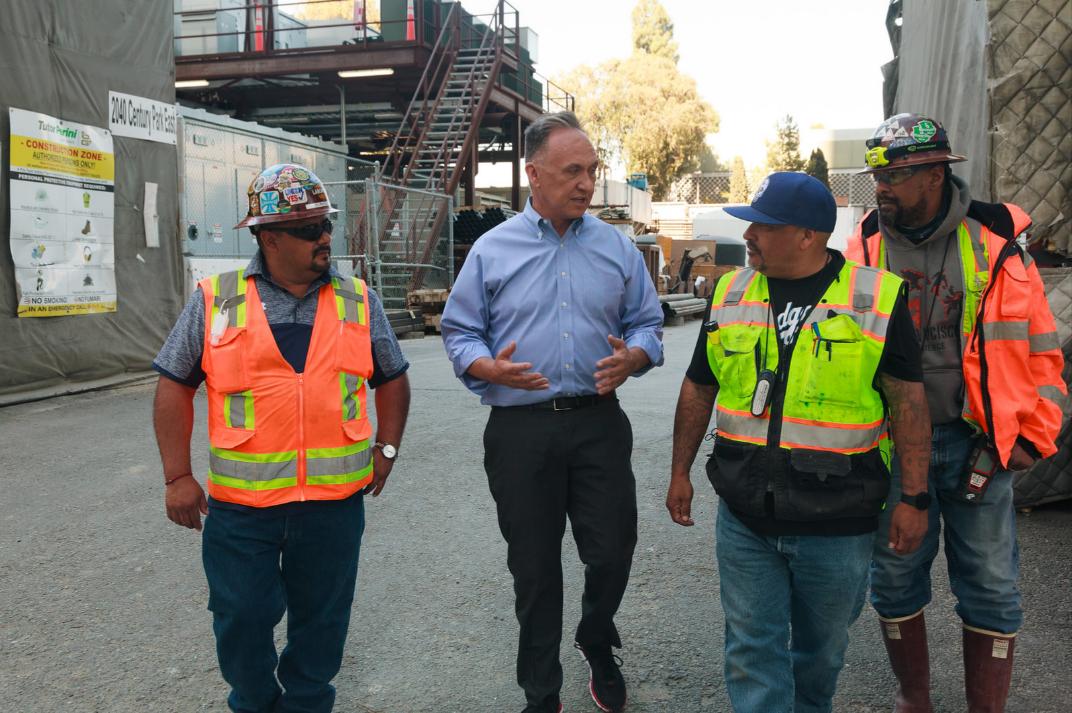 LOS ANGELES – The latest election results released by the Los Angeles County Registrar-Recorder/County Clerk's office on Tuesday indicated that former Equality California Executive Director and leading environmental attorney, Rick Chavez Zbur, had won the seat to represent California's 51st Assembly District.
Zbur's opponent Louis Abramson issued a statement of concession congratulating the Assemblymember-elect:
"One of our campaign mantras is: The hard part comes after the hard part. Well, this is the hard part. While many votes are outstanding, we're at 44.6%. Having been outspent nearly eight to one by a well known opponent, this achievement is incredible. Nonetheless, we don't see a path to 50%+1. With a full heart and a grateful soul, it's time to close this chapter.
I want to congratulate Rick Zbur on his victory in this race. I will do everything I can to help him succeed in confronting the existential challenges facing our shared community—homelessness, housing affordability, mental health reform, and climate change.
Rick ran with generosity and kindness. His previous work made California more equitable and just. It has been a privilege to campaign with him and to have the opportunity to advance that work. Rick will be an effective advocate for our district. I look forward to being his partner in repairing our world, and I invite you all to join me." 
In an email to the Blade Tuesday afternoon, Zbur wrote:
"As the votes continue to be counted, our campaign is confident that our margin of victory will continue to grow.  I'm incredibly humbled and grateful to the voters across AD-51 who powered our campaign to a victorious finish. We are proud that we won with a substantial margin in every city across the district.  This victory was only possible because of the dedication and effort of thousands of people —supporters, contributors, and volunteers who fueled our campaign, and I am incredibly grateful. I'm also deeply proud that my victory ensures that the 51st District—and the County of Los Angeles—finally has the LGBTQ+ representation in the State Assembly that it deserves. 
I would like to congratulate my opponent Louis Abramson for his dedication to our community, and for running an energetic campaign that was focused on the issues—many of which we agree about. I appreciate his gracious congratulations call yesterday and his offer to work together in the future to improve the lives of the people of California.
Our campaign was never about one person – it was about ensuring real change and lasting progress to improve the lives of the people of California and the 51st District. It was about assuring that our government tackles effectively the issues that matter most—affordable housing and homelessness, climate action, safer and sustainable communities, good jobs with good pay and safe working conditions, civil rights and social justice for all, and more. I'm proud of the movement we have built and I look forward to beginning the hard work to achieve a government that works for every Californian, especially our most vulnerable.  I am excited to begin my work in the Assembly to deliver for families across the 51st District."
Early on in his candidacy Zbur received the backing of various organizations and political groups including labour, civic, environmental as well as this newspaper. Zbur was endorsed by Equality California early in April 2021, alongside the California Legislative LGBTQ+ Caucus.
When Zbur is sworn in on December 5 and takes office, he will join the largest Legislative LGBTQ+ Caucus in California history.
Equality California released the following statement from its Executive Director Tony Hoang celebrating the victory:
"My friend Rick Chavez Zbur has spent his career fighting for justice and is exactly the type of champion LGBTQ+ Californians need in the Assembly. From a small farming community in the Rio Grande Valley to the halls of the California Capitol, Rick's life has been defined by service to his community and his country. I know that his bold, experienced leadership will continue to move our state forward, and he will deliver progressive results for the people of the 51st Assembly District.
"Equality California looks forward to being a partner to Rick in his new role, as we continue our shared fight for a world that is healthy, just and fully equal for all LGBTQ+ people." 
California's 51st Assembly District includes West Los Angeles, Hollywood and West Hollywood.
MEMBER OF THE STATE ASSEMBLY, 51st District
| Candidate(s) | Votes | Percent |
| --- | --- | --- |
| RICK CHAVEZ ZBUR (D) | 57,323 | 55.40% |
| LOUIS ABRAMSON (D) | 46,145 | 44.60% |