Governor Newsom & Legislative Leaders to expedite gun reform legislation
"California will not stand by as kids across the country are gunned down- Guns are now the leading cause of death for kids in America"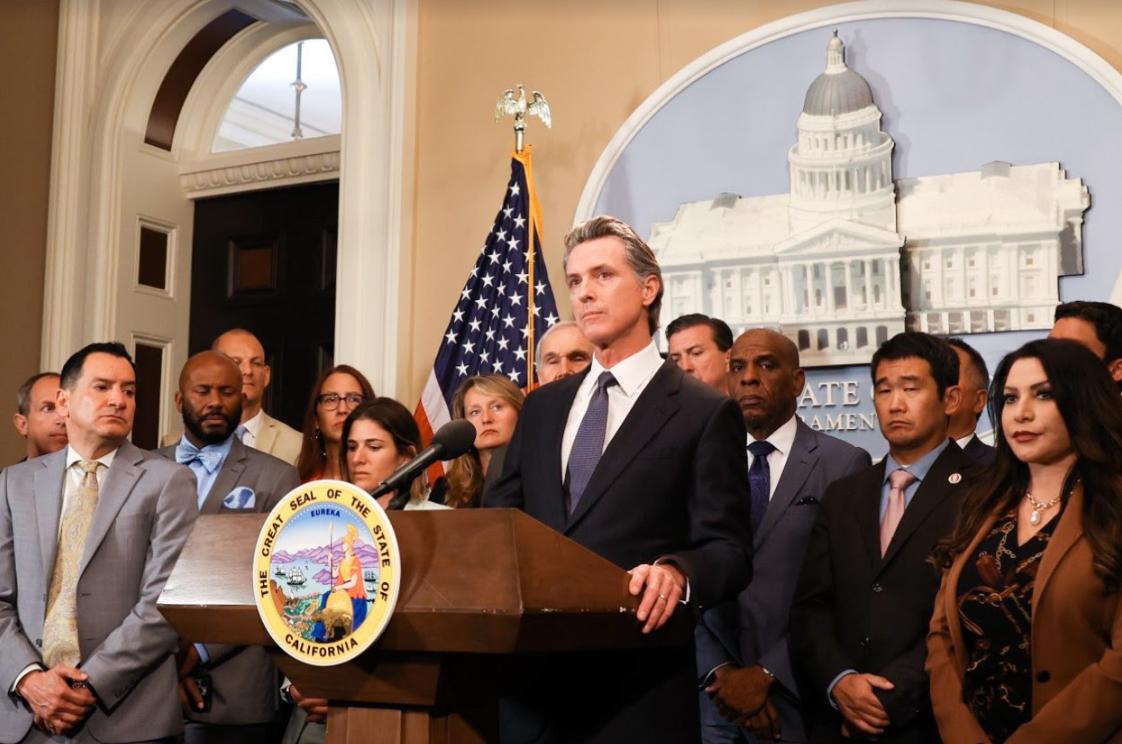 SACRAMENTO – Following a mass shooting at an elementary school in Texas that left at least 19 children and two adults dead Tuesday, Governor Gavin Newsom, Senate President pro Tempore Toni G. Atkins (D-San Diego) and Assembly Speaker Anthony Rendon (D-Lakewood) announced California will expedite commonsense gun safety laws that will protect people from gun violence.
"California will not stand by as kids across the country are gunned down," Governor Newsom said. "Guns are now the leading cause of death for kids in America. While the U.S. Senate stands idly by and activist federal judges strike down commonsense gun laws across our nation, California will act with the urgency this crisis demands. The Second Amendment is not a suicide pact. We will not let one more day go by without taking action to save lives."
"We have gotten to a point where we can't live our lives without the very real fear that every time we say goodbye to our children, spouses, and friends, it could be the last," said Senate President pro Tempore Toni G. Atkins (D-San Diego).
"These dreadful, devastating tragedies have to stop. Every politician, judge, or Supreme Court Justice who has opted to put more guns on our streets needs to resign today and hang their heads in deep shame. We have to do everything in our power to get guns out of our classrooms and grocery stores and away from people who should never have them. That includes our work this week to move expeditiously on more than a dozen bills that make our communities safer, and I'll be continuing to work alongside Speaker Rendon and Governor Newsom to ensure that these bills move swiftly through the legislative process so that they can start to make positive change in our communities."

"In the face of repeated tragedies in our state and elsewhere, California remains committed to doing everything we can to stem the violence," said Assembly Speaker Anthony Rendon. "As a society, we must do better."

"There have been more mass shootings in the U.S. in 2022 than days in the year," said California Attorney General Rob Bonta.
"In California, we refuse to accept the current norm. We will continue to call on our federal leaders and neighboring states to do more, because our nation's current standard for preventing gun violence is unacceptable. Our children should not suffer this burden. Active shooter drills, metal detectors, and schools that look like prisons are not the answer — we need commonsense gun safety laws. We are sick and tired of seeing young and promising lives cut short due to gun violence. We at the California Department of Justice and leaders throughout California know that addressing gun violence is critical to public safety. As your Attorney General, I vow to do much more than send thoughts and prayers — I will use the full force of the law and my office to end gun violence."
An initial package of bills the Governor has committed to signing include:
AB 2571 (Bauer-Kahan) – Restricts advertising of firearms to minors
AB 1621 (Gipson) – Restricts ghost guns and the parts and kits used to build them
SB 1327 (Hertzberg) – Creates private right of action to limit spread of illegal assault weapons and ghost guns
AB 1594 (Ting) – Allows governments and victims of gun violence to sue manufacturers and sellers of firearms
Governor Newsom and legislative leaders said they will continue working together to expedite additional bills pending before the legislature aimed at curbing gun violence and increasing safety in California communities.
"I heard the news about Uvalde, just as I was getting ready to pick up my kids from school. I can see how this can happen at any school, anywhere in the country," said Assembly Member Miguel Santiago who represents a portion of downtown Los Angeles.
"This comes on top of shootings in Buffalo, Laguna Hills, and at Grand Central Market one block from my District Office. We need stricter gun laws and we need them right now! That's why I'm proud to join Governor Newsom and legislative leaders in the call for gun safety laws. I am also co-authoring AB 1594 (Asm. Ting) which helps gun violence survivors pursue legal action against gun manufacturers and AB 1621 (Asm. Gipson) which will help us get ghost guns off our streets for good," Santiago added.
Out Assemblymember Evan Low eyes South Bay House seat
Long considered a likely U.S. House candidate once a seat opened up, Low is widely expected to enter the 2024 race to succeed Rep. Anna Eshoo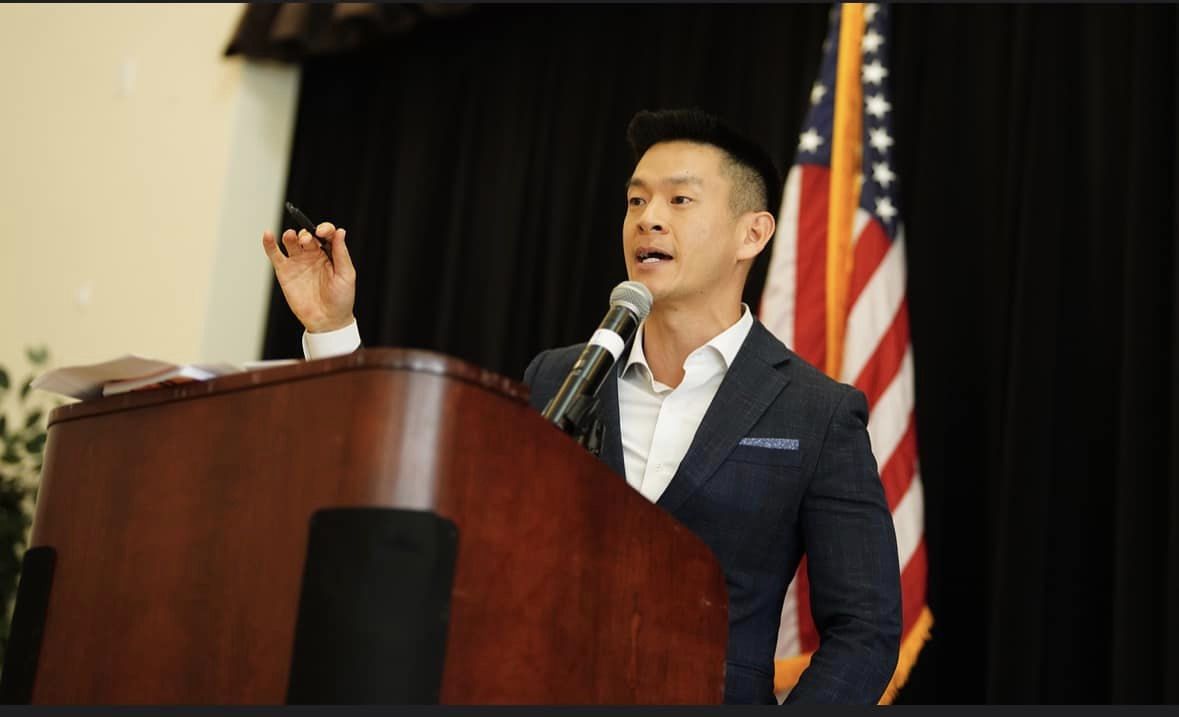 By Matthew S. Bajko, Assistant Editor | SANTA CLARA COUNTY, Calif. – With the news Tuesday that Congressmember Anna Eshoo (D-Palo Alto) will retire from the South Bay House seat she has held since 1993, it provides an opportunity to see the first LGBTQ person from the Bay Area be elected to Capitol Hill.
Long considered a likely congressional candidate once a seat opened up, gay Assemblymember Evan Low (D-Cupertino) is widely expected to enter the 2024 race to succeed Eshoo. Low, 41, told the Bay Area Reporter that he is interested in running for it but is not yet ready to make an official announcement.
"Any person who follows in her footsteps must commit themselves completely to upholding her incredible legacy. Today, I'm going to celebrate one of our valley's greatest public servants and a personal mentor to me. There are a lot of people in the community I need to talk to before I make a formal decision," Low, who has until early December to decide, wrote in a texted reply November 21.
Tuesday morning Eshoo released a video about her decision not to seek reelection next year in order to break the news to her constituents.
"As the first Democrat and first woman to ever represent this distinguished congressional district, no one could ever be prouder than me to carry our Democratic Party values," Eshoo wrote in an email to her supporters.
Eshoo's 16th Congressional District spans both San Mateo and Santa Clara counties. She had first sought a House seat six years after winning election to the San Mateo County Board of Supervisors but fell short in the general election of 1988 to Republican then-Stanford professor Tom Campbell.
When Campbell opted not to run for another term in 1992, and instead mounted an unsuccessful U.S. Senate bid, Eshoo ran again and won. She has long been a champion of LGBTQ issues in Congress and has enjoyed strong support from the LGBTQ community throughout her time in the House.
As the B.A.R.'s online Political Notes column reported last year, Eshoo ran her first TV ads since being elected to Congress for her 2022 candidacy. In it, she touted being an original co-sponsor of the Equality Act, the federal omnibus LGBTQ rights legislation adopted by the House in 2021. (It died when the U.S. Senate failed to vote on it.)
It is believed to be the first time a Bay Area congressmember highlighted their support of the Equality Act in a campaign commercial. In an interview Eshoo had told the B.A.R. she was proud to have that distinction.
"I have always believed there is one class of citizenship in our country and that is first class. So without the movement for equality and fullness of citizenship that can't happen," Eshoo had told the B.A.R. "I am very proud of that, so I wanted to highlight the Equality Act."
Eshoo also had the honor of being the first woman to serve as chair of the Democratic Party in San Mateo County, as she noted in her email to constituents. She also served as a member of the Democratic National Committee.
"I'm so proud of all we've achieved together and that the strength of our party rests on a strong foundation of clubs, caucuses, and county committees with our allies in Labor and other valued advocates. Our party continues to be strengthened by our diversity, and I'm confident this will continue because it is who we are," wrote Eshoo. "As the last year of my service in Congress lies ahead, be assured that I will continue to bring my tenaciousness and unswerving commitment to my work to strengthen our democracy, and our work together for a sweeping Democratic victory for the country we love so much."
In a statement he released reacting to Eshoo's news, Low called Eshoo "an icon" and a "personal hero" to him. He also praised her for being a "champion who leads this community with tremendous energy, grace, and grit."
He added that he is looking forward "to the many ways" the community can honor Eshoo for "her extraordinary service" over the years.
"We are so blessed to have her as our leader, gracefully navigating the complex issues in this valley of high expectations," stated Low. "Her public service has been noble and selfless, advancing quality healthcare access for all, immigration reform rooted in compassion and humanity, and stringent consumer protections unfettered by special interests."
As the B.A.R. reported last year, Low moved into the redrawn 26th Assembly District that includes Cupertino, Santa Clara, Sunnyvale, and parts of San Jose in order to avoid competing against his colleague Assemblymember Marc Berman (D-Palo Alto) for reelection to the state Legislature. Berman had been drawn into Low's former Assembly District.
Doing so required Low to vacate the 1,100 square foot condo in Campbell that he co-owns with his brother, a San Jose police officer. He moved into the Sunnyvale home of his father and stepmother.
Low grew up in San Jose, and his parents separated when he was 18. He graduated from San Jose State University and went on to win election to the Campbell City Council in 2006.
He was the first Asian American to serve on the governing body. Four years later he became the youngest openly LGBTQ+ mayor in the country at age 26.
He first won election to the state Assembly in 2014. He has strong ties to Silicon Valley's tech industry, which could benefit him in a House race as a source of support and financial donations to his campaign.
Low would be the second out candidate running next year for an open House seat in the Bay Area. Jennifer Kim-Anh Tran, Ph.D., a queer leader within the state's Vietnamese American community, is seeking to succeed Congresswoman Barbara Lee (D-Oakland), who is running for U.S. Senate rather than seek another House term.
Tran is the partner of Nenna Joiner, who owns several sex shops in the East Bay and a downtown Oakland nightlife venue. She is in a tough race to survive the March primary along with fellow Democrats BART board member Lateefah Simon and business owner Tim Sanchez, a U.S. Navy Reserves veteran who served in Afghanistan.
As the B.A.R. first reported in an online story November 17, there are now out House candidates in all three of the West Coast states. The 2024 election could thus see the California congressional delegation's LGBTQ contingent expand from its current two gay members, while those in Oregon and Washington state could see their first out members.
**************************************************************************************
The preceding article was previously published by the Bay Area Reporter and is republished with permission.
Help keep the Bay Area Reporter going in these tough times. To support local, independent, LGBTQ journalism, consider becoming a BAR member.