Celebs, politicians, & partiers took it to the streets of West Hollywood
WeHo Pride's first-ever parade capped off three days of festivities that can only be deemed an unqualified & unforgettable success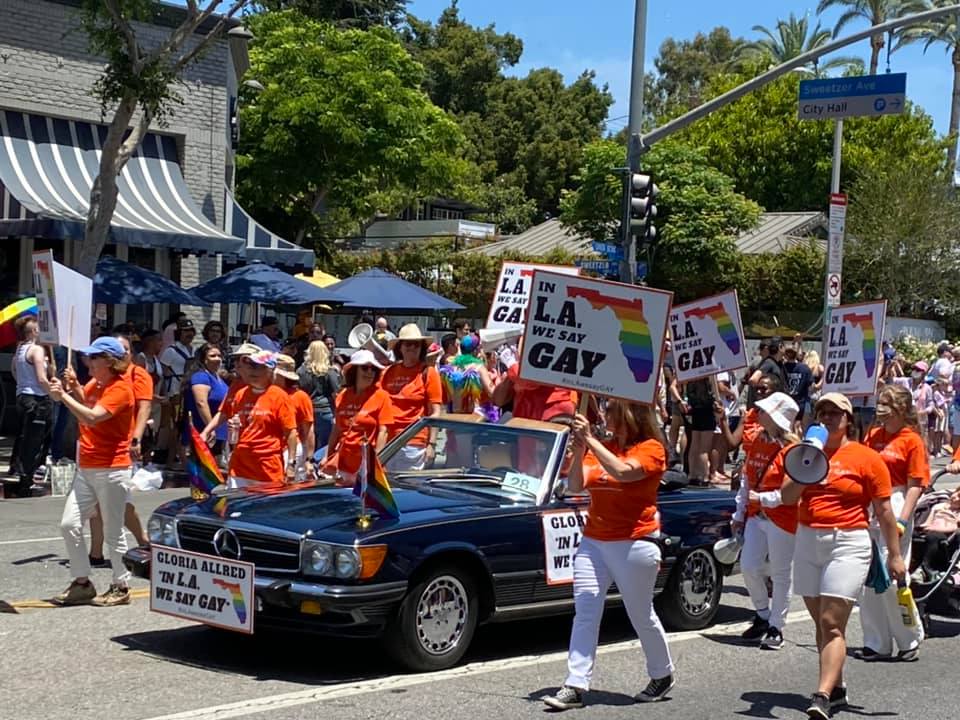 WEST HOLLYWOOD – The inaugural WeHo Pride parade was, simply put, a massively successful event, as dozens of floats filled with scantily clad dancing bodies, cars featuring political allies, and — to everyone's surprise — even hip-hop superstar Cardi B. came squirting by, whipping vodka cream into the mouths of revelers, making Santa Monica Boulevard the place to be and be seen Sunday.
The parade, broadcast by KTLA 5, LA's own, began just after 12 noon at the intersection of Santa Monica and N. Crescent Heights Boulevards and traversed westward along Santa Monica Boulevard, ending at N. Robertson Boulevard. Both sides of Santa Monica Blvd. were lined several people deep with revelers from around the world who were happy to be outside and able to participate in a festive activity following two years of pandemic and necessary mask-mandates.
Yet, the first marchers were a small group of approximately 10 people who shouted, "no cops at Pride!" A much larger group of policemen on motorcycles followed behind, ironically protecting their right to protest, to loud cheers and applause from participants. Even more bikes followed with a contingent of Dykes on Bikes, showing they literally had the backs of the LGBTQ+-friendly cops of the city (yes, the do exist).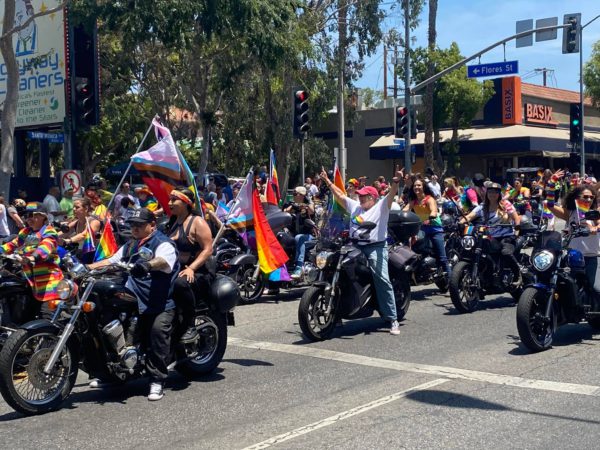 Many local businesses participated, including popular nightclubs such as Micky's and The Abbey, which both presented floats filled with sinewy bodies writing to popular dance music blaring from speakers. Project Angel Food, which prepares and delivers more than one million medically tailored meals each year, free of charge to homes of men, women, and children affected by life-threatening illnesses, was also a significant presence in the parade. So was Cedars Sinai, a non-profit hospital in L.A., which had its marchers carry signs that read "United for Pride."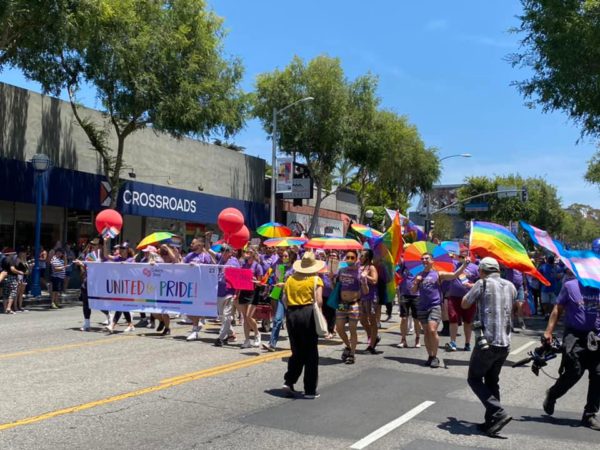 U.S. Rep. Adam Schiff proved yet again that he's one of the staunchest defenders of equality for everyone. He's marched in past parades and rode in a car this year, smiling and waving to the sidelines.
Ubiquitous media presence, LA attorney Gloria Allred, got in a jab at anti-gay Florida governor Ron DeSantis, as she rode in the parade shouting from a loudspeaker behind a group of marchers who carried signs that pictured a rainbow-colored image of Florida next to the slogan "In L.A. we say gay."
Another popular group was members of the online organization Free Mom Hugs. Their mission statement is to celebrate our community through visibility, education, and conversation. They also give great hugs, as many sideliners experienced first-hand.
Los Angeles Blade's entry, a Double Decker Bus emblazoned with its logo and that of its invited guests, LGBTQ+ Grads from the Los Angeles County Community Colleges District and Black LGBTQ+ talk show The House, was met with wild cheers along the entire parade route.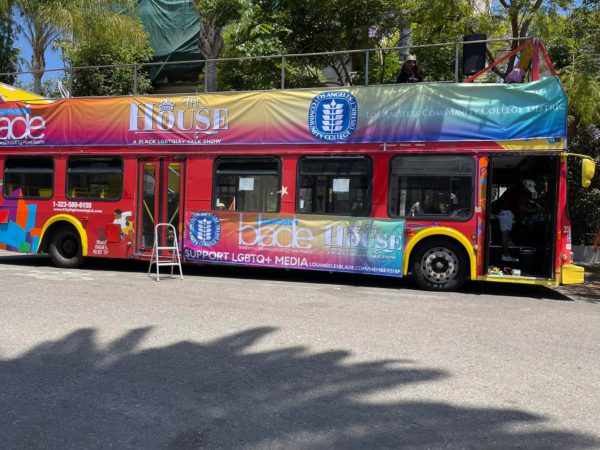 Diego Chan and his partner Martin X came to the parade from Tijuana Mexico. "We love West Hollywood and have missed visiting so when we heard about WeHo Pride, we couldn't resist. So, we booked a suite at Four Seasons and here we are," said Martin. "We keep thinking we need to back to the suite but the eye-candy is way better here"
Joel Simpson, 77, a life-long resident of Malibu said the event was his first time out of Malibu since Covid began."I needed this day as a reminder of so many things. I'm so proud to see the youth, but I have to say I feel proud yet somehow invisible. The fashions and the music seem so foreign to me."
And it was indeed a different generation and a notably more racially diverse Pride.
Janele Monae, the non-binary singer, songwriter, rapper, science-fiction author and actress who served as this year's WeHo Pride Grand Marshal showed her pride by flaunting some deep sexiness, wearing pop-red lipstick, and serving up some serious attitude in her dominatrix outfit, dangling baubles from her silver nipple covers. Her black policeman's uniform hat and rainbow fan completed her look.
Needless to say her presence at the parade was felt, as onlookers yelled and screamed in excitement at the top of their lungs. "We love you, Janelle!" and "Thank you for being here" and "Happy Pride, Janelle!" were heard the entire length of the parade.
City Council members Lindsey Horvath, Sepi Shyne and WeHo Mayor Lauren Meister gave the checker skirted Monae a proclamation, correctly using pronouns and thanking "them for the many contributions they have made through art, creativity and philanthropic work and for representing the LGBTQ+ community."
"One of the most beautiful things I've heard about this gender queer revolution was what Janelle said when she came out as non-binary," said Jamie Parks from West Hollywood. Monae told Jada Pinkett Smith, Willow Smith, and Adrienne Banfield-Norris. "I feel like God is so much bigger than the 'he' or the 'she.'"
Also adding to the Gen-Z effect as Pride reemerges, was Next Gen Icon JoJo Siwa.
The Siwa's Dance Pop Revolution star and her girlfriend Kylie Prew were also among the famous faces who attended the ninth annual LGBTQ+ Night at Dodger Stadium in Los Angeles on June 3.
But, stealing the show, the main event may have been the unexpected Hip-Hop superstar Diva entrance by Cardi-B.
Cardi B, who is bisexual popped out of her security retinue, bedecked in rainbow-wear, spraying vodka-laced whipped cream "shots" of her new brand Whipshots into the gapping mouths of surprised fans. Cardi says Whipshots is "sexy and tasty" and a "party in every can." And, given the scene she causes on Santa Monica Boulevard, it's probably true.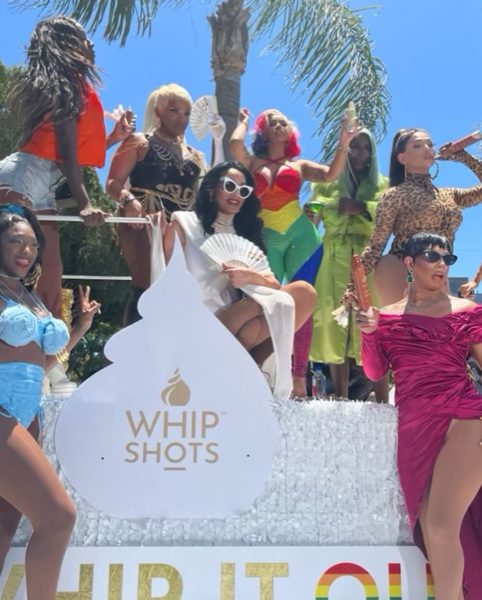 "I was drunk just seeing that B," said Mitchell Jacobs who came to WeHo from New York just for Pride. "Between the festival, Lil' Kim, Janelle Monae and Cardi B, I have to say I am just shocked by everything WeHo Pride has pulled together here. Cardi pulled a classic superstar move with this surprise appearance. The staging and talent at the festival — I'm blown away."
Gold rope ear hoops, golden bangles, sharp tipped crystal-stiletto fingernails highlighted Cadi's short blond and rainbow hair and LA purple eyeshadow, long lashes were fit for a Queen of the drag variety. Cardi was tricked out glam.
The day capped off three days of festivities that can only be deemed an unqualified and unforgettable success. OUTLOUD and WeHo Pride have changed the city, kicked the whole LGBTQ+ world up several notches and raised the bar on a future that is more racially and ethnically diverse, youth focused and proud.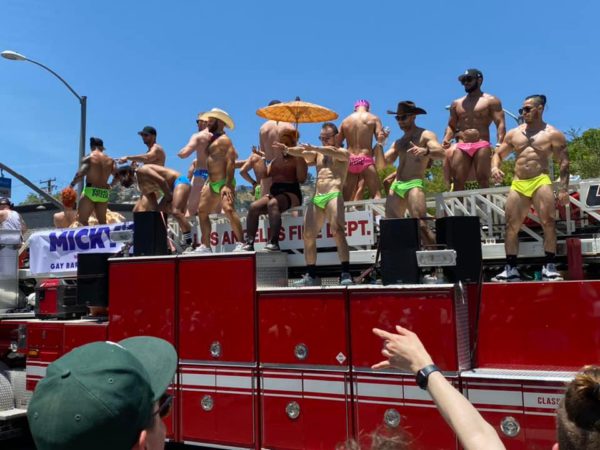 If criticism can be offered, it's mild.
"WeHo's history matters. Our Seniors matter and we must do everything in our power to include them and preserve their story," said one famous Asian trans activist who wishes to remain anonymous. "It's entirely missing this weekend."
But perhaps there's hope on that front because the kids are not dumb. 29 year old José from East LA in discussing whether his generation is unaware of history, smartly points to the upcoming SCOTUS rulings on abortion that he said may open the door to "state's right refutation of some LGBTQ+ rights. We have assumed our rights and progress is irreversible, but soon we will likely know that's not true."
He added, "But today is liberating on so many levels. I came to celebrate. I came to celebrate the reopening of the world, the end of Mercury retrograde," he laughed. "We are resilient and no matter what happens, today proves our joy and our Pride is powerful and unstoppable."
Additional reporting by Jeremy Kinser
Long Beach Pride parade & festival July 8th-10th
The theme is 'Many voices-one spirit, marking three decades of the annual third largest Pride in California celebrating the LGBTQ+ community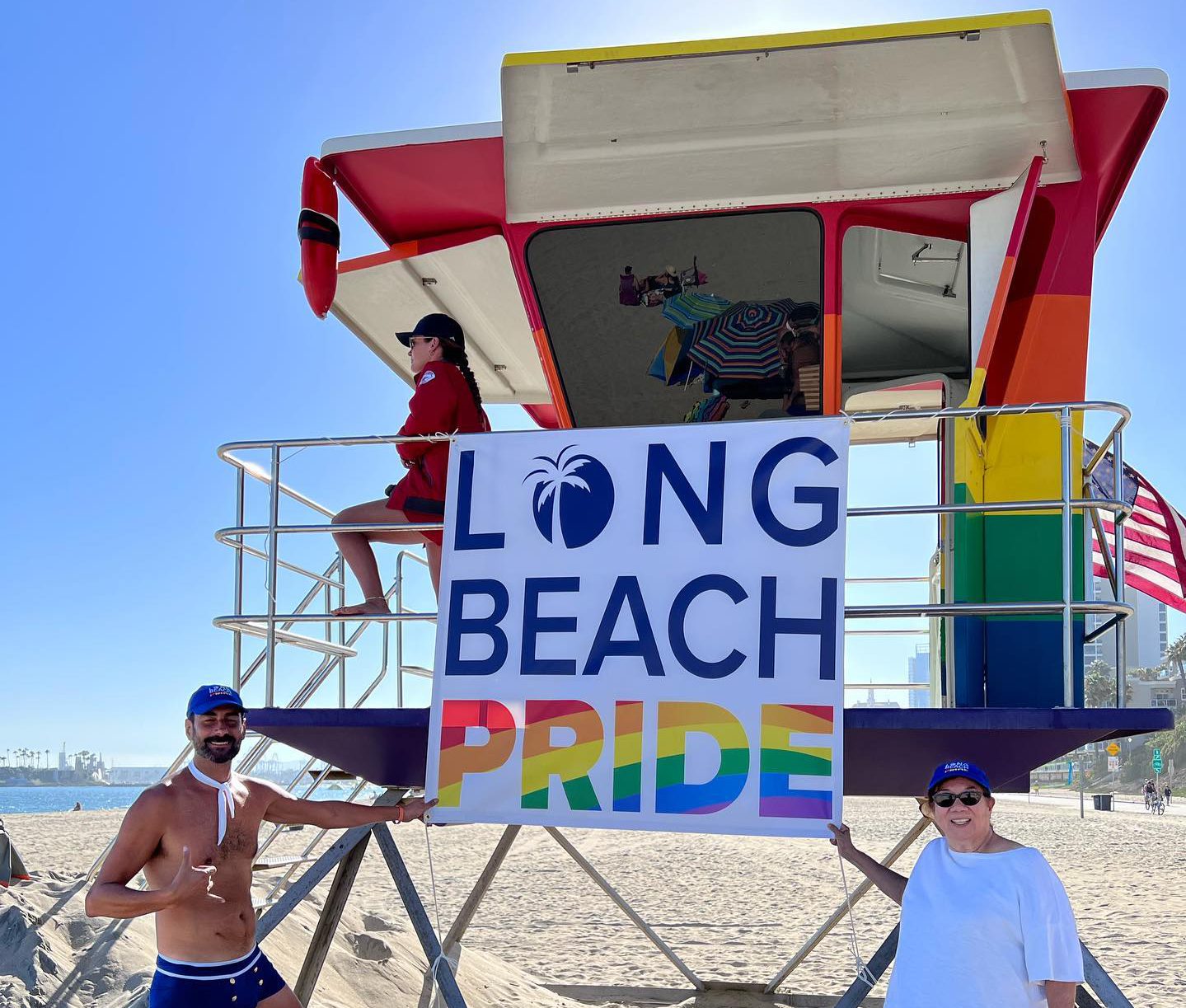 LONG BEACH – This weekend marks the in-person return of Long Beach Pride after the coronavirus pandemic had halted previous celebrations. The celebration's theme this year is "Many voices-one spirit," marking three decades that the annual three-day festival, parade and teen pride- the third largest Pride festival and parade in California, celebrates the LGBTQ+ community.
This year, in addition to the stages and musical entertainment, organizers will be creating multiple activations and attractions encompassing the diversity and interests of Long Beach's LGBTQ+ community.
Elsa Martinez, the president of the Board of Long Beach Pride was a guest on KTLA's Morning News Thursday to discuss the upcoming weekend festival which kicks off Friday.
For more information visit https://longbeachpride.com/
Hundreds attend 4th annual South LA Pride celebration
Hosted by Los Angeles City Councilmembers Marqueece Harris-Dawson & Herb Wesson, this year's family-friendly celebration was a "Pride Picnic"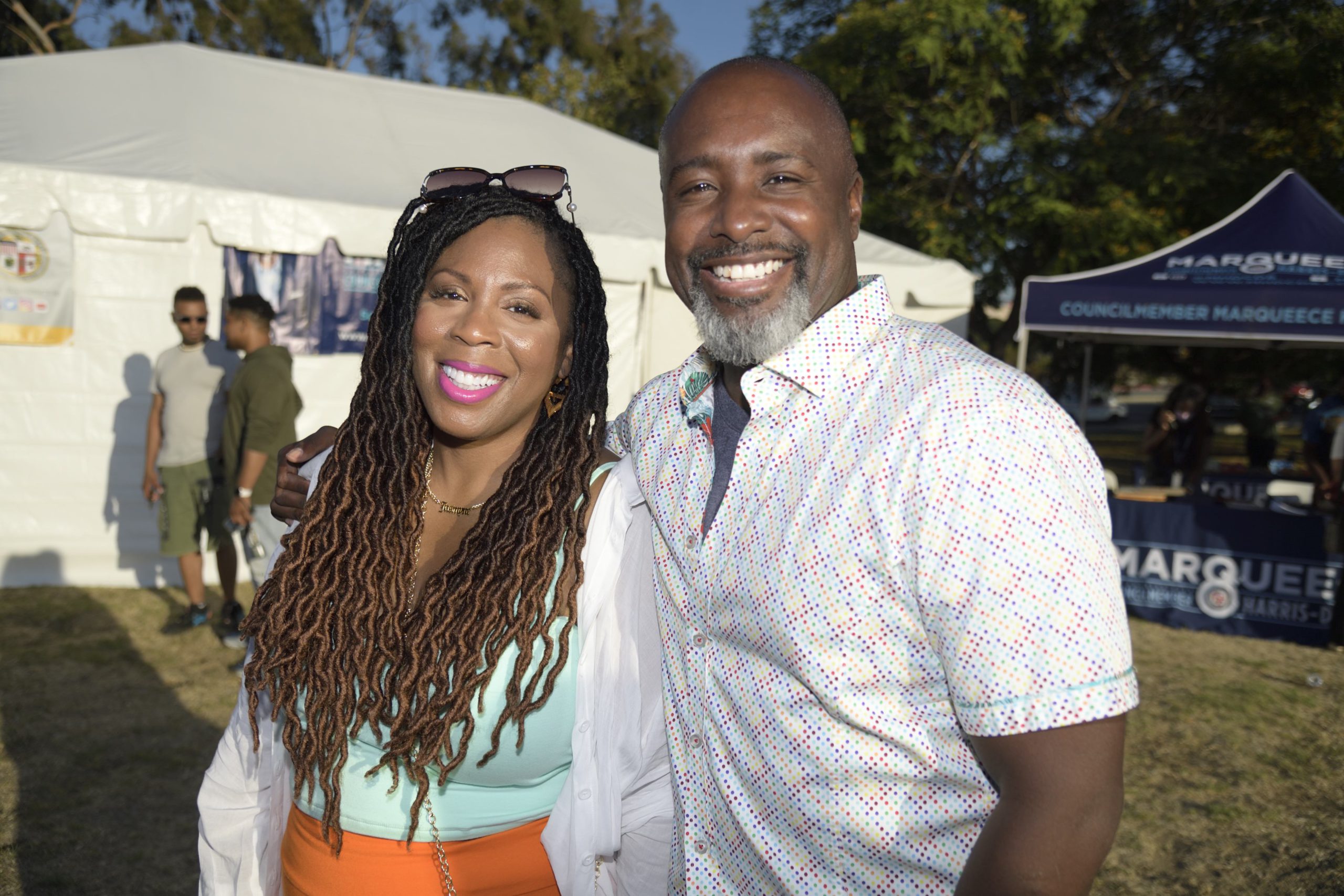 LOS ANGELES – Hundreds attended the 4th annual South LA Pride celebration on Jul. 1 at Norman O. Houston Park in Baldwin Hills.  Hosted by Los Angeles City Councilmembers Marqueece Harris-Dawson and Herb Wesson, this year's family-friendly celebration was a "Pride Picnic" meant to bring together South LA's LGBTQ community and their allies for a culturally relevant pride celebration.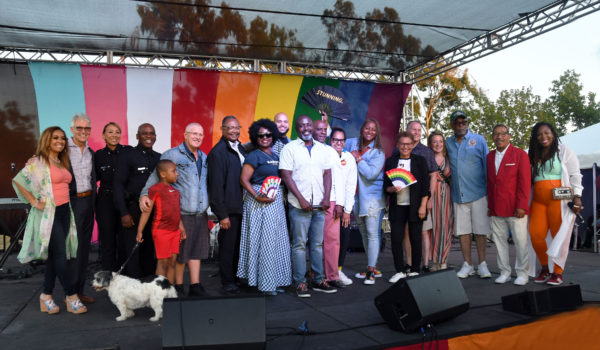 In addition to Harris-Dawson and Wesson, this year saw the most Black elected officials ever at a pride celebration in Los Angeles including Congresswoman Karen Bass, Supervisor Holly Mitchell, Senator Sydney Kamlager, and more.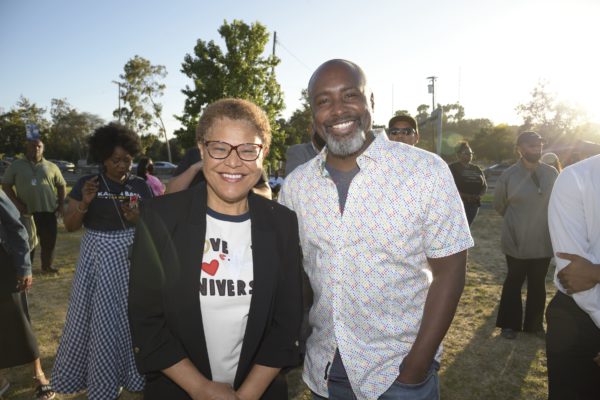 Journalist and advocate Jasmyne Cannick chaired the planning committee which included a host of community organizations.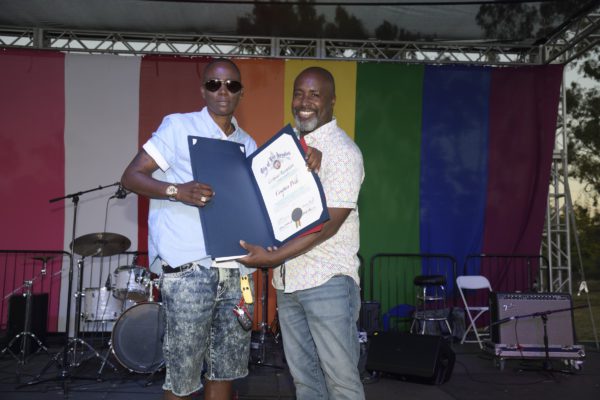 The 2022 South LA Pride Community Picnic was sponsored in part by Community Coalition, Providence, FOX, AEG, and the LA Civil + Human Rights and Equity Department.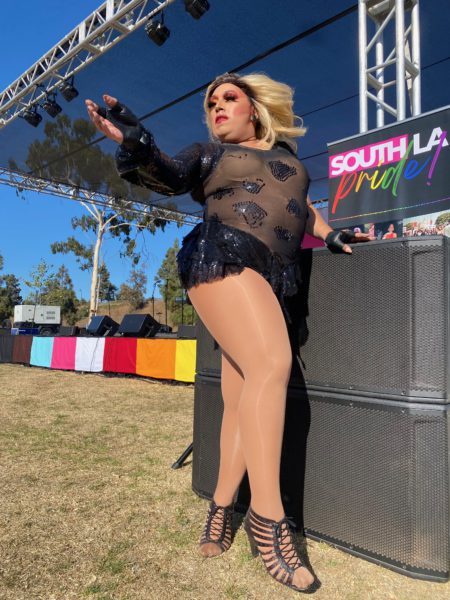 For more information, please visit southlapride.com.
EN VIDEO: Marchas del orgullo LGBTQ+ en Colombia
Se realizaron celebraciones en Bogotá, Medellín y Pereira