Celebs, politicians, & partiers took it to the streets of West Hollywood
WeHo Pride's first-ever parade capped off three days of festivities that can only be deemed an unqualified & unforgettable success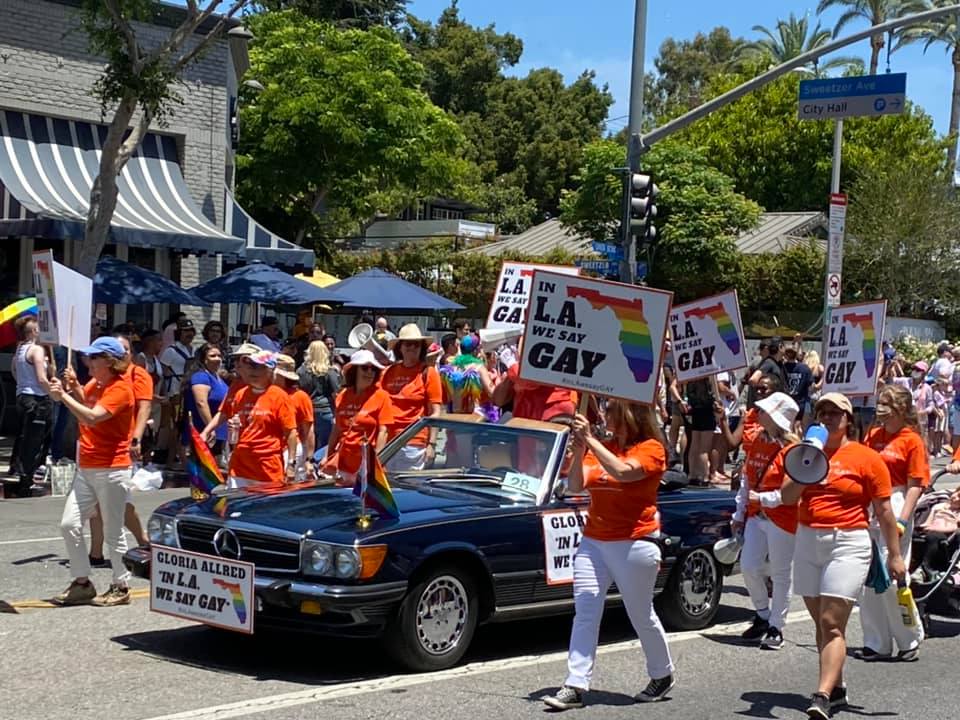 WEST HOLLYWOOD – The inaugural WeHo Pride parade was, simply put, a massively successful event, as dozens of floats filled with scantily clad dancing bodies, cars featuring political allies, and — to everyone's surprise — even hip-hop superstar Cardi B. came squirting by, whipping vodka cream into the mouths of revelers, making Santa Monica Boulevard the place to be and be seen Sunday.
The parade, broadcast by KTLA 5, LA's own, began just after 12 noon at the intersection of Santa Monica and N. Crescent Heights Boulevards and traversed westward along Santa Monica Boulevard, ending at N. Robertson Boulevard. Both sides of Santa Monica Blvd. were lined several people deep with revelers from around the world who were happy to be outside and able to participate in a festive activity following two years of pandemic and necessary mask-mandates.
Yet, the first marchers were a small group of approximately 10 people who shouted, "no cops at Pride!" A much larger group of policemen on motorcycles followed behind, ironically protecting their right to protest, to loud cheers and applause from participants. Even more bikes followed with a contingent of Dykes on Bikes, showing they literally had the backs of the LGBTQ+-friendly cops of the city (yes, the do exist).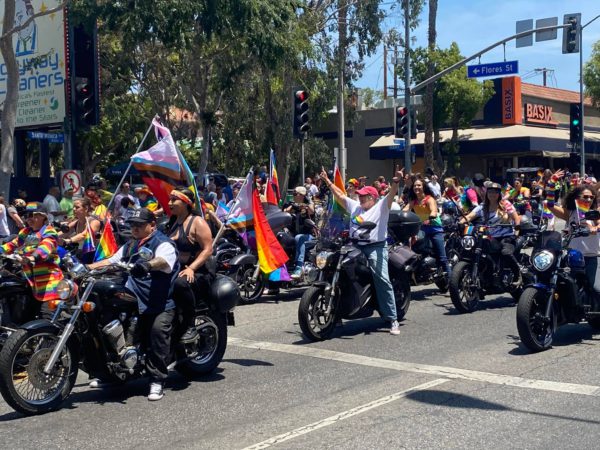 Many local businesses participated, including popular nightclubs such as Micky's and The Abbey, which both presented floats filled with sinewy bodies writing to popular dance music blaring from speakers. Project Angel Food, which prepares and delivers more than one million medically tailored meals each year, free of charge to homes of men, women, and children affected by life-threatening illnesses, was also a significant presence in the parade. So was Cedars Sinai, a non-profit hospital in L.A., which had its marchers carry signs that read "United for Pride."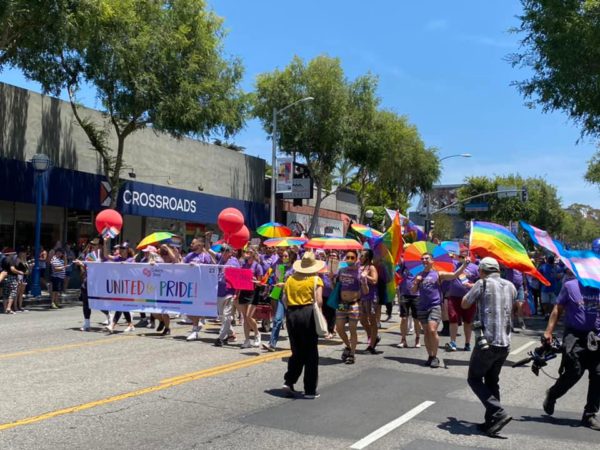 U.S. Rep. Adam Schiff proved yet again that he's one of the staunchest defenders of equality for everyone. He's marched in past parades and rode in a car this year, smiling and waving to the sidelines.
Ubiquitous media presence, LA attorney Gloria Allred, got in a jab at anti-gay Florida governor Ron DeSantis, as she rode in the parade shouting from a loudspeaker behind a group of marchers who carried signs that pictured a rainbow-colored image of Florida next to the slogan "In L.A. we say gay."
Another popular group was members of the online organization Free Mom Hugs. Their mission statement is to celebrate our community through visibility, education, and conversation. They also give great hugs, as many sideliners experienced first-hand.
Los Angeles Blade's entry, a Double Decker Bus emblazoned with its logo and that of its invited guests, LGBTQ+ Grads from the Los Angeles County Community Colleges District and Black LGBTQ+ talk show The House, was met with wild cheers along the entire parade route.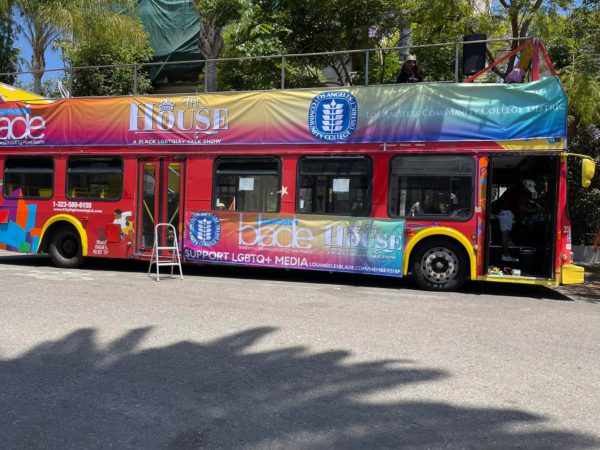 Diego Chan and his partner Martin X came to the parade from Tijuana Mexico. "We love West Hollywood and have missed visiting so when we heard about WeHo Pride, we couldn't resist. So, we booked a suite at Four Seasons and here we are," said Martin. "We keep thinking we need to back to the suite but the eye-candy is way better here"
Joel Simpson, 77, a life-long resident of Malibu said the event was his first time out of Malibu since Covid began."I needed this day as a reminder of so many things. I'm so proud to see the youth, but I have to say I feel proud yet somehow invisible. The fashions and the music seem so foreign to me."
And it was indeed a different generation and a notably more racially diverse Pride.
Janele Monae, the non-binary singer, songwriter, rapper, science-fiction author and actress who served as this year's WeHo Pride Grand Marshal showed her pride by flaunting some deep sexiness, wearing pop-red lipstick, and serving up some serious attitude in her dominatrix outfit, dangling baubles from her silver nipple covers. Her black policeman's uniform hat and rainbow fan completed her look.
Needless to say her presence at the parade was felt, as onlookers yelled and screamed in excitement at the top of their lungs. "We love you, Janelle!" and "Thank you for being here" and "Happy Pride, Janelle!" were heard the entire length of the parade.
City Council members Lindsey Horvath, Sepi Shyne and WeHo Mayor Lauren Meister gave the checker skirted Monae a proclamation, correctly using pronouns and thanking "them for the many contributions they have made through art, creativity and philanthropic work and for representing the LGBTQ+ community."
"One of the most beautiful things I've heard about this gender queer revolution was what Janelle said when she came out as non-binary," said Jamie Parks from West Hollywood. Monae told Jada Pinkett Smith, Willow Smith, and Adrienne Banfield-Norris. "I feel like God is so much bigger than the 'he' or the 'she.'"
Also adding to the Gen-Z effect as Pride reemerges, was Next Gen Icon JoJo Siwa.
The Siwa's Dance Pop Revolution star and her girlfriend Kylie Prew were also among the famous faces who attended the ninth annual LGBTQ+ Night at Dodger Stadium in Los Angeles on June 3.
But, stealing the show, the main event may have been the unexpected Hip-Hop superstar Diva entrance by Cardi-B.
Cardi B, who is bisexual popped out of her security retinue, bedecked in rainbow-wear, spraying vodka-laced whipped cream "shots" of her new brand Whipshots into the gapping mouths of surprised fans. Cardi says Whipshots is "sexy and tasty" and a "party in every can." And, given the scene she causes on Santa Monica Boulevard, it's probably true.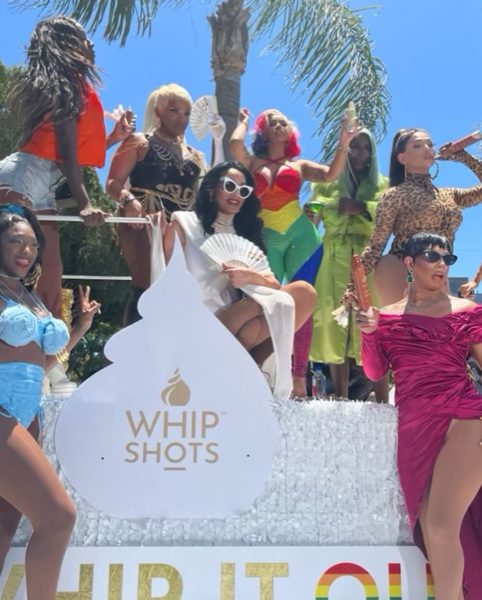 "I was drunk just seeing that B," said Mitchell Jacobs who came to WeHo from New York just for Pride. "Between the festival, Lil' Kim, Janelle Monae and Cardi B, I have to say I am just shocked by everything WeHo Pride has pulled together here. Cardi pulled a classic superstar move with this surprise appearance. The staging and talent at the festival — I'm blown away."
Gold rope ear hoops, golden bangles, sharp tipped crystal-stiletto fingernails highlighted Cadi's short blond and rainbow hair and LA purple eyeshadow, long lashes were fit for a Queen of the drag variety. Cardi was tricked out glam.
The day capped off three days of festivities that can only be deemed an unqualified and unforgettable success. OUTLOUD and WeHo Pride have changed the city, kicked the whole LGBTQ+ world up several notches and raised the bar on a future that is more racially and ethnically diverse, youth focused and proud.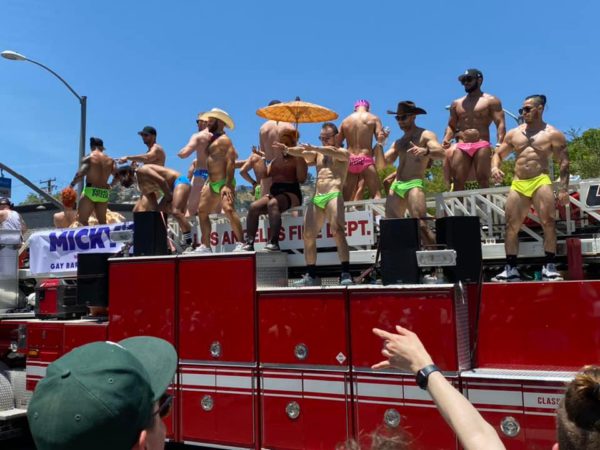 If criticism can be offered, it's mild.
"WeHo's history matters. Our Seniors matter and we must do everything in our power to include them and preserve their story," said one famous Asian trans activist who wishes to remain anonymous. "It's entirely missing this weekend."
But perhaps there's hope on that front because the kids are not dumb. 29 year old José from East LA in discussing whether his generation is unaware of history, smartly points to the upcoming SCOTUS rulings on abortion that he said may open the door to "state's right refutation of some LGBTQ+ rights. We have assumed our rights and progress is irreversible, but soon we will likely know that's not true."
He added, "But today is liberating on so many levels. I came to celebrate. I came to celebrate the reopening of the world, the end of Mercury retrograde," he laughed. "We are resilient and no matter what happens, today proves our joy and our Pride is powerful and unstoppable."
Additional reporting by Jeremy Kinser
Roe ruling outrage marks NYC Pride
Tens of thousands protested Roe ruling on Friday night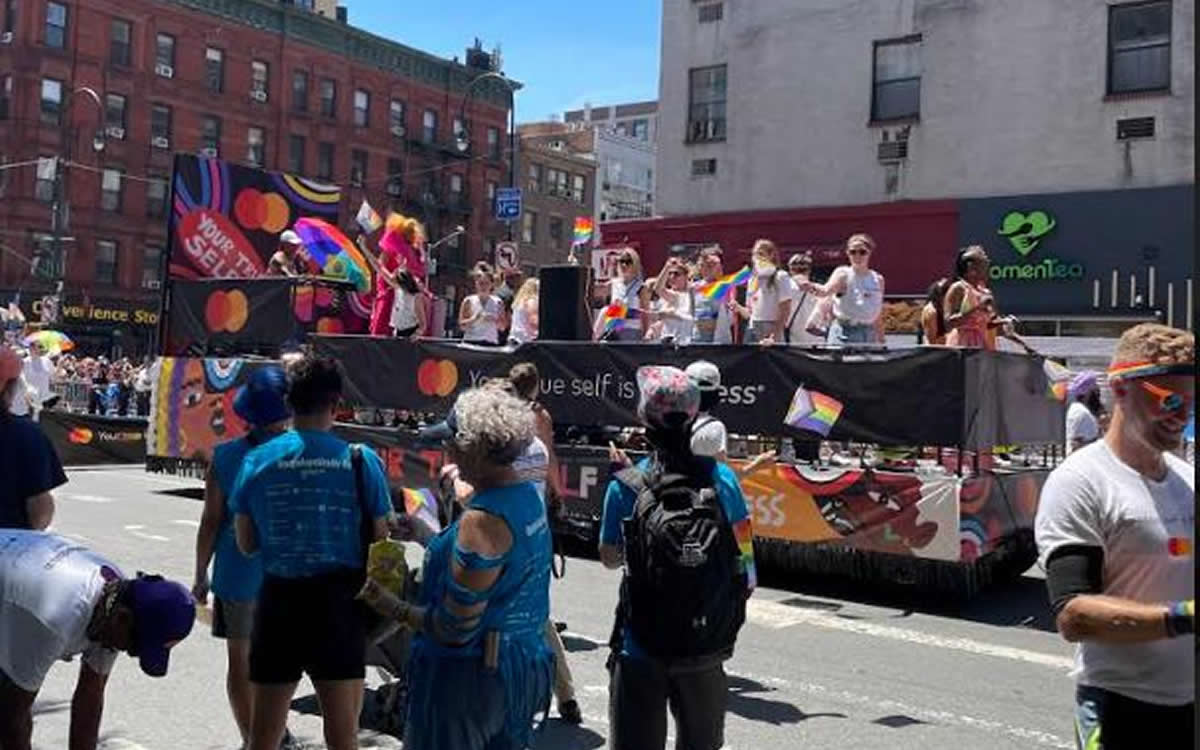 NEW YORK — New York City Pride, one of the largest Pride celebrations in the world, rang in the weekend with equal parts celebration and protest. 
Although the annual Pride march was on Sunday, the entire weekend was filled with an outpouring of public anger in the wake of the U.S. Supreme Court's decision to overturn Roe v. Wade.
Protesters took to the streets of Manhattan on Friday with an estimated 17,000 people gathering to protest the ruling, which made abortion imminently illegal in roughly half of states. At least 25 people were arrested at the Friday night protests, which spread from Washington Square Park through Midtown to Bryant Park.
In light of the Supreme Court's landmark decision — which advocates say will harm members of the LGBTQ+ community — NYC Pride announced that Planned Parenthood would kick off Sunday's Pride march as the first group to walk. In their statement, NYC Pride said that "[The Supreme Court's] dangerous decision puts millions in harm's way, gives government control over our individual freedom to choose, and sets a disturbing precedent that puts many other constitutional rights and freedoms in jeopardy." 
"As millions gather for LGBTQIA+ Pride this weekend in New York City and cities across the country, our voices will be heard — for the LGBTQ people impacted and the millions with whom we stand in solidarity," read the statement. "Pride was born of protest and will always be a space to fight injustice and discrimination. Join us as we advocate for bodily autonomy at this year's NYC Pride March."
In addition to the march; NYC Pride had a full slate of Pride programming during the week leading up to it, including Pride Island at Governor's Island, Youth Pride and a human rights conference. Queer clubs and bars throughout the city hosted various Pride-themed events throughout the weekend.
NYC Pride was not the only organization mobilizing this weekend.
Reclaim Pride NYC hosted a "Queer Liberation March for Trans and BIPOC Freedom, Reproductive Justice, and Bodily Autonomy," in partnership with pro-choice groups and community organizations.
"The [Queer Liberation March] is the annual people's protest march without corporate funding; corporate floats; politicians' grandstanding; or police control or involvement," said the Reclaim Pride Coalition.
Although Pride originated from a moment of violent tension between police and LGBTQ+ people at the Stonewall Inn, officers on Sunday carefully patrolled the entire NYC Pride march route. When the apparent sound of gunshots nearly sparked a stampede in Washington Square Park during the parade, the New York Police Department said there were "no shots fired," later confirming that the sounds were due to fireworks being set off at the park. 
The Washington Post noted fears of violence against the queer community circulated at Pride celebrations across the country.
Police also responded to reports of a shooting at San Francisco Pride, although no suspects or witnesses were found. In light of the epidemic of gun violence — from last month's elementary school shooting in Uvalde, Texas, to the massacre at the Pulse nightclub in Orlando, Fla., in 2016 that left 49 people dead — a fear of active shooters and widespread public anger at the prospect of less rights characterized Pride's usually jubilant atmosphere.
UN's High Commissioner for Refugees to deliver SF Pride message
"Pride month is a time for awareness, outreach, celebration, protest & opportunity to highlight issues that impact LGBTQI+ people globally"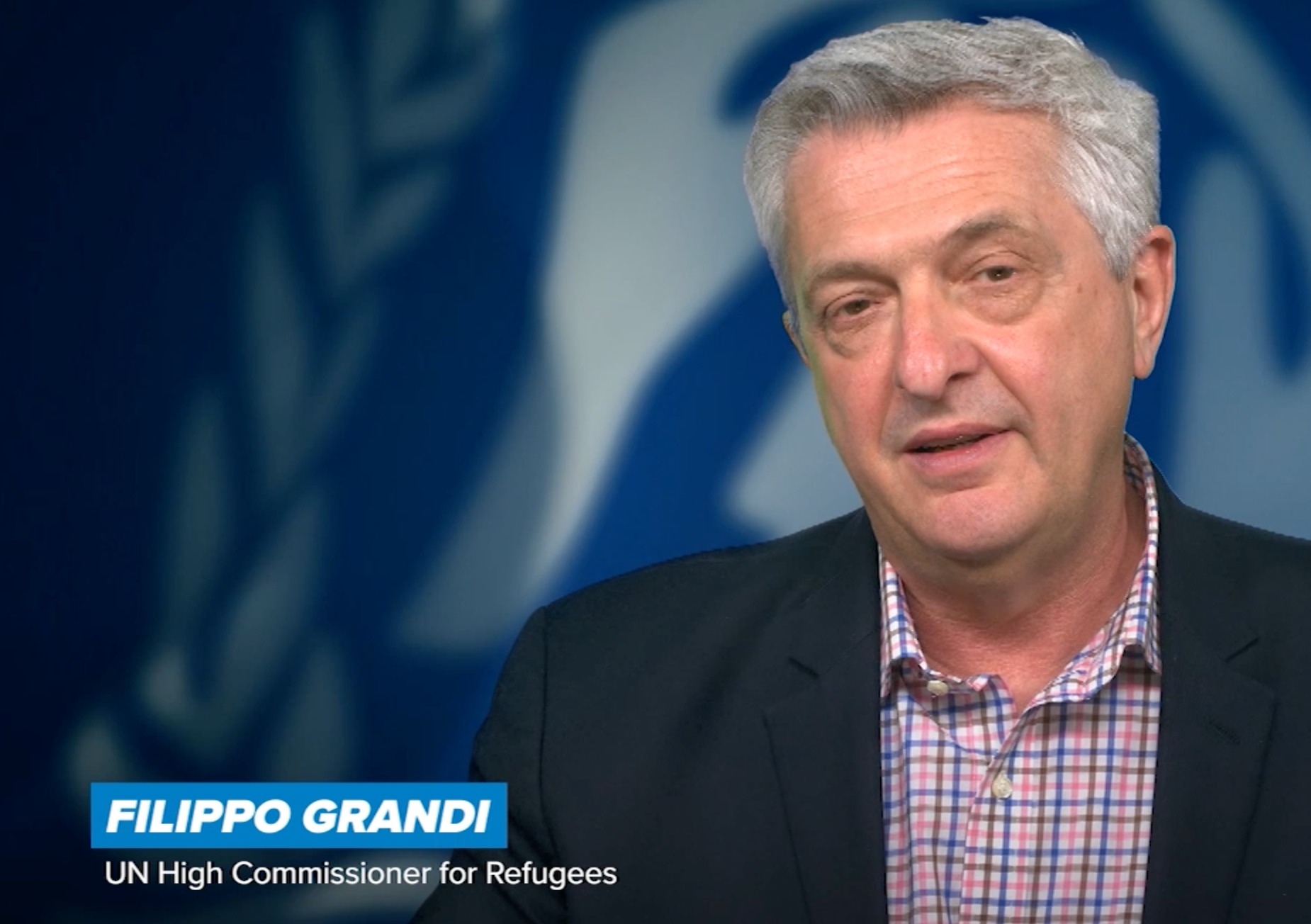 SAN FRANCISCO – In a historic appearance at San Francisco Pride on Sunday June 26, Dr. Felippo Grandi, the United Nations High Commissioner for Refugees (UNHCR) will deliver a four-minute Video Pride greeting and message, on main stage, during the San Francisco Pride Celebration, 2022, together with voices of several LGBTQI+ refugees and asylum seekers from African and Central American countries.
Melanie Nathan, Executive Director of the African Human Rights Coalition, will be speaking and presenting the video in a 15-minute segment dedicated by San Francisco Pride to LGBTQI+ Refugees and Asylum Seekers.
The messages, in keeping with SF PRIDE's theme, LOVE WILL KEEP US TOGETHER, is particularly significant, not only because of the attention it brings to the plight of LGBTQI+ refugees fleeing criminalization and brutal violence, globally, but also because it is at a time when the world has reached the catastrophic milestone of more than 100 million people in forced displacement.
"Pride month is a time for awareness, outreach, celebration, protest and an opportunity to highlight the issues that impact LGBTQI+ people, in their local areas, countries and globally. It is filled with speaking engagements, performances, events and opportunities to make it whatever individuals choose. At the same time, while it may mean different things to each person, it is a time that creates platforms and forums, where we are able to embrace our global interconnectedness, unify and bind as one," Nathan said in a statement released by SF Pride Monday.
"I am so grateful to all who have made this important platform possible. For over 50 years, San Francisco Pride continues to be the beacon of hope for so many LGBTQI+ people who are criminalized and demonized around the world. A special thanks to those courageous refugees and asylum seekers, who despite ongoing protection and survival issues, have put their faces and voices to what amounts to an imperative ecology of visibility. I also thank UN High Commissioner Dr. Grandi for the kind greetings that express the support for LGBTQI+ PRIDE and the reality of the situation facing LGBTQI+ people forcibly displaced."
Watch live: KABC7's exclusive coverage of LA Pride Parade 2022
After a long two-year hiatus, the LA Pride Parade is back! KABC7 will exclusively air its parade coverage live starting at 11 a.m.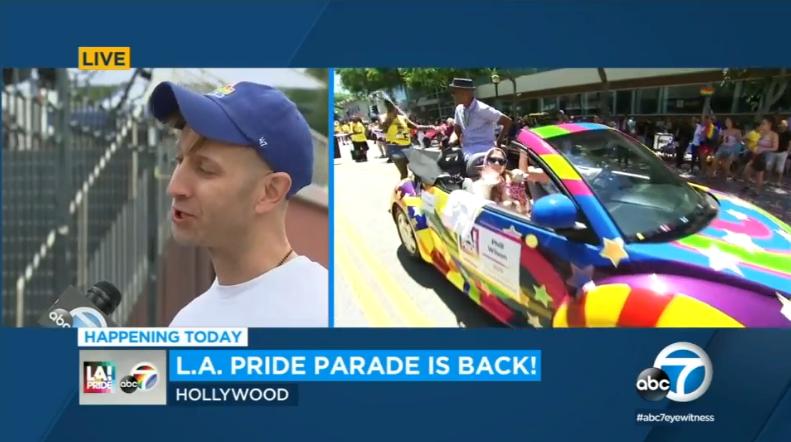 LOS ANGELES (KABC) — After a long two-year hiatus, the LA Pride Parade is back.
This year's theme is #LoveYourPride, and the event is not only celebrating the LGBTQIA+ community of Los Angeles and its allies, but it also celebrates the parade's 50th anniversary, a historical moment that was postponed due to the COVID-19 pandemic.
ABC7 will exclusively air LA PRIDE 2022 today starting at 11 a.m.
Watch the parade live in the video player above or on your favorite streaming devices, like Roku, FireTV, AppleTV and GoogleTV. Just search "ABC7 Los Angeles." The event will also be livestreamed on ABC News Live and Hulu.
Three Pride grand marshals will herald the event, including legendary activist and trailblazer Sir Lady Java as the Community Grand Marshal, actor Mark Indelicato as the Celebrity Grand Marshal, and Paula Abdul as the newly-created Icon Grand Marshal.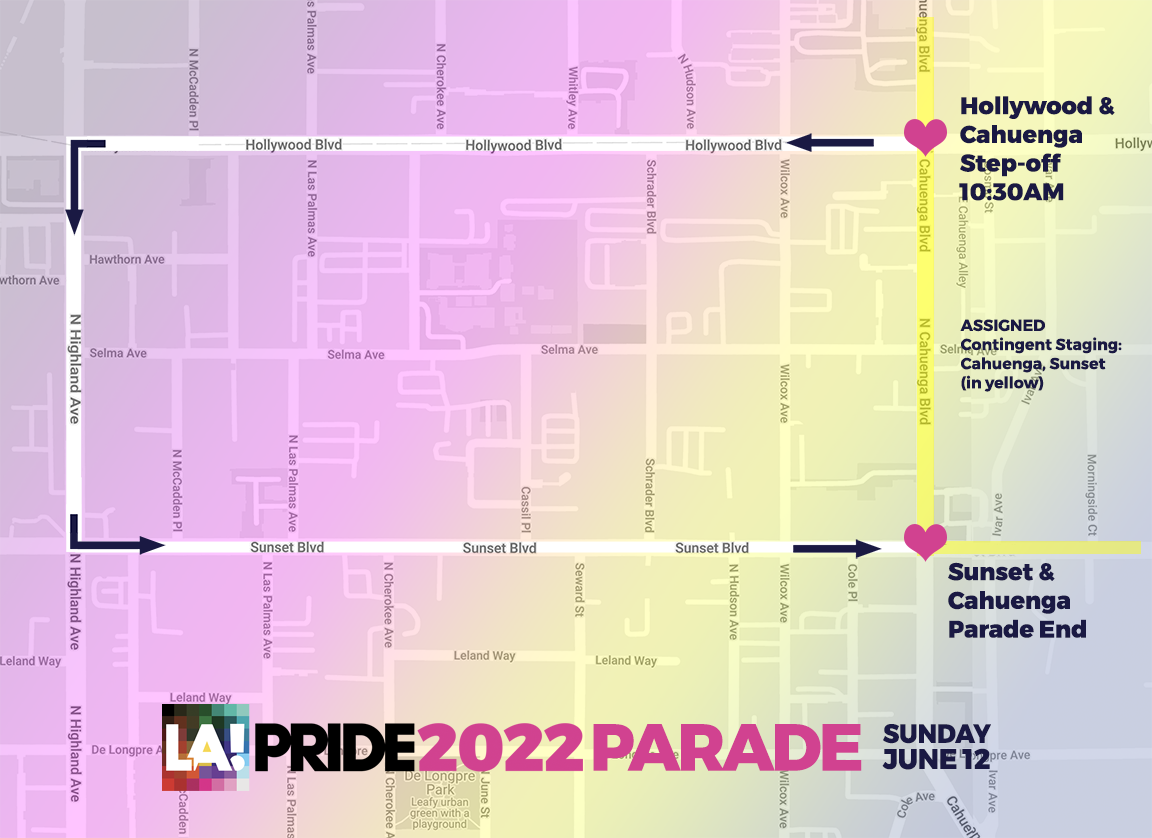 There is also a free Pride Village street fair between Cahuenga and Vine from 11:00 a.m. to 10:00 p.m. The fair includes music, art, booths, food, drinks, and a Ferris wheel.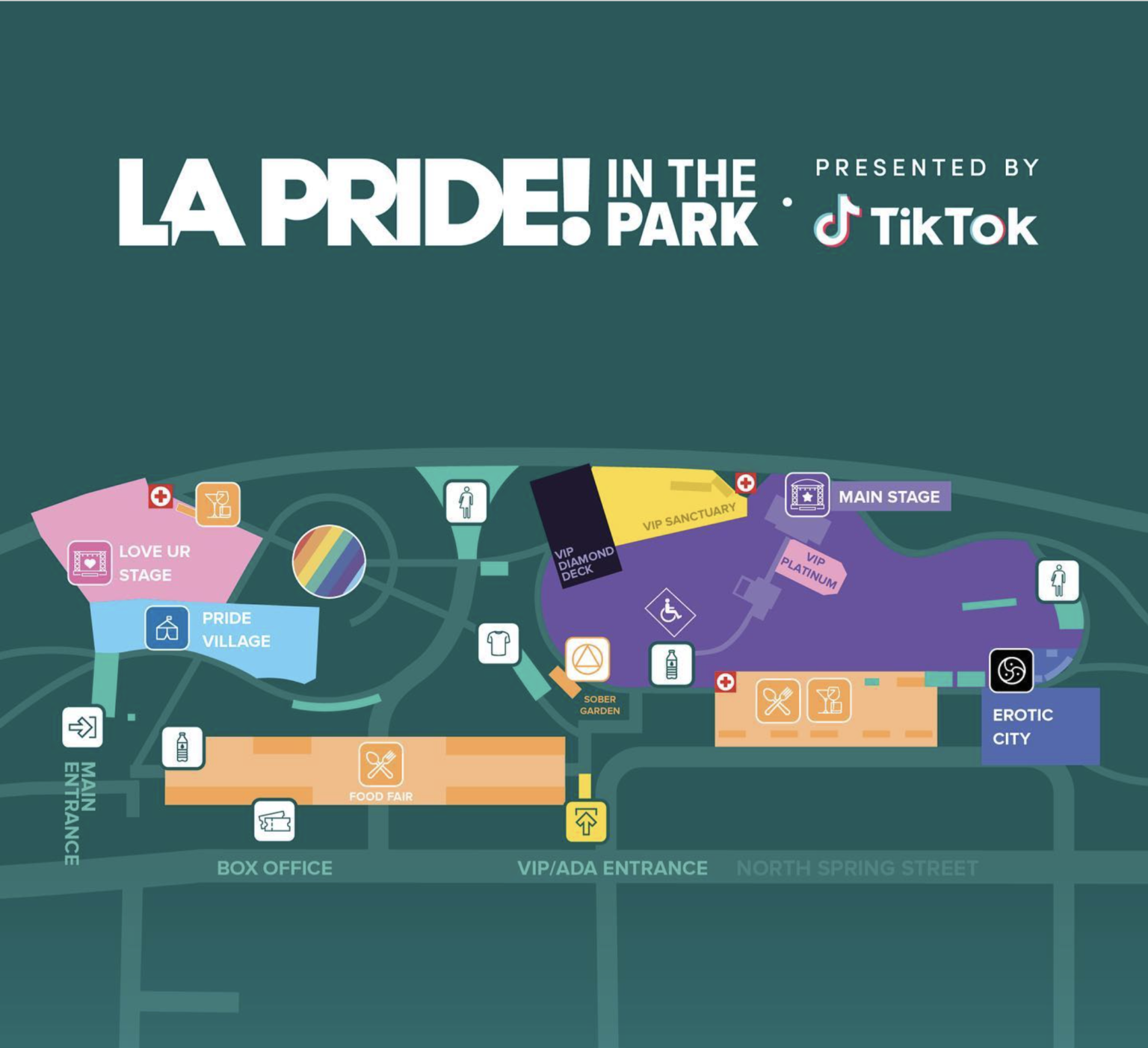 A beverage garden will be hosted on Cosmo Street between Hollywood Blvd. & Selma Avenue. Sponsor tents will be on the section of Hollywood Blvd. between Ivar Avenue and Vine Street.
Details:
Transportation:
Parking in the Hollywood area is extremely limited. It's recommended to either use ride-sharing or public transportation. For those opting for the second choice, the Metro B Line (Red) is the most convenient choice as it has stops at Hollywood/Highland and Hollywood/Vine.
Accommodations:
L.A. Tourism has special hotel packages in the Hollywood area exclusively for LA Pride. Book your stay here.
Tickets:
Sunday's LA Pride Parade and Pride Village are free and open to all ages.
Safety:
LA Pride intends to follow L.A. County's current COVID-19 guidelines.