Massachusetts Democrats nominate lesbian candidate for governor
Healey had previously made history as the first out lesbian and LGBTQ+ person elected as state attorney general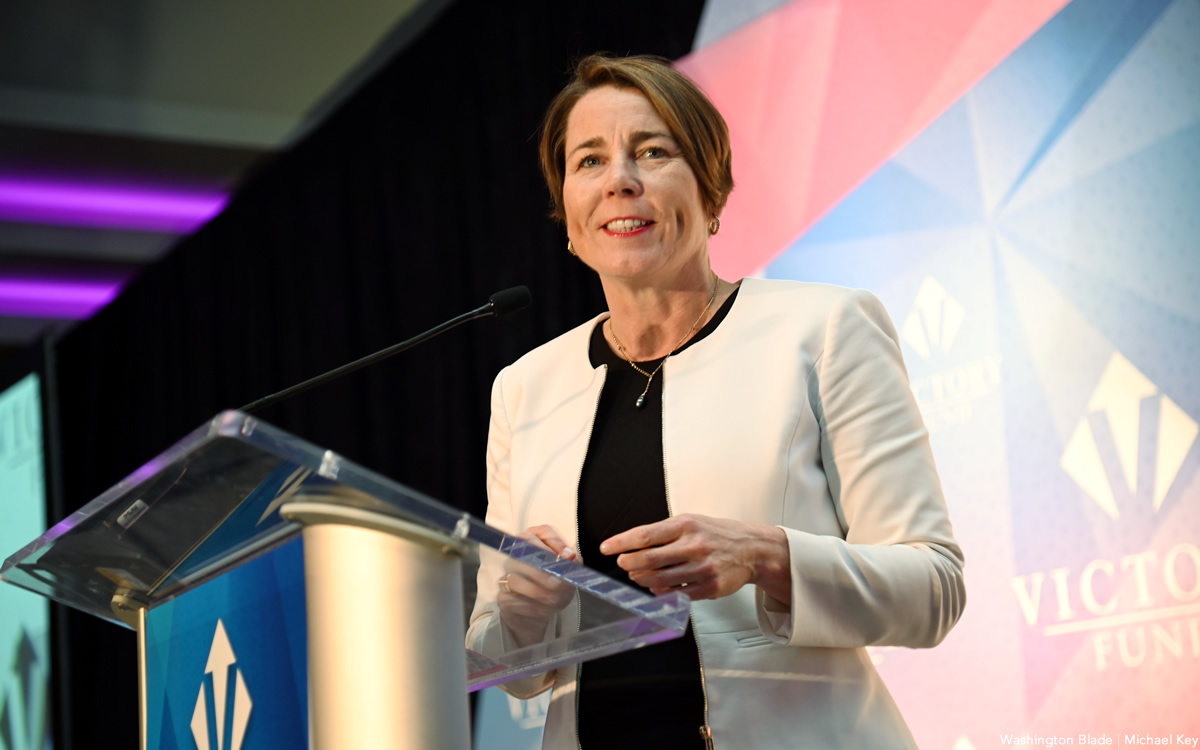 WORCESTER, Ma. – Maura Healey, the Democratic contender to become the next governor of Massachusetts, secured on Saturday her party's nomination for the general election in November, setting herself up to become one of the first openly lesbian women to be elected a governor in the United States.
Last month, in the Democratic gubernatorial primary in Oregon, the Speaker of the Oregon House Tina Kotek, who had announced her run for the governor's seat to replace incumbent Democratic Governor Kate Brown who is term limited last September 1st, 2021, is also positioned to become the first Out Lesbian governor in the nation should she win the general election in November.
Healey, who had previously made history as the first out lesbian and LGBTQ person elected as state attorney general, announced on Monday she had secured 71 percent of the vote from party delegates at the Democratic State Convention in Worcester.
In her speech accepting the nomination, Healey made lowering the high cost of living, expanding job training and making Masaschusetts a global leader on clean energy central components of her campaign theme.
"I will be a governor who sees everyone, listens to everyone, and hears everyone," Healey said. "A governor who fights to make sure people share in our progress and no one is left behind. A governor as tough as the state she serves…Because in Massachusetts, we don't follow. We lead. We don't wait. We act. And we never back down when people are counting on us."
Local media in Massachusetts have declared Healy the victory in all but name five months ahead of the general election in November. Massachusetts Gov. Charlie Baker, who's a Republican, is popular but has declined to run for re-election. Even though the GOP is expected to achieve serious wins in November, no serious Republican is in the field who can could compete against Healy.
Alongside the Speaker of the Oregon House, the two women would follow a long list of achievement of firsts made by openly gay and lesbian people in recent years after the growing advancement of LGBTQ rights and visibility for LGBTQ people, including the election of openly gay Colorado Governor Jared Polis and the cabinet position confirmed by the U.S. Senate last year making Pete Buttigieg the U.S. Transportation Secretary.
A full 10 years ago in 2012, Tammy Baldwin became the first out lesbian elected to the Senate and Oregon already had an LGBTQ person serving as governor; the current governor, Kate Brown, who is openly bisexual.
Obama rallies for Warnock as Walker goes transphobic in latest ad
"Tomorrow is the last day for early voting and then we need to get people out to the polls on Tuesday, which means we still got work to do"
ATLANTA – Former President Barack Obama held a rally with Sen. Raphael Warnock (D-GA) tonight in Atlanta as the Georgia election runoff for the U.S. Senate seat currently held by Warnock enters its final week.
Speaking to the enthusiastic crowd in the historic Pullman Yard, Obama urged supporters to continue pressing to secure Warnock's chances as early voting ends Friday ahead of next Tuesday's election.
"Now I know a lot of folks have been voting early over the last few days, that is a good thing. That is an encouraging thing. But — you knew there was a but —plenty of folks haven't voted yet. Tomorrow is the last day for early voting and then we need to get people out to the polls on Tuesday, which means we still got work to do," Obama said.
A spokesperson for the the Georgia secretary of state's office told the Blade that more than 1.1 million votes have been cast so far.
Warnock's Republican challenger meanwhile focused on his opposition to transgender rights. In a recent campaign ad, Herschel Walker is featured alongside cisgender former University of Kentucky swimmer Riley Gaines, who tied with University of Pennsylvania trans female swimmer Lia Thomas.
In the ad Gaines says she "worked so hard" at competitive swimming but she was "forced to compete against a biological male."  The ad also goes on to attack Warnock in the Chyron onscreen stating: "Raphael Warnock voted to allow biological men to compete in women's sports." That particular charge by Walker's campaign is factually incorrect as the U.S. Senate has not held any votes on the subject of transgender women in sports.
Politico's National political reporter Natalie Allison tweeted:
Herschel Walker is up with a new runoff ad about transgender athletes, featuring a swimmer who tied with Lia Thomas.

"My senior year, I was forced to compete against a biological male," Riley Gaines says in the ad for Walker's Senate campaign. pic.twitter.com/MlVxnJwkgB

— Natalie Allison (@natalie_allison) November 21, 2022
During the rally in Atlanta this evening Politico reported Warnock received roaring applause when he poked fun at Walker, something Obama also did, referencing a series of outlandish comments the retired football star has made over the course of his candidacy.
"We all know some folks in our lives who, we don't wish them ill will, they say crazy stuff … but you don't give them serious responsibility," Obama said.
"He was an amazing running back," Warnock said of Walker. "And come next Tuesday, we're going to send him running back to Texas."
Walker, who was raised in the Peach State and was a star player at the University of Georgia, lived the majority of his adult life in Texas before returning to run for Senate in 2021.
Politico also noted that Warnock, the pastor of the Atlanta church that Martin Luther King Jr. attended, tied the election to the long struggle of African Americans for equal rights, noting the crowd had gathered on the 67th anniversary of Rosa Parks refusing to get up from a bus seat in Montgomery, Alabama. Walker is also African American.