Aurora Pride Parade will be held Sunday after city reverses its decision
The action followed a court hearing earlier Thursday when a judge upheld the city's initial decision to revoke the Pride Parade permit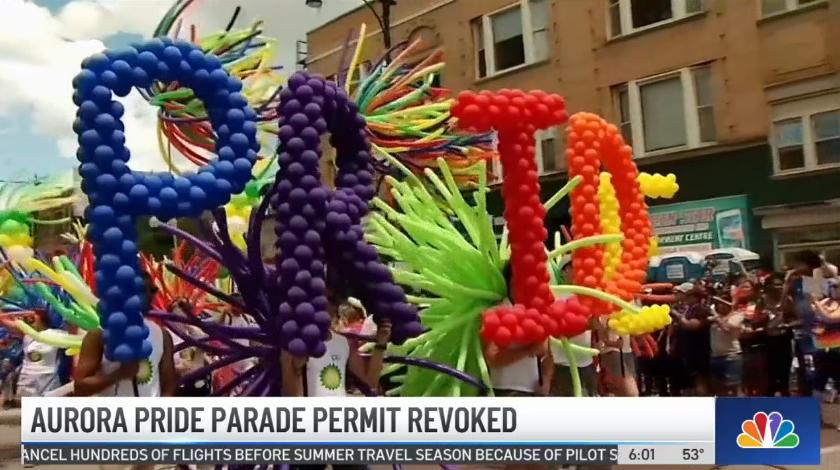 AURORA, Ill. – The 2022 Aurora Pride Parade in the City of Aurora, Illinois which looked as though it was scrapped after the City revoked the permit issued for the event, got an unexpected reprieve Thursday when the City reversed its permit revocation.
That action followed a court hearing earlier Thursday when a judge upheld the city's initial decision to revoke the Pride Parade permit based on manpower shortages and not enough police officers to man the event as required.
Parade organizers represented by the ACLU of Illinois had announced their intent to file an emergency appear with the U.S. District Court to overturn the judge's ruling.
In a surprise move the City reversed itself saying in a statement saying; "Even after an independent hearing officer upheld the City's decision to revoke the Pride Parade permit based on manpower shortages, we continued our good faith efforts with the Aurora Police Department to secure the additional officers needed for the 2022 Aurora Pride Parade. The City didn't just double down on our efforts; we tripled down by offering an unprecedented triple-time financial incentive to our officers, and the required number of police officers to secure the parade has been successfully attained."
"Consequently, a rescission of permit revocation has been submitted to Aurora Pride, and the Aurora Pride Parade can proceed as planned for Sunday, June 12," the city's statement said.
A couple hours later, organizers announced on Twitter the permit had been reinstated.
Great News! The City of Aurora has notified us that our permit for Sunday has been reinstated. The Aurora Pride Parade is on. We look forward to welcoming everyone on Sunday morning.

— Aurora, IL Pride (@AuroraILPride) June 9, 2022
To be clear, one of the aims of this suit is reversal of the permit revocation and preservation of Sunday's parade.

— Aurora, IL Pride (@AuroraILPride) June 9, 2022
The decision to revoke the permit had come after an uproar last month when Aurora Pride announced they would not allow police officers to march in the parade in full uniform or bring police vehicles which sparked serious controversy in this fairly liberal suburban Chicago city of 200,000 situated next to the conservative right-leaning city of Naperville, Ill.
ACLU sent letters rejecting lawsuit threats by anti-LGBTQ group
Awake Illinois has repeatedly used hostile epithets against those they disagree with, labeling them "groomers," "hateful," and "perverts"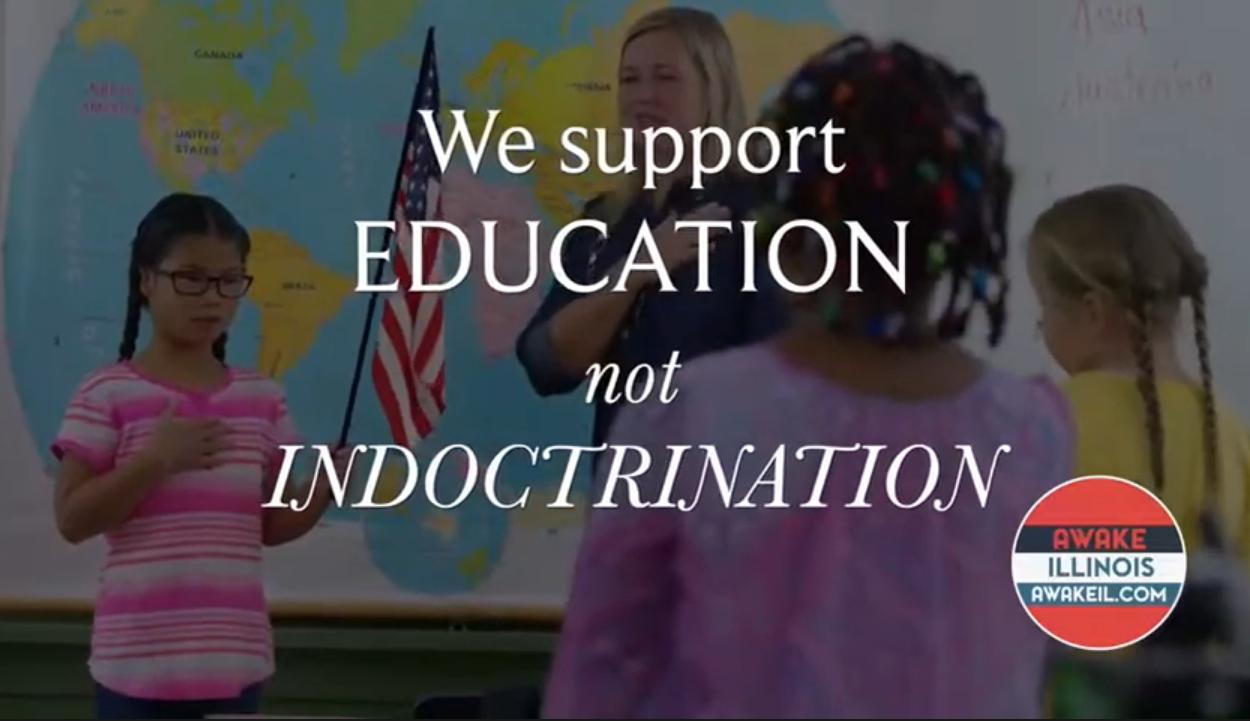 CHICAGO – The ACLU of Illinois has authored letters to a homophobic and transphobic group that threatened two residents, who have posted online their opposition to the organization and its anti-LGBTQ+ agenda, with defamation lawsuits.
Maggie Romanovich of Wheaton and Kylie Spahn of Downers Grove received letters from leaders of Awake Illinois in early September suggesting that Awake would file a defamation lawsuit against them if they did not "cease and desist" from such criticism and remove existing online posts. 
The anti-LGBTQ+ far-right extremist group has urged removal of LGBTQ inclusive books and cancellation of drag events in the suburbs. The group and it's members consistently use harsh and offensive language against others to advance their interests, and now are trying to suppress their critics.
Awake Illinois officials have repeatedly used hostile epithets against those they disagree with, labeling them "groomers," "hateful," and "perverts." Yet in the instance of the letters to Romanovich and Spahn, the ACLU of Illinois says Awake seeks to curb the speech of others. 
The ACLU of Illinois letters to Awake Illinois on behalf of Romanovich and Spahn reject the threatened lawsuits as groundless, noting that all of the material cited by Awake Illinois is protected by the First Amendment of the United States Constitution.
"These letters from Awake Illinois are empty threats with zero legal basis," said Rebecca Glenberg, senior supervising attorney at the ACLU of Illinois who signed the letters. "Awake Illinois and its members consistently use harsh and often offensive language directed against others to advance their interests, but now feign injury when our clients express strong feelings against them."
"If they think these letters will stop our clients or others from speaking out against what they see as a dangerous agenda, they are wrong." 
Awake Illinois' letter to Romanovich referred to her letter to the editor printed in the Daily Herald, which criticized a congressional candidate for his connection to Awake Illinois, opining that the group is appalling, extremist, homophobic, racially insensitive and otherwise objectionable. Such opinions are constitutionally protected and cannot be the basis of a defamation lawsuit, the ACLU of Illinois wrote.
The action comes shortly after a Member of Congress revealed that he had received a similar "cease and desist" letter from Awake Illinois. In mid-September, the Chicago Tribune reported that Awake Illinois sent the letter to Representative Sean Casten, a vocal critic of the group. Like Romanovich and Spahn, Casten rejected the group's threats of a lawsuit.
"Our Constitution allows groups like Awake Illinois to express their views in the public square like anyone else. But they may not use the courts to suppress the views of others," Glenberg noted.
You can read the letters to Awake Illinois on behalf of Romanovich and Spahn here and here.
Chicago area bakery after hate crime prohibited from hosting events
Lake in the Hills had created "a victory for hateful, anti-LGBTQ+ voices who attacked the owner and bakery after coverage of the drag brunch"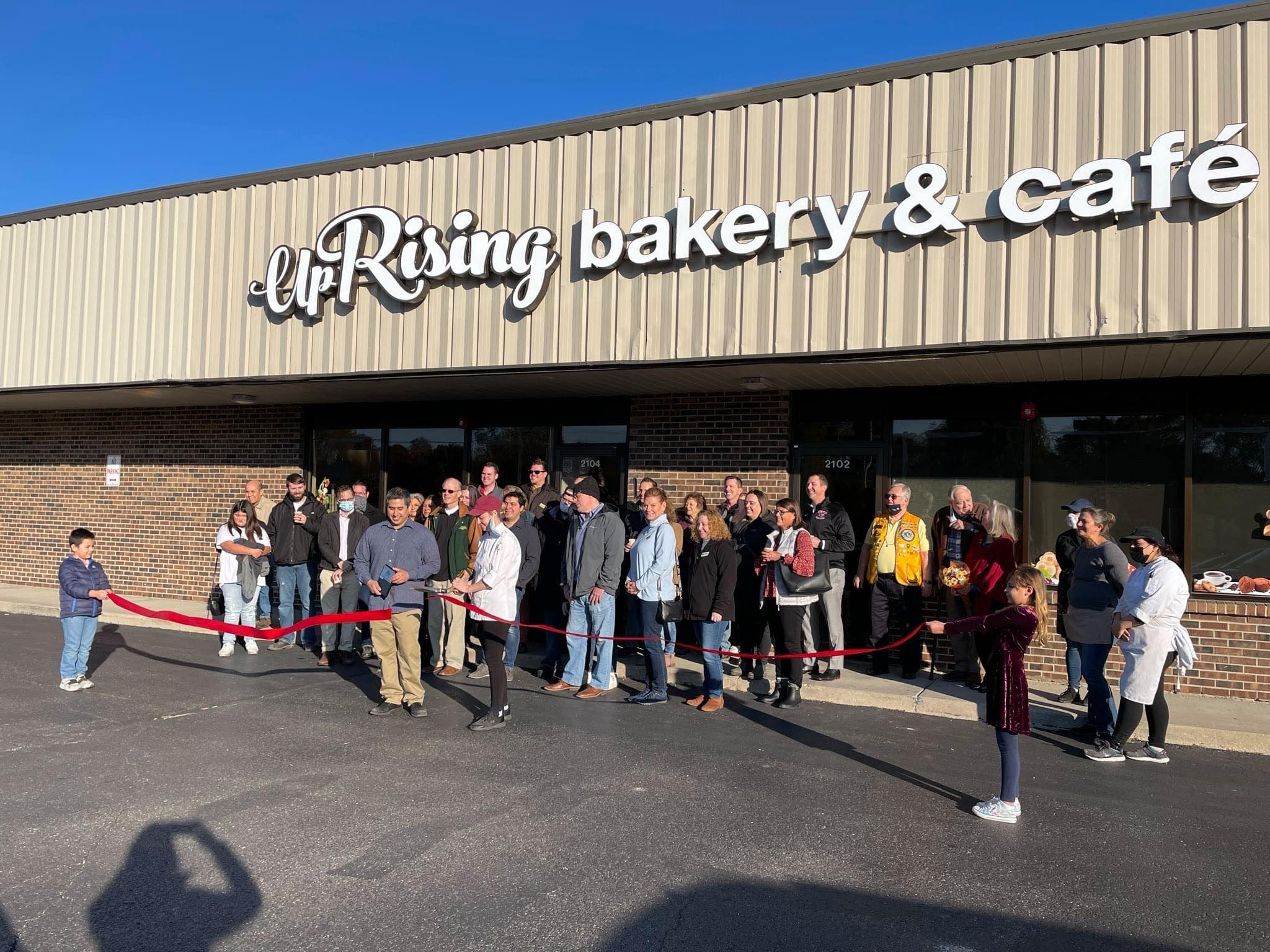 LAKE IN THE HILLS, Il – "Our hands are being tied and our backs are being forced up against the wall by our landlord and the village of Lake in the Hills," said Corrina Sac, owner of UpRising Bakery and Café, in an emotional video she shared on Facebook.
Just days after a man was charged with a hate crime for allegedly smashing the establishment's windows and spray-painting hateful messages on the building, which was targeted over its plans to host a family-friendly drag brunch on 23 July, Sac said the town issued a letter prohibiting UpRising from hosting events in the future.
"Unfortunately, when the attention waned from all the hate, they shifted gears and started victim blaming me after we were attacked by a known domestic terrorist who committed hate crimes against us just one week ago," Sac said.
She said that the letter, which came after a "very threatening meeting," warned that law enforcement actions will be pursued – up to and including the potential revocation of business and liquor licenses – if Lake in the Hills becomes aware of any entertainment events advertised or hosted by UpRising.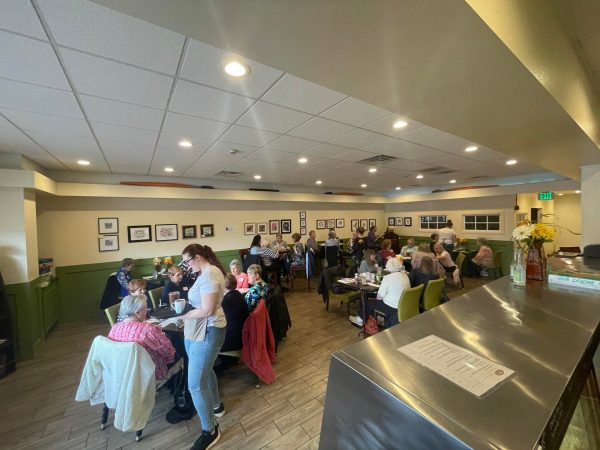 Sac said that despite hosting events "pretty much since the day we opened," it was during this meeting that she was first informed of the zoning ordinances and told there was concern over the public resources required to protect her business.
An Illinois police officer told The Los Angeles Blade he suspects conservative officials in Lake in the Hills, frustrated by the controversy over UpRising's drag brunch, decided to enforce an ordinance that had not been enforced in the past. Should they choose to do so selectively, allowing some businesses to host events but not others, he said the scepter of a lawsuit becomes likelier.
According to NBC's Chicago affiliate, the ACLU of Illinois vowed to defend Sac, saying Lake in the Hills had created "a victory for hateful, anti-LGBTQ+ voices who attacked the owner and bakery after coverage of the drag brunch."
In her video, Sac said UpRising's events have always been safe and family friendly – ways by which the business can "bridge the gap in our daily sales to make sure we can pay our rent, taxes, and employees."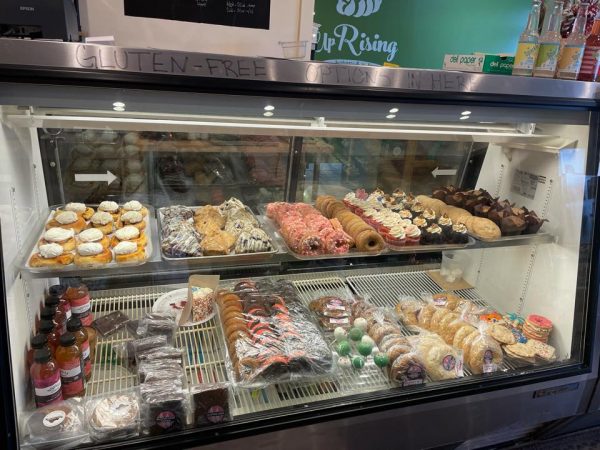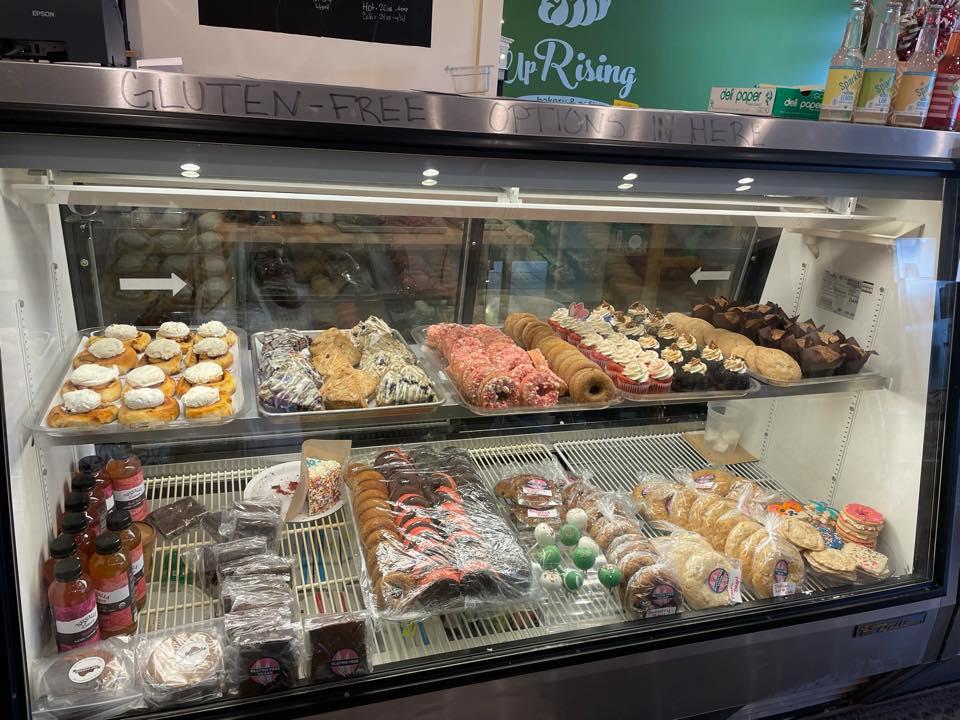 Illinois Gov. J.B. Pritzker and U.S. Sen. Dick Durbin (D-IL) condemned the hate crime in comments to The Los Angeles Blade last week. A spokesperson for Pritzker did not immediately return a request for comment on the village's subsequent issuance of the letter to UpRising.
Illinois man vandalizing bakery charged with anti-LGBTQ+ hate crime
There had been a family-friendly drag show for all ages scheduled for later on Saturday, but UpRising Bakery & Cafe cancelled the event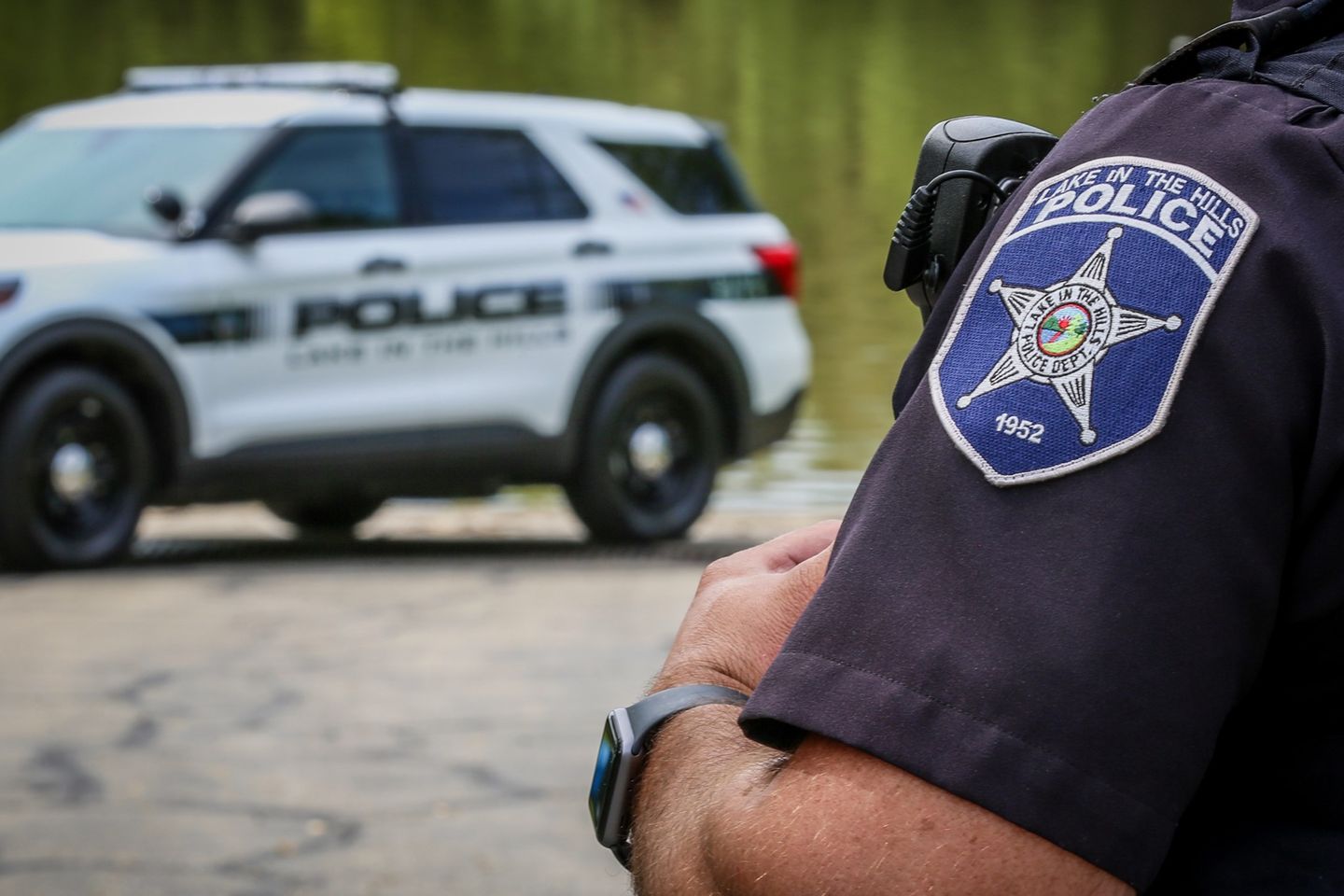 LAKE-IN-THE-HILLS, Il. – A 24-year-old Illinois man remains in police custody after he was arrested vandalizing the UpRising Bakery in this Northwestern village in suburban Chicago early Saturday morning.
According to a spokesperson for the Lake-in-the-Hills police, an Algonquin police sergeant from the adjacent jurisdiction saw the suspect identified as Joseph I. Collins flee from the crime scene on foot and he was arrested by responding officers at around 12:05AM Saturday morning.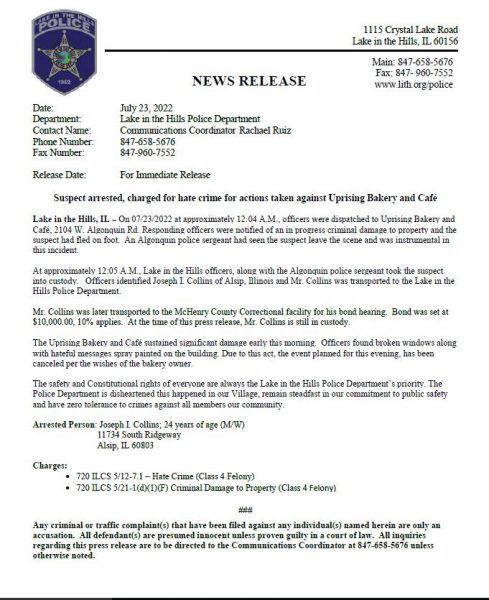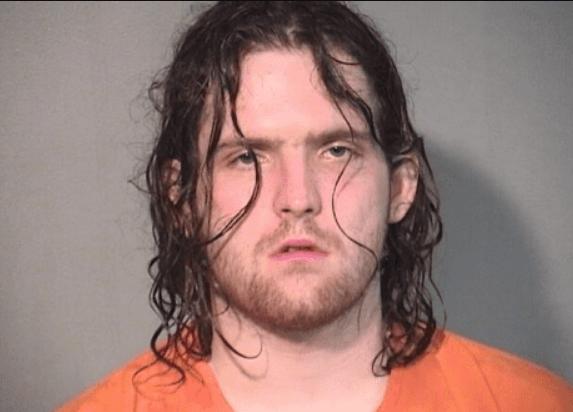 ABC affiliate WLS-TV 7 Chicago reported that the bakery has been the target of anti-LGBTQ+ harassment and threats. There had been a family-friendly drag show for all ages that was scheduled for later on Saturday, but UpRising Bakery and Cafe owner Corinna Sac cancelled the event after the arrest.
Sac told WLS ABC 7 that she received numerous threats when the drag show was first announced.
"One morning I came in and there was a bag of feces outside. There was a letter taped to the door that said pedophiles work here," Sac said, recounting just some of the hateful incidents of the past few weeks.
"Someone came in, did a perimeter walk around our cafe, commented on how disgusting and dirty it was, and then spit on our case," she said recounting another incident.
The baker and mother of two was shocked by the hostility toward her and her business in person and online after she posted about a drag show event she planned to host there this weekend.
"To take a really fun time, like a drag show, and then make it more family-friendly to involve everyone and anyone," she said.
Now, she told WLS that the Lake in the Hills Police became involved, investigating the threats and working closely with Sac amid potential protests from anti-LGBTQ+ groups this weekend.
"The department will be taking a zero-tolerance approach for those individuals who choose to attend with plans to engage in acts of violence or criminal activity," police said.
"If this is the hill that we die on, I'm gonna die loud and proud because we've always fought and said equality for everyone," Sac said.
When she still planned for the show to go on, Sac said any accusation of targeting children is completely false.
"We were not targeting kids. We were opening it up to families who felt like (the drag show) was OK for their kids," she said.