San Francisco attorney Richard Zitrin on Harvey Milk & lost AIDS history
The Castro was beginning to be the center of gay life when Harvey opened his camera shop- We brought our slides to him that's- how we met him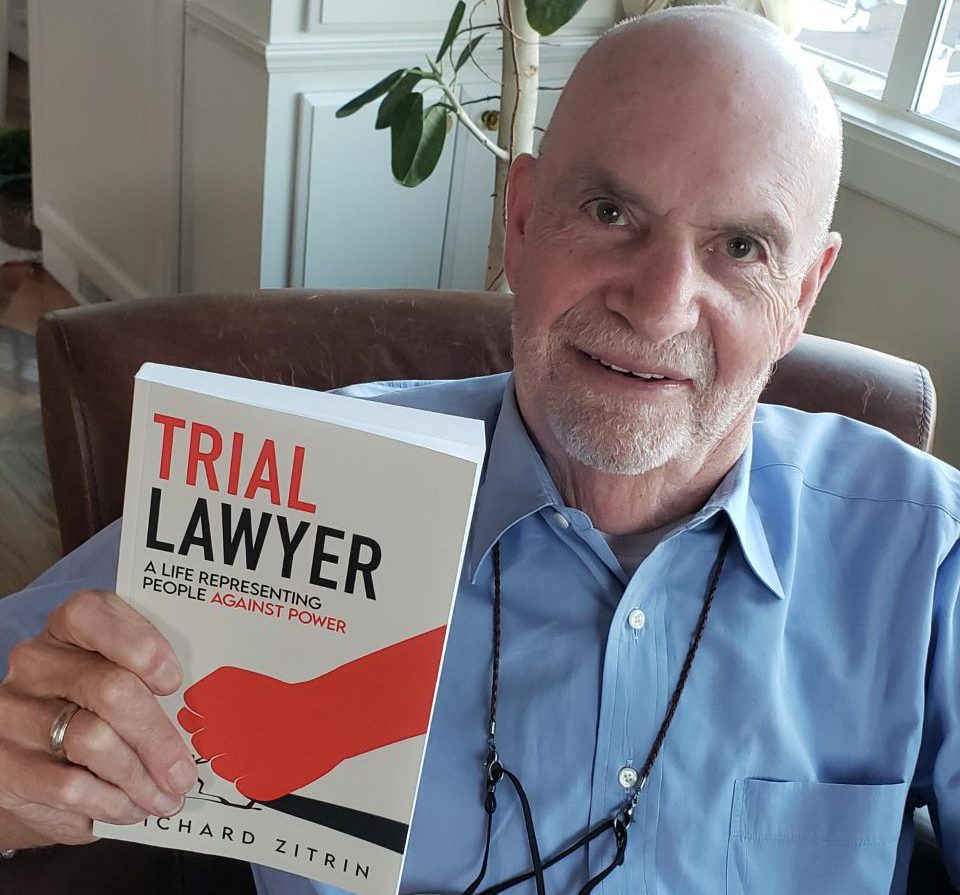 By Karen Ocamb | WEST HOLLYWOOD – For almost half a century, Richard Zitrin has been steeped in the tumultuous fight against injustice as a trial lawyer, professor and legal ethics expert.
He's a walking vault of California progressive history, some of which he talks about in his new memoir Trial Lawyer: A Life Representing People Against Power. But there are many gems in that vault that are not in the book — stories about gay icon Harvey Milk and Larry Long and Gerald Martin III, for instance, two gay men with AIDS apparently lost to history.
Zitrin is a storyteller. His vivid chapter about representing Johnny Spain, the only one of the infamous 1970s San Quentin Six convicted of murder – convictions that were eventually overturned – should be made into a movie.
The chapter on the luridly false tabloid McMartin preschool cases where he represented a doctor accused of child molestation by a 15-year-old girl includes the parallel story of how Zitrin learned to talk to juries by revealing an emotional truth about himself. The story about his poor Latina client who lost steering control over her Dodge van on Mission Street in San Francisco and crashed into a building in the late 1980s included an epiphany.
Through discovery during litigation, Zitrin found that Chrysler Corporation knew about the defect in their 2 million Dodge vans and had hidden that knowledge through secret agreements.
"What you don't know will hurt you," Zitrin told Public Justice. "It just seems like it's extraordinarily unethical for anybody to keep that information secret from the public." He's now dedicated to exposing overly broad court protective orders and secrecy agreements that hide information important to the public's health and safety.
Zitrin's latest fight against court secrecy has been his tireless advocacy for the Public Right to Know Act (SB 1149), a bill he wrote with California State Senator Connie M. Leyva, co-sponsored by Public Justice and Consumer Reports. SB 1149 passed in the Senate and recently passed the Assembly Judiciary Committee. It is expected to hit the Assembly floor in August.
With five decades of frontline experience combating injustice, civil rights icons are longtime friends. After George Floyd's murder, Eva Paterson of the Equal Justice Society asked him to write an essay for her newsletter that turned into "Why being anti-racist is not enough" that the ABA Journal published as an open letter to Zitrin's white progressive friends.
But a straight ally casually referencing a gay icon is still strange. "I knew Harvey Milk when he first came to San Francisco — in the same neighborhood at the same time that I went to San Francisco," Zitrin said unexpectedly while talking about how much he hates injustice.
Wait, what? Harvey Milk in the Castro in 1973?
"Well, Harvey was a Jewish kid from Brooklyn, as I am — though he was a bit older. My wife and I were living between Noe Valley and the Castro, which was then called Eureka Valley. The Castro was just beginning to become the center of gay life when Harvey moved in and opened his camera shop. He was local so we just brought our slides to him. That's how we met him.
"It was before he ran for supervisor," Zitrin recalled. "I remember going to a very, very early meeting about people going door to door and handing out pamphlets and doing precinct walks for Harvey Milk. We were at his shop with a fairly small bunch of people — maybe 15 or 20 — gay people, straight people, couples like my former wife and myself. He was just a super nice guy. I didn't know him well. But I sure like going to his shop and talking to him. I liked his politics a lot.
"Later on, between 1980 and 1986, which was during the beginning of the AIDS crisis, our office was on 18th Street, one block from the Castro Theater," Zitrin said. "We were right in the center of the gay community, right next to Hot and Hunky Hamburgers, if you can believe that!"
Would the response to AIDS have been different if Milk had not been assassinated in 1978?
"I think that's very possible," Zitrin said. "The AIDS crisis came on suddenly for all of us and it was going to have a huge consequence, regardless. San Francisco was in the forefront medically but while Cleve Jones, for example, was around and was Harvey's disciple and was a great leader, he wasn't Harvey. Harvey was so powerful and charismatic that had he been around, I'm sure it would have helped focus attention on the issue. He would have helped bring it to quicker national attention."
Zitrin also shared about two gay men who almost lost their jobs when they became ill with AIDS.
"In about 1982, I joined the San Francisco Bar's Lawyer Referral Service Committee and soon became Vice Chair. The service's director, Larry Long, became ill with AIDS. He was hospitalized and I remember in those early days, there was nothing we could do other than wish him well or go visit," said Zitrin.
"Shortly thereafter, Long's second in command, office manager Gerald Martin III, a gay African-American man, also became sick with AIDS and was also unable to work. And at that time, the hierarchy of the Bar — even in liberal San Francisco — was being run by a bunch of old white men….and their view was that since Larry wasn't at the Bar anymore, he should be fired. The folks on the Lawyer Referral committee didn't like that much. And we were concerned about Gerald, too. I kind of led a palace rebellion."
The old executive director of the Bar Association was on his way out and was looking for a successor who would "cut Larry and Gerald loose," recalled Zitrin, who was enraged by the immoral and unethical effort. "I was able to organize the committee, with help from the woman who took over as the supervisor — Carol Woods — and the committee just stood up and said, 'we're not going to allow this. If you're going to do it, we're going to be yelling and screaming about it.' Almost every member of the 15-person committee was on our side. We got them to back down until the executive director retired. The Bar's new director was Drucilla Ramey, whose expertise was in equal pay for women and who understood full well what the right thing to do was. Dru led the Bar for 18 years and she and I became good friends".
Long died in 1985, followed by Martin in 1986. "They were missed," said Zitrin. The California State Bar Association subsequently gave out annual Larry Long Awards to notable leaders in the Lawyer Referral field. "I'm actually one of the early recipients of that Award, which I'm very proud of."
While stories about gay men being fired for or while ill with AIDS have appeared in popular and LGBTQ culture — such as the movie "Philadelphia" — there does not appear to be a digital record of the battle that befell Larry Long and Gerald Martin III, until now. How many more stories of those lost to AIDS have yet to be told?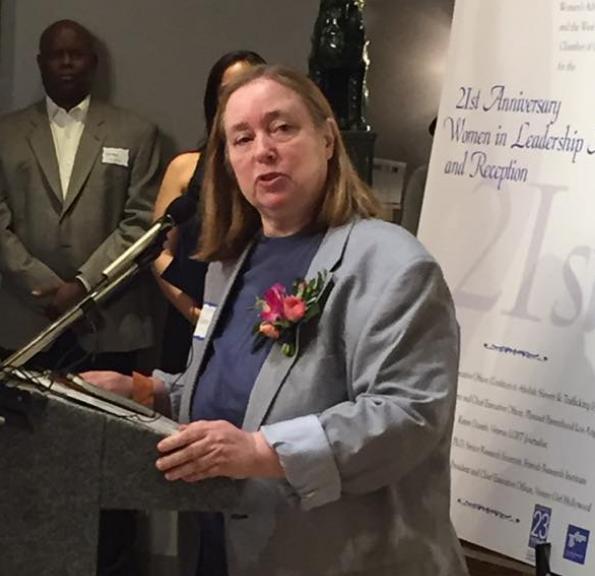 *********************
Karen Ocamb is the Director of Media Relations for Public Justice.
See her conversation with Richard Zitrin on YouTube where they discuss the book, racism, implicit bias, legal ethics and court secrecy. Professor Zitrin also gives good advice to young law students.
Padilla, local leaders celebrate passage of Respect for Marriage Act
"There's no better place than San Francisco to celebrate passage of the Respect for Marriage Act & affirm lives of millions of LGBTQ people"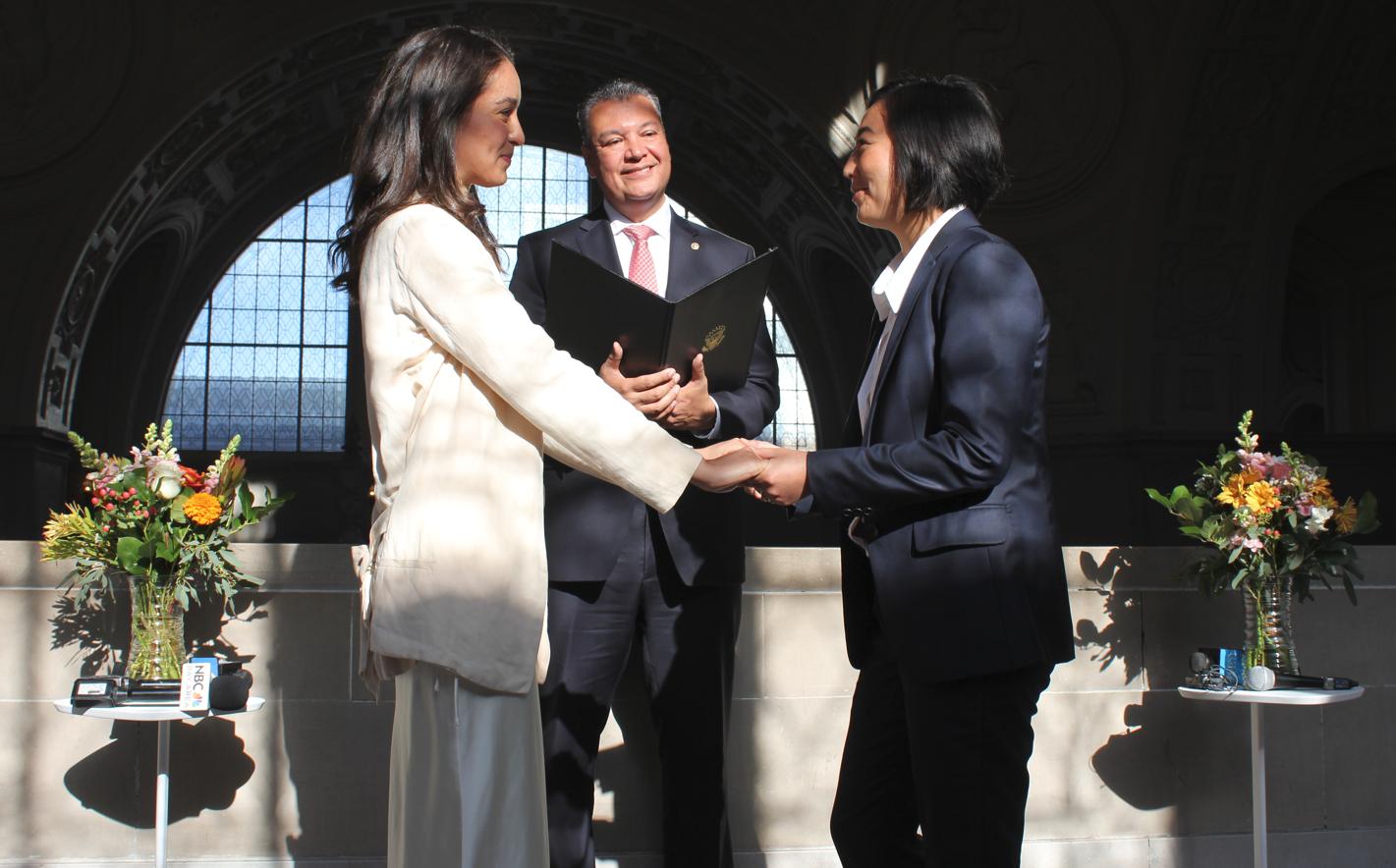 SAN FRANCISCO —  U.S. Senator Alex Padilla (D-Calif.) on Friday hosted a press conference with San Francisco Mayor London Breed, State Senator Scott Wiener, Equality California Executive Director Tony Hoang, and local leaders following the Senate passage of the Respect for Marriage Act.
Senator Padilla also officiated a vows renewal ceremony of Cyn Wang and Tessa Chavez, a local lesbian couple, at San Francisco City Hall to mark the historic occasion.
The Respect for Marriage Act requires the federal government to recognize a marriage between two individuals if the marriage was valid in the state where it was performed and guarantee that valid marriages between two individuals are given full faith and credit, regardless of the couple's sex, race, ethnicity, or national origin. The legislation passed the Senate by a vote of 61-36.
"There is no better place than San Francisco to celebrate the passage of the Respect for Marriage Act and unequivocally affirm the lives of millions of LGBTQ people and interracial couples across our country," said Senator Padilla. "We celebrate the progress that we have made today, but recognize the work still left undone to fully protect the rights of LGBTQ Americans. I'll continue working to build on our efforts until we ensure that every American is treated equally under the law, free from discrimination."
"I was proud to introduce the Respect for Marriage Act over the summer, and I'm even more pleased that the bill passed the Senate this week with strong bipartisan support," said Senator Dianne Feinstein. "The Respect for Marriage Act will guarantee legal protections for millions of marriages in the United States. Simply put, Americans should be free to marry the person they love, regardless of sexual orientation or race, without fear of discrimination or fear that their marriages will be invalidated. This was a historic vote and one that every proponent of equality can be proud of."
"The Respect for Marriage Act is an important step forward in the continued fight for LGBTQ and racial equality in America," said State Senator Scott Wiener. "Today, we celebrate this victory for our civil rights, and tomorrow we recommit to fight even harder against the right-wing Supreme Court's efforts to legalize discrimination in this country."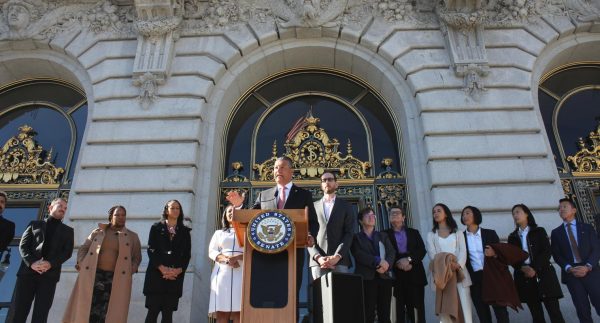 "San Francisco's history is inseparable from the history of the LGBTQ community and the movement for marriage equality locally, at the state level, and nationally," said Mayor Breed. "As we celebrate the passage of the Respect for Marriage Act, we honor those who have endured discrimination and hate, and the many who lost their lives in the quest for equality. We recommit ourselves to protect the fundamental rights of all people regardless of who they are or whom they love. Thank you to Congressional leaders, especially Senators Dianne Feinstein and Alex Padilla, and Speaker Pelosi for their leadership to pass this historical legislation."
"Equality California applauds this historic vote and the critical leadership of Senators Baldwin, Feinstein and Padilla, in getting this bill across the finish line," said Equality California Executive Director Tony Hoang. "While this is an important step in affirming the dignity of the LGBTQ+ community, it will not end all discrimination against LGBTQ+ people or erase the hateful rhetoric of anti-LGBTQ+ politicians and extremists. Equality California will continue to fight for full, lived equality for all LGBTQ+ people until the work is done."
"The Respect for Marriage Act removes an ugly, discriminatory stain on our federal law books – the 1996 so-called "Defense of Marriage Act" – and replaces DOMA with a rule requiring government at all levels to treat all married couples equally nationwide," said Jenny Pizer, Chief Legal Officer, Lambda Legal. "We hope we never need it.  But if the U.S. Supreme Court were, outrageously, to erase the constitutional protection for the freedom to marry, this law will substantially reduce the harms. Yet, even if the Respect for Marriage Act were to become necessary, it would not be sufficient. We still urgently need the Equality Act to become law, to protect LGBTQ people from the widespread discrimination that persists in the commercial marketplace and in public services with harsh, unacceptable consequences."
"It is a historic moment for the advancement and preservation of basic civil rights for all Americans, but by no means is our work done," said Kris Perry, Prop 8 Plaintiff & Nonprofit Director. "Our family and thousands of families like ours can breathe easier tonight knowing our fundamental rights are protected."
"After the Supreme Court overturned a woman's right to choice, we feared same-sex marriages were next," said Cyn Wang and Tessa Chavez. "The Respect for Marriage Act gives our family clarity and a sense of relief that our marriage, and those of all married couples regardless of sexual orientation or race, will be protected in this country."
The Respect for Marriage Act now goes to the House of Representatives for passage and then to the President's desk to be signed into law.
Senator Padilla is committed to pursuing equality for the LGBTQ community, including in employment, housing, and credit lending.
Earlier this year, Padilla introduced the LGBTQ Business Equal Credit Enforcement and Investment Act, legislation that would protect the 1.4 million LGBTQ-owned businesses in the nation from lending discrimination to ensure equal access to economic opportunities. Padilla also joined Senate Democrats in introducing a resolution recognizing June as LGBTQ Pride Month to highlight the work of the LGBTQ community in fighting to achieve full equality, including for marriage.