Shooting on Muni Train in San Francisco's LGBTQ+ Castro neighborhood
One victim was pronounced dead at the scene. The other victim was transported to a hospital The suspect fled from the train remains at large
SAN FRANCISCO – A shooting on a Muni Train between the Forest Hill and Castro stations killed one person and seriously injured another Wednesday morning at around 10:00AM NBC Bay Area reported.
The gun violence, which occurred as Pride Week festivities are cranking up in the city rattled the LGBTQ+ community, however s spokesperson for the San Francisco Police Department indicated that investigators do not believe that that the gunman was targeting the community.
"I also want to assure the community that this incident does not appear to have any connection to Pride events or does not appear to target the LGBTQ community," San Francisco police Officer Kathryn Winters said. "We really want to make sure that our community members and visitors who are in town for Pride week understand that."
According to Winters one victim was pronounced dead at the scene. The other victim was transported to a hospital with non-life threatening injuries. The suspect fled from the train at the Castro station and remains at large. Winters told NBC Bay Area the shooting appeared to be an isolated incident.
Senator Scott Wiener (D-San Francisco) released the following statement regarding the shooting:
"The shooting that occurred on the Muni subway near Castro Station — a subway ride I've taken thousands of times over the past 25 years — is a horrific tragedy. It's another reminder that as long as our country is awash in guns, shootings can happen anywhere, anytime. My heart goes out to the victims, and I know SFPD is working hard to apprehend the shooter. We must recommit as a nation to end the easy availability of guns. California has the strongest gun safety laws in the nation, and we're continuing to strengthen them. But we need strong action from Congress to truly improve the safety of our community."
It wasn't immediately known if the suspect and victims knew each other. SFPD are investigating any potential connections and are also looking into what led up to the shooting.
Anyone who witnessed the shooting is asked to contact San Francisco police.
Muni subway service between the West Portal and Castro stations has been stopped, the San Francisco Municipal Transportation Agency said.
UPDATE: #SubwaySvc between West Portal & Castro stations is currently stopped in both directions due to ongoing police activity at Castro. Will update. https://t.co/GqIxiXTyZc

— SFMTA (@SFMTA_Muni) June 22, 2022
Out State Sen. Scott Wiener receives death threat, police investigate
This is another example of growing attacks on LGBTQ people around the country & are a direct result of hateful, anti-LGBTQ political rhetoric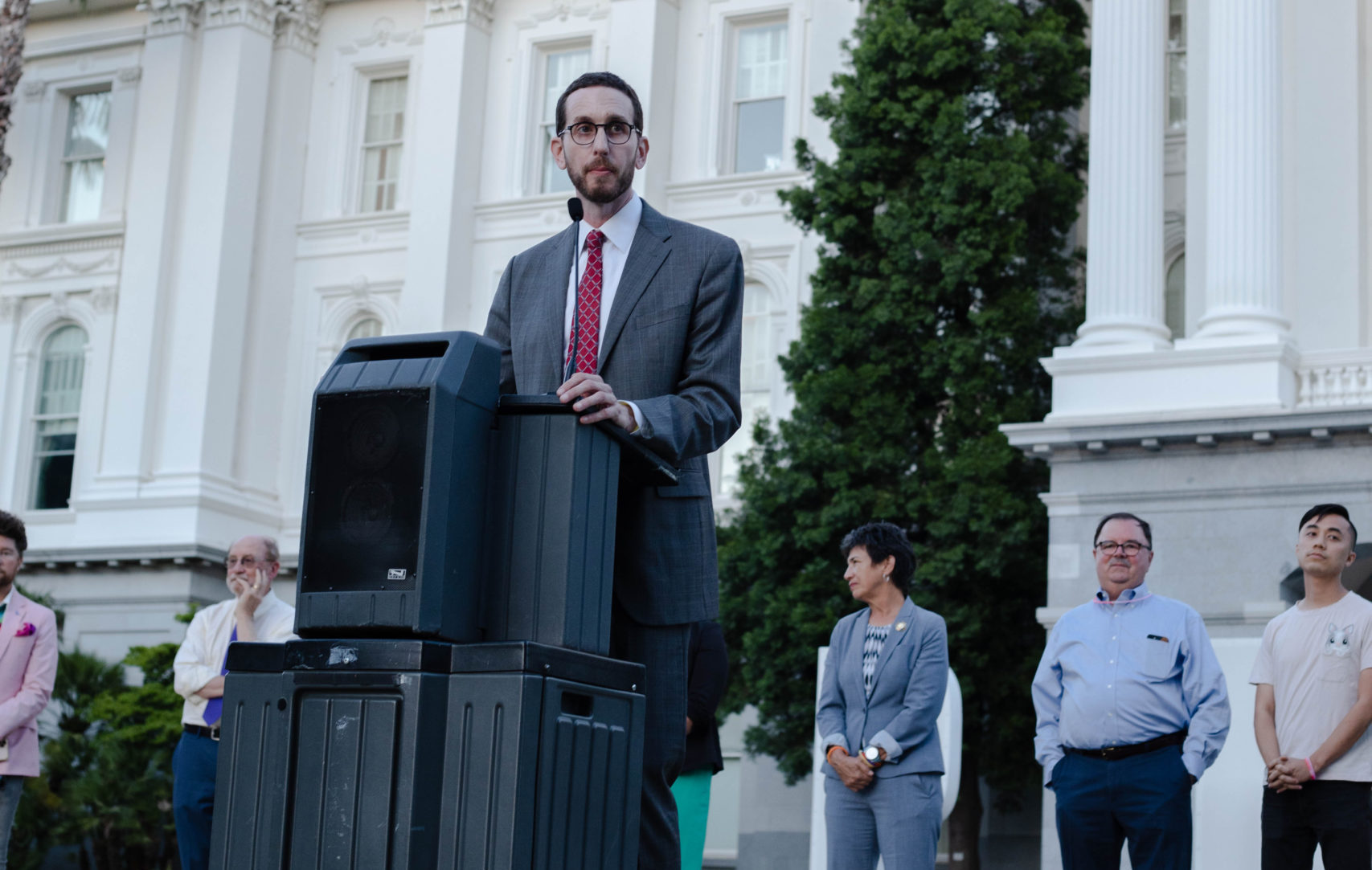 SAN FRANCISCO – Police executed a search of California State Senator Scott Wiener's San Francisco home Sunday and his legislative offices in Sacramento with bomb dogs after a senior staffer received a credible death threat targeting the openly gay Democratic lawmaker.
The threat against Wiener came during LGBTQ+ Pride month and on a weekend of threats of violence against the LGBTQ+ community. The threat was sent in an email to one of the senator's principal aides who in turn notified Wiener at which point the authorities were engaged.
WARNING: The following image's language is graphic: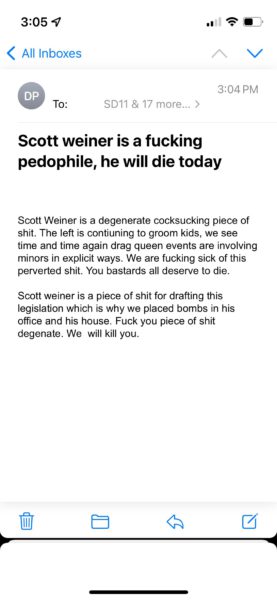 Both the San Francisco Police Department and California Highway Patrol are investigating the threat, the SFPD's public information officer Officer Kathryn Winters told the Blade.
"This is an ongoing investigation which is being handled by the California Highway Patrol and the San Francisco Police Department Special Investigations Division, and we work with agencies such as the CHP in response to incidents such as this," Winters said.
 "I've been getting death threats for years as a result of our work to advance the civil rights of LGBTQ people and people living with HIV. I'm not going to stop doing that work no matter what threats people make. This is just another example of the growing attacks we're seeing on LGBTQ people around the country — including this past weekend in Idaho and San Lorenzo. These attacks are a direct result of the hateful, anti-LGBTQ political rhetoric coming from right-wing politicians and activists. Words have consequences,"  Wiener said in a statement.
The Proud Boys, a right-wing extremist group whose membership espouse hate-filled anti-gay/anti-LGBTQ+ rhetoric disrupted a Drag Queen Story Hour event at the San Lorenzo Library located on Paseo Grande in Alameda County, California Saturday afternoon.
Lt. Ray Kelly, the Alameda County Sheriff's Office Public Information Officer said a that group of men described as members of the Proud Boys organization, entered the during library its "Drag Queen Story Time" event and made "homophobic and transphobic remarks against a member of the LGTBQ+ community who was hosting the event."
Witnesses reported that the men began to shout homophobic and transphobic slurs at the event organizer, drag queen Panda Dulce. The men were described as extremely aggressive with a threatening violent demeanor causing people to fear for their safety. Alameda County Sheriff's deputies were dispatched to the library and were able to de-escalate the situation.
Kelly indicated that there was an active hate crime investigation as a result of the actions of the five Proud Boys. According to Kelly, in addition to drag queen organiser Panda Dulce there were parents and minor children also present.
Senator Wiener tweeted Sunday:
Yesterday:

Proud Boys stormed Drag Queen Story Hour at San Lorenzo Public Library, wearing AK-47 shirts & calling the drag queen "pedophile" & "it."

A right-wing militia was arrested for planning to attack Pride in Idaho.

Direct results of political attacks on LGBTQ people.

— Senator Scott Wiener (@Scott_Wiener) June 12, 2022
In the second incident mentioned by Wiener in his Sunday tweet, at the end of last week heavily armed Coeur d'Alene police officers and Kootenai County Sheriff's deputies in riot gear arrested armed anti-LGBTQ+ protestors, and a few self-labeled 'street preachers' who were attempting to disrupt the "Pride in the Park" in Coeur d'Alene City Park which returned after a two-year hiatus caused by the coronavirus pandemic.
The Associated Press reported that Coeur d'Alene police officers and Kootenai County Sheriff's deputies arrested 31 people who had face coverings, white-supremacist insignia, shields and an "operations plan" to riot near an LGBTQ Pride event on Saturday afternoon. Lee White, the police chief of the Coeur d'Alene police department said those arrested were affiliated with Patriot Front, a white-supremacist group whose founder was among those arrested.
Patriot Front was once known as Vanguard America (VA), one of the main organizers of the "Unite the Right" rally in Charlottesville in 2017.
Authorities received a tip about a "little army" loading into a U-Haul truck at a hotel Saturday afternoon, said Lee. Local and state law enforcement pulled over the truck about 10 minutes later, White said at a news conference.
Many of those arrested were wearing logos representing Patriot Front, which rebranded after one of its members plowed his car into a crowd of people protesting the white-supremacist rally in Charlottesville, killing Heather Heyer and injuring dozens.
Newsom announces former San Francisco First Lady Gina Moscone died
"Gina learned about the assassination on the car radio- To this day his mother keeps her grief mostly to herself, rarely talking about it"
SAN FRANCISCO – On the morning of Nov. 27, 1978 the typically frenetic pace of the Moscone household was even more pronounced as Christopher, his brother Jonathan and sisters Jenifer and Rebecca were getting ready for school while father George was running late to get to his office.
Overseeing the bustle was George's devoted wife Gina quietly fixing breakfast and prodding the mayhem associated with teenagers and family members along.
Little did anyone in the Moscone home realize that in just a few short hours life was going to take an abrupt and terrible turn as George, who happened to be the Mayor of the City of San Francisco, would be assassinated in his office by former San Francisco Supervisor Dan White.
George Moscone with Supervisor Harvey Milk died in a hail of bullets, dying separately in their offices on the second floor of City Hall. Milk, an openly gay man and Moscone an ally of the LGBTQ+ community had forged political bonds that proved to be beneficial to the City's LGBTQ population.
In an interview with the San Francisco Chronicle's web portal SFGate published Nov. 23, 1998, twenty years after the murders, Christopher Moscone spoke about the effect of the events had on his mother and family.
For Christopher, his brother and his sisters, it was the end of one life, and the beginning of another.
Like his siblings, Christopher divides his life into two parts. The first part is until he was 16. When his dad — a St. Ignatius all-city basketball star in his day — played basketball with him, made him drink a raw egg, milk and coffee before games, flattened his hair in the morning with the water-and- comb technique, left him notes on the breakfast table with pointers about his game.
"He had a passionate love for us. He was always kissing us on the cheek, wanting us to kiss him, always embracing us — even when we had friends over and it could be embarrassing. . . . It seems like a lifetime ago."
Then there is the second part of his life — after the killing. His mother, Gina, and the mayor's mother, Lena, learned about the assassination on the car radio as they returned from a funeral. To this day, he said, his mother keeps her grief mostly to herself, rarely talking about it.
Gina Moscone's passage was announced by California Governor Gavin Newsom, a former Mayor of the City of San Francisco. No details were released but in a statement the Governor paid tribute to Mrs. Moscone:
"Jennifer and I are saddened to hear of the passing of Gina Moscone. San Francisco will long remember her as a charming, gracious First Lady and a Trustee on the War Memorial Board, a person who gave so much to the City she grew up in and loved so much. Those who knew her will also remember her as a loving mother who doted on her children, all while remaining a fixture in civic life in San Francisco even after the passing of her beloved husband, George. Our hearts are with the Moscone family today as they grieve their mother."
The Bay Area Reporter's Editor, Cynthia Laird wrote:
Gina Moscone died of cancer at age 91.
Ms. Moscone served for many years on the War Memorial Board, which oversees the management of the War Memorial Opera House, the War Memorial Veterans Building, Louise M. Davies Symphony Hall, and other nearby landmarks. Thomas E. Horn, a gay man and former publisher of the Bay Area Reporter who serves on the board, said he would miss his good friend.
"Gina was a dear friend for more than 40 years," Horn wrote in an email. "We would go to the opera or ballet and then go to the gay bars on Polk Street. She was full of life. Always happy. Ever vivacious. I will miss her dearly, both as a War Memorial colleague and a best friend."
Gay state Senator Scott Wiener (D-San Francisco) paid tribute to Ms. Moscone on Twitter.
"Gina Moscone was a great San Franciscan & fantastic human being," Wiener wrote. "Her passing is a major loss for our community. Rest In Peace, Mrs. Moscone."
Gina Moscone was a great San Franciscan & fantastic human being. Her passing is a major loss for our community. Rest In Peace, Mrs. Moscone.

— Senator Scott Wiener (@Scott_Wiener) June 8, 2022
The Moscones had four children. One of their sons, Jonathan, is a gay man whom Newsom recently appointed director of the California Arts Council, as the B.A.R. previously reported.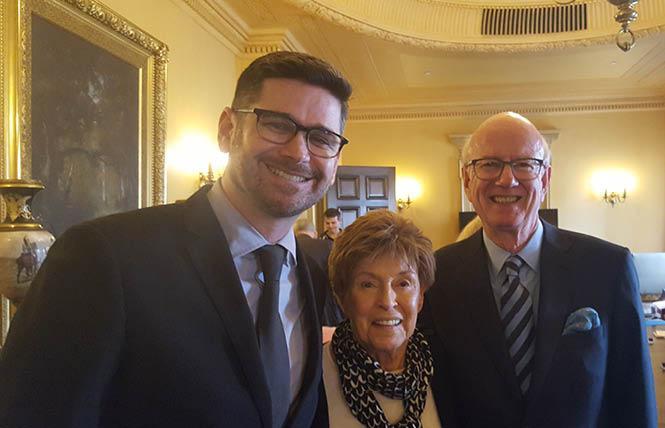 AIDS Memorial Quilt sections at SF City Hall honoring 35th anniversary
The last time it was displayed with this many panels in San Francisco was1988 and rarely does it get displayed outdoors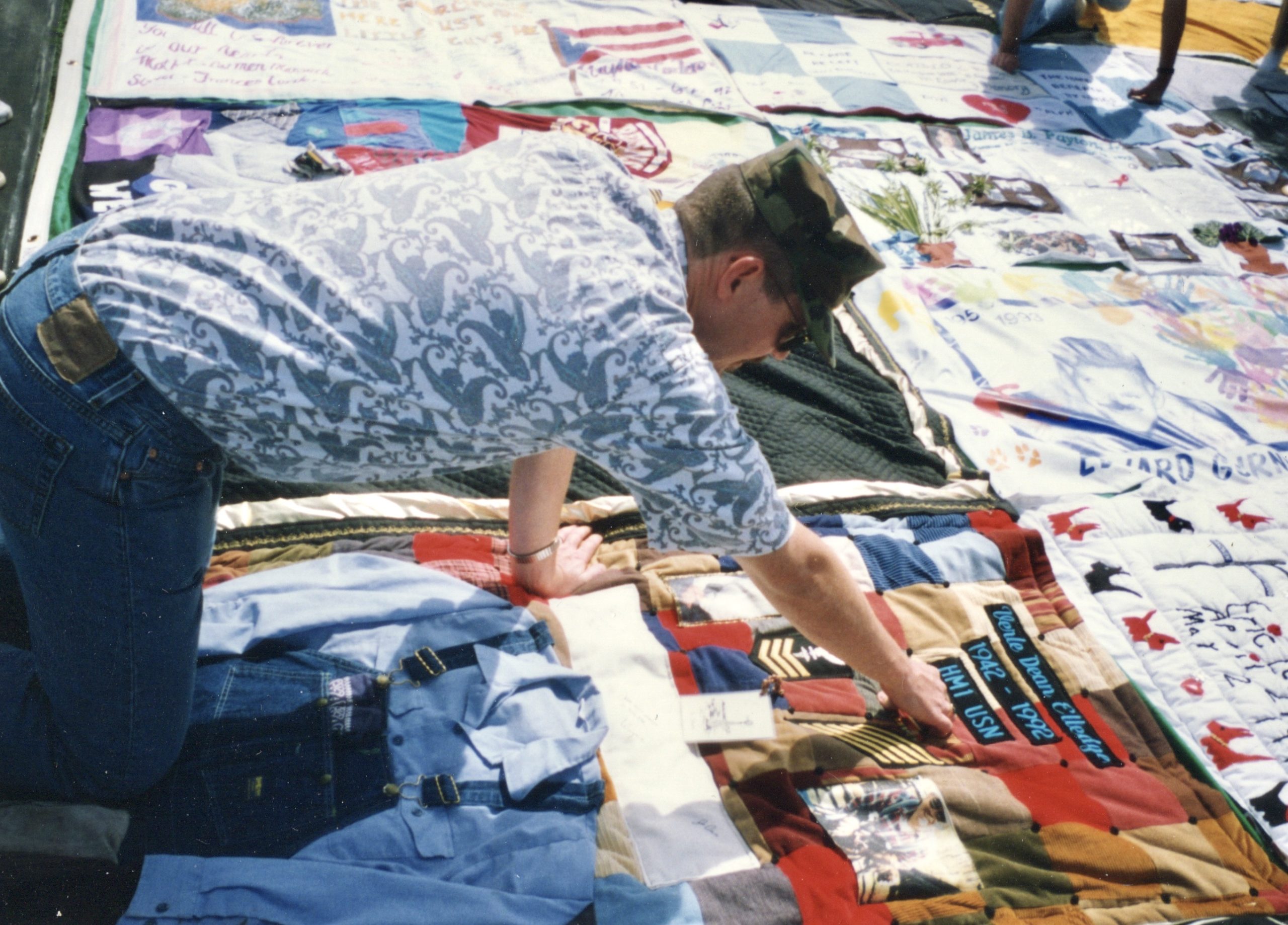 SAN FRANCISCO – Sections of the AIDS Memorial Quilt will hang from the Mayor's Balcony at City Hall on Monday, June 6, 2022, a symbolic display approved by Mayor London Breed, to invite the public to see a free, historic display of the Quilt – the largest ever in San Francisco – in Golden Gate Park on June 11 & 12, 2022 from 10 am – 5 pm each day.
35 years ago, then San Francisco Mayor Dianne Feinstein approved Quilt to hang from City Hall; it was the first public display and helped launch a national movement for action against stigma and hate.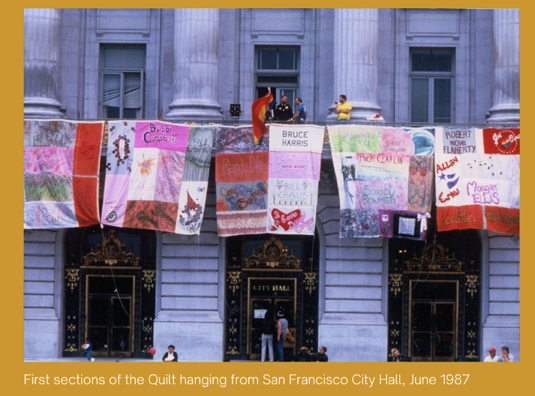 This year the Quilt marks 35 years since the first panels were stitched together during the darkest days of the pandemic. It was a group of San Franciscans, led by Cleve Jones, Mike Smith and Gert McMullin, who gathered with friends to begin making quilt panels to remember loved ones who were dying of AIDS. This act of love and protest started a movement for action against the stigma so many faced at such a painful time in our country.
BBC World News Witness History — The AIDS Memorial Quilt:
The Quilt was conceived in November of 1985 by long-time San Francisco gay rights activist Cleve Jones. Since the 1978 assassinations of gay San Francisco Supervisor Harvey Milk and Mayor George Moscone, Jones had helped organize the annual candlelight march honoring these men.
While planning the 1985 march, he learned that over 1,000 San Franciscans had been lost to AIDS. He asked each of his fellow marchers to write on placards the names of friends and loved ones who had died of AIDS. At the end of the march, Jones and others stood on ladders taping these placards to the walls of the San Francisco Federal Building. The wall of names looked like a patchwork quilt.
Inspired by this sight, Jones and friends made plans for a larger memorial. A little over a year later, a small group of strangers gathered in a San Francisco storefront to document the lives they feared history would neglect. Their goal was to create a memorial for those who had died of AIDS, and to thereby help people understand the devastating impact of the disease. This meeting of devoted friends and lovers served as the foundation of the NAMES Project AIDS Memorial Quilt.
Cleve created the first panel for the AIDS Memorial Quilt in memory of his friend Marvin Feldman. In June of 1987, Jones teamed up with Mike Smith, Gert McMullin and several others to formally organize the NAMES Project Foundation.
Public response to the Quilt was immediate. People in the U.S. cities most affected by AIDS — Atlanta, New York, Los Angeles and San Francisco — sent panels to the San Francisco workshop. Generous donors rapidly supplied sewing machines, equipment and other materials, and many volunteered tirelessly.
THE INAUGURAL DISPLAY
On October 11, 1987, the Quilt was displayed for the first time on the National Mall in Washington, D.C., during the National March on Washington for Lesbian and Gay Rights. It covered a space larger than a football field and included 1,920 panels. Six teams of eight volunteers ceremonially unfolded the Quilt sections at sunrise as celebrities, politicians, families, lovers and friends read aloud the 1,920 names of the people represented in Quilt. The reading of names is now a tradition followed at nearly every Quilt display. Half a million people visited the Quilt that weekend.
The overwhelming response to the Quilt's inaugural display led to a four-month, 20-city, national tour for the Quilt in the spring and summer of 1988. The tour raised nearly $500,000 for hundreds of AIDS service organizations. More than 9,000 volunteers across the country helped the seven-person traveling crew move and display the Quilt. Local panels were added in each city, tripling the Quilt's size to more than 6,000 panels by the end of the tour.
THE QUILT GROWS
The Quilt returned to Washington, D.C. in October of 1988, when 8,288 panels were displayed on the Ellipse in front of the White House.
With a small seed grant from the World Health Organization, Quilt organizers travelled to eight countries to mark the first World AIDS Day on December 1, 1988 with simultaneous displays broadcast from six continents. Throughout 1989, more than 20 countries launched similar commemorative projects based on the Quilt. Cleve Jones, Mike Smith and the NAMES Project Foundation were nominated for the 1989 Nobel Peace Prize in recognition of the global impact of the Quilt.
In 1989 a second tour of North America brought the Quilt to 19 additional cities in the United States and Canada. That tour and other 1989 displays raised nearly a quarter of a million dollars for AIDS service organizations. In October of that year, the Quilt (now more than 12,000 panels in size) was again displayed on the Ellipse in Washington, D.C. HBO released their documentary film on the Quilt, Common Threads: Stories from the Quilt, which brought the Quilt's message to millions of movie-goers. The film won the Academy Award for Best Documentary of 1989.
By 1992, the AIDS Memorial Quilt included panels from every state and 28 countries. In October 1992, the entire Quilt returned to the National Mall in Washington, D.C. In January 1993, the NAMES Project was invited to march in President Clinton's inaugural parade where over 200 volunteers carried Quilt panels down Pennsylvania Avenue.
The last display of the entire AIDS Memorial Quilt was in October of 1996 when the Quilt covered the entire National Mall in Washington, D.C. with an estimated 1.2 million people coming to view it. The Clintons and Gores attended the display, marking the first visit by a sitting president of the United States.
THE QUILT MOVES TO ATLANTA
In 2000, the Board of Directors of The NAMES Project elected to move the Foundation's national headquarters from San Francisco to Atlanta. The cross-country move was made to address the changing face of HIV/AIDS and grow the Foundation's partnerships, programs and financial resources.
In 2004, more than 8,000 of the newest panels that had been received at or since October 1996 display were shown on The Eclipse in Washington, D.C. in observance of National HIV Testing Day.
In 2012, as part of the 25th anniversary of the NAMES Project Foundation, the Quilt returned to Washington, DC as part of a collaboration with the Smithsonian Museum's American Folklife Festival, where the entire Quilt was displayed on the National Mall over the course of a two-week period with 1,500 blocks of panels being displayed each day. Given the size of the Quilt, it is now too large to be displayed all at once on the Mall. The International AIDS Conference was held in Washington DC immediately following the display, in which the Quilt was a major feature, with displays in more than 60 locations throughout the D.C. metro area.
In 2013, as part of ongoing awareness and educational efforts, a special Quilt program, Call My Name, was created to draw attention to HIV/AIDS in the Black community and the public health crisis that still exists today. The program aims to create a greater number of Quilt panels that reflect the impact of HIV/AIDS within the Black community and the effect stigma and prejudice have on increased infection rates. A national tour followed that included hosting panel-making workshops organized by Black churches and community groups to make panels and raiser greater awareness of on the HIV/AIDS crisis in the African American community. You can see some of the stories from Quilt panels made honoring Black lives lost to AIDS as part of a powerful online exhibition of the Quilt during Black History Month 2020.
ENSURING THE QUILT'S LEGACY
In November 2019, the National AIDS Memorial became the permanent caretaker and steward of the Quilt, returning it to San Francisco, where its story began during the height of the AIDS epidemic. At that time, the Quilt's archival collection of 200,000 objects, documents, cards and letters that chronicle the lives remembered in it were transferred to the prestigious American Folklife Center at the Library of Congress, making this collection available through the world's largest public library. This announcement, made at the Library of Congress in Washington, DC, featured special guests House Speaker Nancy Pelosi, and Representatives John Lewis and Barbara Lee, who recognized the Quilt as a national treasure that must be preserved for its ability to teach for generations to come.
"Moved by the beauty …and power of the Quilt, we again renewed our vow to finally defeat the scourge of AIDS and bring hope and healing to all those affected. Thanks to the tireless leadership of activists, survivors, scientists and the LGBTQ community, we will not relent until we banish HIV to the dustbin of history and achieve an AIDS-free generation."

U.S. House Speaker Nancy Pelosi, (D-SF), June 5, 2021
Today, the Quilt remains a powerful symbol of hope, love and activism that is a powerful teaching tool for health and social justice, with sections of its 50,000 panels traveling to hundreds of communities each year to raise awareness about the issues of health and social justice.
This opportunity provides a visual reminder to the public to come see the Quilt on display on June 11th & 12th in Golden Gate Park.  Rarely does the Quilt get displayed outdoors in this size and number of panels. 
The last time it was displayed with this many panels in San Francisco was in 1988 at the Moscone Center.