Two Patriot Front members charged with defacing Gay Pride mural
"You show people that you can do something like this, and you can get away with it, it encourages other people to do something"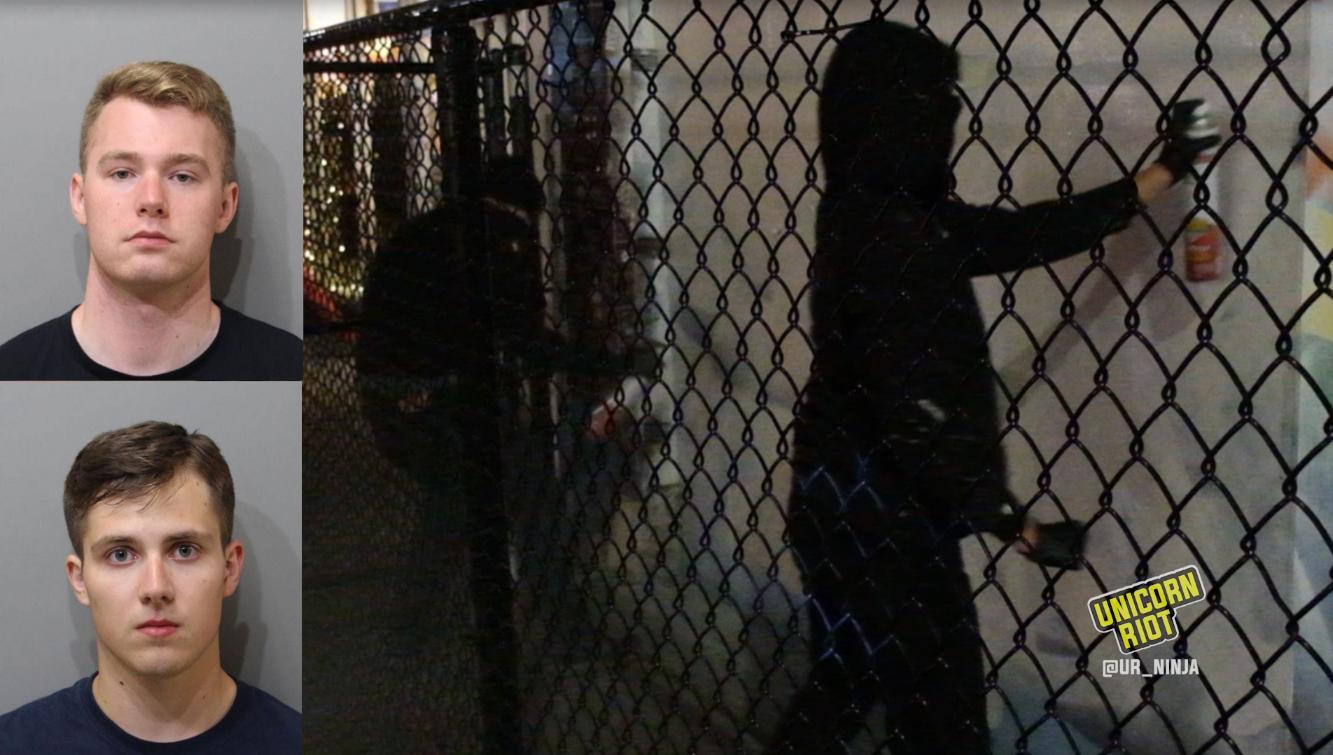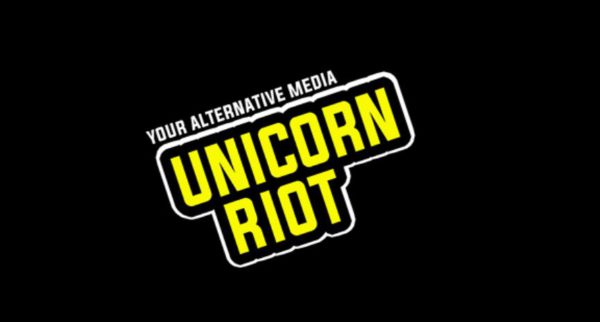 By Chris Schiano | Olympia, WA – Two members of the neo-nazi group Patriot Front face new misdemeanor charges stemming from the destruction of a gay pride mural last October.
Colton Michael Brown, 23, and Spencer Thomas Simpson, 20, both face charges of Aiding & Abetting or 'Complicity With' Graffiti. Brown, who uses the alias 'ND – John WA' within Patriot Front, is the fascist group's Network Director for Pacific Northwest ('Network 8') states including Washington and Oregon. Simpson goes by 'David WA' in leaked Patriot Front chat logs. Both men were also arrested last month on Conspiracy/Riot charges along with 29 other members of Patriot Front who were en route to confront a Pride event in Coeur d'Alene, Idaho.
Leaked Patriot Front video files and voice meetings released in January by Unicorn Riot strongly implicate the two young men covering over the mural on a city-owned building which read "Respect & Love Olympia" on October 16, 2021. (At least six other members not currently charged were also involved.)
Simpson is free without bail on the condition he avoid all contact with Colton Brown except via his attorney. Brown, Patriot Front's Network 8 Director, did not show up for court in person or via Zoom and had a bench warrant issued for his arrest. He will have to post a bond of $1,000 to be freed once arrested on the bench warrant.
Simpson and Brown's no-contact order and Brown's new warrant, issued while both men still face Conspiracy/Riot charges in Idaho, point to a future of legal troubles for the neo-nazi group now implicated in dozens of hate-motivated crimes around the USA. According to Seattle-area news station KING5, local prosecutors may add hate crime charges to Brown and Simpson's cases at a later date.
Anna Schlecht of the group "Unity in the Community" helped put up the pride mural in 2014 after anti-gay hate crimes in the area. Schlect told KING 5 reporters that the neo-nazis who defaced the mural "are just low down dirt dogs" who should have to pay restitution.
In a Supplemental Report filed along with charging documents in the case, Olympia Police investigator Jacob Theis wrote that "it is evident that the vandalism was an act of discrimination and an offense against the LGBTQ+ community in Olympia."
Theis tentatively identified most of the Patriot Front members involved in destroying the pride mural – Colton Brown, Spencer Simpson, Jacob Sundt, Richard Flannery, Justin O'Leary and Lawrence Norman – but noted that most of their identities are obscured by masks in the leaked photos and videos.
Theis also noted that on February 17, 2022 he "met with FBI Agents Sam Wharton and Irving Smith to speak with them about this case" and the two agents "confirmed that the FBI was investigating Colton Brown, Lawrence Norman, Richard Flannery and Jacob Sundt as members of the Patriot Front group."
While only Colton Brown and Spencer Simpson are currently charged, Theis wrote that "there is probable cause to arrest Richard Flannery, Justin O'Leary and Lawrence Norman for OMC Graffiti."
Theis was "not able to positively identify either Simpson or Brown in the video of the actual vandalism" of the mural, but affirmed that the two are still firmly implicated because both appear maskless in leaked video of a graffiti 'practice run' taken shortly before the covering-over of the "Respect & Love Olympia" painting. The report notes that Colton Brown "clearly acts in a leadership position" when seen unmasked in the video. Case documents also show that Olympia police also used mugshots of Patriot Front members arrested in Idaho in June to help confirm identifications of suspects.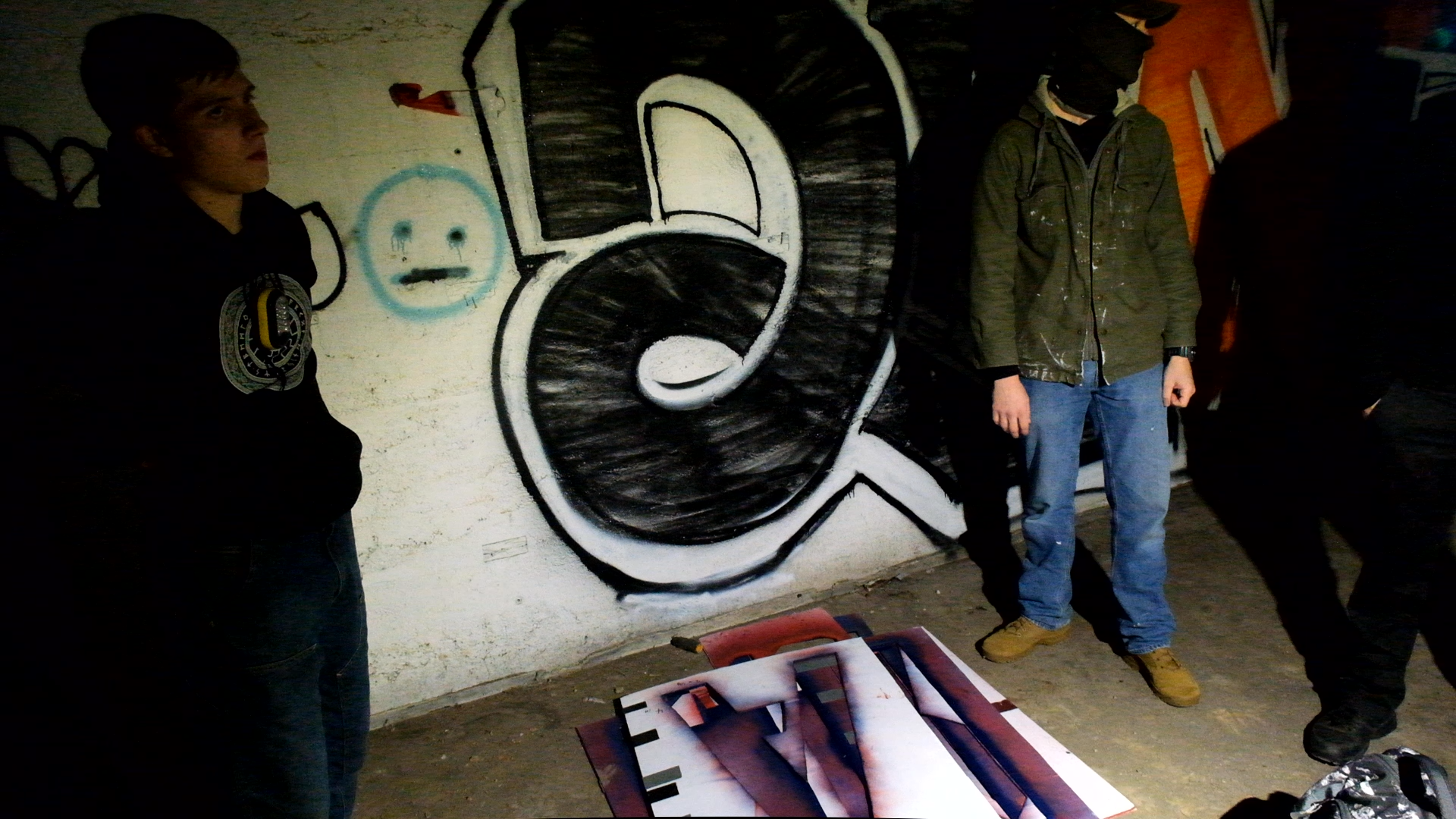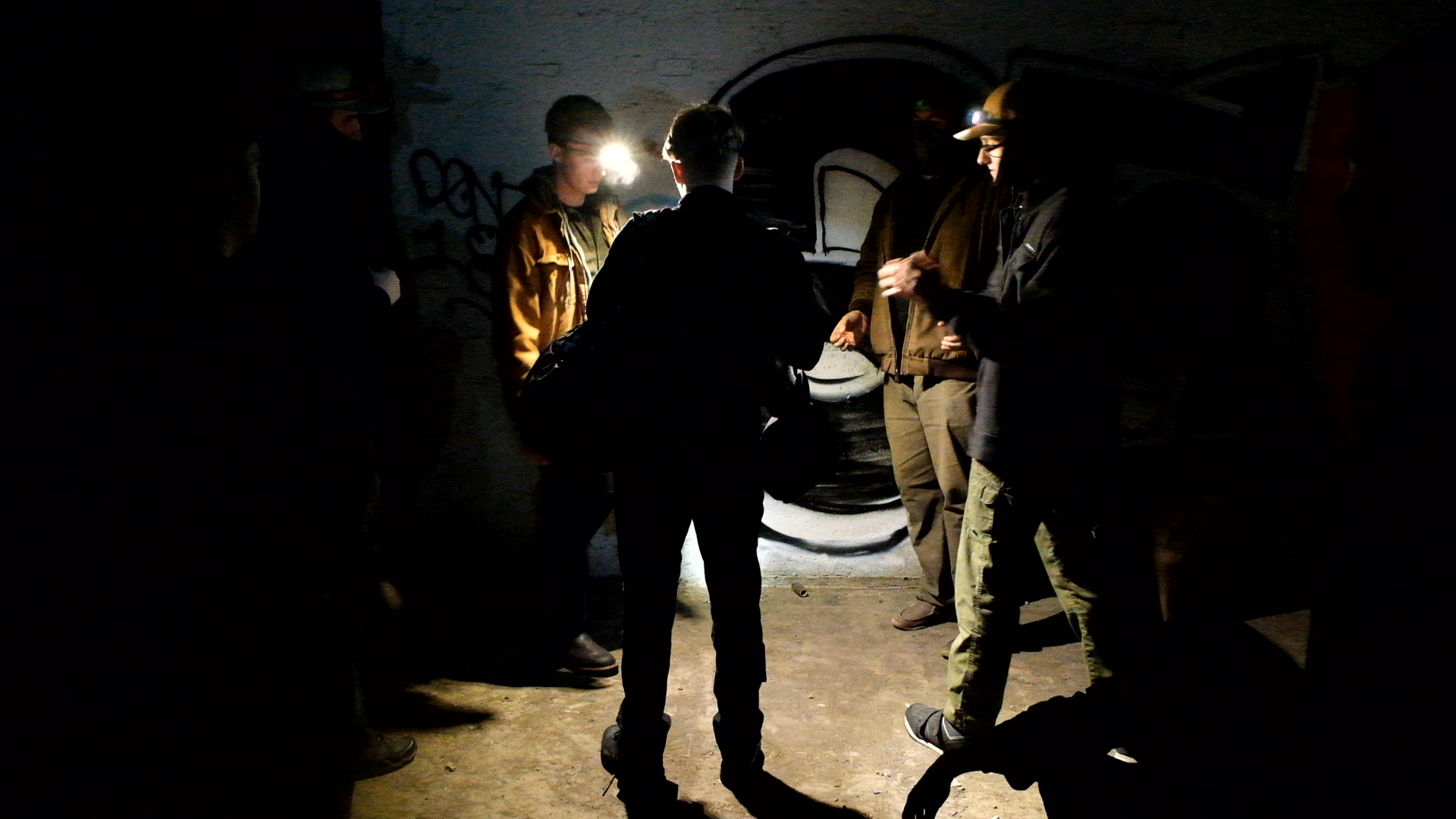 Theis' report also notes the King County Sheriff's Department previously found probable cause to arrest Colton Brown for putting up "approximately 35" Patriot Front stickers in business parking lots. (As of now, King County has not pursued the potential case.)
Leaked chat logs and audio recordings document how between September and December 2021, Colton Brown referred to either carrying out or planning at least 25 acts of hate-motivated vandalism in states including Washington, Oregon and Utah.
Spencer Simpson (aka 'David WA') previously remarked in a leaked voice meeting that the point of Patriot Front's hate-driven vandalism campaigns was to "show people that you can do something like this, and you can get away with it." In the same tirade, Simpson compared Jews to "Lucifer."
"You show people that you can do something like this, and you can get away with it, it encourages other people to do something."

– Patriot Front member Spencer Thomas Simpson ('David WA') on the group's campaign of racially motivated vandalism. From leaked Patriot Front Mumble call, Oct. 3, 2021 (8:02)
Brown and Simpson both had court dates for arraignments in their new Olympia criminal cases on Wednesday, July 13. Simpson showed up for court to remotely attend the quick open-and-shut arraignment hearing; Brown did not, and now faces a warrant for his arrest after he failed to appear.
---
Leaked Meetings Show Centralized Planning of Hate-Motivated Crimes
Brown and Simpson were both involved in several Patriot Front Network 8 meetings where the destruction of the Olympia gay pride mural was planned in meticulous detail. Six other local members who participated in the mural's destruction on October 16, 2021 were also involved in voice meetings to arrange the act – Jacob Stephen Sundt ('Clarke WA', age 25), Richard James Flannery ('Alexander OR', age 22), Matthew Allen Clement ('Jack WA', age 32), Justin O'Leary ('Ethan WA', age 28), Lawrence Alexander Norman ('Frederick OR', age 32) and an unidentified Idaho-based member using the in-group alias 'Johnny ID.'
On October 8, 2021 Colton Brown and Jacob Sundt held a voice meeting with Patriot Front's leader Thomas Rousseau to plan the vandalism of the Olympia mural. Brown and Sundt informed Rousseau of their scouting of the mural site and of their ideas for how to best get away with wrecking the mural under cover of night.
Brown told Rousseau he would use bolt cutters to cut through a gate guarding the mural, place a false 911 call to Olympia police to ensure officers were distracted while he carried out the plan and escape in a car with license plates removed. Rousseau specifically instructed Brown and Sundt to paint over the word 'love' while defacing the mural.
"Obviously the objective is to mess up as much of it as possible…so that if they are going to repair it they're essentially going to have to start from scratch."

– Patriot Front leader Thomas Rousseau dictating his group's official plan to vandalize the Olympia, WA gay pride mural during Oct. 3, 2021 Patriot Front Mumble meeting (24:41)
Brown's desire to destroy the pro-tolerance artwork was motivated by anti-gay bias. This is proven by remarks he made in leaked voice meetings, such as his comment to Rousseau that the mural needed a fence "to protect it because people don't like f*gg*try." Brown also mused about which of Patriot Front's Rousseau-approved official stencil designs would be the best to spraypaint over the mural in order to send an intimidating message to LGBTQ+ communities.
Jacob Sundt, aka 'Clarke WA' in Patriot Front's leaked chat, took a key role in scouting the mural site of time as he is based in the Olympia area. Sundt has not currently been charged for his role in the incident. His father, Joshua Sundt, is a Judge at the Washington State Office of Administrative Hearings.
Excerpts of a leaked 10/08/21 Patriot Front meeting where Thomas Rousseau, Colton Brown and Jacob Sundt planned the destruction of the gay pride mural in Olympia, WA.
[Full recording available here]
Two days later on October 10, members of Patriot Front convened online to further plan the Olympia mural vandalism in a meeting led by Colton Brown. Brown told several members of the group to act as lookouts, intimidate any passersby who notice the group painting over the mural, and to steal and smash any cell phones that onlookers might use to try to record members of Patriot Front.
Brown also discusses confiscating members' phones before hitting the mural in order to prevent cell phone location data tying individuals to the scene of the mural. According to the leaked October 10 planning meeting, the Patriot Front members crashed at the home of Matthew Allen Clement ('Jack WA') before traveling to Olympia to deface the pride mural.
On October 16, the group of 9 Patriot Front members from Washington, Oregon and Idaho carried out their plan to destroy the Olympia pride mural. A meeting held the next day on October 17 to debrief the homophobic vandalism mission was led by Jacob Sundt in Colton Brown's absence. According to this leaked discussion, the Patriot Front members parked their cars at a nearby McDonald's in Olympia before going to the mural.
Local TV news NBC affiliate KING5 reported on the new charges against Brown and Simpson:
Case documents acquired for this reporting [lightly redacted]:
---
Additional resources: 400GB of Leaked Media • Recordings & Transcripts of 22 Leaked Patriot Front Meetings • Guide to leaked media files • Chat records on our DiscordLeaks platform • Our Far-right Investigations Desk page • 2018 Report on Patriot Front
*********************
The preceding investigative report was previously published by Unicorn Riot and is republished by permission.
Non-profit independent media
Unicorn Riot is a decentralized, educational 501(c)(3) non-profit media organization of journalists. Unicorn Riot engages and amplifies the stories of social and environmental struggles from the ground up. We seek to enrich the public by transforming the narrative with our accessible non-commercial independent content.
Born from the Internet in 2015, our commercial-free platform operates non-hierarchically, independent of corporate or government control.
Unicorn Riot spans across multiple cities including Denver, Minneapolis, Philadelphia, and Durban, South Africa. All of our financial support comes from grants and from you, our audience.
Please donate here: (https://unicornriot.ninja/support-our-work)
Anti-trans activist Kellie-Jay Keen spreads hate across America
Violence mars speaking tour by the UK's "Standing for Women" leader whose next stops include Florida, Washington, D.C. and New York City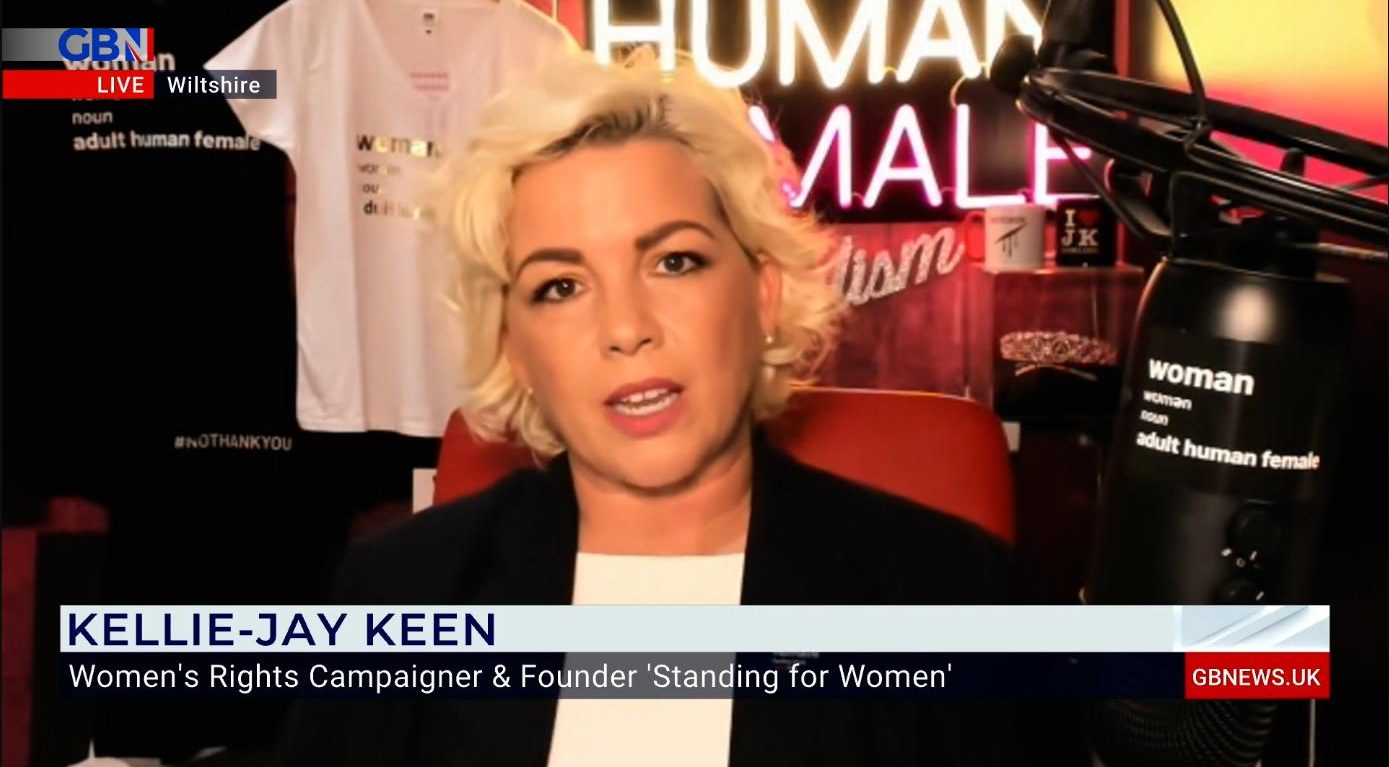 CHICAGO – Outspoken British TERF Kellie-Jay Keen, who goes by the pseudonym "Posie Parker," is in Chicago Sunday for the sixth stop in her 11-city "Standing for Women" speaking tour, which she launched in Los Angeles Oct. 16.
Her mission, she said when she announced the tour on Twitter earlier this month, is to "let women speak" and to "change the world."
"Women," according to Keen and her supporters, only means cisgender people presumed to be female at birth and does not include transgender women. "No woman has a penis," Keen said in Austin, Texas Saturday. "No man has a vagina." GC activists and TERFs like Keen are campaigning for laws discriminating against trans rights on both sides of the Atlantic.
Keen streamed the event on YouTube and posted photos on social media, showing what Keen claimed were Chicago police officers escorting her through crowds due to incidents of violence that had erupted on that tour. As of press time, Chicago police could neither confirm or deny whether on-duty officers provided security or whether off-duty uniformed officers were present.
@Chicago_Police stepping up. #LetWomenSpeak #Chicago#LetWomenSpeakUSA pic.twitter.com/dTuvHnMJFA

— SFW Kellie-Jay Keen #AdultHumanFemale (@StandingforXX) October 30, 2022
In Tacoma on Wednesday, police made one arrest for assault and The News Tribune reported at least six counter-protesters were treated for being hit with pepper-spray. The woman wielding the can of bear spray, similar to that used in the Jan. 6 insurrection at the U.S. Capitol, was identified in that report and via YouTube as Jenna Hoch of Denver, an anti-trans activist. She can be seen in the video, backing away from counter-protesters, screaming "Don't touch me."
A 14-year-old girl claims to have been targeted by Hoch in a video posted to YouTube.
"I was prepared for the violence," Hoch told The News Tribune, following what she described as an assault in Portland, Ore. One protester's hand was injured and required medical treatment, Hoch said. Keen, however, canceled the Portland event due to threats she claimed were made by Antifa. Video of a pie attack at that canceled event has since gone viral.
Despite canceling the stop in Portland, Keen did show up in Tacoma. A video posted by Keen shows a counter-protester storming the area of Tollefson Plaza where Keen and a dozen fellow speakers were holding their rally; One of Keen's supporters swiftly intercepted the counter-protester. According to The News Tribune, about 30 people showed up at the plaza in support of Keen. However, within minutes, the crowd of 20 counter-protesters grew to about 200 and made their way into the plaza. By that time, Keen had already fled, according to the report.
Keen is the U.K. activist who earlier this year advocated for gun-carrying, cisgender dads here in the U.S. to "use women's toilets… to combat the insanity" of allowing transgender girls and women to use bathrooms matching their gender identity. Keen represents cisgender women who call themselves "Gender Critical," and oppose laws and policies here and in the U.K. that allow transgender women to identify as women, compete as women and use public facilities dedicated to females. Keen also confronted this reporter covering the NCAA Women's Swimming Championships in Atlanta in March about use of public bathrooms.
When Keen launched her speaking tour on Oct. 16 on Hollywood Blvd., she was joined by a handful of supporters and fellow speakers and no opposition. And police presence was non-existent.
Kellie-Jay Live from Los Angeles #LetWomenSpeak#LetWomenSpeakUSAhttps://t.co/YFhJOQx6Zs

— SFW Kellie-Jay Keen #AdultHumanFemale (@StandingforXX) October 16, 2022
The same was true in San Francisco, her second stop. But when protesters started showing up at Keen's events, she asked for but did not receive police protection, including in Tacoma. That visibly changed when she arrived in Austin, Texas on Saturday, as ex-detransitoner and former radical feminist Ky Schevers tweeted, with a screenshot of armed security guards flanking Keen.
Kyle KD Sims & his team did security for Kellie-Jay Keen's anti-trans rally in Austin. Sims is a right-winger who's previously done security for former Senator Don Huffines & Kelly Neidert/Young Conservatives of TX. TERFs are increasingly turning to right-wing men to do security. pic.twitter.com/Qnv93fUIIK

— Ky Schevers (@reclaimingtrans) October 30, 2022
According to Schevers, "Jeannette Cooper of PEC [anti-trans group Partners for Ethical Care] hired private security for Chicago & K. Yang aka the Deprogrammer is paying for security for the NYC rally."
Also on hand on Sunday in Chicago's Pioneer Court: Counter-demonstrators brandishing signs declaring, "TERFs MACE KIDS."
#TerfsMaceKids https://t.co/T8KnyvbCMq

— Katy Montgomerie 🦗 (@KatyMontgomerie) October 30, 2022
The counter-demonstrators staged their own rally in Chicago's Cityfront Plaza, attended by at least one man identified by Twitter users as a member of the Proud Boys.
Keen's next stops include Florida, Washington, D.C. and New York City, and she announced she plans to make a documentary from video of her events.