Kane's Cuisine: Pho (Vietnamese noodle soup)
LA Blade staff writer Christopher Kane shares his love and passion of cooking writing in his weekly Sunday column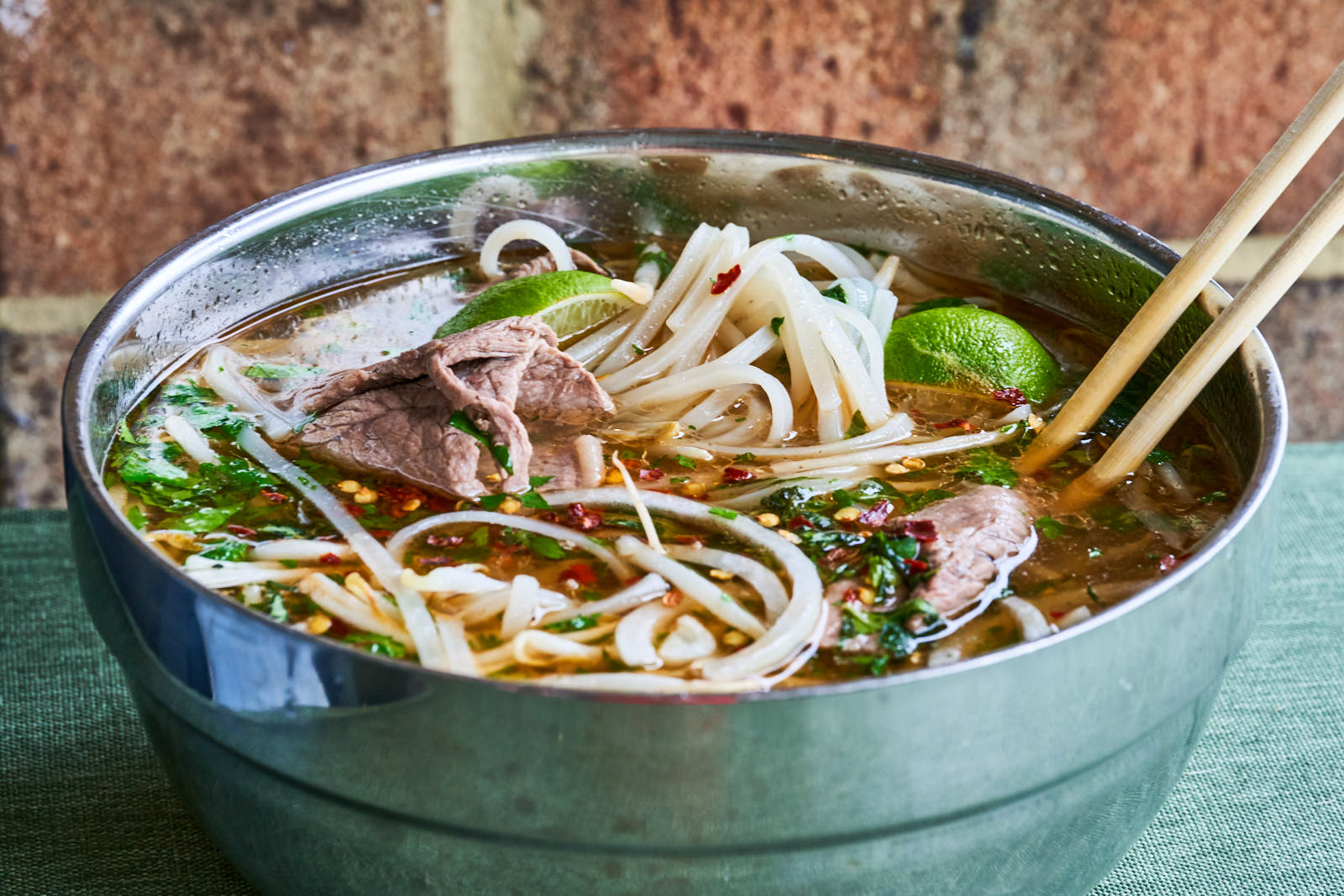 What happens when you have a pandemic and a bored stay-at-home political reporter with extra time on his hands? LA Blade staff writer Christopher Kane decided that he would pursue his second love and passion of cooking and now he's sharing the results in his weekly Sunday column.
WASHINGTON – I will not be using any "pho" puns in this article. It's hack-y, and that kind of low-brow humor is beneath me. (My editor might disagree. He gives me a long leash with these columns but has occasionally had to reign me in when I've attempted to include jokes that were unprintable and for which I would have been cancelled, deservedly.)
Anyway. Pho, for the uninitiated, is a magical Vietnamese rice noodle soup made with a wonderfully complex bone broth that's seasoned with aromatic warm spices. It usually includes charred onion and ginger along with a bevy of different types of protein, herbs, and garnishes.
I'd always assumed it was beyond the reach of my skill and ability as a home cook (a home cook who, to be clear, is not Vietnamese) to source the proper ingredients for pho and prepare the dish correctly such that it tastes authentic. A few weeks ago, however, I decided to give it a go.
It turned out deliciously. No, my pho was not in the same league as that which is served in my favorite restaurants in Eden Center, the Vietnamese American strip mall in Falls Church, Virginia – but I wanted to share this recipe specifically for readers with limited access to Vietnamese food, whether home cooked or outsourced.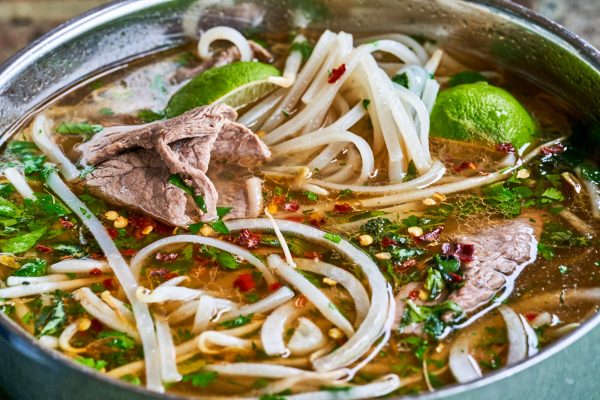 Make your broth
Add five pounds beef marrow bones and two pounds beef chuck, cut into two equal pieces, to a large stockpot, adding water to cover. Boil for five minutes, and then strain – discarding the liquid and cleaning out the stockpot. (This gets rid of the scum that would otherwise accumulate later when you're making the broth.)
Over a gas flame, gas grill, or with a blowtorch, char a four to five-inch piece of ginger, cut in half lengthwise, and two peeled white onions until much of their surface is lightly blackened, and then rinse them under cold water
Add five quarts of fresh water back to your stockpot with the bones and beef chuck, and bring to a boil. Add the charred onions and ginger. Add four or five scallions, cut crosswise into four-inch pieces, along with two and a half tablespoons granulated sugar and a third-cup fish sauce. Megachef is my brand of choice (not sponsored). Reduce the heat to low and allow to simmer for about 45 minutes, skimming the surface with a slotted spoon to remove scum/foam/fat/impurities
Remove one piece of beef chuck, transfer it to an ice bath, slice it thinly, and then put it in the refrigerator. (It will be added to your pho when it's ready to serve, while the other piece of will continue flavoring the broth as it cooks.)
In a dry nonstick pan, over medium heat for about three minutes or until fragrant, toast eight star anise, six cloves, one cinnamon stick, one black cardamom pod, two teaspoons fennel seeds, and two teaspoons coriander seeds
Put the spices in a cheesecloth, tie it with kitchen twine, and add it to the stockpot with your both
Cover the pot and allow to simmer for four hours. Add a tablespoon salt and continue simmering until you're ready to serve the dish, skimming the surface and adjusting the seasoning (salt, fish sauce, sugar) as necessary 
Assemble your soup
1. Cook one pound of dried pho noodles (or other rice noodles, preferably not very wide or angel hair-thin) according to the package instructions, adding them to bowls when you're ready to serve the dish
2. Slice a third to a half-pound raw sirloin steak very thinly (it helps to partially freeze it first), adding it to your bowls along with the sliced and refrigerated beef chuck
3. Bring your broth in the stockpot up to a rolling boil, and ladle it into the bowls over the noodles and meat (this will cook the raw sirloin)
4. Garnish. My suggestions: torn Thai basil leaves or roughly chopped cilantro, red pepper flake, lime wedges, and thinly sliced raw white onion
Kane's Cuisine: Pelmini (Russian dumplings)
LA Blade White House correspondent Christopher Kane shares his love and passion of cooking writing in his weekly Sunday column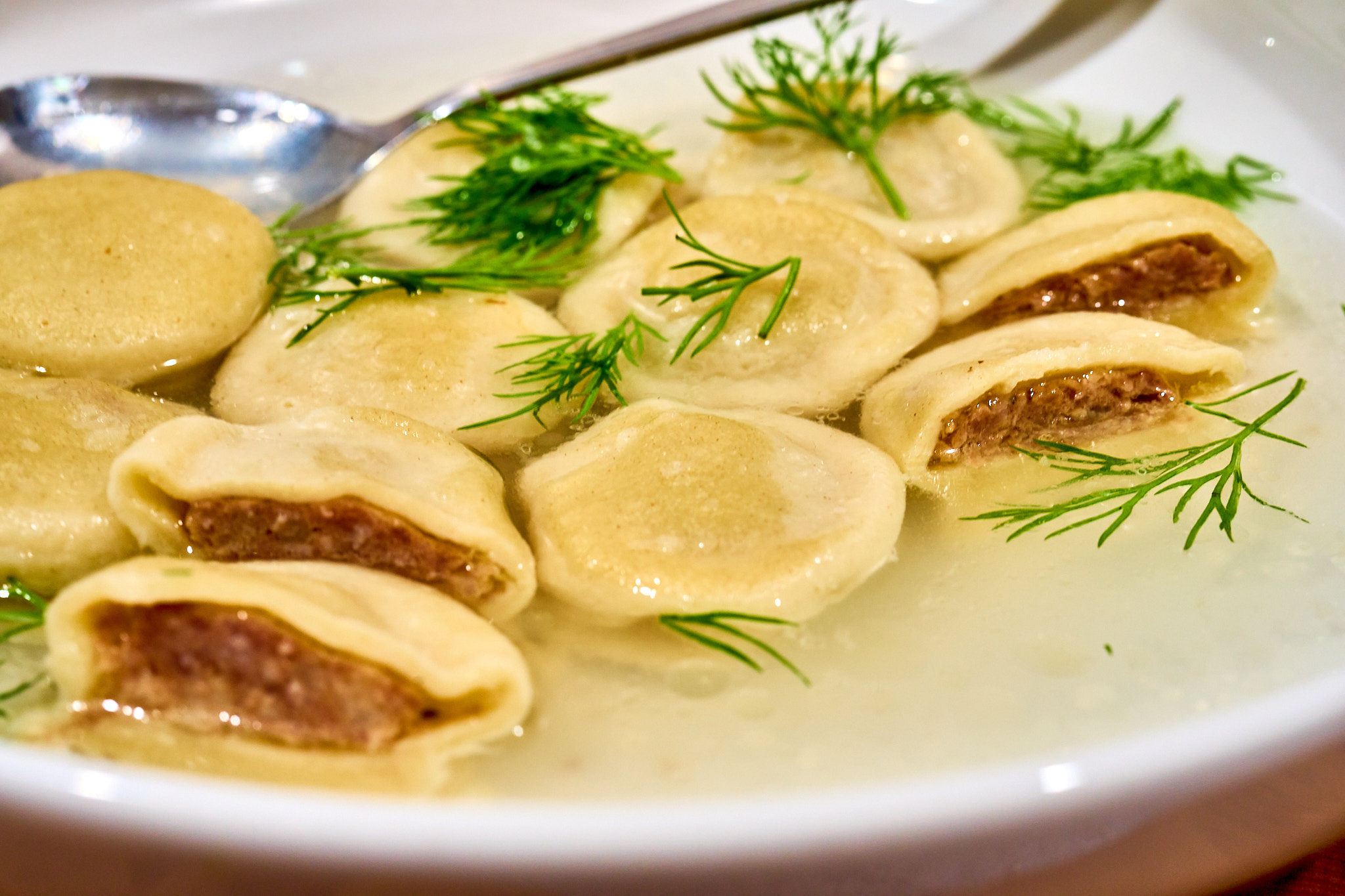 The LA Blade's intrepid Washington D.C.-based White House correspondent snarks his way through another delicious weekly recipe while dishing tea on other subjects…
WASHINGTON – Remember my fried chicken column? Where I was talking about how many regional variations of the dish there are? And how wonderful it is to live in a world where we can have different types of fried chicken?
Same principle applies to dumplings. (Wow, do I like comfort food!)
The first time I had pelmeni was at Spacy Cloud, a vegan restaurant where my Russian friend worked as a server-bartender. So, while this recipe calls for a 50-50 mixture of ground beef and pork breakfast sausage, I can tell you meatless alternatives work wonderfully.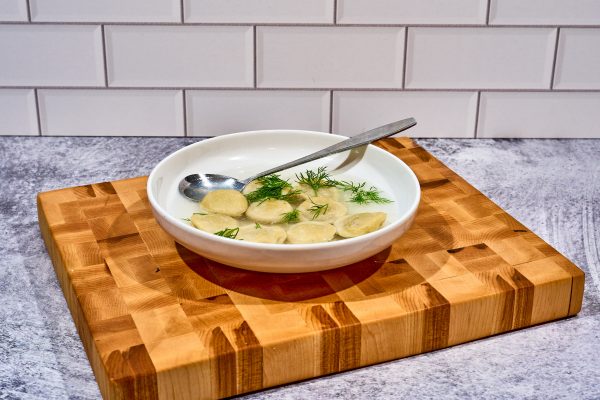 Recipe adapted from the cookbook of Yekaterina (Katya) Dobronravova-Levesque M.D.
Make the dough & filling
Combine 2 cups all-purpose flour with 1 teaspoon kosher salt in a large bowl or flat surface
Make a well and add 2 eggs with one tablespoon cold water. Knead until smooth. If your dough is too shaggy and isn't coming together, add more cold water (a tablespoon at a time)
Wrap dough with a clean cloth and allow to rest for at least 30 minutes or overnight in the refrigerator
In a large bowl, add 1 pound ground beef, 1 pound pork breakfast sausage, 1 teaspoon kosher salt, and a half teaspoon ground black pepper. Grate a large onion into the bowl and mix everything together
Assemble, boil & serve the pelmeni
Divide your dough in half and roll out each piece until they're very thin, about ⅛."
Make the dumplings with a pelmeni maker. This YouTube video will be more helpful to you than written instructions
Heat a large stockpot filled with heavily salted water until it reaches a rolling boil. Carefully drop pelmeni into the pot and cook for about 7 minutes. Do not discard the water
Ladle the dumplings into bowls along with the salted, starchy water. Serve with sour cream (or crème fraiche, which is almost always my preference) along with heaps of dill