Facebook banned me from promoting my queer novels
For the time being, Facebook ads are out. It's possible that I may never run ads on that platform again, but certainly not any time soon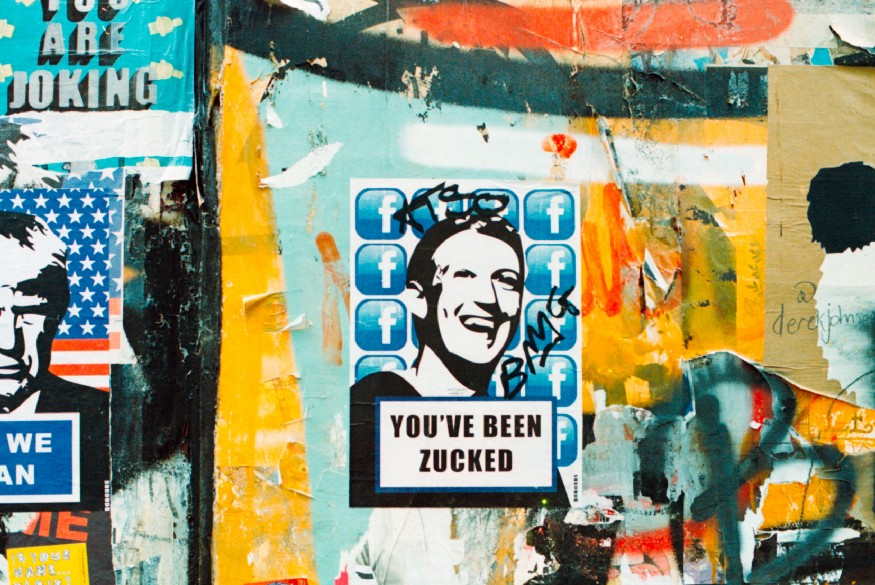 By Grayson Bell | FORT COLLINS, Co. – I have been running Facebook ads on and off ever since I published my first novel in 2018. I've occasionally run into issues with their advertising review team, but none as seemingly insurmountable as what I've just experienced.
Why was I running Facebook ads?
Over the years, I experimented with boosted posts from my Facebook author's page, having varying degrees of success. What I eventually learned was that if I kept the ad running for a longer time with a smaller budget, I would have a lot more success than running a short campaign with a larger budget.
Instead of running a quick weekend campaign over two to four days with a budget of $50-$100, I began running month-long campaigns for only $30–40. The shorter campaigns only got me around $10–20 in sales, where the longer ones led to $100-$200. Once I figured that trick out, I launched a new campaign at the start of every month and kept earning a steady and slowly increasing stream of revenue.
When I tried Amazon ads or running boosted Twitter posts, neither worked nearly as well. Both required more upfront cost and wouldn't let me run anything for as low as $1 per day, and I never saw the same return on my investment as I was getting on Facebook. Instagram was nearly as successful, but then Facebook ran my ads on both platforms, so I didn't see the need to run separate campaigns.
What went wrong?
My earliest experience with Facebook ads was a foreshadowing of what recently happened. When I published my first novel, Coffee-to-Go, in 2018, I tried creating some ads to promote the book. The only platform that rejected the ad was Facebook, telling me that the ad was too sexual. Why? Because it depicted the artwork of two men kissing, one of whom was shirtless.
After failing to get the ad approved upon requesting a review, I tried several variations of coffee shop themes and the novel cover. They also deemed them too sexual. This time, they told me it was inappropriate to show two men's hands with their fingers touching. Whoever was reviewing the ads found any touch between men as too sexual.
That made me realize I was dealing with a homophobic reviewer who did not want to allow me to promote my gay romance novel. What happened after that was somewhat amusing, as the ad went back and forth between being approved and rejected over the course of a couple of hours. I like to imagine that another reviewer was arguing with the one who wanted to reject it and they kept clicking accept and reject back and forth. Eventually, they accepted it, and it ran without further issue.
After that, it was hit-or-miss whether they would approve my ads or not. However, if I made a slight change, they would usually approve the ad. I was careful with the imagery, wording, and even hashtags I used to promote on Facebook. If I wanted to get a little more daring with my promotion, I wouldn't boost it as a paid ad, knowing they would likely reject it. Instead, I would merely share it in various romance promotion groups and leave it at that.
When I published my novel, Suddenly Omega, in February 2022, I once again began running month-long campaigns on Facebook. For the first several months, I only promoted the newest novel, before switching to promoting all five novels that I'd published so far. By now, I knew what words and imagery to avoid, and they approved my promotions without an issue.
Unfortunately, when I posted my ad for July 2022, it remained in review for more than a day before finally being rejected. The only message I received was that I had violated advertising policies. I checked to see if any of the policies had changed since I'd last read them, and they hadn't. I was certain my ad wasn't violating any of the policies, as it was nearly identical to the ones I ran in May and June. The only difference was a change in the background image, all of which were colorful abstracts.
I requested the ad go through another review, and once again, they rejected it. I tried changing the image, including the background and how I displayed the covers of my novels, and it was also rejected.
I have a Meta for Business account, so I contacted their support, hoping they could help. The support person I spoke with was very patient with me and she tried to get my rejected ads approved. However, because they had rejected the ad after a requested review, there was nothing she could do. So, she suggested I recreate the ad from scratch and inform her when it was rejected. She would then help me get it approved, and that worked.
While somewhat annoyed over the entire situation, I was grateful when Meta for Business went to bat for me. When I submitted my ad for August 2022, I was relieved that they approved it immediately. I hoped that perhaps going through Meta for Business had cleared up whatever hang-up had happened in July.
Unfortunately, this is where things went completely sideways.
In mid-August, they notified me that my August ad, that they had approved two weeks earlier, was now rejected. They did not even give me the option to request a review. Not only that, but they also retroactively rejected the ads from June and July, although they had finished running. I reached out to Meta for Business for help, and the person I spoke to this time was far less sympathetic to my plight and they abruptly ended the chat after reaching out to the advertising policy review team.
I wasn't sure what was going on, but I decided they had some issue with my ads now that they hadn't previously. So, I completely redesigned the ad. I went with a simpler design, using a stock image of a man sitting on a bench reading a book. I removed all my book covers from the ad, and only stated Queer Romance Reads by Grayson Bell, and included a shortened link to my website and the usual Amazon Kindle, Kindle Unlimited, and Kindle Vella logos that most indie authors use.
This ad was instantly rejected. I tried one more time by changing Queer to LGBTQ and changing the link from a shortened one to the full link to my website. They also rejected those changes. I reached out to Meta for Business again, explaining the edits I did, as they had suggested. This resulted in a response that stated I should review their advertising policies and community guidelines and edit my ad accordingly.
Naturally, I was becoming frustrated by being stuck in this ridiculous loop, and it seemed as if they hadn't even looked at the changes I'd made to my ad. Out of sheer desperation, I wrote a polite, but strongly worded, email, demanding clarification of which advertising policies I had violated. This finally led them to sending me the following response.
"Your Ad/s appear to be non-compliant with our Systems Policy. Ads must not use tactics intended to circumvent our Ad review process or other enforcement systems. This includes techniques that attempt to disguise the Ads' content or destination Page."
This was less vague, but wasn't helpful. I had already suspected that using the bit.ly redirect was the issue, which is why I had removed it from the most recent version of my ad. So, I crafted a detailed reply, complete with screenshots, explaining where each link goes. This included the link in my ad to my website, and the links to Amazon that the buy now and read now buttons take them.
Everything in my ad is completely transparent and isn't taking anyone somewhere that would be false or misleading. Nor does my website have any content on it that would violate Facebook's policies. I host with WordPress, and they wouldn't allow that kind of content either.
Now I am stuck in a loop where I cannot edit any of my ads, all new ones are being instantly rejected, and the Meta for Business team has permanently closed the case so I can no longer respond to it. I could open a new case, but I do not feel hopeful that I would receive any more help than I already have.
What's going on here?
I know quite a few romance authors on Facebook, many who run ads with rarely a rejection. Most of them write very steamy, sexy romances with one difference. The couples in them are straight. One man. One woman. Typically white, able-bodied, and cisgender. Their ads are far more salacious and bawdy than any that I've dared to run since that first rejection back in 2018. Many of them link their ads to their websites because indie and self-published authors offer their books on multiple platforms. As long as our websites comply with Facebook content policies, it usually isn't an issue.
The only conclusion I can draw from any of this is that the Facebook Advertising Policy Review team has a bias against queer romance books. The rejection of the Coffee-to-Go ad was a sign of things to come. I'm sure not everyone who works for Facebook is homophobic, but those who make advertising content policy decisions might be.
As I've ranted about it on social media, I've had people try to placate me by suggesting various workarounds. Workarounds that I've already tried. Workarounds I shouldn't even have to use because nothing in my ads violates any of their policies.
Also, don't suggest it's because the novels I'm trying to promote contain gay sex scenes and therefore I'm trying to sell sexually explicit content. Because if that were the issue, then they shouldn't allow the promotion of the straight romance novels filled with sexually explicit scenes, either.
Where will I go from here?
For the time being, Facebook ads are out. It's possible that I may never run ads on that platform again, but certainly not any time soon. So, what's next?
Unfortunately for me, I will have to go back to a more manual approach. If I can't run an automated ad that will get my promotions in front of targeted eyeballs, I'll have to do it myself. That means spending time creating a lot more marketing graphics and videos, posting more frequently across all social media platforms, and making more of a nuisance of myself.
All this effort will take time away from the writing and editing I would prefer to work on. Why don't I hire a marketing firm to do the work for me, I hear you ask? Because I'm not selling books at a level where I can afford something like that. Besides my books, I have a few other revenue streams set up, although none of them are nearly as lucrative yet.
Medium is the next highest earning platform for me. I also have a Ko-Fi account set up, where I am trying to drum up donations to help me afford other advertising platforms. I also have a merchandise store where I have various items for sale with my novel cover art displayed on them.
My only option right now is to keep hustling.
************************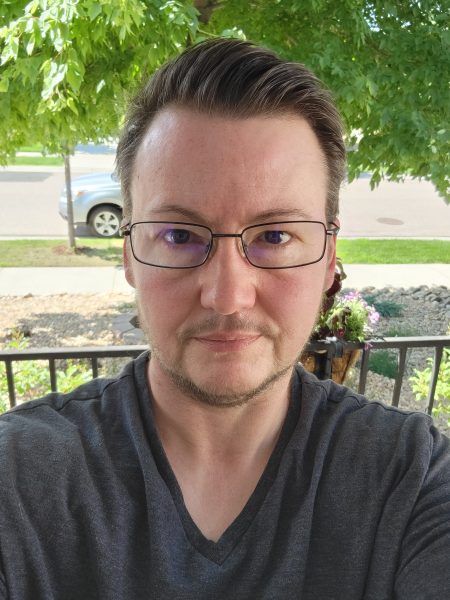 Grayson Bell has had a love affair with the written word since the age of four. He taught himself how to read with the help of a phonics segment on Sesame Street, and he's been devouring books ever since.
Sharing his home in Colorado with his dogs, Grayson also enjoys whipping up something creative in the kitchen or escaping into the world of video games. He is an out and proud gay, transgender man.
********************
The preceding article was previously published by Prism & Pen– Amplifying LGBTQ voices through the art of storytelling and is republished by permission.
How rise of school surveillance software affects LGBTQ students
"Should students who identify as LGBTQ be identified from monitoring software, and potentially be disciplined or punished?"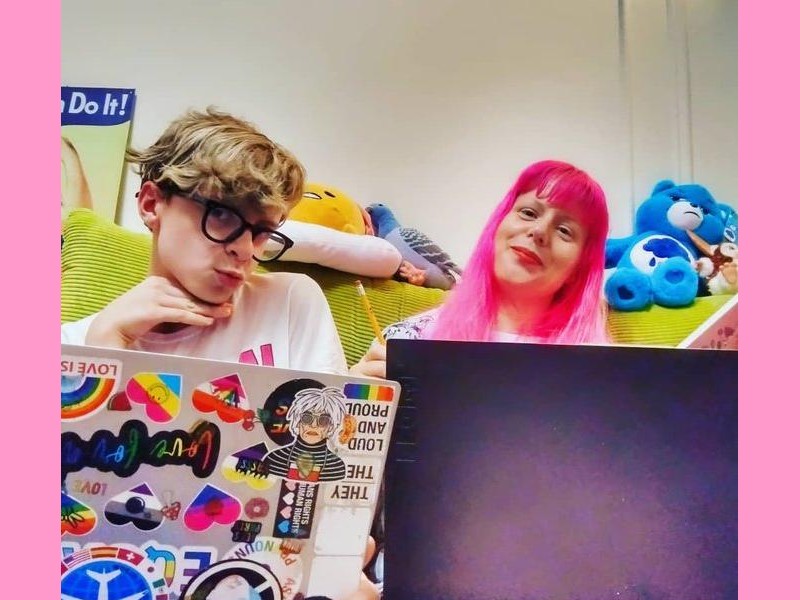 By Anne Wen | NEW YORK CITY – During the pandemic, 15-year-old Desmond Napoles looked up the definition of sexuality out of personal interest on their school-issued tablet. The New York City sophomore did not realize at the time that school administrators and teachers could be alerted to the search.
As schools increasingly monitor students' online activities, LGBTQ students find themselves at particular risk. The tracking can "out" queer students because the software can notify school officials or law enforcement officers of searches related to sexuality and other topics. And it can make it harder for LGBTQ students, in particular, to access sexual health information online.
The increase in district-issued devices during the COVID-19 pandemic has exacerbated worries among some queer students, who now feel they are constantly watched by their schools at home and school.
"When you realize that you're being tracked and you looked up something already, it's pretty stressful," said Napoles. The New York City Department of Education did not respond to questions from Youth Today about its use of monitoring software. But the district signed a contract with tracking software company GoGuardian in 2021, according to Bloomberg.
"UNINTENDED BUT HARMFUL CONSEQUENCES"
Eighty-nine percent of teachers surveyed in a spring 2022 Center for Democracy & Technology poll said their school monitors student activity on school-issued or personal devices.
Desmond Napoles (Photo by Aaron Williams)
"When you realize that you're being tracked and you looked up something already, it's pretty stressful," said Desmond Napoles.
"Students are working under the false assumption that certain things — their chats, their documents — are private, when in fact, they're being actively monitored by the school," said Cody Venzke, one of the authors of the report. "That can come as a shock for students not aware that what they're writing in the document they thought was their private journal is in fact being scanned by an algorithm and potentially relayed to school counselors or even law enforcement."
A U.S. Senate investigation into educational technology companies that sell products to monitor students' online activity found that the products "raise significant privacy and equity concerns."
"Studies have highlighted unintended but harmful consequences of student activity monitoring software that fall disproportionately on vulnerable populations: artificial intelligence and algorithmic systems frequently mischaracterize students' activity and flag harmless activity as a 'threat,' and students from minority or marginalized communities, including students of color and LGBTQ students, are far more likely to be flagged," according to the Senate report, which focused on companies including Gaggle, GoGuardian, Bark Technologies and Securly Inc.
The Senate report noted research showing that algorithms used in the products are more likely to flag language used by people of color and LGBTQ students as problematic, and that, since LGBTQ students largely prefer to seek help online, some of these monitoring tools' website filtering features "frequently" prevent them from accessing health information by flagging words related to sexual orientation.
"The impacts of these shortcomings range from disproportionate disciplinary rates of LGBTQ students to unintentional outing of LGBTQ students to parents and other adults," according to the Senate report.
In responses to the Senate investigation, the companies emphasized their commitments to student safety. Gaggle, which reports its products are used by about 1,500 school districts, provided a list of more than a dozen school superintendents and officials who had agreed to serve as references for their products.
Gaggle and GoGuardian, two major companies providing surveillance software to schools, declined interview requests from Youth Today.
But in an emailed statement, Gaggle said that its software had helped save the lives of 1,562 students who were planning or actively attempting suicide last school year and noted that LGBTQ youth were four times more likely to consider or attempt suicide than their peers. The company also cited a Gaggle-sponsored white paper that found 85% of educators reported the monitoring software helps reduce the harassment of LGBTQ students.
GoGuardian sent a statement reading, in part, "GoGuardian believes that our schools and classrooms should be spaces where all students are treated equitably and have the opportunity to learn and thrive."
The company noted its work with experts to strengthen "internal resources" in support of marginalized communities, citing recent educational content and a webinars produced in partnership with The Trevor Project, a suicide prevention and mental health organization for LGBTQ youth.
In a statement to Youth Today, a spokesperson for The Trevor Project wrote that the nonprofit does not partner with GoGuardian and does not plan to do so. Earlier this fall, The Trevor Project returned a $25,000 donation from Gaggle, citing concerns about the software's "role in negatively impacting LGBTQ students."
"TECHNOLOGY COULD HAVE BEEN A LIFESAVER"
Photo courtesy of Chris Wood
Chris Wood, executive director of LGBTQ Tech, a nonprofit that provides tech policy advice about LGBTQ individuals, believes that schools ask students to use the services with good intentions, but the inadvertent effects of monitoring make schools less safe for queer students.
"If you can't have a supportive environment at home, then you look to a supportive environment, in the places that you're at most often, like a public school or a library," Wood said. "And if you're then making it harder for them to gain access to those resources, through monitoring or filtering, then you're creating an environment where we're creating a mental health nightmare."
Wood also said that the web filters many districts use to protect students against sexual content, may also inadvertently block advice that helps LGBTQ individuals without supportive biological families.
The way some districts use monitoring software may particularly harm students of color who are LGBTQ, Wood noted, by exposing them to a disparate risk of discipline due to their online activity.
"Technology could have been a lifesaver. It could have been an opportunity for an individual to explore their identity and have safe and equitable conversations about their identity" Wood said. "Instead, we're doing quite the opposite."
To better serve students, teachers should connect LGBTQ students with more resources so that they can come to terms with their identity, said Maria Dolores Cimini, a psychologist and behavioral health researcher at the State University of New York at Albany.
"Should students who identify as LGBTQ be identified from monitoring software, and potentially be disciplined or punished, that is inappropriate," Cimini said. "It is something that could negatively affect their mental health and could even increase increased concerns such as depression, anxiety, and even risk for suicide."
Photo courtesy of Maria Dolores Cimini
Wendy Napoles, Desmond's mother, is thankful for the New York school district's use of filters to prevent students from viewing inappropriate content such as pornography on district devices. Both she and Desmond Napoles acknowledged that the monitoring software can provide safety, especially if a student's search history reveals chronic mental health problems.
But the potential to track a student's search history, including topics related to sexuality and gender, feels like an invasion of privacy, Wendy Napoles said.
"I'm just really worried, as Desmond is, about who is looking at this, and what are they doing with that data?" Wendy Napoles said. "Are teachers seeing it, where they may not have known a child was part of the LGBTQ community, and are they going to treat that child differently?"
********************************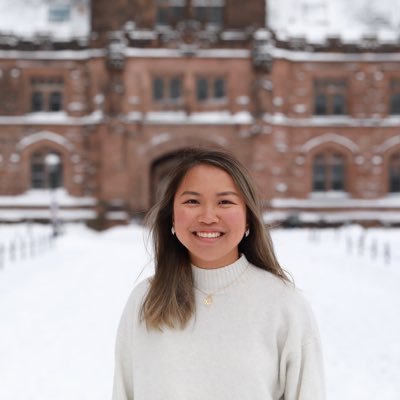 Anne Wen is a Guam-based journalist who covers college education and Pacific islands for The Guardian, Teen Vogue, Pacific Daily News, and Youth Today.
********************************
The preceding article was previously published by Youth Today & is republished with permission.