Far-right extremist anti-LGBTQ+ online trolls attack Trevor Project
Users called on others to "demoralize" counsellors on the The Trevor Project hotline & to "waste as much of their resources as possible"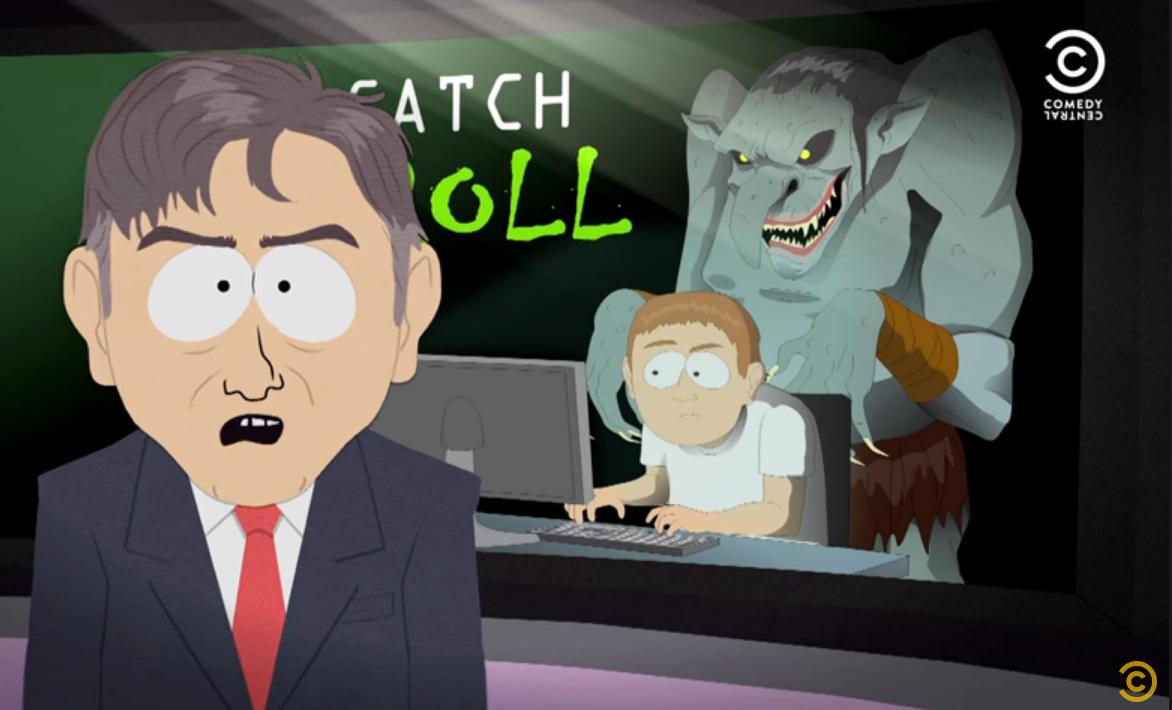 WASHINGTON – 4chan has become notorious as being 'one of the darkest corners' and 'seediest zones' of the Internet' earning its reputation for inspiring its loosely affiliated community of internet trolls.
These trolls in turn create havoc and chaos on mainstream social media platforms oft times by swarming comment threads or false flagging of user accounts for posting content that violates platform 'community guidelines.'
Recently 4chan users have allegedly participated in attacks promulgated by the notorious Libs of Tik Tok account run by anti-LGBTQ+ Twitter/Facebook user Chaya Raichik against the Children's Hospital's in both Boston and Washington D.C., fostering lies that the healthcare centers were performing gender affirming surgeries on minors.
On Tuesday, Alex Kaplan, a Senior Researcher for the Washington D.C.-based media watchdog group Media Matters for America who focuses on social media misinfo/disinfo & online extremism, disclosed that 4chan users were targeting The Trevor Project, the world's largest LGBTQ+ youth suicide prevention non-profit in an attempt to swarm the call-in phone lines to cripple its suicide hotline.
"Users on far-right message board 4chan "/pol/" tried to clog up The Trevor Project's hotline for LGBTQ+ youth considering self-harm with fake cases to prevent people from accessing the hotline. Users posted images of their conversations & claimed were able to clog up the hotline," Kaplan wrote.
Users on far-right message board 4chan "/pol/" tried to clog up The Trevor Project's hotline for LGBTQ+ youth considering self-harm with fake cases to prevent people from accessing the hotline. Users posted images of their conversations & claimed were able to clog up the hotline. pic.twitter.com/ayiJavw8vA

— Alex Kaplan (@AlKapDC) August 30, 2022
The Independent UK reported that one user wrote in a since deleted post that others should "fuck up the queue" so LGBT+ youth "commit suicide due to being unable to receive assistance".
The same 4chan user, who declared "war" on the LGBT+ charity, also called on other trolls to "demoralize" counsellors on the The Trevor Project hotline and to "waste as much of their resources as possible."
Another 4chan user followed by saying: "I have been waiting like 10 minutes. Waiting times are amazing. If this causes a single faggot to kill themselves, I will be pleased. Total Aryan victory".
A Trevor spokesperson in an emailed statement to the Blade noted:
"The Trevor Project exists to end the public health crisis of suicide among LGBTQ young people, and our 24/7 crisis services are a critical and necessary part of this life-saving work. As our organization continues to gain visibility and reach more LGBTQ youth in crisis, we have also seen increased attacks from antagonistic individuals and groups seeking to mischaracterize and undermine our work.
The act of attacking a crisis services line intended to prevent suicide among young people is egregious. Our crisis counselors work around the clock to be there for LGBTQ youth who feel like they have nowhere to turn, and it's harrowing that anybody would attempt to compromise our lifeline or encourage suicide.
LGBTQ youth are at significantly increased risk for suicide — not because of anything inherent about their identities, but because of the stigma, bullying, violence, and discrimination that they face. The incident of users on 4chan who maliciously planned to overtake our crisis lines today is exactly the kind of mistreatment and abuse that contributes to heightened suicide risk.
Alarmingly, our research has found that every 45 seconds, an LGBTQ young person attempts suicide. Every second counts when you work in suicide prevention, and we strongly condemn this intent to obstruct our lines and create even more barriers for LGBTQ people who rely on our help. We are working diligently in the face of this disruption to protect our counselors and those youth who need us."
King's College London, UK researcher's Thomas Colley and Martin Moore noted in a groundbreaking 2022 study released earlier this year, that the site has earned its reputation in part due to its self-consciously offensive culture, characterized by the endemic use of
racist, misogynist, homophobic, anti-Semitic, bullying and aggressive language, images
and videos.
The site, along with similar and overlapping 'free-extremist' communities at 8chan, Gab.ai and Reddit, has also been accused of radicalizing users and promoting right wing
extremism and terrorism.
Did Marvel Comics just reveal a classic X-Men character is trans?
Until now, the X-Men have never had a trans member That may have just changed with the publication of X-Men Blue: Origins #1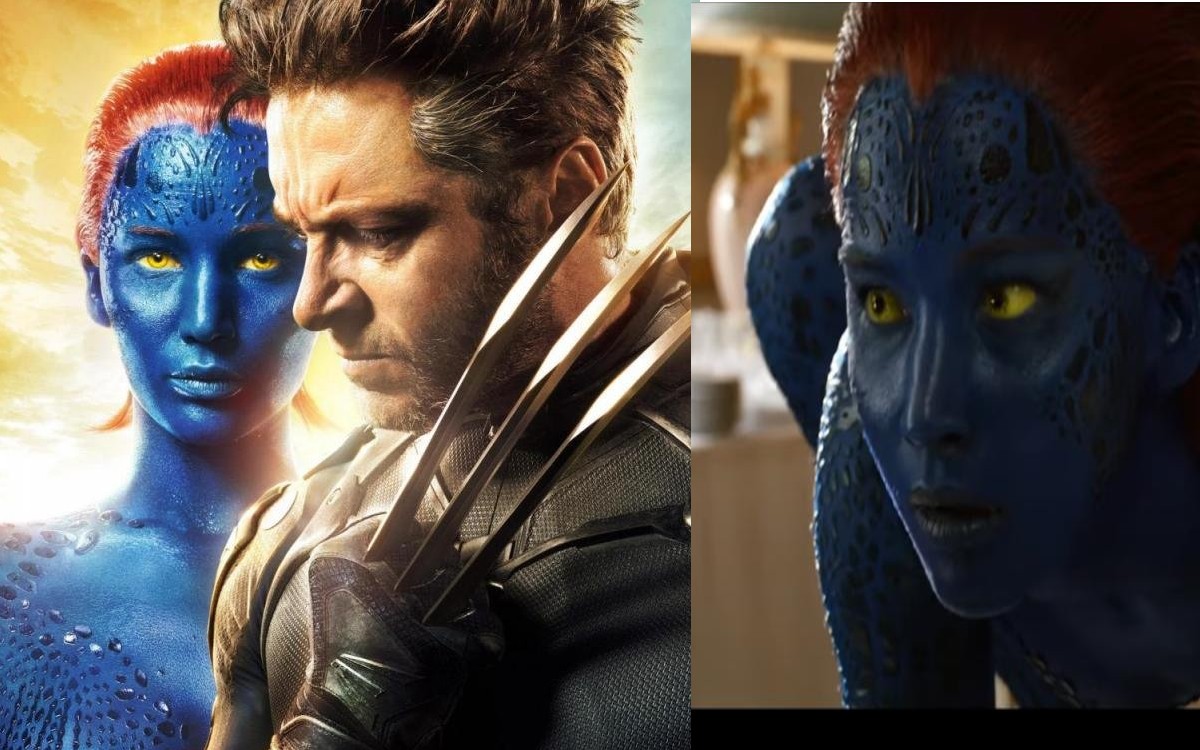 By Rob Salerno | HOLLYWOOD – Marvel Comics' mutant superheroes the X-Men have always been a metaphor for the struggle against prejudice, boasting a diverse cast of characters that have represented a wide spectrum of characters of different races, sexual orientations, and even species. But until now, the X-Men have never had a trans member.
That may have just changed with the publication of X-Men Blue: Origins #1 by Si Spurrier, Wilton Santos, and Marcus To this week, a story that finally gives the full origin of the mysterious Nightcrawler, who had previously been established as the son of the shape-changing Mystique and a demon named Azazel – all three characters who have appeared in Fox's X-Men films.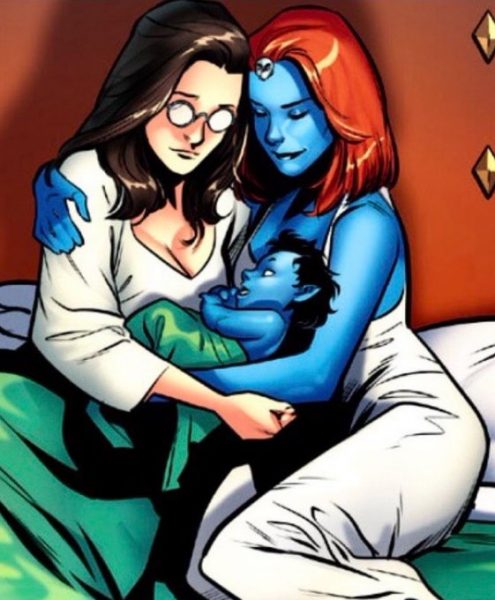 Be warned, spoilers follow from here.
In the new issue, Mystique finally confesses the truth of Nightcrawler's birth. As Mystique now tells it, she didn't actually give birth to Nightcrawler – her female partner and longtime lover Destiny did. And Nightcrawler's father? Well, Nightcrawler's biological father is actually Mystique, who explains that with her shape-changing powers, she has lived as both male and female.
Does that make Mystique trans? Well, the T-word is never actually uttered in the comic, but Mystique's own words when Nightcrawler protests that she's female are a firm rejection of the gender binary.
"Don't be pathetic. I have lived for years as sapiens males. Years more as females. Do you know what I have observed? They're all as awful as each other. The only true binary division lies not between the genders or sexes or sexualities. It lies between those who are allowed to be who they wish, and those denied that right," she says.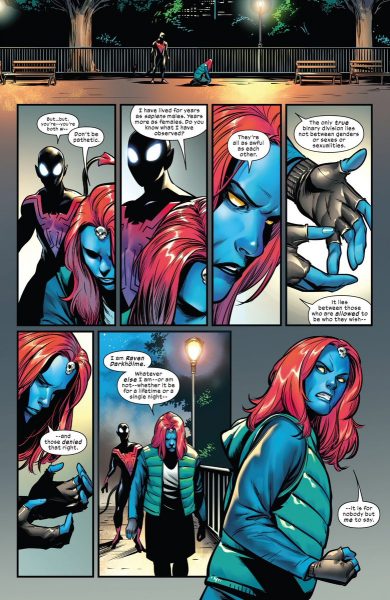 The revelation isn't entirely unprecedented. It has long been known in fan circles that Mystique's creator and longtime X-Men writer Chris Claremont had intended to reveal that Mystique and Destiny were Nightcrawler's parents, but that Marvel Comics wouldn't permit queer characters in their books in the 1980s. 
Eventually Marvel reversed that policy, and Mystique and Destiny's relationship is a main story in current X-Men comics, with Marvel even referring to them as "the greatest love story in mutant history" in a recent press release. Marvel has also published comics set in an alternate universe where Mystique is portrayed as male.
While more openly trans characters have appeared in mainstream comics in recent years, these characters have mostly been relegated to guest-starring and supporting characters. For example, Marvel introduced the trainee member Escapade in the X-Men spinoff comic New Mutants last year, while Marvel's TV shows Jessica Jones and She-Hulk: Attorney at Law gave both heroines trans assistants.
Mystique is now arguably the highest-profile trans character in mainstream superhero comics, as a major character in comics' biggest franchise, and having been portrayed by Jennifer Lawrence and Rebecca Romijn in seven X-Men films.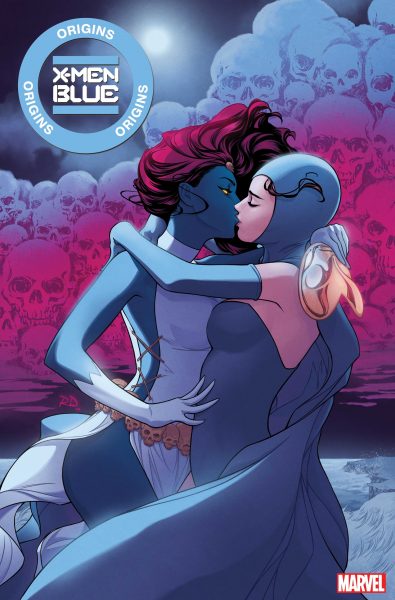 Early reaction to the story has been incredibly positive from X-Men's queer fandom.
"The heart of the story is Mystique embodying the trans ideal of complete and total bodily autonomy, transcending sex and gender to create life with the woman she loves," wrote @LokiFreyjasbur on Twitter.
Marvel Comics is wholly owned by Disney.
Marvel advancing a story about a gender-nonconforming character flies in the face of a disturbing recent trend in corporate America of being overly cautious about LGBT issues in the wake of far-right backlash after Bud Light partnered with a trans influencer and Target put up its annual Pride display.
******************************************************************************************
Rob Salerno is a writer and journalist based in Los Angeles, California, and Toronto, Canada.