Transphobic hate & doxxing site Kiwifarms blocked by Cloudflare
The company CEO cautioned that Cloudflare's decision to drop Kiwifarms has the potential to lead to worse scenarios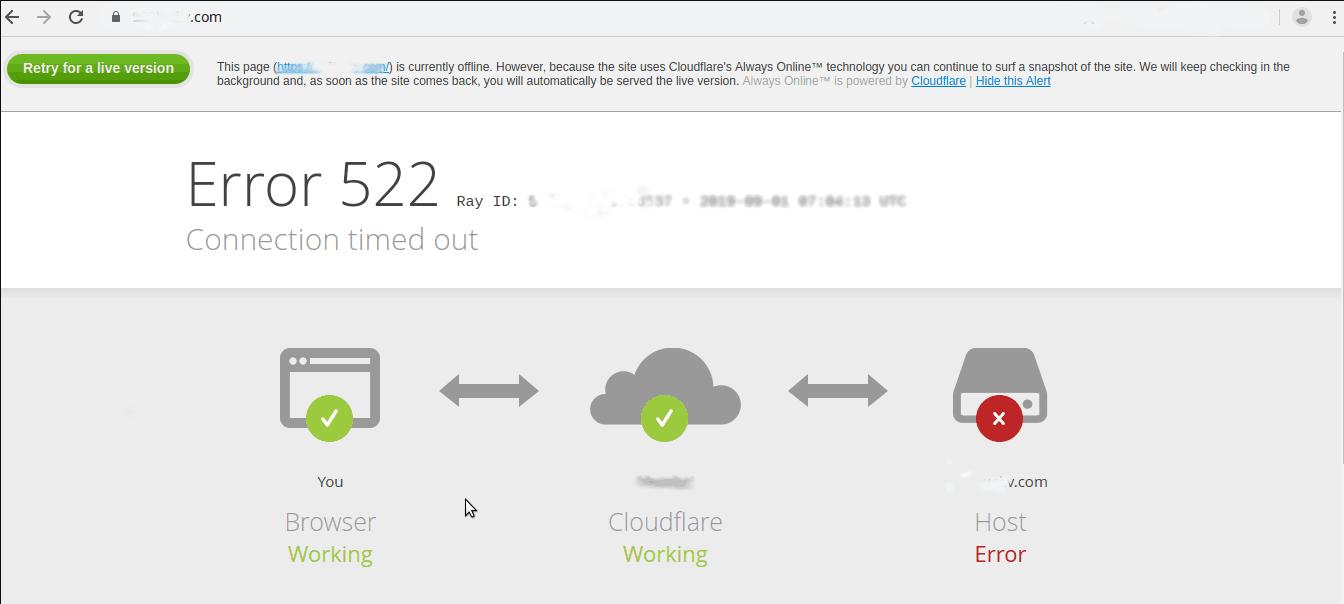 SAN FRANCISCO – In a tweet Saturday afternoon, Matthew Prince, the CEO and co-founder of internet content delivery and security services company Cloudflare announced that his firm had blocked Kiwifarms.
Kiwifarms is an American Internet forum dedicated to the inflammatory and often homophobic, racist, or transphobic discussion of online figures and communities it deems "Lolcows," a portmanteau of the acronym LOL and cow, a derogatory slang term used to describe an individual who is deemed highly exploitable.
The decision to block Kiwifarms stemmed from an ongoing vicious doxxing and hate campaign directed at transgender people, in particular an online gamer and trans creator Clara Sorrenti, best known on Twitch, YouTube and Twitter as Keffals.  The abuse and threats forced Sorrenti to flee her native Ontario, Canada and head to Europe.
We just blocked Kiwifarms. The threats on the site escalated enough in the last 48 hours that, in spite of proactively working with law enforcement, it became enough of an imminent emergency we could no longer wait for them to act. Details of our decision: https://t.co/xNnSXn65R6

— Matthew Prince 🌥 (@eastdakota) September 3, 2022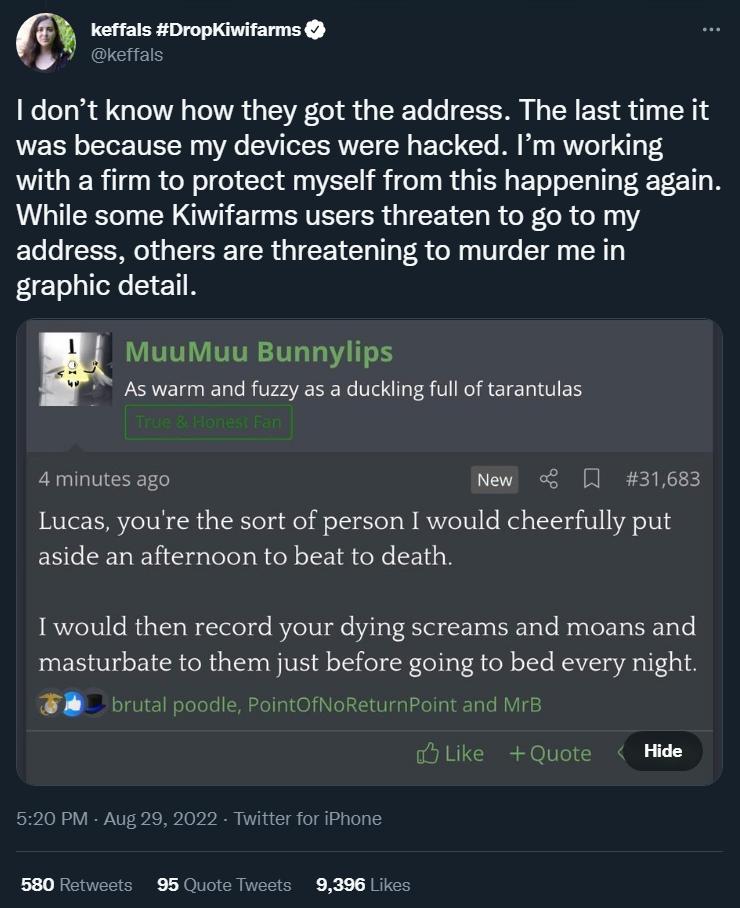 Sorrenti calls KiwiFarms a "transphobic hate forum" that she says has doxxed trans and nonbinary people, stalked them and driven some to suicide. Sorrenti herself has been targeted, and swatted—in which a caller makes a false report of extreme violence happening at someone's address, a harassment tactic that has also been used against Rep. Marjorie Taylor Greene. 
Sorrenti flagged tweets to be masked for "violence" and "sensitive content."
One messenger deadnames her, and it only gets worse from there, promising to "beat to death" Sorrenti, "record your dying screams and moans and masturbate to them."
In his post, Prince noted: "Kiwifarms has frequently been host to revolting content. Revolting content alone does not create an emergency situation that necessitates the action we are taking today. Beginning approximately two weeks ago, a pressure campaign started with the goal to deplatform Kiwifarms. That pressure campaign targeted Cloudflare as well as other providers utilized by the site."
The campaign Prince referenced was being led by Sorrenti who was organizing a protest for October 18 in San Francisco, where the firm is holding a conference that will be attended by company executives. She's using a subreddit to organize and the hashtag #DropKiwifarms to spread her message and fight back against hate. 
Our campaign has officially made more people aware and outraged about Kiwi Farms than at any point in the websites history. Keep it up. #DropKiwifarms pic.twitter.com/zLEpoGakAm

— keffals #DropKiwifarms (@keffals) August 31, 2022
Cloudflare's Prince argued in his post that the #dropKiwifarms campaign did not play a prominent role in the decision writing:
"Cloudflare provides security services to Kiwifarms, protecting them from DDoS and other cyberattacks. We have never been their hosting provider. As we outlined last Wednesday, we do not believe that terminating security services is appropriate, even to revolting content. In a law-respecting world, the answer to even illegal content is not to use other illegal means like DDoS attacks to silence it.
"We are also not taking this action directly because of the pressure campaign. While we have empathy for its organizers, we are committed as a security provider to protecting our customers even when they run deeply afoul of popular opinion or even our own morals. The policy we articulated last Wednesday remains our policy. We continue to believe that the best way to relegate cyberattacks to the dustbin of history is to give everyone the tools to prevent them.
"However, as the pressure campaign escalated, so did the rhetoric on the Kiwifarms site. Feeling attacked, users of the site became even more aggressive. Over the last two weeks, we have proactively reached out to law enforcement in multiple jurisdictions highlighting what we believe are potential criminal acts and imminent threats to human life that were posted to the site."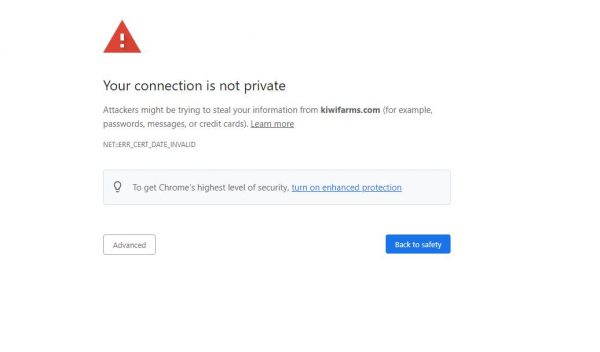 Prince ended cautioning that Cloudflare's decision to drop Kiwifarms has the potential to lead to worse scenarios.
"Finally, we are aware and concerned that our action may only fan the flames of this emergency. Kiwifarms itself will most likely find other infrastructure that allows them to come back online, as the Daily Stormer and 8chan did themselves after we terminated them. And, even if they don't, the individuals that used the site to increasingly terrorize will feel even more isolated and attacked and may lash out further. There is real risk that by taking this action today we may have further heightened the emergency."
The founder of Kiwifarms said that the decision was made by Cloudflare without any discussion with him, according to a Telegram post from Moon, shared by Buzzfeed reporter Ellie Hall on Twitter.
Kiwi Farms owner Josh "Null" Moon has posted a statement on Telegram about Cloudflare's decision to block the site: pic.twitter.com/4ApvO0JsEB

— Ellie Hall (@ellievhall) September 3, 2022
The conflict and controversy over Kiwifarms was part of a larger online war being launched by far-right extremists and hate groups.
This week, The Trevor Project has been besieged by callers flooding their 24/7 hotline. But the calls are not from LGBTQ+ youth in crisis, but allegedly users of 4chan, as the Los Angeles Blade has reported, in a campaign to disrupt their lifesaving work.
Also this week, LibsofTikTok, aka Chaya Raichik, emerged from a 7-day Twitter suspension, vowing to redouble her attacks on hospitals providing gender-affirming care. Raichik calls that "mutilating the body." Among her targets: Children's National Hospital in Washington, D.C. and Boston Children's Hospital, which was the subject of a bomb threat Tuesday night. 
Additional reporting by Dawn Ennis
LGBTQ+ friendly Netflix could lose a quarter of its subscribers
70% of survey respondents use Netflix the most, meaning it has higher usage than any other streaming service—by a 60% margin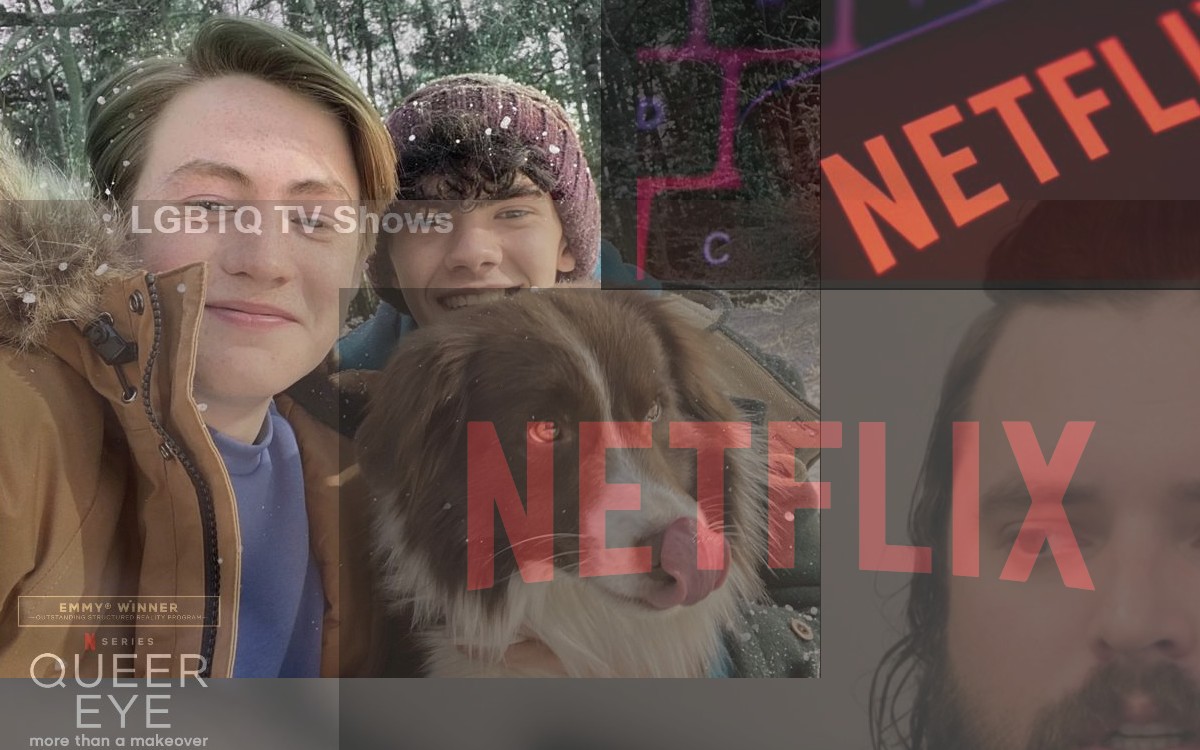 LOS ANGELES – Streaming service Netflix which is home to LGBTQ+ friendly fare including the smash hit series Heartstopper, Queer Eye, Uncoupled, and Grace and Frankie along with a robust portfolio of other queer friendly content is poised to lose a staggering quarter of its subscribers.
In a recent survey conducted by REVIEWS.org, a organization staffed by teams of experts who rate and review connected home services and products including Mobile & Wireless; TV & Streaming; Home Security & Smart Home along with other web based offerings surveyed 1,000 Americans to gauge their streaming habits in 2022 and found that 1 in 4 are planning to leave Netflix this year. 
Based on the report's findings,  that could be over 18 million US subscribers—and an estimated $272 million in lost subscriber revenue for the streaming company. The experts noted that Netflix has had a difficult 2022, losing nearly 1.2 million subscribers in the first two quarters of 2022 and recording subscriber loss for the first time in a decade. 
The company hopes to add one million new subscribers in the third quarter, but the report questions if the streaming company face another loss of that magnitude.
The survey noted that nearly two-thirds of respondents cited Netflix's increasing cost as a reason for leaving.
Netflix's Basic one-screen plan went up by 11% in January 2022 for the first time in three years.
Meanwhile, Standard and Premium plans increased 20% and 25%, respectively, in the same time period.
The REVIEWS report also pointed out that Netflix currently has the highest average plan cost among the eight most popular streaming services in the United States. And that is leading 30% of surveyed subscribers to share their password with people outside their household.
Netflix cost vs. competitors
| | | |
| --- | --- | --- |
| Streaming service | Average monthly cost | Number of plans |
| | $15.15 | Three plans, no ads |
| | $12.49 | Two plans: With and without ads |
| | $9.99 | Two plans: With and without ads (does not include Hulu Live+) |
| | $14.99 | One plan, no ads |
| | $7.99 | One plan* |
| | $7.49 | Two plans: With and without ads |
| | $4.99 | One plan, no ads |
| | $7.49 | Two plans: With and without ads |
Graphic via REVIEWS.org
Data as of 09/05/22. Offers and availability may vary by location and are subject to change.
* Does not include Disney bundle
Another issue with those surveyed was lack of content. 1 in 3 respondents said Netflix no longer has the shows they want to watch and then 30% said that they use other streaming services more.
The report notes that Netflix became popular for licensing many TV shows and movies for streaming before the company developed its own original programming. In recent years, those shows and movies have left Netflix for other streaming services—mainly to build the libraries of WarnerMedia's HBO Max, Walt Disney Company's Disney+, and NBCUniversal's Peacock—leading to 'the streaming wars.'
The report's findings state that the average American is subscribed to 4 streaming platforms:
78% subscribe to Netflix
46% are Disney+ subscribers
42% subscribe to HBO Max
33% are Peacock subscribers
26% subscribe to Hulu
22% are Apple TV+ subscribers
5% subscribe to Hulu
5% are Amazon Prime subscribers
The survey also found that 70% of respondents use Netflix the most, meaning it has higher usage than any other streaming service—by a 60% margin!
In a distant second place is HBO Max with a 10% share of respondents and Disney+ takes third place with 6%. Every other streaming service is under 5%.
So can anything beat Netflix the REVIEWERS.org asked? Their answer was "Right now, no. But rising prices, a lack of content, and increased competition could lead 1-in-4 subscribers to cancel their Netflix subscription within the year."
Twitter shareholders ok Elon Musk deal, GLAAD expresses alarm
"Our community is at disproportionate risk for harassment online, which itself has damaging impacts and can also lead to offline harms"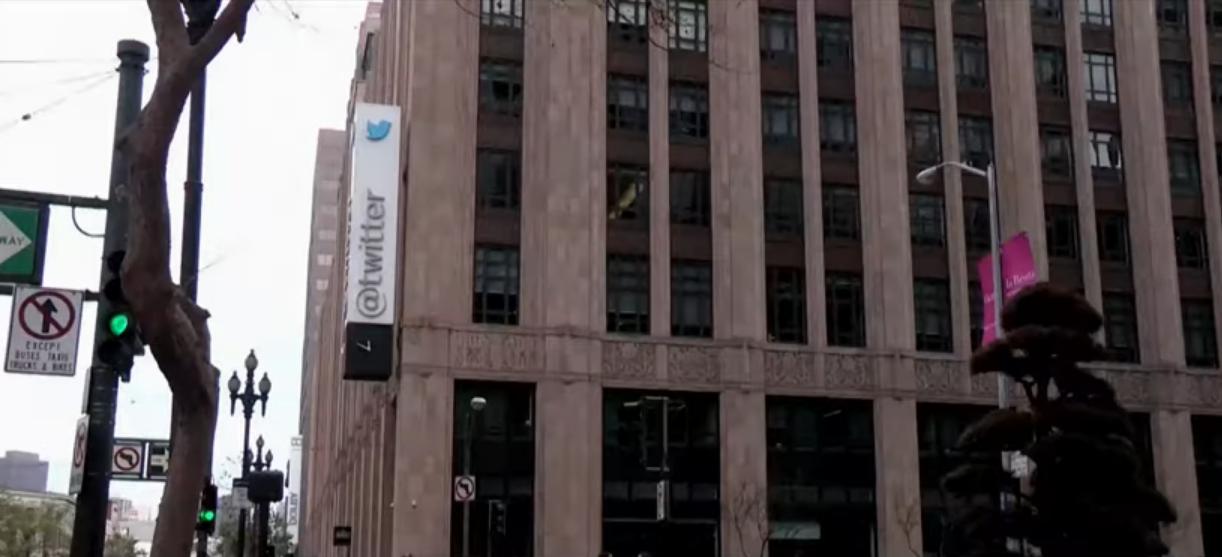 SAN FRANCISCO – Twitter shareholders voted Tuesday to approve Elon Musk's $44 billion bid to buy the company and take it private, CNBC reported. The vote comes as the billionaire entrepreneur seeks to scrap the deal, casting doubt on Twitter's self-reported percentage of fake accounts and alleging the company was not as forthcoming as it should have been with its explanation of the calculation.
The vote comes as Musk seeks to scrap the deal, casting doubt on Twitter's self-reported percentage of fake accounts and alleging the company was not as forthcoming as it should have been with its explanation of the calculation. Twitter has stood by its figure of less than 5% of monetizable daily active users being spam or fake and has said it's provided Musk plenty of information meeting the requirements of the deal.
In New York, GLAAD released a statement reacting to the shareholder's vote expressing alarm in part due to Musk has a record of posting anti-LGBTQ content as well as content targeting other marginalized communities.
In a statement the LGBTQ+ advocacy group noted: "While the outcome of the deal remains uncertain amidst ongoing litigation, GLAAD reiterates that Elon Musk's previously stated plans for Twitter threaten the safety and best interests of users, society, and democracies around the world."
"Today, Twitter shareholders voted for profits over people. We are deeply concerned with the safety of LGBTQ people on Twitter and join the voices of other organizations representing marginalized communities to express opposition to Elon Musk's potential acquisition of the platform," said GLAAD President and CEO, Sarah Kate Ellis.
"Our community is at disproportionate risk for harassment online, which itself has damaging impacts and can also lead to offline harms. It is critical that Twitter as a company, regardless of ownership, prioritizes policies and content moderation that creates spaces where truth is elevated over dangerous mis- and disinformation and hate," Ellis added.
GLAAD is one of the founding members of the "Stop the Deal" coalition, a campaign launched in June 2022 by Accountable Tech, Media Matters, UltraViolet and others to warn of the potential dangers of the possible acquisition of Twitter by Elon Musk.
More information is available at StopTheDeal.com.
GLAAD released its inaugural Social Media Safety Index in July, evaluating LGBTQ user safety experience across the social media landscape, showing the entire sector is effectively unsafe for LGBTQ users, with high prevalence and intensity of hate speech and harassment.
The Index provided recommendations for the industry at large and reports on LGBTQ user safety across Facebook, Instagram, Twitter, YouTube, and TikTok.
'Ring the Alarm' podcast on murders of LGBTQ people in Jamaica
Insightful and engaging conversations with LGBTQ men and women, including exclusive interviews from inside a network of secret safe houses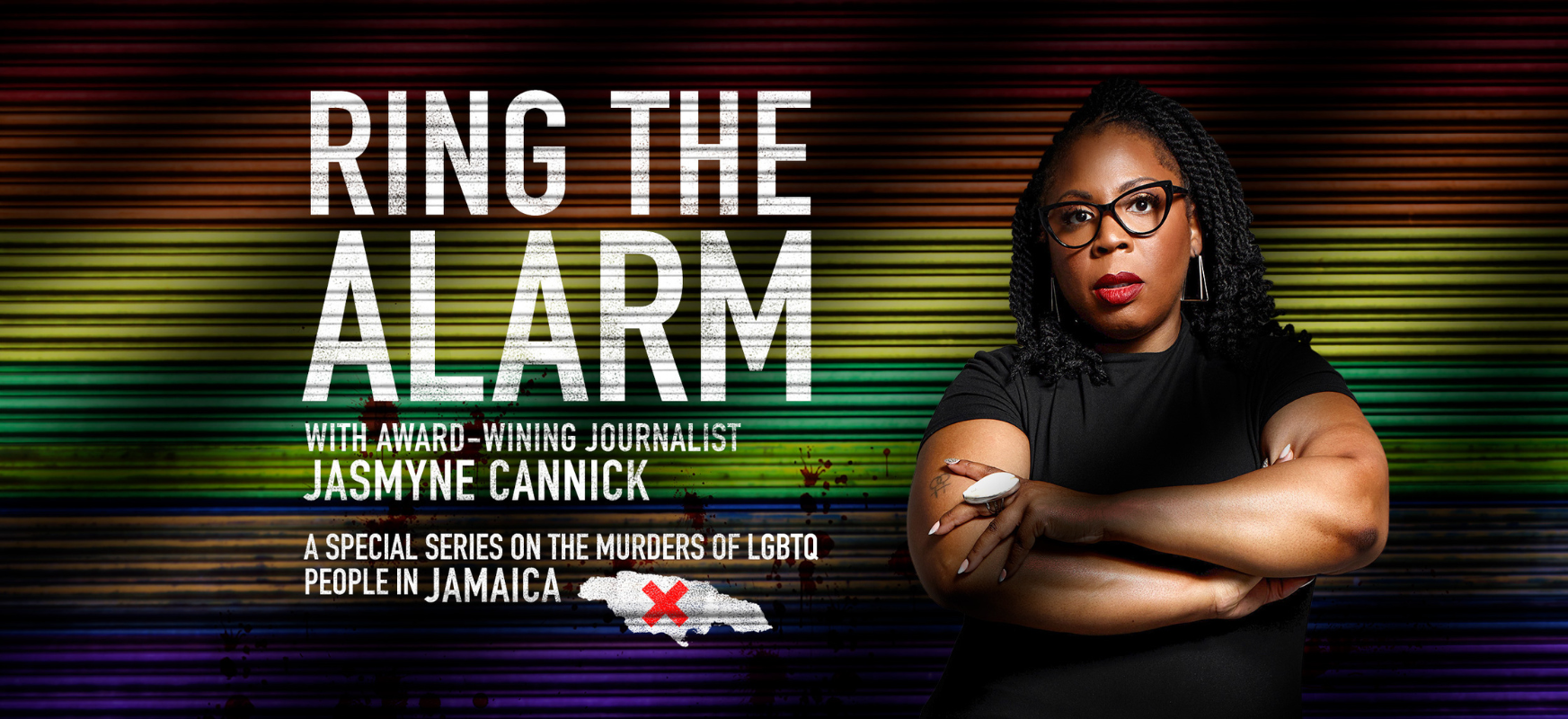 LOS ANGELES – The fifth episode, in award-winning journalist Jasmyne Cannick's podcast series 'Ring the Alarm' about the murders of LGBTQ people in Jamaica, was released this past week.
18-year-old Keneil grew up in Jamaica, where he was sexually abused at home starting at the age of 8 years old. Because of the isolation and denial he faced from his mother, and narrowly escaping a murder attempt, Keneil tried to commit suicide several times. After being disowned by his mother, Keneil lived in abandoned buildings with no food. He recently found housing at the Unity Fellowship Church Jamaica safe house, where he is receiving support and is now awaiting relocation assistance to another country that is more accepting of LGBTQ people. Through it all, the teenager has managed to smile, remain hopeful, and look forward to living a life where he can be free, even if it means being away from his family and the country he is from.
'Ring the Alarm' is a special podcast series of frank conversations with lesbian, gay, and trans men and women in Jamaica about living in one of the most homophobic countries in the world. Award-winning journalist Jasmyne Cannick shares their challenges, dreams, and aspirations to live a life where they don't have to fear being murdered for being queer.
Produced in Jamaica, through insightful and engaging conversations with LGBTQ men and women, including exclusive interviews from inside a network of secret safe houses that helps to hide queer Jamaicans until they can be relocated to another country, Jasmyne continues to provide much-needed context while calling attention to the plight of Black queer people in American's top Caribbean vacation destination.
You can listen to 'Ring the Alarm' wherever you get your podcasts. 
To support Unity Fellowship Church Jamaica safe house, donate through Cash App to $UFJamaica or UFJamaica.com.
Listen on:
About Jasmyne Cannick
Jasmyne Cannick is an award-winning nationally known journalist and on-air contributor who writes and speaks about collisions at the intersection of politics, race, and society.