'Mom… Guess What,' Calif. lesbian & gay newspaper remembered
"It was groundbreaking in the fact they were a gay and lesbian newspaper but they were covering everything"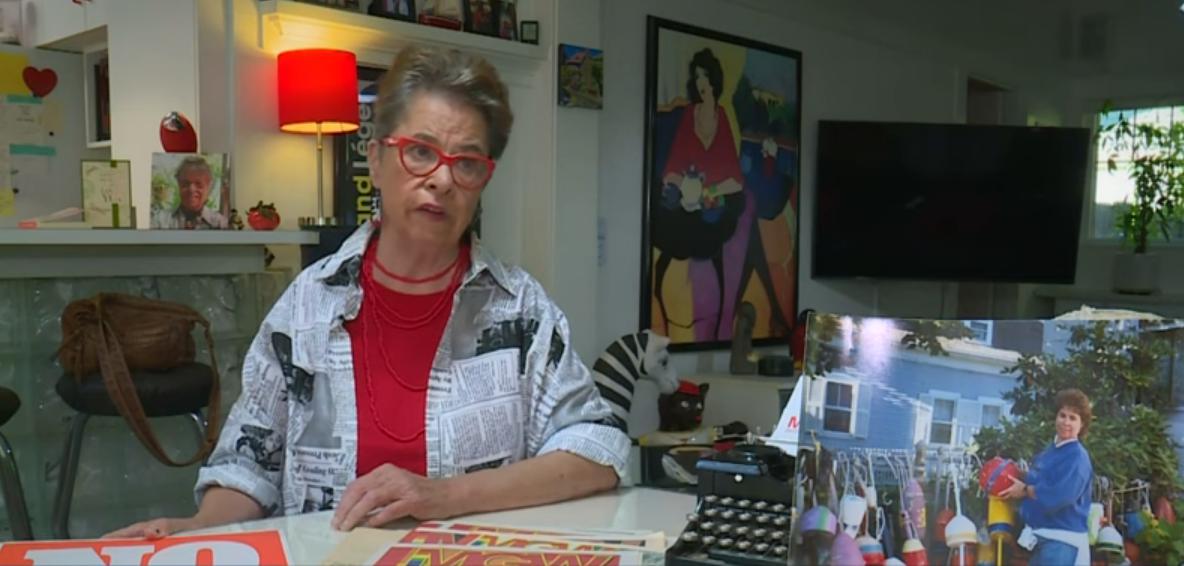 SACRAMENTO – For thirty years the California capital city's LGBT community had a vibrant community voice that not only documented the lives of its LGBT people but the greater world and events impacting them.
KOVR 13-CBS Sacramento's journalist Rachel Wulff reported Friday, that The Center for Sacramento History is calling on those who put it on the map, including the publisher, to make sure its groundbreaking legacy is remembered.
For Linda Birner who grew up in the city, California Proposition 6, known as the John Briggs initiative which was a ballot initiative put to a referendum on the California state ballot in the November 7, 1978 election that would have denied gay and lesbians the ability to teach in the Golden State's public schools became Birner's call to arms.
Birner told KOVR: "The John Briggs initiative was about to be on the ballot," Birner said. "He wanted all the school teachers and employees fired that were gay and lesbian. So I thought. 'I gotta do something quickly and get the word out.'" 
What happened next was unique given that the photographer, feminist activist and graphic designer had no real business experience- she started a community newspaper.
"I knew I could lay it out, I knew I could do the photography, I knew I could get the stories together. I knew I could write. So I just started calling people," Birner told CBS Sacramento.
Advertisers bought in and "Mom Guess What?" was put to print. The publication quickly grew from 5,000 to 26,000 in circulation.
"The community was so excited!" she said with a smile on her face.
Birner's "Mom Guess What'" newspaper, using the Sacramento Bee as its model got an initially begrudging nod from its publisher C. K. McClatchy II the president of McClatchy Newspapers. 
"We would go to lunch and he would bring a green pen and write up the paper and tell me how I could improve. He was like an editor. But after the fact, saying you could do better here. Do better there. Change this. Do this," Birner said. 
Her news operation rapidly became a must stop-in for politicos, California officials, and celebrities. According to CBS Sacramento the paper captured the attention of celebrities like Jane Fonda, who attended Birner's 40th birthday, and there were local politicians and legislators like Assembly Speaker Willie Brown who visited her L Street office, along with governors like Jerry Brown – who was a regular.
"He would want to come in, not just stop at the counter. So he would come in and he'd plop himself in front of me and we'd talk forever," she said.
Although the paper is long out of print, Birner tells CBS Sacramento that she is working with historians from The Center for Sacramento History.
"It just got me thinking: I really did an important thing. It helped individuals come out, be comfortable. I wanted people to have better self-esteem and get out of the bars and do sports and do things," said Birner.
One of those working on the project is historian Marcia Eymann.
"We're missing different issues, but we're trying to get a full run of the newspaper," Eymann. "It was groundbreaking in the fact they were a gay and lesbian newspaper but they were covering everything," Eymann added.
Sacramento historians look to preserve, tell story of city's first gay and lesbian newspaper:
NorCal school board approves anti-trans 'Outing' policy
The Rocklin Unified School District School Board members voted 4-1 & passed the policy after an hours long contentious meeting Wednesday
ROCKLIN, Calif. — A third California school district board has now voted to implement a mandatory gender identity disclosure policy which requires school administrators and faculty to notify parents if "their child wants to be identified as a gender other than their biological sex."
The Rocklin Unified School District School Board passed the policy after an hours long contentious meeting Wednesday. Board members voted 4-1 to approve the policy just before 12:40 a.m. Thursday. Board trustees Julie Hupp, Tiffany Saathoff, Rachelle Price and Dereck Counter voted in favor of the policy amendment. Michelle Sutherland was the lone member to vote against it, Sacramento NBC affiliate KCRA 3 reported.
Similar to other forced outing policies recently enacted by certain school districts, the policy requires schools to inform parents, with minimal exceptions, whenever a student requests to use a name or pronoun different from that on their birth certificate or official records, even without the student's permission. The policy also requires notification if a student requests to use facilities or participates in programs that don't align with their sex on official records.
The vote comes after Attorney General Rob Bonta sent a letter to the Board cautioning them of the dangers of adopting its forced outing policy, emphasizing the potential infringements on students' civil rights and educational opportunities.
"Despite our ongoing commitment to stand against any actions that target and discriminate against California's transgender and gender-nonconforming youth, Rocklin Unified has chosen to endanger their civil rights by adopting a policy that forcibly outs them without consideration of their safety and well-being," said Attorney General Bonta. "I have said it before and I will say it again: We will not tolerate any policy that perpetuates discrimination, harassment, or exclusion within our educational institutions."
The San Bernardino Superior Court ruled earlier on Wednesday to issue a temporary restraining order against Chino Valley Unified School District Board of Education's (CVUSD) mandatory gender identity disclosure policy, immediately halting its enforcement. Just last week, Attorney General Bonta announced a lawsuit challenging the enforcement of CVUSD's forced outing policy.
Recently, Attorney General Bonta issued a statement following Anderson Union High School District, and Temecula Valley and Murrieta Valley Unified School District Boards' decisions to implement copy-cat mandatory gender identity disclosure policy targeting transgender and gender-nonconforming students.
Rainbow Youth Project USA (RYP) and Our Schools USA (OSUSA) have expanded resources and support services to students and staff impacted by Parental Notification policies in California school districts.
"We are proud to expand our services and resources to meet the growing needs of LGBTQ+ students and staff affected by Parental Notification policies in numerous California school districts," said Kristen Johnston, Case Manager & Crisis Team Leader of Rainbow Youth Project USA. "Our commitment to offering free, accessible, and confidential services ensures individuals seeking support can access a wide range of resources, including educational materials, support groups, and LGBTQ+-friendly mental health counseling services."
Related:
Rocklin Unified to vote on divisive transgender identity policy: