School board candidate uses Pride flag as a hated Nazi symbol
"Like my new Pride flag?" candidate Craig Ladyman captioned the now-deleted post on Trump's Truth Social platform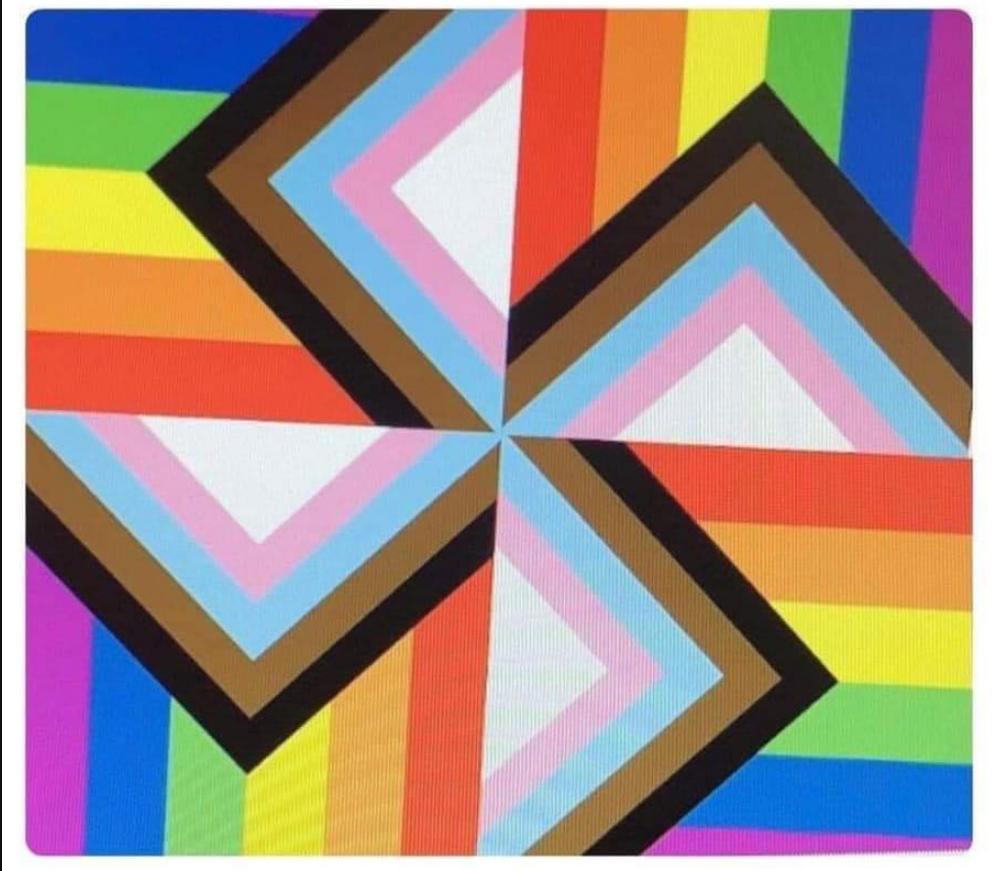 ROCKFORD, Mi. – A candidate for a seat on the Rockford, Michigan school board in this town of approximately 6,000, located ten miles north of Grand Rapids, went onto far-right social media platform Truth Social founded by former President Trump and shared a graphic collage of the Progress Pride flag converted into a Nazi-style swastika.
"Like my new Pride flag?" candidate Craig Ladyman captioned the now-deleted post.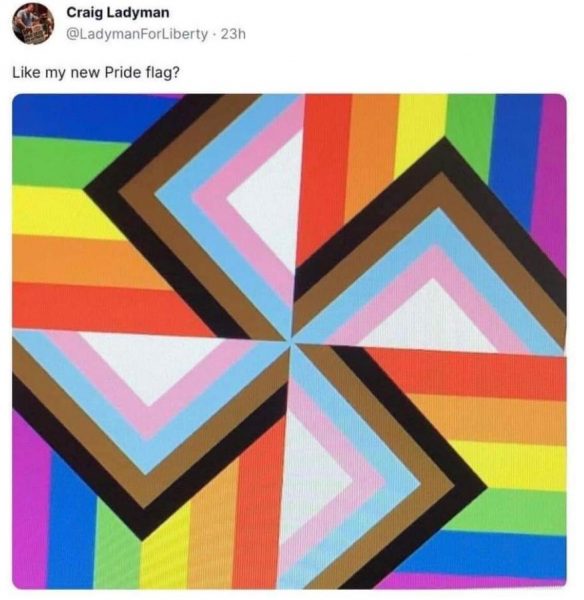 Ladyman has a long and documented social media history of denigrating the LGBTQ+ community. In one post he depicted himself carrying an assault style rifle with the caption; " I like exercising my Liberty like a drag queen exercises their sexuality."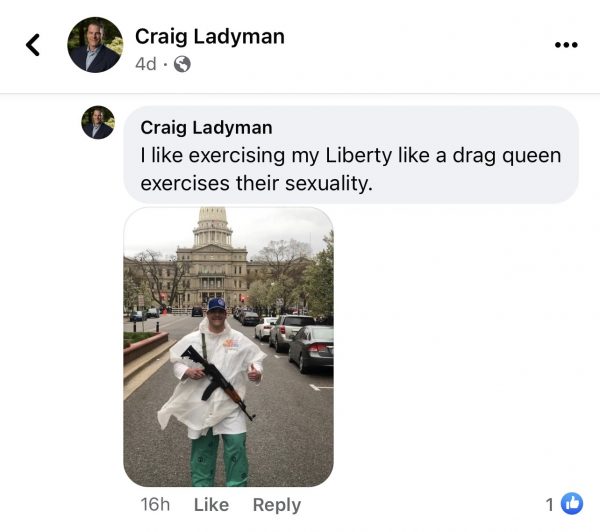 Ladyman, who has a business executive profile on LinkedIn as an account executive for ArjoHuntleigh, a global medical technology company, lists himself as an 'America First' adherent and opposed emergency measures taken by Michigan Governor Gretchen Whitmer, shown in a social media post open carrying an assault-style rifle standing with anti-Whitmer protestors in May of 2020.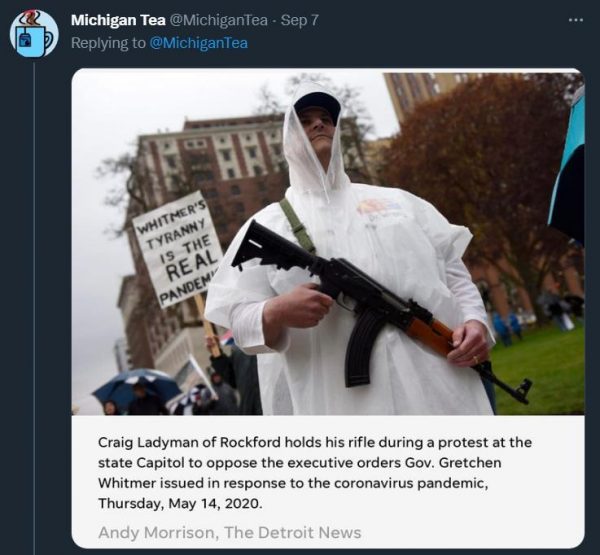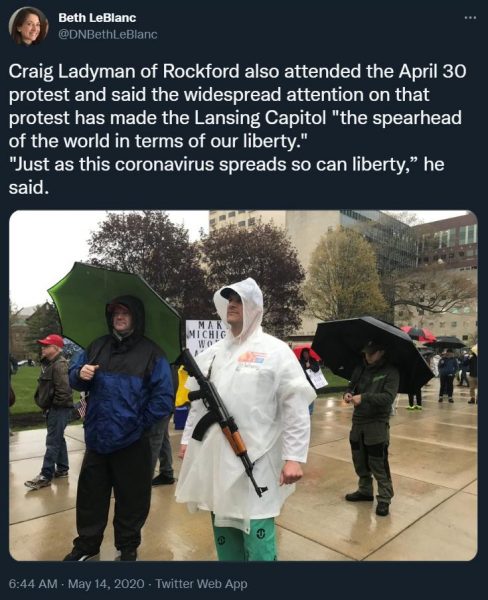 In another recent post Ladyman referred to LGBTQ equality rights and community history as "grooming:"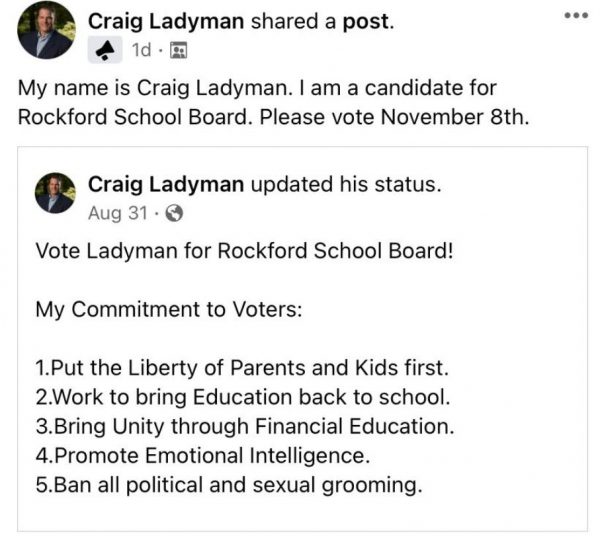 WXMI-TV FOX 17 in Grand Rapids noted that the Nazi Progress Pride Flag image was sharply criticized by members of the Jewish community, LGBTQ people, as well as local leaders, including Rockford Public Schools Superintendent Steven Matthews, who said that the image made him feel "angry."
"It's a symbol that I don't think represents who we are as a community and anybody who would use it I don't think represents who we are as a community," Matthews told Fox 17.
Ladyman, whose political ad states that he "will never go along with unconstitutional mandates, medical tyranny or the woke agenda," didn't back down when asked to comment on the backlash.
"While I was hoping the outrage would encourage people to do their research into this flag, I would like to state for the record that this image was not created by me," he said in a written statement to WXMI-TV, after declining to appear on an on-camera interview.
Ladyman — a self-described "pro-God, pro-country and pro-Constitution school board candidate [who] will continue to fight for excellent education in schools without this sexual indoctrination" — credited the image to the British actor and far-right activist Laurence Fox, who first tweeted the altered flag in June 2022.
LGBTQ+ affirming school mural sets parents off: "It's Satanic"
The student creator of the mural maintains the artwork is intended to be inclusive. "I put my art up there to make people feel welcome"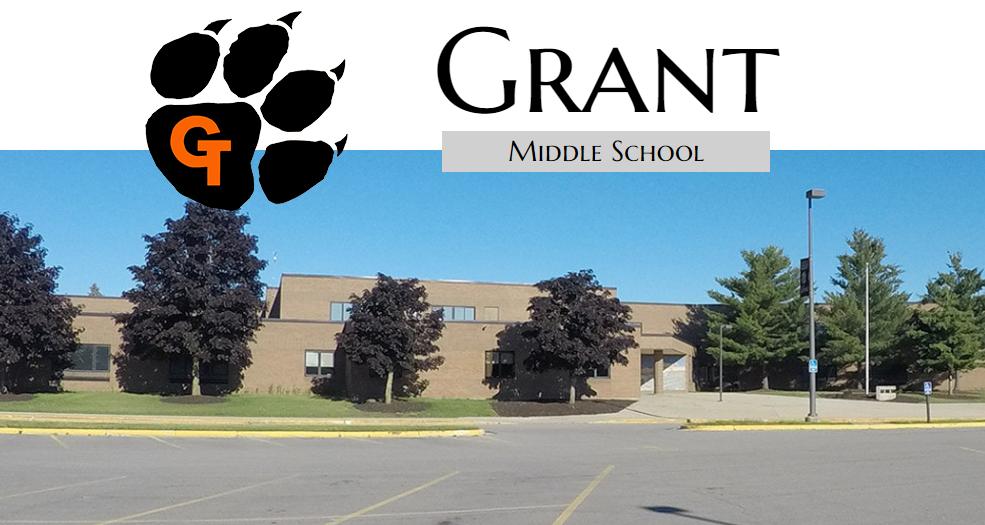 GRANT, Mi. – Some parents of teenagers in this Western Michigan small town about an hour North of Grand Rapids are extremely angry over an LGBTQ+ affirming mural painted on the wall at the Child and Adolescent Health Center at Grant Middle School.
During a school board meeting last week the anger spilled over into heated arguments with some in the audience saying the transgender flag, a video game character and other symbols painted in the mural were 'Satanic.' Prior to the board meeting social media threads on posts critical of the mural had become the mainstay of community discussions around Grant.
The student artist from Grant High School, Evelyn Gonzales, who was responsible for creating the mural maintains the artwork is intended to be inclusive. "I put my art up there to make people feel welcome," she told WZZM 13, the ABC News affiliate in Grand Rapids.
Gonzales, high school sophomore who won a design competition, created the mural with a bright green background characters including one wearing a blue T-shirt with the colors of the transgender flag. Another student is outfitted in shorts overalls with a rainbow-striped T-shirt that many parents have complained represent the colors of the LGBTQ+ pride flag.
Two other characters are in clothing with colors of the bisexual flag — pink on the top, royal blue on the bottom and an overlapping purple stripe in the middle.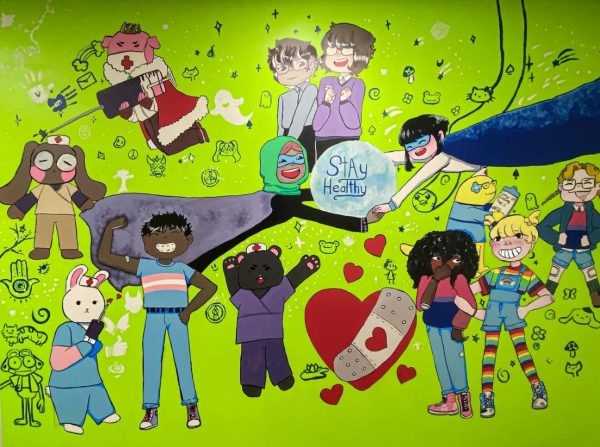 Gonzales added multiple smaller line drawings, including a mask, which some parents have complained is Satan, and a hamsa hand, which is considered a symbol for the hand of God in many cultures.
The mask and hand are both design elements that were not included in the artist's original contest submission.
During the school board meeting Gonzales defended inclusion of the mask which she told the audience comes from a video game and another symbol she noted is a Hispanic sign of protection. Visibly upset she told the audience and the board "That's not what I'm a part of- that's not what I'm trying to put out there."
According to journalist Jordan Gerblick writing for online video and PC/console gaming magazine 'gamesradar+' the mask is from the popular Genshin Impact game. The mask drawn by Gonzales is inspired by Genshin Impact character of Xiao, whose character is notably an immortal defender hired by one of the world's seven supreme gods to kill demons, so the whole Satan allegation definitely doesn't track, Gerblick pointed out.
Gonzales explaining her thinking and creative process did little to calm the enraged parents WZZM 13 reported as after she made her remarks and fled in tears one stood up and angrily said "I feel like she did a really good job finding excuses to defend the things she put on," said Katelyn Thompson. "None of us are that stupid."
As for the transgender flag, one parent implied it's a sickness.
"When adults pretend things that are like real life, it's a mental illness," says Danielle Beight. "We need counselors, we need medication that's going to help bipolar disorder, fix their brains."
With another saying it is discriminatory against Christian beliefs.
"We and our administration should embrace that and get all of this hate material out of our schools, because it is hate material," says Nate Thompson.
While some parents called for the mural to be removed or altered, WZZM reported that Grant Public Schools handbook includes a nondiscriminatory policy, saying in part, "any form of discrimination or harassment can be devastating to an individuals academic progress, social relationship and/or personal sense of self-worth."
No decision was made on the future of the mural at Monday's meeting.
After accusations of a decision being made in a closed door board executive decision after the public meeting, Grant Public Schools Superintendent Brett Zuver released a statement Wednesday:
At Grant Public Schools, our daily charge is to foster a safe, welcoming learning environment where all students can succeed. We are committed to creating a culture of civility, respect, understanding and inclusion as we provide all our students a well-rounded and academically challenging learning experience.
Recently, one of our students painted a mural in the Child and Adolescent Health Center located in the back of Grant Middle School. This student won a contest to brighten up the building and received approval to paint the proposed mural depicting smiling children and the message "Stay Healthy."
The completed mural includes some features that were not part of the original submission, and at this week's Board of Education meeting, many community members raised concerns about the mural. This matter was not on the board agenda. What to do moving forward does not require a board vote, no vote was taken, and no final decision was made at that time.
We understand and recognize there are different opinions regarding the mural. We feel it is of the utmost importance to continue in a thoughtful, respectful, and deliberate manor. At this point, all parties involved are working together and advancing forward to come to a positive, and agreeable, resolution.
We encourage members of our school community who engage in discussions and debate to do so in a respectful, civil manner. We do not condone, and we will not tolerate discrimination, harassment or bullying whether in word, deed or on social media.
Great things are happening at Grant Public Schools. Let's work together to remain focused on our mission of preparing all our students to succeed.
WZZM: No final decision was made on the future of controversial mural: