Fallece la primera persona trans electa para un cargo público en Latinoamérica
Alejandra González era concejala en Chile
Por Stephanie Mondragón
LAMPA, Chile — Originaria de Batuco, Chile, Alejandra González, 54, sobresalió por ser la primera mujer trans elegida para un cargo público, no solo en su país, sino en América Latina. La concejala fue encontrada el 5 de octubre en su domicilio sin vida, a consecuencia de una falla cardiaca.
"Alejandra abrió los cargos de elección a la población LGBTIQ+ en Chile y en América Latina y con su ejemplo enseñó a muchos y muchas a luchar por la plena igualdad de derechos. Estamos tristes con su partida", señaló Rolando Jiménez, dirigente de Movilh.
Fungió como una política destacada y luego de enfrentarse a la transfobia en repetidas ocasiones fue en diciembre de 2017 que la Corte Suprema aplicó a su favor la Ley Zamudio, organismo encargado del imperio del derecho para no cometer discriminaciones arbitrarias, dado a que en repetidas ocasiones se irrespetó su nombre y sexo social.
González fue electa como concejal de Lampa por tres periodos consecutivos, posicionándose en el cargo desde 2004 al 2012. De igual manera, la chilena se convirtió en la primera alcaldesa subrogante trans del país en 2012 cuando Graciela Ortúzr dejó su puesto para hacer campaña.
"Perdimos a una gran mujer, a una gran activista, a una luchadora incansable, de esas que dieron la pelea contra viento y marea y en contextos ciudadanos casi totalmente transfobicos. Alejandra queda para siempre en la memoria de nuestras luchas. Su legado es histórico y único", señaló Jimenez.
Su carrera política dio inicio luego de ser presidenta de una junta de vecinos en Lampa en 1995, administrar un circo de transformistas y tener su propia peluquería.
Brazilian police call for Bolsonaro to face charges over false COVID-19 claims
Country's president claimed vaccines increase AIDS risk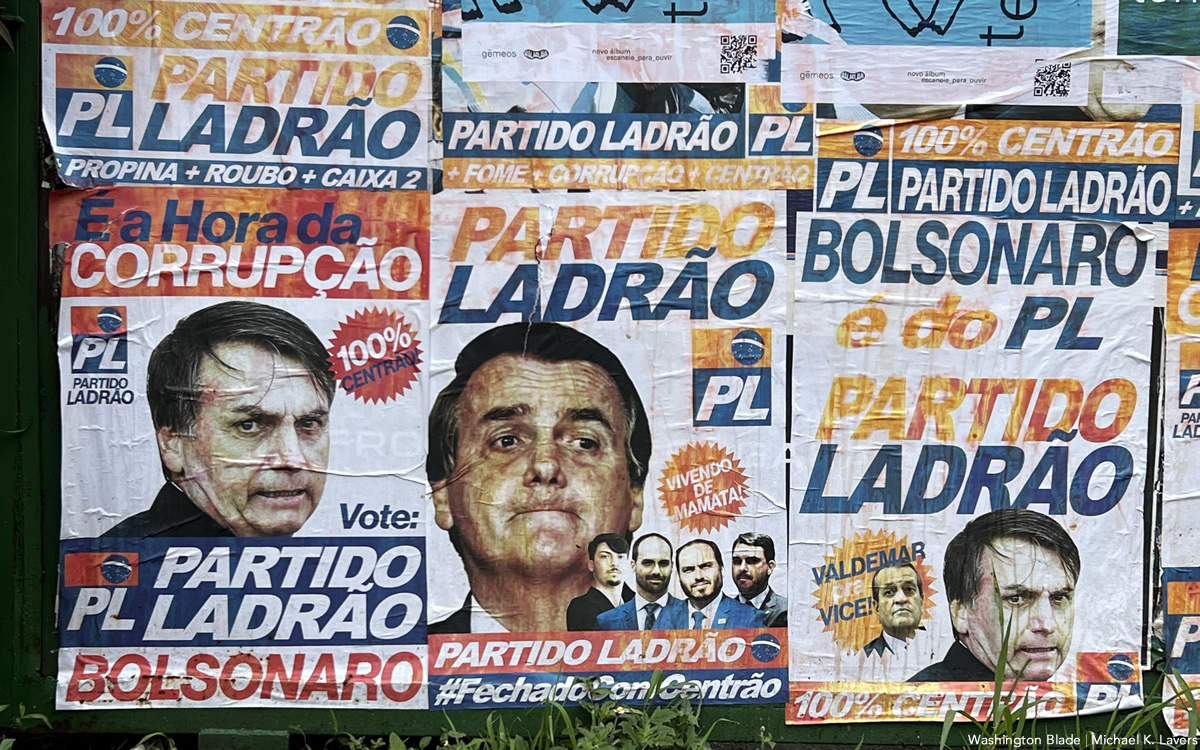 BRASÍLIA, Brazil — Federal police in Brazil have called for prosecutors to charge President Jair Bolsonaro with incitement for spreading false information about COVID-19.
O Globo, a Brazilian newspaper, on Wednesday reported a Federal Police investigator in a letter to the Federal Supreme Court specifically cited Bolsonaro's claim that people who receive a COVID-19 vaccine are at increased risk for AIDS.
Bolsonaro made the comment on Oct. 21, 2021, during a live social media broadcast. Several HIV/AIDS service providers and LGBTQ and intersex activists with whom the Washington Blade spoke in March while reporting from Brazil noted it.
O Globo reports Bolsonaro could face up to six months in prison if convicted of incitement.
The first round of Brazil's presidential election will take place on Oct. 2.
Bolsonaro — a former Brazilian Army captain who represented Rio de Janeiro in the country's Congress from 1991-2018 — is running against former President President Luiz Inácio Lula da Silva.
Bolsonaro has been widely criticized over his rhetoric against LGBTQ+ and intersex Brazilians, women and other underrepresented groups in the country. Bolsonaro has also faced criticism for his handling of the COVID-19 pandemic and his stance towards people with HIV/AIDS, among other things.
Polls indicate Da Silva, who is a member of Brazil's Workers' Party, is ahead of Bolsonaro. The incumbent president has sought to discredit Brazil's electoral system amid growing concerns that violence could erupt if he does not accept the election results if he loses.
"I do believe it is extremely important to create a medicine to stop this man," Mariah Rafaela Silva, a Transgender woman of indigenous descent who works with the Washington-based International Institute on Race, Equality and Human Rights, told the Blade on Thursday after news that federal prosecutors have called for Bolsonaro's indictment.
Peru refuses to recognize lesbian congresswoman's Miami marriage
Susel Paredes married her wife in Miami in 2016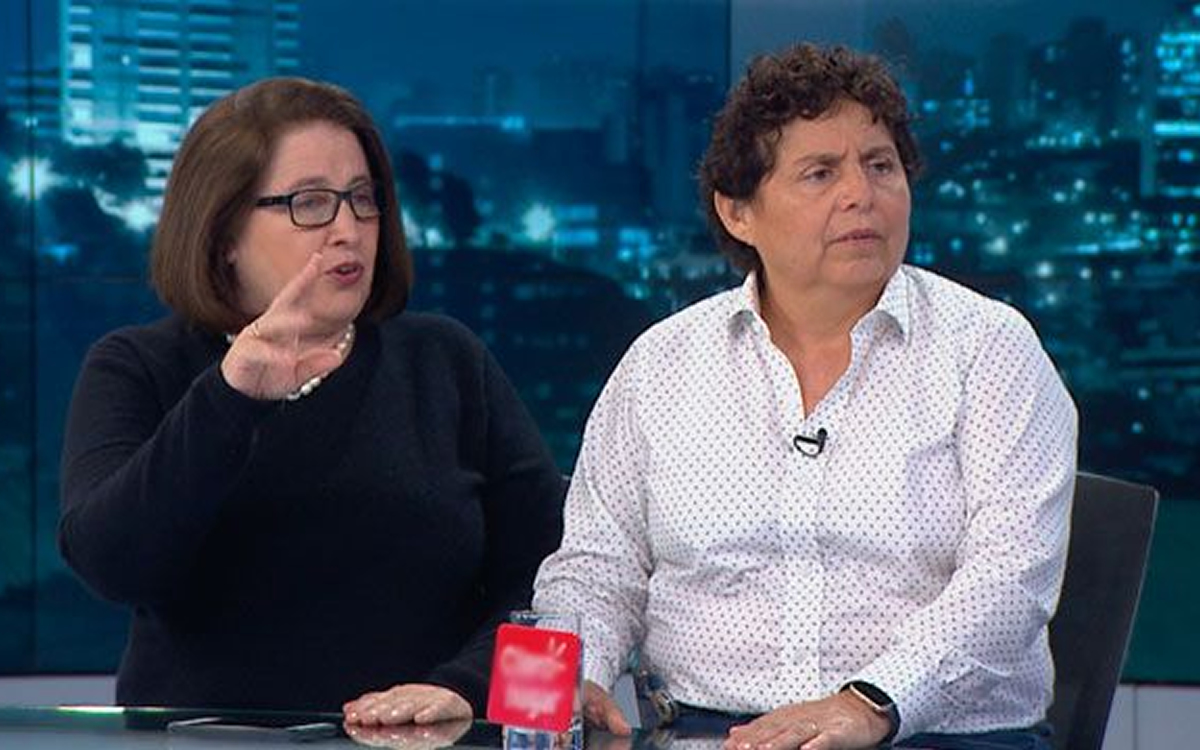 LIMA, Peru — Peruvian Congresswoman Susel Paredes and her wife, Gracia Aljovín, have told the Washington Blade that they will sue Peru over its refusal to recognize their 2016 marriage in Miami.
Paredes and Aljovín made the decision after the Peruvian Constitutional Court denied their request to register their marriage. The couple had previously filed a request with the National Registry of Identification and Civil Status (RENIEC), which was also denied.
Peru's highest court by a 4-2 margin rejected the women's petition, noting the "essential elements" of marriage in the country are "a voluntary union … to be celebrated between a man and a woman," and as a consequence "a right acquired abroad that collides with this notion cannot be recognized in Peru."
The majority of the judges who ruled against Paredes and Aljovín also noted they cannot reproduce.
Some organizations described the ruling as anti-LGBTQ+ because it also establishes that "homosexual unions are not marriages, so it is not discriminatory not to recognize them as such" and that the court cannot "introduce equal marriage through the window because this is the work of the legislator." At the same time, the court said that if Congress wants to introduce same-sex marriage in Peru, it must do so through a constitutional reform.
Paredes, along with regretting the decision, acknowledged to the Blade that "it was bad news that I was already expecting."
"We knew this was going to happen because I am not only an activist and congresswoman, I am a lawyer, so I follow the criteria. One can predict what is going to happen with a sentence when there are predictable judges. These judges are predictable," she said from her congressional office in Lima, the Peruvian capital, during a video call. "The truth is that it is outrageous because I pay my taxes, I have lived with my partner for years, we have a family, so how is it possible that our family is denied its existence, because we exist."
The congresswoman said that "in the first instance we are going to the Inter-American Commission on Human Rights. The commission must evaluate if it qualifies and if it qualifies in our favor, we go to the court and in the court we vote and I am sure we will win."
Peru is one of the few countries in Latin America that does not have any laws in favor of LGBTQ+ people. A marriage equality bill that former Congressman Alberto de Belaunde, who is gay, introduced has been dormant in a congressional committee for years.
Paredes said the right wing will "undoubtedly use" the ruling "and its foundations, but its foundations are very fragile."
De Belaunde has a similar opinion.
"Congress will use this ruling as an excuse not to legislate on this issue. If they feel a lot of media pressure, they will look for a sort of patrimonial civil union, where the existence of a family is not recognized, but only a shared patrimony," said the former congressman. "An absolutely insufficient figure, which will not be accepted by the LGBT+ communities because it is almost an insult to our claims to be recognized as full citizens."
For him "the ruling not only seeks to deny the recognition of rights, it seeks to do harm."
"Contrary to what the Constitutional Court has previously said, it seeks to discredit the Inter-American Court of Human Rights by pointing out that its advisory opinions should not be complied with," he said. "It is a mediocre ruling — it ignores basic concepts of private international law, but it is no less harmful for that."
Both agreed that Congress has little political will to process the bill.
"Laws have been passed that have been presented much later than the date when the marriage law was presented, which was in October of last year," Paredes emphasized to the Blade. "There is a political will to prevent if you want it to be discussed."
Pía Bravo, executive director of Presentes, a Peruvian LGBTQ+ rights advocacy group, told the Blade that they were hopeful that the ruling could have enshrined the first legal recognition for LGBTQ+ people in the country.
"The Constitutional Court was an opportunity we missed," Bravo lamented. "It is a pretty big setback and it is a setback that unfortunately we are going to have to continue, to continue facing and seeing what other paths, what other ways we can find so that this so necessary right is finally approved."
LGBTQ+ lawmakers in Latin America pledge to end conversion therapy in region
Agreement signed at Global Equality Caucus meeting in Argentina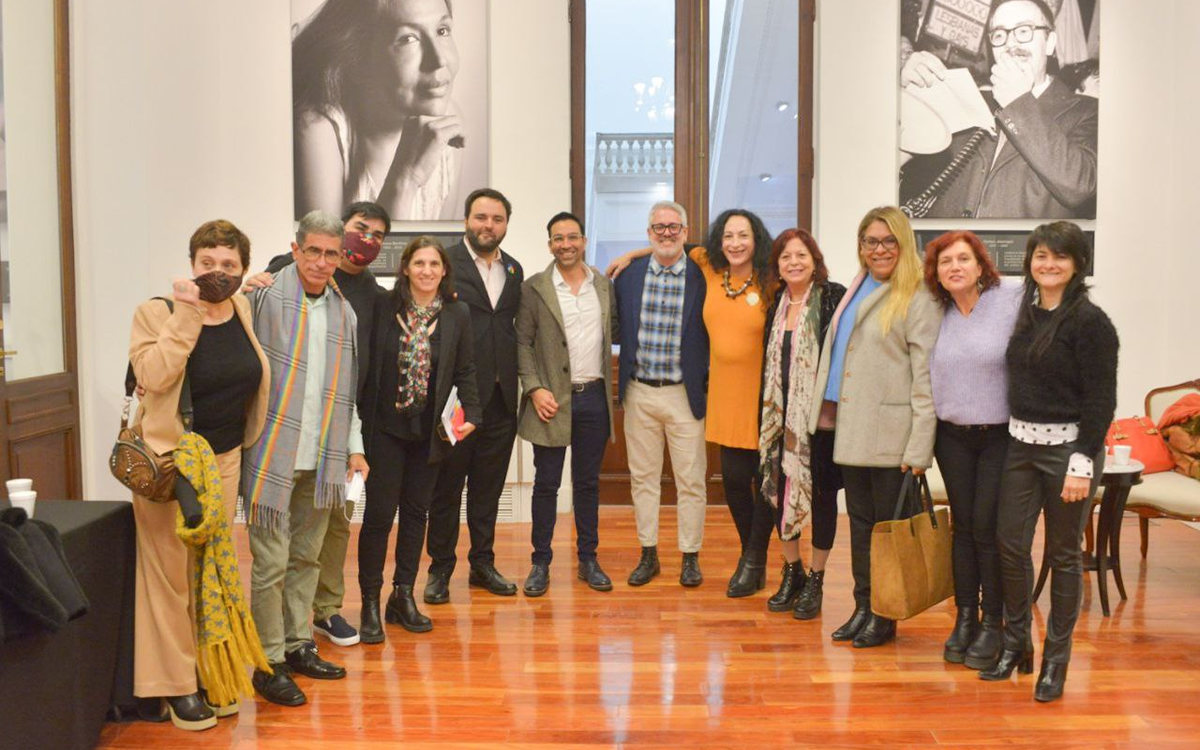 BUENOS AIRES, Argentina — Openly LGBTQ+ lawmakers from across Latin America who gathered in Argentina's capital last week agreed to work together to ban so-called conversion therapy in the region.
The second meeting of the Global Equality Caucus' Latin America chapter took place in Buenos Aires. Those who attended agreed the effort to ban conversion therapy in the region would begin in countries where openly LGBTQ+ people have been elected to public office and where allies can be identified.
"Efforts to correct sexual orientation and gender identity (ECOSIG), also misnamed 'conversion therapies,' lack scientific support and are based on prejudices contrary to the human dignity of all people," reads the document signed at the end of the meeting. "The practice of ECOSIG has been widely spread and institutionalized in our region, outside the law, which represents a threat to all LGBTI+ people and, especially, to the youngest members of the LGBTI+ community."
Erick Iván Ortiz, who oversees the Global Equality Caucus' work in Latin America, told the Washington Blade that "this is a pact that we also signed in Mexico and implies the commitment of legislators to advance laws and public policies that allow us to eradicate once and for all, these misnamed conversion therapies".
According to the Global Equality Caucus representative, the meeting served "to demonstrate that congresses, national governments and local governments can and should work together to advance the rights of LGBTI people and how Argentina and Mexico are good examples and good practices." Ortiz also stressed that from now on they will be able to face any threat from anti-LGBTQ+ groups in Latin America, "who seek to roll back, paralyze progress or simply deny our rights.
"What we need is a coordinated response from those of us who are and will remain in the struggle to advance the rights of LGBTI people," said Ortiz.
The first part of the launch of the Global Equality Caucus' Latin America chapter took place in Mexico City on April 1-2. The second meeting took place in Argentina from May 16-17.
Mercosur Parliamentarian María Luisa Storani, Argentine National Assemblyman Maximiliano Ferraro, Argentine National Sen. Guadalupe Tagliaferri, Peruvian Congresswoman Susel Paredes and Guatemalan Congressman Aldo Dávila, among others, attended the Buenos Aires meeting.
"The meeting met the expectations we had of having the opportunity to show the good practices and legislative and public policy experiences that Argentina has," Ortiz stressed. "This is particularly important because they are experiences that come from the global south that are already, in the case of the gender identity law, a decade old and that have left significant changes in the realities of many LGBTI people."
The Global Equality Caucus pointed out launch's objectives are to share experiences and create a peer-to-peer learning process. The group at the same time also wants to form and strengthen networks among LGBTQ+ lawmakers and allies throughout Latin America and to build a working agenda on LGBTQ+ rights issues in the region.
Dávila, who is the first openly gay man and first person with HIV elected to the Guatemalan Congress, spoke with the Blade at the end of the meeting.
"It was fantastic," he said. "We were able to identify the gaps that have been there forever and the need to get more members of the community into elected office, it's key. We need to work more together to push for changes in favor of LGBTQ people."
For him, the most important agreement "is the creation of law initiatives together."
"In that sense, we agreed to launch law initiatives that are closely related," said Dávila. "For example, we will fight to ban the misnamed conversion therapies and we will do it jointly in June. That will be an important step if we do it all together in the region, I think we will send a great message of union."
Mexico City Assemblyman Temístocles Villanueva, who participated in the first Global Equality Caucus meeting in his country, had a similar opinion.
Villanueva explained to the Blade that "it was an event for the construction of the public, political and legislative agenda in the field of human rights of people of sexual diversity, having given priority to the search for bridges for cooperation, joining national and international actors."
"We have focused on the need to share and transmit the Latin American experience for the struggle, recognition and defense of LGBTTTI+ rights through international platforms such as the caucus, connecting local work with regional and transnational cooperation networks for the defense of central causes," added Villanueva.
Ortiz said "the next step is the construction of a consensus agenda, based on the inputs gathered in Mexico and Argentina, which will allow us to build a shared agenda that we can promote in a coordinated and articulated manner with the different members of the network."