Gunman dead in potential hate crime in Slovakian capital
A Twitter account tied to the shooter was discovered and shared, filled with anti-Semitic and anti-LGBTQ+ posts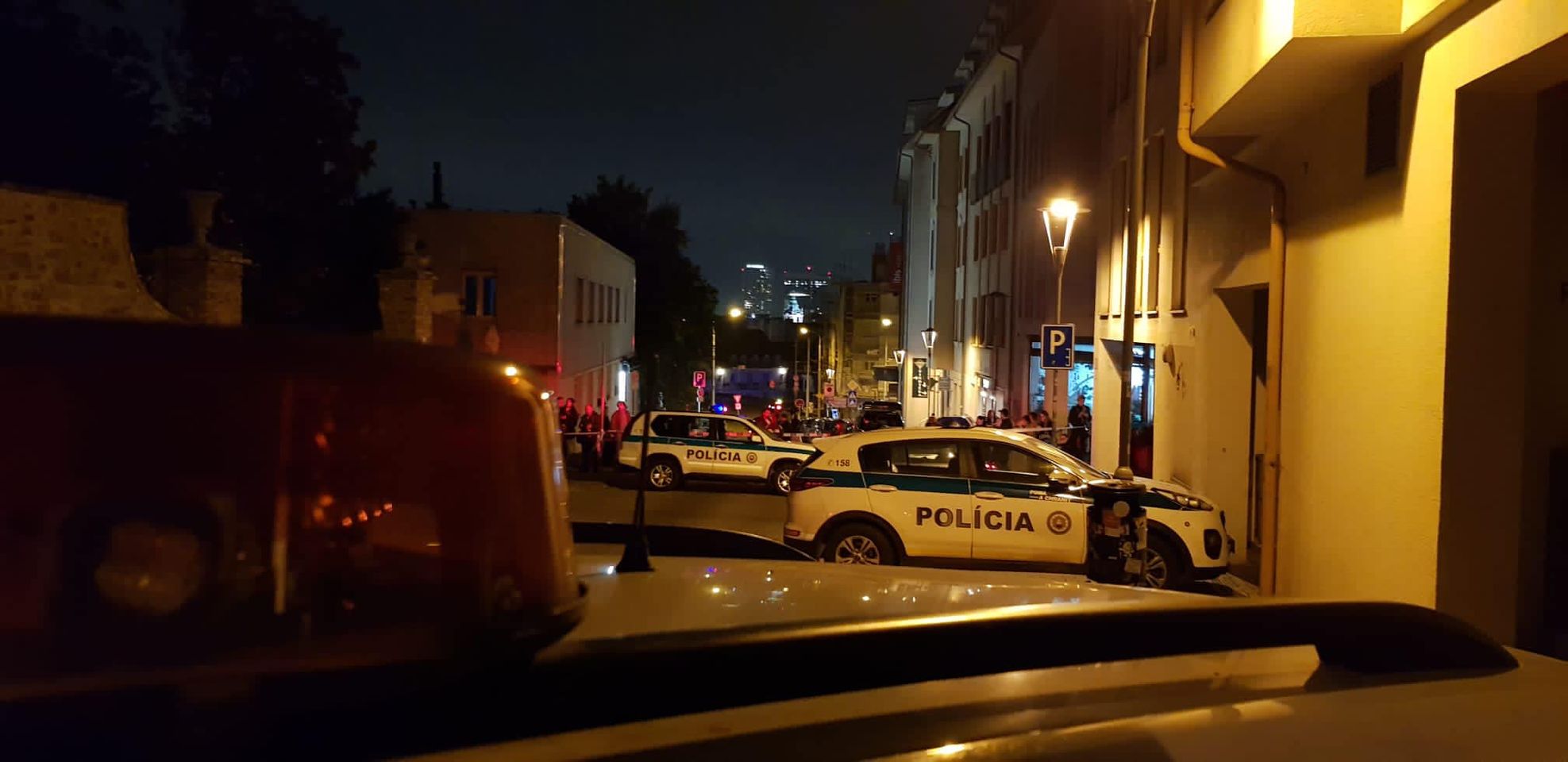 BRATISLAVA, Slovakia – Three persons are dead including the gunman in a shooting in front of a popular LGBTQ+ bar in the old town neighborhood of the Slovakian capital city Wednesday evening. A spokesperson for the Polícia Slovenskej republiky, the country's national police force, told media outlets that the shooter was found deceased Thursday morning after an hours long search through the night.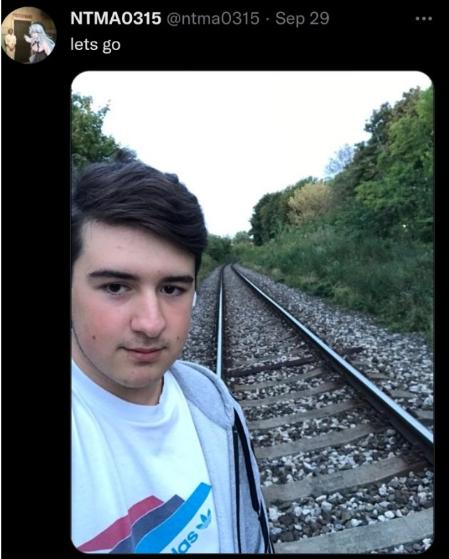 The Polícia Slovenskej republiky said the incident at the Tepláreň bar on Zámocká Street in central Bratislava, left two young men dead and one woman injured, and investigators are naming the perpetrator, Local media identified him as 19-year-old Juraj Krajcik, the son of a prominent member of the far-right Vlast party, a radicalised 19-year-old student from Bratislava.
According to Polícia Slovenskej republiky, the gunman was outside of the bar for nearly an hour before opening fire at around 7 p.m. local time. Investigators said multiple rounds were fired but did not disclose the number nor the weapon used. Police say he was found dead from a self-inflicted gunshot.
Polícia Slovenskej republiky also said that the female victim is in critical but stable condition at local hospital. She and one of two young men killed were both employed at the bar.
Allegations and speculation arose on social media as a Twitter account tied to the shooter was discovered and shared, filled with anti-Semitic and anti-LGBTQ+ posts including a so called 'manifesto' which the gunman had posted prior to the rampage. That account also had a picture of the gunman outside the Tepláreň in mid-August.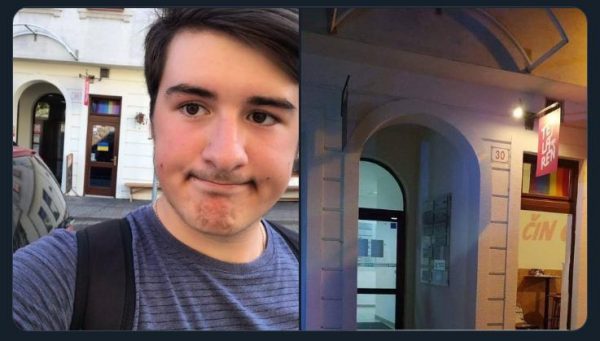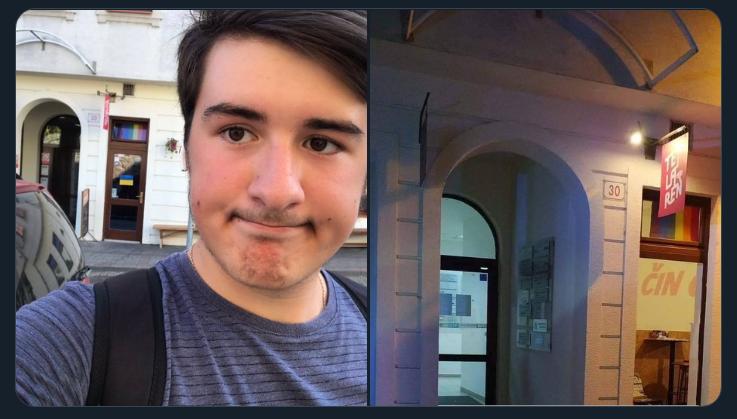 On Facebook Dúhový Pride Bratislava said, "We're shocked by the information about the shooting and casualties at Tepláreň, where we meet regularly." The organization changed its Facebook page photo to black. Iniciatíva Inakosť, another Slovakian LGBTQ+ organization followed suit.
Slovakian Prime Minister Eduard Heger condemned the double murder on Thursday in a press conference telling media outlets that "extremism is unacceptable."
President Zuzana Čaputová called on politicians to stop spreading hate. "My thoughts are with the family & friends of the victims of yesterday's horrific attack in Bratislava & everyone in the #LGBTIQ+ community affected by it," Čaputová said in her Twitter post.
"Words can become weapons. Hate kills. As politicians, we must weigh every word we say before it's too late," she added.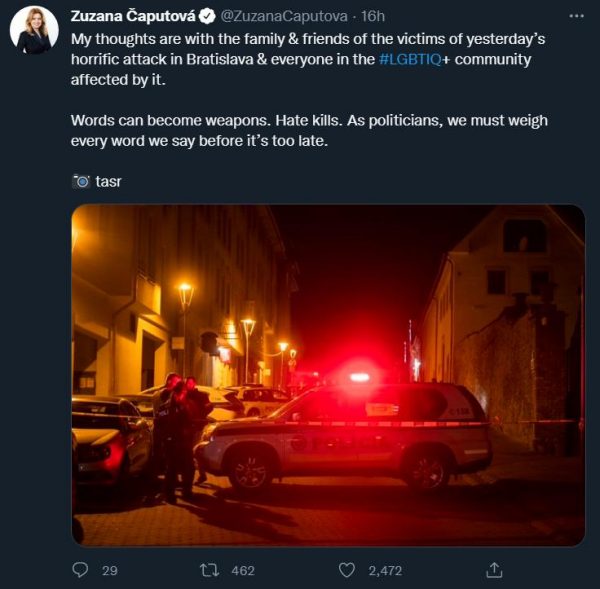 Čaputová came to the scene of the shooting on Thursday afternoon, laying flowers in front of Tepláreň and embraced the owner of the bar.
Polícia Slovenskej republiky in a statement issued late Thursday said:
First of all, we would like to thank conscientious citizens who provided us with valuable information on the shooting case in Bratislava at 158. We need to remind everyone again and again: don't hesitate to call 158. Just putting something on social media may not help. Thank you!
Police act from the first moment. The physical presence of our uniformed colleagues was undoubtedly noticed in the streets throughout the night.
Not only uniformed policemen worked and are working and not all of them are active in the field. Due to the ongoing investigation, but also the tactics, we can't comment more closely, so we can't even defend ourselves when any "guaranteed" news regarding our activities appear at these moments. Hence our silence at this stage, please understand.
Procedures to be followed by a police investigator are firmly established in the Criminal Order. Of course, his top priorities include finding the perpetrator's motive. In order to publish his motive as a Police Department, it is necessary to take necessary actions.
We will inform you about everything, we are thinking about active communication, but we all have to be patient and give the investigator time and space.
And whether it is a hateful motive or not, we want to assure the public that the Police Department maintains zero tolerance for any form of violence, bullying or hatred. We have our values, which we will always stand by, which we have announced long ago.
Thank you for your help and understanding of the legal procedures we follow.
In a tweet Friday morning, LGBTQ+ rights group ILGA-Europe condemned the attack:
This kind of violence and destruction of life is what the instrumentalising of LGBTI people as scapegoats for society by those who wish to remain in power leads to. The legitimisation of hatred by any leader for any group of people cannot, and will not, be tolerated.

— ILGA-Europe (@ILGAEurope) October 14, 2022
Ukrainian ambassador to U.S. highlights LGBTQ+, intersex rights
Oksana Markarova spoke at servicemembers photo exhibit in D.C.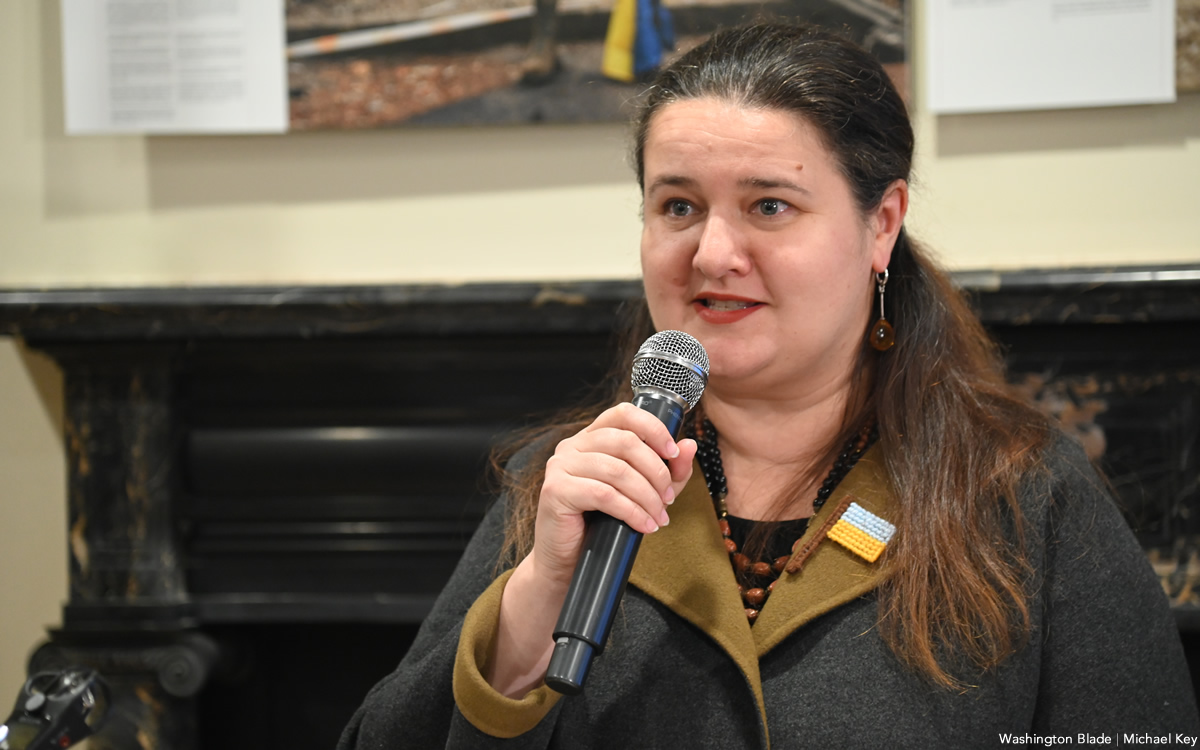 WASHINGTON — Ukrainian Ambassador to the U.S. Oksana Markarova on Jan. 26 spoke in support of LGBTQ+ and intersex rights during an event that highlighted her country's LGBTQ+ servicemembers.
"(The) LGBTQ+ community is an inseparable community of us, whether it's here or in Ukraine," said Markarova. "The faster we can stop any discrimination, the faster we will win, not only in the battlefield in Ukraine, but we also will win globally."
Markarova spoke during a photo exhibit at Ukraine House that showcased LGBTQ+ and intersex Ukrainian servicemembers.
QUA – LGBTQ Ukrainians in America, the Ukrainian Union of the LGBT Military and KyivPride organized the exhibit that features photographs from Alim Yakubov, a Crimean Tartar who moved to Kyiv, the Ukrainian capital, after Russia annexed the peninsula in 2014.
KyivPride Executive Director Lenny Emson, QUA – LGBTQ Ukrainians in America President Bogdan Globa and U.S. Agency for International Development Senior LGBTQI+ Coordinator Jay Gilliam are among those who spoke alongside Markarova.
Viktor Pylipenko, an openly gay Ukrainian servicemember who founded the Ukrainian Union of the LGBT Military, spoke via a video from the frontlines of Russia's war against his country. A Russian missile attack forced him to end his remarks and seek shelter.
"I want to thank all of them for their service to country," said Markarova. "It's unbelievable and (the) ultimate sacrifice to be there in harm's way."
Markarova also described Globa as "a leader for all Ukrainians here" and said she is "really thankful for all the activities that we do together, and everything that you do." Globa later told the Washington Blade that Markarova is the first Ukrainian ambassador to speak at an LGBTQ-specific event in the U.S.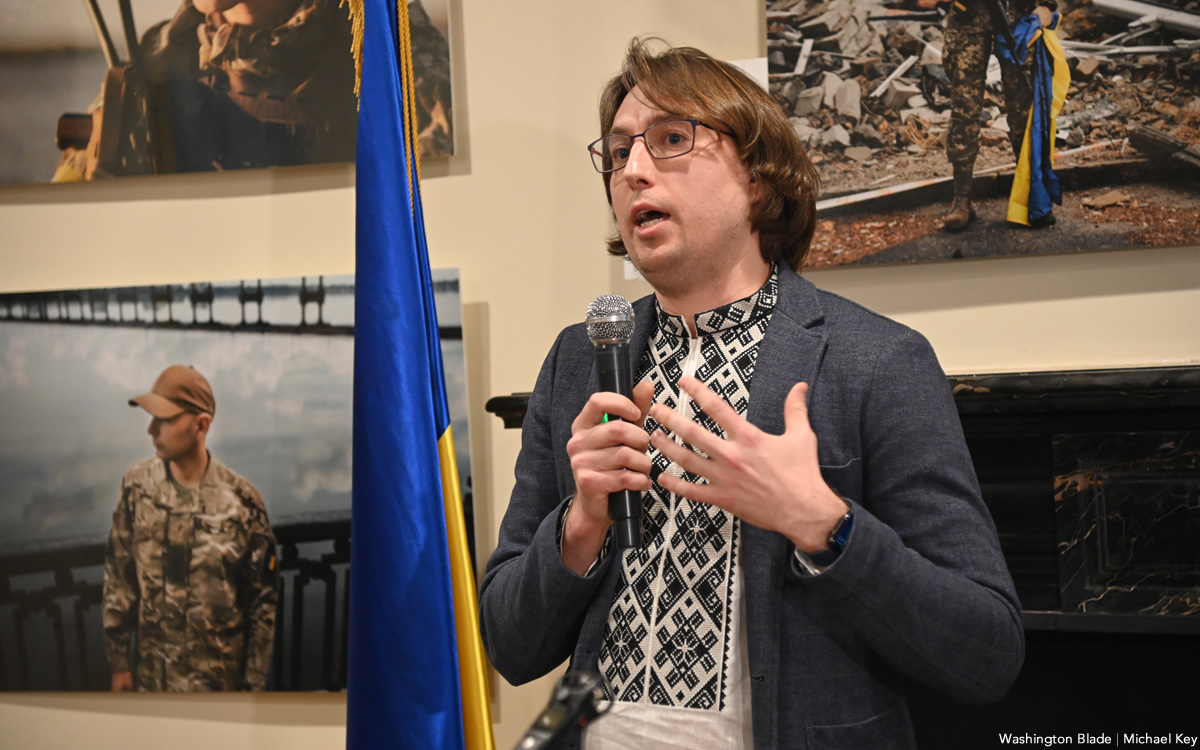 President Volodymyr Zelenskyy in 2021 pledged Ukraine would continue to fight discrimination based on sexual orientation and gender identity after he met with President Joe Biden at the White House.
Russia on Feb. 24, 2022, launched its war against Ukraine.
Zelenskyy last summer said he supports a civil partnership law for same-sex couples.
Ukrainian lawmakers last Dec. 15 unanimously approved a media regulation bill that bans hate speech and incitement based on sexual orientation and gender identity. Zelenskyy less than a week later traveled to D.C.
Zelenskyy, a former actor and comedian, earlier this month made a broad reference to LGBTQ and intersex rights in a virtual Golden Globes appearance.
Markarova praised Emson and Kyiv Pride and other Ukrainian LGBTQ and intersex rights groups that include Gender Z and Insight.
"Thank you for everything you do in Kyiv, and thank you for everything that you do in order to fight the discrimination that still is somewhere in Ukraine," said Markarova, speaking directly to Emson. "Not everything is perfect yet, but you know, I think we are moving in the right direction. And we together will not only fight the external enemy, but also will see equality."
"It's a constant fight," added Markarova. "It's a fight that makes us better. It's a fight that makes us freer, and it's a fight that ultimately will give us the opportunity to live in the country where everyone again, regardless of their nationality, religion, color of their skin or sexuality, can live where they want to live."
Markarova also noted Russia "brutally crossed the border and attacked us in 2014 and again attacked us now." She added her country is "also fighting for something bigger."
"We are fighting for our right to live how we want to live. We are fighting for our democracy. We're fighting for the right to choose who we want to choose and whether it has to do with the government or whether it has to do with who we love and how we believe and this is very important," said Markarova. "This is what differentiates Ukraine from Russia that attacks us; that we are free, we are democratic and we want to live like we want to live. That's why we will never give up or surrender again."