Federal Appeals Court blocks Biden's student debt relief plan
The order does not reverse the trial court's dismissal of the case just prevents debt from being discharged until the court makes a decision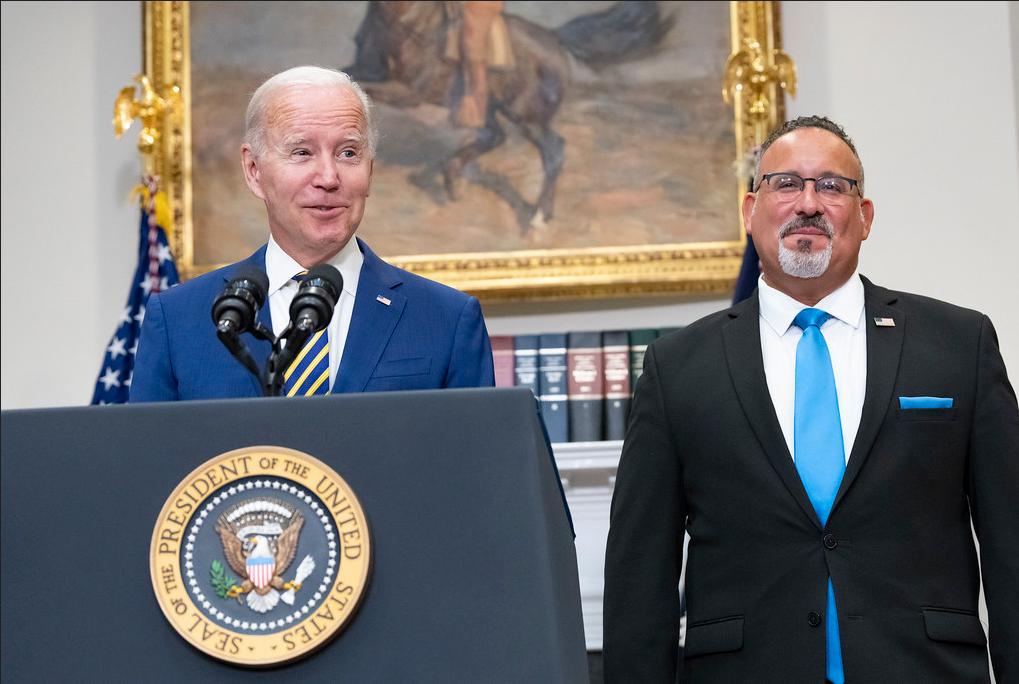 ST LOUIS, Mo. – The U.S. 8th Circuit Court of Appeals issued an order late Friday that prohibits the Biden-Harris administration from "discharging any student loan debt" under the relief program until it rules on an emergency request by Republican-led states to block the policy.
The federal appeals court ruling temporarily blocks President Biden's plan to cancel billions of dollars in student debt.
In a response to the 8th Circuit's ruling, the White House Press Secretary Karine Jean-Pierre released a statement:
"Tonight's temporary order does not prevent borrowers from applying for student debt relief at studentaid.gov – and we encourage eligible borrowers to join the nearly 22 million Americans whose information the Department of Education already has. It also does not prevent us from reviewing these applications and preparing them for transmission to loan servicers.
It is also important to note that the order does not reverse the trial court's dismissal of the case, or suggest that the case has merit. It merely prevents debt from being discharged until the court makes a decision.
We will continue to move full speed ahead in our preparations in compliance with this order. And, the Administration will continue to fight Republican officials suing to block our efforts to provide relief to working families."
The Supreme Court on Thursday refused to block the rollout of the Biden administration's student debt relief plan in an emergency request to the Supreme Court in a case was brought by the Brown County Taxpayers Association. That case is being heard by the United States Court of Appeals for the Seventh Circuit.
In the 7th circuit case, Brown County Taxpayers Association argues that the U.S. Department of Education is acting outside of its administrative authority by forgiving student loans. The Department of Education is vested with the power to manage various loan programs but cannot, the applicants contend, forgive loans "unilateral[ly]." This power, they say, rests with Congress.
A lower federal district court judge dismissed the lawsuit earlier this month, on grounds that the Brown County Taxpayers Association lacked "standing." In short as simply taxpayers, they could not show a personal injury which is required to bring forth a suit.
In the 8th Circuit case, six states – Nebraska, Missouri, Arkansas, Iowa, Kansas and South Carolina argued that the student debt relief plan contravenes the separation of federal versus state's powers and violates the Administrative Procedure Act (APA) because it exceeds the Secretary of Education's statutory authority.
Newsom on federal court allowing domestic violence abusers guns
"These three zealots are hellbent on a deranged vision of guns for all, leaving government powerless to protect its people"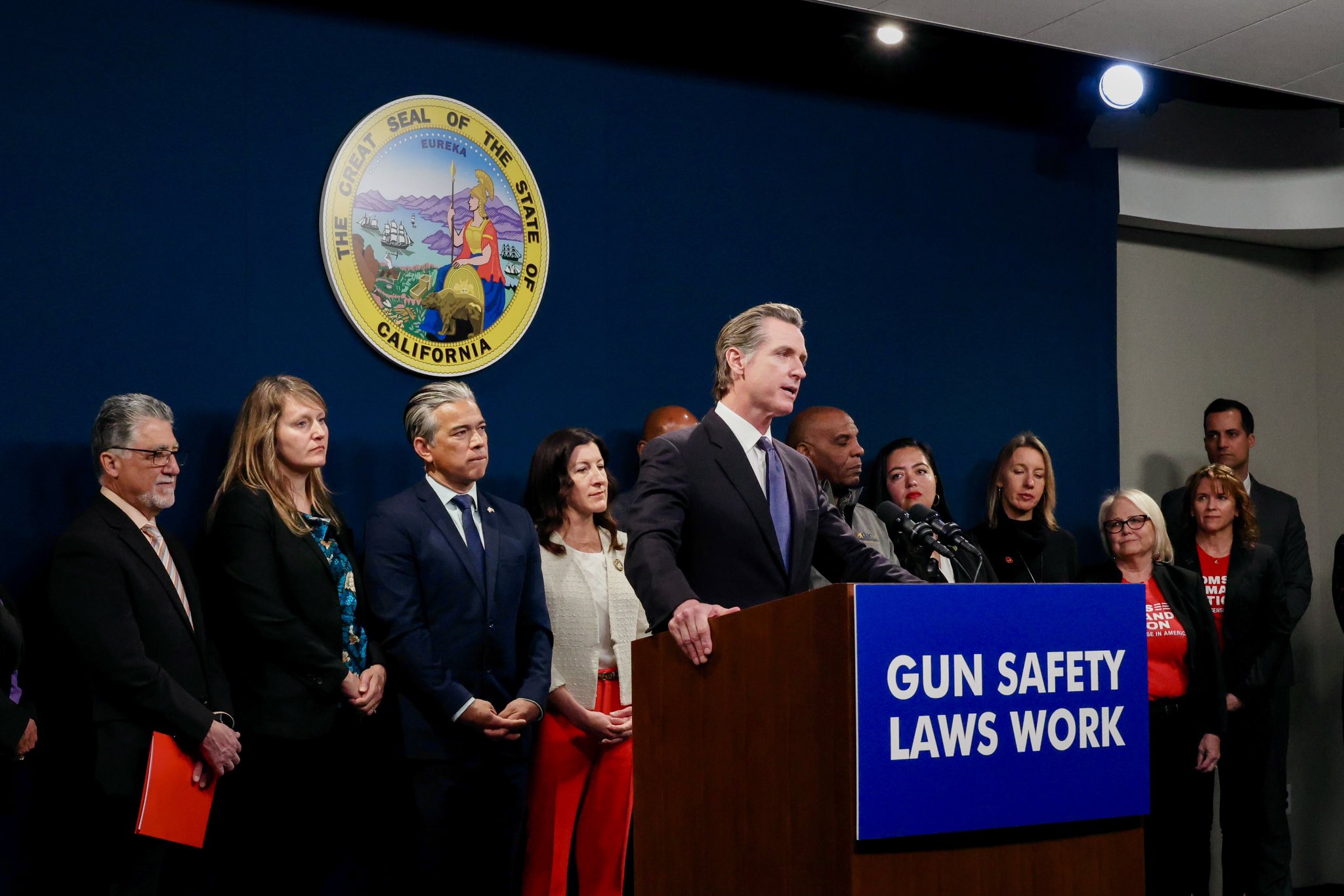 NEW ORLEANS – On Thursday, a three judge panel from the Fifth U.S. Circuit Court of Appeals, ruled that the federal law prohibiting individuals from "possessing a firearm while under a domestic violence restraining order" is unconstitutional.
Judge Cory Wilson, a Trump appointee, writing in the majority opinion in United States v. Rahimi, stated the federal law targeting those believed to pose a domestic violence threat could not stand under the Bruen test, a significant U.S. Supreme Court June 23, 2022 decision which requires that gun laws have a historical analogy to the firearm regulations in place at the time of the Constitution's framing and the Second Amendment.
CNN reported that the 5th Circuit panel was not persuaded by the historical parallels put forward by the US Justice Department, which was defending the conviction of a person who possessed a firearm while under a domestic violence restraining order that had been imposed after he was accused of assaulting his ex-girlfriend. The Justice Department argued that the domestic violence law was analogous to 17th-and 18th century regulations that disarmed "dangerous" persons.
Ian Millhiser a lawyer and constitutional expert reporting for Vox noted:
The immediate impact of this decision is that Zackey Rahimi, who "was subject to an agreed civil protective order entered February 5, 2020, by a Texas state court after Rahimi's alleged assault of his ex-girlfriend," may not be convicted of violating the federal ban on gun possession by domestic abusers.
More broadly, because the decision was handed down by the U.S. Court of Appeals for the Fifth Circuit, which presides over federal lawsuits in Louisiana, Mississippi, and Texas, this federal law can no longer be enforced in those three states.
In Sacramento, California Governor Gavin Newsom issued a statement after the judicial panel struck down the federal law:
"Now, a federal appeals court has ruled domestic abusers have the right to carry firearms. Where is the line? Who's next?
"Judge Cory Wilson, Judge James Ho, and Judge Edith Jones.
"These three zealots are hellbent on a deranged vision of guns for all, leaving government powerless to protect its people. This is what the ultra-conservative majority of the U.S. Supreme Court wants. It's happening, and it's happening right now.
"Wake up, America – this assault on our safety will only accelerate. This is serious – and it's coming to California. We are probably only weeks away from another activist judge, Judge Roger Benitez, striking down California's bans on assault weapons and large capacity magazines. California will continue to fight against these extremist judges to protect our residents' right to be free from gun violence."