Race to Midterms: LGBTQ & ally candidates fight for democracy
"Have conversations and encourage people to vote for candidates who will do the work of the people- there's a lot at stake"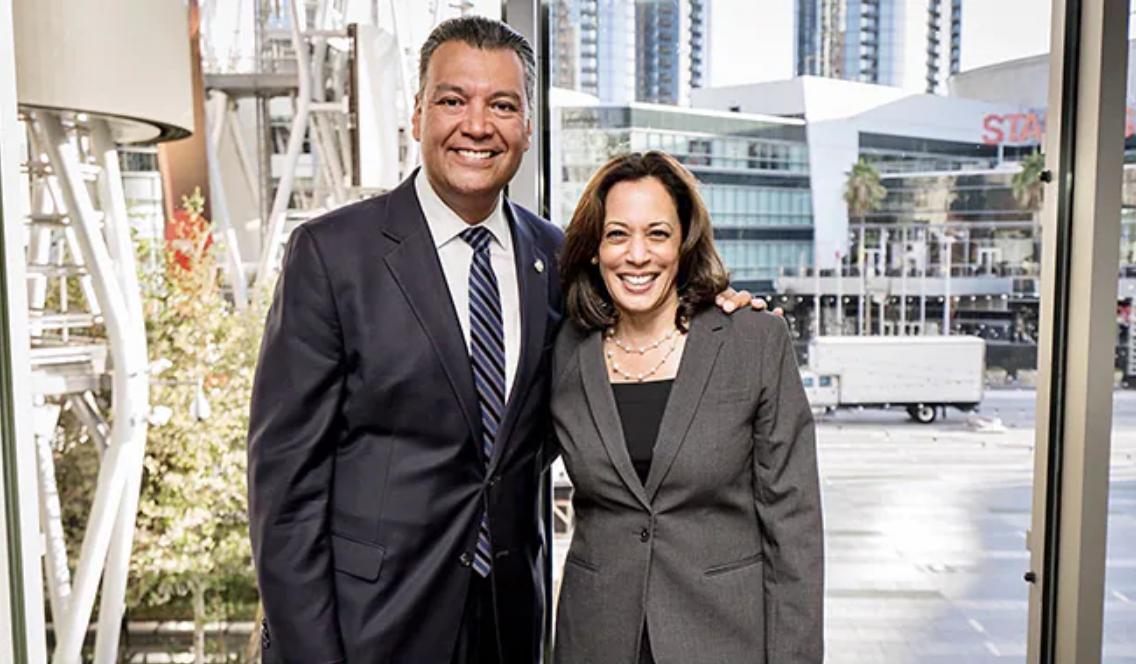 By Karen Ocamb | WEST HOLLYWOOD – All smart-aleck punditry aside, our future is in our own shaky hands this Nov. 8. Vice President Kamala Harris sees that.
"Today," Harris told a Human Rights Campaign audience Oct. 29 in Washington DC, "the rights, the freedoms, and the very existence of the LGBTQ+ people are under assault. Children's hospitals have received bomb threats simply because they care for transgender youth. White supremacists have shown up at Pride festivals armed with assault weapons. Trans folks — in particular, trans women of color — have faced record levels of deadly violence. Every day, LGBTQ+ youth are enduring bullying and harassment."
Extremists have "fanned the flames of hate and homophobia for political gain."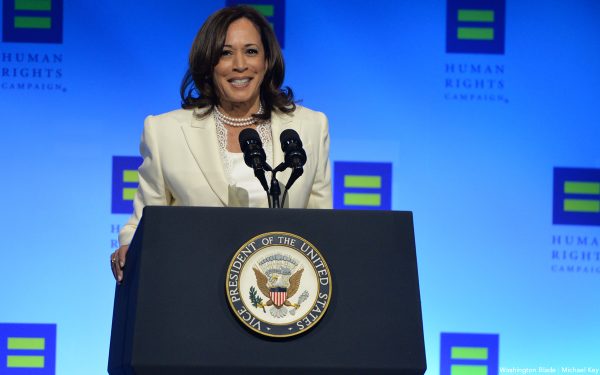 This is not just campaign rhetoric. LGBTQ favorite Rep. Katie Porter — who earned a national reputation for verbally smiting democracy-ruining CEO quislings during congressional hearings — is in a toss-up race against "traditional" Republican lobbyist Scott Baugh to keep her 45th congressional seat.
According to NBC News in a segment about the two clashing over "Orange County values," Katie Porter "has voted with her party to codify federal protections for legal abortion in the Women's Health Protection Act and same-sex marriage in the Respect for Marriage Act. She also voted for legislation that would ban assault weapons. Baugh said he'd vote against all those bills if he were a congressman."
But LGBTQs remember the "Orange Curtain" Baugh would restore as the region where Rev. Lou Sheldon set up his Traditional Values Coalition scam and where 19 year old gay Jewish college student Blaze Bernstein was brutally murdered in 2018 by Nazi-loving Samuel Woodward, 20, who was cheered by his violent extremist friends in the Atomwaffen Division, identified by ProPublica as "an armed Fascist group with the ultimate aim of overthrowing the U.S. government through the use of terrorism and guerrilla warfare."
Hate is manifesting everywhere, including in racist, homophobic and antisemitic thoughts of Democratic leaders and former LGBTQ friends in the Los Angeles City Council. US Senator Alex Padilla was one of the first to call for the resignations of Councilmembers Nury Martinez, Kevin DeLeon, and Gil Cedillo.
"That audiotape of a private meeting that was disclosed that had some horrific and appalling commentary, some anti-LGBTQ language that we heard, obviously anti-Black language that we heard, even anti-Hispanic coming from the mouths of Latino leaders was on that tape," Padilla said during an interview for Race to the Midterms, the limited YouTube series Max Huskins and I have produced for the LGBTQ community in conjunction with the Los Angeles Blade.
As a member of the Senate Judiciary Committee, he has way too often heard "divisive rhetoric and some conspiracy theories and hate for some of my colleagues. And if we are to be able to genuinely denounce and hold accountable when extremist Republicans used this language, then we have to call out Democratic friends when they used it, too. We have to be consistent in standing up against hate, standing up against discrimination. And to me, that's what it boils down to."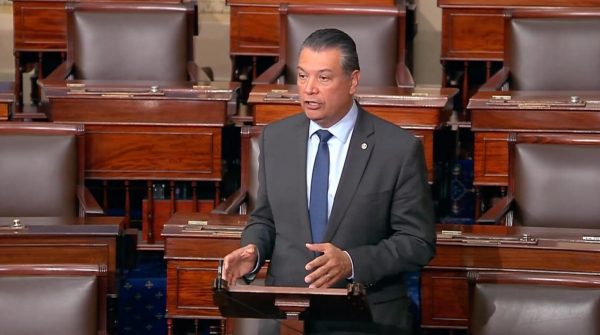 Padilla is in a unique electoral position: he's on the ballot twice. He was appointed to the US Senate by Gov. Newsom in January 2020 to fill the vacancy created when Sen. Kamala Harris left to become Vice President. So, the first vote on the ballot is a special election to fill the balance of what was Harris' current term. The second vote is for his full six-year Senate term.
As Nov. 8 speeds towards us ever faster, anxiety couldn't be higher. Axios reported in early October that "Republicans still have a clear path to retaking the Senate majority. They only need to net one seat to win back the upper chamber, and there are plenty of paths to get there even if many of their recruits fizzle out."
Meanwhile, California's MAGA Republican House Minority Leader Kevin McCarthy only needs five seats to take back the Speaker's gavel from fellow Californian, Speaker Nancy Pelosi.
Strong LGBTQ ally Christy Smith, candidate for the CA-27, is running against full-throated Trump fanboy Rep. Mike Garcia who is pals with Marjorie Taylor Green. He was among the MAGA Republicans who signed the amicus brief to the US Supreme Court asking them specifically to overturn Roe v. Wade.
Christy says in our interview: "He's one of the people who coauthored 'The Life Begins at Conception Act,' which — don't let them fool you — is their roadmap for a national abortion ban. So, while my opponent now tries to hide in safe spaces and say, 'Well, abortion is safe in California — why are you so upset?' Really? They have clearly signaled — and Lindsey Graham the other day just doubled down on the fact that they plan to pursue a national abortion ban."
MAGA Republicans in Congress are "very comfortable operating in these spaces where they continue to chip away at fundamental rights to privacy and freedom," she says. "My opponent is right there on those extremes with these people. And the extremes are where our government is heading…You can't say that you stand for democracy when you're literally actively working to take away – not only people's freedoms — but the structure of the democratic institutions and the structure that protect those freedoms."
And, she says, "I think the LGBTQ community is next [on the GOP hit list]. "That is really important work that we have to do to stem the tide of the very extreme movement that they're trying to push on America."
Also running hard is out gay national security prosecutor Will Rollins whose MAGA Republican Rep. Ken Calvert appears rather cowardly.
Calvert, Rollins says, "has refused to debate me in any public forum. He's refused to engage in candidate forums. He's sent hecklers after me. He sends a tracker to follow me around and ask me questions — but he never shows up to confront me face to face. And he's also been trying to erase and lie about his record. This was somebody who, after January 6, has voted to overturn the election, even after — the Speaker has had her life or her family's life at risk God knows how many times over the past several years.
"True leadership, regardless of party, requires condemning political violence," says Rollins. "This is the United States. We cannot allow our country to slide into autocracy, authoritarianism, where this kind of violent rhetoric and enabling behavior is tolerated. It's the saying? 'Evil triumphs when good people do nothing.' You cannot enable and affirmatively go out there and vote against even a committee, for example, to investigate what happened afterwards.
"And it's part of a pattern with him," Rollins says. "It's written down what his votes are. It's written down and recorded what his public comments were when he said, 'I'm looking forward to the day when the charges against these people will hopefully be dropped.' He said that in August 2021….
What Republican guys like him are relying on is that you, the voter, will be so fatigued from the last six years from a disbelief and cynicism and any ability to sort through facts, that you won't call him out or understand that he's lying."
Electing Rollins is a top priority for Equality California. "Obviously, this is one of the most consequential election cycles in our lifetimes. And if we want to protect the pro-equality majority that we have in the House, that road runs through California. And so, CA-41, the district where Will Rollins is in, is one of the most important congressional flip opportunities in California," says Equality California Executive Director Tony Hoang.
"Going back to 1994, how Congressman Calvert came into office is that he was attacking a number of folks in our community, specifically Congressman Mark Takano, who was not publicly out at the time but [Calvert] was using his LGBTQ identity in those attack ads," Hoang says. "The sweet irony of being able to flip this seat by taking out a member who has been 100% against our community for years and years with someone that is openly LGBTQ is something that we are definitely committed to and pouring a number of resources into."
But, as Victory Fund CEO Annise Parker told us, while the congressional midterms are vital, don't forget down-ballot races. State legislative races are really important because "the really stupid stuff starts in the state house and the really bad anti-LGBTQ stuff starts in the state houses and it can metastasize. In fact, there are organizations that stamp out some of these really ugly bills like cookie cutter, stamping them out and sharing them with right wing legislators, cross country so we really work hard at that level."
2022 is on track to set a record for the number of anti-LGBTQ bills introduced in state legislatures.
NBC News/NBC Out reported: "State lawmakers have proposed a record 238 bills that would limit the rights of LGBTQ Americans this year — or more than three per day — with about half of them targeting transgender people specifically."
One race Parker highlighted was Venton Jones, a young, Black gay HIV+ man running for a State seat out of his home town of Dallas, Texas.
Texas," Venton told us, "is in desperate need of leadership." He wants "to make sure that we're not continuing to perpetuate the hatred and bigotry that we continue to not only see statewide, but also that we see in our national discourse. So, I ran to make a difference and use the experience that I've gained to be able to do that necessary work, particularly for a new generation of leaders that have been able to learn and grow from so many fighters that I've seen, particularly addressing HIV and public health" in the 1980s and the ongoing racial justice work "that that's so needed" in our state and national discourse.
Victoria Kirby, deputy executive director at the National Black Justice Coalition, concurs, announcing the release of a new Get-Out-The-Vote video. "We turned out in record numbers during a midterm when people said we wouldn't," says Kirby. "LGBTQ people, people of color, young people, differently abled or disabled people. We showed up and showed out and we got rid of folks in those statehouses and governor's mansions." Kirby notes that the National Black Justice Coalition has a Voter Hub at their website with resources to help people check their voter registration and vote-by-mail information.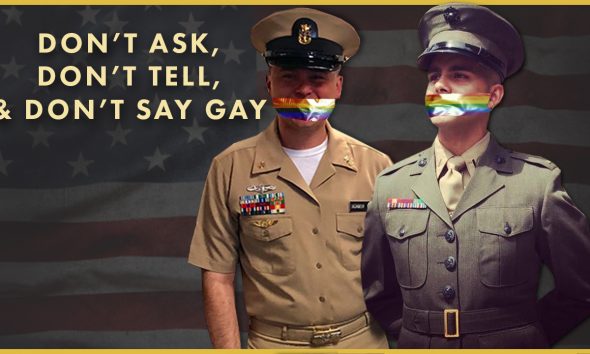 "LGBTQ is on the ballot this year," Shawn Kumagai, an out gay candidate for California's 20th Assembly District told us. "I think all of us are feeling just how very important 2022 is. You know, when we see attacks like we saw recently against the Pelosi family – extremism, violence has really gotten out of hand…..Things get pretty nasty at the local level and people take it very personally. But I think we can sometimes be seen as easy targets or people will feel like, 'Hey, I can bully this person because they're LGBTQ.' Well, not this LGBTQ. I'm a 21-year veteran of the US Navy. I will not be intimidated by anyone in carrying out and executing my duties as a council member in any of my positions that I raise a right hand and swear an oath to the Constitution that I will protect."
No doubt Joseph Rocha would say the same. Rocha is running for the California State Senate.
"I served over two years in the Middle East doing explosive detection," he says. "And then I was discharged under Don't Ask, Don't Tell following a series of well-documented abuse. I went on to be in the case that made the entire policy unconstitutional. It's a little lost in history that there was a legislative push, a vote to repeal Don't Ask, Don't Tell that occurred before our case ruling came out, and it failed. After our ruling, it was reintroduced on the House floor and it passed. So I'm definitely very proud to have been part of that incredible timing and push towards a decision that made our military, I think, more in line with its values and certainly our country safer because of it."
"Patriotism is what many of us have done a number of times — which is a commitment to the Constitution, Rocha says. "I have sworn an oath to the Constitution as a Navy enlisted sailor, when I entered the bar, as an attorney in California, and when I earned my commission in the Marine Corps. And I hope to do it again if elected to the Senate."
One of the most familiar of LGBTQ candidates is Rick Chavez Zbur, an attorney, an environmentalist, former executive director of Equality California and candidate for California's Assembly District 51.
"Today, we have to realize that we are in a different world — we are fighting for our democracy. And this isn't something that's theoretical. It's very, very real," including the MAGA politicization of the United States Supreme Court," Rick Chavez Zbur tells us.
"The Court," he continues, "is actually not following typical Court rules and precedent and is actually a very radical Court. It is not following the doctrine and stare decisis." And those doctrines "are important because we in the LGBTQ movement and our friends at Lambda Legal and at National Center for Lesbian Rights and Transgender Law Center and the ACLU — we have worked for years to build up the precedent and the legal doctrines we need to advance LGBTQ equality in the courts. These conservative justices are basically ignoring all of that. So at this point, if we can't rely on the institution because it's been radicalized, we really need to correct that and the only way to do that is by expanding the court. And I think the term-limit idea is a good one."
The question about the Court follows an op-ed published in The Hill by Public Justice Executive Director Paul Bland calling for the "modernization" of the US Supreme Court by expanding the Court to 13 members and having term limits on tenure.
Rep. Adam Schiff, who talked with us soon after the final Jan. 6 Committee hearings concluded, agrees with the idea. "The Supreme Court was stacked by (then-Senate Majority Leader) Mitch McConnell working with Donald Trump — but it was stacked by withholding a justice, withholding giving a hearing for Barack Obama's nominee, Merrick Garland, for almost a year and then, in completely hypocritical fashion, jamming an appointment down the country's throat with Amy Coney Barrett while people were literally voting for Joe Biden in the weeks before that election. And as a result, the two justices on that court that don't belong in that court — there are many others I don't think belong because of their extreme ideology — but those, in particular, don't belong because Mitch McConnell gamed the system. And I don't think we can just accept that.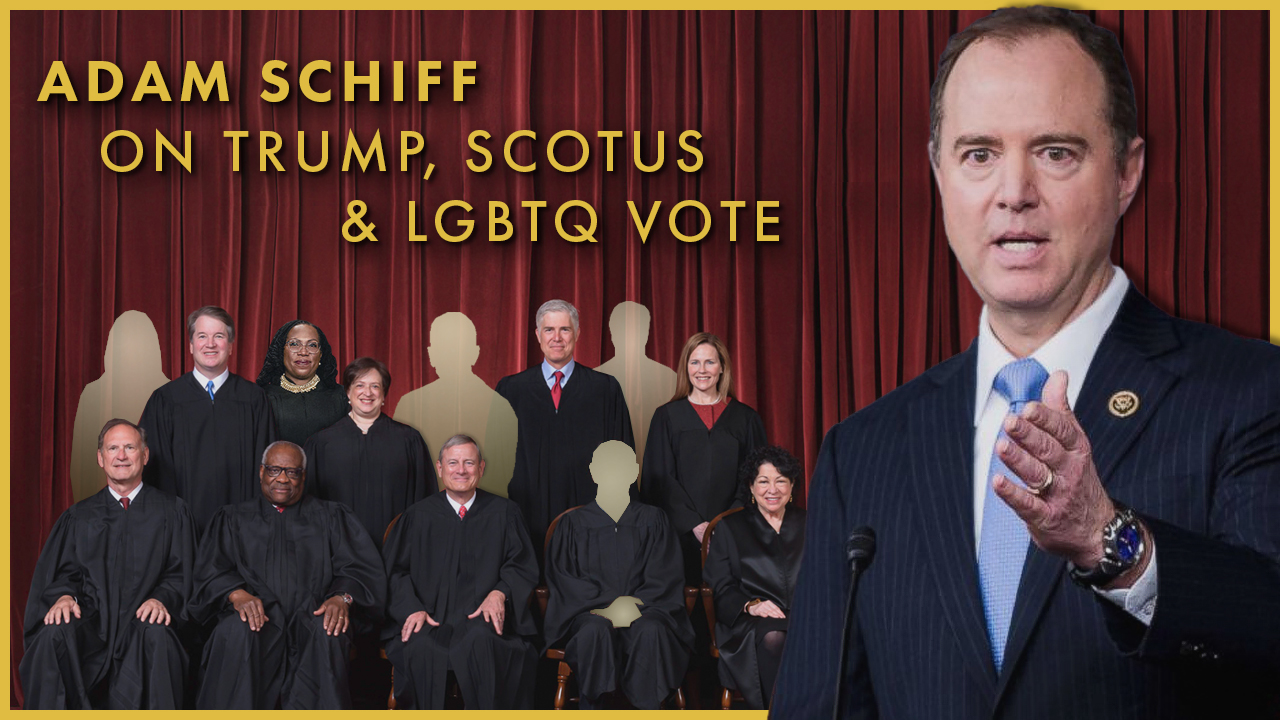 "I've got two kids in their early twenties," Schiff continues, "and I'm not content to have them live their entire lives under a partisan reactionary Supreme Court. And let's make no mistake: this Supreme Court is not a conservative court, not in the constitutional legal sense. If it were a conservative court, it would have some respect for precedent. No, this is a partisan court with a reactionary social agenda. And so I think we need to unstack the court by expanding the court. And I'm supporting legislation to do that."
Mark Gonzalez, the out chair of the Los Angeles County Democratic Party – which lists their endorsed candidates, including down-ballot candidates, on their LACDP.org website, talked with us about how about the Trump census caused California to lose a congressional seat on the Eastside of LA – undercounting 100,000 people.
He also talked about why it's important for men to stand up for the rights of women who are a major target of MAGA Republicans, along with LGBTQ folks, people of color and migrants. LACDP is working hard in coalition with other groups such as Planned Parenthood to pass the widely supported reproductive rights measure Prop One on the ballot.
Gonzalez reminds vote-naked voters that mail-in ballots must be postmarked by Election Day for it to count.
One of our most moving interviews was with Bambly Salcedo, founder and CEO of the [email protected] Coalition. She stands as a beacon of hope for trans, nonbinary and other marginalized people who have suffered the pain and indignities of systemic oppression. And part of that commitment to hope is a commitment to hold elected leaders accountable.
"What we need to do is to not give up on ourselves and to not give up on our people," Salcedo says, "and encourage the Democratic Party to not be complacent and to also don't say that you're progressive if you're not doing progressive things for our people."
Salcedo talks directly to her people — and the rest of us, too: "Beautiful and amazing people. I hope that you understand the power that we have as individuals and as communities, particularly in this midterm election. As we know, there's a lot at stake. And we need to mobilize, we need to activate, and we need to influence those who are able to vote. Have conversations and encourage people to vote for candidates who will do the work of the people."
Please heed her good advice.
********************
For the entire series of interviews please click here: (LINK)
Zbur hits the ground running: Appoints staff & introduces first bills
"I look forward to working with the community and all stakeholders as well as my colleagues and Governor Newsom"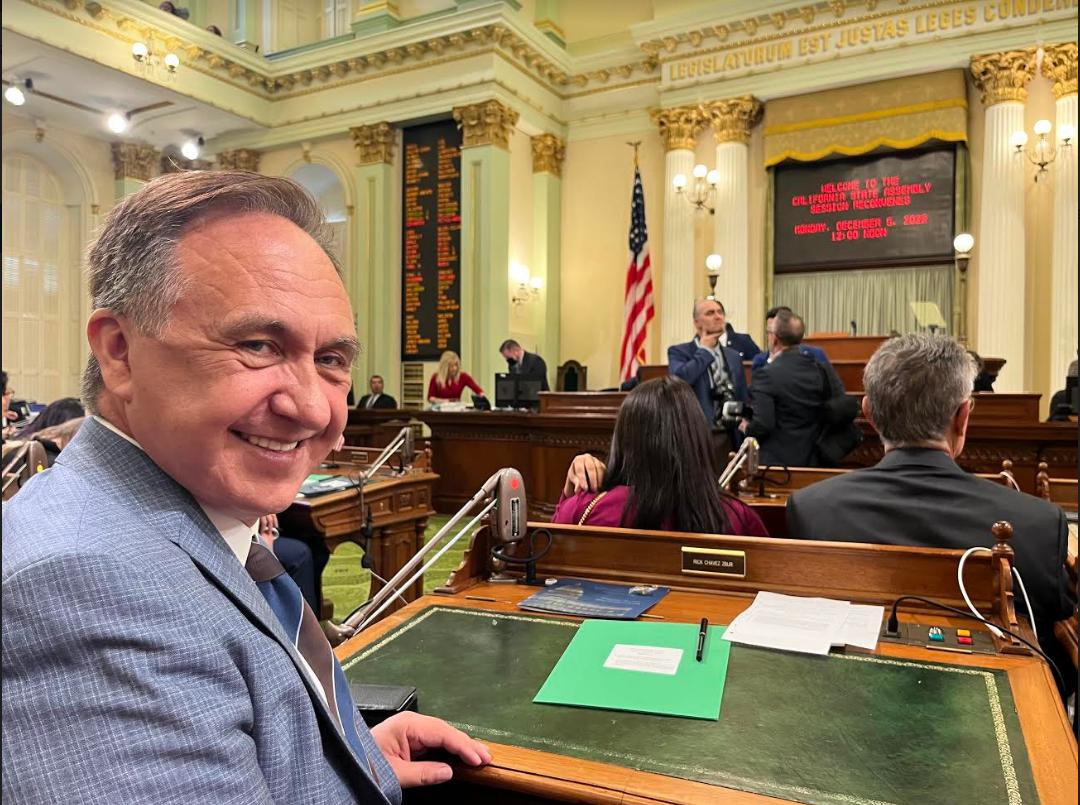 SACRAMENTO – Out Assemblyman Rick Zbur (D-51, West Los Angeles) along with the rest of the incoming freshmen California Assembly lawmakers was sworn in Monday at half past noon- then immediately announced the appointments of his key staff and then introduced his first two pieces of legislation.
Introducing his new staff that he has hired to serve the constituents of Assembly District 51 in his Capitol and District Offices Zbur said in an emailed statement to the Blade:
"These dedicated public servants have the knowledge and skills to deliver on my promise to provide top quality constituent services and legislative proposals for my district. Both of my offices are open and ready to serve on day one, with highly trained professionals who understand the district and the Capitol." 
Zbur's key legislative staff include:
Bob Hartnagel, Chief of Staff – Bob was Mark Leno's Chief of Staff in the State Senate for 8 years and in the State Assembly for 6 years, and Assemblymember Carole Migden's District Director for 3 years. Most recently he was Chief of Staff for Government Relations at the University of California's Office of the President for 5 years. He has a bachelors degree in Communication Studies & International Relations from Northwestern University.
Tami Martin, J.D., Legislative Director – Tami has a distinguished career fighting for civil rights as Legislative Director for Equality California (EQCA). She holds a bachelors degree in Government from Dartmouth College and both a law degree and a masters degree in Law and Government from American University Washington College of Law.

Jane Park, Ph.D., Senior Assistant – Dr. Park previously worked for Assembly Speaker pro Tempore Kevin Mullin where she leveraged her research experience to create groundbreaking new policy addressing climate change. She holds a bachelors degree in Biological Sciences from Wellesley College and a Doctorate in Integrative Genetics and Genomics from the University of California, Davis.

Alex Mehlbrech, Scheduler – Alex worked as a key member of Assemblymember Zbur's campaign team for almost three years, where he cultivated a deep understanding of the concerns and issues facing local residents. He holds a bachelors degree in Communication Studies from California State University, Long Beach.

Robert Oliver, District Director – Robert has worked as a field representative in the district offices of  U.S. Senator Dianne Feinstein and L.A. City Councilmember Paul Koretz. He also worked as a Community Liaison for the Jewish Federation of Greater Los Angeles. A graduate of UC Santa Barbara, he grew up in Los Angeles. He and several of his family members currently live in AD-51, where he developed a keen first-hand knowledge of the issues affecting constituents.
Zbur also noted that his office is currently accepting applications for a Field Representative in his District Office, which serves the cities and communities of Beverly Hills, East Hollywood, Hollywood, Hollywood Hills West, Santa Monica, West Hollywood, West Los Angeles, and Westwood Village. 
Editor's note: (Interested applicants can send a resume and cover letter to Robert Oliver at [email protected]. Diverse candidates are encouraged to apply.)
In his first actions as a legislator Zbur introduced AB 3, the California Offshore Wind Energy and Jobs Act, to facilitate and expedite offshore wind energy projects necessary to combat climate change while at the same time protecting the environment and assuring that thousands of high paying jobs remain in California.
AB 3 aims to accelerate the approval, implementation, and operation of offshore wind energy projects necessary to meet California's climate action goals and the transition to a clean energy economy. It will clarify the authority of California governmental agencies related to wind energy projects along the California Coast, require expedited procedures, and specify criteria for the selection of port and transmission alternatives related to offshore wind energy projects. The criteria will ensure that the environment and sensitive habitats and cultural resources are protected, community participation and comment is robust, that the maximum number of jobs related to offshore wind energy projects are created and remain in California, and that those jobs advance environmental justice and improve the lives of all Californians.
 
"We are decades behind in taking the steps necessary to protect our kids and our planet from the growing crisis of climate change," said Zbur. "If we do not expedite the approval, construction and operation of offshore wind energy projects along the California Coast, we will not meet our climate change goals. I am confident that we can build consensus to accelerate offshore wind, and at the same time protect our coast and sensitive habitats and assure that the thousands of high wage jobs are created and remain in California. California has the opportunity to demonstrate that bold climate action is the economic engine that can power a robust and socially just economy," he said.
 He also introduced AB 5, the Safe and Supportive Schools Act, which will assure that teachers and school staff are better equipped to support LGBTQ+ and all students.
AB 5, the Safe and Supportive Schools Act, will help equip teachers and school staff with the tools and training they need to support LGBTQ+ students and make California schools safer and more supportive for all students, teachers, and school staff. 
The bill will specify a timeline for implementation by all California schools of LGBTQ+ cultural competency training for teachers and certificated staff currently under development by the California Department of Education.
This is the result of a budget proposal advanced by Equality California and Superintendent of Public Instruction Tony Thurmond and approved in 2021 by the Legislature and Governor Newsom in AB 130 and SB 129. AB 5 is sponsored by Equality California.
 
"Every student deserves a safe and supportive learning environment," said the Assemblymember.
"Improving our schools is a key part of the strategy we need to reduce the high dropout rates that lead to a cycle of homelessness, poverty and health & wellbeing disparities experienced by the LGBTQ+ community. Our teachers and school staff want to support their students, and this bill will better equip them to help LGBTQ+ and all students reach their highest potential," he added.
 
"These bills are among my top priorities as I honor the trust that the people of Assembly District 51 placed in me to improve the lives of all Californians and tackle our toughest challenges. I look forward to working with the community and all stakeholders as well as my colleagues and Governor Newsom on these proposals and many others in the months ahead," Zbur noted.