Congressional candidate Christy Smith & EQCA's Tony Hoang
Race to the Midterms 2: The Future of Democracy, Abortion Rights and Climate Change and on winning in November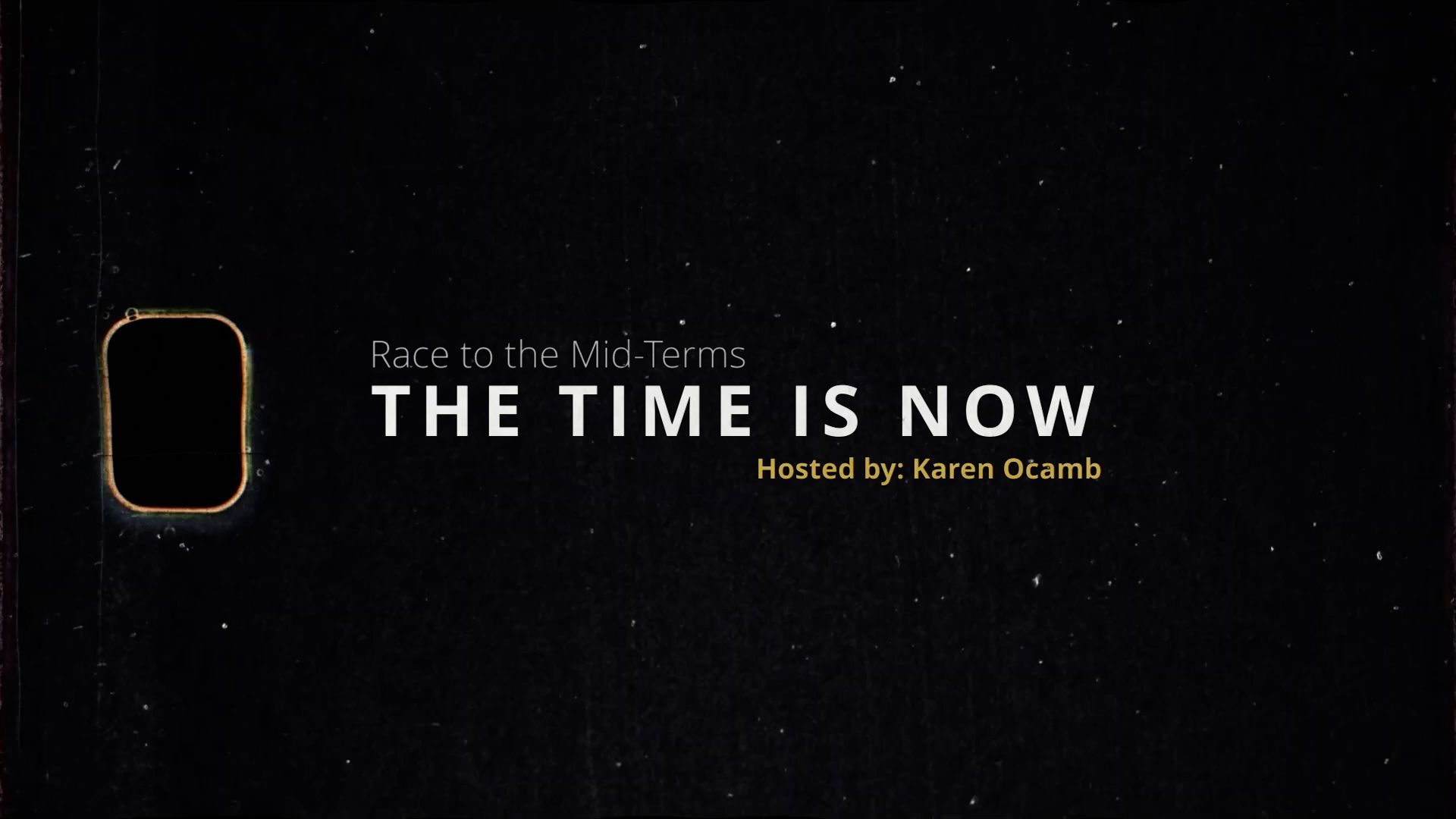 By Karen Ocamb | WEST HOLLYWOOD – Here's the unvarnished truth: if MAGA Republicans win the November 8 midterm elections, Donald Trump wins and we can kiss our democracy and our freedom goodbye.
Think this is an exaggeration?
No one really thought the US Supreme Court would overturn Roe v. Wade and put politicians in charge of women's bodies – but they did. No one thought there would ever be an actual coup attempt to overturn a legitimate election and a violent insurrection against the US Capitol on January 6, 2021 during the peaceful transfer of power — but we watched it live on TV in real time, as did the coup-prompting defeated president who was inciting the rioters.
Will Congress' January 6th Committee explain the unthinkable? Will the Department of Justice prosecute the evil domestic terrorists, including their cult leader? Or will we have to endure this chaos until either the Democrats safely secure both chambers of Congress or the MAGA Republican terrorists award their dark orange prince his hellish authoritarianism?
It all depends on us turning out in massive numbers to vote for Democrats this November 8.
There are patches of blue in the black sky. Tony Hoang, Executive Director of Equality California, whom we interview for the second episode of Race to the Midterms, has quietly created a rainbow staff that reflects our diverse state. "We really want to make sure that we reflect the diverse communities that we serve, whether that's around gender, gender identity, race and ethnicity," Tony says during our Zoom interview.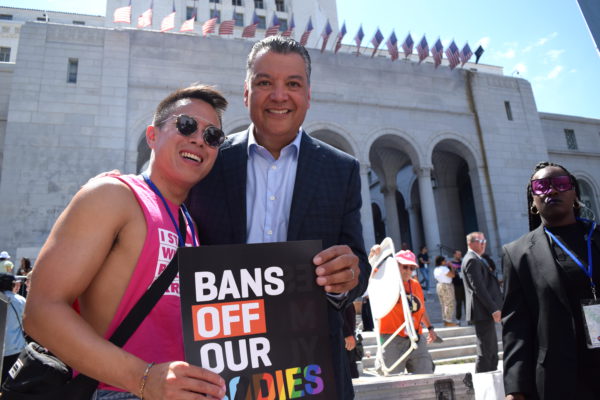 Equality California Votes, their new 501.C4 political action committee, posted their first ad for out gay candidate Will Rollins (see our interview with Will in Episode 1). "Obviously, this is one of the most consequential election cycles in our lifetimes. And if we want to protect the pro-equality majority that we have in the House, that road runs through California. And so, CA-41, the district where Will Rollins is in, is one of the most important congressional flip opportunities in California.
His opponent, Congressman Ken Calvert, for 30 years has voted against things like lowering prescription drug costs for seniors, against abortion rights and reproductive freedom and LGBTQ equality."
This victory in the Palm Springs area would be a major LGBTQ victory, turning this red seat blue.
"Going back to 1994, how Congressman Calvert came into office is that he was attacking a number of folks in our community, specifically Congressman Mark Takano, who has was not publicly out at the time but [Calvert] was using his LGBTQ identity in those attack ads. Obviously two decades later Congressman Takano is now an out member of Congress, proudly representing California," Hoang says.
"But for us, the sweet irony of being able to flip this seat by taking out a member who has been 100% against our community for years and years with someone that is openly LGBTQ is something that we are definitely committed to and pouring a number of resources into. I think on top of that, one thing that we were proud of in the redistricting cycle is given that this district represents the Greater Palm Springs area, and we were really committed to ensuring that we could maximize the political power of LGBTQ voters and our pro-equality allies in this district."
Hoang says Equality California is also working to win back reproductive rights. "We have been working hand in glove with their partners like Planned Parenthood and as well as others around California because we understand that abortion rights, reproductive rights, are LGBTQ rights. At the end of the day, we are talking about bodily autonomy and privacy. And we know after the Dobs decision, these attacks have been coming for quite some time."
"But," he continues, "as shown from the Supreme Court decision, they're not going to stop with just abortion rights. They're coming for LGBTQ rights. And for us, it's important that we stand in solidarity with our partners in the reproductive movement. And so, as part of that, what we are educating quite a lot of California members and our allies about is specifically around Proposition One that would enshrine the right to abortion access and contraception in the California Constitution….And so for me, it's been heartening to see all of our allies come together in this moment and really fight back against the hate that is out there."
We also interviewed Christy Smith, candidate for the CA-27 — my second-ever endorsement was for Christy Smith. Christy ran for Katie Hill's seat after Hill resigned. That race against Mike Garcia was so nail-bitingly close, she ran again. That race was also heartbreakingly close. But Garcia has become a full-throated Trump fanboy, hanging around with cultists like Marjorie Taylor Green. He was among the MAGA Republicans who signed the amicus brief to the US Supreme Court asking them specifically to overturn Roe v. Wade.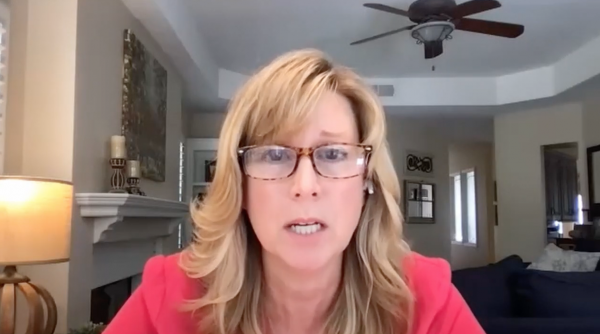 "Subsequent to that," Christy says in our interview, "he's one of the people who coauthored 'The Life Begins at Conception Act, which — don't let them fool you — is their roadmap for a national abortion ban. So, while my opponent now tries to hide in safe spaces and say, 'Well, abortion is safe in California — why are you so upset?' Really? They have clearly signaled — and Lindsey Graham the other day just doubled down on the fact that they plan to pursue a national abortion ban.
"But even aside from that," she continues, "we should never live in the kind of dystopian country where any person's rights vary from state to state. And you and I both know — we saw that for a very long time with gay marriage rights in this country, right? Where depending on where you live determines whether or not you can marry the person they love."
MAGA Republicans in Congress are "very comfortable operating in these spaces where they continue to chip away at fundamental rights to privacy and freedom," she says. "My opponent is right there on those extremes with these people. And the extremes are where our government is heading." Mike Garcia also voted against a bipartisan bill authored by Jan. 6 Committee members Reps. Zoe Lofgren from California and Liz Cheney from Wyoming that would help clear up and correct confusion underlying the belief system Trump touts as the "Big Lie."
My opponent is so extreme, he refused to vote for it," Christy says. "So, you can't say that you stand for democracy when you're literally actively working to take away – not only people's freedoms -but the structure of the democratic institutions and the structure that protect those freedoms."
Flipping this seat is a necessity.
Christy says that her top priorities if elected would be first addressing the needs of the North Los Angeles County communities she represents, especially transportation issues for commuters.
"We need to work on local and regional economic growth so people aren't commuting so far to have gainful employment," she says. "We really need to focus on an investment in our public schools. We are facing a national teacher shortage right now that could really devastate our public schools….If we don't come to terms with the fact that we have got to pay our teachers better, support them well, and keep politics out of their classroom, it's really going to be devastating to our kids and our schools."
Christy is also keen on urgently addressing climate change, which she considers "our biggest national security threat."
And," Christy says, "I agree with Tony. I think the LGBTQ community is next [on the GOP hit list. "That is really important work that we have to do to stem the tide of the very extreme movement that they're trying to push on America.
"You will always have an ally in me," she says to our LGBTQ people. "I came to the movement based on the work that my mom did. My mom was a home healthcare nurse and she was doing home health right at the time that the HIV/AIDS crisis gripped the country. And the stories that she would come home and share with me about what gay couples were going through and how their rights were being violated. And they were really left with so little support at a time of great crisis and need in their life. That just affirmed for me that everything that the LGBTQ community goes through are civil rights issues. And if we're going to get to true equity and parity in this country and have a future that speaks to the needs of everyone, this movement very much needs to continue to have a seat at the table. And that is work that I'm invested in doing. And it's more than just preaching to it — it's actually practicing it. So, I'm very proud of the diversity of my team that reflects the Rainbow Coalition and will continue to do so while I'm in public life."
Go to ChristyforCongress.org to find out more about how to elect Christy Smith to Congress.
Go here for the first Episode of "The Time is Now: Race to the Midterms" with Los Angeles County Democratic Party Chair Mark Gonzalez and CA-41 candidate Will Rollins.
Future of Democracy, Abortion Rights and Climate Change | Featuring Tony Hoang & Christy Smith:
Nonprofit leader aims to be 1st Out Santa Cruz County Supervisor
"I think it would send a really strong message to our county and region for a first openly LGBTQ supervisor in Santa Cruz County"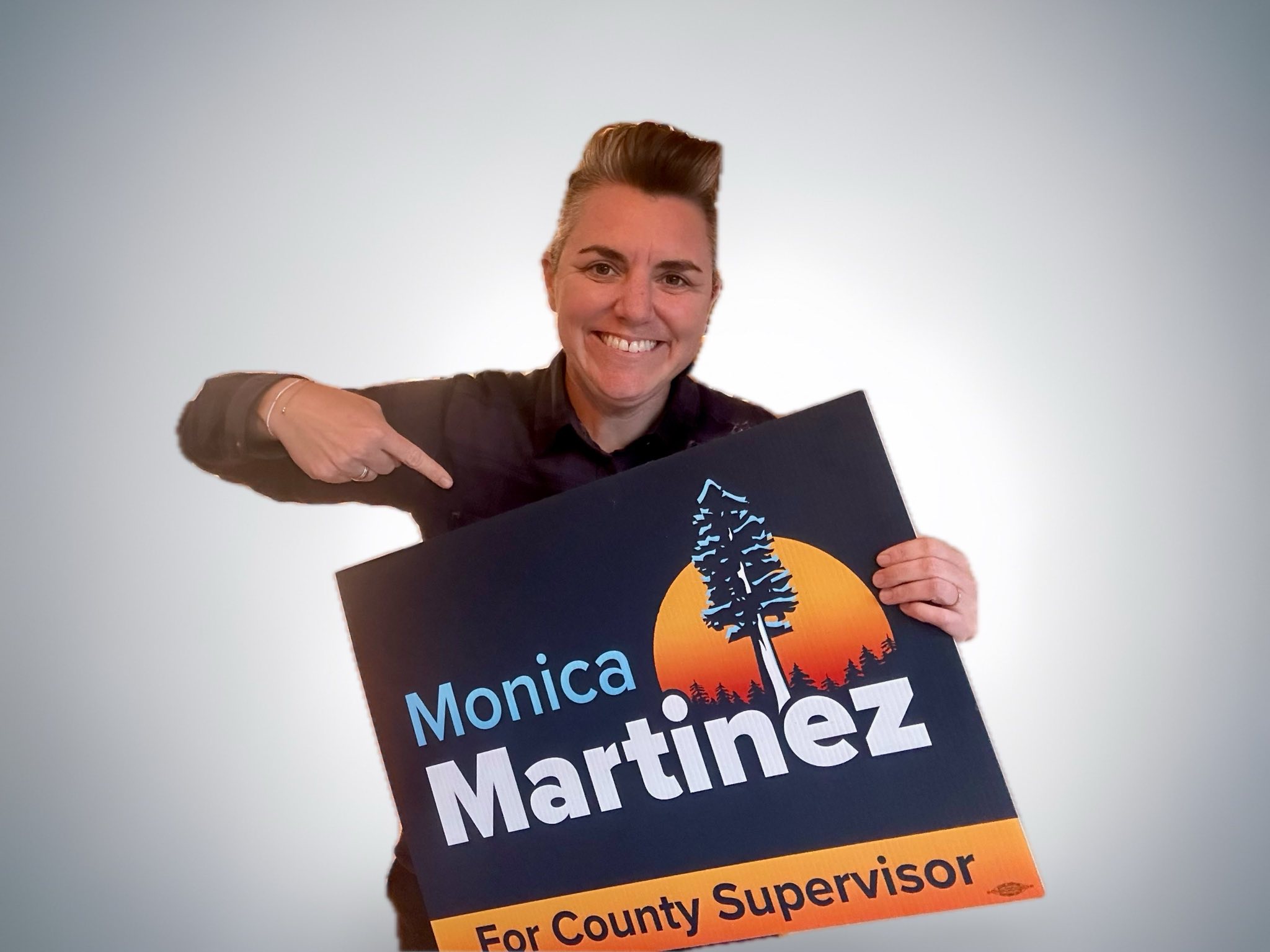 By Matthew S. Bajko, Assistant Editor | FELTON, Calif. – Despite its reputation as a coastal liberal bastion, Santa Cruz County has yet to see an LGBTQ leader elected to its Board of Supervisors. Recent elections have seen the out candidate running for a seat on the countywide governing body come up short.
Nonprofit executive and queer mom Monica Martinez is aiming to break through that pink political glass ceiling with her bid for the board's open District 5 seat. With another local leader opting against entering the race and instead endorsing Martinez, she is aiming to win the seat outright on the 2024 primary ballot.
"I don't want to take anything for granted," Martinez, 41, told the Bay Area Reporter about the campaign. "Certainly, my goal is to win in March and avoid a runoff in November."
If she does win the race for a four-year term, Martinez will be the first woman elected to the District 5 seat; she told the B.A.R. a woman was appointed to it in 1979 and served two years. She would also be the first woman to serve on the county board since 2012 and the first elected since 2008.
"I am ready to work as hard as I can all the way through the election because diverse candidates like myself, we don't have the privilege of walking into these seats," said Martinez. "I am ready to work hard to understand the needs of our district so I can represent it well as a supervisor."
Last June Supervisor Bruce McPherson announced he would retire at the end of his third term rather than run for reelection next year. It opened the door for Martinez, CEO of the county's largest health and human services nonprofit, Encompass Community Services, to seek the seat that covers the northern section of the city of Santa Cruz and Scotts Valley.
The fifth supervisorial district also includes the San Lorenzo Valley and its communities of Ben Lomond, Boulder Creek, and Felton, where Martinez resides. Most of it is unincorporated, with the county board providing services and governance.
"We haven't had a representative who has lived in San Lorenzo Valley since 2002, even though we make up 60% of voters," said Martinez. "Because we are unincorporated, we don't get another elected voice."
Two other candidates in the race, Christopher Bradford and Theresa Bond, have been focused on water issues in the district, while Tom Decker, who works for a company that builds accessory dwelling units, pulled papers last month to run. Santa Cruz County Sheriff Jim Hart ruled out also vying for the seat and endorsed Martinez in late October.
Last month, statewide LGBTQ advocacy organization Equality California endorsed Martinez along with several other out supervisor candidates on March ballots across the state, as the B.A.R. previously reported. She told the B.A.R. it is time for Santa Cruz County's board to have LGBTQ representation.
"I think Santa Cruz does have a reputation of being very progressive. However, this has been a glass ceiling that hasn't been broken yet," said Martinez. "I think it is an important voice that has been missing from the county board."
Becoming the first out supervisor from the board's most conservative leaning district would also be significant, she noted. Particularly at a time when attacks against LGBTQ rights have broken out across the Golden State, added Martinez.
"I think it would send a really strong message to our county and region if the first openly LGBTQ supervisor in Santa Cruz County came from the fifth district," she said. "I think it would be a really significant change and signal support for the values of inclusion and acceptance in our entire county, including in this district."
First-time candidate
A first-time candidate for public office, her candidacy is already an example of how far the LGBTQ community has come in her lifetime, said Martinez. She never imagined in her childhood that she would seek to be elected one day.
"Originally being from Bakersfield, I just never thought as an out LGBTQ woman who is Latinx that I would be electable," she said. "I have dedicated my life to public service and have been serving those in need in our community for my entire career. Over the last decade a lot has changed in what is valued in elected representation. My lived experience could be an asset; I could really help advance policy in our community."
Born and raised in Bakersfield at the southernmost end of California's Central Valley, Martinez grew up in a union household. Her father is a retired Kern County fire captain, while her mother is a retired public elementary school teacher.
Looking for a more welcoming environment post high school, Martinez enrolled at Cal Poly in San Luis Obispo along the state's Central Coast. As she worked toward earning her B.A. in political science, Martinez landed a summer job after her freshman year with the YMCA of San Francisco at its Camp Jones Gulch in the Santa Cruz Mountains.
Nineteen and not wanting to return to her hometown during her break between semesters, Martinez told the B.A.R. the camp was "a beacon" for her where she met like-minded, accepting people in the other employees.
"I met the first lesbians I'd ever met there. They took me to my first Pride in San Francisco. This was in 2001," she recalled. "I continued to work there for another five years during the summers."
She also noted that she hasn't missed Hardly Strictly Bluegrass, the free annual music festival held in San Francisco's Golden Gate Park, in 15 years. (It was held virtually during the first two years of the COVID pandemic.)
"I love it. I love music," said Martinez, who had just visited the city's LGBTQ Castro district for the first time since the start of the health crisis in 2020 when she spoke with the B.A.R. by phone in mid-November.
After Martinez earned a master's in public administration at the University of Southern California, she worked to provide services to homeless women living on Los Angeles' Skid Row. In 2010, the nonprofit Housing Matters of Santa Cruz County hired her as its executive director.
She co-founded the 180/180 Initiative, a community partnership aimed at helping to house homeless individuals in the county. By 2014, Martinez had taken over the leadership of Encompass Community Services.
Martinez is a co-parent with her two children's other mom, from whom she is separated. Because the couple adopted them out of the foster care system, Martinez is keeping their identities private, though she did tell the B.A.R. they are elementary school students ages 8 and 9 who are not biological siblings.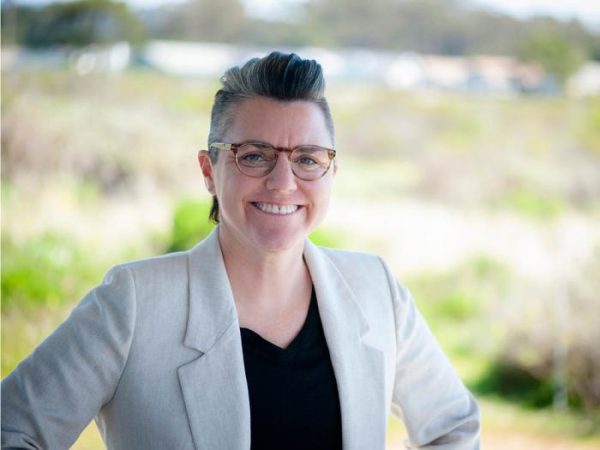 She and her family had to evacuate their home during the CZU Lightning Complex Fire that tore through the Santa Cruz Mountains in August 2020. They were able to return after being displaced for a month.
"We were fortunate to have a home to come home to," said Martinez.
That experience, and navigating the COVID pandemic as a parent working from home, provided her a unique perspective that she now wants to bring to the county board. In addition to knowing the inner workings of the county government due to her nonprofit work, Martinez has also chaired the Santa Cruz County Parks and Recreation Commission and serves on the executive committee of the Santa Cruz County Health Improvement Partnership.
"Given my experience navigating public services and county funding, I feel like I have a lot to offer," she said. "I won't be green in the job because I have been navigating these systems professionally my whole career. I feel really ready and that this is a natural next step for my career."
Should she be able to secure the supervisor seat in the March 5 primary, it would allow Martinez to help usher in a new executive director at her agency before she is sworn into the supervisor seat next December ahead of the board's first meeting in January 2025.
"The real reason I want to win in March is I run a large human services organization. If I have time to transition out of the role and support the organization in hiring and training a person during that time period, it will be good for the organization and the services we deliver in our county," said Martinez. "I'd much rather have time to do that from March to January rather than have to campaign."
To learn more about her candidacy, visit her website at martinezforsupervisor.com.
EQCA endorses out Santa Cruz council candidate
Another candidate looking to make political history in Santa Cruz County next year also picked up the support recently of EQCA. Joe Thompson is aiming to become the first nonbinary individual elected to the Santa Cruz City Council.
A former union organizer at Starbucks, Thompson came up short last year in their bid for a state Assembly seat. Thompson is now running for the District 5 council seat in Santa Cruz, as is former assistant city manager Susie O'Hara.
It includes the Pogonip open space area and the majority of the UC Santa Cruz campus, plus the city's Upper West Side and Harvey West Park areas. (The coastal enclave is transitioning to having six district-based council seats plus an elected mayor, which began with the 2022 elections for two of the seats and a new mayor.)
Like the county's supervisor races, the council race will be on the 2024 primary ballot. With just two candidates in the race, it is likely one of them will receive more than 50% of the vote come March 5 to win it outright and avoid a runoff race on the November ballot next year.
According to a map of LGBTQ elected officials maintained by the LGBTQ Victory Fund, there are no out members currently on the City Council in Santa Cruz. Former lesbian councilmember Donna Meyers left in 2022 after serving one four-year term, which included her becoming the city's first lesbian mayor when she held the former ceremonial role in 2021.
**************************************************************************************
The preceding article was previously published by the Bay Area Reporter and is republished with permission.
Help keep the Bay Area Reporter going in these tough times. To support local, independent, LGBTQ journalism, consider becoming a BAR member.