At least five people killed in shooting at LGBTQ+ nightclub in Colo.
Gunman opened fire at Club Q in Colorado Springs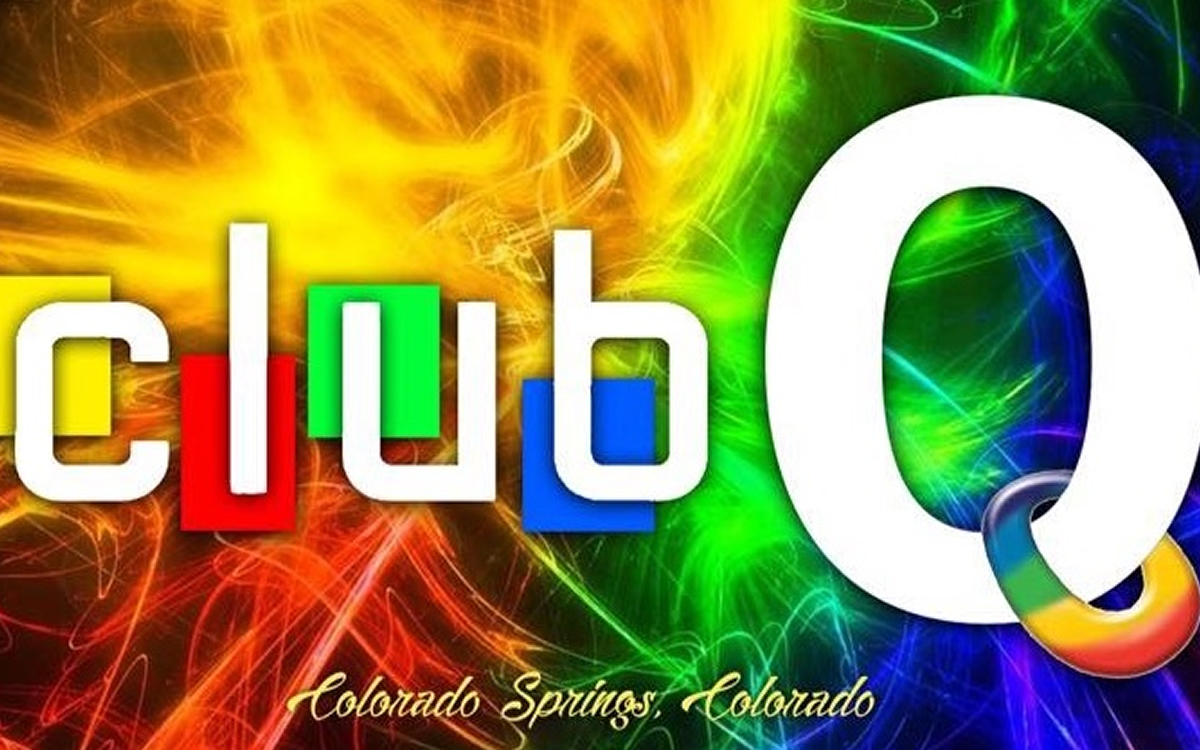 COLORADO SPRINGS, Colo. — A gunman has killed at least five people at an LGBTQ+ nightclub in Colorado Springs, Colo.
The New York Times reported the Colorado Springs Police Department received a call for an active shooting at Club Q at 11:57 p.m. MT on Saturday (10:57 p.m. PT.)
At least 18 people were injured. A spokesperson for the Colorado Springs Police Department said the suspected gunman is in custody and is in a local hospital. Officials have identified him as Anderson Lee Aldrich.
Colorado Springs Police Department Chief Adrian Vasquez told reporters the suspected gunman began shooting once he entered the club. Vasquez, according to KOAA, a Colorado Springs television station, said at least two customers subdued the shooter before officers arrived.
Club Q's Facebook page notes a drag show began less than three hours before the shooting.
"Club Q is devastated by the senseless attack on our community," said Club Q on its Facebook page.
A gunman on June 12, 2016, killed 49 people inside the Pulse nightclub in Orlando, Fla.
Police in Coeur d'Alene, Idaho, in June arrested more than 30 members of a neo-Nazi group who sought to disrupt a Pride event. Drag queen story hours and other LGBTQ events have been disrupted in recent months.
Saturday's shooting coincides with the annual Transgender Day of Remembrance.
Places that are supposed to be safe spaces of acceptance and celebration should never be turned into places of terror and violence. Yet it happens far too often. We must drive out the inequities that contribute to violence against LGBTQI+ people. We cannot and must not tolerate hate.
Today, yet another community in America has been torn apart by gun violence. More families left with an empty chair at the table and hole in their lives that cannot be filled. When will we decide we've had enough? We must address the public health epidemic of gun violence in all of its forms. Earlier this year, I signed the most significant gun safety law in nearly three decades, in addition to taking other historic actions. But we must do more. We need to enact an assault weapons ban to get weapons of war off America's streets.
Today, Jill and I are praying for the families of the five people killed in Colorado Springs last night, and for those injured in this senseless attack," said Biden.
"Devastating news in Colorado Springs where 23 people were shot at an LGBTQ club overnight, according to police," tweeted openly gay Illinois Congressman-elect Eric Sorensen. "As we pray for those fighting for life, we must use loud voices to stand up against hate. Our country must turn down the hateful rhetoric aimed at our LGBTQ community."
Rhode Island Congressman David Cicilline, who chairs the Congressional LGBTQ+ Equality Caucus, in a statement said he is "horrified and devastated by the news out of Colorado Springs this morning."
"LGBTQ+ clubs are often a place of refuge and affirmation for our community, yet once again what should have been a safe space became the target of a violent and deadly attack. My heart is with the victims of this horrific shooting, their family and friends, Club Q's staff and patrons, and the entire LGBTQ+ community in Colorado Springs and around the country," said Cicilline. "As we mark Transgender Day of Remembrance today, we are further reminded that deadly violence against members of our community is sadly not new. We know the toxic combination of hate and access to guns in this country leads to deadly results. We must honor the lives lost in this shooting and all LGBTQ+ lives lost due to violence with action — action to address the twin epidemics of hate and gun violence in this country."
Colorado Gov. Jared Polis, who is openly gay, and incoming Human Rights Campaign President Kelley Robinson are among those who have also condemned the shooting.
In a statement released by his office, Colorado's governor said:
"This is horrific, sickening, and devastating. My heart breaks for the family and friends of those lost, injured, and traumatized in this horrific shooting. I have spoken with Mayor Suthers and made it clear that every state resource is available to local law enforcement in Colorado Springs. We are eternally grateful for the brave individuals who blocked the gunman likely saving lives in the process and for the first responders who responded swiftly to this horrific shooting. Colorado stands with our LGTBQ community and everyone impacted by this tragedy as we mourn together."
Robinson noted:
"We are absolutely heartbroken by last night's deadly shooting at an LGBTQ+ club in Colorado Springs. We know anti-LGBTQ+ hate is on the rise and gun violence impacts our community at devastating rates. We are also observing Transgender Day of Remembrance today and over the last 10 years two-thirds of the more than 300 fatalities we've tracked involved gun violence," said Robinson in a statement. "We must rise against hate in the strongest possible terms, we must stand together in solidarity and love with our LGBTQ+ family in Colorado Springs and demand an end to this epidemic of gun violence. From Pulse to Colorado Springs to so many other lives stolen from us — this has occurred for far too long. HRC mourns the lives taken at Club Q last night and extends our deepest strength, love and condolences to the loved ones impacted."
Sen. John Hickenlooper (D-Colo.) called the attack as "an unspeakable act" and said it was "horrendous" to learn what happened.
"We have to protect LGBTQ lives from this hate," wrote Hickenlooper, who is also the former governor of Colorado and a strong LGBTQ+ community ally.
Orlando Mayor Buddy Dyer, who along with his city's residents experienced the mass-shooting at the Pulse Nightclub on June 12, 2016, when a 29-year-old man, killed 49 people and wounded 53 more, tweeted his support to the city of Colorado Springs: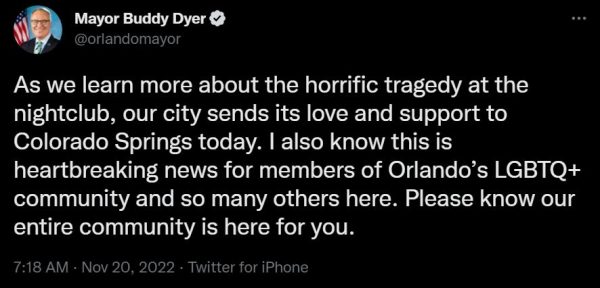 Appearing on The Sunday Show with Jonathan Capehart, Brandon J. Wolf, Press Secretary of Equality Florida and a survivor of the mass-shooting/murder at Pulse speaking about the Club Q shooting in Colorado Springs and on the uptick of anti-LGBTQ hate told Capehart:
"This is a community that's been traumatized, we've been demeaned, we've been dehumanized…We've been begging for people to take this rhetoric seriously."
"This is a community that's been traumatized, we've been demeaned, we've been dehumanized…We've been begging for people to take this rhetoric seriously." Pulse survivor @bjoewolf on the Colorado Springs shooting in a LGBTQ nightclub #SundayShow pic.twitter.com/wFuiGznuT2

— The Sunday Show with Jonathan Capehart (@TheSundayShow) November 20, 2022
Equality Florida responded in a statement to the horrific attack at Colorado Springs' Club Q:
"Today, we awakened to the all too familiar horror: another hate motivated mass shooting targeting a community that has been vilified and dehumanized by hateful political rhetoric. It is no coincidence that yet another community refuge, and the safety it provides, has been shattered amidst a political climate supercharged with anti-LGBTQ hate by powerful leaders and right wing extremists. Thanksgiving tables will have empty chairs this week. Holidays will have missing faces. These are the costs of hate violence — costs we know all too well.
Our hearts go out to all those impacted and we will work with our local partners to ensure the community receives the care it needs and that we honor those stolen from us with action."
Colorado Springs Police Department Update on Mass Shooting at LGBTQ+ Nightclub:
The Blade will update this story as more details become available.
Biden calls Club Q owners; community grapples with aftermath
Fallout over the shooting continues as anger mounts at what many in the LGBTQ+ community see as a resurgence of anti-LGBTQ+ hate speech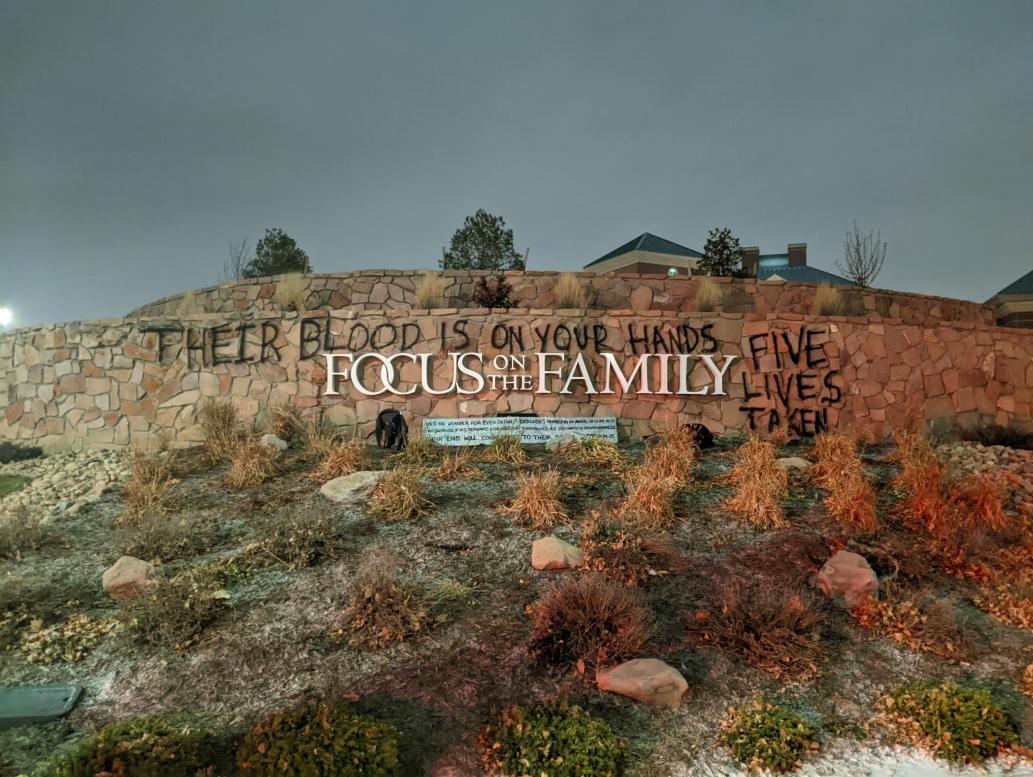 COLORADO SPRINGS – As the LGBTQ+ community continues to mourn the loss of the five people killed in last weekend's mass shooting, focus is now shifting to a reflection of anti-LGBTQ sentiment that has evolved from prejudice to incitement according to Nic Grzecka a co-owner of Club Q.
In an interview with the Associated Press, one of his first since the chaos of the aftermath created by the mass-shooting, Grzecka said he believes the targeting of a drag queen event is connected to the art form being cast in a false light in recent months by right-wing activists and politicians who complain about the "sexualization" or "grooming" of children.
Even though general acceptance of the LGBTQ community has grown, this new dynamic has fostered a dangerous climate, he said.
"It's different to walk down the street holding my boyfriend's hand and getting spit at (as opposed to) a politician relating a drag queen to a groomer of their children," Grzecka said. "I would rather be spit on in the street than the hate get as bad as where we are today."
On Thursday, President Joe Biden spending the Thanksgiving holiday with the First Lady and family members in Nantucket, Massachusetts, called Grzecka and Club Q co-owner Matthew Haynes.
The President and the First Lady offered condolences and reiterated their support for the community as well as their commitment to fighting back against hate and gun violence. They also thanked the two men for the 'incredible contributions they have made and will continue to make to Colorado Springs.'
The president told reporters enroute to Nantucket, reflecting on the mass-shooting at the LGBTQ+ club and then another mass-shooting Tuesday, at a Wal-Mart store when a night manager opened fire in a breakroom in Chesapeake, Va., killing six, and wounding at least half a dozen more, said he has plans to support a bill banning assault rifles during the lame-duck session before the next Congress is seated in January.
"I'm going to do it whenever — I got to make that assessment as I get in and start counting the votes," Biden said
As the memorial outside Club Q grows, more attention is now being focused on the needs of the survivors and others in the LGBTQ + community in Colorado Springs affected by the mass-shooting.
An annual 'Friendsgiving' feast for the members of the LGBTQ+ community unable to spend time with relatives because of their being LGBTQ+ and which was normally held by the owners and staff of Club Q was shifted to a community dinner at the Colorado Springs MCC Church.
In an Instagram post, earlier in the week, Grzecka thanked Colorado Governor Jared Polis, state Attorney General Phil Weiser, Colorado Springs Police Chief Adrian Vasquez and city councilmember Nancy Henjum whose district the LGBTQ+ club is located, "for your hard work to ensure there was a Crisis Center to service the Club Q and Colorado Springs community during the holiday."
Fallout over the shooting continues as anger mounts at what many in the LGBTQ+ community see as targeted hate amplified by a resurgence of anti-LGBTQ+ hate speech online and by right-wing media outlets and far-right figures such as Fox host Tucker Carlson.
Colorado Springs is also home to Focus on the Family, one of the largest anti-LGBTQ+ groups in the United States. The Christian ministry group has opposed same-sex marriage, LGBTQ+ service in any branch of the U.S. armed forces and continues to advocate for the discredited practice of conversion therapy.
Late Thursday person or persons unknown vandalized the sign at the main entrance to the group's headquarters complex. "We went out there to investigate if there was a crime that took place," Colorado Springs Police Department spokesperson Sgt. Jason Ledbetter told the Gazette regarding the overnight incident. "There is no suspect information at this time."
In a Instagram post, Club Q owner Grzecka displayed a picture of the vandalized sign with graffiti spray painted in black reading; "Their blood is on your hands five lives taken."
In his message accompanying the picture, Grzecka noted:
Focus on the Family moved to our city in the 90's, was a large group behind pushing through amendment 2 along with Colorado for family matters. People such as Dr. James Dobson and Will Perkins have spread a nasty, false and hurtful narrative about our LGBT community.
Amendment 2 was passed in 1992, and Colorado Springs ( El Paso county) were the votes to pass the amendment, the same amendment that gave our city the nickname "hate city USA"
Words have consequences and your continuous false narrative about the lgbt community has consequences,
@focusonthefamily this message added to your sign has more truth to it than you may actually be able to understand.
This is not vandalism this is not an attack on Christian's. This message is just that a message that was delivered in a way to ensure you receive it.
@cityofcos, Mayor Suthers when can we meet to discuss how this type of Anti Gay speech, is coming from our own backyard.
The Gazette also reported that people from around the nation are holding in-person and online fundraisers for victims and families of the Club Q mass shooting.
While the state has an official online donation site, the Colorado Healing Fund, a private online drive, also has become one of the largest appeals.
Good Judy Garage in Denver, an LGBTQ business, raised $25,000 in two hours after starting a GoFundMe drive on Sunday. The initial goal was upped to $50,000 and now is at $750,000, as donations continue to pour in. As of Friday, the amount collected was $761,707 raised.
Link to the GoFundMe: https://www.gofundme.com/f/support-for-the-club-q-families-and-survivors.
Focus on the Family headquarters sign vandalized in wake of Club Q shooting https://t.co/VZc3HQTKEy

— KKTV 11 News (@KKTV11News) November 25, 2022