Gay brother of journalist who died at World Cup pleads for help
Eric Wahl broke down in tears in his video, revealing that his brother wore that shirt as a sign of support for him and all LGBTQ+ people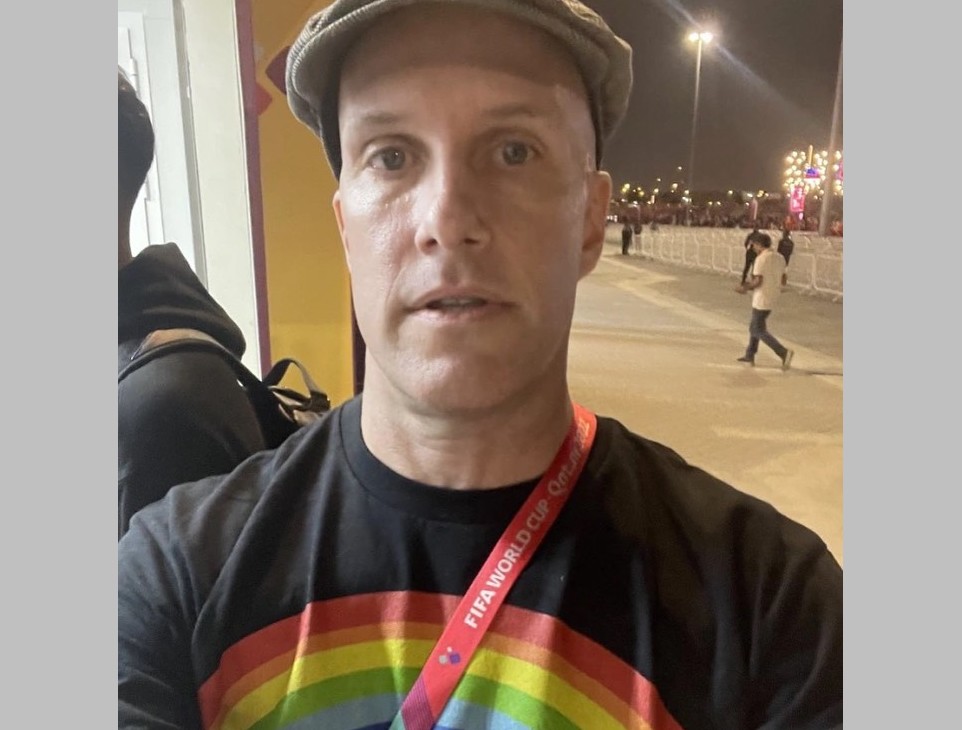 LUSAIL, Qatar – Journalists around the world are mourning the sudden death of their colleague, Grant Wahl, while covering the World Cup on Friday. Wahl, known for his sports coverage on behalf of CBS News, NBC News, Sports Illustrated and on Substack, was 48, and a cause of death has not been announced. 
Wahl was covering his thirteenth World Cup, and reports say he fell ill in the press box at Lusail Iconic Stadium during extra time of the World Cup match between Argentina and the Netherlands on Friday and could not be revived.
On Monday, he wrote that "My body finally broke down on me" and he visited a medical clinic in Qatar.
"Three weeks of little sleep, high stress and lots of work can do that to you," Wahl wrote. "What had been a cold over the last 10 days turned into something more severe on the night of the USA-Netherlands game, and I could feel my upper chest take on a new level of pressure and discomfort."
According to Wahl's post, he tested negative for COVID-19. "I went into the medical clinic at the main media center today, and they said I probably have bronchitis. They gave me a course of antibiotics and some heavy-duty cough syrup, and I'm already feeling a bit better just a few hours later. But still: No bueno," wrote Wahl.
Wahl's brother, who is gay, posted a video message on Instagram, announcing he believes there was foul play and asking for help. "I do not believe my brother just died," said Eric Wahl of Seattle. "My brother was healthy. He told me received death threats."
Eric Wahl broke down in tears in his video, revealing that his brother wore the rainbow shirt as a sign of support for him and all LGBTQ+ people.
CNN reported Wahl was treated in the stadium "for about 20-25 minutes" before he was moved to the hospital, Keir Radnedge, a columnist at World Soccer Magazine, told CNN Saturday.
"This was towards the end of extra time in the match. Suddenly, colleagues up to my left started shouting for medical assistance. Obviously, someone had collapsed. Because the chairs are freestanding, people were able to move the chairs, so it's possible to create a little bit of space around him," Radnedge said.
He added that the medical team were there "pretty quickly and were able to, as best they could, give treatment."
Grant Wahl made headlines on Nov. 21, when he was denied entry into the U.S. men's national team's World Cup opener against Wales because the shirt he was wearing featured a rainbow surrounding a soccer ball and was detained for nearly 30 minutes.
Same-sex relations are against the law in Qatar, and the Washington Post reported soccer fans wearing rainbows were refused entry or asked to hide the Pride symbol.
U.S. Soccer put out a statement of condolences. Wahl's widow tweeted that she was "in complete shock."
I am so thankful for the support of my husband @GrantWahl's soccer family & of so many friends who've reached out tonight.

I'm in complete shock. https://t.co/OB3IzOxGlE

— Céline Gounder, MD, ScM, FIDSA 🇺🇦 (@celinegounder) December 10, 2022
U.S. State Department spokesperson Ned Price tweeted that the U.S. government is in contact with Qatari officials regarding Wahl's death.
We were deeply saddened to learn of the death of Grant Wahl and send our condolences to his family, with whom we have been in close communication. We are engaged with senior Qatari officials to see to it that his family's wishes are fulfilled as expeditiously as possible.

— Ned Price (@StateDeptSpox) December 10, 2022
NY Rangers forgoes Pride jerseys & stick tape for team Pride night
"NYC Pride was not made aware in advance of our participation in last night's ceremonial puck drop that Pride jerseys would not be worn"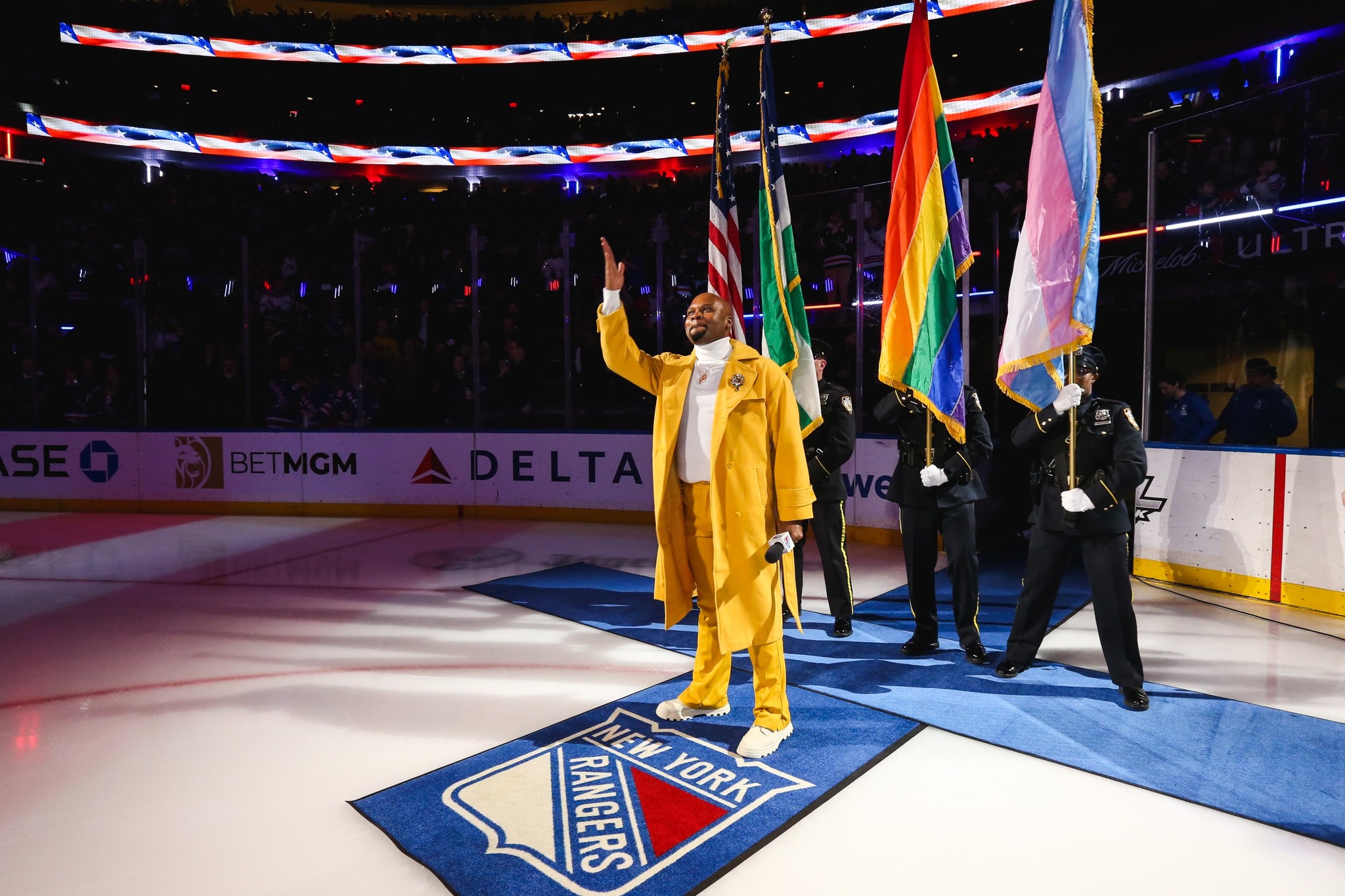 NEW YORK CITY – New York LGBTQ+ Rangers fans were disappointed after the National Hockey League team forwent wearing the team's special warm-up jerseys and using Pride stick tape during the team's 7th annual Pride Night Friday.
The Rangers had promoted Friday night's Madison Square Garden home game against Vegas Golden Knights, saying players "will be showing their support by donning pride-themed warm-up jerseys and tape in solidarity with those who continue to advocate for inclusivity."  But ultimately the team wore their "Liberty Head" jerseys in warmups instead.
The Rangers scrapped plans to wear rainbow-themed warmup jerseys for Friday's "Pride Night" at Madison Square Garden, prompting confusion and disappointment from the LGBTQ community. https://t.co/8vQEkz838f

— 97.1 The Ticket: (@971theticketxyt) January 29, 2023
After the game, a 4-1 win over the Vegas Golden Knights, the Rangers released a statement: "Our organization respects the LGBTQ+ community and we are proud to bring attention to important local community organizations as part of another great Pride Night. In keeping with our organization's core values, we support everyone's individual right to respectfully express their beliefs."
In an emailed statement to the Blade Sunday Dan Dimant, Media Director for NYC Pride | Heritage of Pride, Inc. said:
"In recent years, numerous National Hockey League (NHL) franchises including the New York Rangers have introduced a series of "Pride Nights" to engage the LGBTQ+ community. NYC Pride has been honored to take part in these celebrations, including as recently as last night at Madison Square Garden.
NYC Pride was not made aware in advance of our participation in last night's ceremonial puck drop that Pride jerseys and rainbow tape would not be worn as advertised. We understand and appreciate that this has been a major disappointment to the LGBTQ+ community in New York and beyond. We are communicating these concerns with NY Rangers and NHL leadership as we continue to discuss the ways these organizations can work toward inclusion.
NYC Pride has a duty to both support our partners and hold them accountable. We are committed to continuing our relationships with the NY Rangers and the NHL and maintaining substantive dialogue with them about meaningful allyship with the LGBTQ+ community."
ESPN reported that the team's annual Pride Night was celebrated throughout the game in other ways. Fans were given a pride-themed fanny pack as a giveaway. The exterior and interior lights at Madison Square Garden were illuminated in rainbow colors. The Rangers also made a charitable donation to the Ali Forney Center on Pride Night, the largest agency dedicated to LGBTQ+ homeless youths in the country.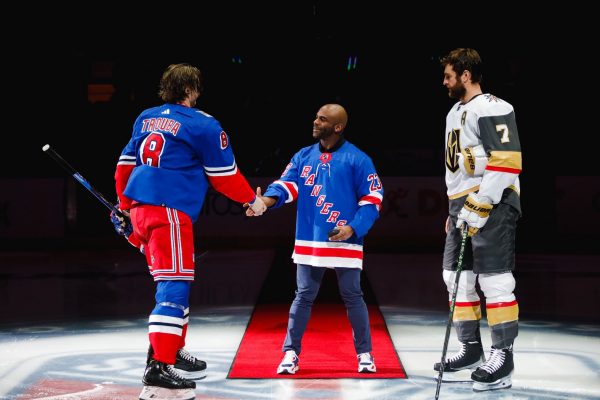 The Rangers' Pride Night was held 10 days after Ivan Provorov, the alternate captain for the National Hockey League's Philadelphia Flyers, opted out of participating in the team's Pride Night charity event before the game Tuesday, claiming a religious exemption based on his Russian Orthodox faith.
Provorov, 26, was the only member of the Flyers to not take part in the pre-game exercise on the ice. A video tweeted by the team's official account shows the rest of the players wore special Pride Night-themed black jerseys with the traditional Flyers logo on the front and rainbow-colored names and numbers on the back; Many of the players practiced using hockey sticks wrapped in rainbow-colored tape known as Pride tape. Both the sticks and the jerseys were auctioned off after the game with the Anaheim Ducks, to raise money for local LGBTQ+ charities.
The defenseman, who was born in Russia, told reporters after their victory, "I respect everybody and respect everybody's choices," adding that he declined to take part in the warmup "to stay true to myself and my religion." 
After Provorov opted out of participating in the Flyer's Pride Night charity event the NHL put out a statement that said players can decide which team and league initiatives to support.
"Hockey is for Everyone is the umbrella initiative under which the League encourages Clubs to celebrate the diversity that exists in their respective markets, and to work to achieve more welcoming and inclusive environments for all fans," the league said. "Clubs decide whom to celebrate, when and how — with League counsel and support. Players are free to decide which initiatives to support, and we continue to encourage their voices and perspectives on social and cultural issues."
New York Rangers: Sights and Sounds | Jan. 24 2022 Pride Night: