Capitol insurrectionist arrested in LA after standoff with FBI
Seen wearing a black sweatshirt with 'Fags for Trump' silkscreened on it, draped in a Pride flag, & carrying a hammer on January 6, 2021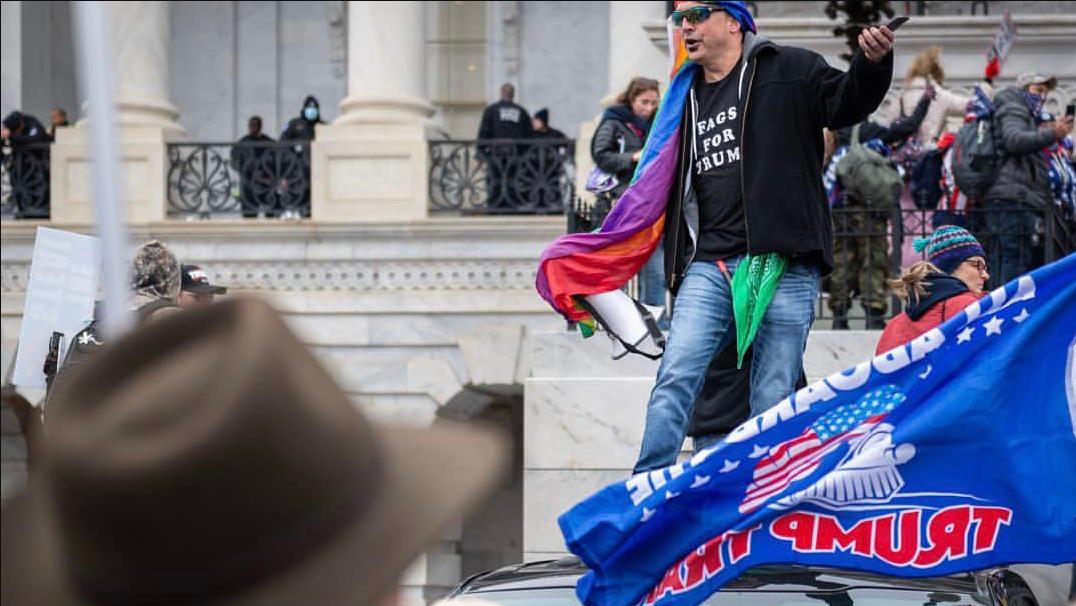 LOS ANGELES – After an hours long stand-off outside a home at Willis Avenue and Burbank Boulevard in Van Nuys with FBI agents, Eric Christie was arrested for his role in the January 6, 2021 attack on the U.S. Capitol.
Christie is seen in multiple video and still photos on the East Front Capitol steps wearing a black sweatshirt with 'Fags for Trump' silkscreened on it, draped in a Pride flag, and carrying a hammer.
According to NBC News, Christie is a known local far-right anti-vaxxer and protested against coronavirus pandemic restrictions around the Los Angeles region and often attended rallies supporting former president Trump.
Christie, whom the Associated Press said is 56 years old, was identified for his role in the January 6 insurrection by online sleuths and was publicly identified and named by the anti-fascist activist and security researcher Chad Loder in February 2021.
The U.S. Department of Justice still has Christie's case under seal, though the criminal complaint reveals some of Christie's alleged actions that day.
According to prosecutors, he ran toward the Capitol after a crowd pushed through barriers, then runs up steps on the east side of the building while repeating "This is our Capitol" on the bullhorn.
He later stood atop a government vehicle parked near the Capitol and added more chants to his bullhorn, including "It's a MAGA party, it's a MAGA party," "Welcome to MAGA country, District of Columbia" and "Beverly Hills is in the house," prosecutors said.
"Christie was previously named by a defense attorney in another Jan. 6 case, in which the court filing suggested Christie was a 'suspicious actor' and questioned why he hadn't been arrested yet," NBC News also reported.
Christie was also a write-in candidate for Los Angeles City Council in 2020.
According to law enforcement sources he was arrested at an address associated with him.
Breaking: After an hours-long standoff, the FBI arrested LA resident Eric Christie for his involvement in Jan. 6, sources confirm.

Christie, a write-in candidate for city council in 2020, appeared at the riot in a "fags for trump" shirt and carrying a hammer. pic.twitter.com/oybof7i1ZJ

— Samuel Braslow (@SamBraslow) December 23, 2022
Mayor Bass declares state of emergency over homelessness crisis
Latest count by L.A. Homeless Services Authority revealed there were 41,980 unhoused people in the city this past year, up 1.7% from 2020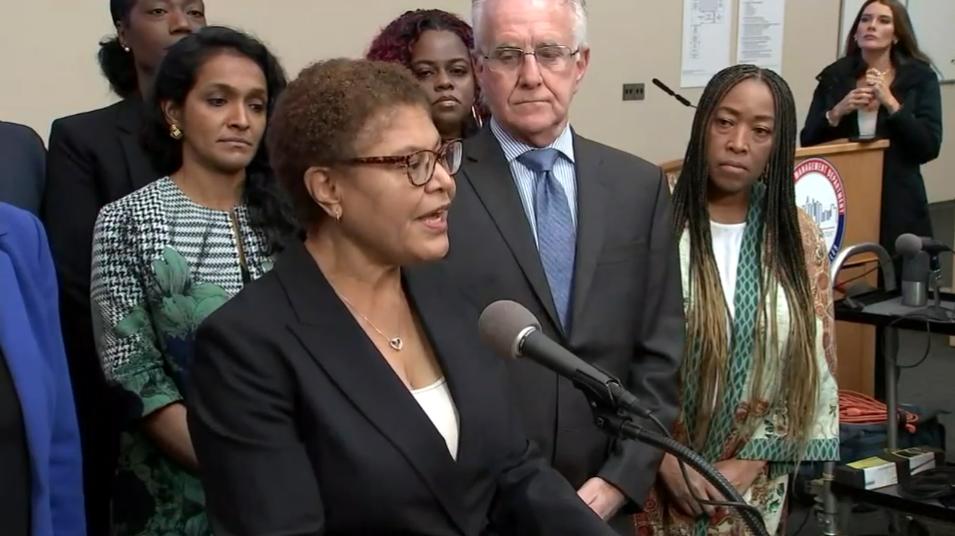 LOS ANGELES – In her first official press conference, newly sworn-in L.A. City Mayor Karen Bass issued a declaration marking a state of emergency on the city's homelessness crisis as her first official act as mayor.
Flanked by L.A. City Council President Paul Krekorian and Chair of the Los Angeles County Board of Supervisors Janice Hahn along with other elected and city officials, Bass told reporters "we are united and serious about the city's crisis of homelessness."
"I will not accept a homeless crisis that afflicts more than 40,000 Angelenos and affects every one of us. It is a humanitarian crisis that takes the life of five people every day," the mayor added just prior to officially signing the declaration. "It must stop, and change starts now…There will be no holding back on my watch."
Her campaign for the office of Mayor of L.A. was largely focused on ending the homeless crisis — a promise the new Mayor addressed Sunday in her inaugural speech.
"Tragically, our city has earned the shameful crown as being home to some of the most crowded neighborhoods in the nation—Pico Union, South L.A., East L.A., the East Valley. We know our mission – we must build housing in every neighborhood," Bass told the audience gathered at Microsoft Theatre.
The latest count by the L.A. Homeless Services Authority revealed that there were 41,980 unhoused people in the city this past year, up 1.7% from 2020.
"The mayor's first priority and likely the main one for some time to come is homelessness," said Raphael Sonenshein, executive director of the Pat Brown Institute for Public Affairs at California State University, Los Angeles told KABC 7 Eyewitness News Monday.
"The voters don't expect a miracle but will be looking for a clear and credible path toward measurable and visible improvement," Sonenshein said. "It's an opportunity for an energetic reset on a crisis that has seemed stuck, and also a chance to restore confidence in local government in Los Angeles."
Los Angeles Mayor Karen Bass declares a state of emergency on homelessness:
The order immediately gives Mayor Bass the power to lift rules and regulations that slow or prevent the building of permanent and temporary housing for the unhoused; to expedite contracts that prioritize bringing unhoused Angelenos inside; and that allow the city to acquire rooms, properties and land for housing for Angelenos in need. Moving forward, Mayor Bass will issue executive directives to advance these critical reforms.
Immediately prior to signing the declaration, Mayor Bass met with her department heads – as well as the heads of the Los Angeles Homeless Services Authority and Metro – to outline her strategy to move Los Angeles forward with a unified approach to homelessness. The Los Angeles County CEO was also present for the meeting.
She also met with frontline service providers and Janice Hahn, Chair of the Los Angeles County Board of Supervisors; Hydee Feldstein Soto, City Attorney; Kenneth Mejia, City Controller; Paul Krekorian, City Council President; Curren Price, President pro tempore, Los Angeles City Council; and Nithya Raman, Los Angeles City Councilmember and Chair of the Homelessness and Poverty Committee.
All of the above attended the signing.