Mayor Bass declares state of emergency over homelessness crisis
Latest count by L.A. Homeless Services Authority revealed there were 41,980 unhoused people in the city this past year, up 1.7% from 2020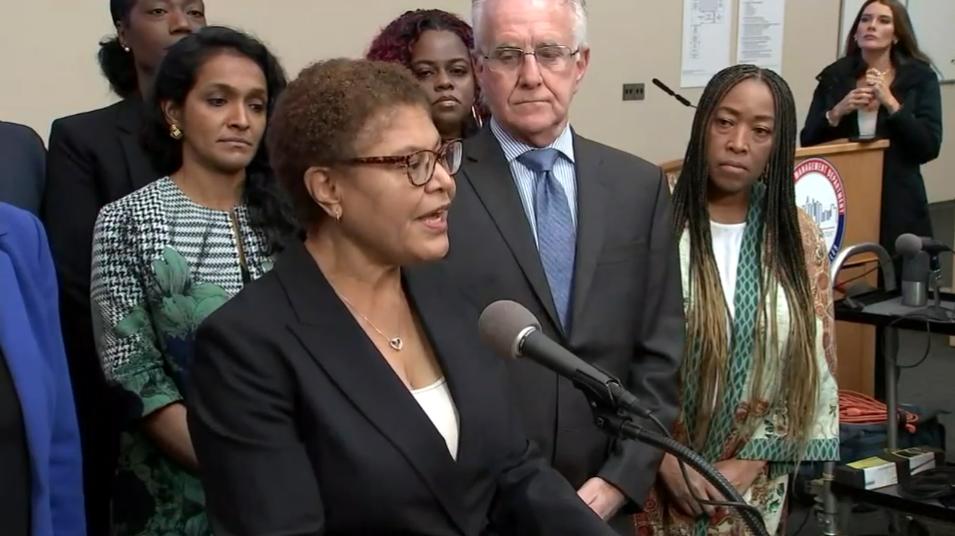 LOS ANGELES – In her first official press conference, newly sworn-in L.A. City Mayor Karen Bass issued a declaration marking a state of emergency on the city's homelessness crisis as her first official act as mayor.
Flanked by L.A. City Council President Paul Krekorian and Chair of the Los Angeles County Board of Supervisors Janice Hahn along with other elected and city officials, Bass told reporters "we are united and serious about the city's crisis of homelessness."
"I will not accept a homeless crisis that afflicts more than 40,000 Angelenos and affects every one of us. It is a humanitarian crisis that takes the life of five people every day," the mayor added just prior to officially signing the declaration. "It must stop, and change starts now…There will be no holding back on my watch."
Her campaign for the office of Mayor of L.A. was largely focused on ending the homeless crisis — a promise the new Mayor addressed Sunday in her inaugural speech.
"Tragically, our city has earned the shameful crown as being home to some of the most crowded neighborhoods in the nation—Pico Union, South L.A., East L.A., the East Valley. We know our mission – we must build housing in every neighborhood," Bass told the audience gathered at Microsoft Theatre.
The latest count by the L.A. Homeless Services Authority revealed that there were 41,980 unhoused people in the city this past year, up 1.7% from 2020.
"The mayor's first priority and likely the main one for some time to come is homelessness," said Raphael Sonenshein, executive director of the Pat Brown Institute for Public Affairs at California State University, Los Angeles told KABC 7 Eyewitness News Monday.
"The voters don't expect a miracle but will be looking for a clear and credible path toward measurable and visible improvement," Sonenshein said. "It's an opportunity for an energetic reset on a crisis that has seemed stuck, and also a chance to restore confidence in local government in Los Angeles."
Los Angeles Mayor Karen Bass declares a state of emergency on homelessness:
The order immediately gives Mayor Bass the power to lift rules and regulations that slow or prevent the building of permanent and temporary housing for the unhoused; to expedite contracts that prioritize bringing unhoused Angelenos inside; and that allow the city to acquire rooms, properties and land for housing for Angelenos in need. Moving forward, Mayor Bass will issue executive directives to advance these critical reforms.
Immediately prior to signing the declaration, Mayor Bass met with her department heads – as well as the heads of the Los Angeles Homeless Services Authority and Metro – to outline her strategy to move Los Angeles forward with a unified approach to homelessness. The Los Angeles County CEO was also present for the meeting.
She also met with frontline service providers and Janice Hahn, Chair of the Los Angeles County Board of Supervisors; Hydee Feldstein Soto, City Attorney; Kenneth Mejia, City Controller; Paul Krekorian, City Council President; Curren Price, President pro tempore, Los Angeles City Council; and Nithya Raman, Los Angeles City Councilmember and Chair of the Homelessness and Poverty Committee.
All of the above attended the signing.
LAPD asking for public's help with murders of homeless persons
Anyone with information is urged to contact the Los Angeles Police Department's Robbery-Homicide Division, Homicide Special Section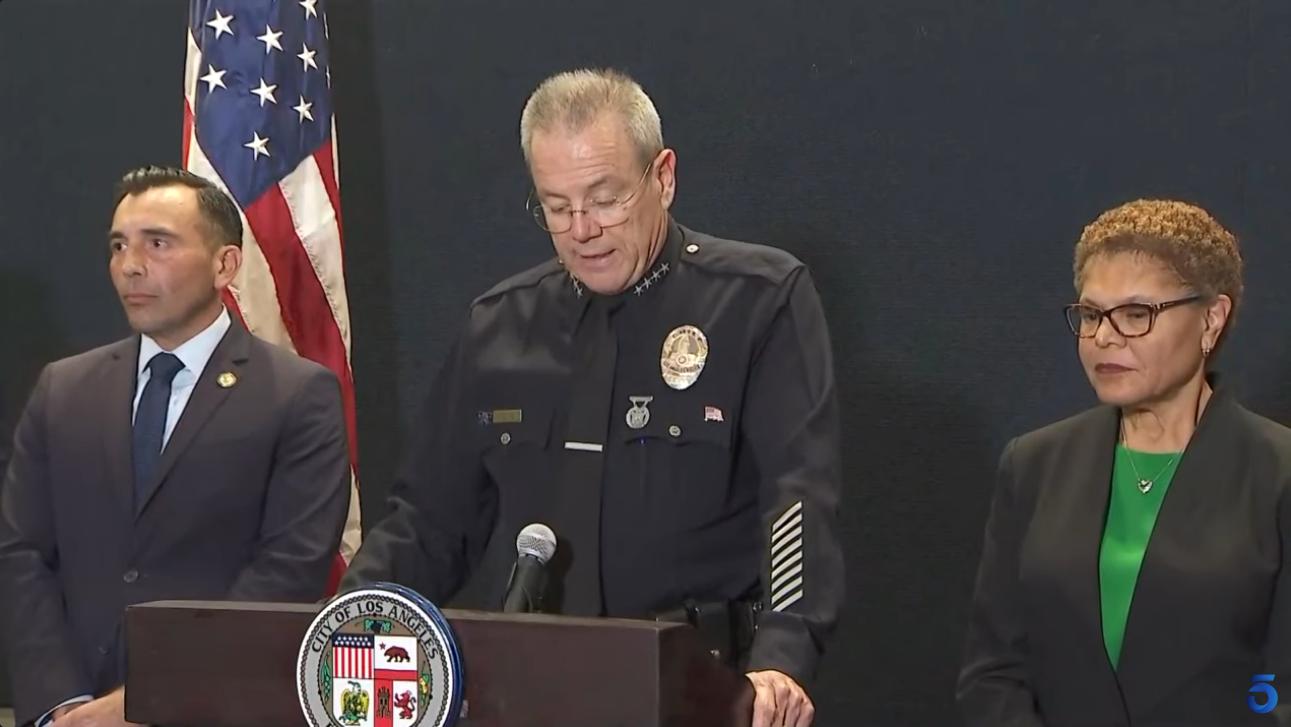 LOS ANGELES – Flanked by Los Angeles County District Attorney George Gascón, LA Mayor Mayor Karen Bass and Martin Estrada, the United States Attorney for the Central District of California, Los Angeles Chief of Police Michel Moore, held a news conference Friday where he announced that three homeless people had been fatally shot while they slept within the past week.
Moore added that authorities believe one suspect is responsible for all three murders.
Detectives from the LAPD's Robbery-Homicide Division are investigating three separate murders that occurred between November 26, 2023, and November 29, 2023. In each case, the victims were experiencing homelessness.
While some similarities have been identified, detectives are working to determine if these murders are related. A community alert bulletin has been issued to make the region's unhoused population and the community stakeholders aware of these recent murders.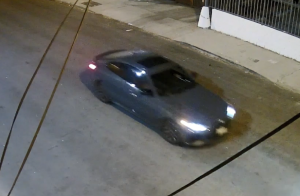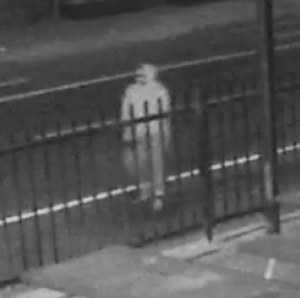 The suspect in these homicides is described only as male. The suspect was seen in a dark-colored sedan. It is unknown if he was alone or there were any additional suspects.
Police have spotted who they believe the shooter is on surveillance footage — Moore said they believe it's a man in a hoodie — and they also have images of the suspect's vehicle, though Moore would not describe it in an effort to avoid misinformation.
"People will see different types of cars, different types of models," he said. "I don't want someone to say 'You called this a Kia and it turns out to be a BMW or Mercedes," he said.
"A single individual approached each one and shot and killed each one as they slept," Moore said, though he avoided use of the term "serial killer."
"The Los Angeles Police Department is employing all available resources to bring justice to these murder victims. I am thankful for our City partners who are working with us closely to ensure the safety of this vulnerable population as we pursue the criminal investigation," said Moore.
"I want to be very clear about what we're facing today: This is a killer who is preying on the unhoused," Mayor Bass said, adding that homeless people should not sleep alone.
"As we always do in the face of a challenge or crisis, our region is mobilizing to respond to this issue. We will work tirelessly to find the individual responsible, arrest them, and hold them accountable. I have met with our partners at the Los Angeles Homeless Services Authority, Housing Authority of the City of Los Angeles, and the Los Angeles Housing Department and we are moving immediately to get the word out to our unhoused neighbors in housing networks. Our message to our unhoused community is clear – try not to be alone tonight. We will do all we can to make shelter and services available. To the many Angelenos who have friends or family who are unhoused, please let them know the danger that exists. We must stay safe. We will work diligently to bring those responsible to justice," the Mayor said.
"To the person responsible: We will find you, we will catch you and you will be held accountable," Bass said.
"I commend the LAPD for creating a dedicated task force to uncover the identity of a potential serial killer preying on the most vulnerable in our community. I've assigned our Major Crimes Division, Bureau of Victim Services and our Bureau of Investigation to assist with these efforts. Today, we demonstrate our collective resolve and stand united in our pursuit of justice, unwavering against the darkness that preys on the most defenseless among us," said LA District Attorney George Gascón.
Related:
Anyone with information is urged to contact the Los Angeles Police Department's Robbery-Homicide Division, Homicide Special Section, at (213) 486-6890. During non-business hours or on weekends, calls should be directed to 1-877-LAPD-24-7 (1-877-527-3247).
Anyone wishing to remain anonymous should call the LA Regional Crime Stoppers at 1-800-222-TIPS (800-222-8477) or go directly to www.lacrimestoppers.org.
Lastly, tipsters may also download the "P3 Tips" mobile application and select the LA Regional Crime Stoppers as their local program.