Kane's Cuisine: Strawberry cake
LA Blade White House correspondent Christopher Kane shares his love and passion of cooking writing in his weekly Sunday column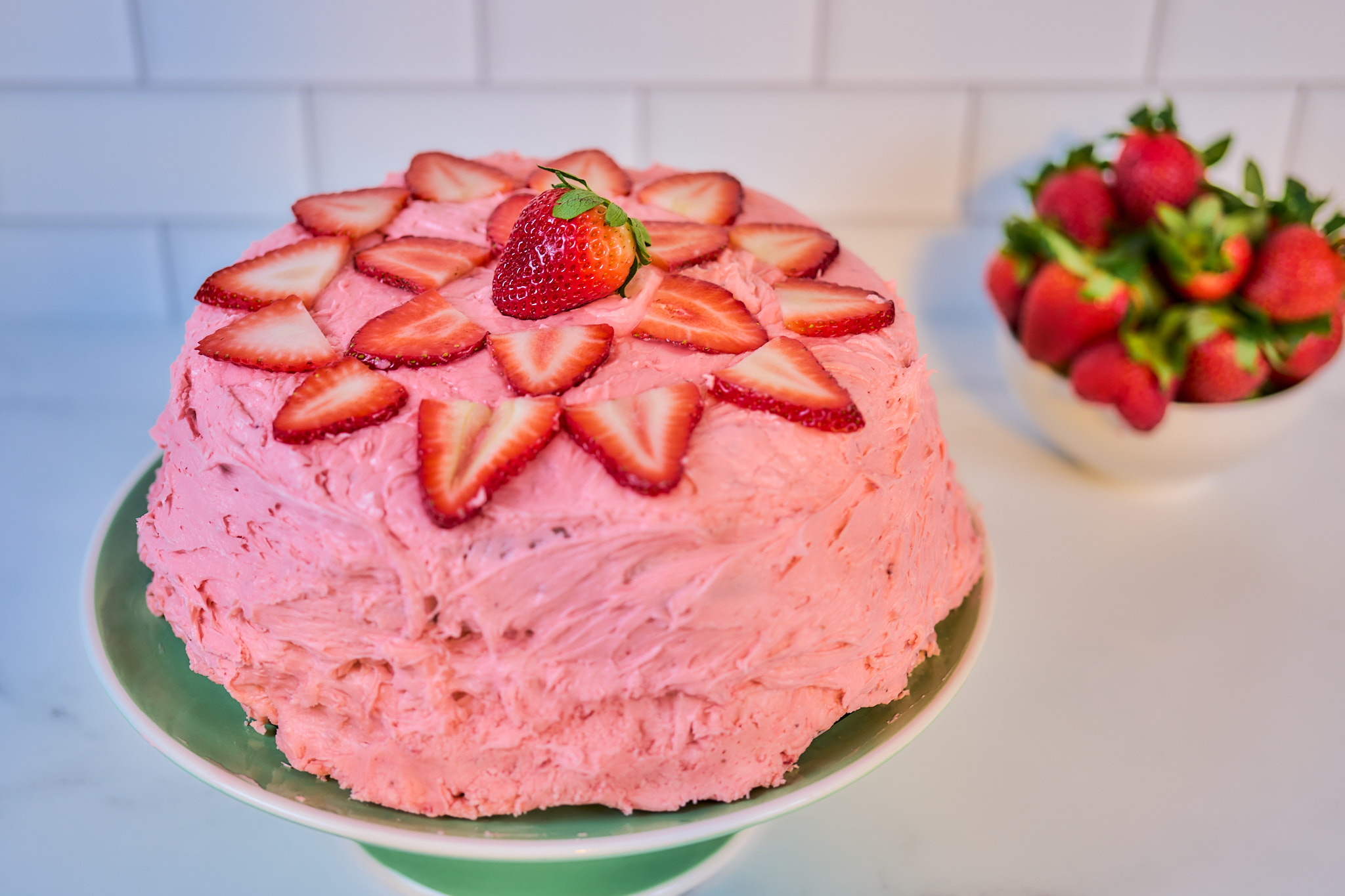 The LA Blade's intrepid Washington D.C.-based White House correspondent snarks his way through another delicious weekly recipe while dishing tea on other subjects…
WASHINGTON – Once upon a time, I worked at a bakery-restaurant-coffee house in Greenville, South Carolina that served an unbelievable strawberry cake. 
The recipe for that cake is a closely guarded secret. Here's this one. 
I'm too tired from baking all day to write more introductory text. Happy Valentine's Day!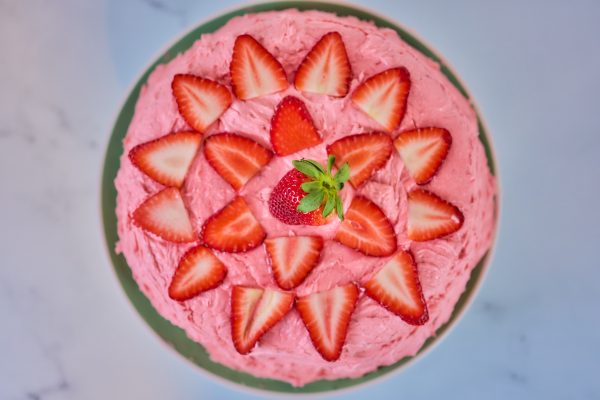 Author's note: My top cake was undercooked because I should have baked it separately, but I had even less energy than I did room in the oven. (Still…really unusual behavior for me to pay insufficient attention to a top!)
Author's note #2: I used weight measurements here because if you don't have the patience to weigh out the ingredients with a kitchen scale, you don't have the patience for this recipe.
Make your cakes
Grease three 9" round cake pans, lining the bottom of each with parchment paper. Preheat oven to 350°
In a nonstick cooking vessel with high sides (I used a wok), reduce 2 pounds fresh or frozen strawberries until you have a puree and most of the water is cooked off
In a large bowl, whisk together 495 grams all-purpose flour, 3.25 teaspoons baking powder, 1.5 teaspoons kosher salt, and ¾ teaspoon baking soda
In a stand mixer, beat 340.5 grams room temperature unsalted butter on medium until smooth. Add 3 cups granulated white sugar and continue beating on medium-high for 5 minutes
Scrape down sides of the bowl and add 6 room temperature egg whites and 3 teaspoons vanilla extract. Beat for 1 minute. Reduce speed to low
Gradually alternate between adding flour mixture, all but ½ cup strawberry puree, and ¾ cup whole milk, mixing until smooth. Add a few drops of red food coloring and ½ cup boiling water and stir until combined
Divide among pans and bake for 30 minutes, tenting the tops with foil if they get too brown
Make your strawberry cream cheese icing & assemble the cake
With cleaned stand mixer, beat together 340.5 grams room temperature unsalted butter, 340.5 grams room temperature cream cheese, 1.5 teaspoons vanilla extract, a big pinch of kosher salt, and a few drops red food coloring, mixing for 5 minutes on medium-high
Gradually add 9 cups confectioners' sugar, alternating with reserved strawberry puree, stirring and then mixing once combined on medium-high until light and airy 
Ice your first cake on the top and sides, repeating with your second and third cakes. Stack the first two, topping the second with strawberries and then the third cake. Decorate as desired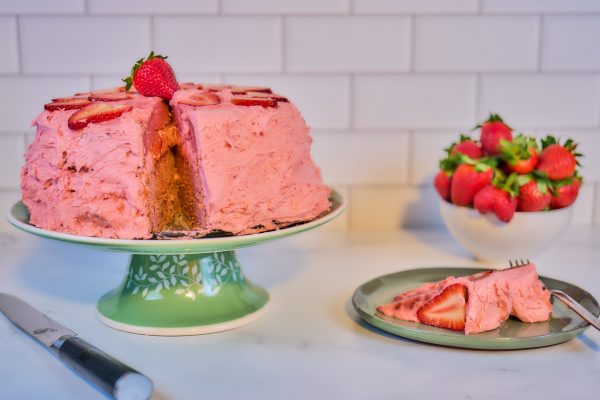 Kane's Cuisine: Korean rice cake and beef soup
LA Blade White House correspondent Christopher Kane shares his love and passion of cooking writing in his weekly Sunday column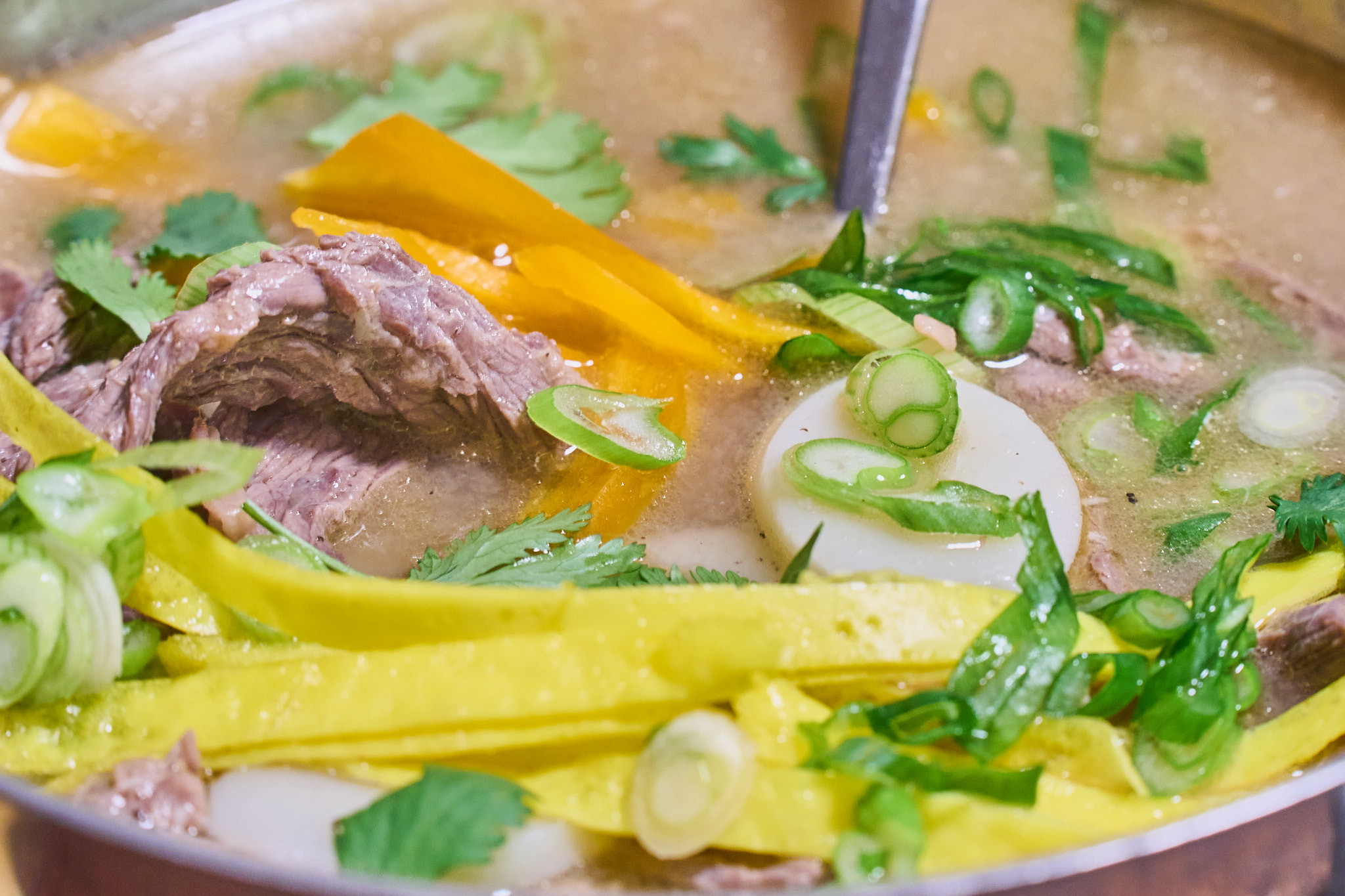 The LA Blade's intrepid Washington D.C.-based White House correspondent snarks his way through another delicious weekly recipe while dishing tea on other subjects…
SAINT BARTHÉLEMY – Your White House reporter and fearless culinary correspondent is writing to you from St. Barth's. Well, more accurately, from my coach seat on this United flight where my husband and I just experienced a miracle: our window-seat companion never showed, thereby freeing up the dreaded middle seat. 
Anyway, if you can get your hands on some nori, you will make a more authentic version of tteokguk, the Korean soup eaten on Korean New Year's Day and Western New Year's Day that I attempted last week. Look at that peek behind the curtain! Yes, I do make these dishes in advance sometimes.
Even without the dried seaweed paper, this soup is packed with umami-forward flavor. I know, I hate that word too. At this point, though, fighting it feels futile.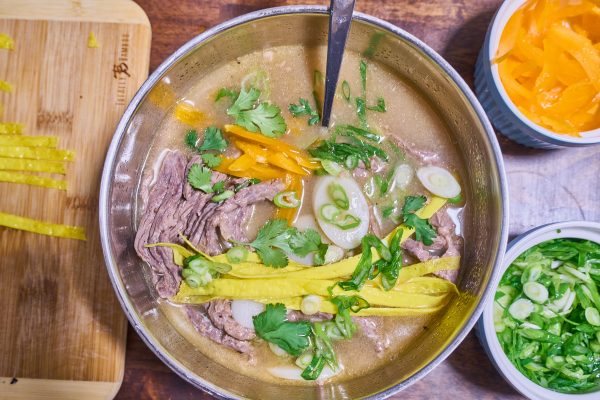 This recipe is adapted from Maangchi:
Fill a Dutch oven with water and boil over high heat. Add two-thirds cup flank or skirt steak, cut into 1" pieces and generously seasoned with kosher salt, along with 3-4 cloves of garlic, minced
Turn heat down to medium and cook, covered, for 20 to 25 minutes until the beef is tender
Separate the eggs from the yolks of 2 large eggs, putting each into separate bowls, and adding a pinch of salt before mixing with a fork
Heat a nonstick pan and spray it with cooking oil. Turn off the heat, and then pour the egg yolk mixture into the pan, trying to spread it into a thin, even layer. Allow it to cook for one minute, flip, and finish cooking for another minute. Transfer to a plate, slice into thin strips, and set aside
Add store bought sliced tteok rice cakes, along with 1 tablespoon fish sauce, cooking for 7-8 minutes. Pour in egg whites and cook for 30 seconds. Salt to taste. 
Add sesame oil, ground black pepper, and chopped green onion. Garnish with cilantro and julienned red bell pepper