WorldPride in Sydney comes to a buoyantly successful close
D.C. to host next biennial event in 2025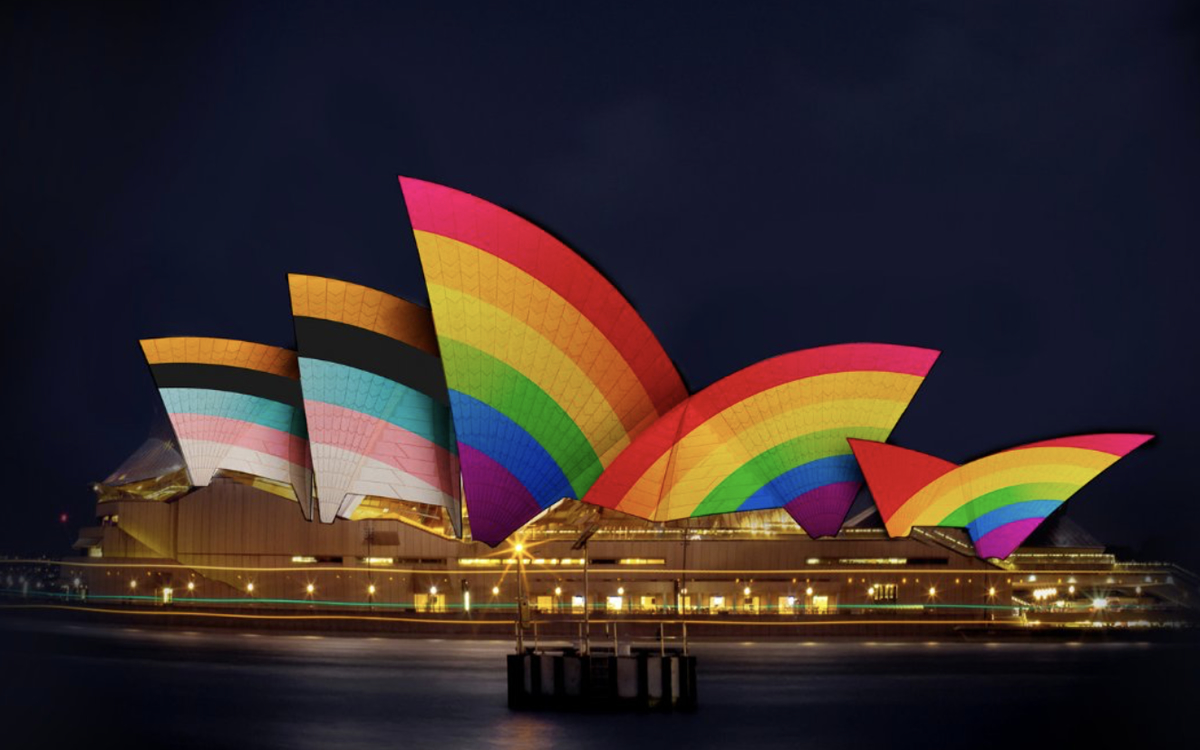 SYDNEY — The first WorldPride in the Southern Hemisphere wrapped up in Sydney on Sunday evening with an open-air closing concert and dance party headlined by singers Kim Petras and Ava Max.
The packed extravaganza rounded out a 17-day celebration of more than 300 events — encompassing parties, parades, exhibitions, workshops, sports, a film festival, competitive voguing and much more — that in all were projected to be attended by some half a million people.
Earlier on Sunday, 50,000 marchers, including Australian Prime Minister Anthony Albanese, took part in an early morning march across the city's cherished Sydney Harbor Bridge, which was closed to traffic for the first time since 2000 to make way for the walk.
"It was important for me to come to the march because I'm a Black Trans woman, so I felt like I should march in solidarity with the community," said Taj Tian, an American expat who recently relocated from Tokyo to Sydney.
"We came to WorldPride because it was important to deliver our message from Korea to the world," said Seunguk So, who carried a banner with his husband, Yong Min Kim, in support of marriage equality in South Korea.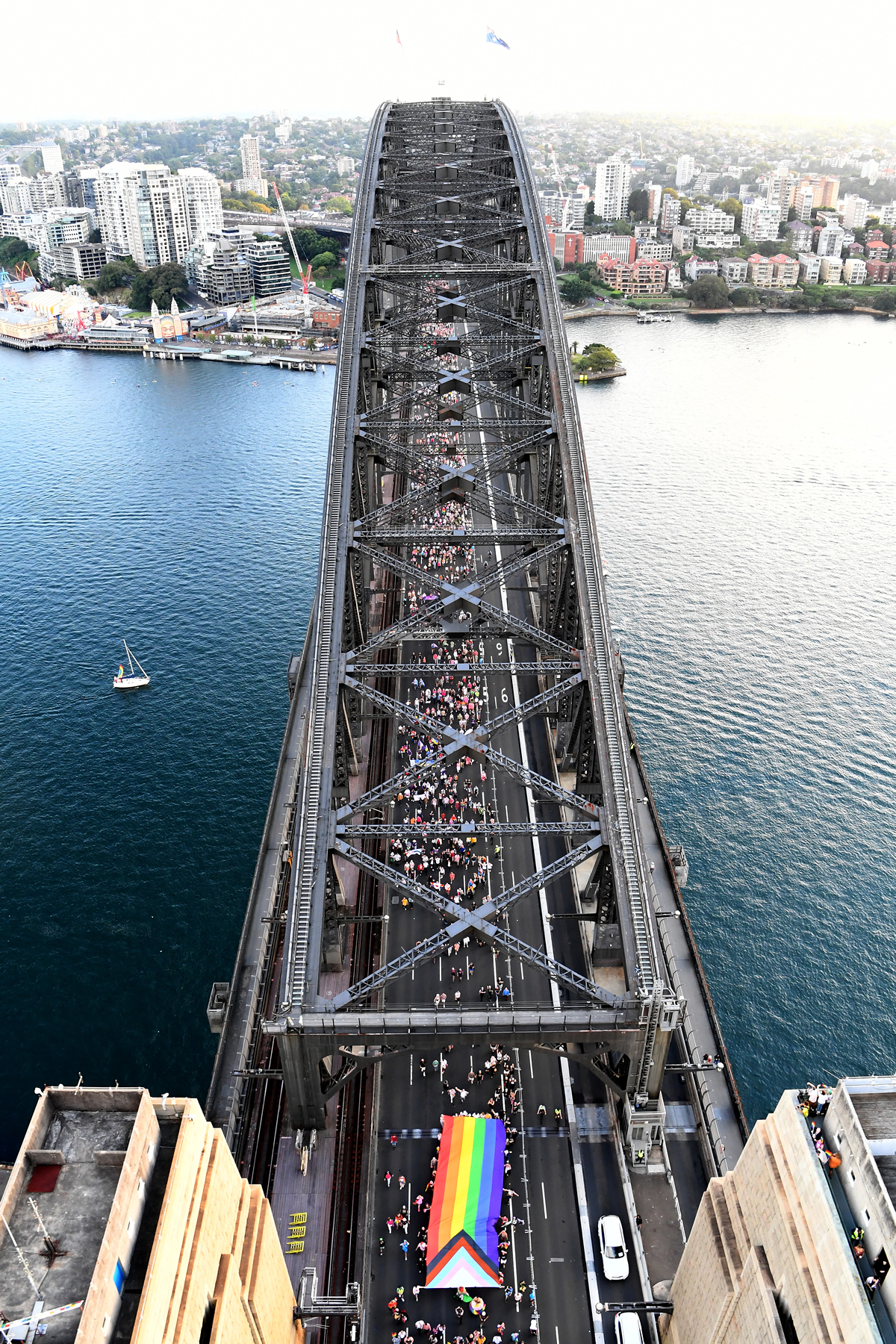 Timed to coincide with Australia's summer and Sydney's iconic Mardi Gras celebration, the WorldPride calendar began on Feb. 17 with a series of queer parties and performances, then kicked into overdrive with a Feb. 24 official opening concert headlined by Aussie pop darling Kylie Minogue. 2023 marks the 45th anniversary of the first Sydney Mardi Gras, as well as the 50th anniversary of Australia's first Gay Pride Week.
The political highlight of Sydney WorldPride was the largest LGBTQ+ and intersex human rights conference ever held in the Asia-Pacific region.
About 1,800 people attended the three-day conference, which served as the WorldPride centerpiece and featured some more than 60 presenters and panelists, including Steve Roth, executive director of the Organization for Refuge, Asylum and Migration, an LGBTQ+ and intersex refugee organization. Jessica Stern, the special U.S. envoy for the promotion of LGBTQ+ and intersex rights abroad, Amb. Chantale Wong, the U.S. director of the Asian Development Bank who is the first openly lesbian American ambassador, and Victor Madrigal-Borloz, the independent U.N. expert on LGBTQ+ and intersex issues, are among those who also participated.
"This human rights conference was one of the largest gatherings ever of global LGBTQ activists, so it was important to be a part of it both to represent ORAM and to bring attention to the challenges facing displaced LGBTQ people around the world," said Roth. "I was inspired to hear more about all the great activism happening globally and to share about the important work that ORAM is doing, such as bringing economic empowerment programs to queer refugees in places like Kenya."
In the handover of the conference reins to D.C. for WorldPride 2025, U.S. Ambassador to Australia Caroline Kennedy congratulated Sydney organizers, especially for giving First Nations people a central role.
"We will all leave here with a deeper understanding of the work that needs to be done," said Kennedy. "You've shown the world how an empowered diverse community is central to a more peaceful and prosperous world. I'm looking forward to the sharing that will happen with First Nations people in the United States."
First Nations representation was a recurring theme throughout Sydney WorldPride's main events, which were all opened with acknowledgments of the original Gadigal owners of the lands upon which Sydney now sits.
Popular Aboriginal Sydney drag queen Nana Miss Koori helped kick off several key happenings, including the opening concert, the Mardi Gras parade, and the glamorous Blak and Deadly First Nations gala concert, which took place on March 2 at the famed Sydney Opera House. Performers there included Aboriginal Australian electronic music duo Electric Fields and Canadian Indigenous musician Jeremy Dutcher.
Sydney's top museums hopped also onto the WorldPride bandwagon, including the Art Gallery of New South Wales, which presented a new "Queering the collection" tour of its permanent holdings, and the Powerhouse Museum, which mounted its "Absolutely Queer" exhibition honoring Australia's contemporary queer creativity.
On hand throughout the WorldPride festivities were a cavalcade of Australia's top LGBTQ+ celebrities, including singer Troye Sivan, actor Magda Szubanski and multitalented drag entertainer Courtney Act. Many American queer celebs, including TV personalities Carson Kressley and Andy Cohen, were also spotted at WorldPride events.
The eighth-ever WorldPride, Sydney's edition was projected by organizers to inject approximately $75 million into the Australian economy, a much-needed tourism boost following the country's strict COVID-19 lockdowns of the previous few years.
The next WorldPride is slated to take place in D.C. from May 23 to June 8, 2025.
Victoria government affirms trans Australians, raises flag
"There's a new flag flying outside the offices of the Victorian Govt. Because we'll always respect you. And we'll always have your back"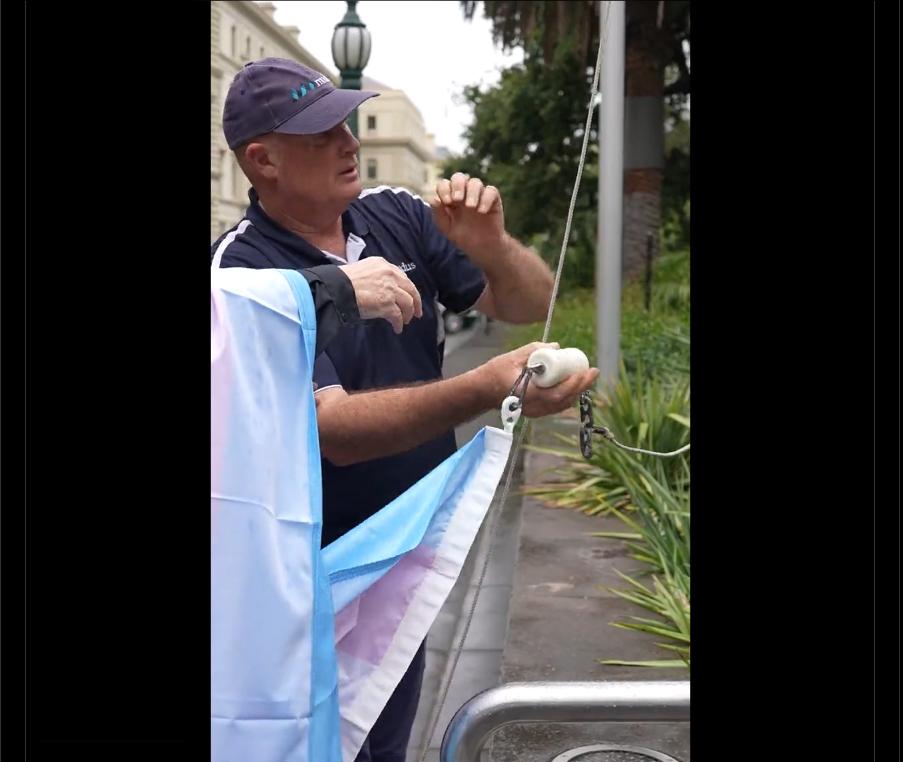 MELBOURNE, Australia – In response to this past weekend's Neo-Nazi demonstration attacking trans Australians in a show of support for British Gender Critical (Terf) Kellie-Jay Keen also known as Posie Parker, who is currently touring the country, the Victorian government raised the trans flag over its offices.
In social media posts, Victorian Premier Daniel Andrews announced that his government was raising the flag, designed and created in 1999 by American U.S. Navy veteran Monica Helms, in a show of support of transgender citizens.
"There's a new flag flying outside the offices of the Victorian Government. Because we'll always respect you. And we'll always have your back," the Victorian Premier tweeted.
There's a new flag flying outside the offices of the Victorian Government.

Because we'll always respect you.

And we'll always have your back. pic.twitter.com/Mw6hOuq10b

— Dan Andrews (@DanielAndrewsMP) March 21, 2023
During Saturday's demonstration, the Neo-Nazi protestors kept throwing up the stiff-arm Nazi salute shouting Nazi slogans. Last year the Victorian government had banned the Nazi swastika, with those who defied the ban facing jail terms and hefty fines, the salute however, is not covered under the law. The group also shouted homophobic and transphobic epithets and other terms denigrating the pro-trans activists as well as carried signs that read "Destroy Paedo Freaks."
A spokesperson for the government told the Blade that officials are now calling for a ban of the salute, also quoting a Federal Labour MP, Josh Burns who said: "It makes no sense that it's now illegal to display a Nazi symbol in Victoria, which is fundamentally a good thing, but you are allowed to do what happened yesterday which is and saluting neo-Nazi ideology."
In a phone call with the Blade, Victoria Police said that the counter demonstration by trans supporters out numbered the Neo-Nazis in a 2 to 1 ratio. The spokesperson also told the Blade that while Keen-Parker was present, she was apparently not connected to the Neo-Nazis and instead was arguing with trans supporters in the opposition crowd.
At a later gathering in Hobart, capital of Australia's island state of Tasmania, Keen-Parker was chased off by trans supporters as a planned gender critical Let Women Speak Australia rally she held was met with angry counter protest.
"Let Women Speak Australia" in Hobart: