Kansas GOP lawmakers override veto, trans athletes now banned
"The ugly truth is that politicians set their sights on kids who take up few to no resources in the school system"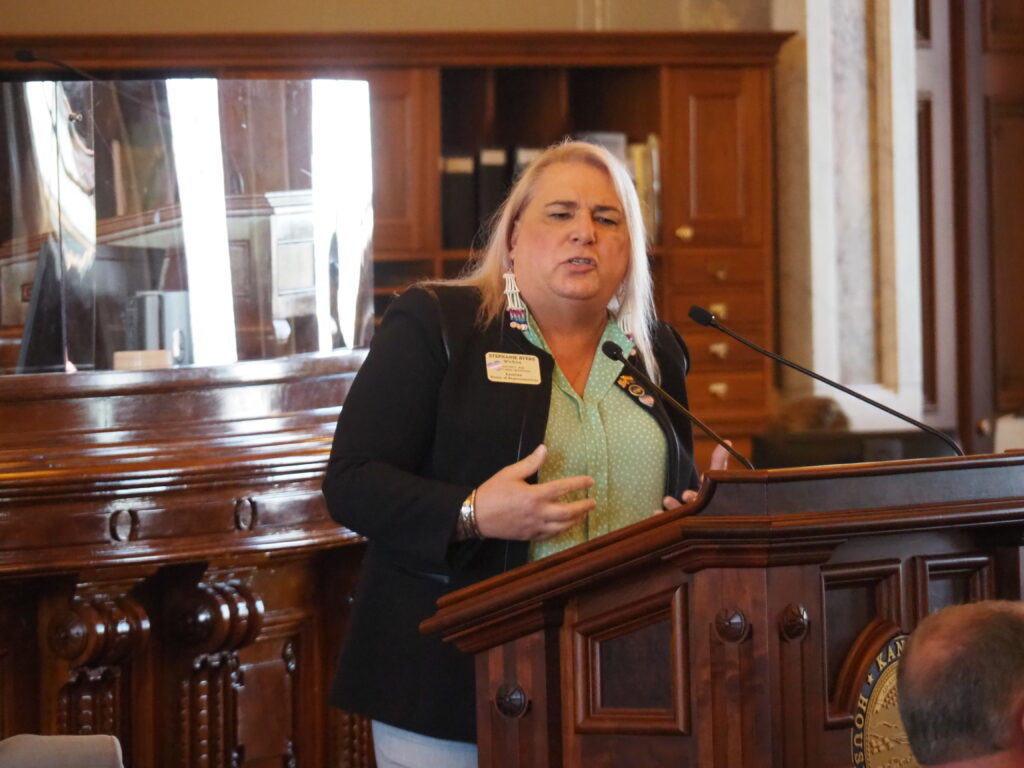 TOPEKA – The Republican majority Kansas Legislature was able to override Democratic Governor Laura Kelly's veto of a bill banning trans girls and women from girls and women's sports at public schools and colleges.
The state Senate with a 28-12 vote Wednesday afternoon passed through Senate Bill 160 known as the Fairness in Women's Sports Act. The House had previously voted 84-40. Both reached the two-thirds majority needed for an override. Last year an effort to ban transgender athletes from women's sports failed after the House fell short on an attempt to override Gov. Kelly's veto.
"The Fairness in Women's Sports act protects the rights of female athletes in the state by requiring that female student athletic teams only include members who are biologically female," Kansas House Speaker Dan Hawkins (R) said in a statement after overriding the veto. "House Republicans are united in our commitment to defending the intention of Title IX."
In an interview with Kansas City NPR KCUR 89.3 FM, the governor said, "It breaks my heart. I'm sorry that they distracted themselves with this really awful bill."
Wednesday's override by Republicans caps a three-year battle to try to enact the ban. Kelly has vetoed similar legislation in the last two years. Kansas News Service reporters Dylan Lysen, Blaise Mesa, Samantha Horton reported that the newly enacted law will not lead to a widespread change in Kansas.
Jeremy Holaday, a spokesperson for the Kansas State High School Activities Association, said of the 106,000 students participating in the organization's sports and activities, only three are transgender girls.
Two of those transgender girls are set to graduate this spring. That means only one of the students currently participating in Kansas high school activities will be impacted when the law goes into effect in July.
KSHSAA uses a policy that allows schools to consider each case of transgender youth participating in gender-specific activities on an individual basis. The student's school ultimately makes the decision.
"We believe it has worked for our member schools," Holaday said. "If the state legislature gives us new direction, then we will adjust accordingly."
Democratic Rep. Jerry Stogsdill of Wichita warned the bill may lead to businesses and sporting events — like the NCAA's national tournaments — shunning the state.
"We have put targets on the backs of some of our most vulnerable citizens," Stogsdill said. "As a proud Kansan, I'm ashamed."
The bill is one of several measures the Republican-dominated Kansas Legislature is pursuing that limits transgender rights.
Lawmakers also approved a bill known as the Women's Bill of Rights that bars transgender women from bathrooms, shelters and other spaces designated for women. Kelly is expected to veto that bill, too.
In an editorial by the Kansas City Star's Editorial Board on Thursday, the newspaper took lawmakers to task denouncing the veto override:
"When talking about the laws that govern our rights, we're talking about power. Pure and simple. Kansas Republicans have decided out of thin and undetectable air that transgender young people need to be targeted. With their consolidated power in the Legislature, they've decided to stand on the necks of a tiny, especially vulnerable minority of children."
Continuing on, the Star's Editorial Board wrote:
"This was pressing even though the legislation will affect three high school student-athletes in the state, according according to the Kansas State High School Sports and Activities Association.
If there were only three students enrolled in a school, the board would shut that school down.
If there were only three students enrolled in a class, the school would shut that class down. No matter how you look at it, three people in a population of almost 3 million can't possibly be worth the Legislature making it into the concern of the century.
Now, in all fairness, it's not only Kansas that feels that need to put trans students in its crosshairs. Just so far in 2023, GOP lawmakers are putting anti-trans bills in play in almost every state in the nation.
What does it say about Kansas wanting to be on that leading edge of that trend? And what is it about trans students wanting to play ball that's so horrifying and threatening?
The Star then noted:
"The ugly truth is that politicians set their sights on kids who take up few to no resources in the school system. Members of the Kansas GOP can pat themselves on the back and high-five one another other for battling a nonexistent crisis that should be dealt with by schools and athletic leagues, not the government. They can pick on and bully trans students — and make no mistake, that's exactly what this is."
Trans Kansas women barred from women's bathrooms
Republican-majority legislature overrides Gov. Kelly's veto to pass far-reaching ban & could put federal funding for state programs at risk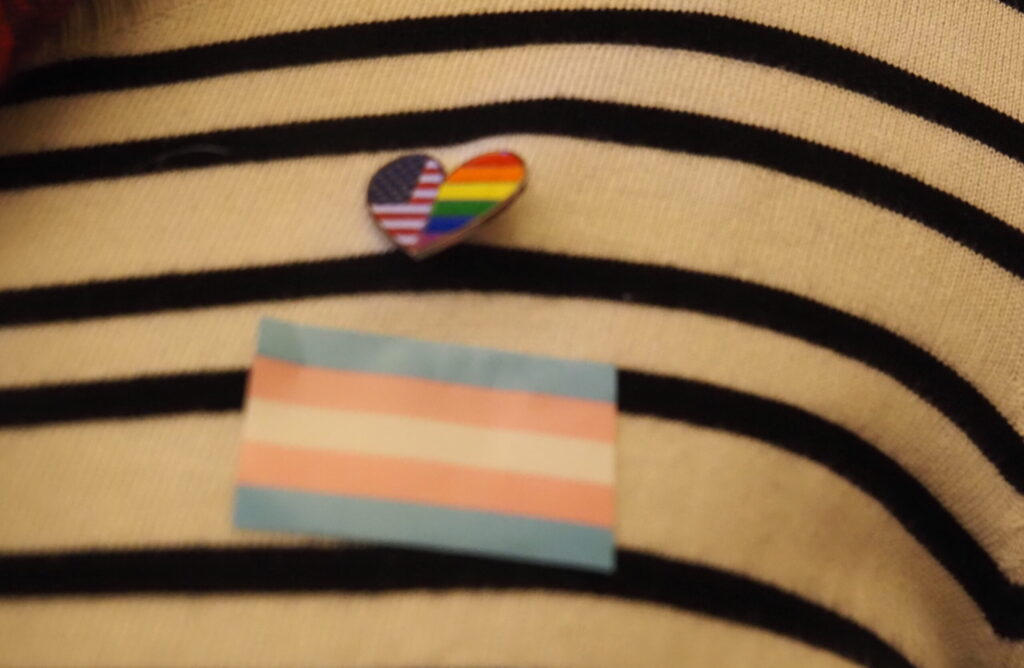 By Rachel Mipro | TOPEKA —  The Legislature successfully resurrected a transgender bathroom ban that bars transgender and intersex women from restrooms, locker rooms, rape crisis centers and other female-specific spaces, making Kansas the first state to enact such a wide-ranging measure.
Rep. John Alcala, a Topeka Democrat, said the language of the bill reminded him of prejudiced arguments for segregation made in the 1960s.
"It's the same sayings," Alcala said. "I don't want you in my bathroom, I don't want you drinking out of my water fountain. I don't want you over at my house. I don't want my kid hanging out with you."
The new law comes after months of upheaval, with legislators narrowly overturning Gov. Laura Kelly's veto of Senate Bill 180 over two days. Senators voted 28-12 Wednesday to send the bill back to the House for a final vote. The House voted 84-40 Thursday to overrule Kelly's veto and make the ban a law. The threshold for veto overrides is 84 votes in the House and 27 in the Senate.
The legislation, billed by its supporters as a "women's bill of rights," bars individuals who are born without the ability to produce eggs for reproduction from using women's restrooms, locker rooms and other gender-specific areas.
The ban applies to athletics, prison facilities, domestic violence shelters and "areas where biology, safety or privacy are implicated that result in separate accommodations."
The legislation also classifies people with developmental differences, including those who are intersex, as disabled. Intersex individuals would have their own separate facilities under the Americans with Disabilities Act, a classification that disability rights and equality rights have called wildly offensive.
Kansas Republicans justified the legislation by claiming that women are in danger of having their rights usurped by transgender or nonbinary individuals. None of them has been able to point to any evidence of this happening in Kansas.
House Speaker Dan Hawkins said the legislation would help reduce violence toward women.
"The activists who seek to change the definition of a woman ignore the biological differences that exist between the sexes and recklessly expose females to specific forms of violence, including sexual violence, therefore compromising the safety of female-only spaces such as restrooms, domestic violence shelters, rape crisis centers and prisons," Hawkins said.
Rep. Brenda Landwehr, a Wichita Republican, said the bill was about protecting girls and women.
"Little girls should not have to be exposed to a man in a female bathroom, but the biggest thing comes down to women's rights, when we fought for 50 years," Landwehr said. "Why should our rights be taken away?"
Other female legislators pushed back on this characterization of the bill, including Rep. Susan Ruiz, a Lenexa Democrat and the first openly lesbian representative in the House.
Ruiz said she has experienced male harassment when using women's restrooms due to her more masculine appearance and believes the bill, along with other damaging effects, would escalate this sort of harassment.
"This is going to just open up the doors for that and allow much more of that to go on," Ruiz said. "If you really are here for the kids, you're going to sustain the veto on this bill. You've got to think beyond what these words are. You've got to think beyond that and think about what the true ramifications are."
Kelly's administration has warned that enactment of the legislation could put federal funding for multiple Kansas state agency programs that focus on women and girls at risk. The list includes domestic violence and sexual assault grants governed by federal guidelines that prohibit discrimination based on gender identity.
According to the Kansas Coalition Against Sexual and Domestic Violence, SB 180 compliance could put more than $17 million in funding to Kansas agencies at risk.
The House originally voted 83-41 for the legislation, with the Senate concurring 28-12 to move the bill to Kelly's desk. Kelly vetoed SB180 on April 20, along with several other bills targeting the transgender population, citing concerns about the bills' broad scope.
Senators failed to override the governor's veto of a bill banning gender-affirming care for minors Wednesday, but several other measures have been or are likely to be successful.
Republicans overrode Kelly's veto of a bill requiring county jails to separate inmates by sex assigned at birth Wednesday and are likely to successfully override her veto of a school bill separating students by sex assigned at birth for overnight school field trips in coming days.
*****************************************************************************************
A graduate of Louisiana State University, Rachel Mipro has covered state government in Baton Rouge and New Orleans. She and her fellow team of journalists were 2022 Goldsmith Prize Semi-Finalists for their work featuring the rise of the KKK in northern Louisiana, following racially-motivated shootings in 1960. With her move to the Midwest, Rachel is now turning her focus toward issues within Kansas public policies.
*****************************************************************************************
The preceding article was previously published by the Kansas Reflector and is republished with permission.
Kansas Reflector is a nonprofit news operation providing in-depth reporting, diverse opinions and daily coverage of state government and politics. This public service is free to readers and other news outlets.