Ready to make history as Mississippi's first Black LGBTQ lawmaker
"You don't have to be the loudest one in the room to make an impact so long as you are standing your ground when it comes to bad legislation"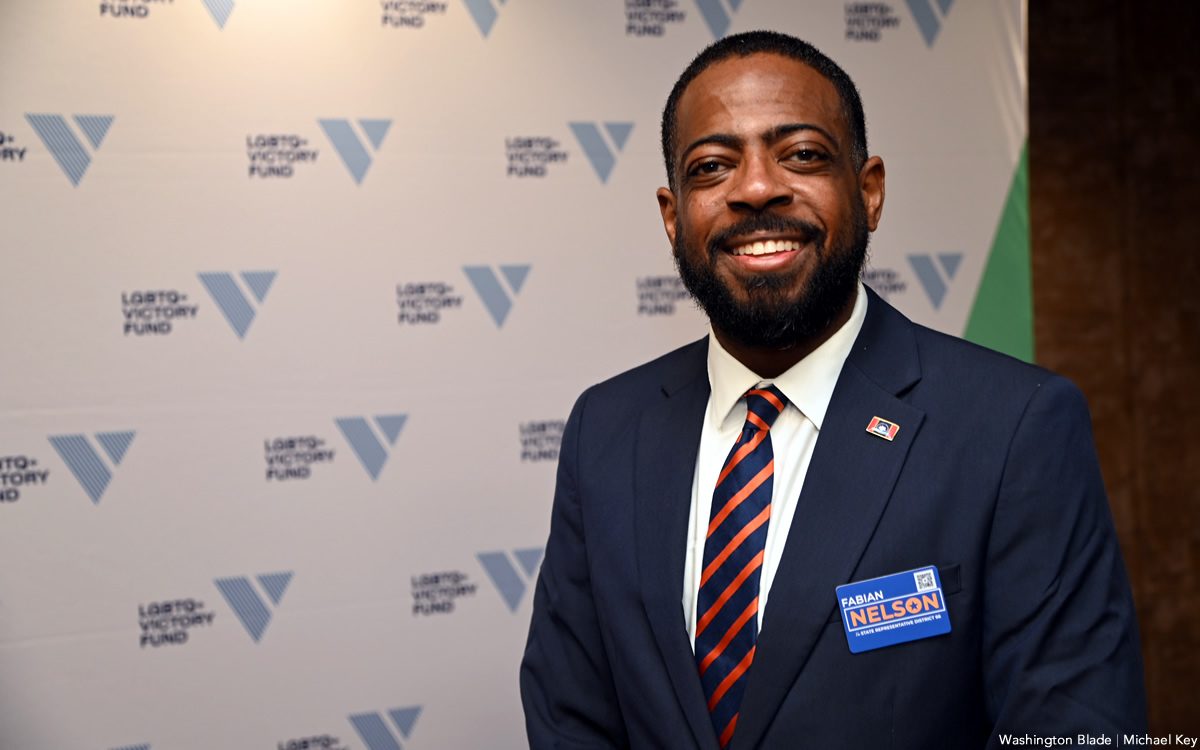 WASHINGTON – During the LGBTQ Victory Fund's National Champagne Brunch Sunday morning in Washington, D.C., the Washington Blade spoke with Fabian Nelson, a Black and openly gay Democratic candidate who would become the first out LGBTQ lawmaker ever to serve in the Mississippi legislature if elected.
Nelson will square off against two opponents from his party in the August 8 primary. If successful, he would face a general election on November 7, an easier gambit provided the seat to represent Mississippi's 66th House District is solidly Democratic, he said.
Notwithstanding his electoral prospects, Nelson acknowledged the challenges with racism and homophobia that he has continued to contend with as a candidate, along with the hostile political environment in which he would serve if elected. Still, he is optimistic about the trajectory of his campaign and for the potential to move Mississippi in a better direction.
"I come from a family of a lot of 'firsts,'" Nelson said. His grandfather opened a bank in the early 1900s for Black residents of his hometown, while his grandmother was the first Black nurse to integrate the hospital in Yazoo City and his father was the first Black graduate of Virginia Commonwealth University's dental school.
"They keep raising the bar, so I have to raise it a little bit higher," he said.
Mississippi has a Republican trifecta as well as a Republican triplex, which means the party exerts tremendous political power with control over both chambers of the state's legislature and the governorship, along with the offices of the secretary of state and attorney general.
If elected, Nelson would represent residents of Mississippi's majority-Black state capital, Jackson – which has long suffered with issues like high poverty rates and rising crime, including gun violence.
Years of poor governance have exacerbated these problems, while the state's conservative legislators have used the city's condition as a pretext to strip residents of the right to choose their elected leaders.
Nelson has an expensive range of policy areas that he said will be major priorities should he win the House seat, from expanding Mississippi's Medicaid program to fighting back against the conservatives' disenfranchisement of his constituents in Jackson and their harmful anti-LGBTQ legislative proposals.
Anti-LGBTQ legislative bigotry coupled with homophobic personal attacks
During Mississippi's first legislative session of 2023, lawmakers considered 31 anti-LGBTQ bills, more than were introduced anywhere else in the country.
Nelson, who was involved in advocacy against these legislative proposals as a member of the Human Rights Campaign, noted the importance of mobilizing the public's opposition to anti-equality bills in helping to defeat 30 of those 31 proposals that failed to pass in the last session.
Unfortunately, Nelson said, the lone bill that survived was perhaps the most harmful of those under consideration in the chamber – a measure barring access to guideline directed gender affirming health care interventions for youth in Mississippi with gender dysphoria, which the governor signed into law in late February.
It was a major blow, Nelson acknowledged. At the same time, he said, pushing back more effectively against Republican messaging on the healthcare ban, such as by framing its proponents as politicians who are trying to "play doctor," may have yielded a different outcome.
Nelson is not just encountering anti-LGBTQ bigotry in the legislative context, but also that which has been directed at him personally as a gay candidate for public office in a deep-red state in the deep south. Especially in Mississippi and among older folks in the state, homophobia can come from voters and elected officials even from his own party, Nelson said.
"I think [my] being LGBTQ may pose a problem with some of the Democratic lawmakers" in the chamber, he said.
Nelson told the Blade one of his supporters, an 80-year-old Jackson resident whom he affectionately calls "Miss Emma," was approached by a Democratic opponent who asked her, "How do you feel about him [Nelson] being gay with his [LGBTQ] agenda?"
"All these years, I've voted for straight people," Nelson said she told him. "None of them came and picked my garbage up or cleaned my flowerbed out."

Following the city government's shutdown of trash hauling services earlier this month, Nelson said he had personally been picking up and disposing of garbage for Miss Emma along with Jackson's other elderly or disabled residents.
Nelson said effectuating real change is possible when pro-equality candidates run for office, fight for their constituents, establish relationships with colleagues on both sides of the aisle, and communicate effectively with the public about what is (and is not) happening in the Capitol building to encourage more active civic engagement and strengthen political organizing efforts.
Entrenched issues of racial justice
Nelson's campaign comes amid the scandal over the GOP-led Tennessee House of Representatives' expulsion of two Black Democratic lawmakers from the chamber, which was widely denounced as racially motivated.
Meanwhile, over the Mississippi border into Alabama, the state's Republican Gov. Kay Ivey last week ousted the Black director of early childhood education, Barbara Cooper, for including teaching on concepts like inclusion and structural racism.
Asked how he expects to contend with racism in the chamber if elected, Nelson said conflict can be minimized and discussions made more productive in many cases by practicing active listening so those with different views feel heard.
"You don't have to be the loudest one in the room to make an impact" he said, so long as you are "standing your ground when it comes to bad legislation and, you know, standing my ground and fighting for what I believe in, not backing down."
Engaging members of the public and bringing them into the fold is another crucial tool, Nelson said. He pointed to the public outcry in Tennessee and across the country that led voters to return state Reps. Justin Pearson and Justin Jones to their democratically elected seats in the legislature.
Residents in Jackson were not only deprived by their government of garbage collection services, but also suffered the near collapse of the city's water system, prompting the U.S. Department of Justice to step in with a lawsuit last year on behalf of the Environmental Protection Agency's Office of Civil Rights.
Meanwhile, rising crime in Jackson and calls for an increased police presence created the pretext for Mississippi's Republican lawmakers to pass H.B. 1020, legislation that will allow conservative state officials to appoint, rather than allowing constituents to elect, judges and prosecutors in the city's sprawling Capitol Complex Improvement District.
They will serve alongside a Capitol Police force whose jurisdiction was expanded despite the Department's officers' having shot four citizens since last August with little explanation or accountability.
News that the Governor signed H.B. 1020 into law last week had instigated protests, by which point Nelson said it was already too late. He said the time to rally opposition among voters, which would have first required effectively reaching them with information about how the law would strip them of political power and autonomy to pick their elected officials, was immediately after Republican lawmakers had introduced it.
"If you have the citizens, the people, in your corner," he said, "you cannot lose when you start exposing this bad stuff that's happening."
"And one more thing," Nelson said, pointing to a pin on the lapel of his jacket, "this is our new state flag."
Four years ago, amid considerable pressure from the public, the GOP controlled legislature made the extraordinary decision to replace Mississippi's state flag that had flown since 1894, which depicted the Confederate battle flag in its upper left canton.
The new banner features a white magnolia blossom befitting of the state's official nickname.
Mississippi mayor demands LGBTQ+ book purge, threatens library funding
Mayor Gene McGee is withholding funding from the Madison County Library System allegedly on the basis of his personal religious beliefs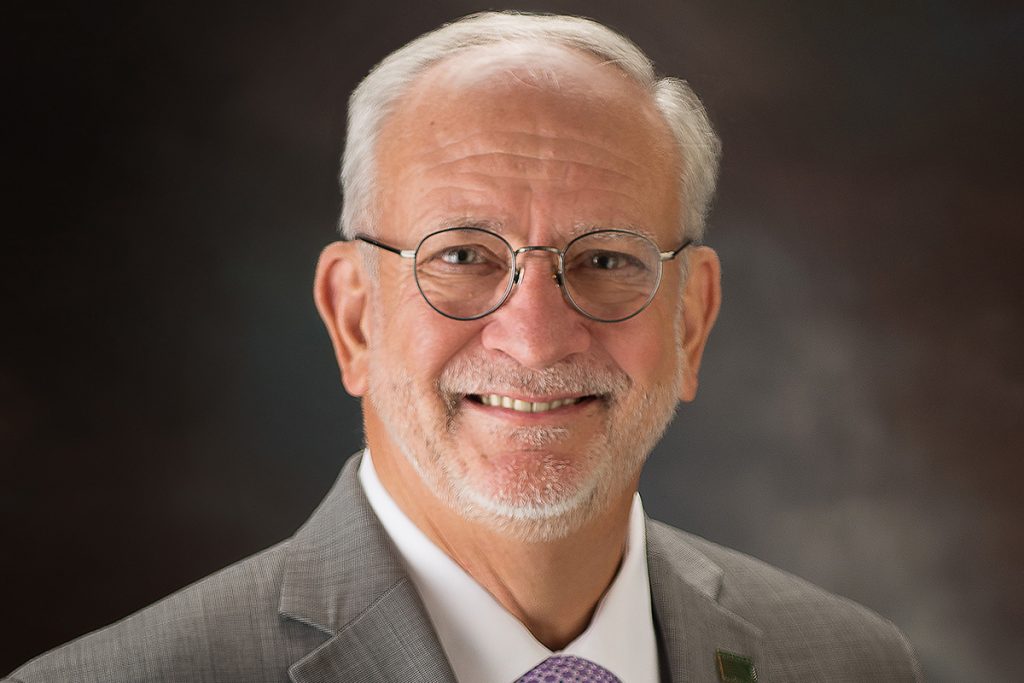 By Nick Judin | RIDGELAND, MS. – Ridgeland Mayor Gene McGee is withholding $110,000 of funding from the Madison County Library System allegedly on the basis of his personal religious beliefs, with library officials stating that he has demanded that the system initiate a purge of LGBTQ+ books before his office releases the money.
Tonja Johnson, executive director for the Madison County Library System, told the Mississippi Free Press in an afternoon interview that she first reached out to Mayor McGee after failing to receive the City of Ridgeland's first quarterly payment of 2022.
Johnson said the mayor informed her that no payment was forthcoming. "He explained his opposition to what he called 'homosexual materials' in the library, that it went against his Christian beliefs, and that he would not release the money as the long as the materials were there," the library director said.
The director then explained to the mayor that the library system, as a public entity, was not a religious institution. "I explained that we are a public library and we serve the entire community. I told him our collection reflects the diversity of our community," Johnson said.
Apparently, the mayor was unmoved. "He told me that the library can serve whoever we wanted, but that he only serves the great Lord above," she finished.
McGee's office did not respond to several requests for an interview from the Mississippi Free Press before press time, though he did speak with this reporter on Wednesday morning, acknowledging that he was withholding the funds from the library system. Nor did he attend a Tuesday board meeting at 5 p.m. at Ridgeland Library, which addressed the matter firmly in defense of the library system's current collection. The board voted unanimously to bring the issue to the board of aldermen before seeking legal remedies.
At the meeting, attendees asked Bob Sanders, counsel for the library board, if the mayor had any legal authority to override the contract with the library system and the decision of the aldermen.
"Uh, no." Sanders said flatly.
Ward 1 Alderman Ken Heard told the Mississippi Free Press in a brief evening interview that he had not been made aware of any plans to withhold money from the library system on the part of the mayor, and could not comment on the dispute until he learned more.
'Adult Materials'
Based on the conversation she had with the mayor, Johnson explained that the targets of McGee's demands are mostly books that touch on homosexual identities, themes and stories. The list includes books about incidentally queer family members such as children's stories intended to provide representation to gay, lesbian and transgender individuals.
In the conversation, Johnson relayed that, among all other "homosexual materials," McGee specifically demanded the removal of "The Queer Bible," a series of essays by LGBTQ+ figures including Elton John, Munroe Bergdorf, and Tan France on other queer luminaries such as David Bowie, George Michael and Susan Sontag.
But the mayor's order, the director believes, is the culmination of a spate of homophobic activism intended to censor other queer literature, especially children's books.
One of the books that previous complaints have specifically targeted is "Grandad's Camper," a children's book by author Harry Woodgate, who is nonbinary. Grandad's Camper is the story of a young girl learning about her late grandfather by taking a road trip with her surviving grandparent.
Kirkus Review described the book as an effective learning tool for helping children discuss lost family members. "Caregivers, especially older ones, may see this book as an opportunity to talk about departed loved ones and introduce their happy memories to a younger generation," a review of the book explains. "Many a family will find themselves pulling out photo albums to relate their own origin stories."
Johnson explained that all library patrons have access to a form that allows them to challenge materials deemed unsuitable for inclusion in the library's collection. The library previously received complaints about books including "Grandad's Camper" demanding they be reclassified as "adult" materials and kept out of reach of children.
But these challenges, Johnson said, did not proceed through the formal system, and were instead verbal or written complaints without followup. "I think that's probably where the mayor's objections are coming from. Perhaps they reached out to him instead of back out to the library," she guessed.
'Sexual Whatever You Want To Call It'
On Wednesday morning, Mayor McGee returned the Mississippi Free Press' request for an interview. McGee confirmed in a short phone conversation that he was holding the funds from the library, and asserted that he had done so because of citizen complaints.
"We're holding (the money) right now because we found a large number of citizens who have complained about displays of sexual, whatever you want to call it, content. We're just responding to those citizens' complaints, and that's the position we're in."
McGee then declined to address the content of the books presented at last night's board meeting, and whether or not sexual content was an appropriate term.
The mayor acknowledged that the board of aldermen had approved the library system's budget for the year, but argued that any contractual obligations were dated, although he did not clarify if that gave him the ability to withhold the funds indefinitely. "The last contract that was signed with the Madison County Library System was signed in 2009. There's never been a new contract going forward," McGee said.
This reporter asked McGee if he actually possessed the authority to keep the money from the library system. The mayor responded that he didn't know: "That's a legal question. I don't know that I do or do not. But right now we're holding the money. I'll ask my attorney to address that."
But the mayor's position that his move is an attempt to force the library board to respond to citizen complaints conflicts with the board's description of the scattered pushback. This reporter asked McGee how the board could have responded to objections over content in the collection without any formal requests for reconsideration.
"I can't speak to that," McGee said. "That'd be hearsay on my part." The mayor then added that he'd said his part, and left to attend a meeting.
What little the mayor and the board seem to agree on is that the issue will likely be adjudicated at the upcoming meeting of the board of aldermen.
Taxpayer Money Withheld
Whatever authority the mayor intends to serve, it's unclear as of press time if his action is legally defensible.
"This is taxpayer money that was already approved by the board of aldermen," Johnson explained. "It was included in the city budget for 2021-2022. It's the general-fund appropriation that the City of Ridgeland sends every year for daily operation of the library. That money goes to everything from purchasing materials to supporting programs and staff salaries."
While the city's aldermen may have approved the funds, Johnson said it was the mayor alone who is withholding it. "I asked the mayor specifically on the phone call if this had been decided by the board of aldermen. And he told me no, but (that) he could have them make that decision," she said.
That $110,000 represents roughly 5% of the annual budget of the entire Madison County Library System, the removal of which could have far-reaching consequences beyond the City of Ridgeland itself.
"It would definitely impact services," Johnson said. "I can tell you that there's a potential for staff members to lose their positions if the board is not able to move funding from something else to keep those positions open."
Without the support of the board of aldermen, it is unclear if the mayor will be able to maintain the funding hold for long. Moreover, the mayor's action may well violate basic constitutional rights, based on earlier court cases on the subject of LGBTQ book bans, including Sund v. City of Wichita Falls.
'I Firmly Believe In The Power of Books'
Harry Woodgate, author of the children's book Grandad's Camper, one of the titles that sparked the complaints against Ridgeland Library's collection, told the Mississippi Free Press in a statement that the story's intent was to represent the full spectrum of LGBTQ+ individuals, especially queer elders, who are rarely depicted in fiction.
"From the beginning it was important to me that (Grandad's Camper) featured truly meaningful LGBTQ+ representation whilst also speaking to broader universal themes such as the beauty of restorative intergenerational relationships, the joy of shared adventures and the experience of losing a loved one."
"One of the key things I wanted to address was a lack of older LGBTQ+ characters in children's literature, particularly picture books where they've been historically overlooked. I was also keen to include incidental representation, wherein a character's sexual orientation or gender identity – or indeed any protected characteristic at all – isn't a narrative obstacle but simply the way things are."
Woodgate added that LGBTQ+ censorship was a familiar, persistent ignorance, and commended the activists and board members who resisted it. "It is saddening that we're still seeing LGBTQ+ titles featured on banned book lists, and I think this not only represents the extent to which such prejudices remain underexamined and underchallenged by so many of our institutions and elected officials, but also a fundamental misunderstanding of children and children's literature," they wrote.
"To suggest that limiting access to diverse literature will somehow prevent or dissuade queer children from being queer is simply preposterous, let alone deeply, thoroughly cruel. I take great heart in everyone whose tireless dedication to challenging these bans and similar anti-LGBTQ+ legislation across the globe is making such a positive difference to young people and their communities. I firmly believe in the power of books and libraries to change lives so am incredibly thankful for all that they do and anyone who champions and defends them."
'We Have To Understand Each Other's Stories'
In a conversation with the Mississippi Free Press, Johnson seemed at a loss as to what actions might mollify the mayor. But participating in the LGBTQ+ purge was not something she was willing to consider. "Ultimately it is up to the (Madison County Library) Board, but I do not think they will make that decision," Johnson said.
She explained her reasoning. "As a library, our mission is to serve our community and to provide everyone in the community with the information and resources that they need … Anyone can walk into a library and find something that they don't agree with," Johnson said. "But the book that's not quite right for you is exactly what someone else needs. And my job is to make sure that (everybody) has access to that.
"And I think it's important to understand that LGBTQ+ books and materials are not just for the LGBT community. Those books are for all of us: whether we can see ourselves reflected in those materials or so that we can develop understanding, empathy and respect for someone else."
This advancement of human understanding, Johnson said, is the job of a librarian. "We all live in this world together," she said. "We sit next to people in church, we work with people, we live next door to people, our children go to school with children who don't look like us and don't have the same experiences. If we're going to be together, we have to at least understand each other's stories."
*********************
Nick Judin began his career in journalism at the Jackson Free Press in 2019, coming on as State Reporter to cover the 2020 legislative session. That posting quickly gave way to a year leading the JFP's COVID-19 coverage.
Nick's reports from the frontline of coronavirus have repeatedly made national headlines, as he has asked hard questions of state leadership and done critical interviews with the state's top public-health experts. Email the Jackson, Miss., native at [email protected] and follow him on Twitter at @nickjudin.
*********************
The preceding article was previously published by Mississippi Free Press and is republished by permission.