CDC: A quarter-plus of U.S. high school students identify LGBTQ
The CDC reported that the number of students in the U.S. who identify as LGBTQ has increased from 11% in 2015 to 26% in 2021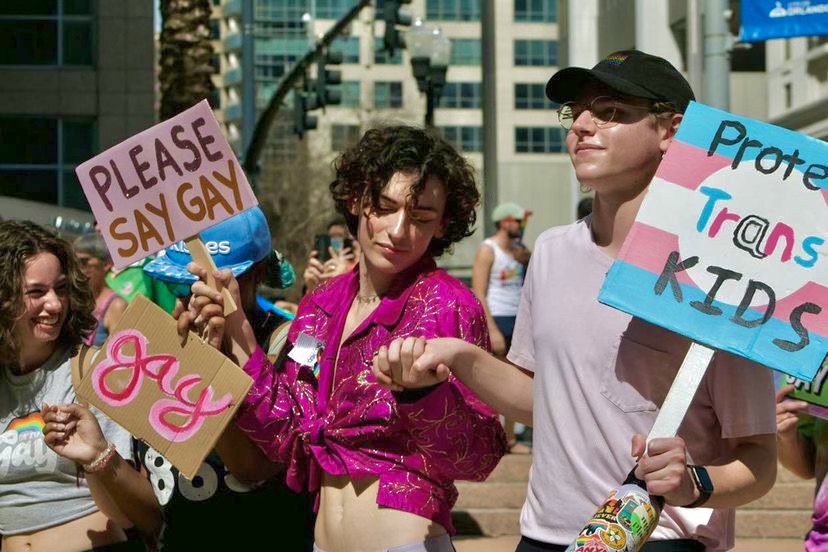 ATLANTA – A new report released last week from the Centers for Disease Control and Prevention (CDC) shows over one out of every four high school students in the United States identifies as LGBTQ.
Using data from the bi-annual Youth Risk Behavior Surveillance System, a set of surveys that track behaviors that can lead to poor health in students grades 9 through 12, the CDC examined:
Student demographics: sex, sexual identity, race and ethnicity, and grade
Youth health behaviors and conditions: sexual, injury and violence, bullying, diet and physical activity, obesity, and mental health, including suicide
Substance use behaviors: electronic vapor product and tobacco product use, alcohol use, and other drug use
Student experiences: parental monitoring, school connectedness, unstable housing, and exposure to community violence
The current report was gathered using data collected in 2021 which found that 74.2% of American high school students identified as heterosexual. The Youth Risk Behavior Surveillance System (YRBSS) interviewed 17,508 students from 152 schools across the U.S.
Results also showed that 3.2% of students identified as either gay or lesbian, 5.2% identified as "questioning" and 12.2% identified as bisexual. About 3.9% of students answered the question by saying they were "other" and 1.8% claimed they didn't understand the question.
YRBS results help monitor adolescent health behavior changes over time, identify emerging issues, and plan and evaluate programs to support the health of youth. YRBS data are used by health departments, educators, lawmakers, doctors, and community organizations to inform school and community programs, communications campaigns, and other efforts.
The YRBSS was designed to:
Determine how often unhealthy behaviors occur
Assess whether unhealthy behaviors increase, decrease, or stay the same over time
Provide data at the national, state, territorial and freely associated state, tribal, and local levels
Provide data comparing different groups of adolescents
Monitor progress toward achieving the Healthy People Objectives and other program goals
Based on the ten year span in studies between 2011 and 2021, the CDC reported that the number of students in the U.S. who identify as LGBTQ has increased from 11% in 2015 to 26% in 2021. That increase "might be a result of changes in question wording to include students identifying as questioning," the report claims.
About 57% of those high school students in the CDC's data said that they have not had any sexual contact in their lives, while 34.6% of those students said they had sexual contact with someone of the opposite sex.
Just 2.4% of students reported that they've had sexual contact with the same sex, and 6% said that they've had sexual contact with both sexes, according to the CDC.
Mirroring the CDC numbers in the YRBSS, the results of recent Gallup polling revealed that 7.2% of U.S. adults now identify as LGBTQ+ broken down by age grouping:
-19.7% of Gen Z (ages 19-26)
-11.2% of millennials, (ages 27-42)
-3.3% of Gen X (ages 43-58)
-2.7% of Baby Boomers (ages 59-77)
-1.7% of the Silent Gen (ages 78+)
Read the full report: (Here)
Public health crisis: 50% of trans & nonbinary kids consider suicide
LGBTQ+ young people who experienced victimization because of their orientation or identity — including being physically threatened or harmed
NEW YORK – The nation's leading suicide prevention organization for LGBTQ+ youth released the results of its latest survey of queer young people ages 13 to 24 Monday, and the findings by The Trevor Project should set off alarm bells.
The survey of 28K youth nationwide, conducted last fall, underscores the negative mental health impact of anti-LGBTQ+ legislation and policies. Among the key findings:
41% of LGBTQ+ young people seriously considered attempting suicide in the past year — and those who are transgender, nonbinary, and/or people of color reported higher rates than their peers.
56% who wanted mental health care in the past year were not able to get it.
LGBTQ+ young people who had access to affirming homes, schools, community events, and online spaces reported lower rates of attempting suicide compared to those who did not.
Transgender and nonbinary young people reported lower rates of attempting suicide when all of the people they live with respected their pronouns and/or they had access to a gender-neutral bathroom at school.
LGBTQ+ young people who experienced victimization because of their orientation or identity — including being physically threatened or harmed, discriminated against, or subjected to conversion therapy — reported more than twice the rate of attempting suicide in the past year compared to those who did not have any of these anti-LGBTQ+ experiences.
Nearly 2 in 3 LGBTQ+ young people said that hearing about potential state or local laws banning people from discussing LGBTQ+ people at school — also known as "Don't Say Trans or Gay" laws — negatively impacted their mental health.
"This is a public health crisis — and it's preventable," said Kasey Suffredini, The Trevor Project's vice president of advocacy & government affairs. "Our government must work from the top down to curb risk factors like violence and discrimination and increase access to essential health care, safe schools, and support systems. Yet, far too many lawmakers at the state level are working overtime to push a dangerous political agenda that will jeopardize young lives. We understand that some of these issues can seem complicated for people who've never met a transgender person, but the impact of victimization on our young people is clear and dire."
Annual report on mental health of LGBTQ people ages 13 to 24 amplifies need for affirming homes and schools
This is Trevor's fifth annual national survey, and the political climate appeared to be a significant factor in the findings. With more than 600 anti-LGBTQ+ bills introduced this year alone, researchers found that LGBTQ+ young people continue to report significantly high rates of mental health challenges and suicide risk. Also, experiences of anti-LGBTQ+ stigma and victimization contributed to the disparity when compared to the experiences of straight and cisgender youth.  
Their research, says a spokesperson, also underscores the protective nature of affirming homes and schools, the importance of transgender-inclusive policies, and the ways in which schools, families and lawmakers can show support for LGBTQ+ young people.
For more results and other information, click here for The Trevor Project survey.