R.K. Russell's life, sport & bisexual awakening 
This Black queer former NFL player says he's fighting "for us all to be seen, whether it be in the pages or on the screen"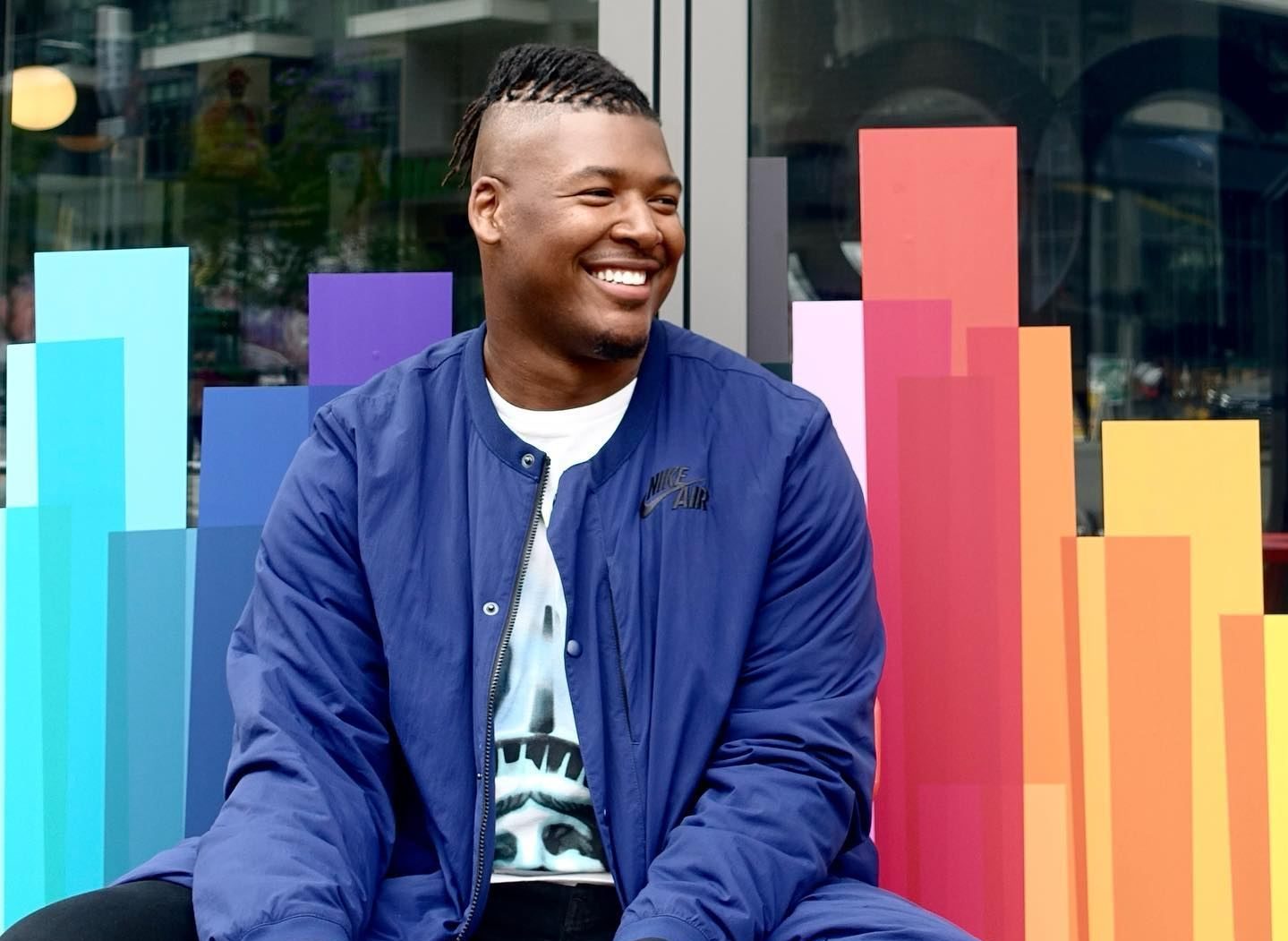 WEST HARTFORD, Conn. – He's tackled opponents on the gridiron, paved a path for out LGBTQ+ athletes and shared his unique voice in words and prose. Now R.K. Russell is celebrating the release of his long-awaited memoir, The Yards Between Us, as well as a Hollywood deal to bring his story to television viewers. 
It's something Russell told the Los Angeles Blade he never dreamed would be possible, even as a child.
"Grown me could barely imagine the book, let alone, little me," Russell said. "It is something I have not seen before, and something that doesn't really exist. Something that is so shocking even to me, this being my life. I think the reason that I continue to take these opportunities that come to use my platform and my voice and my talents, my gift, to not just tell these stories, but to hopefully champion other people in their story. To just fight for us all to be seen, whether it be in the pages or on the screen, everywhere people exist. We exist."
As the Blade reported in August 2019, Russell came out as bisexual in a feature for ESPN. The NFL defensive end was drafted by the Dallas Cowboys in 2015 and played a few seasons for the Tampa Bay Buccaneers and Buffalo Bills. After coming out as a free agent, Russell wasn't able to fulfill one of his dreams — to play professional football as an out and proud bisexual man. But at that time, he said all he was focused on was living his truth.
"It was a powerful time in my life," Russell told the Blade. "It was the first time I really felt that I was taking all this control and I wasn't just at the mercy of the NFL or waiting for that phone call, or at the mercy of friends, family, lovers. It was my decision and my moment and my truth. And I got to express it in a form that felt very genuine to me."
The Buffalo native called the experience "freeing."
"I didn't think I'd realize how much I had been proverbially holding my breath until that moment. And then it just felt like such an exhale. It's such a freeing thing, and the weight of the burden of that secret, of that shroud, or that shame," he said. "I just realized how heavy what I had been carrying for so long. So, definitely a powerful and freeing moment."
Having already told part of his story to ESPN, The New York Times and other news outlets over the years, there was a reason Russell felt it was important to write the rest of his story.
"That was just a very specific part of my life, and it showed me that maybe by sharing my whole story, my life and my journey and my truth and other parts could be just as impactful, if not more impactful," he said. As he set out to write the memoir, he said he first experienced imposter syndrome, until he came to a realization.
"The point that got me through was, 'What would little R.K. read that would have helped him? What was a book that didn't exist when he was young, and that he could have picked up and seen himself, or that people like him can pick up and see themselves? Or even people unlike him, to get a human connection to someone that does not look like them or doesn't play sports?' So, I think the huge, final push was, 'What would I have liked to have read as a child?' And hopefully that will help other people."
The Yards Between Us traces not only Russell's football career and his love for the game, for both men and for women, but also what it was like for him to keep his bisexuality secret and the tension between his private and public lives. As his weighs upon him, he's dealt a devastating loss, an event that leads to an all-enveloping darkness, until finally he recognizes, it's time to make a change.
Since coming out, he's found love with his boyfriend, Corey, grown closer to his mother and this September he'll mark four years sober.
Russell's memoir has won him accolades from LGBTQ+ readers, but not just them.
"I've also gotten a lot of support from people who aren't LGBTQ+ who see the value in the story, but also see the value in the intersections of it all. Because I don't just talk about being a bisexual, I talk about being a Black man. I talk about being a football player, defining masculinity and redefining masculinity. There's a lot of intersections that my story crosses. And I think for people to see all of these layers also coexisting in one person, that's important to see the bridges between these communities that at times can be put against each other, or it can be divided, to see them all exist within one person."
While all that sounds very serious, Sony Pictures Television sees comedy gold in exploring Russell's intersectionality of sports, race, sexuality and masculinity. His memoir is being adapted into a half-hour comedy series, as Deadline reported. Russell is co-writing and executive producing a half hour comedy series with Saeed Crumpler of "Flatbush Misdemeanors," alongside Gabrielle Union, who is a producer in her own right as well as wife to Dwyane Wade and stepmother to their 15-year-old trans daughter, Zaya Wade. As the Blade reported last month, the Wades left Florida because of its anti-trans policies and laws.
"She's fantastic. Amazing," said Russell. "If anyone wants to know what allyship looks like, Gabrielle Union and Dwyane Wade and their whole family, they're so amazing. "
Union, he said, recognizes the importance of representation. "It's important to have genuine representation, whether it be during Pride Month with companies and campaigns or in shows and books that our stories are coming from, that there are Black queer writers writing Black queer stories hopefully also in part started or acted by Black queer artists."
Long before he wrote a word of his memoir, Russell has been publishing his own poems, which he told the Blade was his "way to express life with words." He said he started writing poetry following the death of his stepfather.
"It was a way for me to kind of name grief, without naming it. I didn't have that vocabulary, that word at that time, but I was feeling it so intensely," he said.
One of Russell's poems, Tributes, was an effort at explaining bisexuality and his experiences. "'Bisexuality,' the word, means something slightly different to you, to me, or to someone else. I can talk about the experience in a way that is so varied and so broad and to me, so true and genuine." Below, an excerpt from that poem:
Love is freedom
and the freedom to love is a birthright,
or at least it should be.
These years fill my canvas
and I know too much of life to expect
only one color to leave its strokes across my heart.
Paint is intended to mix no matter the artist. —Tributes, by R.K. Russell
Mark S. King on new book and surviving HIV and meth
'My Fabulous Disease' writer chronicles experiences with humor, honesty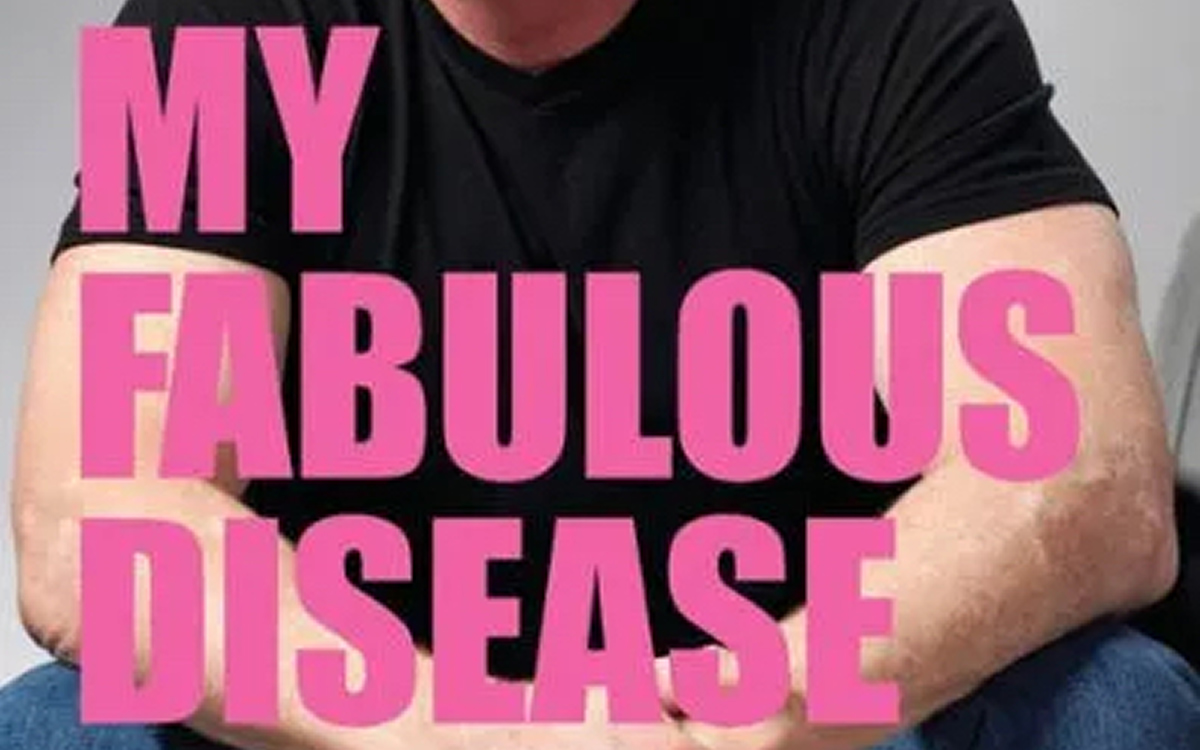 By TIM MURPHY
HIV/AIDS writer Mark S. King, a GLAAD- and National Lesbian and Gay Journalists Association award-winning author of the popular blog My Fabulous Disease has published a new book out Sept. 1 that's a compendium of the blog's best pieces, as well as pieces he wrote well before the blog, back in the 1990s. Pre-order "My Fabulous Disease: Chronicles of a Gay Survivor" at marksking.com/marks-new-book. He's appearing at the U.S. Conference on HIV/AIDS on Sept. 7 in D.C.
Diagnosed with HIV in 1985, Mark has taken a lifetime of ups and downs and turned them into a, well, fabulous collection of pithy, witty, often brutally honest and self-critical short essays on everything from how we gay men are so good at shaming and judging one another for all sorts of things to his gay brother's tale of helping his lover, who was dying of AIDS, end his own life with a Seconal cocktail to what it was like starting his own gay erotic phone line in the 1980s to how he's morphed into a total top who wants sex only a fraction as often as when he was young. The essays range from quite raw and painful to utterly hilarious. King has that perfect Oscar Wilde/Paul Lynde way with a quip: "I got The Clap so many times that I started calling it The Applause." Or, marveling at how little sexual energy he has currently, at 62, compared to his youth, that these days, "10 minutes is a triumph of passion and stamina."
I like Mark's writing because he doesn't shy away from examining aspects of himself that many of us gay men would rather look away from: His vanity, narcissism and need for attention. Things he's done in the past that have hurt people, including family members and lovers. Even what he sees as his own manipulativeness in seducing a 30-year-old man when he was 15 — this in an age when we would almost unanimously agree that all the responsibility for a statutory-rape situation lies with the legal adult, not the child.
TIM MURPHY: Mark, thanks for talking to me. So, you and your husband Michael, a federal healthcare worker, live in Atlanta, yes?
MARK S. KING: As we speak, I'm surrounded by boxes because we're moving in a few days from an apartment in Midtown to a home in North Decatur. Michael's currently holed up in his home office and he doesn't come out until after five.
MURPHY: What's a typical day like for you?
KING: My cat Henry wakes me up around 6:30 a.m., but fortunately Michael feeds him breakfast and starts the coffee, so I can sleep longer. I stumble out around 7 a.m., have my coffee and look at my emails. Or sometimes, if I'm writing something, if the solution I've been looking for occurs to me around 6:30 a.m., I'm at the keyboard making it work even before I have coffee. If I'm in the zone like that, I can forget to have breakfast. But then I have my go-to daily conversations with usually two out of three people: my brother, Dick, who's gay and lives in Shreveport, La., with [TheBody.com writer] Charles Sanchez, and with my friend Lynn.
Then I go to the gym to work on any part of my body that is visible in a tank top. As long as my chest is bigger than my stomach, I'm fine. I play racquetball, so that takes care of the legs. Things like calves, you either have them or you don't. I know I should be doing yoga and stretching and working on what they call your core, whatever that is. At some point as I age it's going to be more important to be able to bend over and pick things up, not lift a large weight above my head.
MURPHY: Do you do steroids?
KING: I have—I don't any more. Testosterone is not steroids.
MURPHY: Oh, I know. Why no more steroids?
KING: Age, and the fact that they can damage your liver and kidneys. It's also true that taking testosterone has made my prostate the size of a grapefruit, but I haven't stopped that.
MURPHY: When you first went on testosterone, did you notice changes in your mood, libido and strength?
KING: Yes, all those things. I take it because it works. I've been on it for 20 years … when I'm not working out, I deflate like a balloon. I feel like the Grindr hookup that doesn't look like his pictures.
MURPHY: What do you do the rest of the day and night?
KING: Play with my cats and write a little bit. I sound like a man of leisure, and I kind of am. After Michael finishes work, we cook dinner. I'm a much better cook than I was when I met him.
MURPHY: Mark, you grew up Louisiana?
KING: My dad was an Air Force officer so we lived all over the place, but when he retired when I was in fifth grade—I'm the youngest of six—we moved to Louisiana.
MURPHY: When did you start writing?
KING: I wrote silly little stories when I was a kid, and then when I went to work for an AIDS agency in 1986, [the now defunct] L.A. Shanti, it was growing so fast that I became the media guy, the one writing the newsletter and press releases. But it's only been in the last 20 years that I've really been able to identify as a writer. The turning point was when I started writing My Fabulous Disease consistently. Prior to that, I'd write columns for Frontiers and then send them to different gay papers around the country who would print them.
Of all the editors I ever worked with, Bonnie Goldman, who founded [the HIV/AIDS site] TheBody, challenged me the most. "Why are you saying it this way?" she'd ask. She told me that the more warts, faults and doubts I revealed, the more I'd draw people in. She really worked for me and asked me to write a blog for TheBody.
It was after Bonnie left TheBody that I started My Fabulous Disease. I'd actually started it as a website to promote my first book, "A Place Like This," and my web designer told me to blog on that page to keep it fresh and bring people to it. For a long time, I had to keep telling myself, "If you continue to build it, they will come." Now, in a good month, I'll get 100,000 hits. I'll also share my content with HIV Plus, Poz—it doesn't matter.
MURPHY: One thing I like about your writing is that you are ruthlessly honest. What's been one good and one bad outcome of that?
KING: Certainly I felt good about writing about addiction. I wrote a piece about a relapse I had when I was still dealing with its fallout. That felt good because I suffer, as many of us do, with imposter syndrome. I'd think, "If they only saw behind the curtain, that I struggle with drug addiction and have ruined relationships and have all sorts of wreckage in my wake, then they wouldn't like me anymore." So to have been able to write that piece only days after coming to—some might say it's dangerous to write about such a thing so soon, but my writing is my therapy, my way of sorting out my own feelings. So I wrote it and then pressed the button.
MURPHY: In your book, you have several pieces written about a decade ago or more about how we gay men tend to shame one another—how HIV-negative men shame positive men by using phrases like "drug- and disease-free" or "clean" and "you be, too," or how older HIV survivors shame younger gay men for having tons of sex without condoms now that PrEP is available. Do you think in the years since you published those pieces, we've become a less shaming community overall?
KING: You're right, I wrote a lot of that when social media and hook-up apps were inflaming various stigmas. Gay men are remarkably good at shaming our own—we've been shamed so much that we've developed claws of our own. I haven't been on hook-up apps the last ten years, so I can only go by conversations I have, which make me think that stigma is alleviating a little bit. But these things are generational. We were raised for decades in mortal fear of sex, which is a really powerful emotion that doesn't just go away with a scientific breakthrough like U=U [undetectable = untransmittable, the now-proven fact that people with HIV on meds with undetectable viral load cannot transmit HIV sexually] or PrEP.
(Continues at thecaftanchronicles.substack.com)