OutLoud rocks WeHo Pride on day one
Idina Menzel, star of Broadway and Disney fame, delivered the most energetic performance of the evening with her new hit "Move"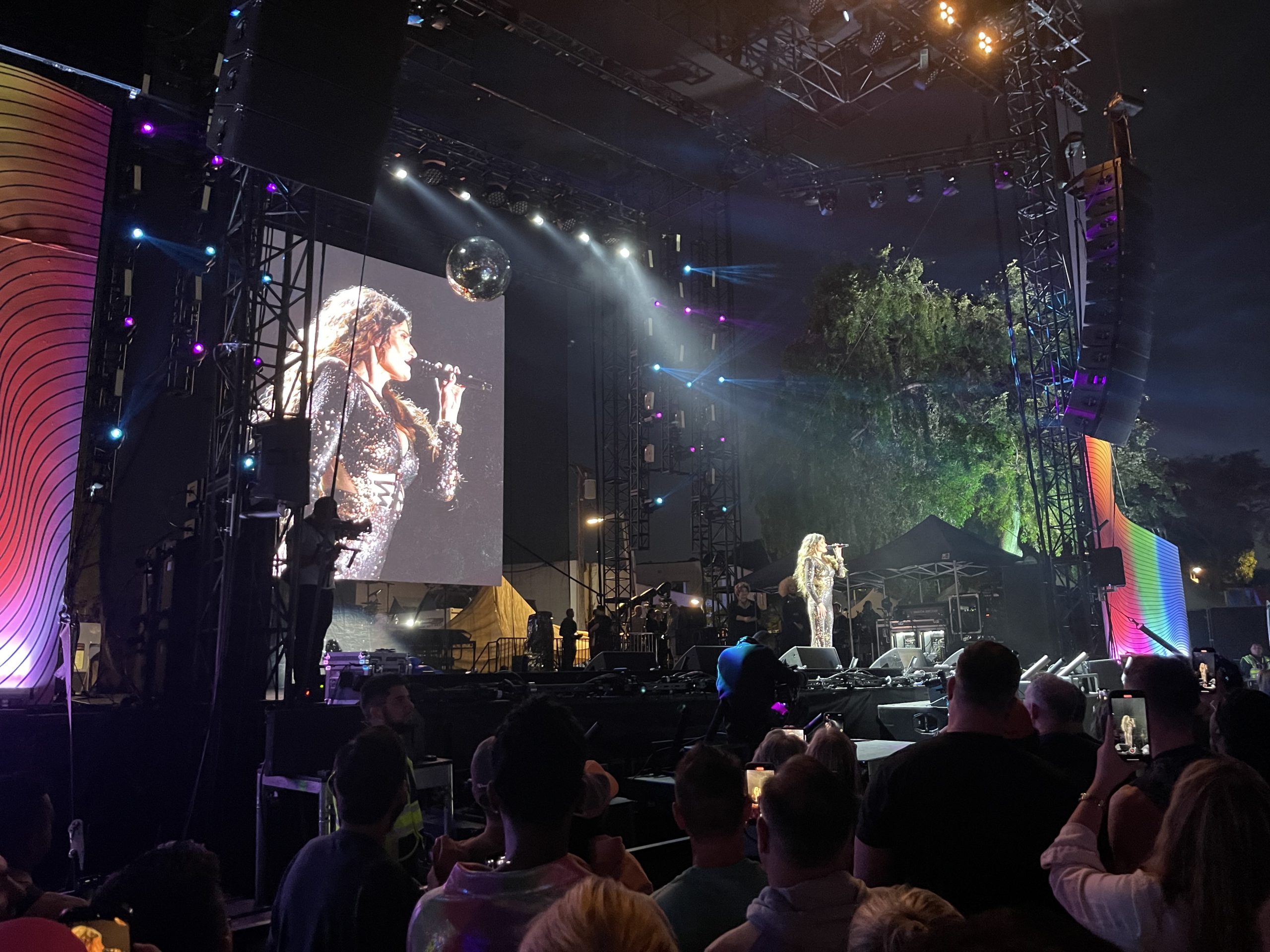 WEST HOLLYWOOD – The West Hollywood City Council kicked off its second annual WeHo Pride with a Free Friday night celebration in a colorfully transformed WeHo Park, attracting thousands of proud revelers for night one of the three day OutLoud Festival.
Ryan Mitchell, the SoCal bon vivant and Channel Q host of the "Let's Go There" podcast teamed up with the bearded ladee mother of all WeHoan's, Billy Francesca to present an exceptional night of talent.
The evening kicked off with an eye toward a new generation of performers, starting with the DJ stylings of Vanessa Michaels and the rapturous musical explorations of Chicago born Angeleno Tolliver.
"If you are out there and you are trans, I fucking love you," said streaming musical star Jordy, the third performer to take the stage, tipping his hand on the political turmoil our community is facing.
"We have to support each other from within our community," he implored the audience.
The streaming star launched into a set of familiar hits in quick succession ("Just Friends," "Close To You," and "Long Distance.") and introduced his latest release "Boy."
Things kicked up another notch when a troop of sexy dancers twerked their way onto the stage and lit it up, introducing Drag Star Shangela, whose shontay energy pulsed all the way to Santa Monica Boulevard.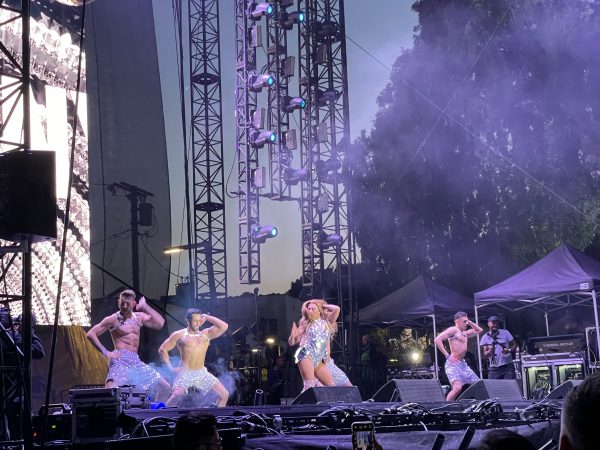 "Are y'all here to turn it up tonight? Are you here to celebrate who you are," she implored the crowd, getting very pointed about why Pride is more important than ever.
"Tonight is about Pride," she said, "and when so many in this country are turning their heads away from us — I'm not talking about you, TARGET; I'm not saying anything about you LA DODGERS," she taunted flirtingly.
"In America and around the world, it is not okay to be gay in a lot of places," she said getting more serious and to the point.
"It is not okay to say gay in a lot of places, but West Hollywood is showing the world," imploring the audience to shout "GAY" and ripping into a lip-sync choreographed routine of Beyonce's "I'm that Girl."
But, as wild as that was, it was like a countdown before true ignition, with one of the biggest names in the music world bristling to take the stage.
Idina Menzel, mega-wattage star of Broadway and Disney movie fame, appeared on stage and delivered the most energetic performance of the evening with her new hit "Move," and simply owning OutLoud.
Catching her breath and refreshing with a bottle of water, the star bantered eloquently: "Thank you for showing up for everyone who couldn't be here, everyone that's out there that may be scared, that may not have a voice right now, thank you for showing up."
"Let's let them hear our anger and our madness and our frustration," referring indirectly to the more than 500 antigay bills that are winding their way through state legislatures around the nation.
"We're going to party in a minute but I just want to say, we're stuck in this friggin' outrageous world right now with all this hypocrisy, this cruelty. And I just want to say that I love all of you," her voice breaking.
"I hope you'll welcome me into your community; I am an ally for you. I would do anything for you," she said.
With that Menzel launched into a new song she dedicated to her husband, "all my queer friends, all my trans friends, all my fabulous brothers and sisters."
Menzel, who has sold dozens of millions of records with chart topping hits like the Oscar winning anthem "Let It Go," and Wicked's "Defying Gravity" is serious about her allyship.
The Tony and Obie winning artist recently hosted the GLAAD Media Awards in New York and has a full dance card of Pride event appearances around the world, including Capital Pride in Washington, D.C. on June 11 and London Pride on July 11, 2023. Rumors of a surprise appearance at Pride Island in Manhattan are also circulating.
Her magic held sway over the color splashed, packed audience as she bantered back and forth, the audience taking the lead singing the soaring anthems of her most famous reprises.
"I've been in a lot of shows and played a lot of characters," Menzel said, her voice breaking. "I don't think you understand how much being here means to me."
"I don't think I would even know how to play those roles if it hadn't been for you. You've taught me so much about how to live courageously and live an authentic life," she declared. "That's what those characters were all about and that's what you do all the time for all of us. And you do it in such a beautiful way."
Continuing, she said, "There's just so much going on, there's so much. And you fight through it with so much joy and love and triumph. I want to thank you for all that you do. I wouldn't have a career," she said with increasing joy before launching into "Defying Gravity," letting the audience take over several times while moving the artist to tears.
Aptly, it was that electric moment when it felt as if WeHo Pride soared above the City- it was WeHo Pride's lift off moment.
The star, who is said to have donated her time to the event, stayed longer than expected, her bond with the audience so obviously intense.
At one point organizers, apparently determined to move the show along, came on stage and reminded her of her time slot. But neither she nor the audience was having it. They demanded she continue and she did, delivering a final and unexpectedly emotional performance of "No Day But Today," her hit from the musical "Rent."
She closed with an upbeat new offering and the show moved on to the West Hollywood City Council.
Billy Foncesca introduced the council, asking each for their favorite part of Pride. Mayor Sepi Shyne, the world's first out gay elected Persian, invoked the power of the women's revolution in Iran tying it to the power of Pride in the face of our community's current political situation, and was met with thunderous applause:
"We have our rights here in America, the same type of extremist, religious people who are using extreme hate to come after us," she said. "But we are used to fighting hate because we are our authentic selves. And we will always stand in Love; in West Hollywood we will always fight for you," she said, reminding the crowd that the front lines are as close as North Hollywood.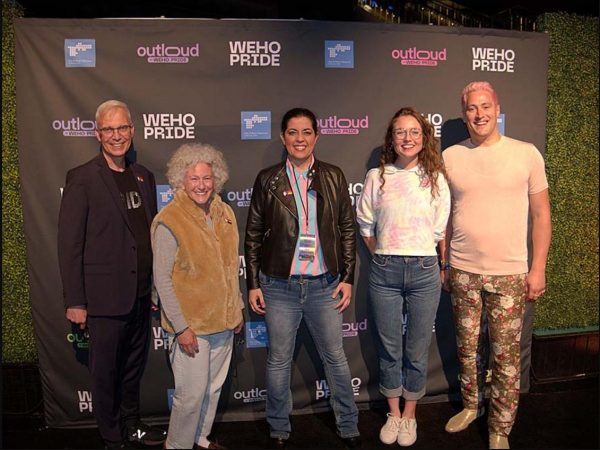 Mayor Pro Tempore John Erickson, resplendent in his Pink cloud tinted hair, used his favorite Pride moment to shout "We say Gay in West Hollywood." Returning City Councilmember John Heilman, said "this amazing crowd is his favorite thing about Pride. Lauren Meister praised the transformation of the park, while Chelsea Lee Byers, the newly elected council person, said she loved the street closures and watching Pride take over WeHo.
Next up was Tinashe, and her set of familiar tracks, a less political and more down to business good time of a performance that had the crowd moving, shaking and shouting in joy as at least one dancer entirely disrobed.
And finally, Jesse Ware, the UK chart topping singer, songwriter and broadcaster who is perhaps most famous for "Say You Love Me," took the stage and continued the evening's theme, praising the community for fighting with positivity and joy.
Her songs soar and the audience were treated to a fitting closing show, featuring "Free Yourself.
Dallas Hinton, a 26 year old who attended alone, drove from Simi Valley. "This is exactly what I needed right now. The power of tonight was in every song, in every message and every move of every dancer." When asked what that power is to him, he said, "Fight with joy. Fuck back with joy. We are not going back."
By almost any measure, WeHo Pride 2023 has already transformed WeHo.
A new art installation at the entrance to the OutLoud Festival is so beautiful that it could easily become a new feature to the queer city.
And along Santa Monica Boulevard for the first time since the days of Pat Rocco and early LA Pride, a Ferris Wheel is featured, this time in the median.
Maybe a bit of fantasy, but I think after tonight, they stay.
LA Pride Parade and Village Details
Pride Village is the place to be after the parade with festivities taking place from 12:00 p.m. to 8:00 p.m., just steps from the parade route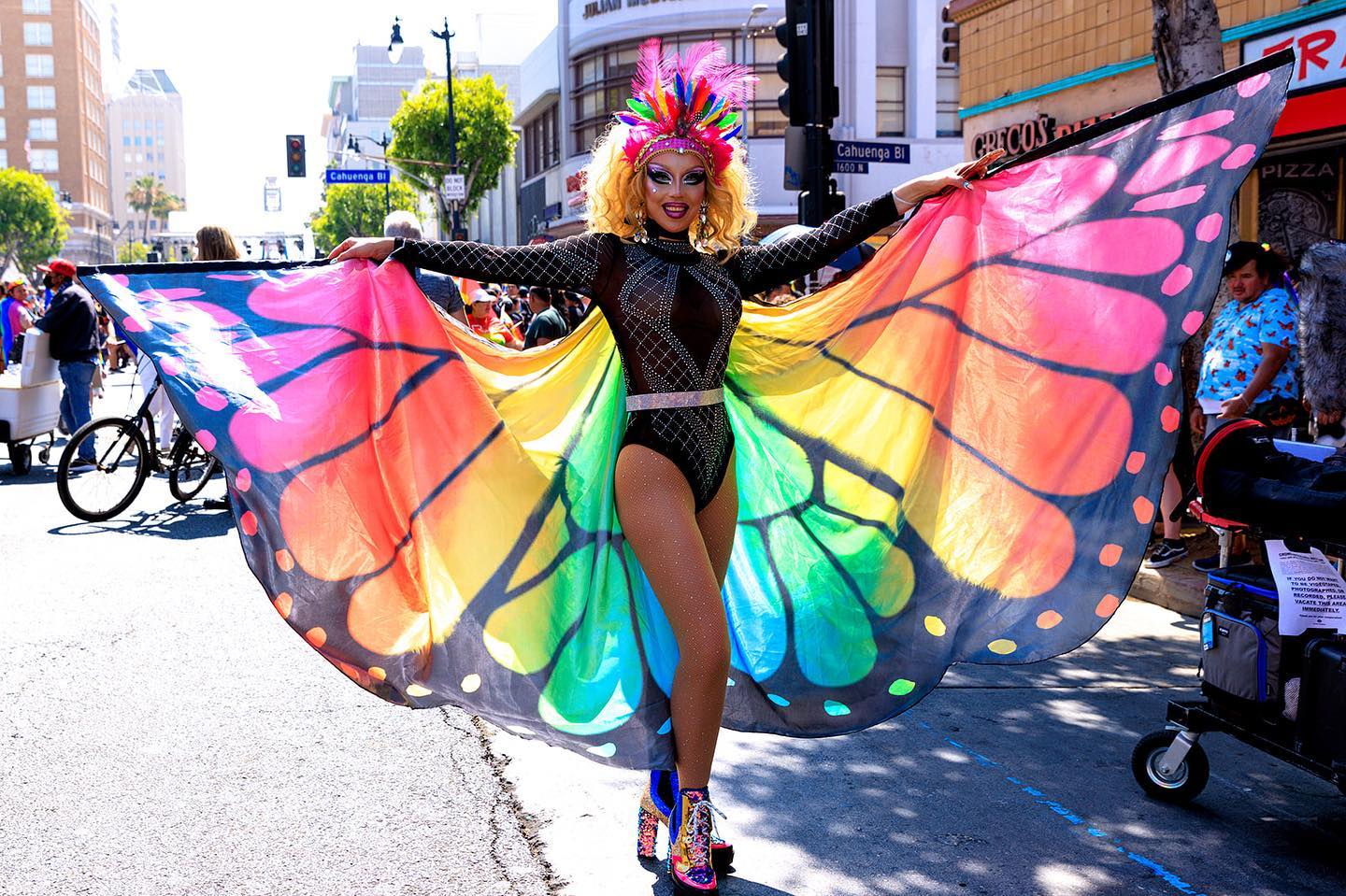 HOLLYWOOD – The second annual LA Pride Village on Hollywood Boulevard will bring the free, all-day street festival to a new location between Vine Street and Gower Street just steps away from the official LA Pride Parade route on June 11.
At 9:00 AM on June 11, The Hollywood Partnership CEO & President Kathleen Rawson will deliver a welcome note in front of Pantages Theatre, and at 2:00 PM elected officials – including Senator Ben Allen, Senator Maria Elena Durazo, Board Supervisor Lindsey Horvath, Council Member Hugo Soto-Martinez and Assemblymember Rick Chavez Zbur – will welcome festival goers at the Celebration Stage on Gower St. and Hollywood Blvd.
Christopher Street West Association (CSW) announced its trio of grand marshals to be celebrated at the LA Pride Parade on Sunday, June 11 taking place at its original historic location in Hollywood.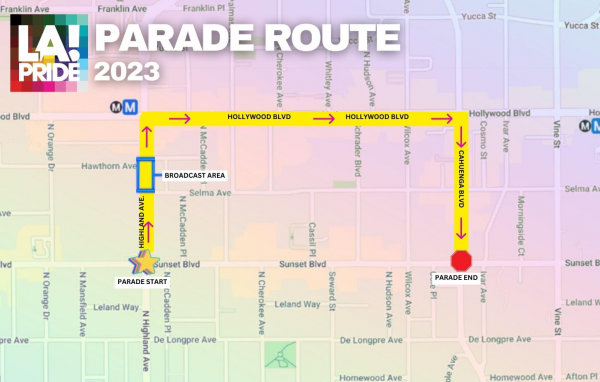 The parade, which will feature a special drag performance presented by the ACLU SoCal and staged by Morgan McMichaels to music by 14-time Oscar nominee Diane Warren, will air LIVE on long-time LA Pride broadcasting partner KABC/ABC7 on Sunday, June 11 beginning at 11:00 a.m. PDT.
This year's LA Pride Parade grand marshals include comedian, actor and activist Margaret Cho as the Icon Grand Marshal, an individual who needs no introduction and achieved major milestones within their career and industry; a posthumous tribute to Emmy-winner Leslie Jordan as the Legacy Grand Marshal, a new title this year in honor of Jordan for his everlasting impact on the community; and the ACLU of Southern California, that helped CSW obtain the permit for the first LA Pride parade, as the Community Grand Marshal, which celebrates a group or individual who has had a powerful influence through their work and dedication to and for the LGBTQ community.
"I'm thrilled and incredibly honored to be the Icon Grand Marshal," said Cho. "We need this Pride more than ever. I have been attending Pride celebrations since 1978 and this time around the need to celebrate as well as unite is more urgent than it has ever been. Our love is greater than their hate.
"On behalf of Leslie Jordan, we are overjoyed by Christopher Street West's heartfelt recognition to name Leslie as LA Pride's Legacy Grand Marshal," said Jana "Cricket" Jordan. "This honor further solidifies the positive impact he made in the world, but more importantly for the LGBTQ+ community. His spirit continues to bring love and light."
"For a century, we've been on the front lines fighting for people to be their true, authentic selves," said Hector Villagra, executive director of the ACLU SoCal. "We're honored to be the Community Grand Marshal and proud to love, live among, and protect LGBTQ Californians."
"Christopher Street West is honored and humbled by this year's three grand marshals," said Gerald Garth, president of CSW. "Each have contributed to the LGBTQ+ community in their own unique ways, furthering our fight for acceptance, equality, and justice."
It will also air nationally on ABC News Live and Hulu, and wherever viewers stream ABC7 including abc7.com and the ABC7LA mobile app.
Anchor Ellen Leyva and reporter Christiane Cordero from ABC7 Eyewitness News will co-host the ABC7 broadcast. The parade route will begin at Sunset Blvd and Highland Ave heading north, then east onto Hollywood Blvd, then south onto Cahuenga Blvd, ending at Sunset Blvd and Cahuenga Blvd.
Additionally, The Hollywood Partnership, the non-profit organization that oversees the public realm in the Hollywood Business Improvement District (BID), has once again partnered with LA Pride to bring the LA Pride Village back to Hollywood Blvd.
LA Pride Village is the official place to be after the LA Pride Parade, with festivities taking place from 12:00 p.m. to 8:00 p.m., just steps from the official parade route.
When the iconic LA Pride Parade returned home to Hollywood Blvd last year after more than four decades, it prompted the start of new traditions and celebrations in Hollywood, including LA Pride Village, a free and open to the public street festival.
The second annual LA Pride Village celebration promises to be even bigger and better, with a new location on Hollywood Blvd, between Vine St. and Gower St., to make room for more booths featuring local vendors and non-profits, an expanded beer garden, delicious food trucks, two performance stages for twice the entertainment, and more comfortable crowd space for dancing.
All details can be found here: https://lapridevillage.com/do/la-pride-2023.
Sponsors of LA Pride Village include Princess Cruises and Royal-bud.com.
Public transit and ride share services to LA Pride Parade and Village are strongly encouraged. For the Parade, connect to the L.A. Metro B (Red) Line and exit Hollywood/Highland or Hollywood/Vine Station. Metro has many Park & Ride lots servicing the county – parking is just $3.00 per day, payable onsite.
If self-driving to LA Pride Parade and Village, vehicles can access parking and the event site via Vine Street or Gower Street.
WHAT:
LA Pride Village is the ultimate free community street festival happening on Sunday, June 11, in honor of the LGBTQIA+ community. Hosted by The Hollywood Partnership and LA Pride, it's the perfect complement to the LA Pride Parade, as it is located just steps away from the iconic procession on Hollywood Boulevard, between Vine Street and Gower Street. Festivities include:
90 local vendor booths
Two entertainment stages featuring 14 performances
An expanded bar garden
11 Food trucks
1 LGBTQ+ Cinema Film Festival by NewFilmmakers LA @ The Montalbán Theatre
More comfortable crowd space for dancing and celebrating Pride on Hollywood Boulevard
WHEN:
Sunday, June 11, 2023
12 PM to 8 PM (all day)

KEY TIMES: 
12 PM: LA Pride Village OPENS

12-8 PM: 14 Performances across two stages by Pride notables like Mariachi Arcoiris, Bob Baker Marionette Theatre, the Gay Freedom Band LA, Secret Circus, Dance Church, and LA's favorite queer AAPI drag party, Send Noodz

2 PM: Elected officials welcome Pride festival goers to LA Pride Village

Senator Ben Allen, Senator Maria Elena Durazo, Assemblymember Rick Zbur, LA County Supervisor Lindsey Horvath, LA City Councilmember Hugo Soto-Martinez

2:15 PM-2:45 PM: Interviews available with elected officials
3:00 PM-10:30 PM: NewFilmmakers LA Presents LGBTQ+ Cinema with The Montalbán @ 2023 LA PRIDE: This special event at Hollywood's famed Montalbán Theatre features LGBTQ+ films spotlighting emerging filmmakers telling stories from across the spectrum of queer identities by artists from diverse backgrounds, including a strong representation of BIPOC storytellers. The event also hosts a full bar with reception space for mingling throughout the day, and Q&A sessions with filmmakers from each program.
8 PM: LA Pride Village CLOSES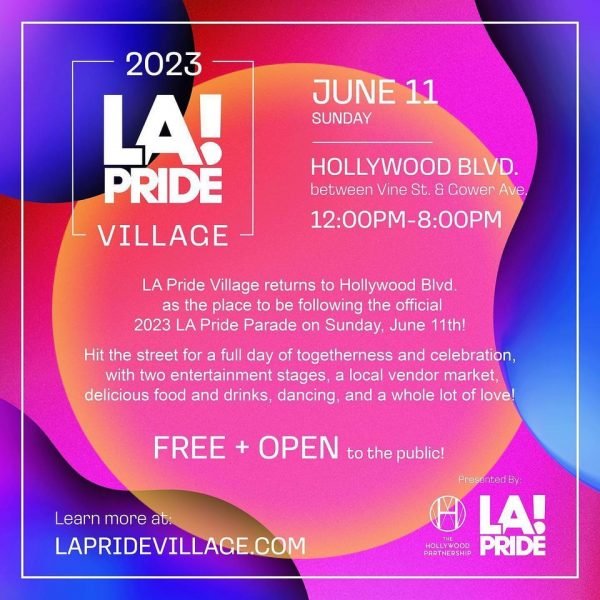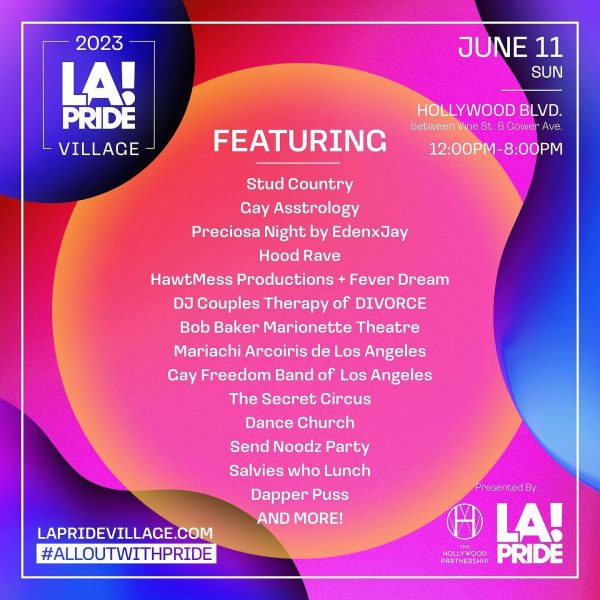 LA Pride in the Park: 6/9-6/10
It's going down with Mariah Carey + Megan Thee Stallion! Don't miss out — tickets at lapride.org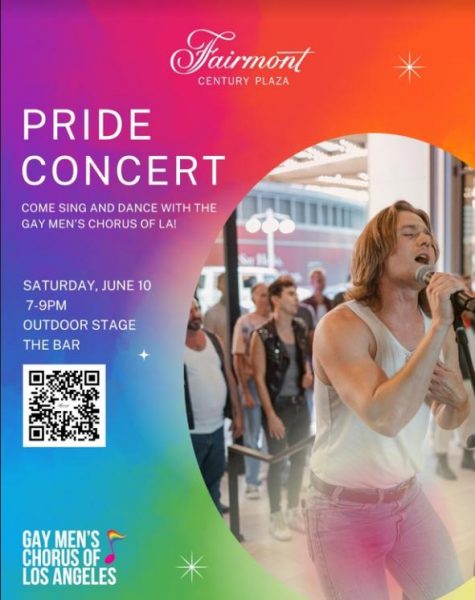 This June in honor of PRIDE, Century City's Fairmont Century Plaza invites guests to an extraordinary two-hour live concert performance from the Gay Men's Chorus of Los Angeles. Returning this year, the non-profit organization will be performing at the hotel with a mission to change hearts and minds through the power of music.
The event will feature a vibrant approach to an array of iconic songs from Queen, Motown, Sondheim, and more, taking place at the hotel on Saturday June 10th from 7:00 pm to 9:00 pm. This will be their main West Los Angeles PRIDE performance. VIP tickets will be $55 and will include two cocktails. Free General Admission is also available and the performance will be open to the public.
Live music has been a prominent component of the Fairmont Century Plaza experience since its beginning and the hotel is looking forward to honoring PRIDE this year with this monumental performance.