Lawmakers move to amend constitution to protect marriage equality
71% of Americans including majorities of voters across the political spectrum — support the freedom to marry for same-sex couples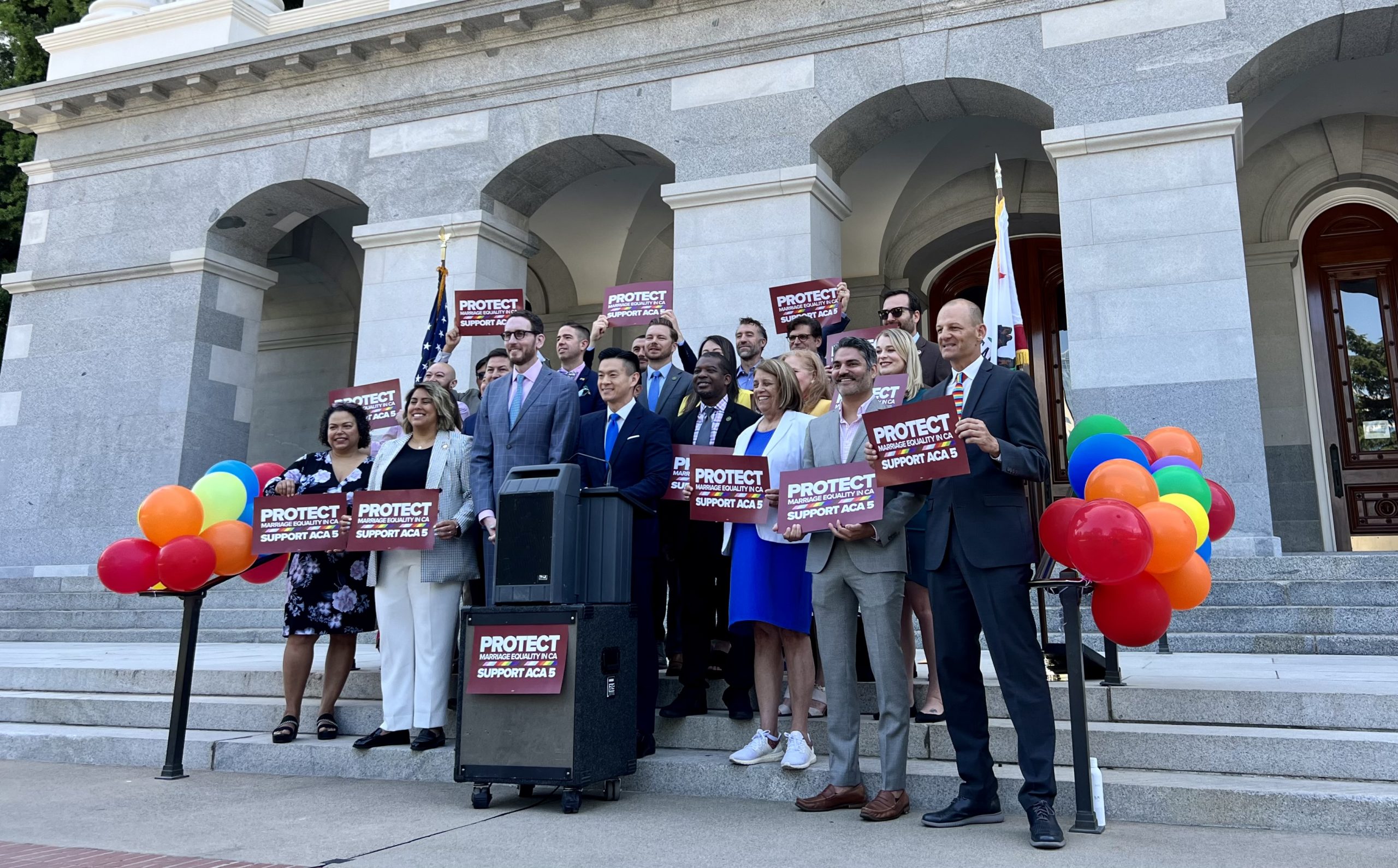 SACRAMENTO – Marking the beginning of Pride Month, California state lawmakers in the Assembly and the Senate introduced language on Monday to amend the state's constitution to protect marriage equality for all.
Although marriage equality for same-sex couples has been the law of the land in California since the Supreme Court's June 2013 ruling in Hollingsworth v. Perry, California's constitution still contains outdated and discriminatory language from Proposition 8 stating that same-sex couples are not allowed to marry.
"Marriage equality is a fundamental right and voters deserve the opportunity to remove a black mark from the California constitution," said Assemblymember Evan Low, a member of the California Legislative LGBT Caucus and a co-author of the legislation.
The proposed constitutional amendment, ACA 5, is authored by Low (D-Silicon Valley) and Senator Scott Wiener (D-San Francisco) is supported by the Legislative LGBTQ Caucus and dozens of lawmakers in the Assembly and Senate.
The constitutional amendment would amend the California Constitution to protect the fundamental freedom to marry as part of existing rights to enjoy life and liberty, pursue happiness and privacy, and not be denied due process or equal protection. These protections would help to safeguard against any future attempts to restrict marriage rights for same-sex or interracial couples.
"Although, same-sex marriage is legal, it could be temporary. We have to remain vigilant, unwavering in our dedication to equality. Together, we can reinforce the importance of love, acceptance, and inclusivity. Our journey towards true equality is not over, and this is a foundational step in making progress and change here in the Golden State," Low noted.
ACA 5 requires two-thirds vote in each chamber of the California Legislature and will then be referred to voters for approval in the November 2024 general election. Notably, 31 Senators and 42 Assemblymembers have already signed on as co-authors of the legislation, including the Senate President pro Tempore Toni G. Atkins, Assembly Speaker Anthony Rendon (D-Lakewood) and the Assembly Speaker Designate Robert Rivas (D-Hollister).
71% of Americans — an all-time high, including majorities of voters across the political spectrum — support the freedom to marry for same-sex couples.
Related:
Governor Newsom to decide on ending pro-LGBTQ state travel ban
The state would be following San Francisco in doing so, as city leaders this spring ended their similar travel restriction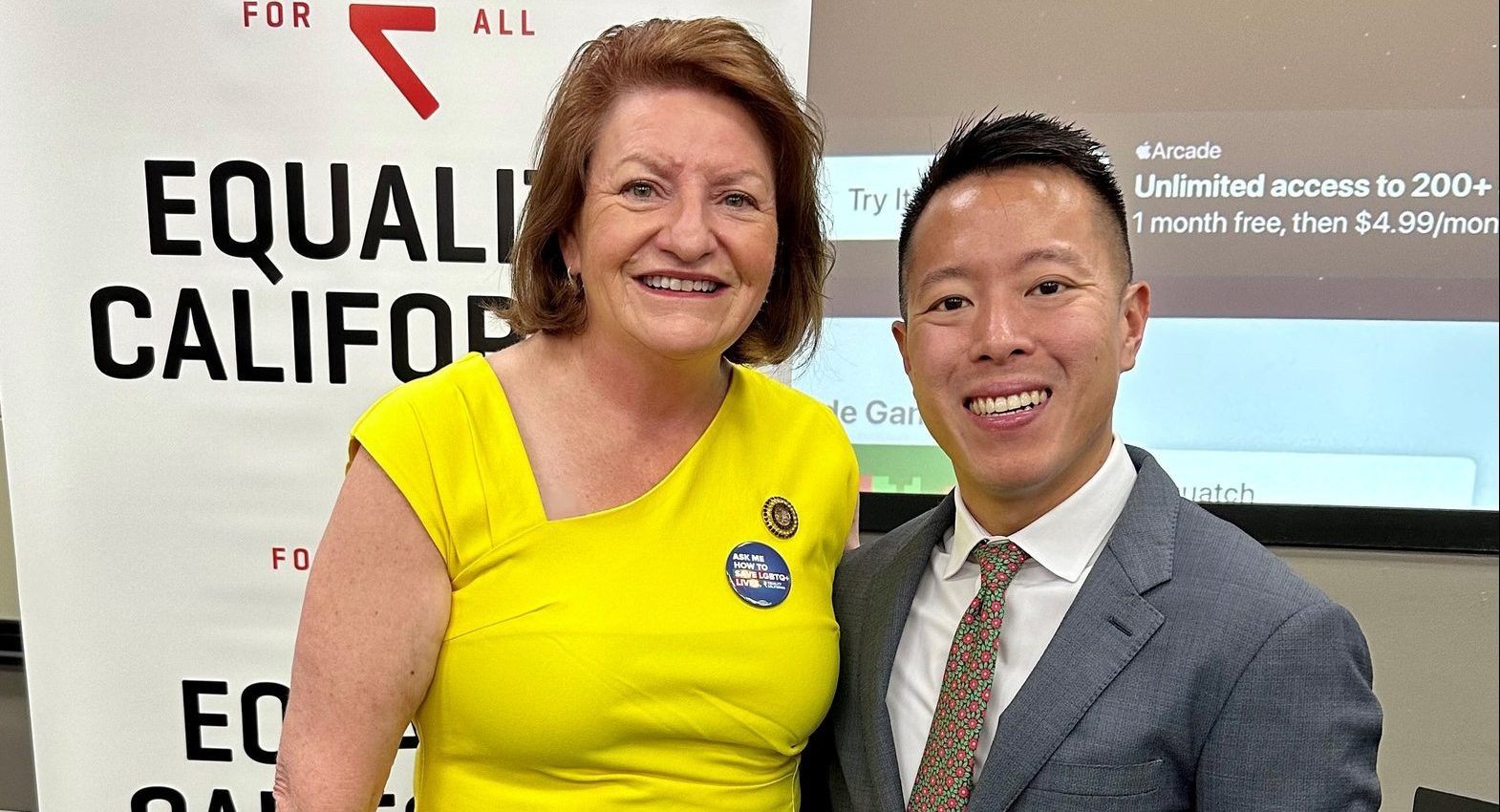 By Matthew S. Bajko | SACRAMENTO – Ending California's ban on publicly funded travel to states with anti-LGBTQ laws is now in the hands of Governor Gavin Newsom after lawmakers this week sent him a bill to do away with the policy.
The state would be following San Francisco in doing so, as city leaders this spring ended their similar travel restriction.
Legislators first enacted the statewide travel ban policy in 2016 with the hope of seeing their counterparts in other states think twice about adopting LGBTQ discriminatory laws. Under the ban, no taxpayer money is to be used to cover non-emergency travel by state employees, as well as faculty, students, and sports teams at state colleges, to those states that have enacted anti-LGBTQ laws since 2015.
Yet, since its implementation, the travel ban has grown to cover 26 states. The restriction on traveling to Nebraska, added to the list this summer, is set to take effect on October 1.
Citing the lack of impact the travel ban has had in halting other legislatures from passing anti-LGBTQ laws, lesbian outgoing Senate President pro Tempore Toni Atkins (D-San Diego) introduced this year Senate Bill 447 called the BRIDGE Act, which stands for Building and Reinforcing Inclusive, Diverse, Gender-Supportive Equality. It aims to replace the so-called no-fly list with a privately funded pro-LGBTQ marketing effort in the states on it.
San Francisco officials similarly cited continued passage of anti-LGBTQ laws by other states for ending their local travel ban policy, which also covered states that restricted abortion and voting access. They also cited the policy having a negative fiscal impact on the city in higher contracting costs since the policy prohibited city agencies from doing business with companies headquartered in the states covered by the ban.
To press the case for rescinding the state's travel ban, Atkins created a dedicated website at sd39.senate.ca.gov/sb447 for her SB 447. A broad coalition of LGBTQ groups and leaders had expressed support for doing away with the travel ban, arguing the policy also hampered the ability of LGBTQ advocates to be on the ground in the covered states arguing on behalf of LGBTQ rights.
"As attacks on the LGBTQ+ Community across the country grow, building bridges to change hearts and minds in these communities is now more important than ever," wrote gay Assemblymember Rick Chavez Zbur (D-Santa Monica/West Hollywood) on X (formerly Twitter), who had advocated for implementation of the travel ban in his former capacity as executive director of statewide LGBTQ advocacy organization Equality California.
Meanwhile, gay Assemblymember Evan Low (D-Cupertino), who wrote the initial legislation establishing the state's travel ban, had expressed misgivings about ending it. He was one of four members of his chamber who abstained Monday from voting on SB 447, when the bill passed out of the Assembly by a 64-12 vote.
Because Atkins had amended it to include an urgency clause so SB 447 would take effect immediately if signed into law by Newsom, the Senate had to vote on it again Tuesday. It passed out of the chamber 31-6 with three abstentions.
"I remember what it was like to grow up in a time and place where conversations about someone being gay or lesbian only happened in whispers," stated Atkins. "While years have passed since then, there are still areas of our country where the LGBTQ+ community — and especially our LGBTQ+ youth — feel isolated and fearful for their safety. The BRIDGE Project would be a conduit of hope and compassion, and encourage others to open their hearts and minds to be more accepting and inclusive. It's within all of us to be that light."
Newsom, who has faced criticism in the past for making personal trips to states on the banned list, has until October 14 to either sign SB 447 into law or veto it.
**************************************************************************************
The preceding article was previously published by the Bay Area Reporter and is republished with permission.