Mix 'N' Mingle brings alcohol-free networking to WeHo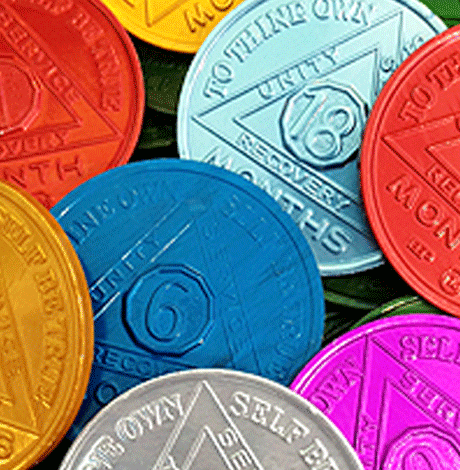 "I love to network and socialize, but I have to admit I sometimes feel like an outsider when everyone has been drinking," said Jacob N., a transplant from New York who works in the banking industry. "I try to leave before what my boyfriend calls the 'alcohol crescendo,' when the alcohol at an event starts to kick everything into high gear. It makes me feel isolated."
For people like Jacob and others there's a new option.
Recovery-themed gift shop, My 12 Step Store, has partnered with the West Hollywood Chamber of Commerce (WHCC), WeHo's Institute for Public Strategies and WeHo Safe Project to host an alcohol-free networking event.
Mix 'N' Mingle on the Blvd is scheduled to take place April 26, from 6-8 p.m. on the front lot of My 12 Step Store, at 8730 Santa Monica Boulevard.
WeHo is no stranger to networking mixers. The WHCC regularly hosts such events on the last Wednesday of each month. The mixers attract networking professionals from all over LA and they almost always take place at restaurants, clubs, bars or some alcohol-driven form of nightlife. Exchanging business cards with business owners, community leaders and locals, cocktail in hand, is almost a prerequisite at these mixers.  Not that there's anything wrong with that.
But West Hollywood is home to one of the nation's largest and most active sober communities and many other people just feel more comfortable in alcohol-free social situations.
RJ Holguin, founder and director of marketing at My 12 Step Store, says the store has hosted several events in the past that have had successful turnouts, but he believes there's an even bigger market for alcohol-free business events.
"We normally cater to a sober, 12-step/program-based crowd," said Holguin. "We're branching out for Mix 'N' Mingle and bringing in a more business-oriented group of people into our tent. By combining the non-alcoholic audience with our normal recovery following, we anticipate a larger turnout. We have more partners who are interested in participating in this unconventional mixer, so we want to go bigger."
"We live in a city that has great revenue from businesses that sell alcohol to celebrate people's lives," Holguin added. "In many instances people forget how to socialize and mingle without being altered at some point and taking advantage of the opportunity to showcase their business in West Hollywood."  
According to Holguin, the absence of liquor at Mix 'N' Mingle will not equate to a buttoned down affair with Bach playing in the background.
The event will be a lively, loud and festive affair. Sexy bartenders will serve mocktails provided by Mixwell. DJ Adam Excess will spin. KLEAN Treatment Center will provide hors d'oeuvres and a coffee truck. Cake Art will provide cupcakes. And WHCC has made sure the event is free to the public.
"West Hollywood's institute for Public Strategies came up with the idea," said WHCC Manager of Events, Vic Gerami, "This is just another professional mixer that happens to be alcohol-free. You don't have to be sober or in a 12-step program to enjoy it and you don't necessarily have to drink alcohol to have a good time."
Gerami, who has been sober for almost 10 years, said the My 12 Step Store is the ideal location for Mix 'N' Mingle. The store is on the Boulevard a good walking distance from the bars and the West Hollywood Recovery Center, so you have the convenience and visibility, and the store is known for its positive messaging within the community.
Sober West Hollywood resident Dan Mryglot is keen on the idea of an alcohol-free mixer.
"I can understand how a mixer where there's liquor involved can be distracting for some sober people," he said. "A mixer with alcohol would have bothered me in my early recovery, but now that I'm over six years sober, I have learned to live life on life's terms. This event addresses a need for an alternative way to network and mix in an atmosphere that offers more than just a place to go drink. You get to meet people. You get to eat, have a beverage, have fun and mingle without drinking."
Holguin and Gerami agree that Mix 'N' Mingle could be the beginning of more alcohol-free mixers in West Hollywood's future. "We see ourselves doing this again," said Gerami.
"I want this to be the first of many. This is the first one we've tried and the feedback has been great. I want to keep making them fun and edgy. People really like what we are trying to do here. We have over 100 RSVPs a week into the event, which is the largest we've ever had for a mixer," said Gerami.
"I feel that addiction – and recovery from addiction – is getting worldwide attention," Holguin added. "The stigma of being sober is not the same, nor are there separations between drinking and non-drinking people that we once had. I believe there will be a need for more alcohol-free events like this."
To RSVP for Mix 'N' Mingle on the Blvd, visit: wehochamber.com/events/Mix-n-Mingle-on-the-Boulevard-1466/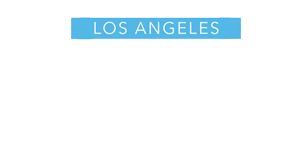 As LA's iconic 'Dragstrip' reunites, its co-creator has eye on history
Dragstrip's big reunion bash at Los Globos on April 22 – is an event guaranteed to be packed, since all its advance tickets were sold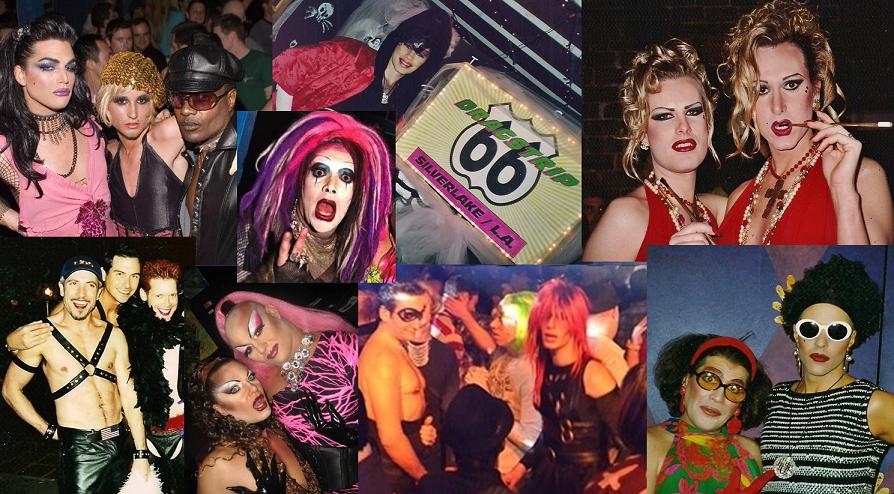 LOS ANGELES – Picture, if you will, a nightclub full of diverse patrons, gathered for a communal evening of music, dancing, and gloriously free self-expression. Yes, there's a drag show, but it's not just on the stage; most of the people in the crowd are bedecked in the edgiest, cheekiest, most deliciously transgressive gender-bending finery they could devise, assembled from the treasures found in their closets or their neighborhood thrift stores.
It's campy and kitschy, yes, but it's also edgy and sexy and intoxicating fun. Outside the walls, there might be an aggressively bigoted, homophobic faction of society that would love to shut the whole thing down, but in this place, for this moment, they are powerless to stop this vibrant celebration from happening or put even the slightest damper on the joyful spirit of the mixed queer-and-allied community lucky enough to be there.
The scene above might sound like a typical evening at any number of popular nightlife venues in 2023 – despite the hateful vitriol and clumsy legal overreach of the conservative homophobes currently working overtime to try and legislate all things queer out of existence – but it's one that could be found in Los Angeles for two decades (from 1993-2013) at a regular monthly happening called "Dragstrip 66', and for those who were regulars it's more than just a memory. It's a cultural touchstone to an experience that helped to shape their lives.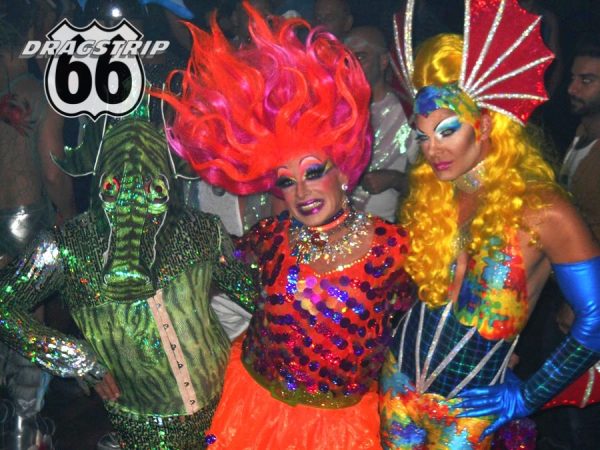 Of course, it's not exactly news that a club event like Dragstrip was spawned 30 years ago, and it certainly wasn't the only one; legendary drag-themed events like Wigstock and TrannyShack were also happening in other big cities, launching the careers of countless queens and other performance artists who have gone on to leave their indelible mark on the art form. Though drag popularity has undergone a recent surge in the mainstream, anyone old enough to remember a world before RuPaul knows well enough it's not a new phenomenon – though it can sometimes seem to queer elders that newer generations within the community are largely ignorant of their cultural history.
Now, as he gears up for this weekend's big Dragstrip 66 Reunion, marking the tenth anniversary of the event's final manifestation in 2013, that's exactly what worries Paul Vitagliano.
Better known to queer Angelenos as DJ Paul V., he co-founded Dragstrip in 1993 with his best friend, "Mr. Dan" Derkacz – who quickly became a local drag legend in his own right as the impresario of East LA's Cavern Club, where he has been holding court since 1994. The two men had collaborated on a few previous club events that never quite took off the way they had hoped, but when they opened the doors of their newest brainchild (at Rudolpho's in Silver Lake), everything changed. With a crowd encouraged to dress in drag, weekly themes (like "Florence of Arabia," "Jocks N Frocks", and "Vegas in Space"), DJ Paul spinning an eclectic blend of music unlike anything typically heard in LGBTQ nightclubs at the time – from rock to disco, funk to hip hop, indie pop to electro, and everything in between – and Mr. Dan presiding over the festivities as "Gina Lotriman", whose role might be better described as "ringmaster" than as "MC", Dragstrip 66 became a local underground sensation almost by word-of-mouth alone.
"We didn't really advertise," Vitagliano says. "You had to find it. You had to work to find it."

That's because, as he puts it, there was "a synergy" around drag in the '90s, a radical, even dangerous aura that made it unwelcome in many queer spaces. "I like to joke that if you told any of the Levi and Leather guys back then that someday there would be drag queens hosting brunches and bingos in their bars, their heads would have exploded."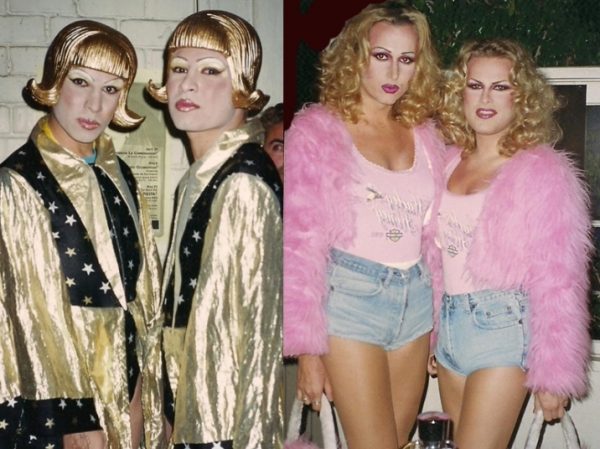 It was partly this separatist attitude, perhaps, that helped Dragstrip not only to quickly attract an audience, but to keep them coming back for twenty years.
"We elevated the freaks and the misfits and the artists above the muscle men and the pretty boys," he explains, simply. "These were people who didn't have a place to be welcomed in mainstream gay culture, the queer kids who didn't fit with the "cool" crowd and didn't want to."
There were other, even more personal reasons these "freaks and misfits" were so eager to convene each month in Dragstrip's early years, when AIDS and a volatile political struggle for equality were an inescapable part of the LGBTQ cultural context.

"Our friends were still very sick and dying," Vitagliano recalls. "Our daytime existence could be a living hell, we might be taking care of sick people, there was grief, and loss, and sadness – and even just once a month, for a few hours, Dragstrip was a respite from all that. It was a way to feel alive, and connected, to not feel like we were sick and dying."
"And then when the cocktails happened, and we were told we were going to survive, that we were still going to be here, it became a different kind of celebration."
By the time Dragstrip reached the end of its long run, it certainly felt like there was plenty to celebrate. The tide of public opinion was swinging decisively in favor of LGBTQ rights, marriage equality was within our grasp, and Barack Obama was in the White House. Why not end things on a high note?
All of this is the kind of "unwritten" history Vitagliano fears will be lost if the next generations don't start learning about it before it's too late – something that's been even more deeply on his mind since the death of Helkina, who was a frequent participant in Dragstrip both before and after founding Trannyshack in 1996.
"We've lost a giant," he says, still audibly shaken by his friend's unexpected passing in London earlier this month. "These stories need to be told before the people who can tell them aren't here anymore."
He believes it's particularly important now, perhaps more than ever. With conservative backlash against LGBTQ Americans in general at frighteningly regressive levels, and trans people and drag queens in particular bearing the brunt of their bigoted legislative furor, elevating our heroes and their histories is a crucial element of countering that hate in the public arena, but it can only happen if we know about them ourselves.
Fortunately, he's prepared to do his part – in fact he's been preparing for it over the past ten years, when as he and his cohorts prepared to stage what they presumed would be Dragstrip's final installment, they decided to film it and build a documentary – which would eventually gain the title "Dragstrip 66: The Frockumentary" – around the footage with the archive of images, videos, and press clippings they had amassed over their two-decade run. With the help of a Kickstarter campaign that was launched to fund the movie, Vitagliano and co-director Phil Scanlon set to work digitizing all that material and assembling it into a rough cut – but since they both had day jobs, it took them years to do it. It also ate up all the money they had raised for the project.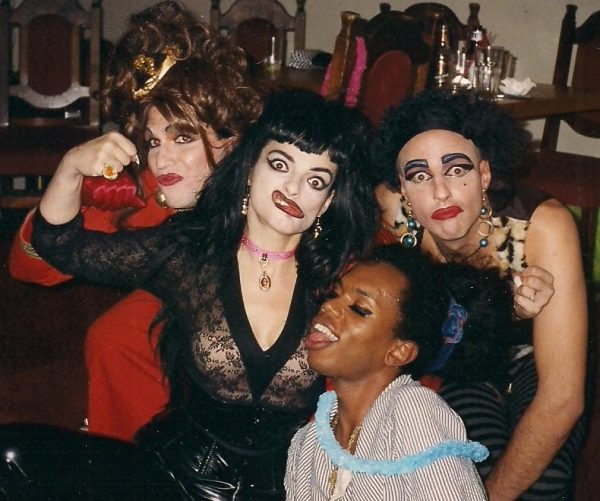 Now, on the eve of Dragstrip's big reunion bash at Los Globos on April 22 – an event guaranteed to be packed, since all its advance tickets were sold in quick order once it was announced via newsletter to the hundreds (if not thousands) of former patrons still on the email list – Vitagliano and Scanlon are gearing up to do another round of filming, this time to capture an epilogue for their movie. They hope to capture the strong bond of community that has kept Dragstrip in the hearts and souls of their patrons across the years, as well as to contrast the stark difference between the hopeful political environment that surrounded its last appearance in 2013 with the atmosphere of extremist right-wing opposition we're experiencing today.
They also hope to provide a crucial jolt of financial life to the documentary, encouraging the party's enthusiastic attendees to donate on the project's Film Independent funding page and crossing their fingers over the not-unreasonable possibility that someone among the former patrons of a highly popular Los Angeles LGBTQ club event might have a Hollywood connection or two that might be interested in helping them shepherd the project to completion. After all, Dragstrip attracted a vast array of celebrity guests over the years, and not just on the stage, where now-iconic queens like Jackie Beat, Sherry Vine, and more were regular performers, but among the crowd; the list of stars who attended over the years is far too long to publish here, but it includes more than a few famous names – including Ryan Murphy, who is known to have attended more than once while the event was still being hosted by Rudolpho's.
Whether any of that will yield the necessary push needed to complete "Dragstrip 66: The Frockumentary" remains to be seen, but given the quick advance sell-out and the almost certain likelihood of epic-length lines for "at the door" admission, the odds might be better than most aspiring indie doc projects typically face.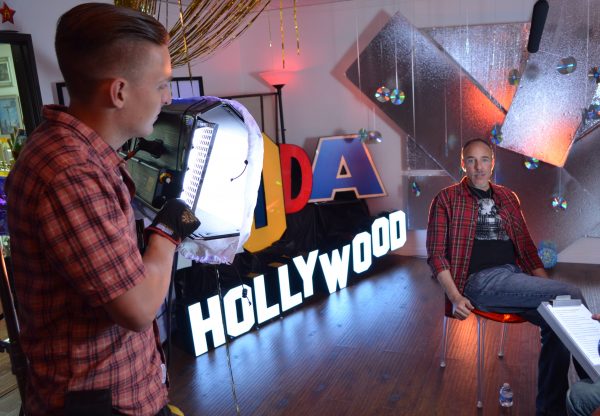 Either way, Vitagliano and Scanlon have no plans of giving up on it anytime soon; it's a passion project for them both, to put it mildly. The latter even sent a statement saying us that he wants it to celebrate "an embattled LGBTQ community that learned to live and thrive again" and "to inspire all others to stand in their strength and never be silent."
Vitagliano vigorously agrees with that goal.
"Dragstrip 66 was a lightning-in-a-bottle queer miracle," he says. "It was just the right idea, at the right time, with all the right people creating their own chosen-family community. It was a lifeboat during a very tough time that Mr. Dan and I needed ourselves, while also providing a very necessary, all-welcoming, and incredibly fun nightclub. We really want this documentary to honor our generation, who experienced it over 20 years, and inspire the next generation to carry our torch."