Allure of a Palm Springs mid-century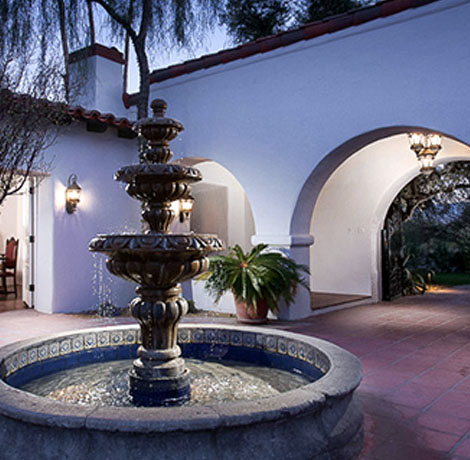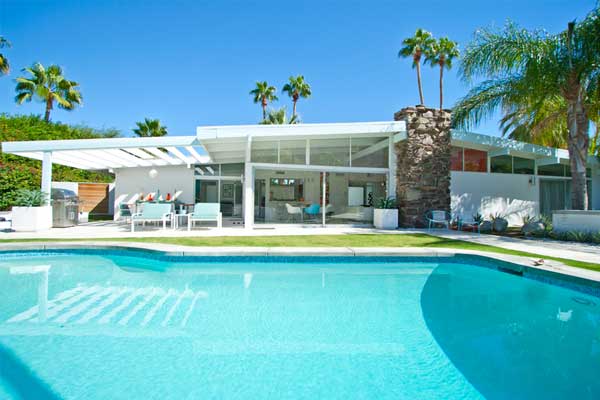 Tourists come from all over the world to gaze at the distinctive midcentury modern architecture, historical monuments, and the former homes of movie stars in Palm Springs. But what about a driving tour of places gay celebrities once lived and played? We thought we'd highlight a few.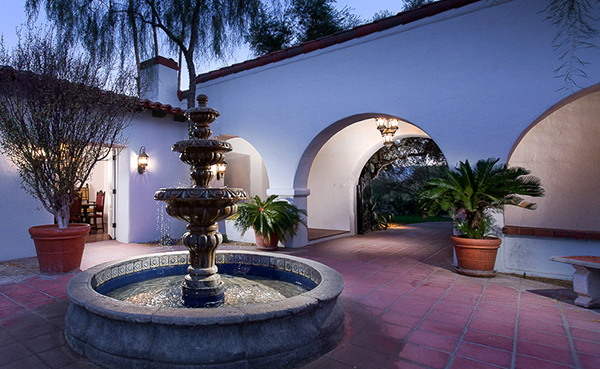 Though later known as "Mr. Palm Springs" — he served as the town's mayor from 1948 to 1953 — hunky Charles Farrell first made a name for himself as a silent film actor. In The River (1928), Farrell became the first known American actor to appear nude on film. Though married to actress Virginia Valli from 1931 until her death in 1968, Farrell (who, with bestie Ralph Bellamy, opened The Palm Springs Racquet Club in 1934 and has a major Palm Springs street named for him) was rumored to be gay. And his Racquet Club hotel (2743 N. Indian Canyon Drive) was notorious for hosting gay parties attended by Hollywood's elite. Farrell himself lived in a nearby compound comprising two adjacent homes, the first at 630 E. Tachevah Drive, the second around the corner at 1120 N. Via Miraleste.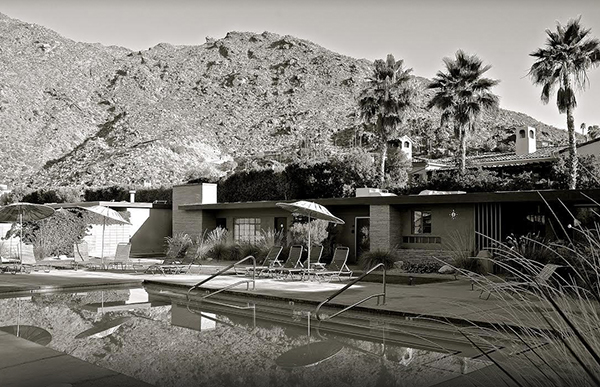 Speaking of gay parties and ground-breaking nudity, in the mid-1950s openly gay film director James Whale (who was immortalized in the 1998 film Gods and Monsters) owned the eight-unit Town & Desert Hotel in Palm Springs (now The Hideaway), located at 370 W. Arenas Road. It was here that Whale — who reportedly had a fear of water and in 1957 committed suicide by drowning himself in the backyard of his Los Angeles home — allegedly enjoyed filling the pool with naked young men, making it the area's first known clothing-optional resort.
In his 2005 biography Tab Hunter Confidential: The Making of a Movie Star, Hollywood's sexiest blond of the 1950s not only came out as gay but revealed that he and actor Anthony Hopkins (of Norman Bates fame) had a long-time relationship. The lovers reportedly spent weekends hiding out at the Desert Inn (123 N. Palm Canyon Drive), where Hunter would also pose shirtless poolside for fan magazines like Photoplay. The site is now a shopping center. In early 2003, Hunter bought a small, one-bedroom condo at 130 West Racquet Club Road #419, but by this time, in his early 70s, he was apparently uncomfortable with the desert heat — both the weather and the constant attention he received from men looking to hook up with the former American idol.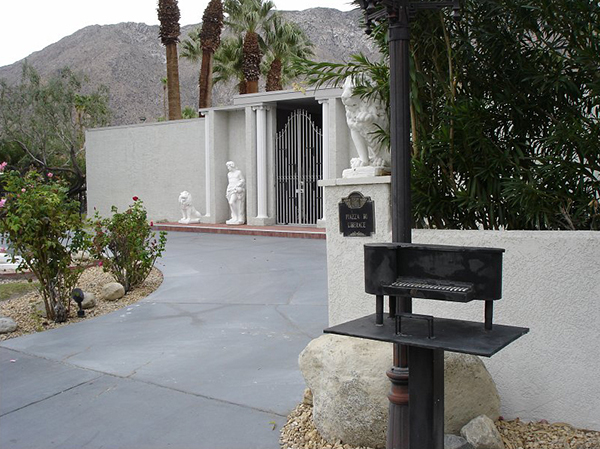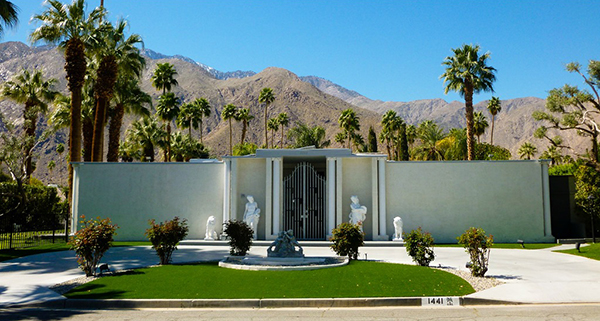 It seems neither Liberace nor Merv Griffin had similar concerns. According to Darwin Porter's 2009 book Merv Griffin: A Life in the Closet, the famed TV host was a regular at the all-male parties thrown by his friend and former lover, Liberace. Over the decades, the musician and master showman owned four homes in Palm Springs. Piazza de Liberace (1441 N. Kaweah Road) is among the most distinctive, with its extant piano-shaped mailbox. The home depicted in the movie Behind the Candelabra is located at 501 N. Belardo Road and reportedly featured theme rooms and a master suite big enough to house a small house. In addition to partying here, Liberace reportedly passed away here in 1987.
Another closeted movie star who enjoyed desert romps with a bevy of beautiful men was Rock Hudson. His friend George Nader had a four-bedroom house in Bermuda Dunes (42520 Stardust Place). "H" gates mark the entrance to a citrus grove and side yard, according to a recent real estate listing, which lists "a huge party area" as one of the home's benefits. Following emergency quintuple heart bypass surgery in 1981, Hudson recuperated here. What else the pair did here is anyone's guess, but it's assumed the house saw plenty of action.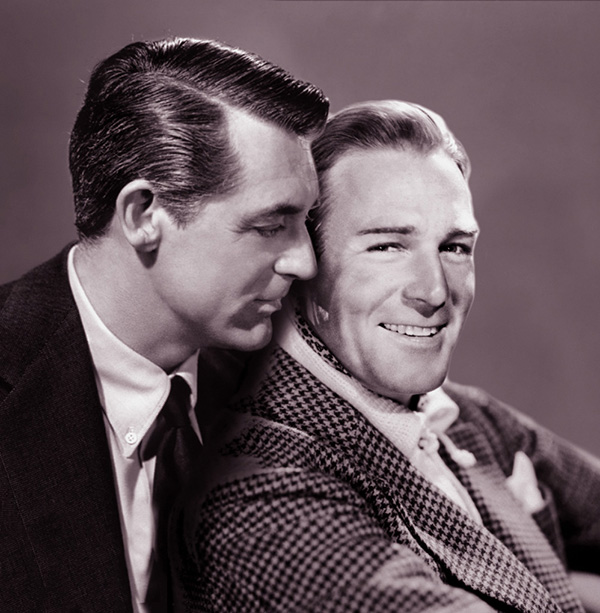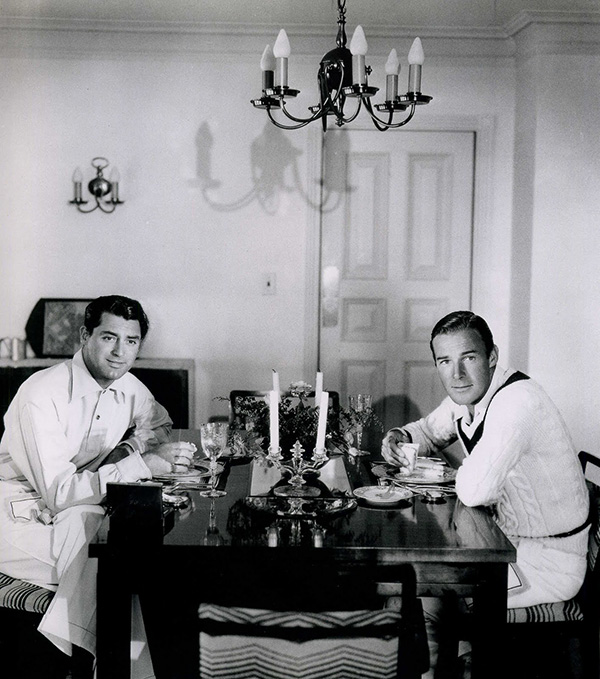 The notoriously private Cary Grant was evidently not-so-private about his affection for fellow actor Randolph Scott. After flaunting their "closeness" in a series of photographs posed in the Santa Monica beach house they shared — sharing a diving board, working out, enjoying a candlelit dinner for two (with their butler!) — it's believed their relationship eventually relocated to the desert. Grant purchased a Palm Springs house known as Las Palomas (928 N. Avenida Palmas) in the Movie Colony neighborhood with wife number three, Betsy Drake. (Frank Sinatra and wife Ava Gardner lived nearby at 1148 E. Alejo Road, where visual remnants of the couple's notorious knock-down-drag-outs, such as chipped countertops, are said to remain.) But rumor has it that after each of Grant's marriages went south, he and Scott (who bought a place in nearby Indian Wells) would rekindle their relationship. Despite their other romantic partnerships (Scott was married twice, the latter union lasting from 1944 until his death in 1987) Grant and Scott's relationship — whatever the nature of it may have been — purportedly lasted for the rest of their lives.
At the height of their fame, shamed TV evangelist Jim Bakker and his wife, Tammy Faye, owned a house on Greenbriar Lane in Palm Desert. In Palm Springs Babylon: Sizzling Stories From the Desert Playground of the Stars, author Ray Mungo writes that it was "well known within the gay community" in the 1980s that Bakker attended gay events like whipped cream wrestling at Daddy Warbucks, a long-gone gay club in Cathedral City (68891 Highway 111), and made frequent appearances at the leather hangout formerly known as C.C. Construction Company (68449 Perez Road, Cathedral City). "His indiscretions were legendary," according to Mungo.
There are plenty of other worthwhile places to drive by: Truman Capote lived at 853 Paseo el Mirador in Palm Springs in the 1960s and '70s, while the notoriously private Greta Garbo (a known lesbian in Hollywood circles) kept a secret hideaway at 287 W. Racquet Club Drive. And writer Moss Hart (whose homosexuality was reportedly known to just about everyone, including Kitty Carlisle, his wife of 15 years) died of a heart attack on the lawn of the home he shared with Carlisle at 467 W. Via Lola.
Gay celebrities still flock to Palm Springs. TV personality Ross Matthews and his partner, stylist Salvador Camarena, own a home here, as do Arrow star John Barrowman and his husband, Scott Gill. It was here that Barrowman, live streaming from his hot tub on Facebook, inadvertently provided the world a look at Gill's goods when he appeared in the background, dropped his towel, and climbed in au naturel. (Gill didn't seem to mind, and neither did the fans who viewed the video again and again.)
Here's to hoping for more interesting tales from the Barrowman house and others.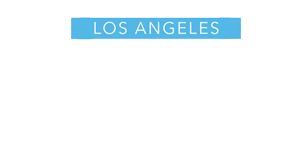 "You're nothing more than a plague rat," social media users take on gay NYE parties
COVID isn't causing businesses to suffer, it's the actions of people. We are tired of it.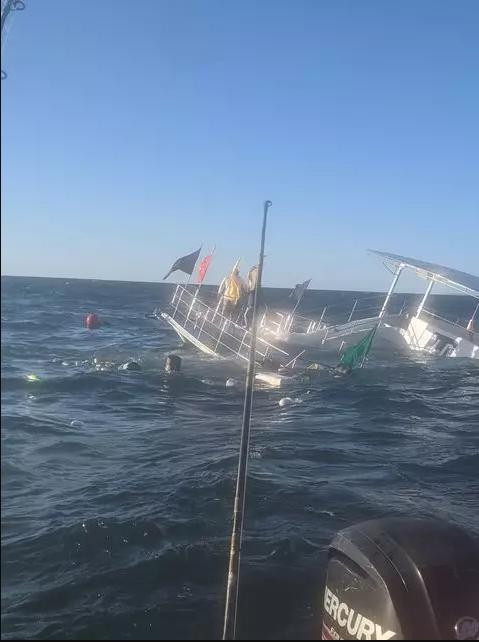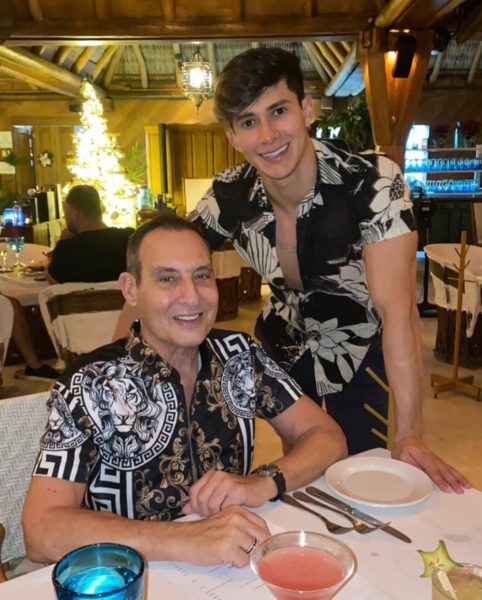 PUERTO VALLARTA – The disgust, anger, and recriminations over gay New Year's Eve parties in this seaside resort area of the Mexican state of Jalisco and neighboring Riviera Nayarit, continues to spread in gay online social media- particularly in numerous Twitter threads and on Instagram. One Instagram account, @gaysovercovid has repeatedly called out party goers and party organizers.
Local media outlets in Jalisco and many Mexican social media users are also outraged.
The @gaysovercovid Instagram account has faced a wave after wave of backlash from gay influencers many of who are now embroiled in the controversy after having their Instagram posts publicly disclosed and then shamed by the anonymous account holder. There have been financial rewards offered to anyone who can unmask the account owner's identity.
The account used the built-in abilities for tracking the influencers' Facebook locations and Venmo transactions in an effort to uncover where they were attending parties. That brought about severe condemnation from those exposed while many other people celebrated that the account exposed the bad behavior of gay men.
In one example, in response to a social media post that depicted a West Hollywood area ICU registered nurse as a participant, social media users tracked the pictures to an Instagram account (@legstrong) listed for 25 year old Armstrong Nworka. The Blade determined from online searches Tuesday, including Facebook using the handle '@legstrong' and his surname, Nworka had profiled himself as gay, an RN, and employed at Cedars-Sinai in Beverly Hills.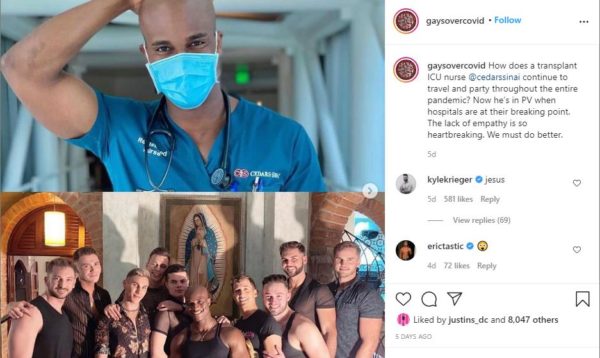 One of the comments [left on his page] read; "Disgusting, you give us gay people a bad name. You're truly nothing more than a plague rat." Nworka has since taken his Instagram account private. Nworka did not respond to a Blade request for comment.
The Blade also reached out to Cedars-Sinai and was told that there would be no comment on personnel matters.
The 'plague rat' comment was mild in comparison to the thousands of other vitriolic responses to other party attendees and especially organizers- labeled by critics as 'super-spreaders,' who openly defied both U.S. and Mexican Public Health authorities mandates and restrictions to help stem the spread of the COVID-19 coronavirus.
Palm Springs resident and gay circuit party impresario Jeffrey Sanker held the largest New Year's Eve weekend bash, which included several events. Originally set to take place in Puerto Vallarta, apparently ignoring the pleas from local health authorities, elected officials as well as residents, Sanker's White Parity Entertainment company was forced to move the event to neighboring Riviera Nayarit after the Jalisco state government banned mass gatherings and implemented more restrictive coronavirus measures.
In a text to ticket holders, Sanker's company told attendees to not reveal the location of the party. Nor could they take any photos or videos of the event. The text said the steps were necessary because they "do not want this getting out and causing any issues with the public."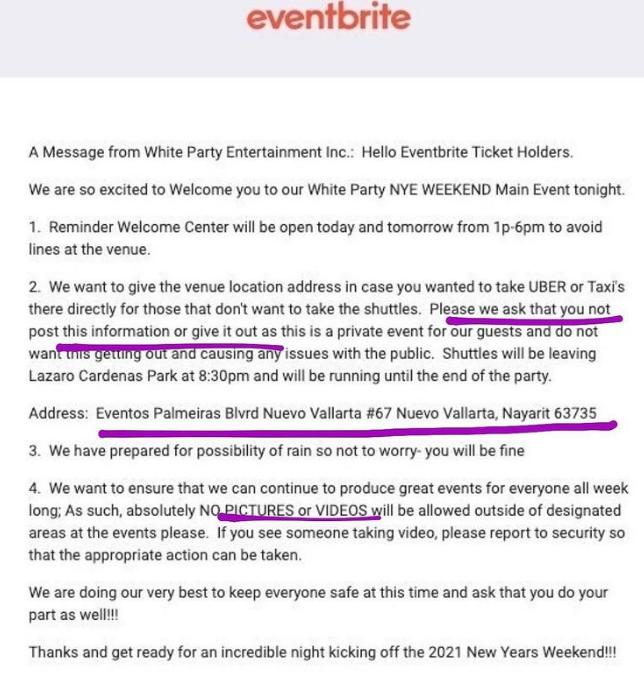 That text was screenshot and then posted by @gaysovercovid as well as other accounts which prompted one local news outlet in Puerto Vallarta, the Puerto Vallarta News, to editorialize on its social media accounts prior to the events;
"If you are interested in still visiting the COVID Superspreader New Years Eve Celebration where foreigners come to our community and throw big parties and leave COVID while causing our businesses to close and people lose their jobs- […] COVID isn't causing businesses to suffer, it's the actions of people. We are tired of it. We have supported this event in past years and given it positive coverage, but this year it's irresponsible and should be canceled.​"​
In a phone call with an editor at PVN on Tuesday, the Blade was told that the area's main healthcare facility, Puerto Vallarta Hospital was at 100% occupancy with COVID-19 patients – and that the state of Jalisco had reached 65% positivity rate.
Officials in Jalisco uniformly condemned the fact that so many had traveled from the United States just to party without seeming to care about the consequences to the local residents, many of who are employed as staff in the restaurants, bars, hotels and transportation systems.
"They came to have sex- to dance it seems and to make party without regard to spread of COVID," one government source told the Blade. "They have no sense of responsibility- don't care about peoples here," he added.
As part of the weekend long event​ the PV Delice, a catamaran boat that featured a live band and open bar, began taking on water and sank off the coast of Puerto Vallarta on December 31, 2020 around 5 p.m. while crew frantically called for help to rescue passengers. Video posted on Instagram, Tik-Tok and Facebook documented at least 10 other boats rushing to aid the sinking vessel and plucking 60 victims out of the choppy water.
Witnesses to the sinking told local news outlets that the boat was filled with White Party celebrants and was overcrowded. The boat sank to the bottom of the bay and there were no reports of injuries.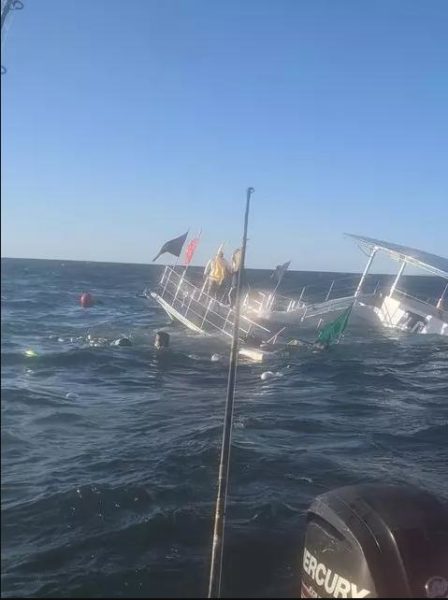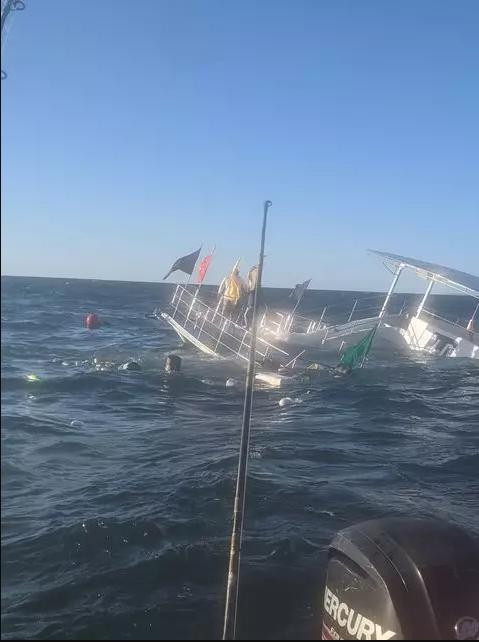 One passenger, a gay man from Chicago, Illinois, Emilio Blanco told the local LGBTQ news outlet, Out and About PV, "It was like the Titanic, it went all down slowly. I think the crew just didn't know how to maneuver the catamaran very well, the sea was not very rough nor was it too windy. We were about to sail back to Puerto Vallarta, but the catamaran barely moved. I saw at least 10 small boats coming to help, I jumped in a private boat whose owners were graceful enough to send their captain help out. It was quite a scary situation."
A spokesperson for Adrián Bobadilla García, head of the municipal agency, of Puerto Vallarta told the Blade Tuesday that the municipal government had made numerous notifications to the public regarding mandatory use of masks and maintaining social distance in public. He said that the boardwalk during the holiday however, wasn't closed nor were the beaches. He conceded that enforcement was not as stringent as it should have been.
A majority of gay parties attendees reportedly stayed in Puerto Vallarta. As a result, beaches were jammed wall to wall mostly with maskless celebrants. One local resident who provided pictures and video to NBC Palm Springs said it was a "superspreader nightmare."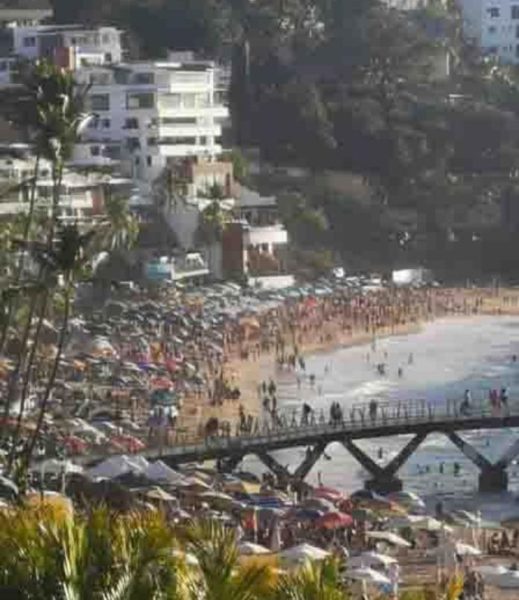 "It is with sadness and anger that we have Americans at the height of a pandemic surge travel to Mexico to participate in New Year's Eve parties knowing that people of color are disproportionately impacted by the COVID-19," said City of Huntington Park, California Councilman Eddie Martinez who also heads the Latino Equality Alliance.
"The action of these travelers has now put hotel workers, servers, janitors, and drivers at risk for the disease as well as to possibly put an additional strain on the hospital system in both Mexico and the United States. Party promoters and sponsors need to be held accountable if their actions result in more deaths for families, especially within the LGBTQ community," Martinez added.
Washington D. C. based journalist Zack Ford documented a majority of Twitter responses to the controversy in a thread he published Sunday. (Link)