Allure of a Palm Springs mid-century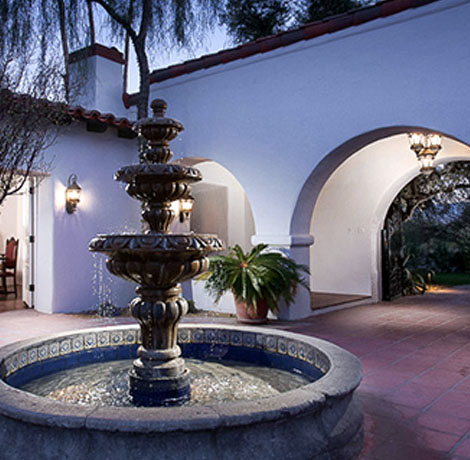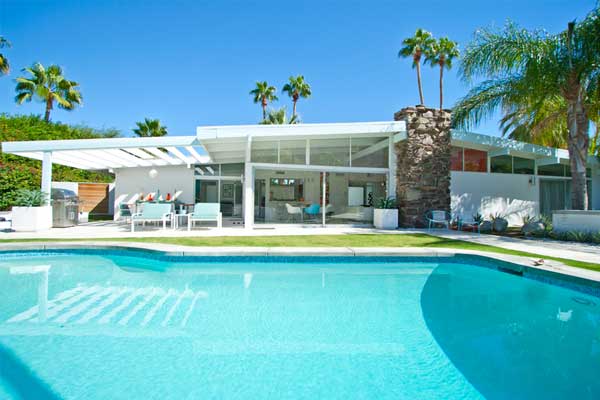 Tourists come from all over the world to gaze at the distinctive midcentury modern architecture, historical monuments, and the former homes of movie stars in Palm Springs. But what about a driving tour of places gay celebrities once lived and played? We thought we'd highlight a few.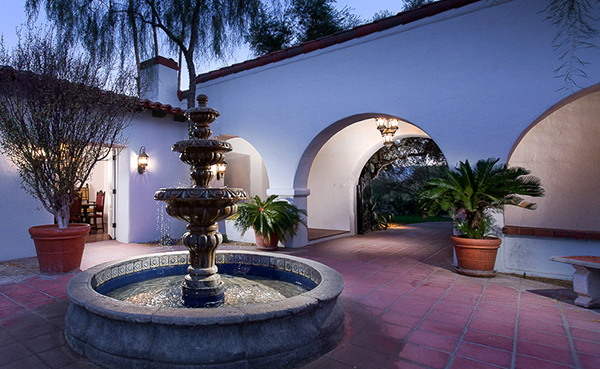 Though later known as "Mr. Palm Springs" — he served as the town's mayor from 1948 to 1953 — hunky Charles Farrell first made a name for himself as a silent film actor. In The River (1928), Farrell became the first known American actor to appear nude on film. Though married to actress Virginia Valli from 1931 until her death in 1968, Farrell (who, with bestie Ralph Bellamy, opened The Palm Springs Racquet Club in 1934 and has a major Palm Springs street named for him) was rumored to be gay. And his Racquet Club hotel (2743 N. Indian Canyon Drive) was notorious for hosting gay parties attended by Hollywood's elite. Farrell himself lived in a nearby compound comprising two adjacent homes, the first at 630 E. Tachevah Drive, the second around the corner at 1120 N. Via Miraleste.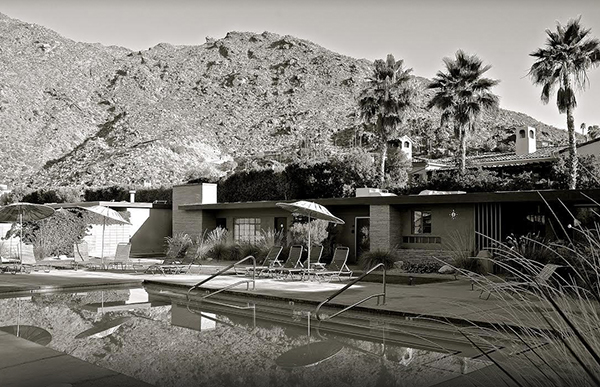 Speaking of gay parties and ground-breaking nudity, in the mid-1950s openly gay film director James Whale (who was immortalized in the 1998 film Gods and Monsters) owned the eight-unit Town & Desert Hotel in Palm Springs (now The Hideaway), located at 370 W. Arenas Road. It was here that Whale — who reportedly had a fear of water and in 1957 committed suicide by drowning himself in the backyard of his Los Angeles home — allegedly enjoyed filling the pool with naked young men, making it the area's first known clothing-optional resort.
In his 2005 biography Tab Hunter Confidential: The Making of a Movie Star, Hollywood's sexiest blond of the 1950s not only came out as gay but revealed that he and actor Anthony Hopkins (of Norman Bates fame) had a long-time relationship. The lovers reportedly spent weekends hiding out at the Desert Inn (123 N. Palm Canyon Drive), where Hunter would also pose shirtless poolside for fan magazines like Photoplay. The site is now a shopping center. In early 2003, Hunter bought a small, one-bedroom condo at 130 West Racquet Club Road #419, but by this time, in his early 70s, he was apparently uncomfortable with the desert heat — both the weather and the constant attention he received from men looking to hook up with the former American idol.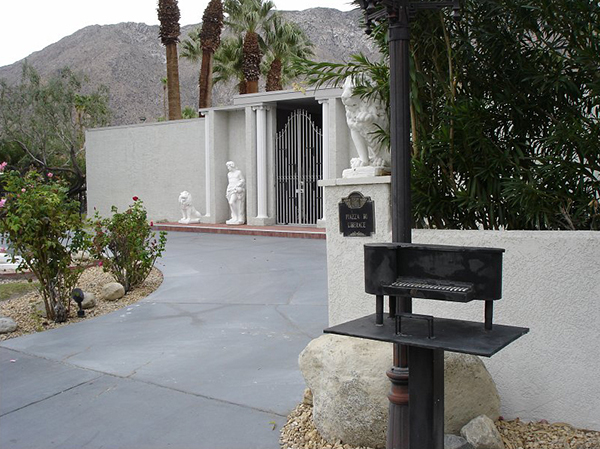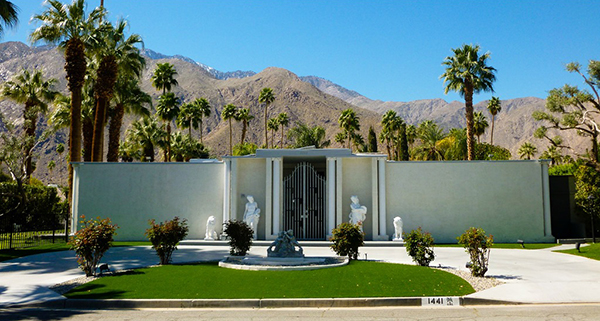 It seems neither Liberace nor Merv Griffin had similar concerns. According to Darwin Porter's 2009 book Merv Griffin: A Life in the Closet, the famed TV host was a regular at the all-male parties thrown by his friend and former lover, Liberace. Over the decades, the musician and master showman owned four homes in Palm Springs. Piazza de Liberace (1441 N. Kaweah Road) is among the most distinctive, with its extant piano-shaped mailbox. The home depicted in the movie Behind the Candelabra is located at 501 N. Belardo Road and reportedly featured theme rooms and a master suite big enough to house a small house. In addition to partying here, Liberace reportedly passed away here in 1987.
Another closeted movie star who enjoyed desert romps with a bevy of beautiful men was Rock Hudson. His friend George Nader had a four-bedroom house in Bermuda Dunes (42520 Stardust Place). "H" gates mark the entrance to a citrus grove and side yard, according to a recent real estate listing, which lists "a huge party area" as one of the home's benefits. Following emergency quintuple heart bypass surgery in 1981, Hudson recuperated here. What else the pair did here is anyone's guess, but it's assumed the house saw plenty of action.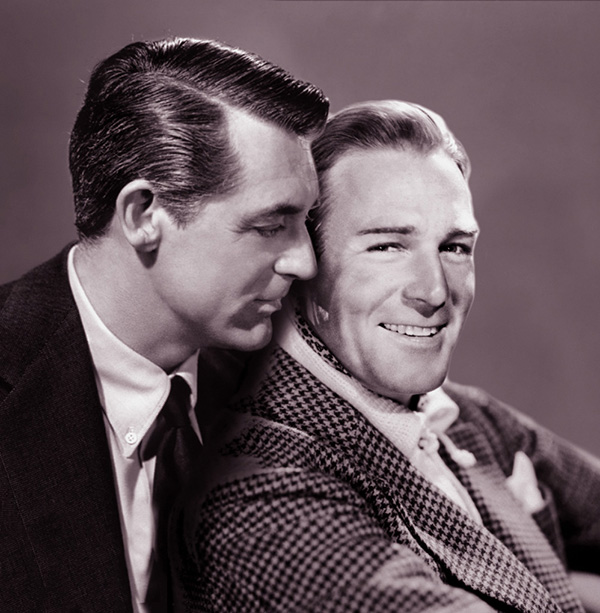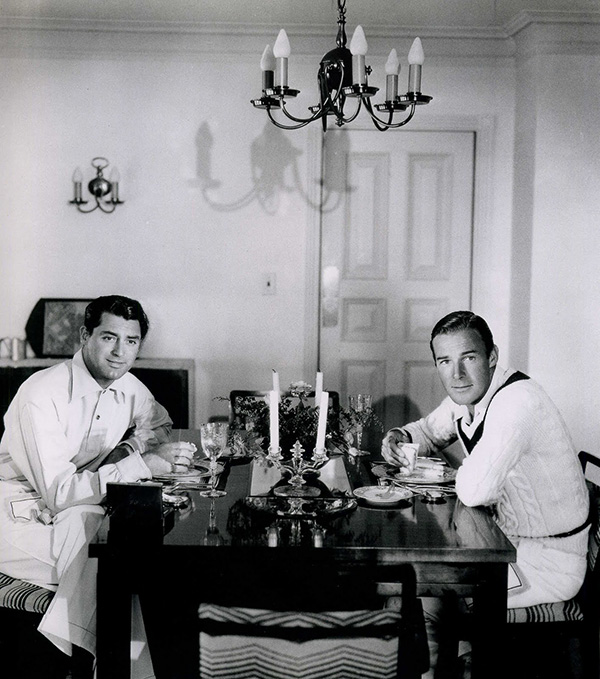 The notoriously private Cary Grant was evidently not-so-private about his affection for fellow actor Randolph Scott. After flaunting their "closeness" in a series of photographs posed in the Santa Monica beach house they shared — sharing a diving board, working out, enjoying a candlelit dinner for two (with their butler!) — it's believed their relationship eventually relocated to the desert. Grant purchased a Palm Springs house known as Las Palomas (928 N. Avenida Palmas) in the Movie Colony neighborhood with wife number three, Betsy Drake. (Frank Sinatra and wife Ava Gardner lived nearby at 1148 E. Alejo Road, where visual remnants of the couple's notorious knock-down-drag-outs, such as chipped countertops, are said to remain.) But rumor has it that after each of Grant's marriages went south, he and Scott (who bought a place in nearby Indian Wells) would rekindle their relationship. Despite their other romantic partnerships (Scott was married twice, the latter union lasting from 1944 until his death in 1987) Grant and Scott's relationship — whatever the nature of it may have been — purportedly lasted for the rest of their lives.
At the height of their fame, shamed TV evangelist Jim Bakker and his wife, Tammy Faye, owned a house on Greenbriar Lane in Palm Desert. In Palm Springs Babylon: Sizzling Stories From the Desert Playground of the Stars, author Ray Mungo writes that it was "well known within the gay community" in the 1980s that Bakker attended gay events like whipped cream wrestling at Daddy Warbucks, a long-gone gay club in Cathedral City (68891 Highway 111), and made frequent appearances at the leather hangout formerly known as C.C. Construction Company (68449 Perez Road, Cathedral City). "His indiscretions were legendary," according to Mungo.
There are plenty of other worthwhile places to drive by: Truman Capote lived at 853 Paseo el Mirador in Palm Springs in the 1960s and '70s, while the notoriously private Greta Garbo (a known lesbian in Hollywood circles) kept a secret hideaway at 287 W. Racquet Club Drive. And writer Moss Hart (whose homosexuality was reportedly known to just about everyone, including Kitty Carlisle, his wife of 15 years) died of a heart attack on the lawn of the home he shared with Carlisle at 467 W. Via Lola.
Gay celebrities still flock to Palm Springs. TV personality Ross Matthews and his partner, stylist Salvador Camarena, own a home here, as do Arrow star John Barrowman and his husband, Scott Gill. It was here that Barrowman, live streaming from his hot tub on Facebook, inadvertently provided the world a look at Gill's goods when he appeared in the background, dropped his towel, and climbed in au naturel. (Gill didn't seem to mind, and neither did the fans who viewed the video again and again.)
Here's to hoping for more interesting tales from the Barrowman house and others.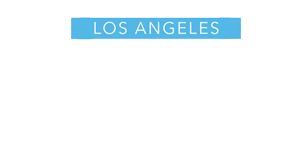 Longtime LGBTQ+ journalist & editor Thomas Senzee dies at 54
Thomas Senzee was a California native whose award winning career spanned nearly thirty years in media with focus on the LGBTQ+ community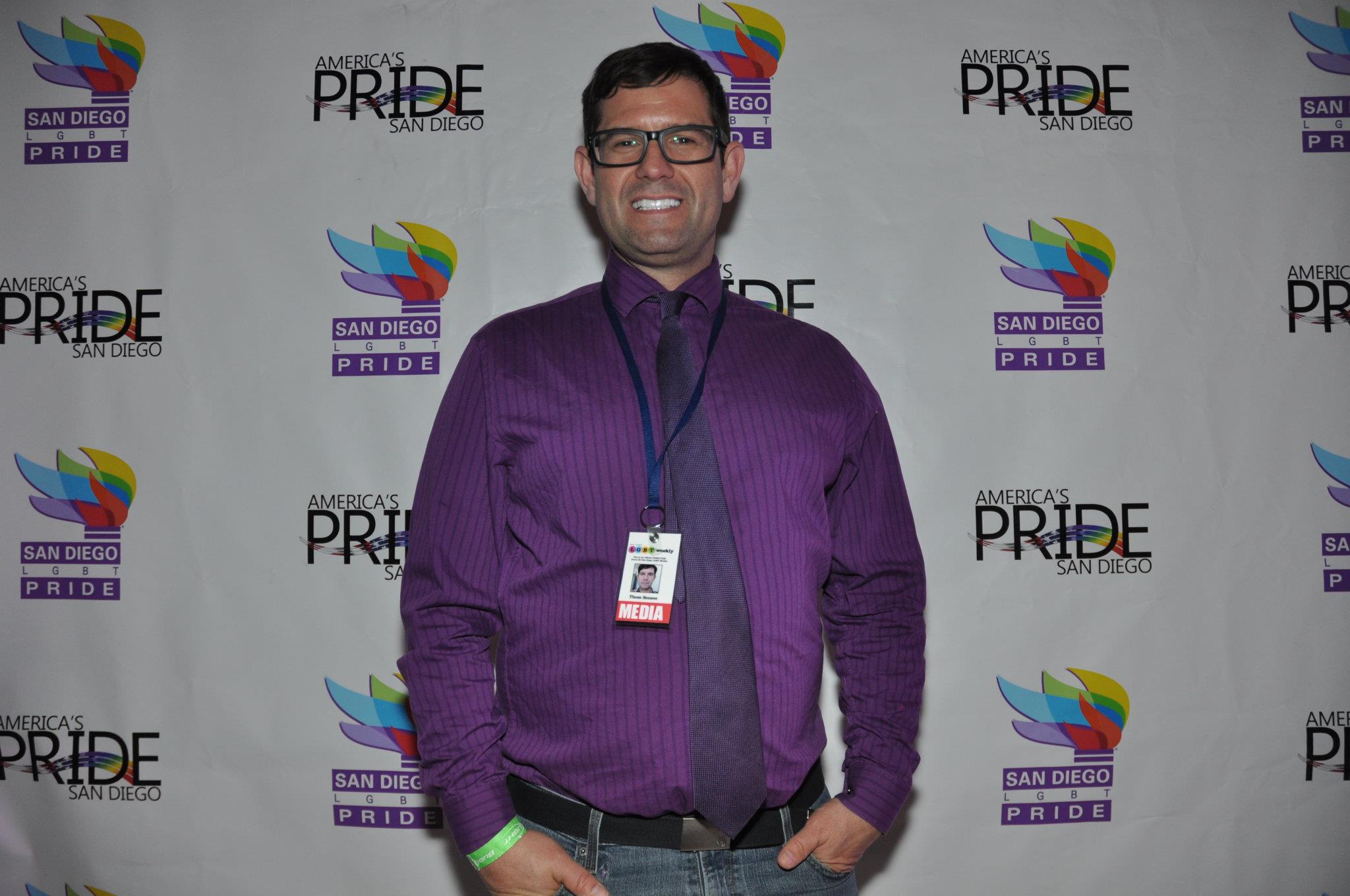 PALM SPRINGS – The former Editor-In-Chief of the San Diego LGBT Weekly webzine and frequent contributor to The San Diego Reader, an alternative press newspaper, has died at age 54.
Thomas Senzee, a California native whose award winning career spanned nearly thirty years in media, writing for outlets including The Huffington Post, The Advocate/OUT, The Fight Magazine, The Washington Blade, The Los Angeles Business Journal and other publications, was found deceased on Thursday, March 24, 2022, in Palm Springs.
The Coroner's Bureau of the Riverside County Sheriff's Department has listed his death as undetermined pending further investigation by the Coroner's office.
Senzee served on the board of directors of the San Diego Press Club, and was that organization's Professional Development Committee chair. He was also a member of the Society of Professional Journalists, the Los Angeles Press Club and the National Lesbian and Gay Journalists Association.
Will Rodriguez-Kennedy, the chair of the San Diego County Democratic Party and a Civil Service Commissioner with the County of San Diego government paid tribute to Senzee;
"I am saddened to hear about the passing of Thom Senzee the former editor-in-chief of LGBT Weekly. I met Thom a little over a decade ago and worked as one of his reporters and social media director. I learned a lot from him as he took me under his wing and educated me. He was kind, thorough, dedicated to the truth, and he always challenged me to do my best on every story," Rodriguez-Kennedy said adding;
"He was an award winning veteran journalist with over 30 years of experience writing and editing for a number of news organizations and served on the board of directors of the San Diego Press Club. He would check in with me from time to time as the years went on. Rest In Peace, my friend."
Veteran LGBTQ+ correspondent and former editor of The Los Angeles Blade, Karen Ocamb, marked Senzee's passage writing:
"Thom Senzee was indefatigable. He loved the news. He loved journalists reporting the news. And he especially loved LGBTQ reporters and media personalities putting their spin on news about LGBTQ people and the ongoing issue of AIDS. Several times he invited me to sit on panels he created in conjunction with the Los Angeles Press Club. As host, Thom would throw out a question like: 'Have sexual orientation and gender identity become non-issues?' and then let actors Jason Stuart and the late Alexis Arquette and me vie for 'air time' in response. It was a hoot – and informative. And family. We need more folks like Thom Senzee. He will be missed."
Senzee is survived by a brother and two sisters. The family has started a GoFundMe page to defray funeral expenses and would appreciate any donations to help with his funeral/memorial costs.
Trans Palm Springs Mayor responds to anti-LGBTQ+ Texas Governor
"I am in awe of the transgender children and their parents that I meet. Spend 10 minutes with them and you will be as well"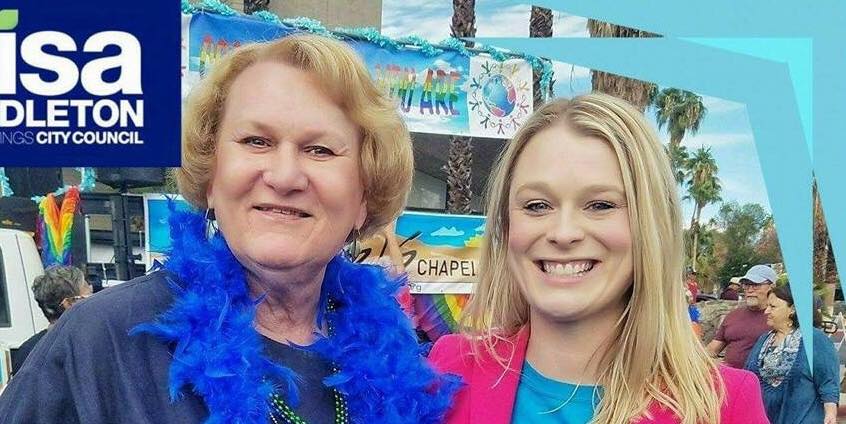 PALM SPRINGS, Calif. — Mayor Lisa Middleton of the City of Palm Springs delivered a powerful rebuke to Texas Governor Greg Abbott Thursday evening, just two days after the governor issued a dangerous directive to state agencies to begin investigating and prosecuting parents of transgender children for "child abuse."
Middleton made history in 2017, when she became the first openly transgender person elected to political office in California, and again in December 2021, when she was sworn in as the Golden State's first openly transgender mayor.
Mayor Middleton's moving remarks, were delivered at the beginning of tonight's Palm Springs City Council meeting, are available for download here, in addition to the following transcript:
I am very proud to be the Mayor of the City of Palm Springs. We are an imperfect, but unique city, and for generations we have been a place of refuge and renewal. It is in that spirit of our city and our history that I must say something this evening.
On Tuesday, Texas Governor Greg Abbott issued a directive to state agencies to investigate and prosecute the parents of transgender children and their healthcare givers. He has labeled the parents of transgender children — who support their children on their journey to be the best and whole person that they can be — to be child abusers.
Texas district attorneys are uncertain or of mixed opinions on what new directives mean. But there are reports of parents already, who are supportive of their transgender children, who are fearful that they could have their children removed from their homes and placed in foster care. The University Transgender Health Center in metropolitan Dallas has closed.
Please try to understand what it means to be the parent of a transgender child. Please imagine the tears throughout the family as your child told you their truth — their most difficult, essential and personal truth. A truth unlike anything you had ever known. You had a choice — can I and do I stand with my child? You made the choice to stand up for your child, to give your child the best opportunity to be the best person they could be.
And the governor of the State of Texas wants to prosecute you for standing up for your child. The governor of the State of Texas wants to turn your neighbors into his enforcement arm.
Please try to imagine what it is like for the mothers, fathers, brothers, sisters and grandparents of a transgender child tonight in the State of Texas. Can you imagine the heartache, the questions of what can we do, what should we do, what will the State of Texas do, and where do we go? Now, try to imagine the transgender child in that family and what their heart is telling them as they watch every person they love in agony and anger.
Family comes first. It is not an idle statement. It is what we all know — when no matter what else is before us, if we have to choose, we choose family. Well, if not in Texas, in Palm Springs, we stand with transgender children and their families.
I know all of the stories. I know all of the explanations. I have lived this life. We are who we are. You cannot change a child into someone they are not. But what you can do, and what this will do, is break their spirit.
I know. I am today a transgender woman. But while I have always been and will always be transgender, I have never had the opportunity to be a transgender child. Because I wasn't brave enough to come out. I wasn't brave like the transgender children in Texas, or Florida or South Dakota or Missouri — or like those here in California.
They and their parents have shown bravery and courage that is unimaginable to me when I was their age — and they've done so in the face of dangerous and discriminatory attacks.
I am in awe of the transgender children and their parents that I meet. Spend 10 minutes with them — any one of them — and you will be as well.
I have, from the City of Palm Springs, a message to transgender children and their families everywhere:
You are loved. You are supported. You are respected. And you will always have a home in the City of Palm Springs. You will always have a home in California. Thank you.
Historic swearing in of Lisa Middleton as Palm Springs Mayor
Middleton will become the first out transgender mayor in California and just the third out transgender mayor in U.S. history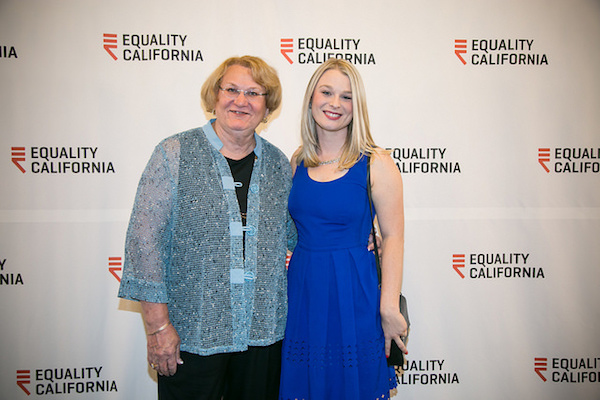 PALM SPRINGS – City Councilwoman Lisa Middleton will be sworn-in as Palm Springs mayor on Thursday. Middleton will become the first out transgender mayor in California and just the third out transgender mayor in U.S. history. The mayor's office in Palm Springs rotates among councilmembers who serve one-year terms.
Middleton – who became the the first out transgender person elected to a non-judicial position in California in 2017 with the support of Equality California and Victory Fund – is also running for the state senate in 2022 and is endorsed by both organizations. She will be the first out transgender state legislator in California history if she wins.
LGBTQ Victory Fund and Equality California jointly praised the news Wednesday.
"Lisa's elevation to mayor is a milestone moment for California, but also for trans people across the nation who want to make positive change through public service," said Mayor Annise Parker, President & CEO of LGBTQ Victory Fund. "While hateful politicians attempt to vilify trans people for their own perceived political gain, Lisa is the model of a true public servant – one who lifts people up and focuses on issues that actually improve people's lives. Lisa is a trailblazer who will be a fantastic mayor and we are excited for her to shatter another lavender ceiling with a state senate win in 2022."
"Lisa Middleton has been a transformational trailblazer, and we're proud to be by her side as she makes history again — this time as California's first out transgender mayor," said Equality California Executive Director Tony Hoang. "Just as important as the powerful representation she's provided, Lisa has been a champion for bold solutions to the big challenges Palm Springs faces — housing affordability, access to affordable healthcare, support for our elders, the climate crisis and more. We know that Lisa will continue to be champion for the Coachella Valley and all Californians when she is elected to the California Senate next year."
Currently there are just 42 out trans people serving in the entire country and only six are in California. There are no currently serving out trans mayors, however Stu Rasmussen previously served as mayor of Silverton, Oregon, and Jess Herbst as mayor of New Hope, Texas. Only one out trans person has ever been elected to a state senate in the U.S. – Sarah McBride of Delaware.