June 1, 2017 at 12:38 pm PST | by Susan Hornik
Pump is ready to serve you after a long march from Hollywood
If you are looking for a romantic place to dine that's right in the heart of Weho, look no further than Lisa Vanderpump's Pump. The  "Real Housewives of Beverly Hills" and "VanderPump Rules" star created a magical outdoor dining area serving reasonably priced, eclectic food under the stars.
"Being located on the corner of Robertson and Santa Monica, in the heart of West Hollywood, makes this a hot spot for our gay clientele," said Chad Schropp, the restaurant's attentive general manager. "The manner in which Lisa and her husband, Ken, encourage the gay community and are big supporters makes a big draw here as well. The cocktails and atmosphere are like no other in Los Angeles."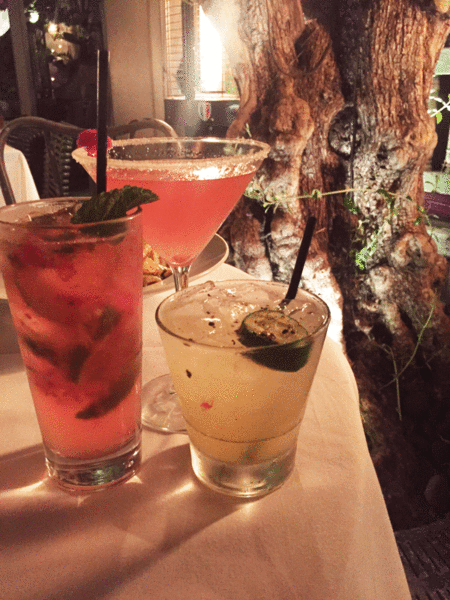 The olive trees, decorations and overall vibe of Pump makes the restaurant a unique dining experience."This is a hidden gem, when you drive by us on our street, you think, 'ya, it looks nice,' but you have no idea what you are about to see until you walk through our front doors. Guys are like 'holy cow!' This is something they really did not ever expect."
With Vanderpump very involved in dog rescue, of course, dogs are very welcome at the restaurant. (Maybe in the future, she will create a special dog menu for patrons who bring in their four legged friends!)
The outdoor garden bar and indoor lounge make Pump a great place to meet for a potential date. And if you are single and ready to mingle, weekends at Pump are exciting, with a live DJ playing music, creating a cool vibe for patrons.
"We get so many people at our bar during the weekend, the fresh air and fire pits—our customers love our vibe!" enthused Schropp.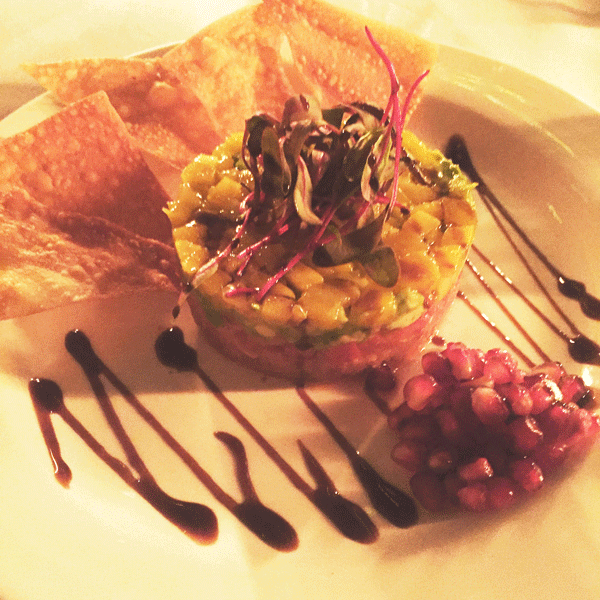 There are many delicious items on the menu, "Some of my favorite items include the Vanderpump Fish and Chips, Rigatoni with Chicken and Pine Nuts—there is an incredible sauce with that, and the Seared Ahi Tuna with Rosemary Potatoes.  For appetizers, one of our best sellers is the rock shrimp tempura and Fresh Papaya with Shrimp and Crab."
Schropp estimated that 60-70 per cent of his clientele are tourists, and the rest are locals. "Guys come from Sur and walk up the block to check us out. And are regular customers like to sit at the bar, talk with our bartenders, and enjoy a few glasses of wine and appetizers and just relax."
Pump has a variety of fun cocktails that are refreshing and perfect for a hot summer night.
"Some of our most popular drinks include the Pump and Glory (vodka, St. Germain, fresh lime, muddled cucumber and mint, garnished with fresh black pepper) and Pump-tini, (vodka, Pava liquor, fresh grapefruit, lime and muddled raspberry) said Daniel, one of the restaurant's lead bartenders, who is from Brazil. "The ladies love our delicate, light drinks that are so tasty. We use sophisticated ingredients —the French Pavan liquor, fresh fruit, high quality vodkas. As Lisa likes to say, our drinks are very sexy to match our special! ambiance!" 
One of the restaurants' best gay waiters is the very handsome Constantine, an actor who has been with Pump since it opened. "I love working here—the aesthetics alone are beautiful. You feel like you are in a magical fairy tale book. It's whimsical, sexy, beautiful, intimate—just a wonderful date spot."
Constantine's favorite dishes include the Pan Seared Pacific Sole and the Truffle Mushroom Chicken. "I also love the Spicy Wasabi Cauliflower Mash! It's so delicious, and has a lot less calories than mashed potatoes!"
The food is not the only thing that excites people—Constantin gets hit on every day. "We are wearing tight pink shirts that are open down to our chest, of course, all the waiters get asked out!" he quipped. 
Constantine is incredibly appreciative of Lisa's support of the LBGTQ community. "Lisa and Ken are so open and they always give back—with money and sweat and tears. You really feel like you are an extended part of her family working here. It's a beautiful, open space for equality and I truly love working here."
To finish out your meal, you can check out the desserts, the bakery Sweet Lady Jane brings in, like red velvet, chocolate and carrot cake.
When you are finished walking the nearly 4 mile #ResistMarch on June 11, we would highly recommend Pump's Pride menu.  Pump promises a fabulous array of proud offerings that will is sure to satisfy your resistant soul.