Keep Pride after the festival with The Pride
Can a play teach us how to battle prejudice and fears in the era of Trump-fueled socio-political retrogression?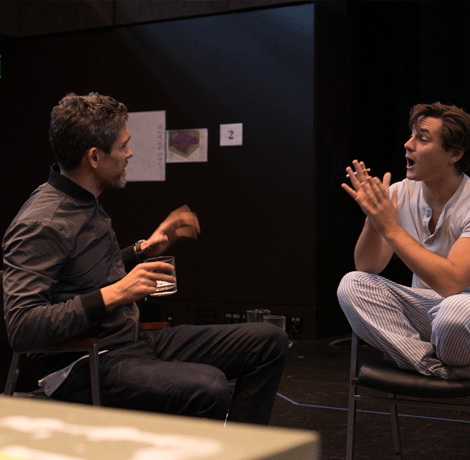 Pride Season is here, and it's in full swing.  Naturally most of the excitement and expectations are focused on the Festival, but it's also important to remember that Pride is much more than a party.  It's a movement, and this is the month in which we not only celebrate, but renew our determination to participate.
To help us keep the momentum, it's important to be reminded not only of where we are in the fight, but also of where we have been- and this June, the Wallis Annenberg Center for the Performing Arts is offering an opportunity to do just that with its presentation of Alexi Kaye Campbell's play, The Pride.  Stylish, witty and affecting, it presents a snapshot of two very distinct time periods by examining three characters- Philip, Sylvia, and Oliver- whose fate is governed by their eras.  
The Pride alternates between 1958 and 2008.  In the earlier timeline, Philip and Sylvia are married, but Philip finds himself secretly smitten with her colleague, Oliver; Half a century later, Philip and Oliver are live-in boyfriends, but Oliver's sexual promiscuity threatens their relationship and he turns to their friend Sylvia for help.  As the play progresses, it becomes clear that these three characters are echoes of each other across time, all of them struggling to make a better life for themselves than the one they have known before.
All of this sounds like a fascinating evening of theatre, to be sure, but does it really have anything to do with Pride?  According to director Michael Arden, who is wrapping up his year-long stint as Artist-in-Residence at the Wallis with this production, the answer is "Yes, quite a lot."
Arden, along with the Center's artistic director, Paul Crewes, wanted to embrace the spirit of Pride, reaching out to the LGBTQ community through a project which would reflect the concerns that affect it.  Obviously, that's a tall order; how do you address such a wide range of issues in a manner which can also be entertaining for its audience?  
A number of ideas were floated, one of which was a staged reading of The Pride, which Arden saw in its original 2008 production at the Royal Court Theatre in London, and which he felt would be a perfect match for the Wallis' outreach effort.  Crewes agreed; so much so, in fact, that he decided to go one better and mount a full production of the show.
Arden couldn't have been more delighted. "The material resonated with me as a gay man; I connected to the experiences in the play on a personal, emotional level.  I felt it was a story that hadn't been told before and about an aspect of gay life that isn't widely discussed."
As to how it relates specifically to Pride, it comes down to a lot more than just a coincidentally appropriate title.  When asked how the play reflects the spirit and purpose of the Pride movement, Arden is eager to answer.  "By viewing these characters' experiences in two different time periods, we get to see how things have changed, and also how they haven't.  Remember, part of the play is set in London in 1958; homosexuality was a criminal offense, and that had a huge impact on the way gay men and women lived and loved.  When we get to scenes set in 2008 New York, we can see the ways a different social environment has affected gay life- certainly for the better, but also with deep shadows still being cast by the less accepting attitudes of those earlier times."
In other words, there are direct threads between the obstacles faced by the play's central trio across fifty years.  As Arden points out, there is a third perspective on The Pride, created by watching it now- a decade after its original debut- from which we can see that those threads are still intact.
"The play was written before we had Marriage-Equality, so we can observe the differences in our own time from both the eras we see in the show; but right now we are very much in the middle of a time when there's a strong backlash against the progress that has been made, and there are a lot of regressive forces at work in the culture that are directly tied to the same prejudices and fears that existed in the past."
Can The Pride teach us a way to battle against those prejudices and fears in this era of Trump-fueled socio-political retrogression?  Perhaps not; according to its press release, it is a play which "explores fate, love, fidelity and forgiveness," and "asks questions about contemporary life (gay and straight), without presuming to answer any of them concretely."
As Arden sees it, however, it can help us learn to fight that battle for ourselves.  "Just like in any play, these characters are all fighting for what they want.  What they do to win that fight is shaped by their environment, by the age they live in.  That can help us recognize the ways our own struggles are affected by our current situation. Understanding how progressive and regressive cultural beliefs are tied to our history helps us to recognize how the roots of our current issues reach into past, and it can lead to change by allowing us to let go of the burden of shame we may have inherited and instead embrace the pride we need to live our lives now."  Or to put it another way, quoting a particularly colorful line of dialogue from the play, it can allow us to "stop sucking the dick of our oppressor."
Artistically speaking, you can be sure that The Pride will be a production created with integrity.  Arden's own "Pride" story dates back to when he was a student at Julliard, and Sir Ian McKellen came to the school to speak.  It was not long after the actor had famously outed himself to the public (though his sexuality had long been known to his friends and associates), and one of the students asked him if his announcement had made his career better or worse.  Without hesitation, McKellen said "Better.  Much better.  By being honest about who I am, my work as an actor can also come from a place of complete honesty."
It was a statement that rang true for Arden, who has embraced that philosophy in his own artistic career.  He brings his own true, gay self to his work, and then allows his productions to be shaped by the intertwining of that perspective with those of his collaborators (in the case of The Pride, he is particularly excited to add that his cast brings together the viewpoints of a gay English man, a gay American man, a straight American female– who is also a mother-, and a straight American man).  "As an artist, my job is to reflect back to the culture what it presents to me, and not hiding behind a mask gives me a clearer surface when I 'hold the mirror up to nature.'"
You can see that reflection for yourself when The Pride opens later this month.
— The Pride will receive its Los Angeles premiere in this new Wallis production that stars Neal Bledsoe as Philip, Jessica Collins as Sylvia, Augustus Prew as Oliver and Matthew Wilkas as The Man. Performances begin in the intimate Lovelace Studio Theater on June 8 through July 9 with opening slated for Wednesday, June 14.
Tickets:
Single tickets: $40 – $75 (prices subject to change)
Online – TheWallis.org
By Phone – 310.746.4000
Box Office – Wallis Annenberg Center for the Performing Arts Ticket Service
9390 N. Santa Monica Blvd,
Beverly Hills, CA, 90210
2021 Palm Springs Pride was much more than a Pride celebration
Everything Pride — literally everything — the pandemic had robbed from us was on full display-the first full-scale in person Pride since 2020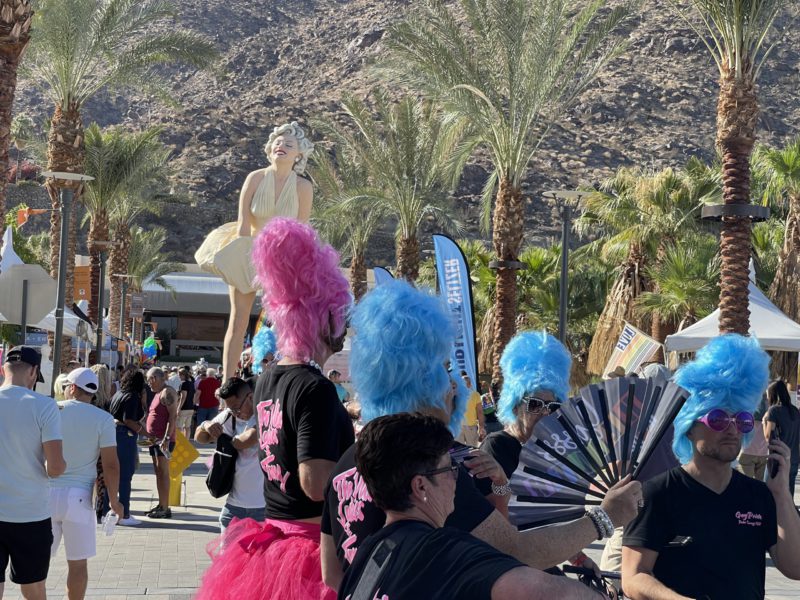 PALM SPRINGS – Even the Palm Trees were sashaying this weekend as the 35th Greater Palm Springs Pride Festival freed the city from the doldrums of a pandemic that, while not exactly over, certainly felt that way, at least for a weekend.
Everything Pride and everything Palm Springs — literally everything — the pandemic had robbed from us was on full display, yet with an added zest: It was the first full-scale Pride celebration in California since January 2020 and people were ready to celebrate. Last year's event was held virtually on Facebook.
Thousands upon thousands of mostly maskless people of every stripe swarmed the city over the three days from one end to the other, something that seemed unimaginable even just a few weeks ago.
87 year old Dan Bertin wiped a tear from his eye when the Los Angeles Blade asked him why he had decided to attend Palm Springs Pride. "I got off the phone this morning with my son in London, he's gay like me," he laughed, "and he told me his husband and my newborn grandson will arrive on a flight from Paris on Friday next week. I am so happy, I just had to celebrate."
Lydia, the mother of 9 year old Stanton says her son insisted they attend the Festival on Sunday. Mom told the Blade, "at this point he says he is gay so I thought he should see this." Stanton, who was wearing a mask since he is not vaccinated, said he knew he wasn't alone but he had no idea there were so many people like him. Pointing to other kid passersby he said, "Look, they are just like me." His mom corrected him. "Don't make assumptions about people, Stanton." He laughed and ran into the bounce house Festival organizers had set up for kids and his mom followed. "I couldn't sit this one out so we drove up from the border today. I'm so proud to be his mom." Stanton, she said, was born Stacy.
Tammy Green said the event was her first public event since Covid. "I am so damned tired of all this isolating I could scream. I'm fully vaccinated and ready for some lovin' so if you know any hot dykes you can hook me up with I also waxed just for Pride baby!"
Joel Stern and his husband Randall flew in from Seattle: "We love Palm Springs and we love Pride so when we found cheap airfares on Alaska from Seattle to Palm Springs on Pride week, we jumped," said Joel. "Yes, this bitch forget to book a hotel room," snapped Randall. "So I made him splurge on $1200 a night AirBnB and we have a mansion with a pool and are headed back now!"
John W, a homeless and differently abled Transman who has one arm, said he lives in Palm Springs. He got misty-eyed petting Cody, the dog owned by Arturo Jimenez and his partner, LA Blade publisher Troy Masters, saying "I can't have a dog but I love them. I have too many PTSD's and can barely take care of myself. But today, at Pride, surrounded by people willing to talk to me, I feel free and even the sudden loud noises aren't triggering me."
Scott E. from New York says met a "Daddy" on Grinder who invited him to Palm Spring Pride after a round of x-rated pics. "Honey, I booked that ticket and here I am, but he was a no show. It's fine," he said as he grinned and gestured at a man of a certain age, "I'm sure I'm gonna be fine."
Evan Caplan, who visited Palm Springs Pride from Washington, D.C., said "Palm Springs Pride was an opportunity to get away from everything in DC and enjoy the weather, the festivities, and the opportunity to meet all sorts of different people. It was a magical escape to party on the streets and feel welcome by everyone in the city. It was also a reaffirmation of the spirit of the gay community coming together after a challenging and difficult year," he added.
Tracy S. flew in from Nashville. The 32 year old Public Relations agent said he came out during the Pandemic and was too shy to attend Nashville's Pride event, so he jumped on a Southwest flight "that cost nearly nothing" for his first trip to the desert or to SoCal. "I'm not sure I'll ever be the same," he said.
Robin Tyler, the LA based 79 year old Lesbian activist and comedian, took to the mainstage of the event on Friday night and brought the house down. Her favorite joke of the evening: "I met a man in Palm Springs who said he was from Texas. Texas, where men ARE men, and women are nothing. There the right wing courts believe that life begins at conception, and ends at birth!"
On Sunday, the parade kicked off at Palm Canyon Drive, slowly making its way to the entrance to the Pride Festival at Amado Road where thousands of smiling people, some still waving flags and their signage from the parade, drag queens decked out galore, young and old, Daddy's and pups, lined the parade route. Dozens of floats, jumping to the blaring music with writhing go-go boys and some more sedate offerings passed by as merchants hawked their wares.
Mary Rostow and her wife June watched the parade pass by waving at old friends.
"I am seeing people I haven't seen in years and it makes my heart sing," Mary said. "We haven't got that many Prides left and it really means a lot to me that they pulled this together. June, who was wearing a mask that said "Vaxed" said "We really have a lot to celebrate"
Members of the Trans Chorus of Los Angeles (America's first chorus consisting of Transgender, Non-Binary, Intersex, Gender-Non-Conforming and Gender-Fluid individuals) performed "More Friends Than You Know," a stirring song about diversity and acceptance and empowerment after marching in the parade.
Alan Uphold, a former board member of the Chorus who recently relocated to Palm Springs from Los Angeles with his husband Jeff Olde, was moved to tears by their performance, saide the song "gets me every time."
Many other local businesses and organizations also had a presence in the parade; a group with Planned Parenthood received loud cheers as they marched by, while Wang's in the Desert, a popular Palm Springs Pan Asian Cuisine restaurant, mounted a red-and-yellow dragon's head on the back of a truck. Men in leather hawked drink specials outside downtown bars, and hundreds watched the event while eating on restaurant patios.
Milling about the nearly 200 booths, the glow on people's faces told the real story.
"We have 4 bags of souvenirs, including the Los Angeles Blade," said Drexel Simpson from Phoenix. "It's our first trip since Covid and there's simply no way to tell you how liberating it is to hang out with people, no masks on, hugging old friends, kissing them like old times and just getting back to normal. It's like the Covid Liberation Pride. And I hope the world follows."
Monét X Change joins Kiva to Celebrate Pride
Kiva, the sought-after cannabis brand, is following through once again with their second annual partnership with world famous drag superstar Monét X Change.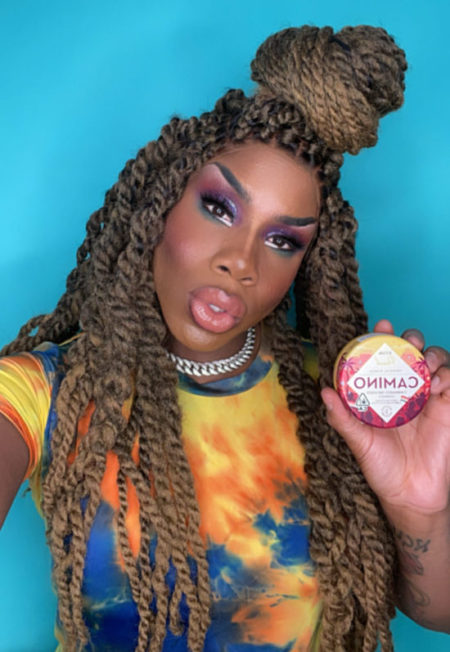 LOS ANGELES – 'Tis the season of rainbow sponsorships. Pride partnerships between companies of all sizes and queer celebrities of all caches abound. In the whirl of Pride collabs, it's important to know which companies are for real.
Kiva, the sought-after cannabis brand, is following through once again with their second annual partnership with world famous drag superstar Monét X Change. Monét went Live on Kiva's Instagram Thursday evening, hosting a candid conversation with viewers on Pride, cannabis and how the two are intertwined.
On her Instagram Live, Monét started off the bat by calling out other companies who "slap on a rainbow" and call it a day. Kiva is not one of those companies. This Pride month, Kiva has made donations to GLAAD and has pledged to continue their involvement and support of the LGBT+ community year-round, something with Monét cited on Live as especially noteworthy.
GLAAD is an internationally recognized LGBT+ organization that works ubiquitously in the worlds of entertainment, news, and digital media to accelerate acceptance and celebrate LGBTQ+ stories.
Monét X Change gained fame on the 10th season of RuPaul's Drag Race, where she won Miss Congeniality. She went on to win (in a tie) the fourth season of RuPaul's Drag Race All Stars. Working her way to the top of the industry, she is now regarded as one of the most popular and successful queens to come out of the show, frequently partnering with her pal from New York, Season 8 winner Bob the Drag Queen.
You can now find Monét everywhere in almost every facet of the entertainment world. Most recently, Monét released "Love Like This" – a beachy bop with a fresh queer Caribbean sound.
Joining Monét's Kiva live stream was a colorful bunch of up and coming New York queens, including the in-demand Jacklynn Hyde, her leggy New York sister Tina Twirler and the crown-snatching Sabbyiana.
Back by popular demand, Kiva is relaunching the much asked for Tropical Punch Camino Gummies. These fruity little edibles are a Pride spin-off of Kiva's popular line of Camino gummies. A light, refreshing edible with 5mg THC per dose perfect for Pride month.
LA Pride breaks silence announces 'Thrive with Pride'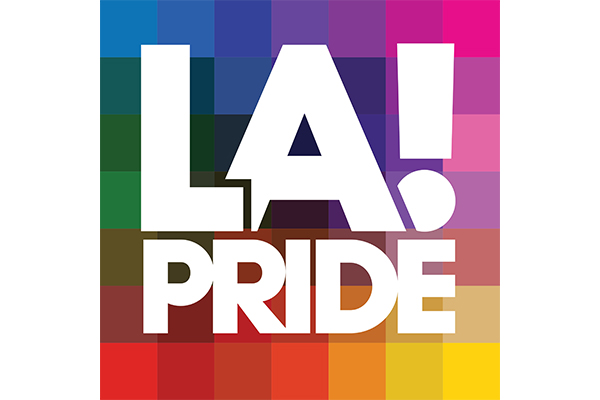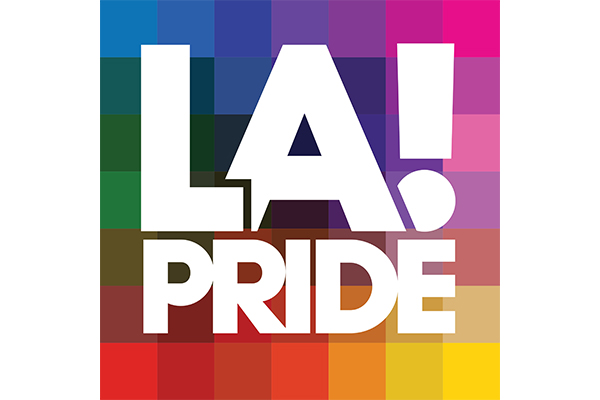 LOS ANGELES – After weeks of 'stay tuned' on its website and no real engagement with the media or the LGBTQ community, Christopher Street West Association Inc. the nonprofit organization that produces the annual LA Pride celebration announced its planned June programming for LA Pride 2021 on Thursday.
Pride 2021 activations are themed around the daily reminder to Thrive with Pride.
LA Pride weekend will kick-off on Thursday night, June 10th with a concert exclusively presented by and live streamed on TikTok featuring hyper-pop diva Charli XCX and a showcase of up and coming LGBTQ+ performers across genres. In-person concert opportunities are not available at this time. Fans and followers can follow @tiktokforgood and @lapride on TikTok for updates and advanced promotions.
Further, a televised special titled "Thrive with Pride Celebration" is set for Saturday, June 12th airing 9:00pm-10:00pm PDT on ABC 7 Los Angeles, the most-watched station in Southern California, will feature special guests, performances and LA Pride honorees.
"To thrive means to flourish and progress despite the circumstances. Pride this year is a moment for you to stop and breathe," said Sharon-Franklin Brown, CSW board president. "It's a moment to remember you're not just surviving one of the hardest years in recent memory, but growing into your truth. This is why we were so intentional in our planning. We want to bring a moment of celebration, a moment to highlight the community, and an opportunity to give back. If we as a community can come together, even for a moment, to realize we've broken down some barriers put on us, it'll strengthen our resolve to continue tearing more down for those to come after us."
"After an unprecedented year of challenge and struggle, I am so pleased that this year's pride festivities embrace the spirit of the first pride parade and our activist roots," said Los Angeles City Councilmember Mitch O'Farrell. "By bringing together LGBTQ+ communities from every corner of our City, we will uplift all voices and elevate the important work of the icons of the LGBTQ movement who sacrificed everything in their young lives at the time so we can all celebrate together in 2021. With a mix of virtual and potential in-person events, this year's festivities will keep our community safe and connected while providing every Angeleno an opportunity to embrace giving and volunteerism."
In recognition of the incredibly difficult work Los Angeles social justice and non-profit organizations have put into achieving equity, actionable change and stability, LA Pride will launch a 30-day give back campaign to support these efforts. Pride Makes a Difference will highlight opportunities for Angelenos to sign up to either volunteer, or donate goods and/or money to local organizations in Los Angeles County. Pride Makes a Difference is a new program in conjunction with Big Sunday. As part of these new efforts, drop off locations will be set up all throughout Los Angeles. A list of selected local organizations and drop off sites will be available soon to choose from, as well as the sign-up details and commitment.
"Our utmost priority in whatever we're doing to celebrate Pride this year ensures safety and follows CDC-approved pandemic guidelines," continued Brown. "That's why we're announcing this programming first. Any potential in-person celebratory activations will be announced at a later date in the coming weeks. The more we put safety first, the more likely we're able to plan big physical events in the future, including Pride 2022, where we can celebrate who we are, where we came from, and where we need to go."