9/11: Remembering Californians Mark Bingham and the Brandhorst-Gamboa family
Music video of Melissa Etheridge's tribute to Mark Bingham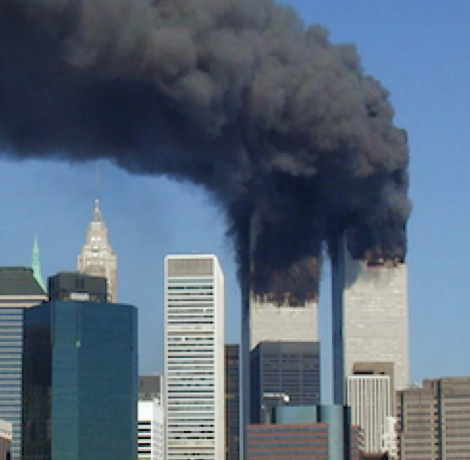 Commemorating the 2,983 innocent lives lost to the terrorists attacks of September 11, 2001 has become a bit perfunctory. Cable TV dipped in and out of the solemn ceremonies held in New York City, the Pentagon in Washington DC and the field in Shanksville, Pennsylvania as remembrances competed with coverage of two devastating hurricanes, more on the Russia investigation and the deconstruction of Steve Bannon's interview on 60 Minutes.
Perhaps what the bored president thought as he talked through two moments of silence at the Pentagon. After all, for the past 15 years, Trump has littered the treasured landscape with lies about 9/11,  none of which he has apologized for or corrected. Vice President Pence, on the other hand, became emotional during the tribute to the heroes of Flight 93, the passengers who crashed the hijacked plane believed headed for the US Capitol.
"I and many others in our nation's Capitol were able to go home that day to hug our families because of the courage and selflessness of the heroes of Flight 93. So for me it's personal," he said.
Mark Bingham and his mother Alice Hoagland (Photo provided by Hoagland for documentary)
Gay Republican rugby player and businessman Mark Bingham, 31, was on Flight 93 and, after being told by his mother Alice Hoagland by cell phone of the hijackers' suicide mission, he, Tom Burnett, 38, Todd Beamer, 32 and Jeremy Glick, 31, rushed the terrorists and desperately tried to re-take the plane before it crashed.
After finding out that Bingham had been a big supporter during his 2000 run for president, Arizona Sen. John McCain spoke at Bingham's memorial in San Francisco.
According to Bay Windows, McCain was moved to tears, saying: "I love my country and I take pride in my service but I cannot say I love it more or as well as Mark Bingham did or the other heroes on Flight 93….It is now believed that the terrorists on Flight 93 intended to fly the plane into the United States Capitol where I work, the great house of democracy where I was that day. I very well may owe my life to Mark Bingham and the others who summoned the enormous amount of courage and love necessary to deny those depraved hateful men their terrible triumph. Such a debt we will incur for life. I will try very hard to discharge my public duties in a manner that honors their memory."
McCain called Bingham a personal hero: "He supported me and his support is now among the greatest honors of my life. I wish I had known before Sept. 11 just how great an honor his trust in me was. I wish I could have thanked him more profusely as time and circumstances allowed but I do now and I thank him by the only means I possess, by being as good of an American as he was."
It was confusing, then, that despite McCain personally grasping that gay men can be courageous fighters, McCain still helped lead the charge opposing the repeal of the anti-gay military policy Don't Ask, Don't Tell.
The gay media was just as perplexed as to how to cover this tragedy as the mainstream media was. Mark Bingham was not "straight-acting" but he would not be quickly identified as gay. And what about all the closeted LGBT people—from innocent victims aboard the planes to Pentagon workers to congressional staffers all trying to help and all worried about their secret loved one at home. Regional papers started digging through the news to find familiar names. What if the "Falling Man"— the man in the now iconic photo who came to represent so many of the trapped jumpers—was gay?
Who were our people in this tragedy. The Advocate undertook the near-impossible effort to find out.
"It was September 12, 2001, a very dark day after a tragically dark day. The whole world was trying to understand what had happened and what to do next. The media world was no different. And the gay media world was in a frantic tailspin. We could not figure out what our specific angle on this catastrophe could be," Judy Wieder, then the Advocate's editor-in-chief, tells the Los Angeles Blade. "We had a relatively small staff compared to major news magazines, news sites, and newspapers. We had emergency editorial meetings from dawn to dusk until we hit on something no other news service could provide. What would happen to all the partners and families of 9/11's LGBT victims? What government agencies would take care of them?"
Wieder says the story of the unraveling of this very critical cover story is told in full in her memoir, Random Events Tend To Cluster, due out this October 1.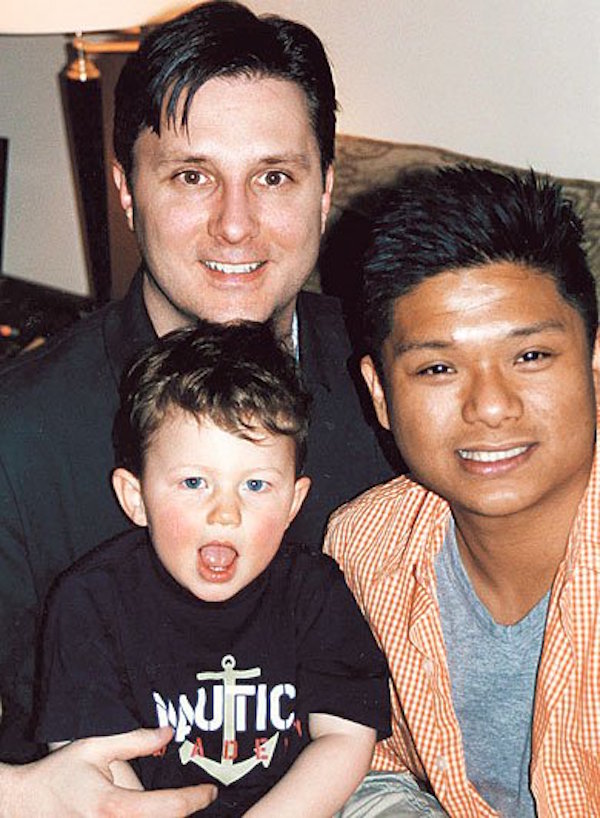 Among the scores of stories The Advocate discovered were of the The Brandhorst-Gamboa family. Ronald Gamboa and Dan Brandhorst were known in West Hollywood as the founders of the too-cutely-named Pop Luck Club. Visually, they were the odd couple: Filipino-born Gamboa, 33, was small of stature; Brandhorst, 42, was 6 foot, 2 inches tall.
But what they had in common was a 14-year love for each other and the strong desire to be fathers and create a family. And they were financially secure: Gamboa managed three Gap stores in Santa Monica while Brandhorst, a lawyer, was a partner at PricewaterhouseCoopers. They were returning home from their annual outing to Prov­incetown, Mass. With their beloved adopted 3-year old David when the terrorists flew United Airlines Flight 175 into the south tower of the World Trade Center.
Their legacy lives on in the re-named Raise A Child, the now national organization helping LGBT people foster and adopt children.
Here's a trailer for a documentary on Mark Bingham.
Here's Melissa Ethridge's tribute to Mark Bingham, and all those lost on 9/11.
Minnesota teachers fear retaliation over support of LGBTQ+ students
According to staff, teachers are afraid the move is intended as "a fishing expedition to prove that teachers encouraged students to protest"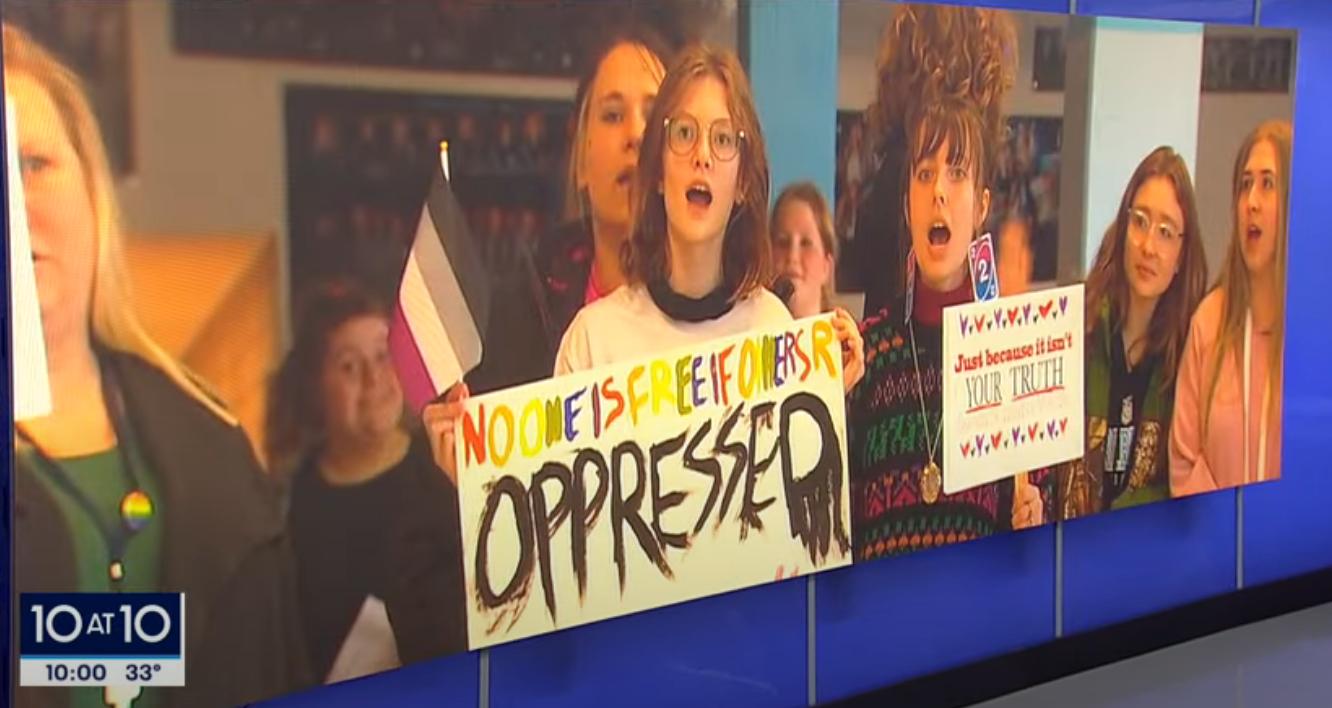 BECKER, Mn. – Following protests over the anti-LGBTQ+ Minnesota Child Protection League's (MNCPL) March 14 presentation to the Becker County School Board, staff in all the district's public schools will be required to turn over a trove of documents related to that event, The Los Angeles Blade has learned.
According to a staff member at Becker High School, teachers are afraid the move is intended as "a fishing expedition to prove that teachers encouraged students to protest" in a bid to "get the Board to fire" them.
The mandatory request was filed by Chris Klippen, a local attorney who addressed the School Board on March 14 ahead of the representative from MNCPL, echoing many of the group's lies about LGBTQ+ people and objections to measures designed to protect the community's youth.
As the Los Angeles Blade reported, controversy over the School Board's decision to hear a presentation from the MNCPL was the latest in a series of events that have escalated tensions between area schools and LGBTQ youth, along with their families and allies.
Last year, a Facebook post that falsely claimed classrooms were replacing the American flag with the Pride flag invited comments that included homophobic and transphobic remarks. When students shared screen shots of the post on their social media pages, the Becker County chief of police demanded they remove them, earning a rebuke from the ACLU of Minnesota.


The Becker High School staff member and a student at the school say LGBTQ+ students regularly face harassment. Trans students are dead-named by teachers and administrators who refuse to use their correct pronouns and often discourage or prohibit students from displaying pro-LGBTQ forms of free expression such as Pride buttons, they said.
While the state's legislature has successfully passed some protections for LGBTQ+ youth in schools, proponents of additional measures face virulent opposition from anti-LGBTQ+ groups whose influence has increasingly been felt in schools across the country amid a corresponding rise in legislation targeting the rights of LGBTQ+ students and their families.
MNCPL is among the organizations currently advocating against Minnesotan Democrats' proposed bill that would outlaw conversion therapy for minors and vulnerable adults.
In the months since the group's presentation to the School Board, according to the Becker High School staff member and student, participants in the protest felt targeted with veiled threats that left them fearing they would face retaliation from administrators and county officials.
An email Tuesday from Becker Superintendent Jeremy Schmidt instructs all recipients to collect and share, by the end of the month, electronic documents as well as "personal notes, post-it notes and handwritten notes" from February 1 to "the events on March 14, 2022."
Statutorily, interested parties are permitted to file mandatory requests for documents from Minnesota's public schools, and in this case it will apply to communications between staff and a breadth of different parties, from the media and advocacy groups to individuals and law enforcement.
LGBT students protest controversial presentation at Becker school board:
"Don't Say Gay" student walk-out leader is barred from student government
Jack Petocz organized a state-wide student protest against Florida's "Don't Say Gay" bill & annoyed administrators suspended him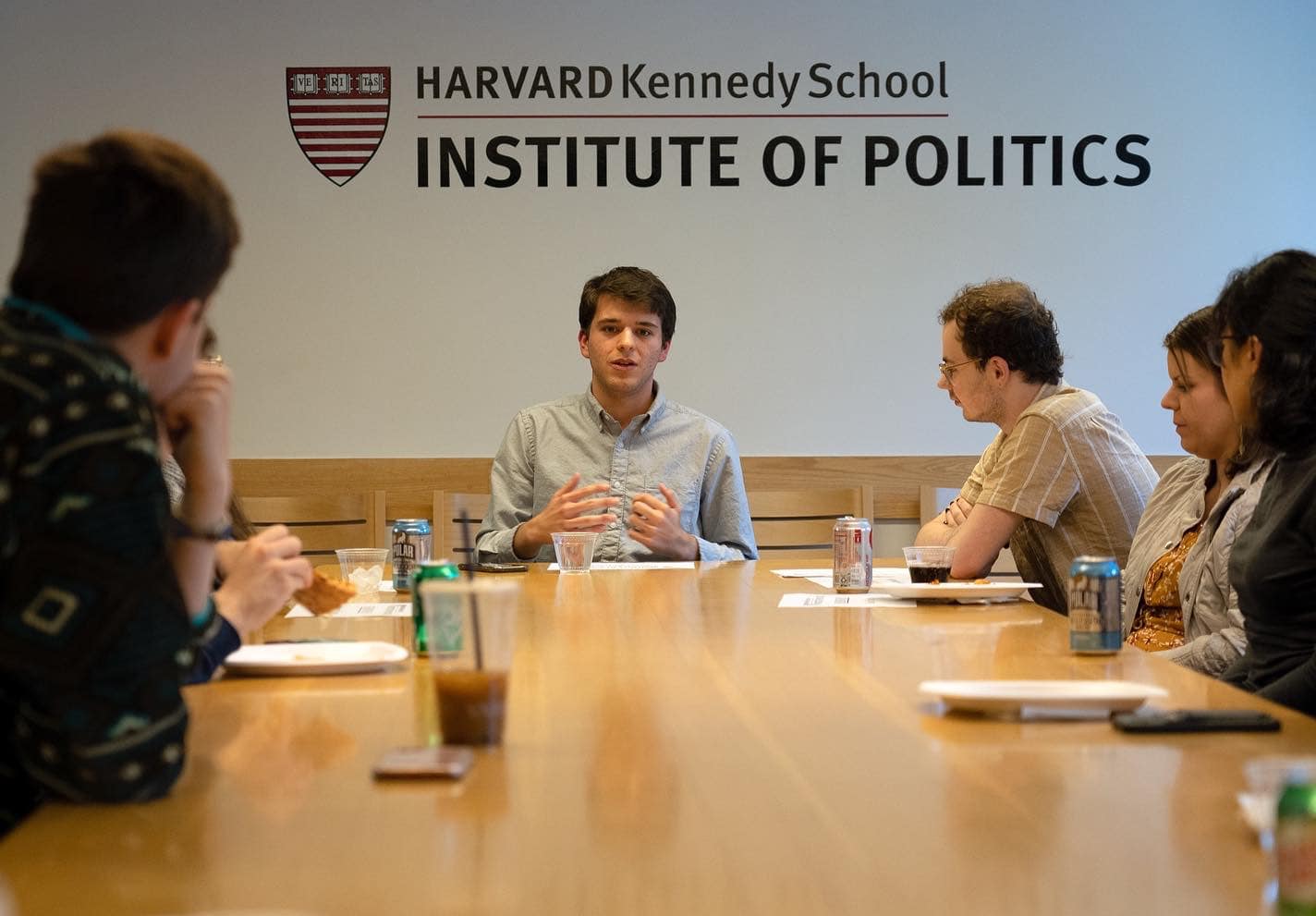 PALM COAST, Fl. – Jack Petocz, a Flagler Palm Coast High School junior, organized a state-wide student protest against Florida's "Don't Say Gay" bill this past March, and at his school, annoyed administrators suspended him.
On Tuesday, Petocz said that the school's disciplinary action is now preventing him from running for senior class president.
"When I returned, the administration assured me that no further disciplinary action would be taken. A month later, they broke this verbal agreement and placed a level 3 referral on my record. Now, due to this high level of discipline, I am being prevented from running for senior class president. I am continuing to be punished for standing up for my identity and against widespread hatred."
The suspension over the student walkout became a viral moment that propelled the 17-year-old into the national spotlight and into the national discourse over a spate of harsh laws targeting the LGBTQ+ community.
17-year-old Cameron Driggers, a student LGBTQ+ activist-organizer of the group Recall Flagler County School Board and co-leader of the walk-out, his friend's suspension inspired him to create a petition on Change.org to pressure Flagler Palm Coast High School Principal Greg Schwartz to rescind his seemingly arbitrary decision to suspend Petocz.
One protest at the school over its suspension of Petocz brought together a grizzled and proud Out gay U.S. Marine Corps veteran accompanied by his fellow vets, who alongside with Driggers and the other young adolescent activists protested in a rally in front of the school at the same time Petocz and his father were inside meeting with Flagler Palm Coast High School Principal Greg Schwartz, hoping to get him to rescind his seemingly arbitrary decision to suspend Petocz.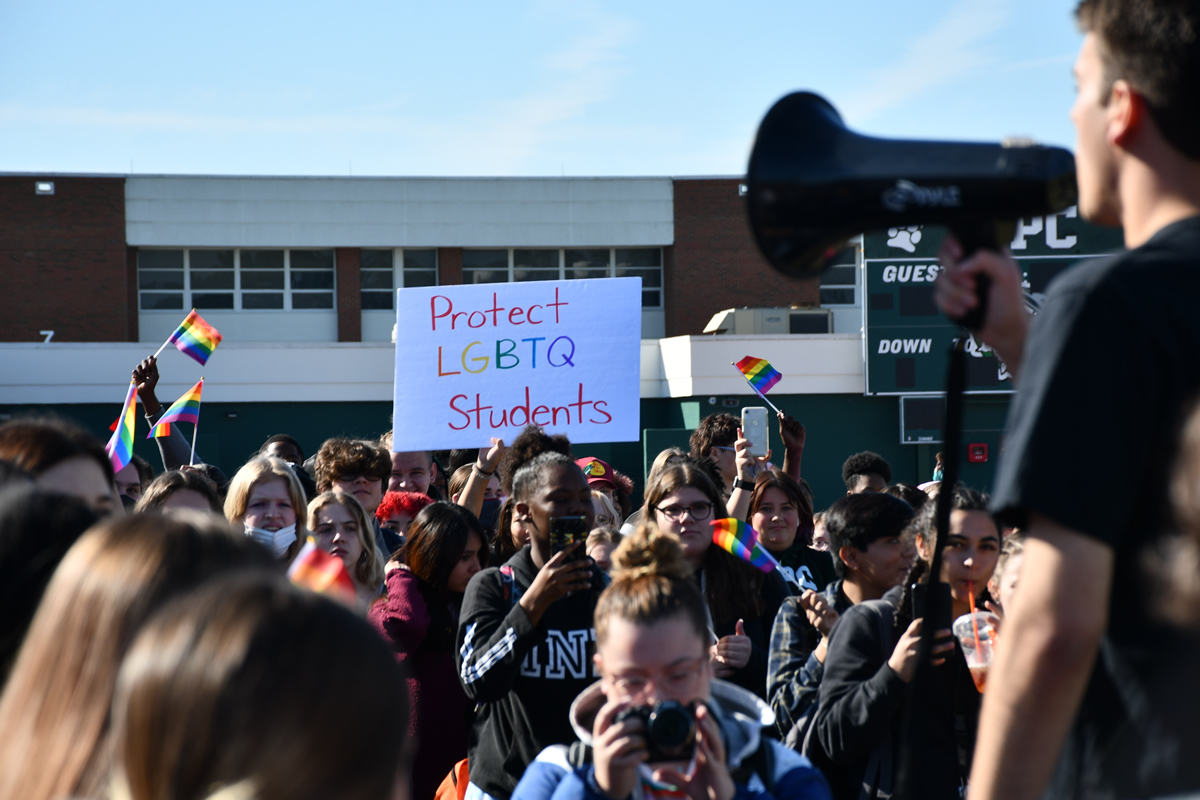 Later on during the day Driggers posted to the Change.org petition the news that Principal Schwartz had backed off.
"Recall FCSB is pleased to announce that Jack's suspension has ended and he is back on-campus. We are grateful for the thousands of people around the globe that shared, tweeted and protested in support of Jack, the organizer behind the state-wide Don't Say Gay Walkout. Over 7500 signatures were collected on a condemnation of Principal Greg Schwartz' conduct last Thursday. With Jack back on campus, Recall FCSB will continue to empower student leaders in and out of school," Driggers wrote.
Principal Schwartz also committed to removing the 'disciplinary action' from Petocz's school record.
On Tuesday, Petocz announced that Principal Schwartz and other school officials are barring him from running for an elected student office.
My name is Jack Petocz. I am the high school junior who led walkouts in opposition to the "Don't Say Gay" bill and was suspended for passing out pride flags. Now, I'm being prevented from running for senior class president. No matter what, I won't stop fighting for my community. pic.twitter.com/5lG6EYIXo2

— Jack Petocz (@Jack_Petocz) May 17, 2022
In response to the news, PEN America issued the following statement from Jonathan Friedman, director of the Free Expression and Education program:
"By going back on their word and imposing a red mark on Jack Petocz's disciplinary record, the Flagler Palm Coast High School administration appears bent on retaliating against him for organizing the walkout against the 'Don't Say Gay' bill. This is unconscionable. Jack exercised his right to protest as a citizen, and he led the walkout with the school's approval. No student ought to be intimidated or punished by school authorities for their political speech, and the school already told him he would not be disciplined. This is especially troubling alongside news of other efforts to censor or intimidate students raising their voices for LGBTQ+ rights across Florida. The leaders of Flagler Palm Coast High School should remove this infraction from his record so that he can run for class president just like any other student."
On Twitter, Petocz urged people to contact his school to get officials to reverse this latest decision.
If you want to help me fight, click the link below to send an email to administrators and the superintendent of my district. It's ridiculous queer kids have to be punished while fighting for our rights. https://t.co/oBOKZDLavb

— Jack Petocz (@Jack_Petocz) May 17, 2022
Federal Court rules against Tennessee's anti-Trans restroom sign law
"Today's decision ensures that the businesses who welcome them are not forced to become instruments for politicians' discrimination"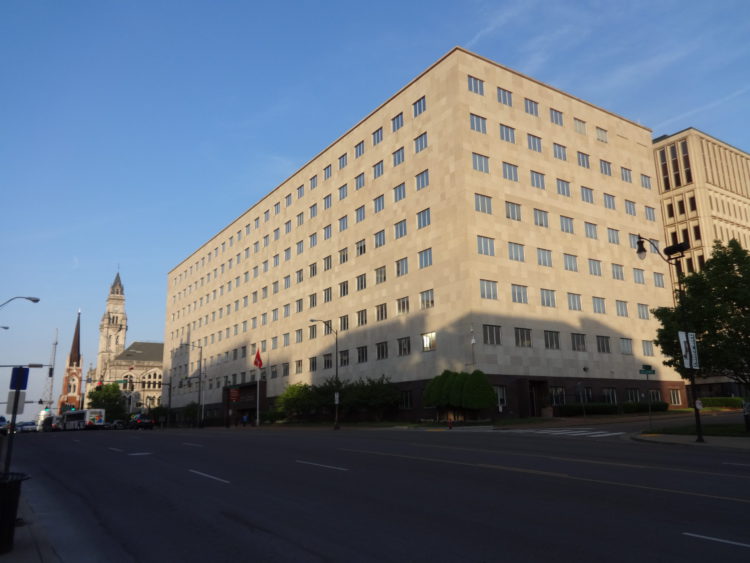 NASHVILLE – A U.S. District Court on Tuesday struck down the Tennessee law that required businesses and other entities that allow transgender people to use the public restroom that matches their gender to post a government-prescribed warning sign.
The measure known as House Bill 1182 (SB 1224), requires businesses or government facilities open to the public to post a sign if they let transgender people use multi-person bathrooms.
On July 9, 2021, the court granted a preliminary injunction blocking the law from going into effect, and today's ruling strikes down the law permanently.
According to the text of the law, language would be required to be included on the signs reading: "This facility maintains a policy of allowing the use of restrooms [or another type of accommodation] by either biological sex, regardless of the designation on the restroom."
"We applaud the court for recognizing that this law violates the First Amendment and harms transgender people," said Hedy Weinberg, ACLU of Tennessee executive director. "Transgender individuals should be able to live their lives free of harassment and discrimination. Today's decision ensures that the businesses who welcome them are not forced to become instruments for politicians' discrimination."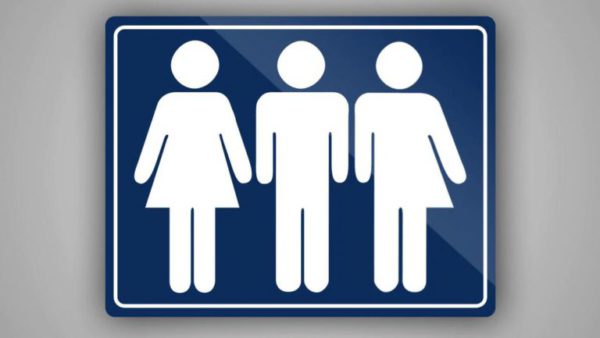 In the U.S. District Court for the Middle District of Tennessee ruling, U.S. District Court Judge Aleta A. Trauger noted; "It would do a disservice to the First Amendment to judge the Act for anything other than what it is: a brazen attempt to single out trans-inclusive establishments and force them to parrot a message that they reasonably believe would sow fear and misunderstanding about the very transgender Tennesseans whom those establishments are trying to provide with some semblance of a safe and welcoming environment."
"Transgender Tennesseans are real. The businesses and establishments that wish to welcome them are real. And the viewpoints that those individuals and businesses hold are real, even if they differ from the views of some legislators or government officials," Judge Trauger added.
The lawsuit was filed on behalf of Bob Bernstein and his restaurant Fido, who objected to the stigmatizing message that would have been required by this law. Fido has informal policies that allow customers to determine which restroom is appropriate for them and has not had any complaints or concerns about their restroom policies.
"As a former journalist, I believe strongly in free speech," said Bob Bernstein, owner of Fido, a restaurant in Nashville. "The government can't just force people to post discriminatory, inaccurate, and divisive signs in their places of business. I am glad that the court recognized that this law violates the First Amendment."
"We're thrilled to see the court rule in support of transgender and non-binary lives today. This signage law was simple cruelty – and cruelty is unjust," said Henry Seaton, ACLU of Tennessee transgender justice advocate. "We'll continue our pursuit of trans justice to its fullest extent, and hope that the trans and non-binary community feels relief and hope from this ruling."