September 22, 2017 at 7:32 pm PDT | by Rebekah Sager
Your own private Malibu beach
There's a scene in "Grace and Frankie" in which Lilly Tomlin and Jane Fonda are sitting in Adirondack chairs, the surf nearly lapping at their feet as the Pacific Ocean crashes loudly then recedes Zen-like. "This is living," says Grace to a near catatonic Frankie. "I want this house," she says.
Who wouldn't want to own a beachfront home in Malibu?
Long the most coveted second home community in Los Angeles, Malibu has an international reputation and culture all its own. The views, the sunsets, the meandering cliffs of the jagged coastline, the gentle breezes and the almost always perfect weather is the stuff of legend. It has inspired film, TV and literary types for years and over time has become an exclusive hideaway for some of the most famous and wealthiest people on Earth.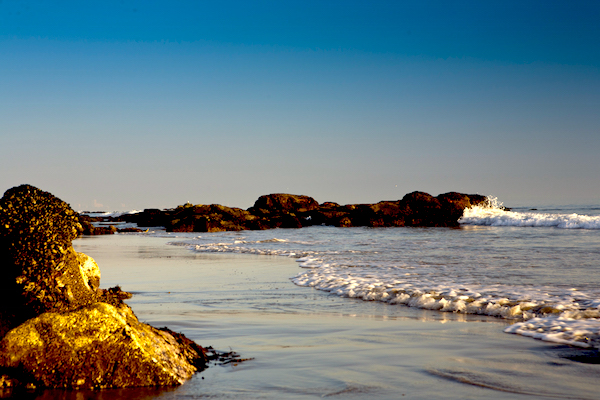 Increasingly, too, Malibu is supplanting Palm Springs as the ultimate second home community for successful gay and lesbian (and at least one notable trans woman) Angelenos.
When philanthropists Brian Pendleton and his husband Chad Goldman started looking for a second home some years ago, they chose Malibu. "While all of our friends were buying in Palm Springs, we decided to buy in Malibu," Pendleton told the Los Angeles Blade.
But the couple didn't buy just any property. They bought one of the best traditional coastal homes in all of Malibu.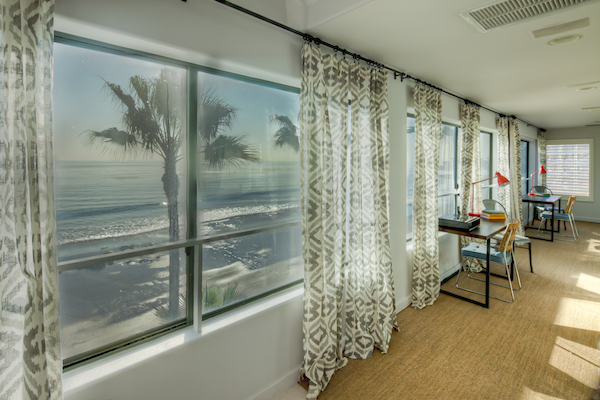 Their three-story home sits on Las Flores beach in east Malibu, offering two bedrooms, two baths, a full-size kitchen and a kitchenette on the ground floor. It was rebuilt in 2003, and is meant to be shared with friends and family, boasting a three-car garage and an additional three outdoor parking spaces — rare for Malibu.
The house is perfectly designed for entertaining, with two living rooms, two dining areas, and multiple fire-pits. "You can walk right off the beach and grab a margarita, and head to the living room," Pendleton told the Los Angeles Blade.
Conveniently positioned on what's known as "dog beach" (they have two fur-babies) and, unlike many of the houses up and down the beach, the house is fronted by a seawall versus pillions, so the water can't go underneath the house as it rushes against the wall, leaving the home protected.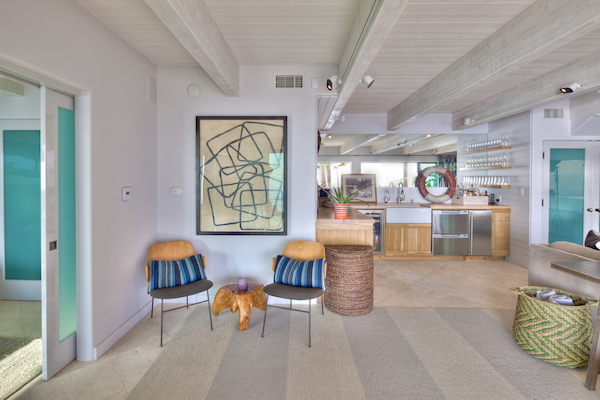 "It's great for a second house or for someone who lives in LA. It's so much closer than going to Santa Barbara or Palm Springs, and when you get out there it feels like you're in a different city. It's quiet and quaint. You can go to the movies there and park in the spot right out front of the theater doors," Pendleton says.
"We bought it as an investment property, and Malibu was a great location. It's closer to LA. And while interest rates are still low, we thought we'd take a look and see what buyers are interested. The home is perfect for a retired couple or small family who wants to live in Malibu. And for people looking for second home in Malibu," Pendleton says.
"But I am not terribly motivated," he said with a smile in his voice.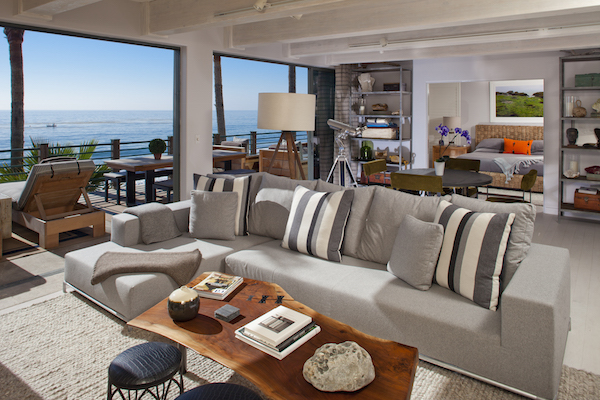 Pendleton, as founder of CauseForce, helped raise money for life-saving research and care for premier institutes around the world, raising billions of dollars for charity.  In 2013, he sold his company and now volunteers his time mentoring, supporting and advising individuals and organizations. He also works to help communities gain access to academic facilities, scholarship programs and receive life saving medical support.
The "Goldman-Pendleton West Hollywood Library Mall," for instance, in West Hollywood is a landmark facility for the community's commitment to lifelong learning, and in the Philippines, two state-of-the-art "Pendleton-Goldman Learning Centers," are serving local communities to help break the generational cycle of poverty in their communities. The Pendleton-Goldman PrEP clinic provides HIV education and prevention to underserved individuals in South Los Angeles. There's even a language lab and an LGBT scholarship program the pair fund at The University of Tennessee in Knoxville, Goldman's alma mater.
But it was this year's #ResistMarch that put Pendleton (and Goldman) on the national map. The #ResistMarch was a resoundingly successful show of Pendleton's team building and organizational skills.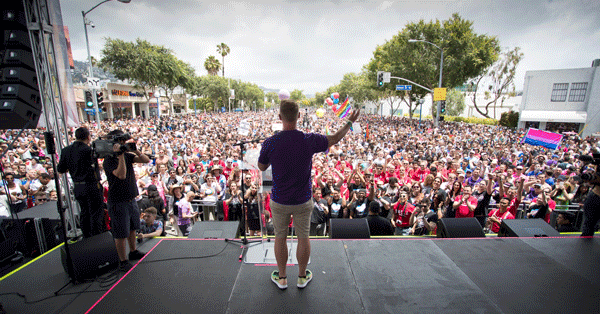 "This year, the LGBTQ community is lending our iconic rainbow flag to anyone who feels like their rights are under threat and to anyone who feels like America's strength is its diversity," Pendleton said. "The political climate we find ourselves in has driven us to galvanize and unite."
Today, their attention is turned toward selling the luxe Malibu beach house, and enjoying the singular peace and tranquility of their equally amazing full-time home overlooking Runyon Canyon and downtown LA.
The couple can sit back and smile, because they have Adirondack chairs in the Hollywood Hills too.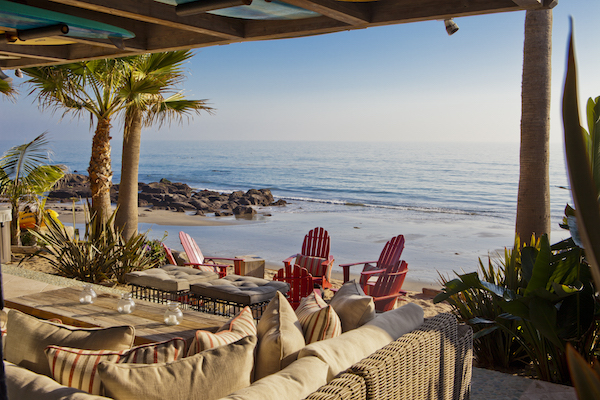 This property is being represented by Chris Cortazzo, 310-389-2472.