5 fab Weho homes that could be yours
Local real estate market is booming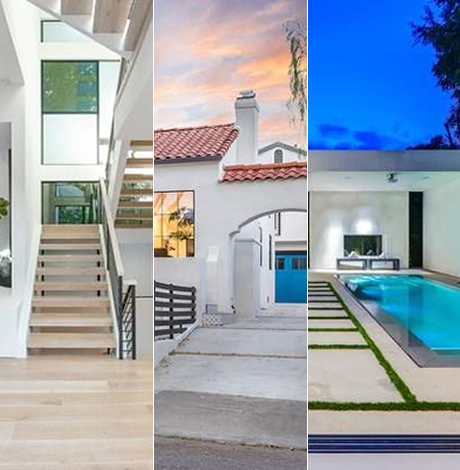 According to Zillow, there are more than 400 homes for sale in West Hollywood zip codes and if you add the Los Angeles Hills (we didn't) there are dozens more. It's enough to make your head spin, the array of choices. If that's what you want to call it.
Spoiler alert: You better be rich. But that's alright. Every now and then someone hits the scratcher million status in WeHo and it's a shopping they go. Or a rich celeb decides to quit New York and give LA a whirl. Whatever, WeHo is a luxury market.
And just like New York, the LGBT hoods are being scooped up and their characters are changing.
Here are five of our favorite local listings.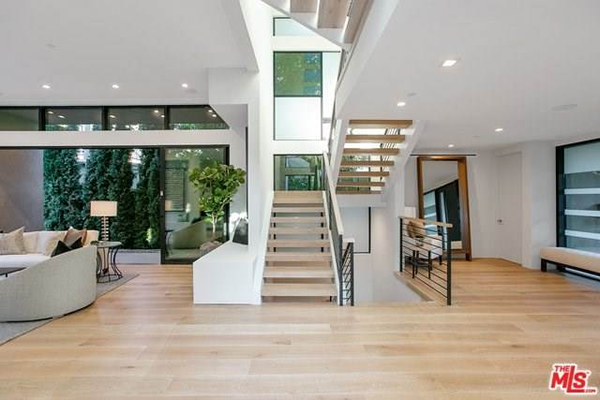 9021 Rangely, West Hollywood, CA 90048
Beds 4 | 5 Full and 1 half Baths | .11 Acres | House | Built in 2019
Asking 5,250,000
Rep: Compass Realty | Jennifer Okhovat | Cell: 310.435.7399
Raising the bar for ultimate luxury, this brand new three-level modern home is the first of its kind to go on the market in this exclusive area of West Hollywood. This premier residence features soaring-high ceilings, exquisite finishes, & stunning outdoor pool. The main level offers a grand entryway to several dining and entertaining areas, which are surrounded by Fleetwood sliding doors to create seamless transitions to an indoor/outdoor lifestyle. Kitchen is furnished w/high quality appliances manufactured by Wolf, SubZero, and Miele, & custom cabinetry curated by IKD. 3 large bedrooms including an impressive master suite w/private balcony are all located upstairs; each room has been designed w/comfort + functionality in mind. A finished basement offers a large entertaining area, wet bar, add'l bedroom, bonus room+two more baths. Do not miss this once in a lifetime opportunity to purchase a showcase home that has been created with the most discerning buyer in mind.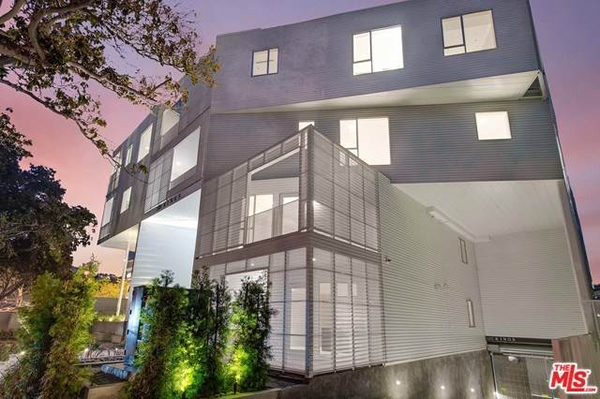 1030 N Kings Road #202, West Hollywood, CA 90069

Beds 2 | 2 Full Baths | 1056 Sq. Ft. | Condo | Built in 2018
Rep: Engel & Völkers Westlake Village | Phone: 818-889-1602
Last remaining 2nd-floor unit features innovative, sustainable architecture by award-winning Los Angeles-based firm LOHA and sophisticated interiors by MLH Design Group. This north-facing two-bedroom residence features airy, open-plan living with expansive window walls and ten-foot ceilings maximizing light, height and depth. A single patio highlights the indoor-outdoor living embraced by each unit. Chef-caliber, Bauformat kitchens boast mobile waterfall-style islands, raw wood cabinetry and Miele appliances. Exquisite master suites feature walk-in wardrobes designed by Closet Factory, and master baths with hand-selected, floor-to-ceiling marble slabs, Bauformat oak vanities and TOTO porcelain sinks.

616 N Croft Ave #PH9, West Hollywood
Beds 2 | 2 Full and 1 half Baths | Condo | 1707 sq ft | Built in 2015
Asking $1,795,000
Rep: Berkshire Hathaway HomeServices California Properties | St. James + Canter | Phone: 310.704.4248 | Lic # 00949711 / 01810156
This ultimate modern architectural penthouse showpiece boasts soaring ±17 foot high ceilings, panoramic city views, & a private outdoor rooftop w/ hot tub in the uber-prime heart of West Hollywood. This mind-blowing penthouse is in an 11-unit newer construction building designed by award winning Architect Michael Lehrer FAIA.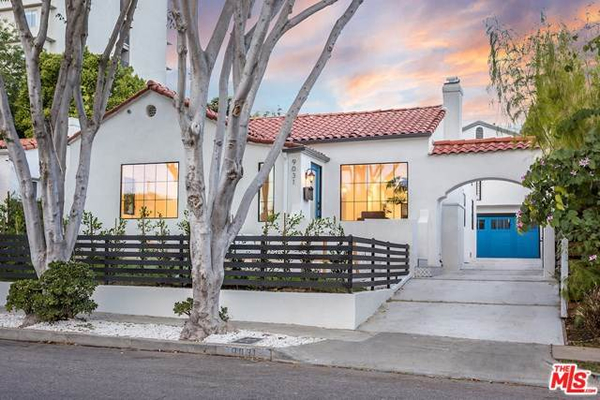 9031 Elevado Avenue West Hollywood, CA 90069

Beds 4 | 1 Full, 2 three quarter and 1 half Baths | 2,258 Sq. Ft. | House | Built in 1927
Rep: Sotheby's International Realty | Julia Delorme | Cell: (310) 205-0305
Gorgeous Contemporary Mediterranean with detached guest home and separate address. Past the grassy front lawn, the main house features an open floor plan with French oak hardwood floors & charming French paned windows. Gourmet chef's kitchen with custom Italian cabinetry, oversized farmhouse sink, brand-new stainless-steel appliances & matching quartz throughout the countertops, center island & separate breakfast bar. Luxurious master suite with a custom Italian walk-in closet and barn door that leads to an ensuite marble bathroom. Double doors lead to the backyard with a sleek wooden deck and porch for entertaining. 2-car garage doubles as an office space, topped with a delightful guest home, full kitchen and bath-just as stylish and comfortable as the main house. Unbeatable location in the heart of Norma Triangle in West Hollywood with a 10/10 rated school district, West Hollywood Elementary, and a stone's throw to famed Sunset Blvd and retail & restaurant studded Santa Monica Blvd.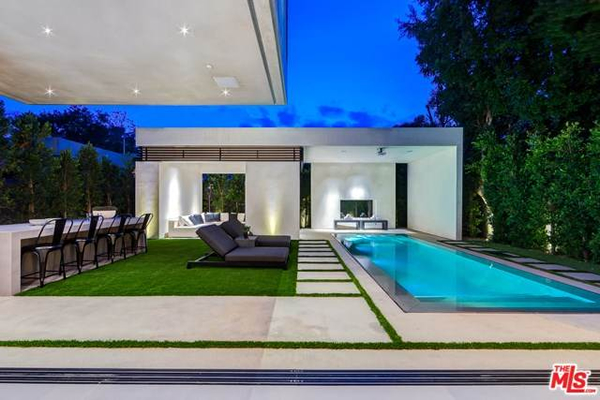 935 N La Jolla Avenue, West Hollywood, CA 90046
Beds 4 | 5 Baths | 3,932 Sq. Ft. | House | Built in 2016
Rep: Douglas Elliman | Dena Luciano | Cell: (310) 600-3848
A great 1031 exchange opportunity, this 4 bedroom / 4.5 bathroom luxe residence is leased at $22,000 per month. This property provides effortless, sophisticated living at its best. Light streams down from generous 2nd story skylights, while oversized glass doors disappear into discreet pockets, leaving the back of the house wide open to the shimmering pool and spa. Just beyond is an extra roomy, fully functional cabana complete with a sleek gas fire pit. Entertainers will delight in the high-end, open plan gourmet kitchen. Property is leased until May 2020 for $22,000 per month.
Your own private Malibu beach
Gay couple's coastal home is an entertainer's dream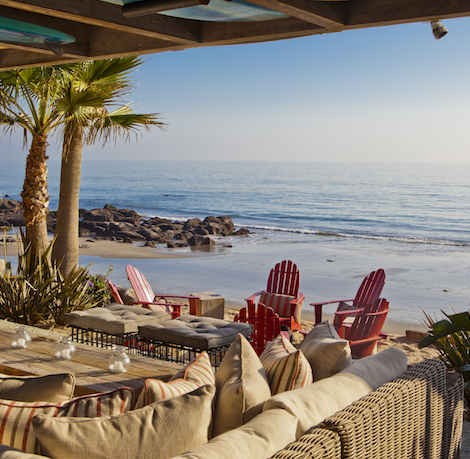 There's a scene in "Grace and Frankie" in which Lilly Tomlin and Jane Fonda are sitting in Adirondack chairs, the surf nearly lapping at their feet as the Pacific Ocean crashes loudly then recedes Zen-like. "This is living," says Grace to a near catatonic Frankie. "I want this house," she says.
Who wouldn't want to own a beachfront home in Malibu?
Long the most coveted second home community in Los Angeles, Malibu has an international reputation and culture all its own. The views, the sunsets, the meandering cliffs of the jagged coastline, the gentle breezes and the almost always perfect weather is the stuff of legend. It has inspired film, TV and literary types for years and over time has become an exclusive hideaway for some of the most famous and wealthiest people on Earth.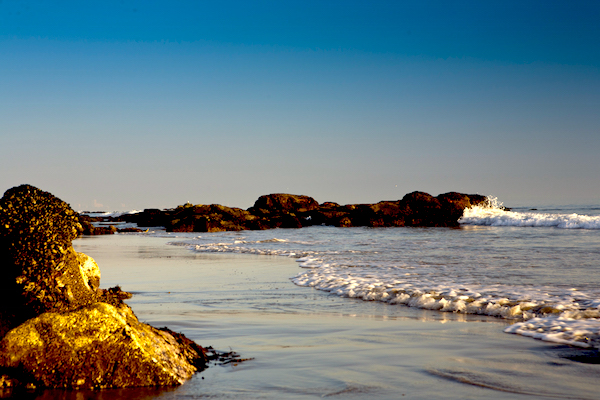 Increasingly, too, Malibu is supplanting Palm Springs as the ultimate second home community for successful gay and lesbian (and at least one notable trans woman) Angelenos.
When philanthropists Brian Pendleton and his husband Chad Goldman started looking for a second home some years ago, they chose Malibu. "While all of our friends were buying in Palm Springs, we decided to buy in Malibu," Pendleton told the Los Angeles Blade.
But the couple didn't buy just any property. They bought one of the best traditional coastal homes in all of Malibu.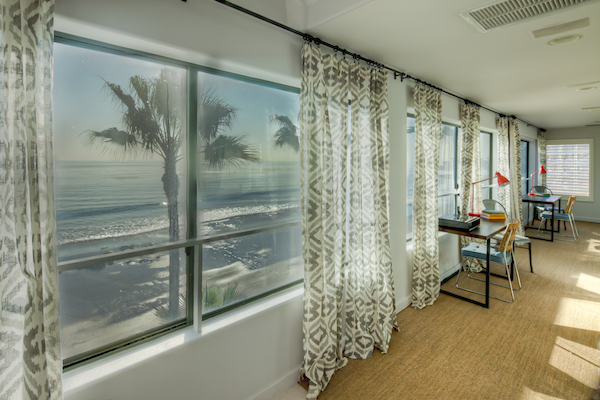 Their three-story home sits on Las Flores beach in east Malibu, offering two bedrooms, two baths, a full-size kitchen and a kitchenette on the ground floor. It was rebuilt in 2003, and is meant to be shared with friends and family, boasting a three-car garage and an additional three outdoor parking spaces — rare for Malibu.
The house is perfectly designed for entertaining, with two living rooms, two dining areas, and multiple fire-pits. "You can walk right off the beach and grab a margarita, and head to the living room," Pendleton told the Los Angeles Blade.
Conveniently positioned on what's known as "dog beach" (they have two fur-babies) and, unlike many of the houses up and down the beach, the house is fronted by a seawall versus pillions, so the water can't go underneath the house as it rushes against the wall, leaving the home protected.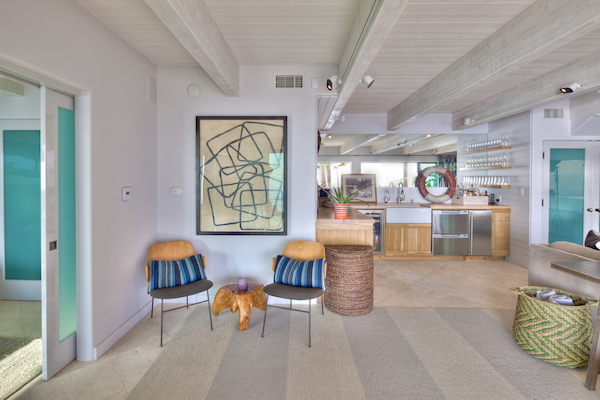 "It's great for a second house or for someone who lives in LA. It's so much closer than going to Santa Barbara or Palm Springs, and when you get out there it feels like you're in a different city. It's quiet and quaint. You can go to the movies there and park in the spot right out front of the theater doors," Pendleton says.
"We bought it as an investment property, and Malibu was a great location. It's closer to LA. And while interest rates are still low, we thought we'd take a look and see what buyers are interested. The home is perfect for a retired couple or small family who wants to live in Malibu. And for people looking for second home in Malibu," Pendleton says.
"But I am not terribly motivated," he said with a smile in his voice.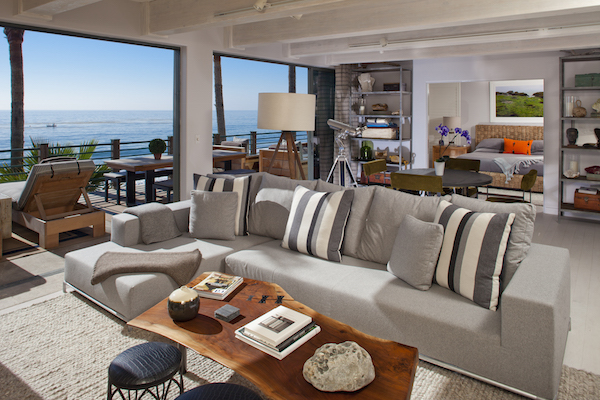 Pendleton, as founder of CauseForce, helped raise money for life-saving research and care for premier institutes around the world, raising billions of dollars for charity.  In 2013, he sold his company and now volunteers his time mentoring, supporting and advising individuals and organizations. He also works to help communities gain access to academic facilities, scholarship programs and receive life saving medical support.
The "Goldman-Pendleton West Hollywood Library Mall," for instance, in West Hollywood is a landmark facility for the community's commitment to lifelong learning, and in the Philippines, two state-of-the-art "Pendleton-Goldman Learning Centers," are serving local communities to help break the generational cycle of poverty in their communities. The Pendleton-Goldman PrEP clinic provides HIV education and prevention to underserved individuals in South Los Angeles. There's even a language lab and an LGBT scholarship program the pair fund at The University of Tennessee in Knoxville, Goldman's alma mater.
But it was this year's #ResistMarch that put Pendleton (and Goldman) on the national map. The #ResistMarch was a resoundingly successful show of Pendleton's team building and organizational skills.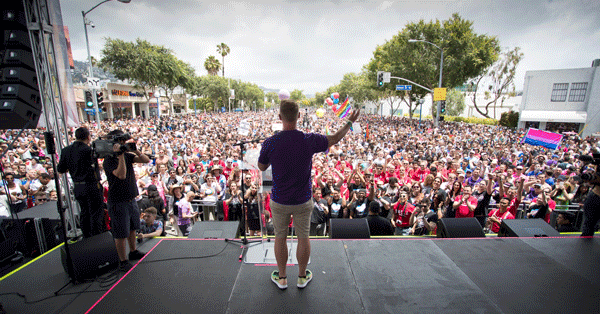 "This year, the LGBTQ community is lending our iconic rainbow flag to anyone who feels like their rights are under threat and to anyone who feels like America's strength is its diversity," Pendleton said. "The political climate we find ourselves in has driven us to galvanize and unite."
Today, their attention is turned toward selling the luxe Malibu beach house, and enjoying the singular peace and tranquility of their equally amazing full-time home overlooking Runyon Canyon and downtown LA.
The couple can sit back and smile, because they have Adirondack chairs in the Hollywood Hills too.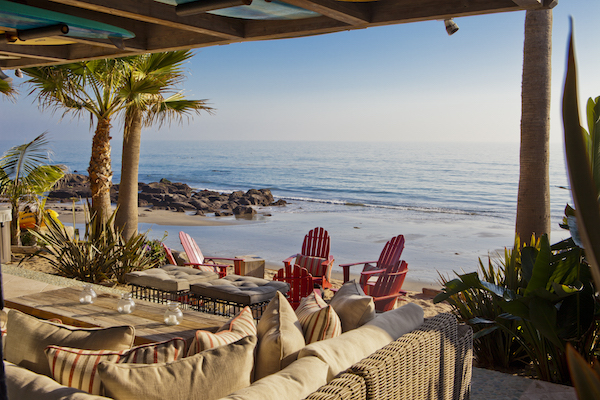 This property is being represented by Chris Cortazzo, 310-389-2472.
Navigating LA's booming real estate market
3 gay professionals on opportunities, challenges for LGBT families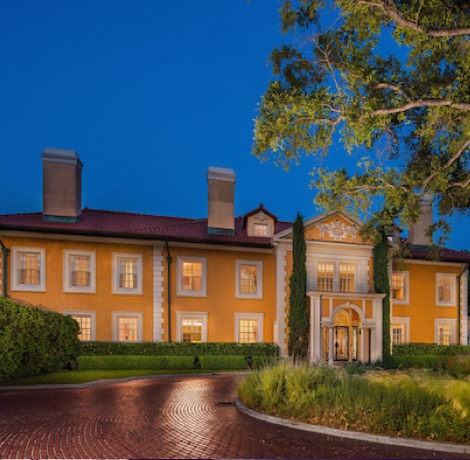 It's hard not to be captivated upon hearing: "Do you recall the scene in 'Dynasty' when Krystle and Alexis slap each other into the the lily pond?"
Oh good, you're riveted now, too. That's Nick Cacarnakis talking, the 43-year-old branch manager of Berkshire Hathaway Home Services on Rodeo Drive in Beverly Hills. "That house, which, of course, is every gay boy's dream to live in that house, right? It's listed at $28 million."
Sigh…luxury real estate in the City of Angels, so reasonable, so within reach.
More attainable properties, from condos to three-bedroom homes, are generally the focus for the three real estate professionals interviewed for this article, all of whom happen to be gay. They buy, sell and manage real estate transactions throughout Los Angeles. One has a particular niche (West Hollywood) while the other two consider themselves generalists, the entire city their focus.
Each shared his perspective on, and experience with, the current market for LGBT clients, especially families, in search of luxury homes.
Defining luxury
What exactly meets such criteria? "Isn't everything a family-size luxury property?" Cacarnakis asks. "We have a term that we use in our office: 'Everybody's House.' It's a house that will work for everybody."
For him, that means enough bedrooms, enough bathrooms, maybe a backyard, too, a home that, "no matter what the family looks like," can work.  
In terms of price, it can be all over the map. "Half of [our listings] in the Beverly Hills office, which are $2 million and up, would fall into the category of being a luxury family home," Cacarnakis added.
Keith Kaplan, 57, an agent with Sotheby's expanded on that. He said, "There's really a wide range."  
With a focus on WeHo and adjacent environs, for Kaplan that means the category of luxury family homes starts with condos, perhaps on Kings Road, let's say, at around $750,000, all the way up to the new homes built along swanky, revamped Orlando Avenue between Santa Monica Boulevard and Melrose Avenue listing as high as $8.5 million.
"The word luxury brings it to a higher price point," said Randy Lopez, 50, an agent with Coldwell Banker Beverly Hills North. "If you say 'family-sized property,' that's different than 'family-sized luxury property.' In my mind, I'm thinking anywhere between three to five million and upwards, depending upon what their definition of luxury is."
Maybe now is a good time to introduce the problem of sticker shock, the biggest challenge Kaplan faces when helping a client enter the market.
"I really like working with first-time buyers," Kaplan said. "Walking them through the process, getting them to understand the value equation of owning versus renting. It's a tremendous jump to take."
Is there any hope for those trying to make that dramatic transition? "Although lenders have not gotten so relaxed we're gonna be in the position we were in 2008," Kaplan added, "they are relaxing a bit." "Lower down payments are allowing more Millennials to enter the market, so we have more options for them."
Kaplan added, "The first home product, or the first trade-up product, homes priced under $2.5 million, [there is] strong demand."
Yet most readers will be familiar with the concept of competition. While all three agents said the market for high-priced homes ($2.5 million and higher) has softened, Lopez says, "In the $1 million to $10 million range, if something is well done, well-priced based on comps, and desirable, you're still gonna have a huge demand for that property."
All three said they still see properties sell in a single day with multiple offers all above asking. Lopez said, "Is it in a great area? Is it priced right? If there's a value there for people, based on logic and numbers, we're gonna see that [sell]."
The other two agents agree. "Expectations are high on all sides," Cacarnakis said, "especially on the Westside when we're dealing with business managers and attorneys."
Kaplan added, "I'm seeing some crazy, crazy bidding over ask. I saw some 2-bedrooms in West Hollywood priced at $750,000…[they] went out at $825,000. That's a tremendous overbid." Apparently many bidders are investors who flip the property, coming in and renovating, adding premium fixtures and modern appliances, then put them back on the market. "And they're getting top dollar."
What's trending?
What about trends? Managing 100 agents in Beverly Hills, Cacarnakis is able to get an aerial view of the market on a regular basis.
"Mega-mansions," Cacarnakis said. "These mega-prices that we just haven't seen in LA before. I had a situation where an agent wrote an offer on a listing of $22 million and they had [several] offers. That kind of money is out there."
Another trend, perhaps obvious, is the big glass boxes replacing older homes knocked down by developers. "The style is contemporary as far as the building is concerned," Cacarnakis said. "Lots and lots of construction going on. But I think everybody knows that."
What about up-and-coming areas for family homes? "I think the next frontier is that area south of Melrose all the way to Fairfax," said Kaplan. "You're seeing a lot of rehabbing of the Old Spanish and bungalow type homes."
Lopez's view is, "It's really dependent upon [budget]. Do they have unlimited resources and want to live in Beverly Park, where homes are $20 to $30 million? Or are they more on a budget and going east to Eagle Rock, Glassell Park, Mt. Washington, where you can still find a luxury home for a million dollars?"
"Up and coming?" wondered Cacarnakis. "All around that Wilshire Corridor area, and then you have all Echo Park. It's too late for Silver Lake, that already came and went."
Needs of LGBT families
But what do LGBT families need in their choice of home and neighborhood? Cacarnakis, a father with two teenage children, thinks "LGBT families moving into that sort of Silverlake [area]…those neighborhoods have good school districts [and] they're very accepting." If he had to pinpoint a section of the city that is "super LGBT friendly [and] also not incredibly insane on prices, that whole Echo Park, Silverlake area is definitely a prime area."
Kaplan has done his homework on West Hollywood schools, even though he hasn't had an LGBT family as a client thus far in his five years as an agent. He considers it his responsibility to know what parents will ask, though, once he does.
"We have WeHo Elementary, which is one of the best schools in the area," Kaplan said. "Rosewood is rising quickly and then we've got the Center for Early Education and a number other really good private schools."
He adds to that by waxing on West Hollywood Park and their recreation programs for kids. "I have friends that I actually meet there on Saturdays with their three boys. One plays T-ball, one plays in a basketball clinic and one swims on the swim team. It's almost like a summer camp year-round."  
All three agents feel being gay gives them a competitive advantage over straight agents when working with LGBT clients and families.
"It's like going to a gay doctor," Cacarnakis said. "It's maybe just the insight and that level of understanding. I'm gonna know…what areas we are gonna feel comfortable holding hands, and maybe what areas we're not."
Kaplan echoed that. "I think there is perhaps a sensitivity to, and an understanding of, the unique needs of [gay clients]. For instance, I think it's important for a gay family to understand the community that they're entering. Even at the school. How will they be perceived? Will it be comfortable for their children? What is faculty like?"
"There's a compassionate psychological component to working with clients," Lopez said. "I feel like having a common foundation with your clients…being able to hold [their] hands during the process is helpful. It provides another level of connection…as opposed to agents who are not part of the LGBT community."
Even with this shared bond of experience in mainstream society, I wondered if these agents run into any particular challenges, or unique surprises, they might not otherwise?
"Working with LGBT clients, or not," says Lopez, "the challenges are very much the same. Gay or straight…it's about honoring the commitment you're making to your Realtor."
Cacarnakis, the married, gay dad, said, "I'm surprised at how non-different it is. We're still just families looking for everything that everybody else is. The right schools, the right family configuration."
For Kaplan it was "not in the process of selling, it was after the sale." A gay couple he sold a condo to chose a contractor ("a member of the community") to renovate the unit. Supposedly he "had the gay eye" but "the most shocking thing [was] the shoddy work and the lack of attention to detail." Mismatched color tile on a backsplash did not bode well. "Ultimately it went to small claims court."
I requested video links and photos of active luxury listings from all the agents featured in this story. Regarding the "Dynasty" property, Cacarnakis tells me, "Take a look at the two videos." He pauses. "One of them is the 'Dynasty' mansion, which…I mean, it is a family…" residence, I think he wants to say.
"A dysfunctional family," I joke.
"Right?" Cacarnakis says, laughing.
Allure of a Palm Springs mid-century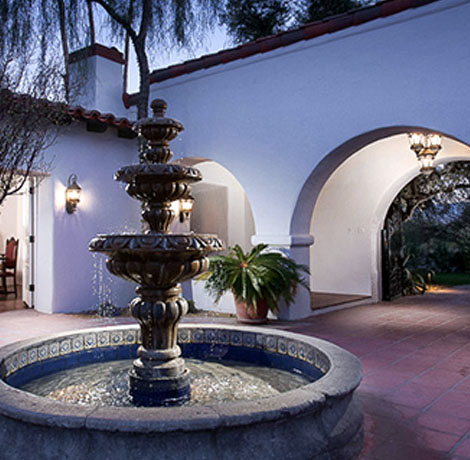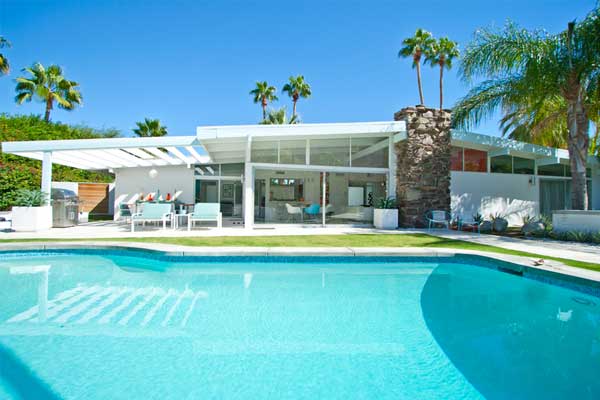 Tourists come from all over the world to gaze at the distinctive midcentury modern architecture, historical monuments, and the former homes of movie stars in Palm Springs. But what about a driving tour of places gay celebrities once lived and played? We thought we'd highlight a few.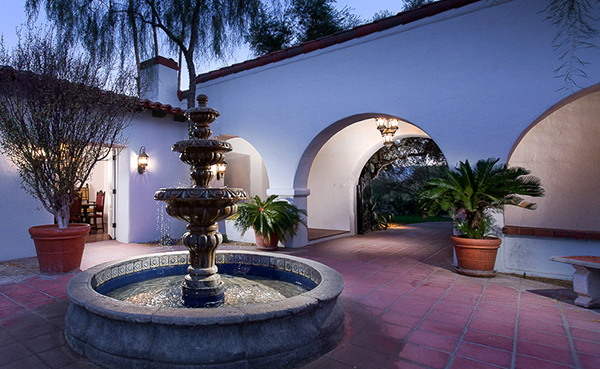 Though later known as "Mr. Palm Springs" — he served as the town's mayor from 1948 to 1953 — hunky Charles Farrell first made a name for himself as a silent film actor. In The River (1928), Farrell became the first known American actor to appear nude on film. Though married to actress Virginia Valli from 1931 until her death in 1968, Farrell (who, with bestie Ralph Bellamy, opened The Palm Springs Racquet Club in 1934 and has a major Palm Springs street named for him) was rumored to be gay. And his Racquet Club hotel (2743 N. Indian Canyon Drive) was notorious for hosting gay parties attended by Hollywood's elite. Farrell himself lived in a nearby compound comprising two adjacent homes, the first at 630 E. Tachevah Drive, the second around the corner at 1120 N. Via Miraleste.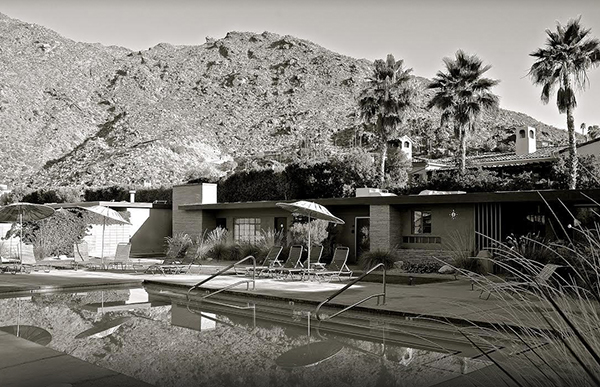 Speaking of gay parties and ground-breaking nudity, in the mid-1950s openly gay film director James Whale (who was immortalized in the 1998 film Gods and Monsters) owned the eight-unit Town & Desert Hotel in Palm Springs (now The Hideaway), located at 370 W. Arenas Road. It was here that Whale — who reportedly had a fear of water and in 1957 committed suicide by drowning himself in the backyard of his Los Angeles home — allegedly enjoyed filling the pool with naked young men, making it the area's first known clothing-optional resort.
In his 2005 biography Tab Hunter Confidential: The Making of a Movie Star, Hollywood's sexiest blond of the 1950s not only came out as gay but revealed that he and actor Anthony Hopkins (of Norman Bates fame) had a long-time relationship. The lovers reportedly spent weekends hiding out at the Desert Inn (123 N. Palm Canyon Drive), where Hunter would also pose shirtless poolside for fan magazines like Photoplay. The site is now a shopping center. In early 2003, Hunter bought a small, one-bedroom condo at 130 West Racquet Club Road #419, but by this time, in his early 70s, he was apparently uncomfortable with the desert heat — both the weather and the constant attention he received from men looking to hook up with the former American idol.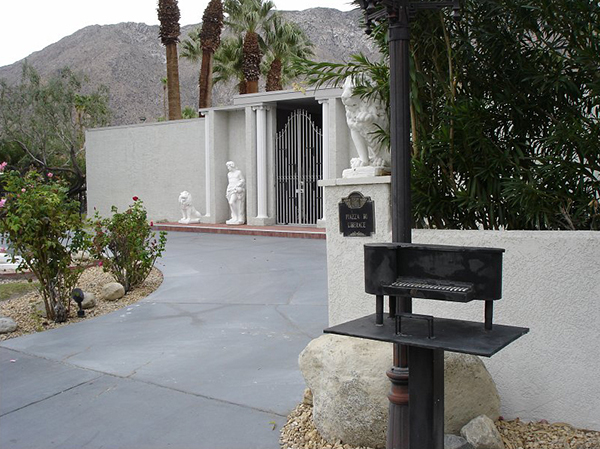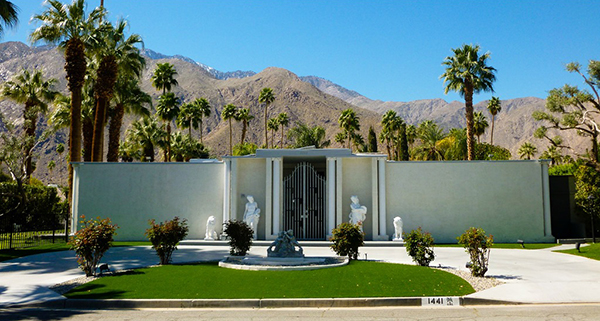 It seems neither Liberace nor Merv Griffin had similar concerns. According to Darwin Porter's 2009 book Merv Griffin: A Life in the Closet, the famed TV host was a regular at the all-male parties thrown by his friend and former lover, Liberace. Over the decades, the musician and master showman owned four homes in Palm Springs. Piazza de Liberace (1441 N. Kaweah Road) is among the most distinctive, with its extant piano-shaped mailbox. The home depicted in the movie Behind the Candelabra is located at 501 N. Belardo Road and reportedly featured theme rooms and a master suite big enough to house a small house. In addition to partying here, Liberace reportedly passed away here in 1987.
Another closeted movie star who enjoyed desert romps with a bevy of beautiful men was Rock Hudson. His friend George Nader had a four-bedroom house in Bermuda Dunes (42520 Stardust Place). "H" gates mark the entrance to a citrus grove and side yard, according to a recent real estate listing, which lists "a huge party area" as one of the home's benefits. Following emergency quintuple heart bypass surgery in 1981, Hudson recuperated here. What else the pair did here is anyone's guess, but it's assumed the house saw plenty of action.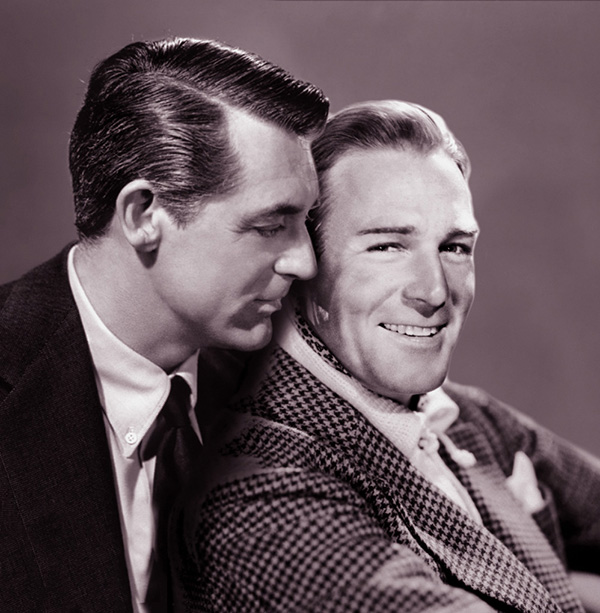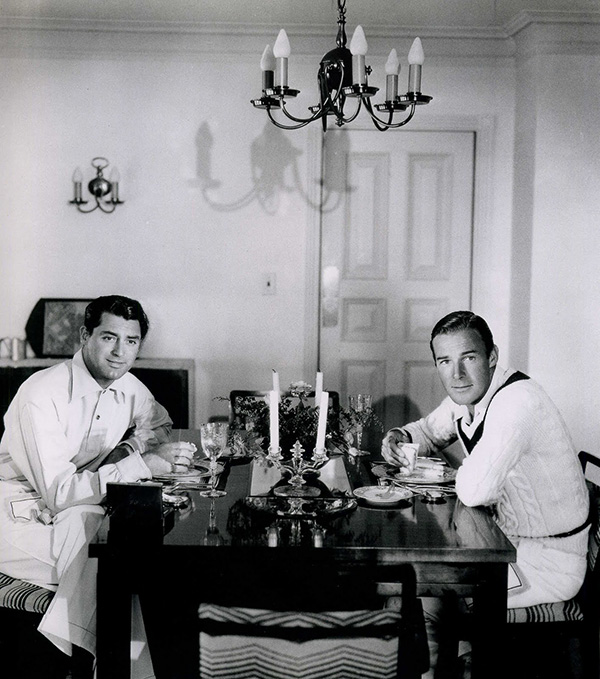 The notoriously private Cary Grant was evidently not-so-private about his affection for fellow actor Randolph Scott. After flaunting their "closeness" in a series of photographs posed in the Santa Monica beach house they shared — sharing a diving board, working out, enjoying a candlelit dinner for two (with their butler!) — it's believed their relationship eventually relocated to the desert. Grant purchased a Palm Springs house known as Las Palomas (928 N. Avenida Palmas) in the Movie Colony neighborhood with wife number three, Betsy Drake. (Frank Sinatra and wife Ava Gardner lived nearby at 1148 E. Alejo Road, where visual remnants of the couple's notorious knock-down-drag-outs, such as chipped countertops, are said to remain.) But rumor has it that after each of Grant's marriages went south, he and Scott (who bought a place in nearby Indian Wells) would rekindle their relationship. Despite their other romantic partnerships (Scott was married twice, the latter union lasting from 1944 until his death in 1987) Grant and Scott's relationship — whatever the nature of it may have been — purportedly lasted for the rest of their lives.
At the height of their fame, shamed TV evangelist Jim Bakker and his wife, Tammy Faye, owned a house on Greenbriar Lane in Palm Desert. In Palm Springs Babylon: Sizzling Stories From the Desert Playground of the Stars, author Ray Mungo writes that it was "well known within the gay community" in the 1980s that Bakker attended gay events like whipped cream wrestling at Daddy Warbucks, a long-gone gay club in Cathedral City (68891 Highway 111), and made frequent appearances at the leather hangout formerly known as C.C. Construction Company (68449 Perez Road, Cathedral City). "His indiscretions were legendary," according to Mungo.
There are plenty of other worthwhile places to drive by: Truman Capote lived at 853 Paseo el Mirador in Palm Springs in the 1960s and '70s, while the notoriously private Greta Garbo (a known lesbian in Hollywood circles) kept a secret hideaway at 287 W. Racquet Club Drive. And writer Moss Hart (whose homosexuality was reportedly known to just about everyone, including Kitty Carlisle, his wife of 15 years) died of a heart attack on the lawn of the home he shared with Carlisle at 467 W. Via Lola.
Gay celebrities still flock to Palm Springs. TV personality Ross Matthews and his partner, stylist Salvador Camarena, own a home here, as do Arrow star John Barrowman and his husband, Scott Gill. It was here that Barrowman, live streaming from his hot tub on Facebook, inadvertently provided the world a look at Gill's goods when he appeared in the background, dropped his towel, and climbed in au naturel. (Gill didn't seem to mind, and neither did the fans who viewed the video again and again.)
Here's to hoping for more interesting tales from the Barrowman house and others.